CES 2023 is over. Now we have a chance to chew over some of the biggest and most exciting announcements of the vast tech show.
If you want to se the products that really caught out eye, check out the Tom's Guide best of CES 2023 awards.
But for all the major announcements from the big brands like Samsung, LG, Asus, Lenovo and more, as well as a look at some more intriguing gadgets and devices, then read on.
We're still in the thick of it as CES, so read on for all the latest news, announcements, insights and hands-on experiences from CES 2023.
CES 2023 highlights
Top CES 2023 news and announcements
CES 2023 latest news
A lot happened at CES 2023, so we've rounded up all the major news and products we thing you should be excited to see as the year goes on.
Samsung
Samsung is already having a busy CES fully revealing the Odyssey Neo G9, a 57-inch mini-LED display sporting a 7680 × 2160 resolution that's the equivalent of two 4K monitors in one. With a 240Hz refresh rate and a 1000R curved screen, the Odyssey Neo G9 looks aimed at PC gamers with very powerful rigs who want a massive and immersive desktop gaming experience.
For people not looking to go so extreme, Samsung revealed the Odyssey G95SC, its first ultrawide QD-OLED monitor. With a more subtle 1800R curved display, 32:9 aspect ratio and 5120 x 2880 resolution, it should be a little more manageable for people with powerful but not screaming high-end PCs. Samsung also noted the Odyssey 34-inch G8 QD-OLED it revealed at IFA 2022 will also make its debut this year.
A more intriguing announcement from Samsung comes in the form of the Flex Hybrid. Coming courtesy of Samsung Display, this device shows off a concept "smart mobile device" that has both a folding and sliding display.
Using this approach it takes a 10.5-inch display with a 4:3 aspect ratio and expands into a 16:10 12.4-inch screen. So not just adding more space but also transforming the shape of the screen.
While 10.5 inches is a little big for a smartphone, it's not hard to see how this tech could be condensed down into a phone display and represent an evolution for folding phones. Don't expect to see this on the potential Samsung Galaxy Z Fold 5, but it could be a possibility for future folding Samsung phones and tablets.
Sticking with screens, Samsung also revealed the ViewFinity S9, a 27-inch 5K monitor that aims to take on the Apple and LG's professional-grade displays by offering an IPS panel with 99% coverage of the DCI-P3 wide color gamut and a very sleek design.
Moving away from displays, to a certain extent, Samsung has also revealed the Bespoke Refrigerator Family Hub Plus line. This takes the company's current range of Family Hub smart refrigerators and adds a larger 32-inch touch screen display on them. What might seem like overkill for many, could be the answer for folks looking to watch cooking videos or TikToks while searching for inspiration for what to cook.
There's also support for Google Photos, as well as apparent access to 190 TV channels in the U.S. or some 80 channels in South Korea through Samsung's TV Plus app; though we'd be hesitant to say how good a vertically oriented display is for watching TV.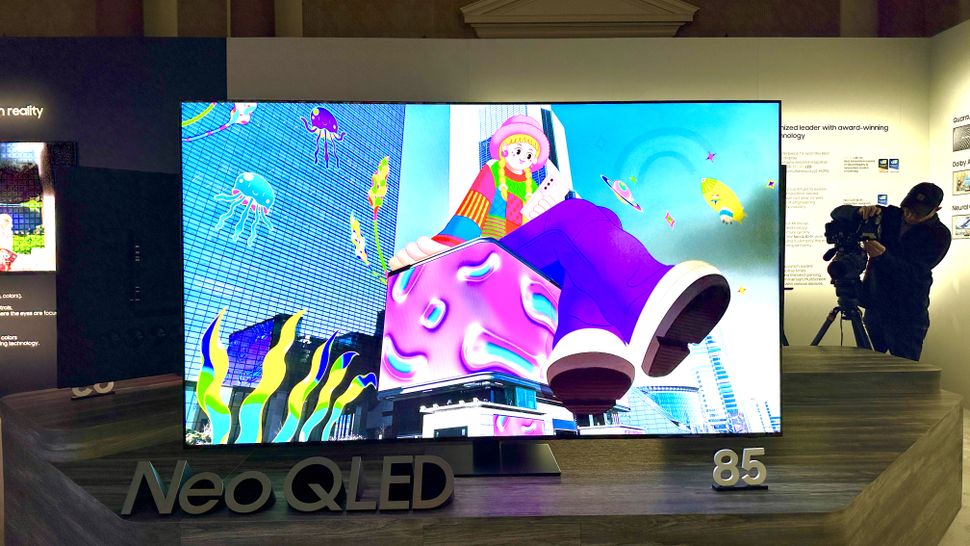 On the TV front, Samsung is showing off both the QN95C Neo QLED TV and the S95C OLED TV. The former is a top-shelf 4K TV that delivers some compelling performance upgrades including 144Hz support, auto HDR remastering and enhanced Q Symphony sound. As for the S95C, it's a 77-inch QD-OLED that should appeal to gamers.
Next up was the reveal of the 76-inch Micro LED CX TV, which takes Micro LED tech and puts it in a TV of a more manageable size for most people. And unlike the Micro LED TVs we've previously seen from Samsung, this one looks like it could be displayed alongside QLEDs and OLEDs at Target or Best Buy.
So there's a real chance that Samsung's 76-inch Micro LED CX TV could be the tip of the spear in bringing the advantages of Micro LED panels (think the perfect blacks and the outstanding colors of OLED tech but without the organic compounds) for relatively accessible prices and sizes.
While the Samsung Galaxy S23 range isn't expected to be revealed for a good few weeks yet, the company did show off the new Galaxy A14, which has some surprisingly good specs for a phone of its price.
And for more from the South Korean tech giant, check out our coverage of the Samsung CES 2023 keynote.
LG
LG is having a busy CES, showing off TVs, laptops and more. But it's most eye-catching device so far comes from LG Display, which showed off what could be the future of OLED panel tech, thanks to a suite of folding devices.
Some of the most exciting concepts on display include an 8-inch, 360-degree foldable OLED panel that could be used in future phones, and a 17-inch foldable laptop that has an almost unnoticeable crease when fully open. There was even a 0.4-inch OLED panel that will likely find a home in VR or mixed reality headsets.
LG also revealed the LG C3 and G3 OLED TVs, a wireless TV and a sgperslim laptop alongside other tech.
Following on from their excellent predecessors, the LG C2 and LG G2 OLEDs, these new TV will get access to the new α9 AI Processor Gen6 for improved upscaling and enhanced dynamic tone mapping in addition to powering virtual 9.1.2 surround sound right out of the box.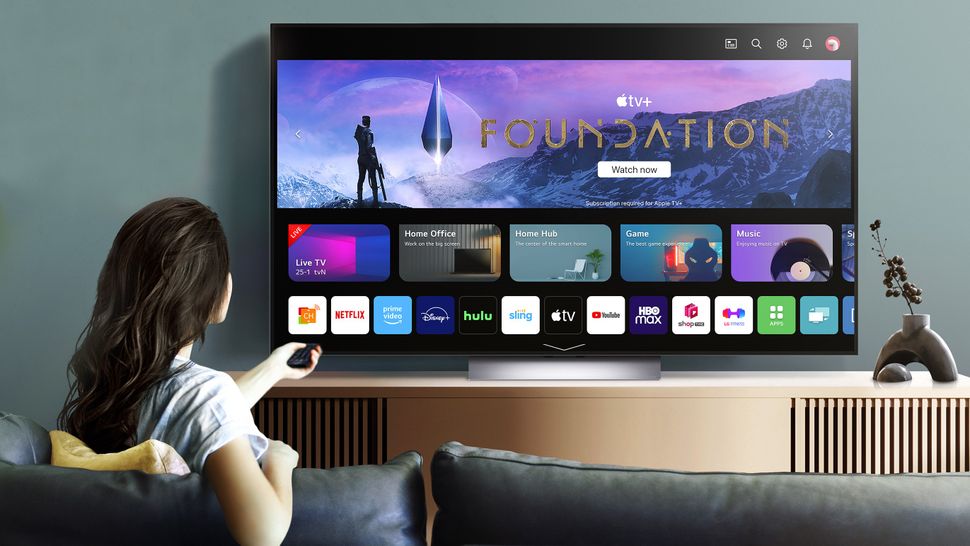 Beyond the upgrades to upscaling and audio reproduction, LG says the G3 OLED will also come with Brightness Booster Max technology — a combination of a new lighting structure and lighting algorithm — that helps to make it 70% brighter than before and a new no-gap wall-mount.
LG's webOS, which powers its smart TVs, is also set to get an upgrade by being smarter and offering more personalized content recommendations and arranging apps into more logical groups. This should help the operating system look a little more tailored rather than a scattering of content and apps on a user interface.
We've had the chance to go hands-on with the LG G3, and we think that the promise of a brighter TV coupled with WebOS upgrades sounds like a winning combination. We particularly appreciated the new quick settings for customizing which settings you can access quickly without interrupting what you're watching. We're looking forward to testing this TV's color accuracy, color space reproduction, and lag times.
Meanwhile, the LG C3 OLED brings back the TV maker's top-selling OLED set, but improves the upscaling. If you own an LG C2 or even a C1, you may not have much reason to upgrade, but others will appreciate the new Alpha a9 Gen 6 processor and upgraded WebOS 23 smart platform.
Next LG took the covers off a 97-inch wireless OLED TV that's coming out this year. The TV's official name is the LG Signature Series M3 OLED and it uses a new proprietary technology called the Zero Connect Box to beam video data from one side of the room to the other. That box, according to LG, can be placed up to 30 feet away from the TV without any signal degradation, as long as it has direct line-of-sight to the screen.
Such wireless tech could completely shake up how TVs are place around one's home. And it's especially intriguing how LG plans to have this technology available in 2023, though it has yet to firm up a release date.
While LG's standard OLEDs and wireless TVs are impressive, the company's transparent OLED TV is undeniably cool.
Dubbed the LG OLED T, this TV can go transparent, meaning if it's sat in front of a window it need not block the view when not in use. Sadly, this tech still seems to be in the prototype stage, so we don't expect to see it soon. And when we do, we doubt it'll be cheap.
Outside of TVs LG revealed a new Gram laptop in the form of the LG Gram Ultraslim, bringing a super-slim machine to the ultraportable laptop arena.
At a mere 0.43 inches thick, the new LG Gram Ultraslim is one of the thinnest laptops in the world yet packs in a 15.6-inch OLED display. Weighing in at just 2.2 pounds it's very light as well.
LG also has the Gram Style, complete with a disappearing trackpad. Check out our editor Kate Kozuch's TikTok video of it below.
On the smart home side, LG showed off the MoodUp refrigerator. We saw this a few months ago at IFA, but it's still a compelling smart refrigerator that can light up to correspond with programmed moods, as well as play musing and do a whole lot of smart fridge stuff.
Nvidia
Nvidia has got off to strong start at CES 2023 revealing the GeForce RTX 4070 Ti to offer a powerful graphics card for $799; that's still a steep price but more palatable than the price tag of the GeForce RTX 4080. The GPU will go on sale January 5.
Following on from that, Nvidia then announced laptop versions of the GeForce RTX 40-series, which we can expect to see in a slew of laptops from the likes of Asus, Alienware, MSI and more; Nvidia says there'll be 170 plus laptop designs with these new GPUs.
And for people who just can't face the idea of being away from gaming for too long, Nvidia revealed how it's bringing GeForce Now game streaming to cars. Granted you won't be able to game and drive at the same time but passengers will be able to do so. And if you were to pull into a service station to refuel or have a break then you could use the service to do a bit of gaming as you have some driving downtime.
TVs
For our TV highlights, check out the best TVs of CES 2023.
It turns out CES 2023 may not be a great show for Sony Bravias — Sony isn't announcing new TVs this week — but we got to see the world's first wireless TV. That could start a revolution for TVs, removing the need for wires that can make wall-mounting tricky or limit where you place you TV.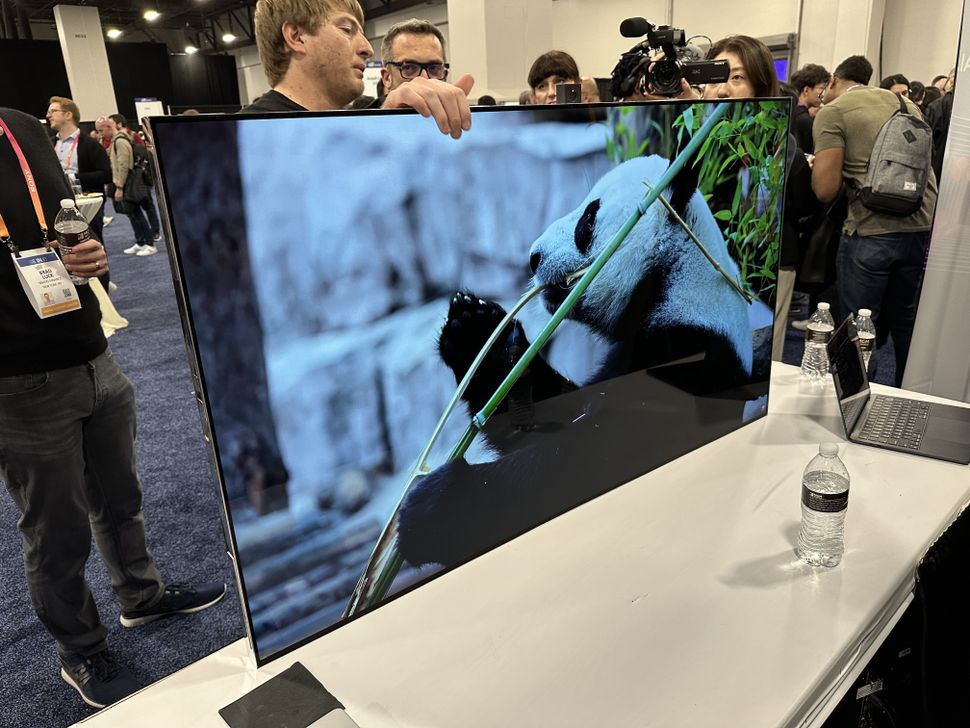 Created by a US. company, The Displace TV uses a battery to provide 30-days of TV viewing away from a power outlet. So while you will need to charge it, likely with wired power supply, it'll still be a lot more portable than standard TVs. This is one we'll definitely want to hear more about; check out our TikTok on it below.
Roku is throwing itself deeper in to the world of TVs having announced it will be making its own TVs this year.
Where previous Roku TVs were made by TCL, the Roku Select and Roku Plus will be made by Roku itself, with sized ranging between 24 inches and 75 inches.
Speaking of TCL, the company announced it will be making its own QD-OLED TVs to take on those from the likes of Sony and Samsung. QD-based OLED TVs add a layer of quantum dots to the display to improve things like color reproduction. No word when exactly these TVs will arrive, but they are slated to come this year.
In an odd turn up for the books, Tivo-powered TVs are set to make a comeback this year, bringing back the smart platform via potential partners that include JVC and Hitachi.
We're not sure if the world needs another smart TV platform, but if Tivo can bring its experience in show recording to bare, then perhaps it could offer something a bit different to the TV world.
Laptops
Aside from new GeForce RTX 40-series graphics cards coming to gaming laptops this year, there's plenty more going on in the world of laptops.
For a more detailed look at laptops at CES, check out the best laptops of CES 2023 and 7 of the best gaming laptops of CES 2023. Or read on for more laptop news from the tech showcase.
Alienware
Alienware has grabbed out attention with a massive 18-inch gaming laptop. While not the first of its kind, it's a complete flip on slim and light gaming laptops, aiming instead to deliver a desktop replacement machine.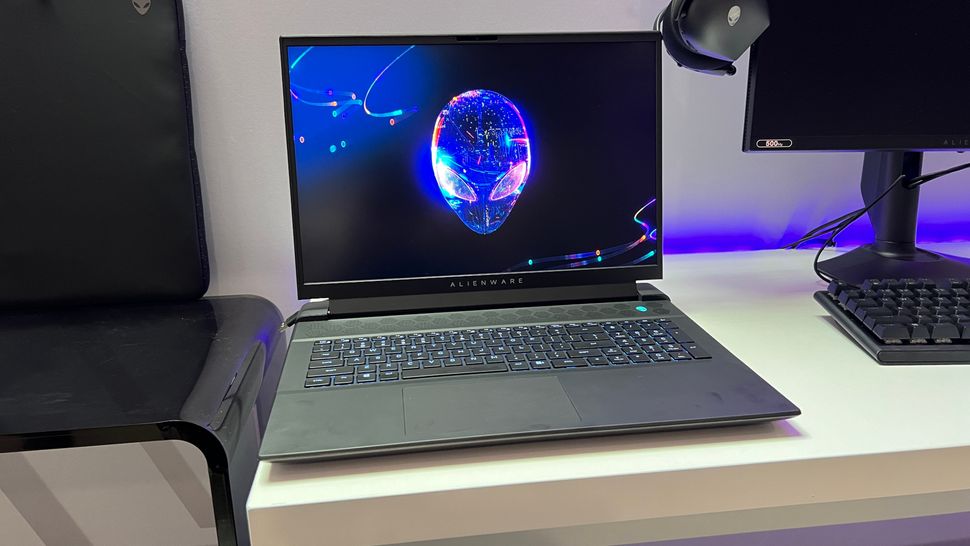 Check out our Alienware m18 hands-on review, as computing writer Tony Polanco was suitably impressed by the giant gaming laptop.
Asus
It looks like big 18-inch laptops are the theme of computing in CES this year, as Asus has revealed two behemoth gaming laptops. The Asus ROG Strix G18 and the ROG Strix Scar 18 have some major specs to go with their hefty sizes.
We're talking the latest Intel processors and Nvidia GeForce RTX 40-series graphics cards, masses of RAM and storage, and displays that top out at 240Hz. Yet from the images we've seen so far, the laptops look almost understated, which could be rather refreshing of Asus.
Asus also took the covers off a refreshed Zenbook Pro 16X OLED. This dual-screen laptop comes with a custom CPU that he company claims will deliver "ultra-powerful" performance. Created with Intel, this Core CPU that's been redesigned to be smaller, which Asus claims allows for better cooling.
Acer
Acer also revealed new laptops, with an updated Swift Edge ultraportable featuring a 16-inch display and the latest chips from Intel. And Acer also showed off its new Swift Go laptops that come with the latest Intel 13th Gen CPUs as OLED displays, all for a price that starts at $849 for the 14-inch model. 16-inch models will start at $799.
Not to be outdone on the gaming laptop front, Acer has its own 18-inch gaming laptop in the form of the Predator Helios 18.
This desktop-replacement style machine pack in some serious specs from Intel's latest Raptor Lake processors and Nvidia's GeForce RRTX 40-series graphics, to 32GB of RAM and 2TB of SSD storage space.
Razer

Razer has also got in on the 18-inch laptop game, which is no surprise as it's long has a 17-inch Razer Blade. The Razer Blade 18 takes the clean, MacBook-like aesthetics of the Blade range and supersizes it. Revolutionary? No. Attractive? Definitely.
But clean design aside, where this laptop is likely to shine is in sheer power, given it's sporting an 18-inch QHD (2560 x 1600) 240Hz 16:10 IPS display, Intel Core i9-13950HX processor, up to to 64GB of RAM, and most importantly a whole suite of Nvidia GeForce RTX 40-series graphics cards to chose from. Oh, you will also have the option to expand the SDD storage to 4TB.
Lenovo
Lenovo has put on quite a showing at CES, and we got to go hands-on with Lenovo ThinkBook Plus Twist, a 2-in-1 with dual twisting displays with an OLED screen one one side and an color E-Ink panel that you can use when you want to save battery life.
Then we checked out the dual-screen Lenovo Yoga Book 9i, which sports two OLED display attached by a hinge and comes with an attachable keyboard accessory; think a Surface Pro but totally extra. See it in action below.
Keeping up with pursuing innovative features, the Lenovo ThinkBook 16p has Magic Bay accessories you can swap on the go. The "Magic Bay" uses magnets to connect various accessories to the top bezel of the laptop; these currently include
the Magic Bay 4K webcam, Magic Bay Light, and Magic Bay LTE modules. Naturally, under the hood this slick-looking laptop has the latest Intel and Nvidia hardware.
We then took a look at the Lenovo Tab Extreme with its huge 14.5-inch OLED display. Powered by Android, this could be the non-iPad tablet to beat this year. And speaking of Android we also took a look at the the first Lenovo ThinkPhone by Motorola and came away impressed.
Computing
While laptops can be a big focus if CES, it's also a time when we see a lot of PC hardware and peripherals get announced. Case in point, Intel took the covers off its fastest 13th Gen Raptor Lake processors targeting both laptops and desktops. And sticking with chips, AMD showed off the Ryzen 7040 laptop CPU to take on Team Blue's silicon.
But the device that's caught out eye so far is Alienware's 500Hz esports-orientated gaming monitor. It looks to be targeted at people who want frankly absurd refresh rates on their displays.
Check out Tony Polanco's thoughts in his Alienware 500Hz Gaming Monitor (AW2524H) hands-on review.
Virtual reality tends to have its place at CES, and this year the standout headset so far looks to be the HTC Vive XR Elite Virtual Reality System.
Complex name aside, this VR headset is a stand-alone device complete with high-end features like a displays that offer a 3840 x 1920 combined resolution, up to 110° field of view and a 90Hz refresh rate. Plus there are four on-board tracking cameras for controller tracking and a depth sensor. And the headset has slick features in the form of adjustable IPD sliders and a dial to change the focus of the lenses to accommodate those of us that wear glasses.
For people who don't want to drop a huge wad of cash on a gaming laptop or PC, then the Razer Edge 5G could be a device worth checking out. Made in partnership with Verizon, this device is a cloud-powered gaming handheld.
Even without the power of the cloud, a Qualcomm Snapdragon G3x Gen 1 SoC processor optimized for gaming devices, 8GB of RAM and 128GB of storage, and a 2400 x 1080 AMOLED display with a 144Hz refresh rate, should make the Edge 5G a solid mobile gaming device. But its killer app could be Xbox Game Pass, which offers cloud gaming via the Ultimate subscription tier.
Speaking of Xbox, Auus revealed an Xbox PC controller dubbed the ROG Raikiri Pro. While it looks like a rebranded Xbox Elite Wireless Controller, it has a suite of extras.
Most notable is the 1.3-inch OLED display, designed to show notifications from games and gaming-related services. But it also has a mix of connectivity, from Bluetooth and wireless a low-latency Radio Frequency to a wired USB-C connection. And there's a load of customization to be had, such as remapping buttons, thanks to Asus' Armoury Crate PC app.
Audio
So far JBL has had the biggest audio showing of CES 2023 in our opinion. The company took the covers off a slew of devices from soundbars to gaming headphones.
Highlights include the 4329P studio monitor speakers and the new Spinner BT turntable, which is a Bluetooth-enabled record player with aptX HD codec support for high-quality wireless streaming.
Treading the line between earbuds and more classic wearable tech, the Nova H1 are earrings that let you listen to music. And for people afraid of needles, these earrings clip on with no need for piercings.
Editor Kate Kzouch tried them out and was impressed. What's more, the Nova H1 earrings are truly made to be worn throughout the day. Active listening or talking battery life falls between 5 and 6 hours, but you'd still wear them in a dormant mode even when you're not playing music or taking a phone call.
Wearables and smart tech
Wearables and smart tech are common features of CES, and one that''s caught out eye is the Fossil Gen 6 Hybrid Wellness Edition. This $299 (roughly £249 / AU$430) hybrid smartwatch combines a rather traditional watch design with a host of fitness-focused features one might expect from a fully fledged smartwatch.
For a true smartwatch we have the Citizen CZ Smart, which uses artificial intelligence to gauge your physical and mental power throughout the day.
Alongside WearOS support, the the CZ is launching with a proprietary program that analyzes the user's behaviors to predict when they'll have the most (or least) energy on a daily basis.
Speaking of tracking things, the Withings U-Scan offers hockey-puck shaped device that sits inside your toilet bowl and analyzes your pee, and then sends the results via Bluetooth to a smartphone app.
Why would you need to do that? Well, through loading the device with one of three cartridges, you can test your urine for sings of ovulation, general health markers like protein-vegetable balance, and pro-grade data for use in medical studies.
For more chic tracking tech take a look at this new Evie smart ring. Movano's Evie ring offers a similar Oura Ring Gen 3 experience, but with a stronger emphasis on menstrual health management for people with uteruses.
With an adjustable design and portable battery case that can recharge the ring up to 10 times, the Evie seems feels like a rather practical smart ring.
While not necessarily a smart device on its own, Sony's Project Leonardo has a lot of smart design aimed at making PS5 games more accessible to gamers with limited mobility.
Sony says Project Leonardo is "a canvas for gamers to craft their own play experience." And that "it includes a robust kit of swappable components, including a variety of analog stick caps and buttons in different shapes and sizes."
The controller's buttons can be programmed for various function and multiple buttons can be mapped to the same function. Players can also map two functions (like "R2" + "L2") onto the same button.
While on the subject of mobility, L'Oreal's new motorized lipstick applicator is a big win for accessibility. Called the HAPTA, the applicator can keep a lipstick steady for application, offering assistance and more confidence for people with limited mobility to enjoy beauty products. It works a bit like a gimbal, steadying the movement of the lip product even if the hand is moving irregularly.
One for smart kitchen appliance fans, the GE Profile Smart Mixer with AutoSense is a stand mixer that can measure how hard the motor needs to work to mix things and automatically determining when the mixing is done.
That's not all the smarts as the GE Profile mixer has a scale built into the mixer itself, so you can measure things directly into the bowl while it's hooked up to the mixer. And a connected app on your smart phone has a number of recipes with measurements that will guide you along as you add ingredients.
Robot lawnmowers haven't taken off in quite the same way in the U.S. thanks to their setup being a pain in the.. err... grass. But Worx's newest robot lawnmower, the Landroid Vision makes use of a camera to figure out what's lawn and what's not, doing away with the need to put wires around your garden.
If your dog ever has a bone to pick with you, well instead of grumbled growls, it could soon text you, thanks to Fluentpet Connect.
The app allows dog owners to connect their smartphone to a series of smart buttons that a dog can learn to press if it wants to eat or go outside.
It might sound barking mad, but it could be one step closer to being actually able to talk to your dog. Whether your fluffy friend has anything interesting to say is another case...
Cars
While the show can be a little hit and miss where cars are concerned, CES 2023 has already had a pretty strong showing. BMW in particular has been showing off a whole host of new tech in the form of the i Vision Dee concept car.
It may look like a bizarre CGI creation, and you're never going to be able to buy one, but this car is designed to showcase design and tech elements that could come to real-life BMW cars. Most important of which is the e-ink panels, allowing you change the car's color scheme on the fly.
Also on the agenda is another appearance of Sony and Honda's electric car, now officially dubbed "Afeela". No, we don't know what that name means either, but we do know that both companies have some pretty bold plans for this machine.
Soy's plan is to make driving and mobility more immersive and entertaining than it is right now — while also preparing for the day cars will need to drive themselves. That means there's a whole smorgasboard of sensors in the latest prototype, alongside advanced connectivity for both entertainment and continual software updates.
But bringing things right back to the present is the impending launch of the Ring Car Cam. Due to start shipping next month, this $250 device is Ring's take on the dash cam — though the company would prefer you didn't think of it like that.
This is a fully-fledged Ring camera for your car, that just so happens to be able to record what happens to your car whether you're driving or parked up. Combined with a classic simple Ring set-up, LTE connectivity and a novel OBD-II power supply, this looks like a great opportunity to add your favorite Ring features to your car with the minimal of fuss.
If Ring isn't your jam, then there's always the Nextbase IQ, which is making a return trip to Vegas. Promising to be the most advanced dash cam Nextbase has made, we finally know when this device will be available to buy.
The Nextbase IQ will be arriving sometime this spring, and will cost less than $500. For that price you'll get a 4K triple-camera system, automatic incident detection, various AI features, hands-free control, emergency SOS, GPS tracking and a live view through the iQ app. Like the Ring Car Cam it also comes with LTE connectivity, powered by T-Mobile and costing $10 a month.