Samsung CES 2023 press conference: Everything that was announced
It's an all-new era for Samsung smart home tech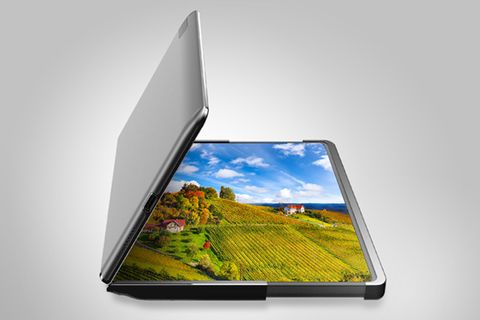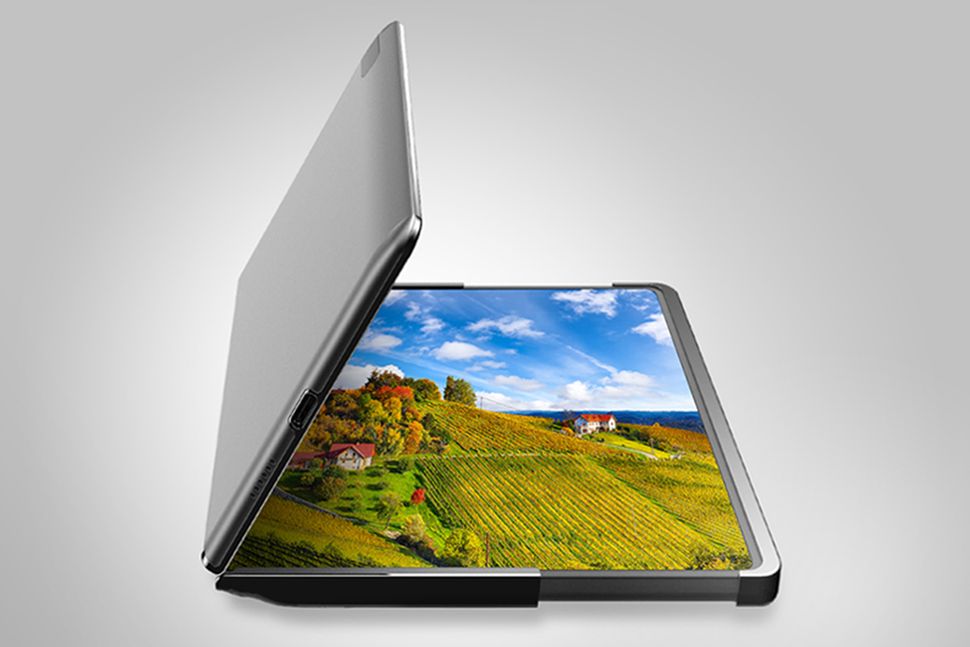 (Image: © Samsung)
The Samsung CES 2023 has kicked off at The Mandalay Bay Convention Center here in Las Vegas and mostly talked about the future of the connect home.
The show kicked off at 2 pm PST and can be viewed below.
Just want the highlights? Scroll down below to see what was announced, when.
Refresh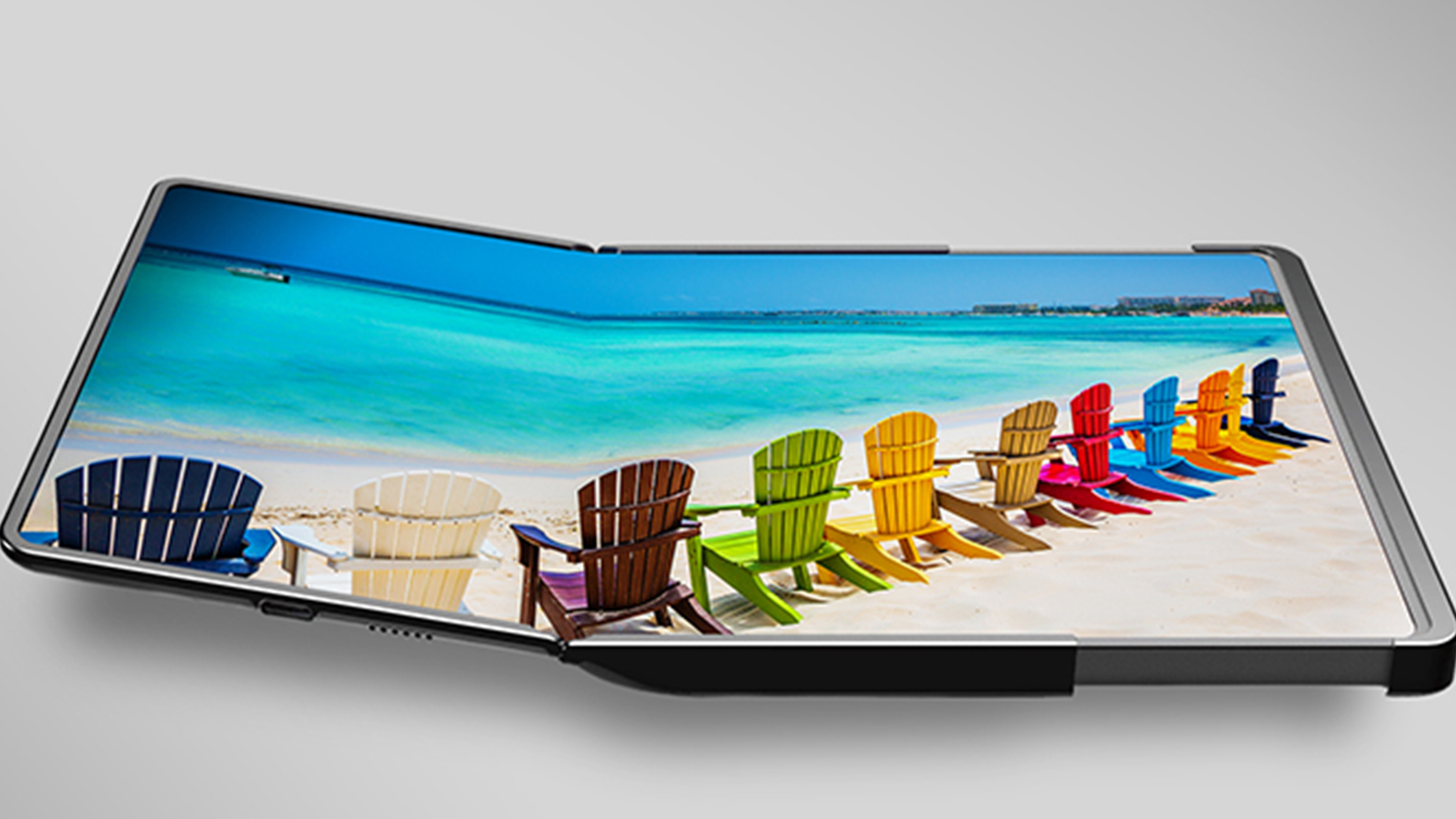 Looking for folding OLED displays? Samsung's got them. Check out the Flex Hybrid. Coming courtesy of Samsung Display, this device shows off a concept "smart mobile device" that has both a folding and sliding display.
Using this approach it takes a 10.5-inch display with a 4:3 aspect ratio and expands into a 16:10 12.4-inch screen. So not just adding more space but also transforming the shape of the screen.
While 10.5 inches is a little big for a smartphone, it's not hard to see how this tech could be condensed down into a phone display and represent an evolution for folding phones. Don't expect to see this on the potential Samsung Galaxy Z Fold 5, but it could be a possibility for future folding Samsung phones and tablets.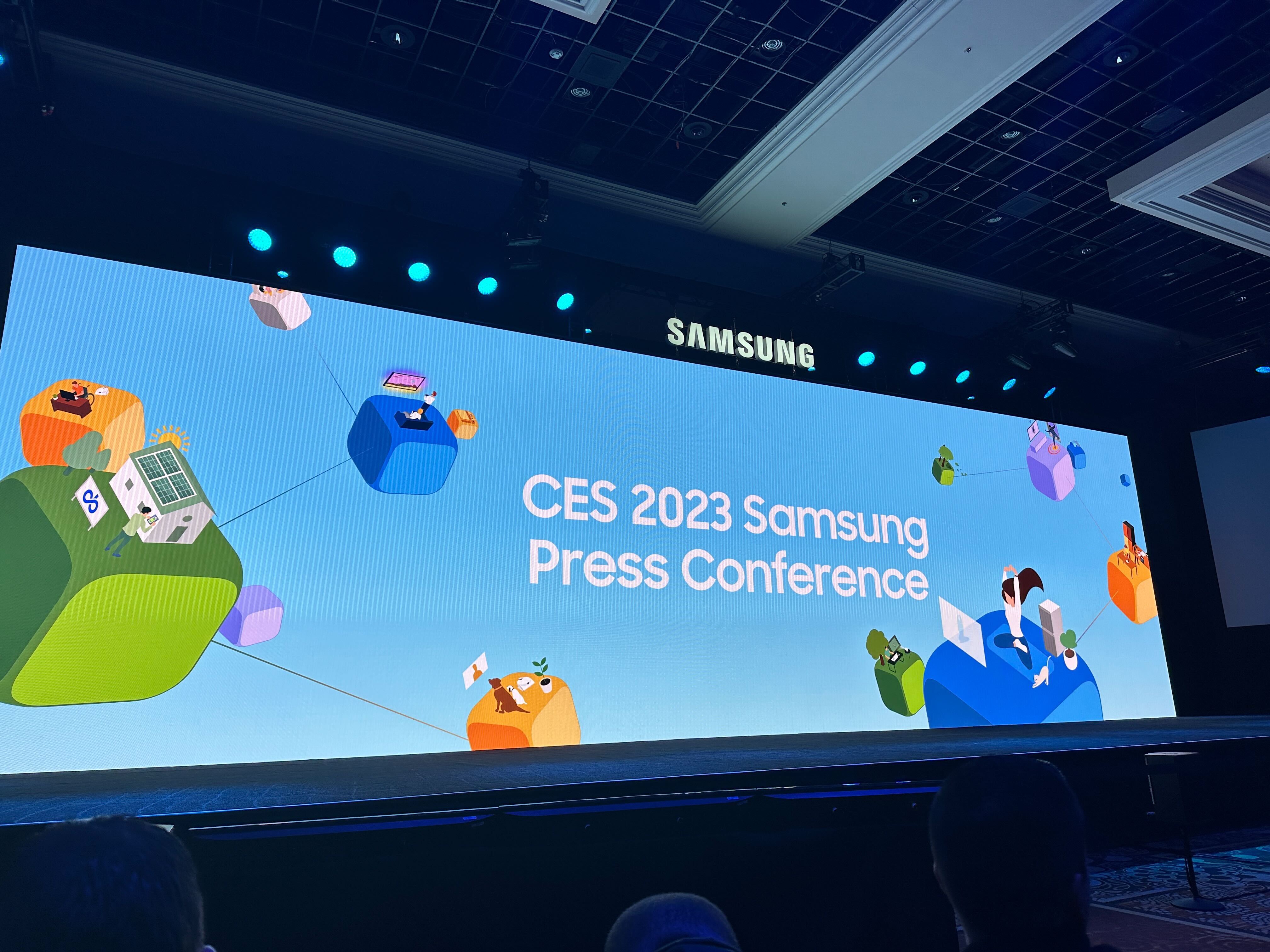 Update: we're in our seats at Mandalay Bay. 30 minutes to showtime!
The show is starting. We've got some catchy music in the background.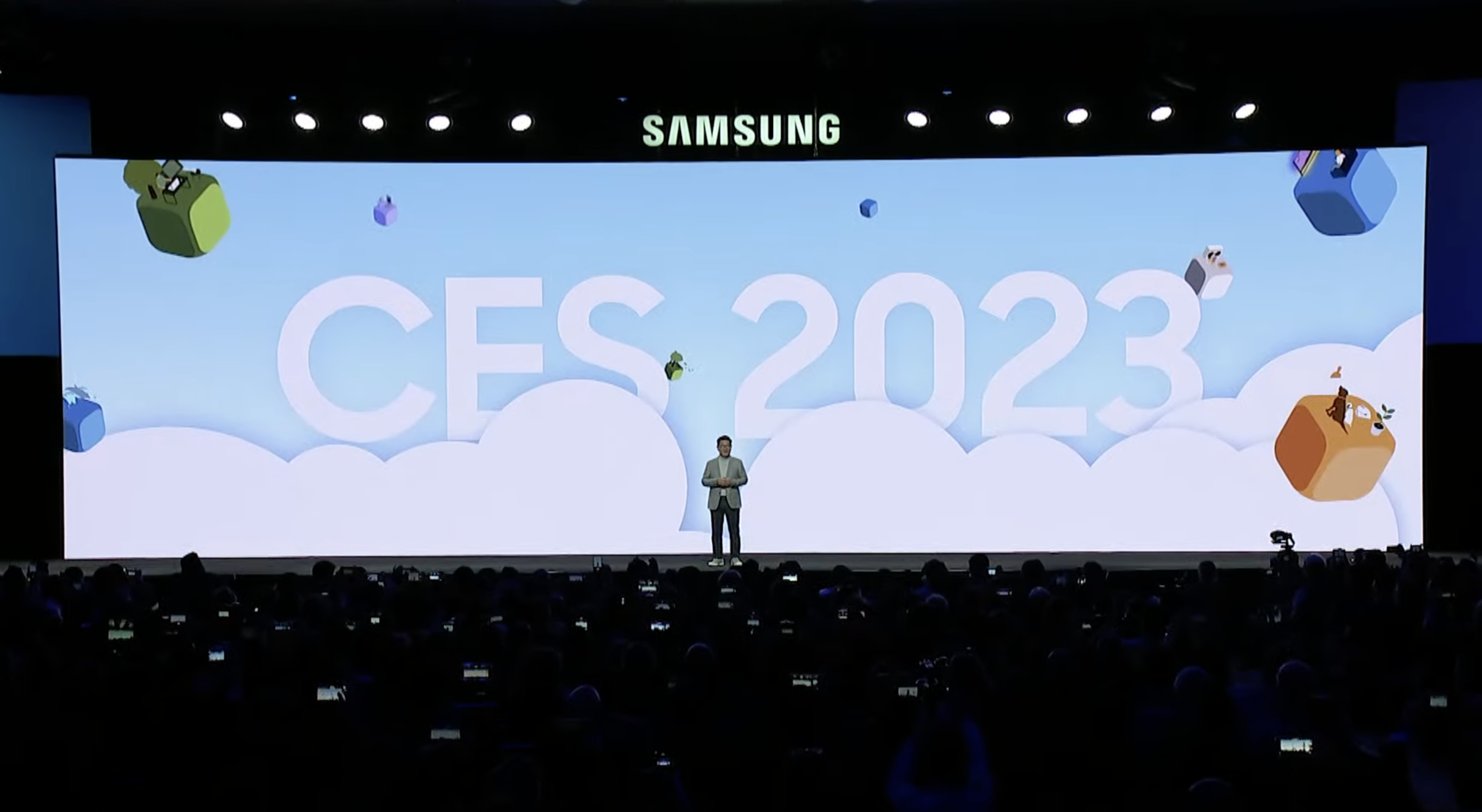 JH Han takes the stage. Asked the question: "Are smart devices really making our lives easier?" Man, I don't know that's a tough one. Probably not.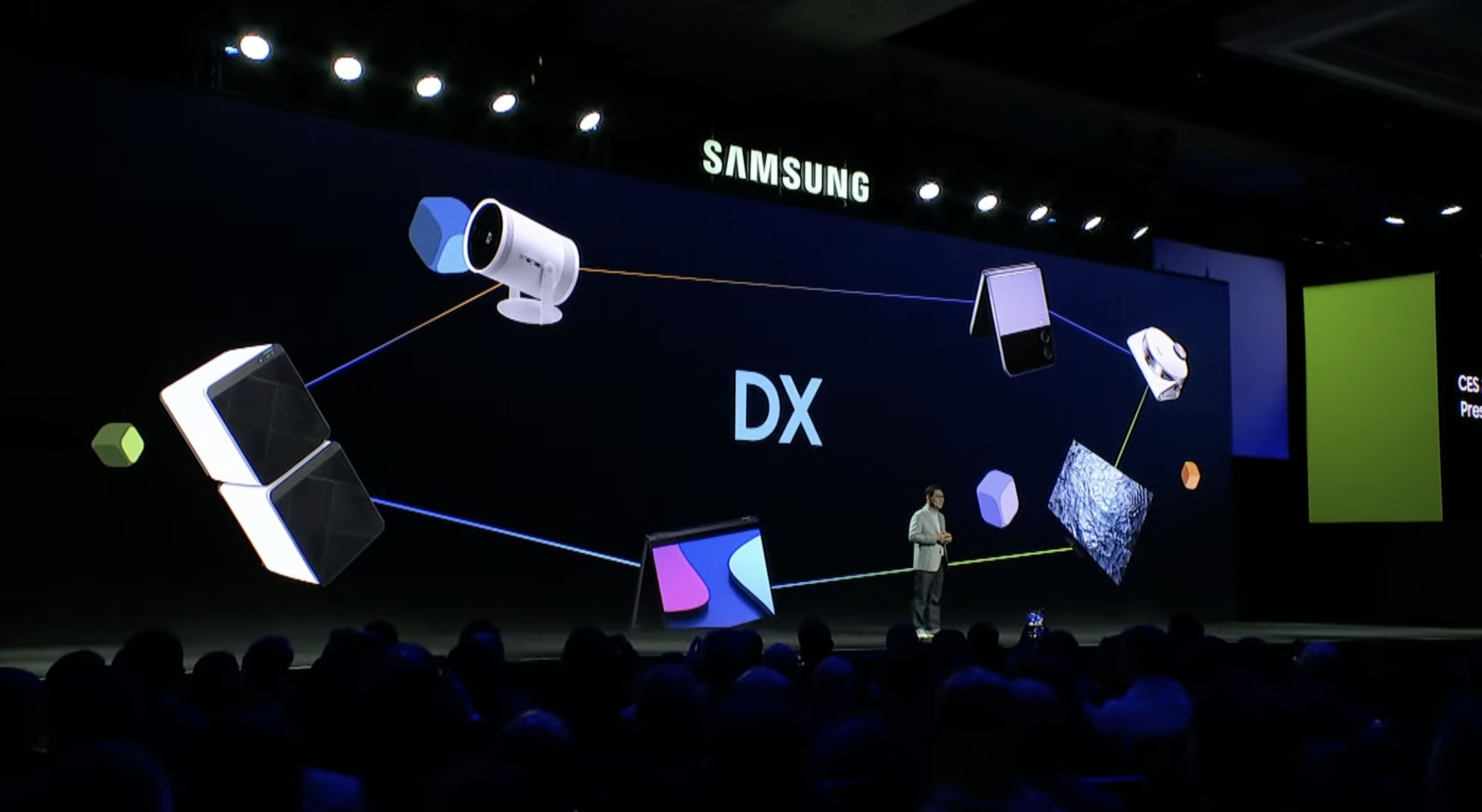 Han talking about the Device eXperience team formation last year. The DX team is working hard to be create more sustainable products, reduce carbon emissions and create great experiences for Samsung customers.
Han's out. Vice President of Corporate Sustainability Inhee Chung is on next.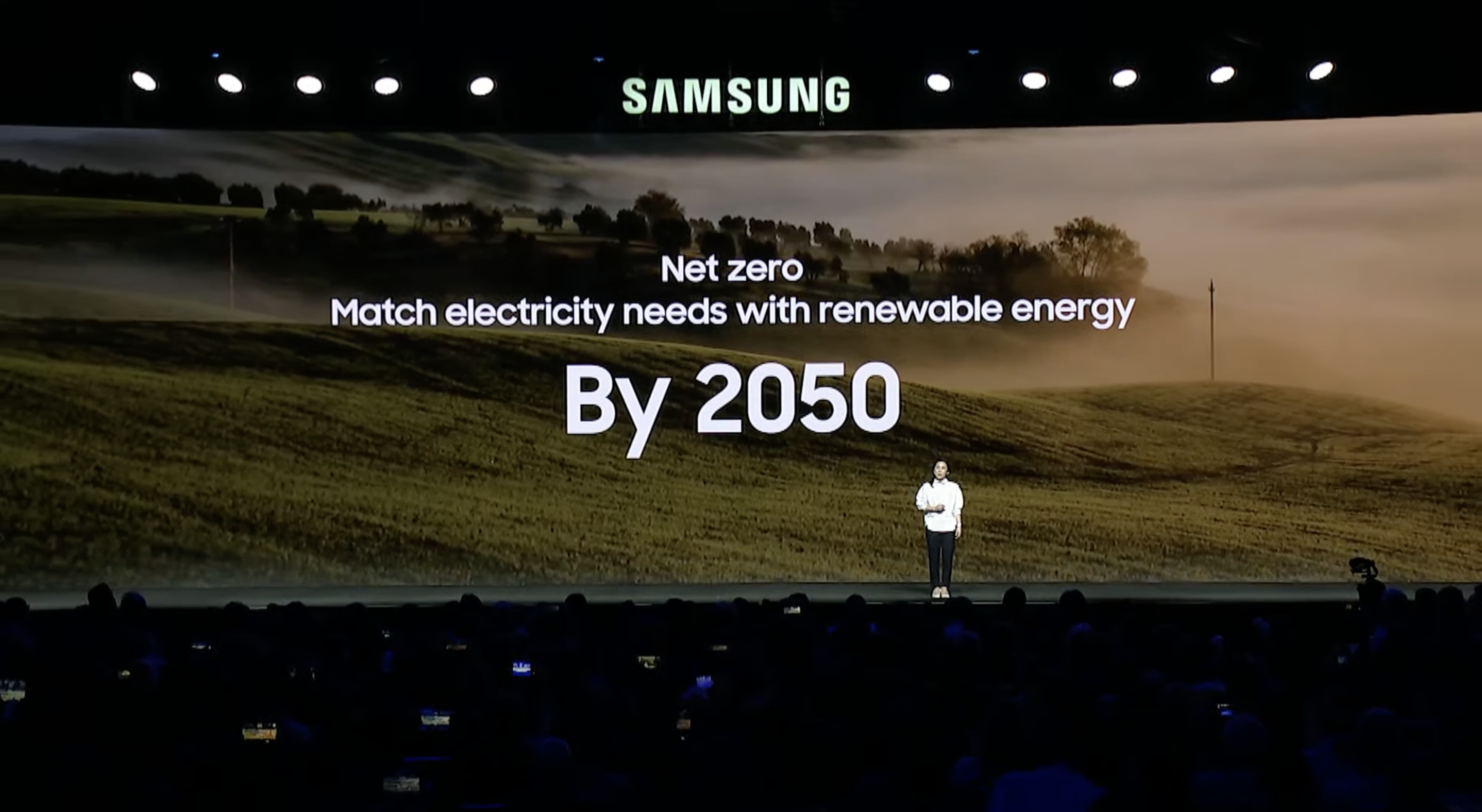 Samsung will reach net zero carbon emissions by 2050. The DX division will be net zero by 2030 and powered by renewable energy by 2027.
"Many of our phones and TVs include recycled materials ... As we move forward even more products will include recycled material."
Chung is out. This is a breakneck pace! ... And the next dude is done talking, too.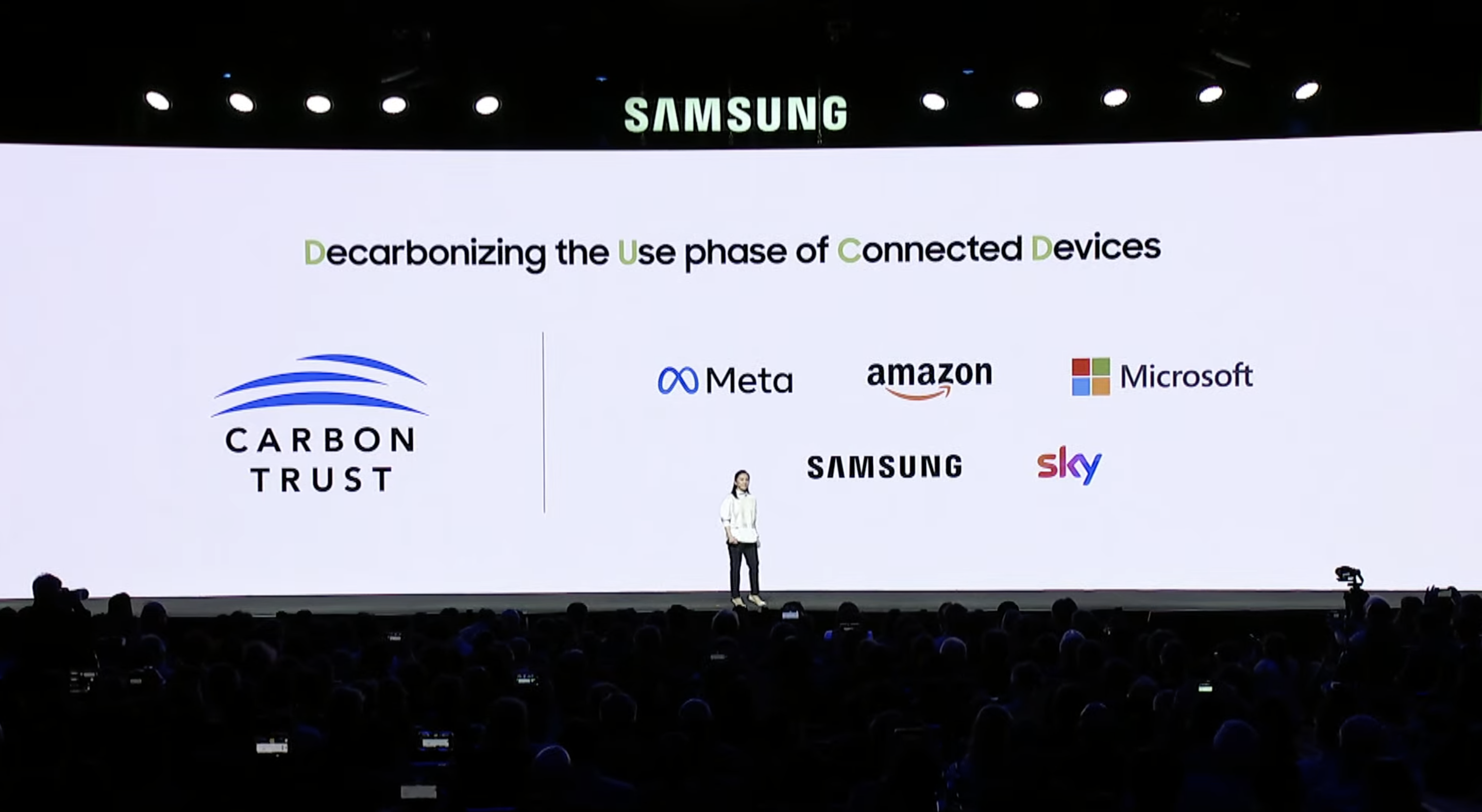 OK, SmartThings. More than 80 million connected devices to SmartThings platform. Samsung is partnering with other companies to reduce emissions.
The end goal is that Samsung wants to create a future where homes have solar panels and batteries on the side of the home to store energy.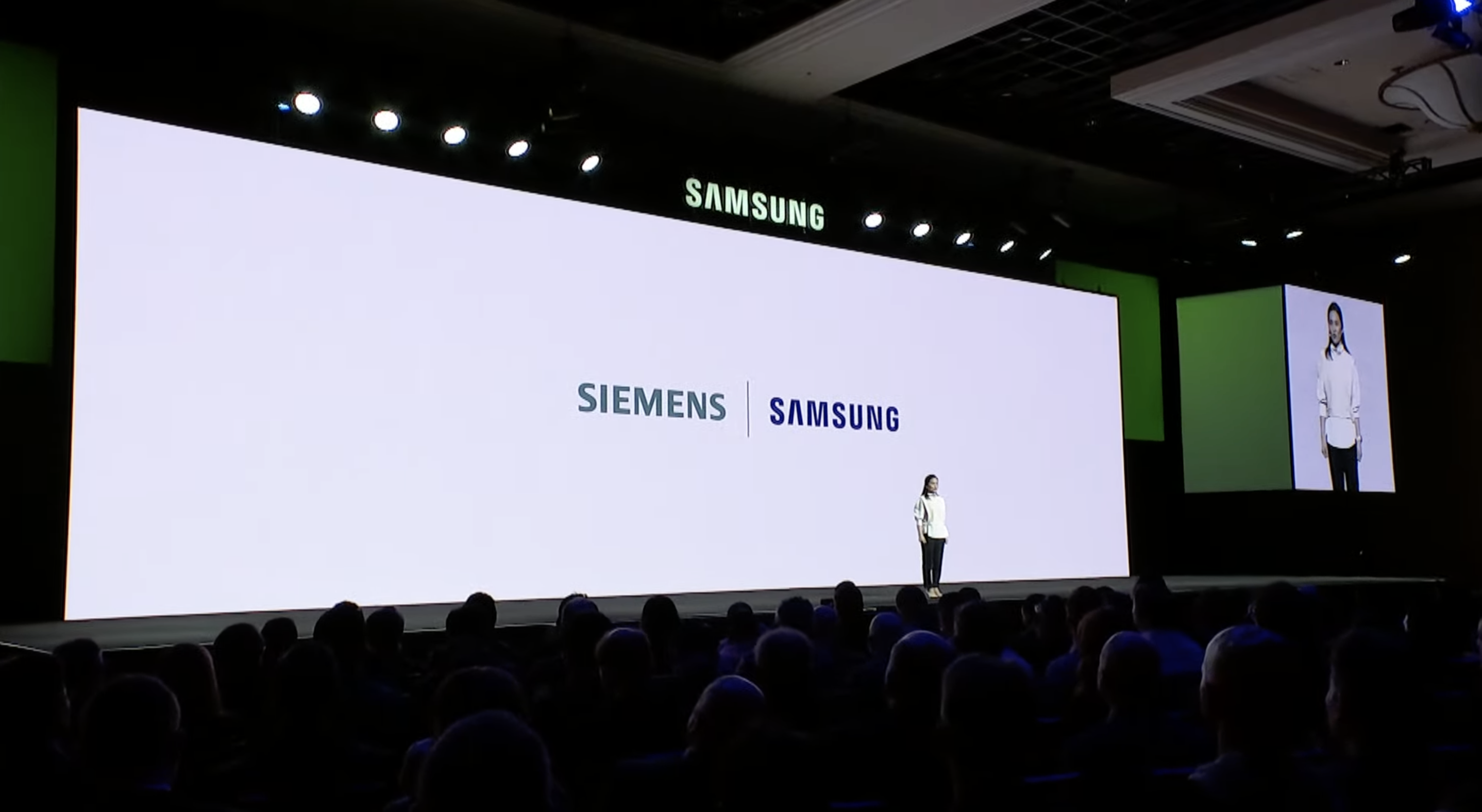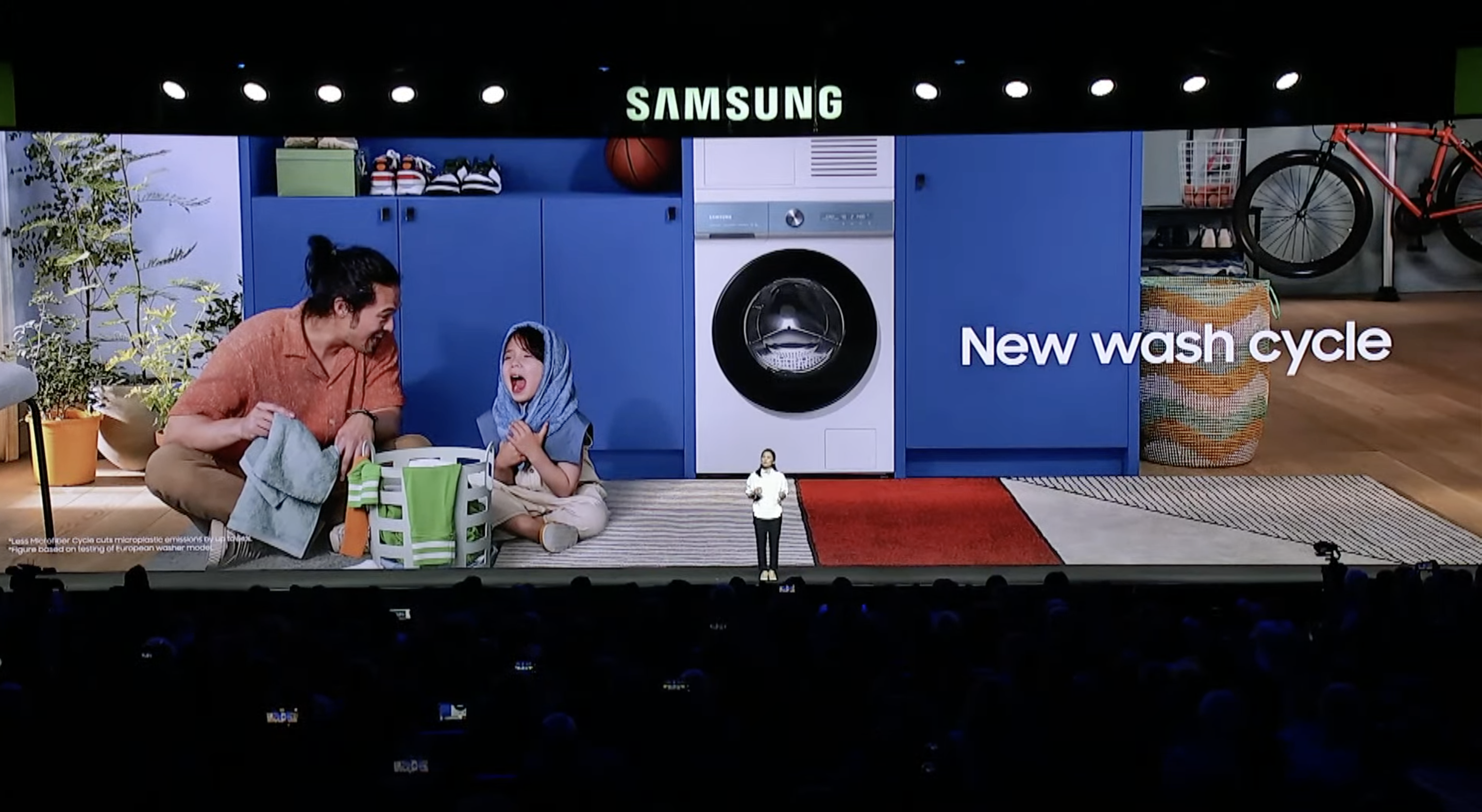 Chung is now talking about the issue of micro plastics. Introducing Vincent Stanley from Patagonia to talk about the steps it's taken since last year's CES.
"Engineers went to work creating a washing machine that could filter out micro plastics ... That technology has now reached the commercial stage."
Apparently this can reduce micro plastic pollution by 54%. Already available in Bespoke washer and dryers. The filter will be available to all washing machines down the road.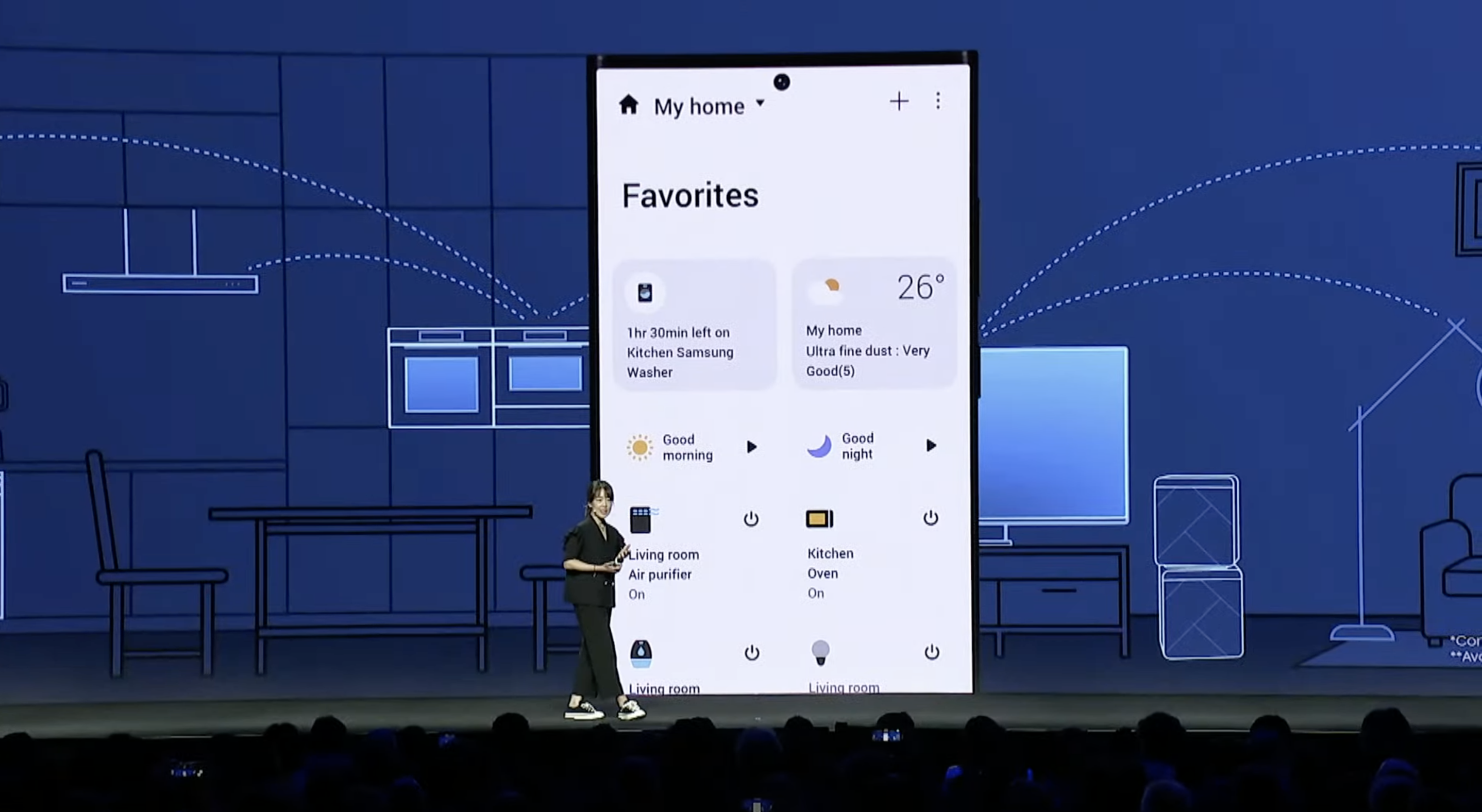 Jaeyon Jung up now to talk more SmartThings. SmartThings will let you check a device's status remotely through the app (an old feature, but a neat one).
Samsung Home Monitor will send you an alert if it detects something out of the ordinary. The microphones on your TV can detect strange noises in the house.
(Ed. Ooh, not sure if I like the sound of that. My TV is just listening for weird noises all the time?)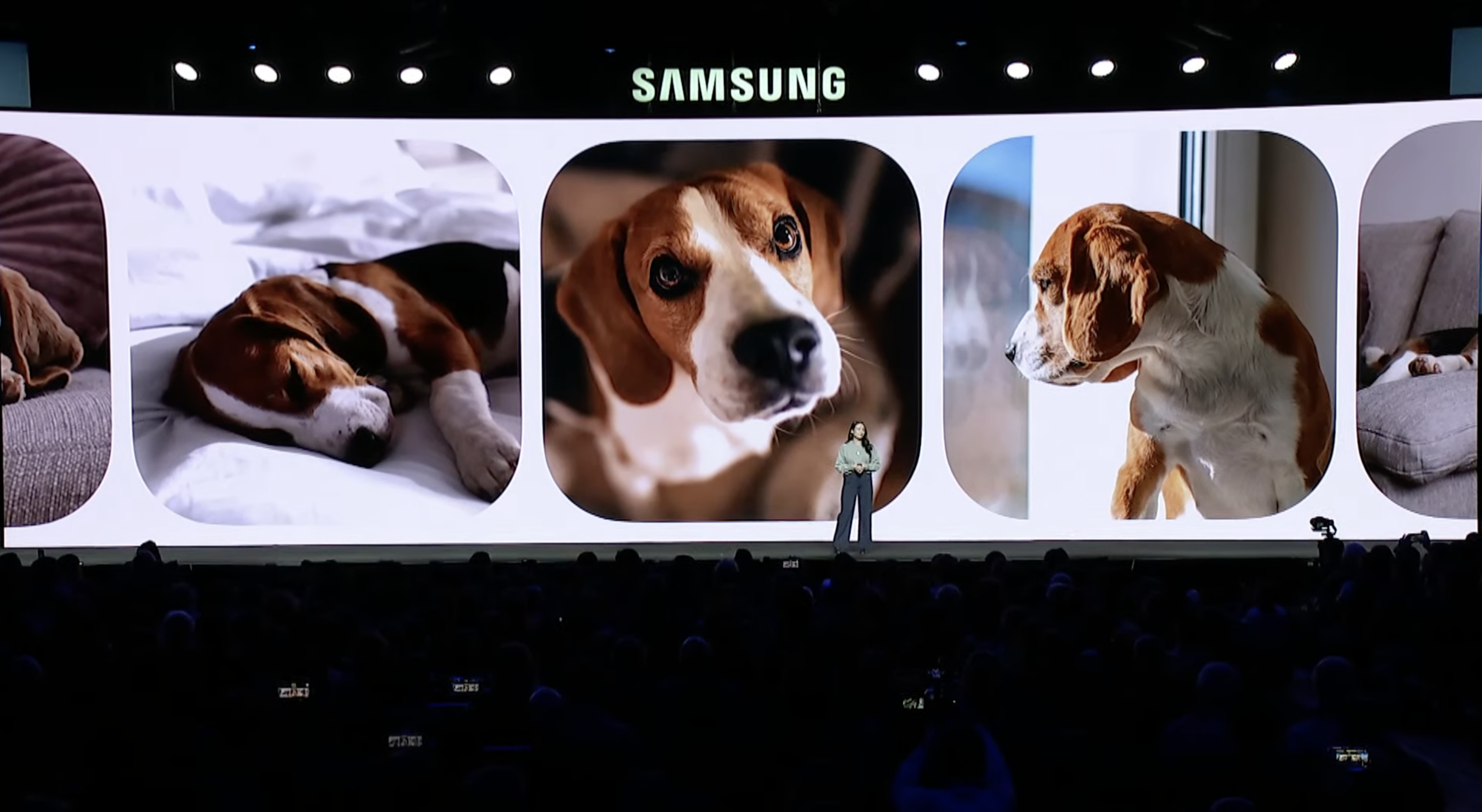 Alana Gomez-Solis up next. She's a Communications and Content Specialist at Samsung. Using PetCare on a Samsung TV, she can check in on her dog when she's at work when it detects barking. The AI vacuum cleaner can also clean while she's away so she comes back to a dander-free home.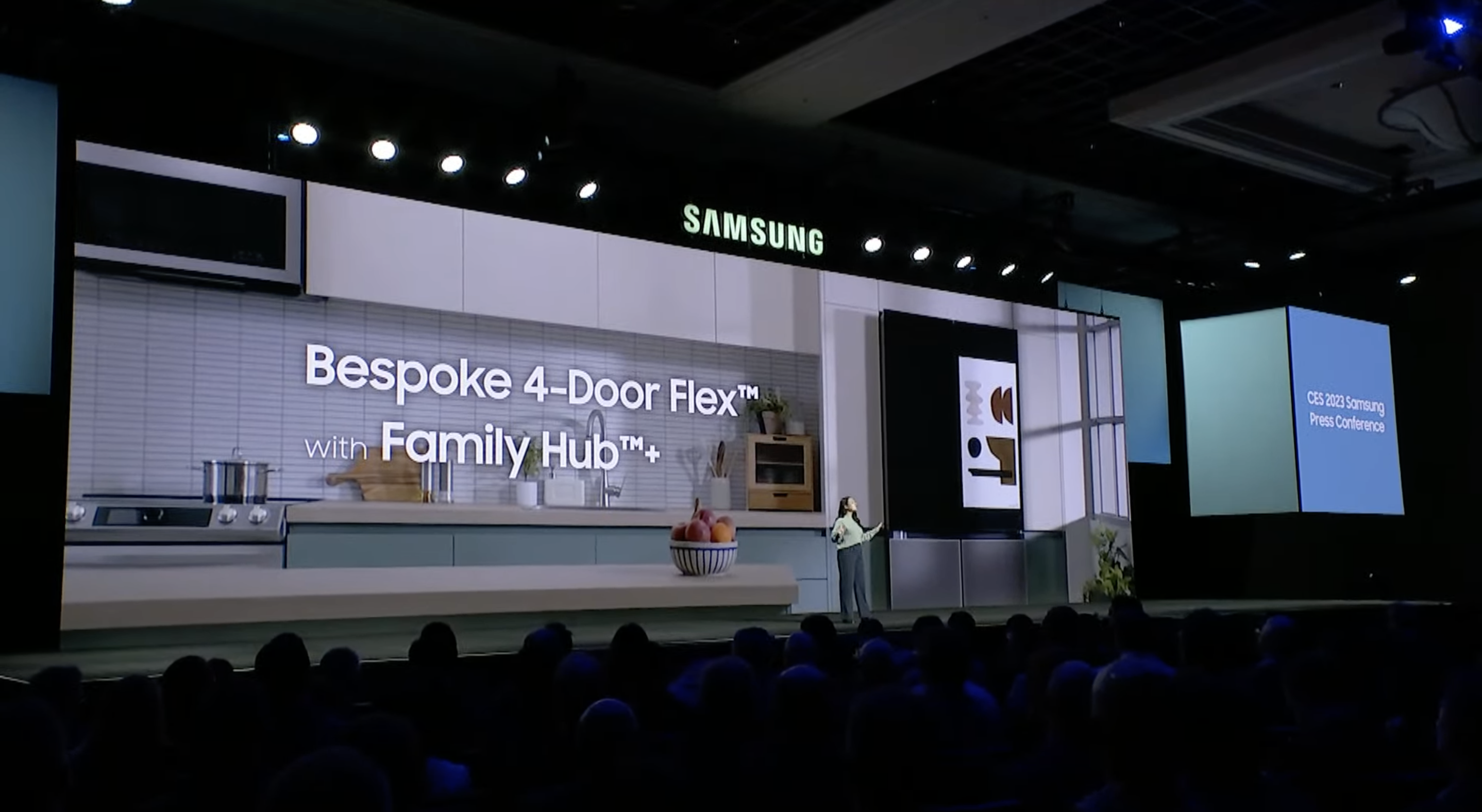 Gomez-Solis is talking about all the use cases for SmartThings, including the ability to find new recipes for dinner, workout tracking on her Samsung Galaxy smart watch, etc... Multi-view allows her to watch multiple things at once, perfect for her roommate situation, I guess?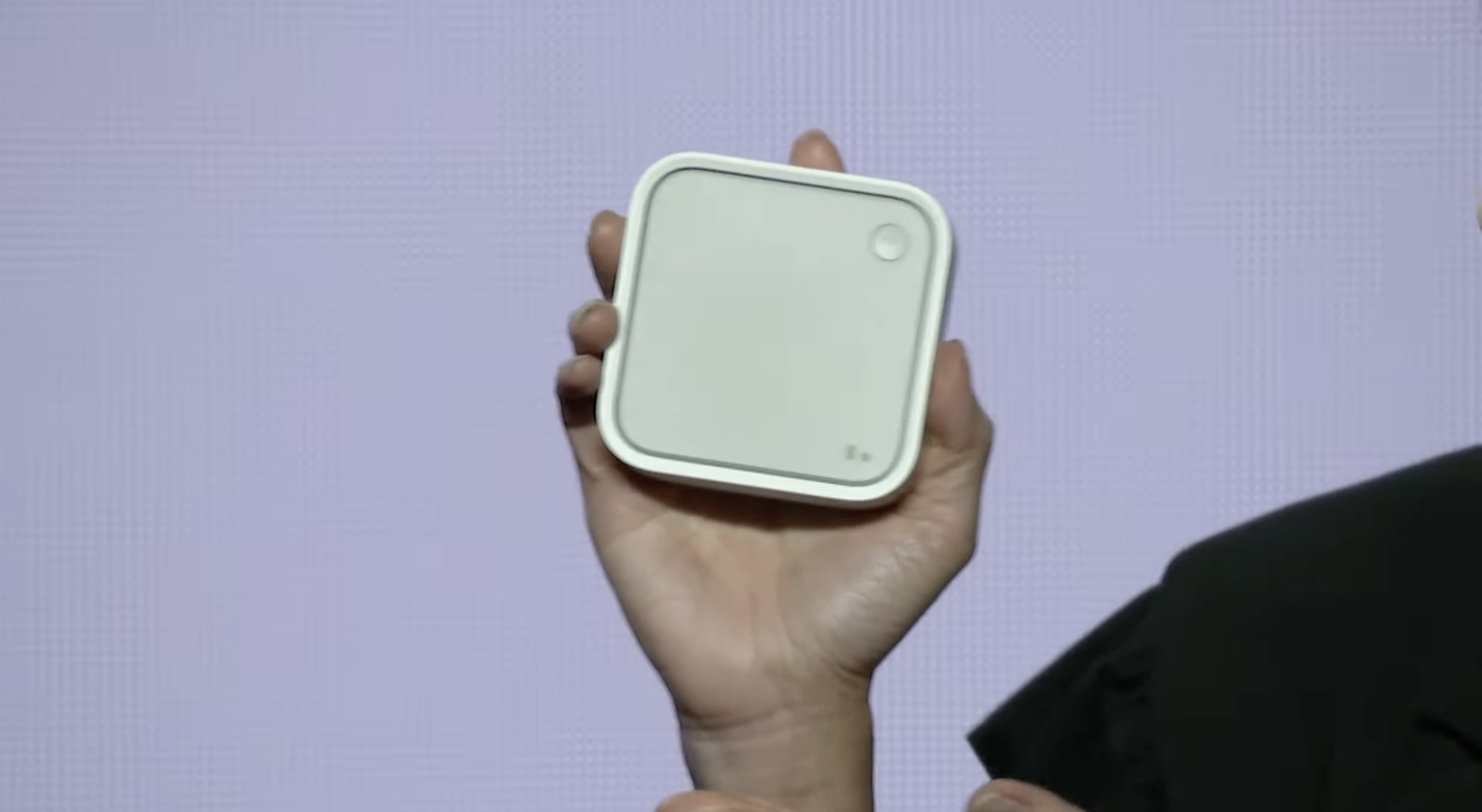 Jaeyeon Jung is back introducing the latest SmartThings hub, SmartThings Station. Smallest and most convenient smart hub yet. Can be programmed for a custom night routine when it detects your phone on the charger.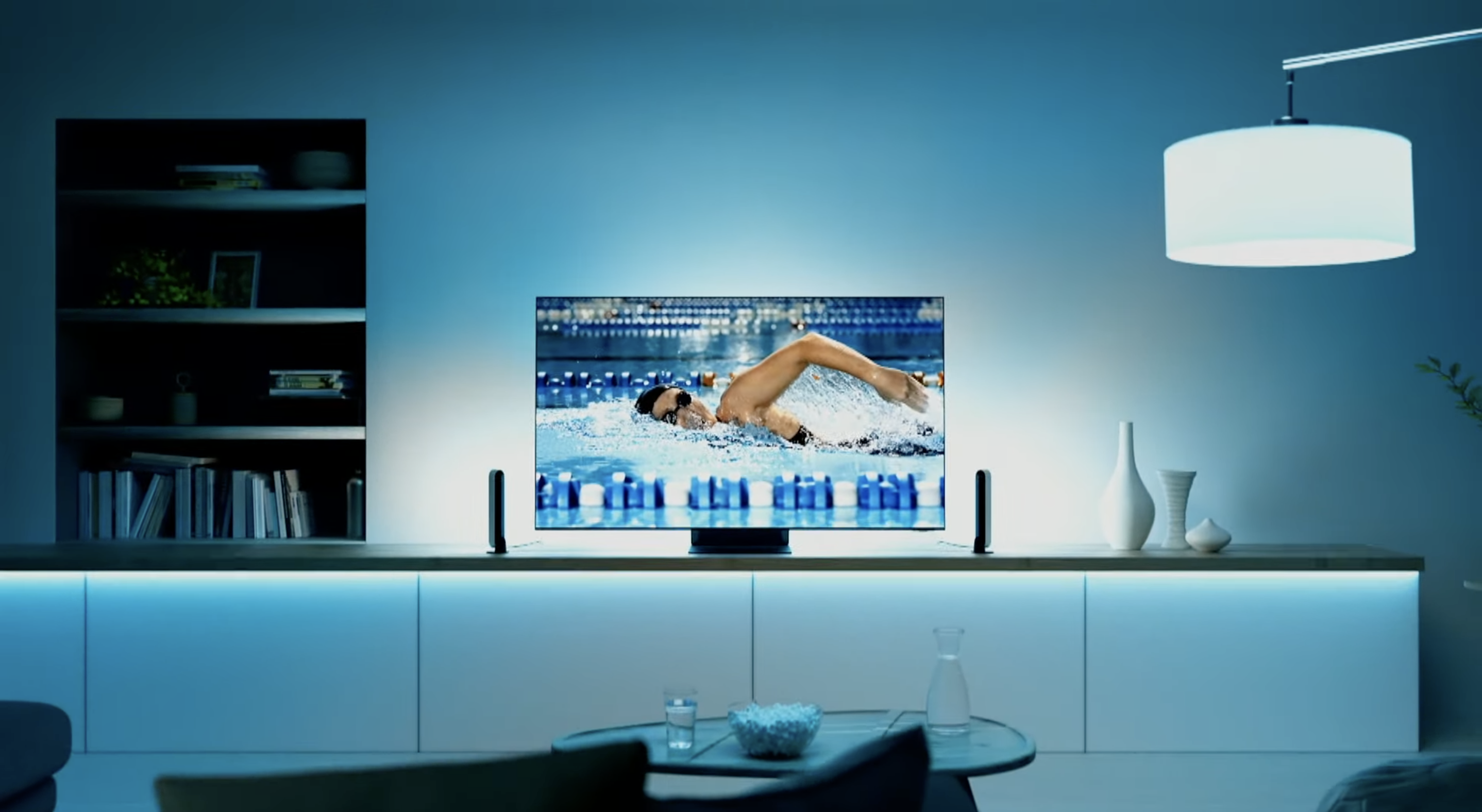 Jasper Vervoot on stage. Philips Hue are now able to sync with any content on Samsung smart TVs. It's an immersive experience that will work through the Philips Hue Sync TV app, available on iOS and Android tomorrow.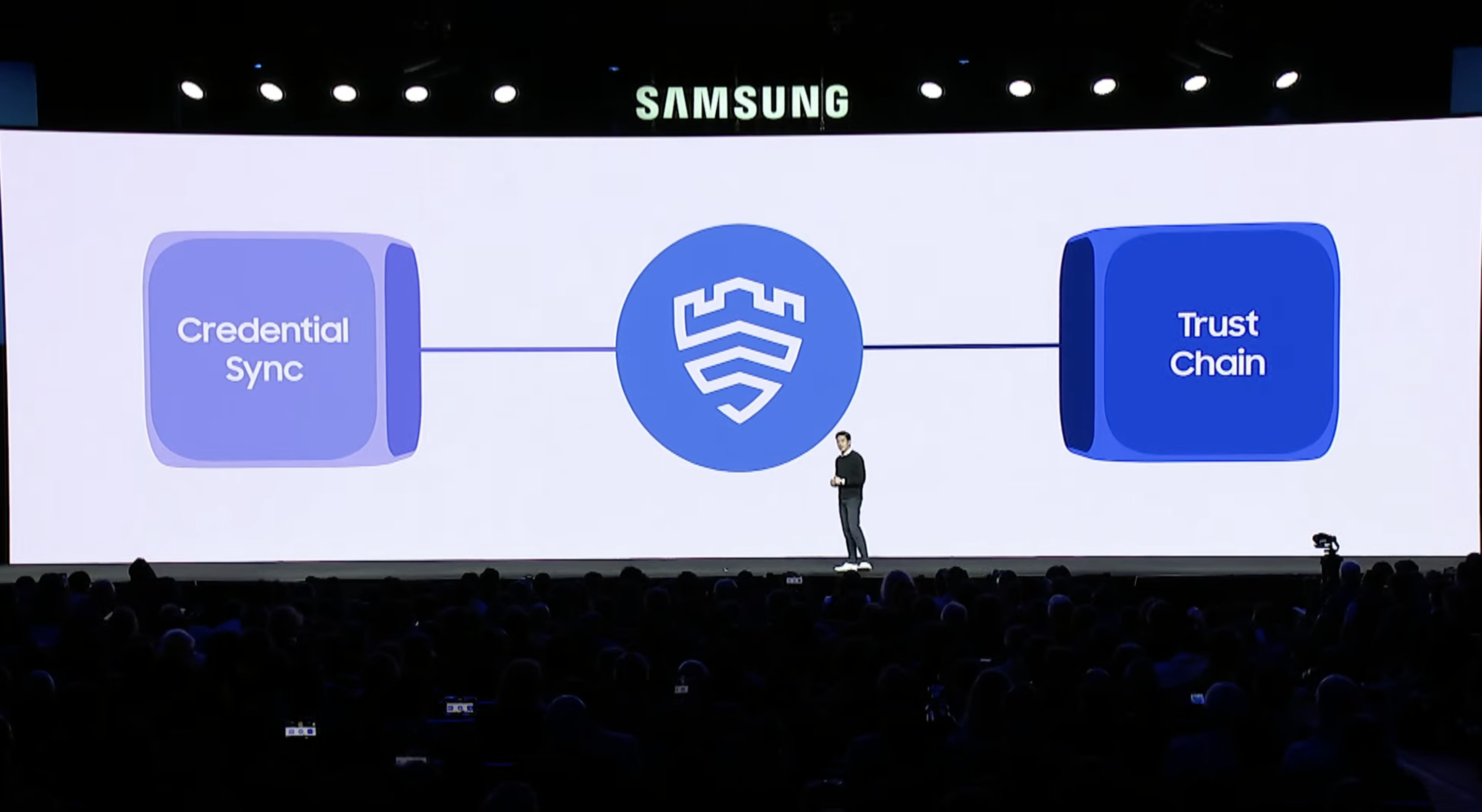 Knox Matrix is all about privacy. This is way outside my wheelhouse. But it sounds...safe? I've heard the words security, privacy and safety thrown around umpteen times in the last three minutes.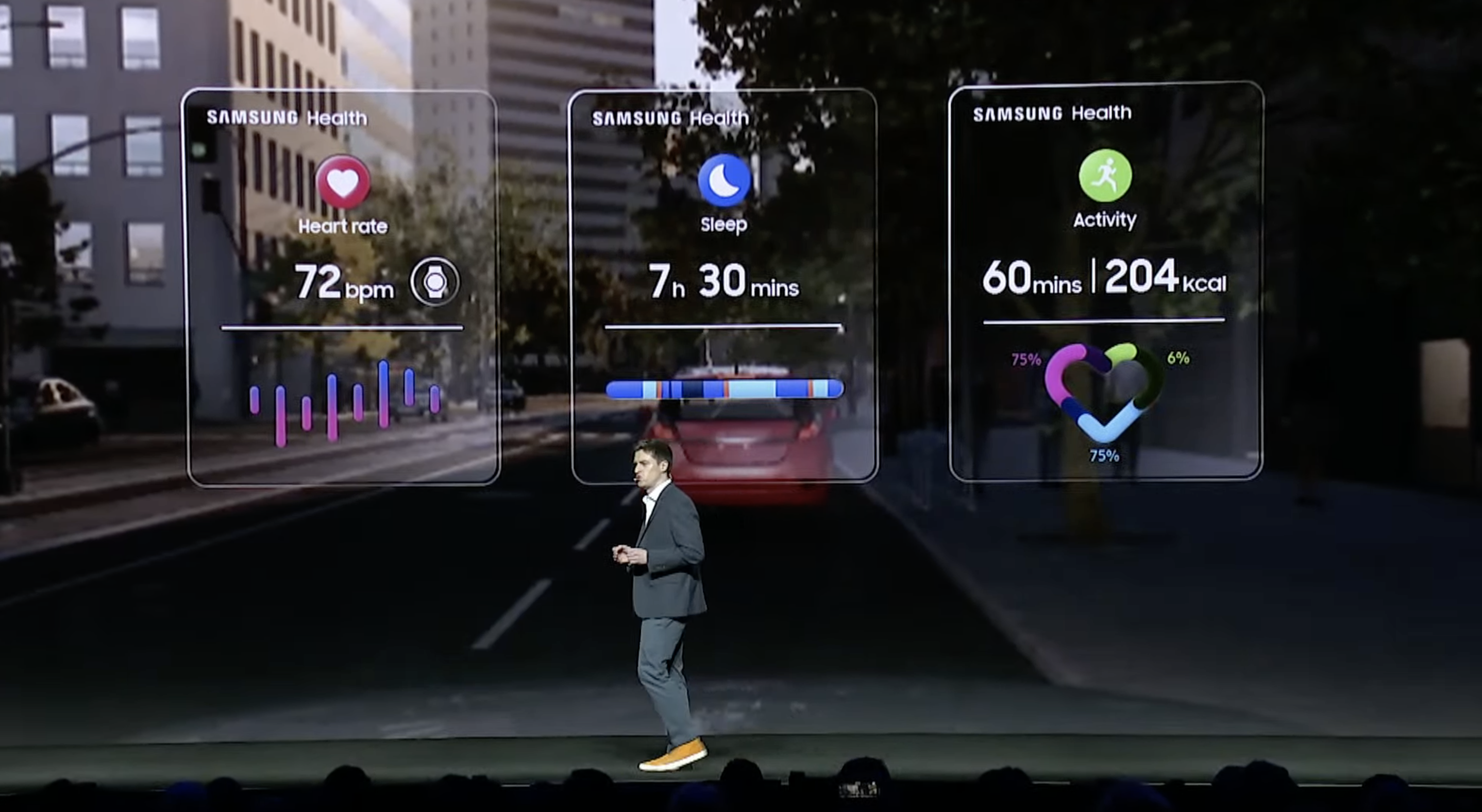 Samsung is partnering with Harman to create a safer experience. Harman Ready Care wants to reduce the amount of on-the-road fatalities. Harman's in-car sensors can track driver drowsiness and take preventative measures to keep you awake.
Ready Care can detect factors that create stress in drivers and can send reminders that you personalize to help keep you relaxed. It can change the volume of the music or the cabin light color to keep you calm.
(Ed. This sounds kind of annoying, tbh.)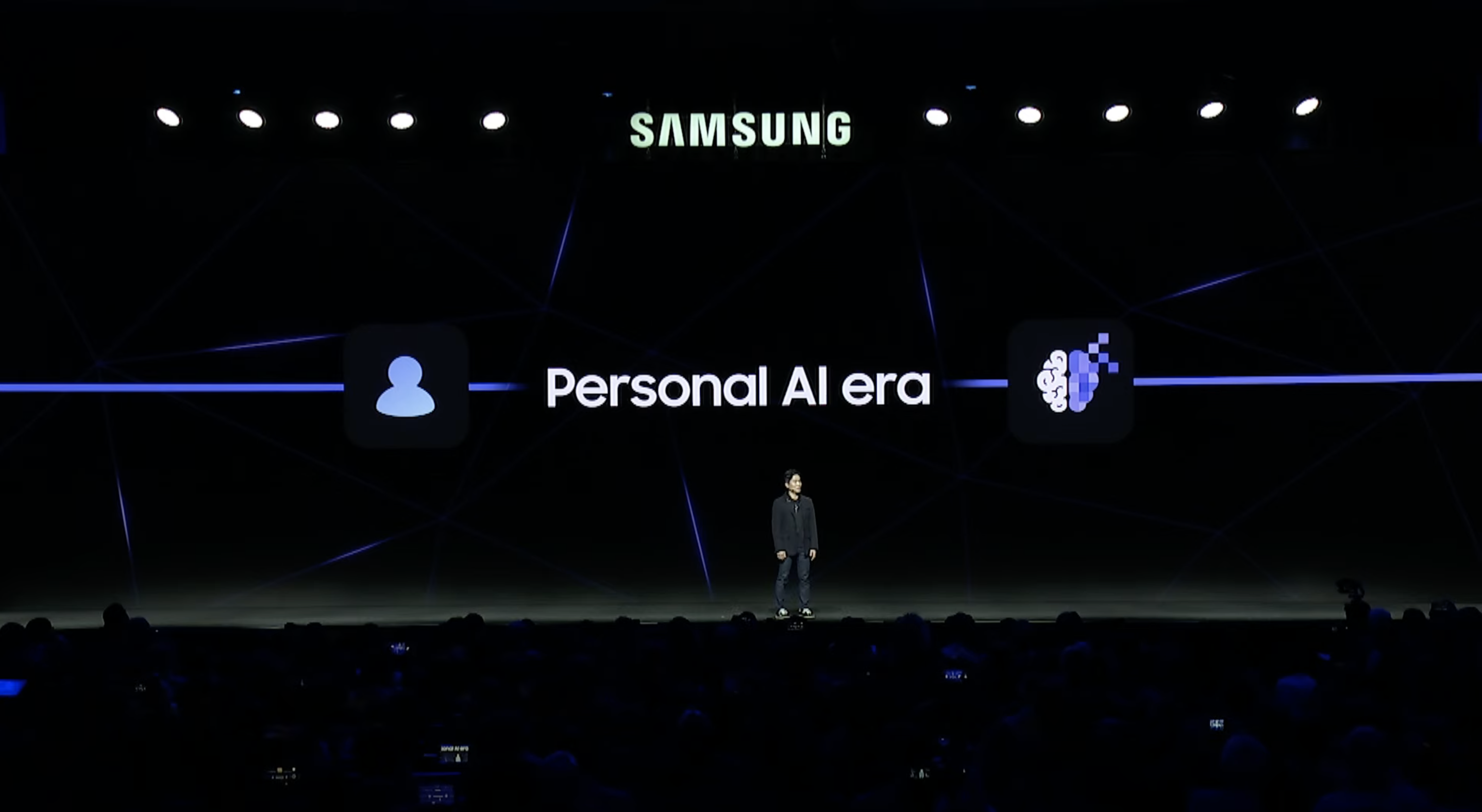 More talk of the internet of things era with Sebastian Seung. He says we've entered the 'Personal AI era' - basically The Jetsons.
"The smart home of the future will understand objects in their context ... In that future you can just say 'Turn on the TV' and it will turn on the TV closest to you." Jetbot will clean up crumbs under the table when you have dinner.
(Ed. Now this I could get behind, but still, big time security concerns.)
"We're investing in new forms of AI."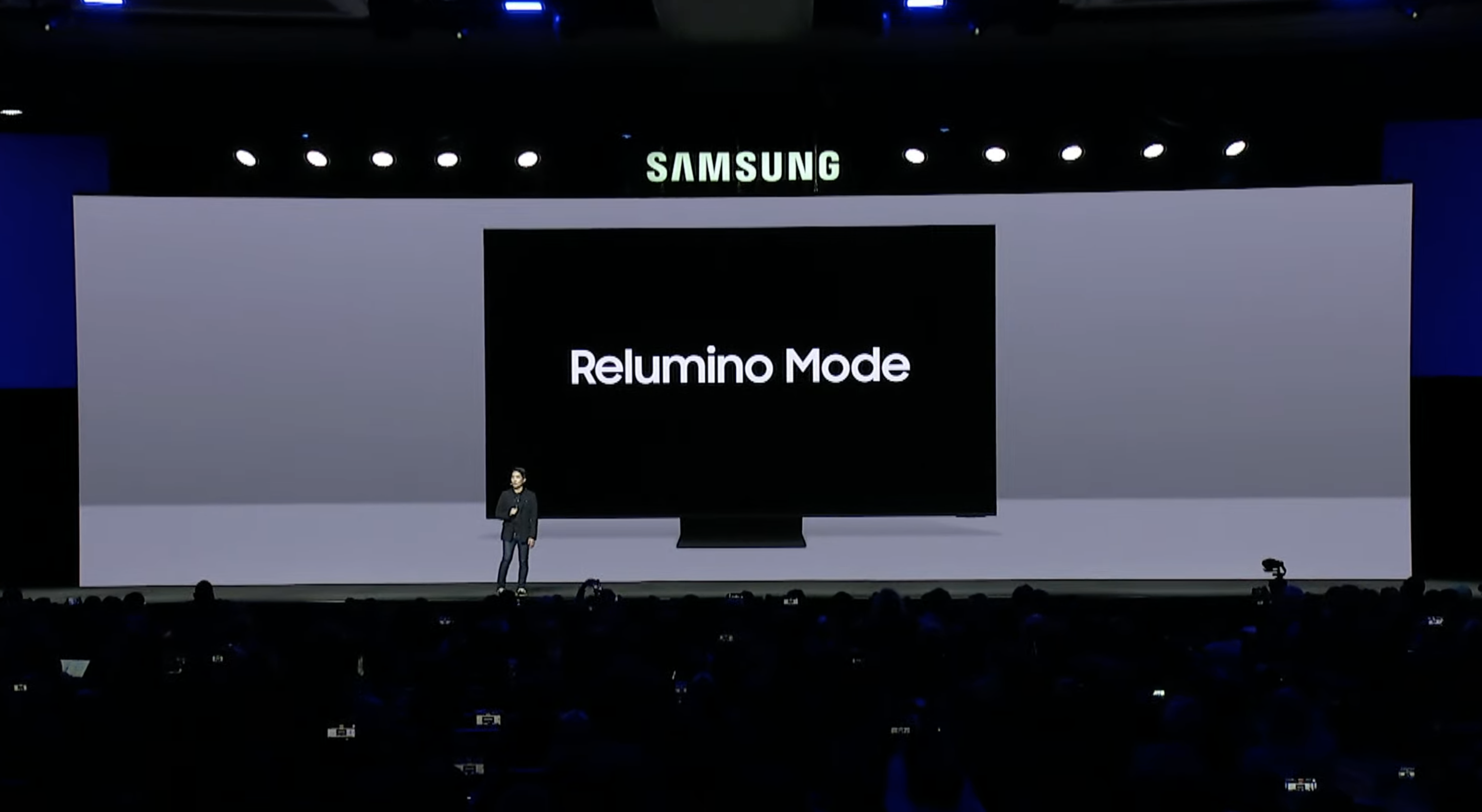 Last announcement of the show: Relumino Mode. This helps people with impaired vision see movies and content that they couldn't see before. A video is going with an amateur director who's visually impaired
"Relumino Mode helps people on the blindness spectrum connect with content ... and each other." It's a nice sentiment and a nice way to wrap things up.
Get the Tom's Guide newsletter!
Instant access to breaking news, the hottest reviews, great deals and helpful tips.
Thank you for signing up to Tom's Guide. You will receive a verification email shortly.
There was a problem. Please refresh the page and try again.