Finding the best laptop is more essential than ever, especially now that many of us are working and learning from home. A great laptop will allow you juggle a myriad of work and school tasks, while remaining portable and long-lasting enough to let you stay productive on the go.
Plus, there's never been more variety when shopping for the best laptops. There are plenty of ultraportable machines that pack huge power into svelte designs (including one new entrant to this list that impresses with a stylus look), as well as beefy gaming laptops meant to handle the latest games at high settings.
Chromebooks are a popular option for students thanks to their affordable prices and easy to use software, and you can even snag a 2-in-1 laptop that doubles as a tablet.
And now that Intel's 11th Gen Tiger Lake processors are here, we're getting new laptops that look to offer longer battery life with this chip, such as the HP Envy 13 and HP Spectre x360 14. Our Microsoft Surface Laptop Go review just went live, so check out where it matches its low $549 starting price. Ready to upgrade or get your first notebook? Here are the best laptops to buy right now.
Our pick for the best laptop overall is the Dell XPS 13, which packs speedy performance and a gorgeous bezel-less display into an incredibly slim and lightweight design with long battery life. Check out our Dell XPS 13 vs MacBook Pro face-off to see how Apple's best MacBook fares.
If Mac is more your thing, the MacBook Air 2020 is our recommendation for the best MacBook for most people. You get fast speeds, long endurance and, finally, a truly comfortable keyboard.
The Acer Aspire 5 is the best laptop for folks on a budget, while the Asus ROG Zephyrus G14 is the best gaming laptop out there. For our full recommendations, check out our picks for the best laptops below.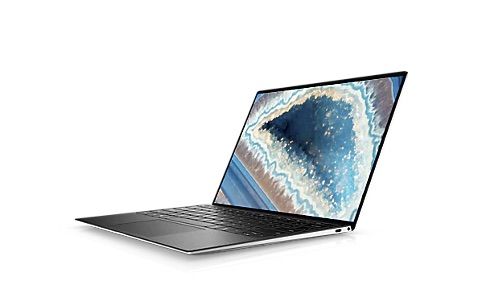 Black Friday 2020 laptop deals
Looking to buy a new laptop? Black Friday deals are already starting, including big savings on some of our favorite laptops from Dell, Apple and more. Look for even more big sales to pop up leading up to the November 27 shopping holiday.
It's hard to improve upon near-perfection, but the Dell XPS 13 2020 manages to make the best laptop you can buy even better — and it's so good that the XPS 13 won the inaugural Tom's Guide Award for best laptop. Dell's latest flagship PC comes outfitted with Intel's latest 10th Gen processors, which make multitasking between apps and even doing some light gaming a breeze. The laptop's Infinity Edge display now sports a screen-to-body ratio of 91.5%, with virtually no bezel to get in the way of your favorite movies and TV shows.
There are also some smaller improvements that make the Dell XPS 13 2020 better than its predecessors. The notebook's comfortable keyboard is now edge-to-edge, and the touchpad is 17% larger, making it much easier to crank away at work documents for long stretches of time without getting cramped up. Factor in some small material changes that make its gorgeous aluminum design even more of a delight to use and hold, and the Dell XPS 13 2020 easily stands out at the top of its class.
Read our full Dell XPS 13 review.
Image 1 of 4
Image 2 of 4
Image 3 of 4
Image 4 of 4
The Acer Aspire 5 proves you don't have to spend a lot to get a great laptop. This notebook includes a full HD display that's fairly bright, so it's great for surfing the web, doing quick photo edits and watching videos on YouTube, Netflix or Disney Plus. And it has all the power you need for everyday tasks and light multitasking, thanks to an 8th generation Core i3 processor, 4GB of RAM and 128GB SSD. It's all wrapped up in a fairly light 3.8-pound package.
The most pleasant surprise with the Aspire 5 is its battery life. This laptop lasted nearly 9 hours on our web surfing battery test, which is very good for a 15-inch system. There are a couple of things we don't like about this budget laptop; while the lid is a premium aluminum, the rest of the machine is made of plastic. You also shouldn't expect to play the latest games. But overall the Aspire 5 is the best Windows laptop under $600.
Image 1 of 4
Image 2 of 4
Image 3 of 4
Image 4 of 4
It's amazing what a difference the right keyboard makes. Starting at $999, the MacBook Air 2020 packs the improved Magic Keyboard, which replaces the butterfly switch with a scissor-style mechanism that allows for much more comfortable typing.
Apple also upgraded the Air to 10th Gen Intel Core processors (from 8th Gen). It's a Y-series chip (which isn't as powerful as U Series CPUs), but it proved enough for everyday use and basic multitasking. In addition to lowering the price by $100, Apple doubled the default MacBook Air storage, from a 128GB SSD to a 256GB drive, which is still offering blazing-fast read speeds.
The MacBook Air also packs plenty of endurance, with all-day battery life. It took 9 hours and 31 minutes (nearly 50 minutes longer than the typical system) for our web surfing test to drain the MacBook Air of its charge. Add in Apple's fairly bright and colorful Retina display and surprisingly strong speakers, and you have the best laptop for most Apple fans.
Read our full MacBook Air 2020 review.
Image 1 of 5
Image 2 of 5
Image 3 of 5
Image 4 of 5
Image 5 of 5
Like the latest Dell XPS 13, the Dell XPS 15 2020 makes one of the best laptops around even better. That's largely thanks to an even more immersive 15.6-inch InfinityEdge display, which ditches the bottom bezel for a stunning 92.9% screen to body ratio. The new XPS 15 is also made better by some smart design tweaks, such as bigger keycaps and a responsive touchpad that's more than 60% larger than that of the previous generation.
Don't let its slim and stylish design fool you, either -- the Dell XPS 15 2020 is an absolute workhorse. Its 10th Gen Intel Core processors can juggle multiple tasks with ease, and its optional Nvidia GeForce GTX 1650 Ti GPU gives it some serious muscle for graphics work and gaming. Factor in a pair of impressively loud speakers and solid battery life for a 4K laptop, and the new XPS 15 is one of the best 15-inch laptops you can buy.
Read our full Dell XPS 15 (2020) review
Image 1 of 4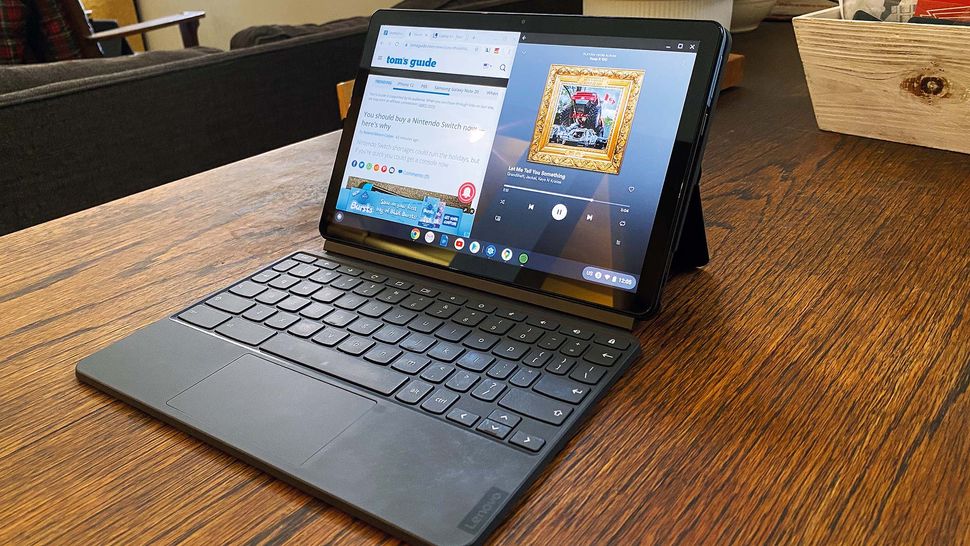 Image 2 of 4
Image 3 of 4
Image 4 of 4
This one doesn't really make sense — that's how good of a deal it is. At $279, the Lenovo Chromebook Duet storms into the front of the conversation when it comes to value. Not only is it a tablet Chromebook, but its keyboard comes free — something that we don't expect to see from the iPad or any Surface, even the more-affordable Go. Oh, and it's also a solid tablet too, thanks to strong color output and a sharp resolution that you rarely see at this price point.
The Chromebook Duet also sees ChromeOS gain some touchscreen tablet optimizations that it's needed for a while, making it easier to navigate all of your tabs. Oh, and as if that wasn't enough, it's got amazing battery life, lasting 12 hours and 47 minutes, nearly 13 hours, on our web-surfing test. The only knock against it? Its keyboard might take some getting used to for larger handed-folks.
Read our full Lenovo Chromebook Duet review.
Image 1 of 5
Image 2 of 5
Image 3 of 5
Image 4 of 5
Image 5 of 5
The HP Envy line of laptops has long offered excellent design and high-performance specs, and this model is easily able to go toe to toe with the likes of the Dell XPS 13 and MacBook Pro. Safe to say, if you're in the market for an Ultrabook, then it's worth considering the HP Envy 13t. That's especially true if you need slightly boosted graphics performance and are willing to pay for the upgrade to the GeForce MX250. This is one of the most attractive notebooks we've gotten our hands on, with a razor-thin chassis that makes the Mac look dated.
Of course, the laptop is pretty impressive spec-wise, too. The base model comes with an 8th-Gen Intel Core i7 processor, and you can even upgrade it to offer a dedicated graphics card for light gaming and video editing. For those uses, there's also an option for a 4K display.
Image 1 of 5
Image 2 of 5
Image 3 of 5
Image 4 of 5
Image 5 of 5
The Google Pixelbook Go isn't just more affordable than the original Pixelbook -- it's also better in almost every way. This highly portable Chromebook stands out with a slim, lightweight design that weighs in at just over 2 pounds, as well as a rubberized, easy-to-grip chassis that comes in sleek Just Black and Not Pink variations. The quiet, comfortable keyboard doesn't hurt either.
The Pixelbook Go stands out with its long battery life, as we saw it last well over 11 hours on our test. Couple that with solid performance, a bright and colorful display and a responsive touchscreen, and you've got one of the best Chromebooks yet for those willing to dip into the premium range. Just be aware that the Pixelbook Go is a bit short on ports, and doesn't fold into tablet mode like its bigger Pixelbook brother does.
Read our full Google Pixelbook Go review.
Image 1 of 5
Image 2 of 5
Image 3 of 5
Image 4 of 5
Image 5 of 5
The MacBook Pro 2020 solves the biggest problem of Apple's otherwise-excellent 13-inch laptop: the keyboard. Ditching the shallow keys of the older Butterfly keyboard in favor of the fantastic Magic Keyboard, the latest 13-inch MacBook Pro delivers the kind of comfortable and responsive typing experience we've been yearning for on Apple's flagship laptop. But a great new keyboard isn't all the new MacBook Pro 2020 has going for it.
The new 13-inch model gets a nice power boost with up to a 10th gen Core i7 processor, which, combined with its available 3733MHz RAM, blazing fast SSD and Intel Iris Plus graphics, provide solid performance for multitasking and photo and video editing. The MacBook Pro's 2560 x 1600 is as gorgeous as ever, and the laptop lasts nearly 11 hours on a charge. Apple has doubled the price for RAM on the entry-level model, and you'll have to pay up for 10th Gen power, but overall the latest 13-inch MacBook Pro is a great laptop.
Read our full MacBook Pro 13-inch (2020) review
Image 1 of 5
Image 2 of 5
Image 3 of 5
Image 4 of 5
Image 5 of 5
The Asus ROG Zephyrus G14 isn't just the best gaming laptop out there -- it's one of the best laptops you can buy, period. With a battery that lasts more than 11 hours, the Zephryus runs circles around its gaming-focused competitors, and even keeps up with more mainstream notebooks for folks who simply want a long-lasting PC for getting work done.
A large part of that great battery life can be attributed to the Zephryus' super-efficient AMD Ryzen 9-4900HS, which also offers zippy multitasking performance for content creation and everyday productivity. That's complemented by a powerful Nvidia RTX 2060 Max-Q GPU, which can handle hot games like Doom Eternal and Resident Evil 3 at high-quality settings. All of that power is packed into a gorgeous 14-inch chassis that's among one of the thinnest and lightest in the gaming laptop space, making the ROG Zephyrus G14 an excellent pick for those who want a true portable gaming powerhouse that can last all day.
Read our full Asus ROG Zephryus G14 review
Image 1 of 5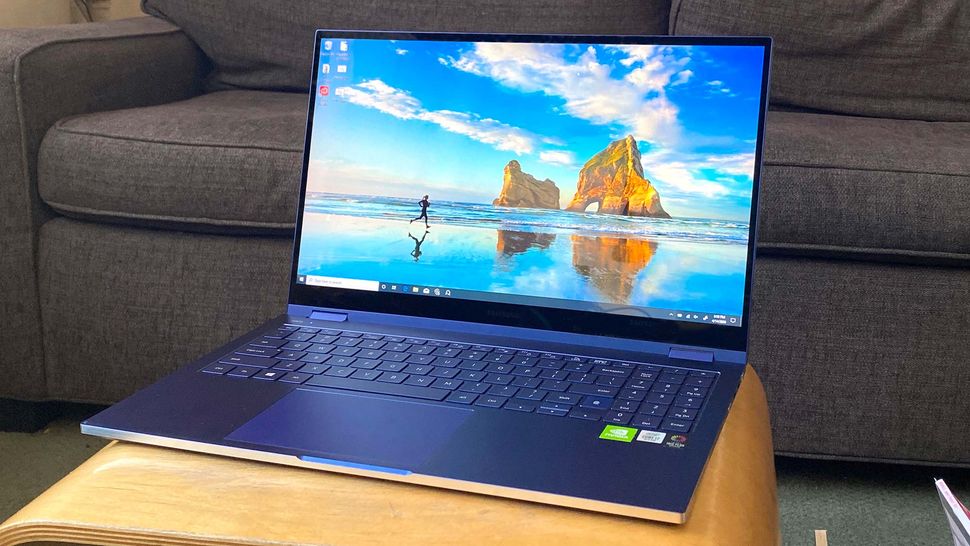 Image 2 of 5
Image 3 of 5
Image 4 of 5
Image 5 of 5
Samsung's hit-miss record hasn't been great in laptops, but the Galaxy Book Flex is definitely a win. Available in 13-inch and 15-inch designs, this laptop offers amazing all-day battery life (15+ hours!) and comes in a gorgeous blue finish. Its QLED panel gets pretty bright, and has an Outdoors Mode that helps fight glare for better readability. Oh, and the creative class will be happy to see that Samsung included the S-Pen, which docks on the laptop's right side.
When you're drawing on the Galaxy Book Flex's screen, you'll probably use it in tablet mode, as the panel bounces and wobbles a little when jabbed with the pen in laptop mode. And while typists might get over its slightly shallow keys quickly, the decision to put the fingerprint reader where half of the right Shift key should be is another hurdle to leap over.
Read our full Samsung Galaxy Book Flex review.
Image 1 of 6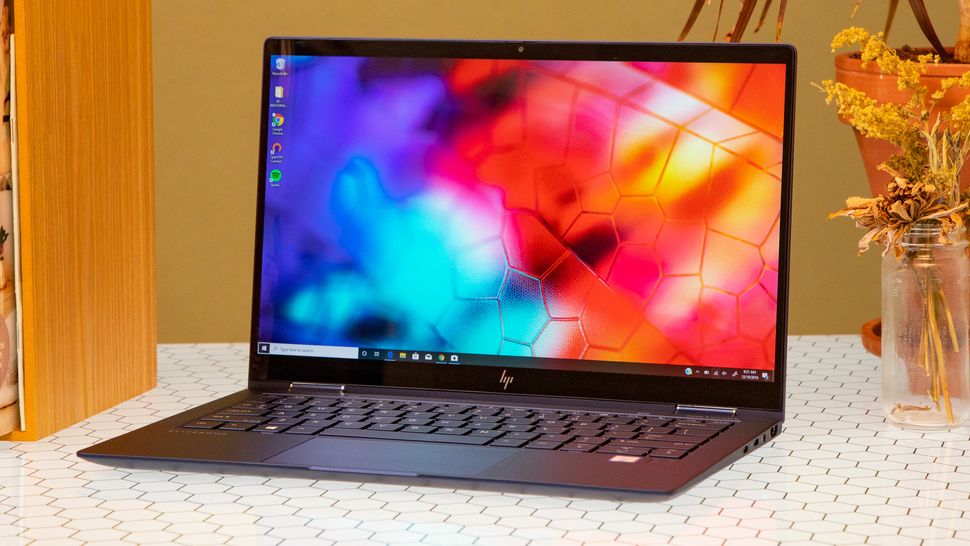 Image 2 of 6
Image 3 of 6
Image 4 of 6
Image 5 of 6
Image 6 of 6
The HP Elite Dragonfly is the rare laptop that comes along and sets a new standard for the entire category. This 2-in-1 laptop's design is one of the most stunning we've ever seen on a laptop, with an incredibly thin edges that measure just 0.6 inches in thickness and a deep blue coat of paint that looks refreshing, mesmerizing and classy all at once. And while the Dragonfly is wonderfully light at 2.5 pounds, it also feels impressively sturdy, has an oleophobic coating to prevent fingerprints and uses recycled ocean-bound plastics to help the environment.
Performance and features-wise, this beauty is a beast. Its stunning 13.3-inch display looks gorgeous for movies and TV shows and crushed our color and brightness tests. Its 8th-gen Intel CPU can handle everyday workloads without issues, and its keyboard is one of the most pleasant we've ever typed on. There's also its incredibly epic battery life of more than 12 hours, which beats favorites such as the MacBook Air and XPS 13. The Dragonfly is on the expensive side with a starting price of $1,629, but those who are willing to pay a premium will be rewarded with one of the best laptops on the market.
Read our full HP Elite Dragonfly review.
Image 1 of 5
Image 2 of 5
Image 3 of 5
Image 4 of 5
Image 5 of 5
Google's Chrome OS has been getting better and better over the last few years, and you can even run many Android apps on it now, making it pretty versatile. If you want a laptop to take advantage of all those improvements, then the Asus Chromebook Flip C434 is the best laptop in its category, thanks to its sleek design and relatively powerful specs.
Chrome OS is a lightweight operating system, so the Flip's Intel Core m3 processor and 4GB of RAM should be more than enough to provide smooth and speedy performance. As its name suggests, the touch-enabled Flip C434 can flip into both laptop and tablet modes, making it perfect for Android apps. The laptop comes with a nice selection of ports, too, including a USB 3.1 port, two USB-C ports, a headphone jack and a microSD card slot.
Image 1 of 5
Image 2 of 5
Image 3 of 5
Image 4 of 5
Image 5 of 5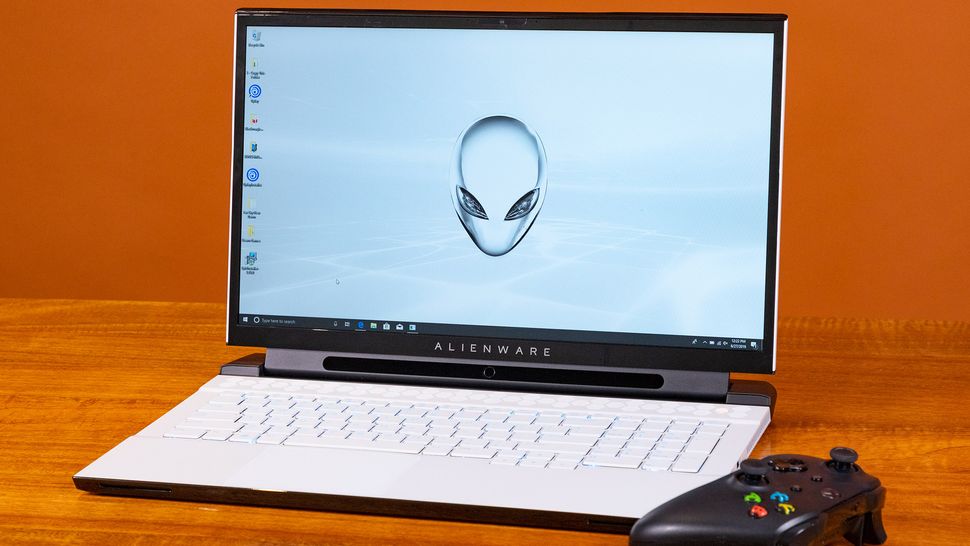 The Alienware m17 R2 is an absolute beast of a laptop and should offer more than enough power for the majority of gamers, while looking great in the process. If you want a gaming laptop that's unassuming enough for a coffee shop while still featuring a distinct design with attractive customizable RGB lighting, the R2 is the way to go.
The base model of the m17 R2 comes with an Intel Core i5 processor and Nvidia GeForce 1660 Ti, but the machine can be upgraded to include a Core i9 chip and an RTX 2080 graphics card. That's all within a sleek, 0.8-inch thin chassis that packs a comfortable keyboard and solid battery life for a gaming notebook. Safe to say, with a laptop this powerful, you'll see that frame rate skyrocket.
Read our full Alienware m17 R2 review.
Image 1 of 4
Image 2 of 4
Image 3 of 4
Image 4 of 4
The new Asus ZenBook Flip S is gorgeous. Not only does its Jade Black chassis perfectly match its Red Copper accent highlights, but its 4K OLED screen will have you practically drooling during your next Netflix marathon. Plus, its innovative NumberPad touchpad means that spreadsheet junkies don't lose the numpad just because they're buying a laptop that isn't wide enough to have those physical keys.
And while the Flip S has decent performance — its Intel Evo certification is earned with stability — it doesn't wow with its 11th Gen quad-core Tiger Lake CPU. Hopefully, octo-core Tiger Lake chips do better, or AMD's Ryzen 4000 series APUs will truly rule. But, still, the ZenBook Flip S enables productivity and multimedia consumption with equal aplomb, all with style and grace.
Read our full Asus ZenBook Flip S review.
Image 1 of 5
Image 2 of 5
Image 3 of 5
Image 4 of 5
Image 5 of 5
The Lenovo ThinkPad has long been the best laptop for folks with serious productivity demands, and the 7th-gen ThinkPad X1 Carbon should be no exception. The laptop not only offers all the specs you would expect from a flagship laptop, but also has a sleek and slim aluminum chassis, making this machine perfect for those that need something to take to and from work or school.
Around the laptop, you'll get plenty of ports, including two Thunderbolt 3 ports, two USB 3.1 ports and an HDMI port. While there's no Ethernet port, you can get an adapter from Lenovo. You'll also get Lenovo's best-in-class keyboard and a stunning HDR-ready display.
Image 1 of 6
Image 2 of 6
Image 3 of 6
Image 4 of 6
Image 5 of 6
Image 6 of 6
The MacBook Pro finally has a good keyboard again, and it's glorious. Apple's new 16-inch MacBook Pro ditches the company's shallow Butterfly switches for its new Magic Keyboard, which offers a softer feel and delightfully deep travel. This is the change we've been waiting for on MacBooks for years, and Apple finally delivered on it in a big way.
But a great typing experience isn't the only reason to pick up the latest MacBook Pro. The new model's bigger 16-inch display is one of the most immersive you can find on a Mac, with slim bezels and gorgeous colors. It also boasts the best speakers we've ever used on a laptop. Factor in blazing performance with up to an Intel Core i9 CPU and a nearly 11-hour battery life, and you've got the ultimate MacBook for power users.
Read our full MacBook Pro (16-inch) review.
The Microsoft Surface Laptop 3 looks to be peak minimalism, but the chip wars going on under the hood complicate things a bit. Yes, while the fight between Intel and AMD has started to lean in AMD's direction, you want Intel inside when it comes to the Surface Laptop 3. Not only do you get the same comfortable typing experience and solid sound that you get in the AMD model, but you're getting faster performance in multiple categories, which makes for the experience you deserve, as this laptop isn't exactly cheap.
Also, the Intel Surface Laptop 3 lasted 92 minutes longer than its AMD sibling on our battery test. And at 3.4 pounds the Surface Laptop 3 is pretty light for a big screen laptop. If you can wait a little bit, though, the Surface Laptop 4 will likely see AMD punch back harder, and deliver the better computing experience with its 4000-series CPUs.
Read our full Microsoft Surface Laptop 3 (15-inch, Intel) review.
How to choose the best laptop for you
Performance: If you only need something basic for surfing the web, consider a Chromebook or a cheap Windows laptop with an Intel Core i3 processor and 4GB of RAM. If you plan on getting more intensive work done, consider starting specs such as a Core i5 CPU, 8 to 16GB of RAM and a 256GB to 512GB SSD.
Graphics and gaming: Most mainstream laptops feature integrated graphics, which can handle lightweight titles such as Minecraft and Overwatch but aren't ideal for intensive AAA games or heavy visual work. For that, you'll want a laptop with a discrete graphics card, such as an Nvidia GTX 1660 or 2080 on the higher end.
Size: Consider how mobile you want your laptop to be. Machines such as the Dell XPS 13 and HP Elite Dragonfly are feather light with slim designs, while gaming notebooks such as the Razer Blade Pro and Alienware 17 have more heft to them (but offer big power in exchange).
Operating system: Laptops typically come in three flavors: Windows 10 (most mainstream PCs), macOS (MacBooks) and Chrome OS (Chromebooks). Windows 10 is the most common operating system, while macOS is more ideal for folks already tied into Apple's ecosystem. Chrome OS is a lightweight operating system built to allow for cheap, fast systems, though it has gotten a bit more robust over the years with support for full Android apps.
Whichever system you decide on, you may also want to pick up the best mouse for your particular work situation.
How we test the best laptops
To find the best laptop, we run every machine through a rigorous suite of benchmarks and real-world tests to gauge how it will perform during everyday use.
We measure the average brightness and color quality of each laptop's display using our in-house light meter and colorimeter. For general performance, we run our machines through tests that include Geekbench 4 (CPU performance), as well as various 3DMark to measure graphics capabilities. We also run a file transfer test to measure how fast a machine's hard drive is, as well as a custom battery test that has as machine browse the internet over Wi-Fi until it runs out of juice.
When testing dedicated gaming laptops, we run benchmarks for popular games such as Shadow of the Tomb Raider, Hitman 2 and Far Cry: New Dawn.