IFA 2022 LIVE: All the big product news you need to know
We are bringing you all the best news and products from IFA 2022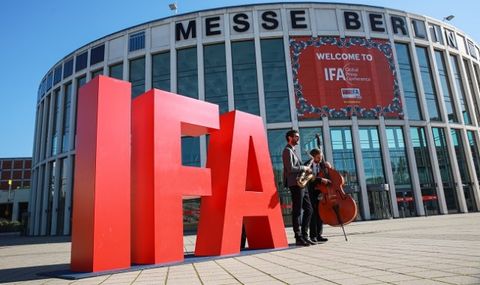 (Image: © Getty Images)
IFA 2022 is in full say at Berlin's Messe building, and Tom's Guide is here to bring you all the best tech from the showcase before it opens to the public.
So far we've seen what might be the ultimate soundbar as well as a clutch of impressive displays and other devices that are well worth your attention. So if you can't make it over to Germany, then keep an eye on this live blog as we'll be taking a look at the best IFA has to offer.
We've also had a selection of pre-briefings from some major IFA exhibitors, so take a look at those on the sire as ell as some summaries in the post below.
Refresh
Hello and welcome to IFA 2022! I'm managing editor Roland Moore-Colyer and I'm in Berlin with the objective to bring you the most interesting, exciting or downright crazy things I see at IFA 2022.
But others on Tom's Guide have also been briefed on up coming products, so expect to hear their thoughts on the latest tech coming out of IFA 2022.
Before the main press day we got a look at Bang & Olufsen's new Beosound Theatre. This one-stop-shop soundbar aims to provide both a design that's undeniably catching alongside killer sound for movies, music listening and any other form of audio in between.
But its USP is a modular design that not only means it should be easily repairable for years to come but also offers an upgrade path for things like connectivity, performance and processing as and when new innovations come around. The idea is to have a soundbar that becomes the center for any home cinema setup but also one that'll last for a decade with upgrades meaning that as the oak finish ages gracefully the features and capabilities remain up to date.
While IFA takes place in Berlin, Tom's Guide got a briefed on Lenovo's new smart display glasses and we were surprisingly impressed!
The Lenovo Glasses T1 might not be the smart glasses we've been waiting for, but they're a functional portable display that offers some privacy to productivity and entertainment. Editor Kate Kozuch demoed them ahead of IFA and was impressed by how intuitively they performed. It's hard to look past the dull design and power cord, but at least battery life isn't part of the conversation.
As for price and availability, the Glasses T1 will first arrive in China in 2022, with availability to other select markets coming in 2023. Lenovo is aiming to keep the price under $500 at launch.
While I'm on the subject of Lenovo, computing writer Tony Polanco got a closer look at the company's new 16-inch Chromebook ahead of IFA.
Dubbed the IdeaPad 5i Chromebook, this big-screen Chromebook is expected to go on sale in September in the U.S. for a starting price of $399.
The IdeaPad 5i delivers a rare big-screen Chromebook experience, and all that screen real estate should make it a solid machine for work. Under the hood it packs up to an Intel Core i3-1215U CPU, 8GB of RAM and 512GB of SSD storage. It also sports a 1080p webcam and offers both USB-C and USB-A ports, so if Lenovo's advertised 12-hour battery life is on point this looks like a lot of Chromebook for not a lot of money.
One of the most intriguing products from Lenovo is a folding laptop, and content director Mark Spoonauer got to a chance to look at the new Lenovo ThinkPad X1 Fold.
It's definitely an interesting machine but raises the question as to who it's really for. That's a question only foldable fan will really be able to answer
Spoonauer concluded: @The new ThinkPad X1 Fold 2022 delivers a much bigger 16.3-inch display, a more powerful 12th gen processor, comfier keyboard and slimmer bezels, improving on the original X1 Fold in almost every way. But $2,499 is still a lot to spend on a foldable screen laptop, and the accessories cost extra."
Read our full Lenovo ThinkPad X1 Fold 2022 hands-on experience to get a closer look at this foldable laptop.
Speaking of flexible displays LG has take the covers off the LG OLED Flex, a TV that can bend on command. As such, the TV offers a 42-inch flat panel that can transform into a curved one with the touch of a button.
The idea here is to have a display that can be curved for immersion, say when gaming, or flattened for a more expansive viewing experience for multiple people. How well this'll work has yet to be seen, but that's exactly what I intend to do when I get a chance to visit LG's area at IFA.
I'm now at a HMD Nokia showcase, where the company has just revealed two new affordable phones: the Nokia X30 5G (pictured) and the Nokia G60 5G, priced at £399 and £279 respectively; no word on U.S. pricing yet.
These phones have a suite of solid specs like a 50MP PureView camera and up to 256GB of storage space. But the more intriguing element here is the use of sustainable materials and a new purchasing model with a sustainable focus.
The X30 uses a 65% recycled polycarbonate back and recycled aluminium, while the G60 uses 60% recycled materials, helping cut down on the environmental impact of smartphones. The batteries have also been made to endure 800 recharging cycles, which eclipses the more common standard of 500 cycles.
And Nokia has a new "Circular" subscription service. This not only lets users buy some of the brand's phones via a monthly subscription, but also rewards them for keeping hold of their phones with "seeds" that can then be invested in environmental and social causes. These range from planting trees to ensuring refurbished phones get to people without them.
Meanwhile older phones will either be diligently broken down and recycled or refurbished and passed on to people who may not have easy access to smartphones. While one could argue that the constant churn of smartphones from all manner of brands is ultimately unsustainable, at least it looks like Nokia is taking some action to mitigate this with the Circular service and its approach to making affordable yet capable phones.
After attending a Samsung keynote where the company touted all of its smart products, as well as some green credentials, I got a glimpse at some of the companies latest products. And alongside 8K TVs showing off an 8K trailer of The Lord of the Rings: The Rings of Power, I saw one truly lovely device.
And that's the Samsung Odyssey OLED G8 gaming monitor. Not only did it look very lovely, with a slim design and gentle curve, it's also packed to the gills with display tech. That tech ranges from VESA DisplayHDR 400 True Black certification, to AMD FreeSync support and 1ms response times; ideally for gamers. The OLED panel also looks brilliant, with deep blacks and punchy colors.
But the ace in the hole here is the ability to stream games from all manner of game streaming services, such as Xbox Cloud Gaming and Nvidia GeForce Now, all without any additional hardware. Of course, you'll need a decent internet connection for that.
Trying this out for myself at Samsung's showcase, I can feel a slight bit of latency. But it seems a small price to pay for a monitor that can run games with out the need for a PS5 or Xbox Series X.
It's definitely a gaming monitor that I'd like to see on my desk, though it's not due out until the end of the year. And as ever I'd suggest waiting for reviews to chew over if the G8's specs and design deliver the goods in real-life testing.
Over to fitness editor Jane McGuire, who got to see the Garmin Venu Sq 2 ahead of IFA, and noted how the brand's affordable fitness tracker just got a facelift.
The Venu Sq 2 looks to solve one of the Venu Sq's biggest issues — it looks more premium. The screen is slightly bigger, at 1.4 inches compared to the older model's 1.3 inches, and it's brighter, with an AMOLED color display, compared to the LED screen on the older watch. This is the same screen as that used on the new Garmin Venu 2 Plus and Garmin Epix Gen 2.
The fitness tracker has many premium features including built-in GPS, pulse ox, mobile payments and music storage (on the music version of the tracker), but like pretty much everything in the world right now, the new screen means a price hike compared to the original version of the watch — it'll now cost $249 for the Venu Sq 2 and $299 for the Venu Sq 2 music edition.
A little break from the tech side; as one trys to navigate the illogical mess that is Berlin's Messe building, you can stumble across some interesting stuff.
And this Lego Technic model of a Ferrari SF90 Stradale (I think) is rather impressive.
It's clearly being used to promote Lego Technic and Lego as a whole, but it certainly looks cool and gives me one heck of a nostalgia hit.
I've just had a look at TCL's IFA area and it's flush with some cool tech, including things like air purifiers; something I'd not usually associate with the brand.
But unsurprisingly, TVs steal the show, with a vast 98-inch mini-LED TV really catching my eye. Revealed at CES 2022 earlier this year, I was actually able to see the TV in the glass and metal.
Suffice to say TCL's 98-inch TV looks rather impressive, and from a few sharp glances the display's quality appears to be good too.
Now a 98-inch 8K TV might be overkill for someone like me with a small London apartment. But for people with the space yet without mountains of cash this 98-inch monster could be the TV to consider.
IFA is winding down for the day, meaning it's Showstoppers time. That's an event flush with drinks and food and a range of smaller exhibitors.
Not a huge amount to note here, though Lenovo is around showing off its foldable laptop that looks pretty cool. Other than that, it's game-over for me today. But there's more to see and tell you about. So tune in to the live blog tomorrow.
Good morning/afternoon, I (Roland Moore-Colyer) am back to give you some more news and product insights from IFA 2022.
But before I get started, check out this TikTok from editor Kate Kozuch, which takes a deeper look at the Lenovo ThinkPad X1 Fold.
They say seeing is believing, and that rings true for the LG OLED Flex. At first, I thought a display that transforms from a flatscreen into a curved display was a pure gimmick,
But seeing it for myself and giving Forza Horizon 5 a spin I was low-key blown away by how immersive the display was when it curved in. And the crisp OLED panel also had the advantage of making games look rather special.
Over to staff writer Richard Priday to quickly you to Sony's new flagship phone, the Xperia 5 IV, that got announced at IFA and will go on sale later next month. At £949, it's priced very similarly to the iPhone 13 Pro and the Samsung Galaxy S22 Plus, but Sony's still added lots of features from the much more expensive Xperia 1 IV to turn the heads of creative types like vloggers, photographers and musicians.
The Xperia 5 IV sports a total of 12MP cameras front and back, and the Sony Alpha DSLR-style camera app is capable of up to 4K 120fps video if you like your footage smooth and detailed. Meanwhile if you get struck by sudden musical inspiration, you will appreciate the Music Pro app which can help you refine and mix your on-phone recordings via cloud processing.
You then can watch it back on the 120Hz 6.1-inch FHD display, which in classic Sony style uses a tall and narrow shape for a better fit with video and gaming content. You'll be able to listen back to your stuff through the headphone jack too, a feature that is still going strong on Sony phones despite many other companies dropping it. Sony also kept the dedicated shutter button on the bottom right of the phone so you can take photos quicker and easier.
Add in a 5,000 mAh battery with 30W wired charging (plus wireless charging too) and a powerful Snapdragon 8 Gen 1 chipset, the Xperia 5 IV ticks all the flagship boxes and then some. This phone looks it could be a contender for the best Android phones once it arrives, so we can't wait to give it a test soon.
I've been taking another look at LG's tech showcase and the brand has a very eye-catching smart fridge.
The fridge as a panels with smart lighting that can change colors on command or based on themes, has built-in speakers and a snazzy panel that becomes transparent at a touch. It's a very slick fridge with a suite of smarts that looks set to be the center piece of any smart home setup when it arrives later this year.
Another highlight of LG's IFA 2022 showcase is the world's first 97-inch OLED TV. It's vast, being roughly the size of a queen-size bed but is still rather thin and ripe for wall mounting.
What's cool here is it's a 4K display. which should make it more affordable than some of the giant 8K TVs. I also think it looks amazing too, though I'm a fan of LG OLED TVs. Color and contrast appeared spot on and I can imagine this 97-inch behemoth would make for a killer gaming TV.
And with that, my IFA experience is over. But if new exciting products are quietly announced over the next few days and linked to IFA, I'll make sure to let you know.
Overall, the showcase was a relatively low-key affair, with some big names like Sony not in attendance. But that made room for other tech to breathe and for various brands to also champion green initiatives, which seemed to be a running theme and rightly so given the influence humanity is having on climate change.
Highlights include the LG OLED Flex and Samsung Odyssey G8, and the Bang & Olufsen Beosound Theatre. All three are high-end devices that I'm likely to aspire to than easily buy, but that's one of the great things about consumer technology: it's aspirational as well as practical.
Until next year, it's goodbye from me at IFA.