Xbox Game Pass is arguably an essential partner to the Xbox Series X, Xbox Series S, and increasingly Windows 10 and Windows 11 gaming PC and laptops.
That's because for a relatively affordable monthly subscription fee, which you can cancel at any time, gives you access to a huge range of Xbox games old and new, including the best Xbox Series X games and best Xbox One games. And on top of that Xbox Game Pass Ultimate throws in access to PC games and Xbox games that can be streamed via the power of Xbox Cloud Gaming.
Read on for everything need to know about Xbox Game Pass, from its games, subscription tiers and potential deals.
What is Xbox Game Pass?
Xbox Game Pass is a subscription service that gives you access to more than 100 games, from first-party Xbox titles to third-party and indie games, for a monthly or yearly fee.
Once subscribed, you can download these games directly to your Xbox One and Xbox One X, Xbox Series X, Series S, and Windows PC.
Now with support for Xbox Cloud Gaming, you can even stream a lot of these games to an Android phone via the Xbox Game Pass app, to iOS and Mac devices via the Safari browsers, Chromebooks via the Chrome browser, and on Xbox consoles and Windows PCs via the Xbox Game Pass and Xbox app, respectively.
In short, the service aims to provide you with access to Xbox and select PC games from pretty much anywhere across 22 countries and on a mix of devices, providing you have a good internet connection; game streaming works on 4G and 5G connections too. Microsoft also announced additional updates coming to Xbox Game Pass in the near future, including support on 2022 Samsung Smart TVs.
And thanks to Edge for Linux, you can now stream Xbox Game Pass games on Steam Deck.
Xbox Game Pass prices
Xbox Game Pass comes in three variations. The first is the new Xbox Game Pass Core tier, which replaces Xbox Live Gold. This tier costs $9.99 or £7.99 a month and is available on Xbox One and Xbox Series X and Series S, and gives you access to over 25 first and third-party games.
The original version of Game Pass now costs $10.99 per month. This tier gives you access to over 100 Xbox games and the ability to play new Xbox titles at launch.
Xbox Game Pass for PC costs $9.99 or £7.99 a month and gives you access to more than 100 PC games. One thing to note is the Xbox Game Pass app on PC isn't the best and can run into a few problems, but Microsoft is working on improving it.
Xbox Game Pass Ultimate is the best bargain, as at $14.99 or £10.99 a month it gives you access to Xbox and PC games, as well as cloud streaming and save syncing between all three platforms.
The Ultimate tier also has EA Play membership, which allows access to EA's online game subscription service and its games on Game Pass for Xbox and PC.
Xbox Game Pass deals
Xbox Game Pass Ultimate vs PC vs Console
In terms of functionality, the four tiers of Xbox Game Pass are pretty straightforward. The Core and standard tiers for Console simply offer access to a range of Xbox games, from the fantastic Halo Infinite and Forza Horizon 5 to older games like Skyrim and Destiny 2. And you get day-one access to any games from Xbox Game Studios.
Xbox Game Pass PC is pretty much the same as the Console version, only that it provides access to PC games. Given the multiplatform nature of a lot of modern games this means PC subscribers will still be able to play Halo Infinite, but also get access to games that are PC-only, such as Death Stranding. If you've bought one of our best gaming laptops or best gaming PCs, then this is the Game Pass for you.
Xbox Game Pass Ultimate is so-called because it includes all of the above in one package. But there's more to it. As mentioned earlier, EA Play access is bundled in, meaning Ultimate subscribers can play the likes of Mass Effect Legendary Edition, the Dragon Age series, a mix of Battlefield games, as well as FIFA and The Sims.
On top of that, there's access to Xbox Cloud Gaming, which is basically game streaming provided via the cloud. It enables you to stream Xbox games to Android, iOS, MacOS, Chrome OS and Windows machines, provided you have a good enough internet connection. From our testing, the streaming is pretty good. And with some games getting retrofitted with touchscreen controls you can play the likes of Gears 5 on a smartphone.
Xbox Cloud Gaming via Game Pass Ultimate lets you stream the latest games to an Xbox One. This means you can get close to a native Xbox Series X experience without actually owning the console; granted there's some latency to the controller inputs, but at times the service can feel very slick.
If you can afford to pay the $5 extra a month, we suggest getting Xbox Game Pass Ultimate as it's one of the best deals in gaming and a complete Xbox gaming experience.
Xbox Game Pass games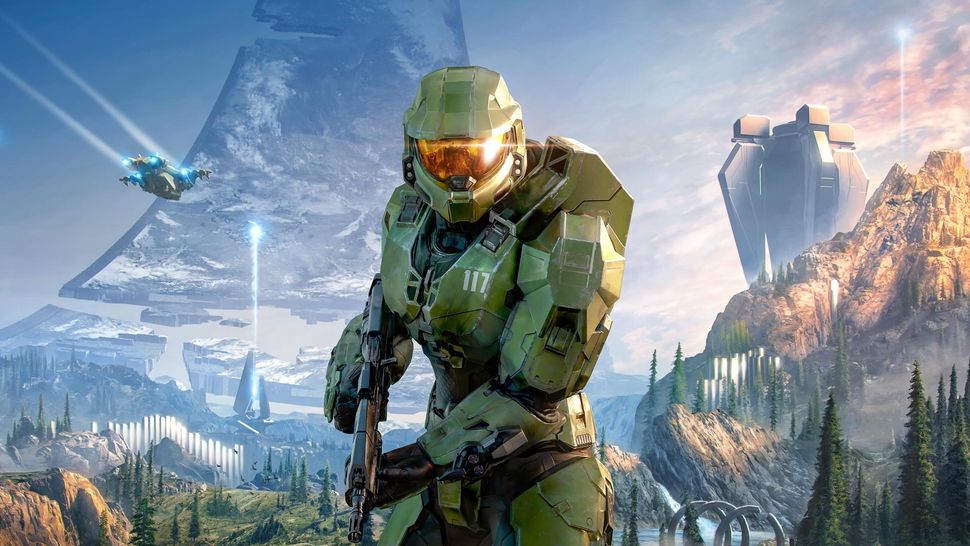 There are more than 100 games available on Xbox Game Pass, with that list getting larger and only likely to keep expanding.
From the entire range of Halo games, to new titles like Psychonauts 2, Rainbow Six Extraction, Forza Horizon 5 and the Hitman Trilogy, and then a mix of Xbox 360 and original Xbox games, Game Pass has something for everyone. Do bear in mind that some games are on Game Pass for a limited time and may go on and off the platform.
Our Gaming editor also recently found Yakuza 6 to be one of the best reasons to have Xbox Game Pass.
To list all the games here would be very messy, but the range varies from triple-A first-person shooters to smaller indie titles like the excellent Hollow Knight. Then there's the mix of Bethesda-developed and published games, added after Microsoft bought parent company ZeniMax Media.
And as mentioned, EA Play games, like Star Wars Squadrons and Battlefield 1, are available on Game Pass Ultimate.
Microsoft has confirmed that Activision Blizzard games, including Call of Duty, will eventually make their way to Xbox Game Pass.
Furthermore, every new first-party Xbox game will launch day one on Games Pass, including the hotly-anticipated Starfield, along with the likes of Fable 4, The Elder Scrolls 6, Redfall and more. Quite simply, Xbox Game Pass has a mass of games right now and will have even more as 2022 presses onwards.
Xbox Game Pass codes: How to redeem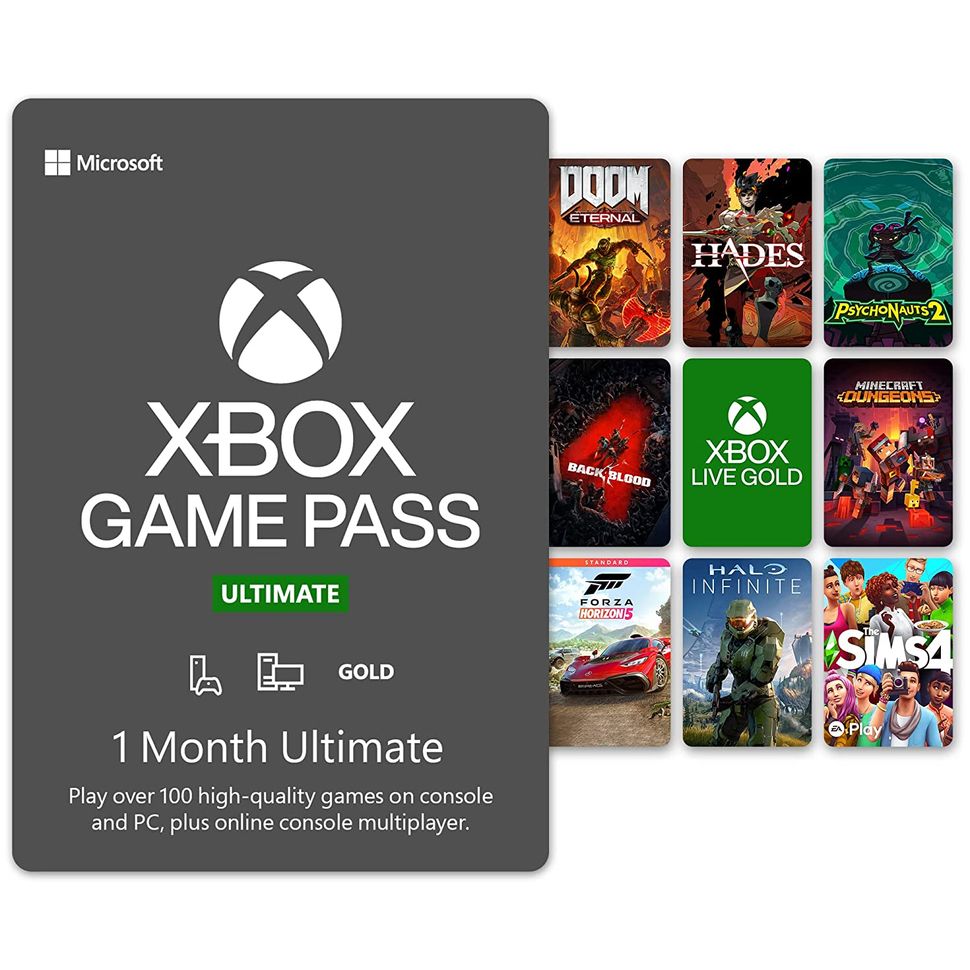 Access to Xbox Game Pass can come in the form of gift cards or codes. They are very easy to redeem.
You can do so online by visiting redeem.microsoft.com and log in with your Microsoft account (you'll need to create one if you haven't already) then enter the 25-digit code. This will apply the code across your account meaning you'll have Xbox Game Pass access when you log into your Xbox or the Xbox Game Pass app on PC or mobile.
On an Xbox Series X, Series S or Xbox One, navigate to the Store app from the Home screen; if you can't find it then go to My games & apps, select Apps, and select the Store app. Once in it, press the View button on the Xbox Wireless controller or move the cursor left to open the side menu and select Redeem. You then need to enter the code — no need to worry about the hyphens as these are taken care of — and then follow the prompts.
On a Windows 10 or Windows 11 device, you can also redeem a code by accessing the Microsoft Store in the Start menu, then select the "See more" option in the menu denoted by a trio of dots by the search box. From there select "redeem a code" and then input the code you have and click or tap on "Redeem."
You can also redeem a code in the Windows Xbox app, by accessing your gamerpic (found in the upper-right hand corner of the app) then selecting Settings and then the Redeem button. From there enter the 25-digit code and follow the prompts.
Once set up on one device, your Xbox Game Pass subscription will be linked to your Microsoft account, so any compatible device you log into with that account will also have your Game Pass subscription activated on it.