CES 2023 is over, which means we can reflect on all the latest gadgets unveiled at the annual consumer tech showcase. Computing is my bailiwick here at Tom's Guide so I focused most of my attention (and coverage) on the latest laptops, tablets and PC announcements. Truthfully, we didn't see anything truly mind-blowing in this category, but there were still plenty of interesting products I'm personally looking forward to checking out this year.
As expected, 2023's best laptops, best gaming laptops, best gaming PCs and best computers will pack the latest Intel, AMD and Nvidia components. Even if these machines aren't groundbreaking, the inclusion of 13th gen Intel Core Raptor Lake CPUs and Nvidia RTX 40-series desktop and mobile GPUs is still a big selling point. The fact that many gaming laptops now come with 16:10 240Hz displays as standard is also another nice bonus.
Below are some of my favorite computing products revealed during CES 2023. Be sure to also read about some of the top overall devices in our Best of CES 2023 Awards article.
Asus ProArt Studiobook 16 3D OLED
Laptops designed for creatives don't usually interest me since I'm not an artist. However, if you slap a 3D display on a notebook with powerful components, you have my attention. That's the case with the Asus ProArt Studiobook 16 3D OLED.
As its name suggests, this laptop's biggest selling point is the glasses-free 3D display, which could be ideal for folks who work on 3D projects or who simply enjoy watching 3D content. I generally think 3D is a gimmick, but during my brief hands-on time with ProArt Studiobook 16 3D OLED, I was thoroughly impressed that the 3D actually worked well.
The 3D camera tracks the movement of your eyes instead of your head. Because of that, the 3D image stays consistent regardless of where you look. Even when I moved my head or moved the laptop to different angles, the 3D image moved as if it were a physical object. It's hard to describe, but trust me when I say that this is super impressive stuff.
This laptop packs a 13th gen Intel Core GPU and an Nvidia RTX 40-series GPU. The vast majority of laptops unveiled at CES 2023 featured new Intel CPUs and Nvidia GPUs, so that aspect isn't exactly surprising. This laptop's components should provide it with plenty of power for both creative projects and gaming.
Alienware 500Hz Gaming Monitor
Gaming laptops with 240Hz displays seem to be the new standard if the new notebooks unveiled at CES 2023 are anything to go by. That's impressive, but nothing compared to the Alienware 500Hz Gaming Monitor (AW2524H), which as you may have guessed by its name, can reach up to 500Hz! That aspect alone could see it land in our best gaming monitors list.
Dell claims the AW2524H delivers "the world's fastest refresh rate." Though the marketing focuses on the 500Hz refresh rate, this is only achievable with 500Hz compatible games. Otherwise, the AW2524H has a native 480Hz refresh rate, which is still extremely high.
In all honesty, there are few games that can take advantage of such a high refresh rate, but you'll still get a buttery smooth experience — especially when playing competitive titles. Oh, and the monitor also has a low 0.5ms response time that will also help you get the edge in online matches. This may not be the flashiest-looking monitor of CES 2023, but its insanely high refresh rate can't be topped.
Alienware m18
The Alienware m18 is one of several big-ass laptops unveiled during CES 2023. Though it has similar specs to laptops like the Razer Blade 18, I'm selecting it because it has a slight edge in terms of design — which is still decidedly subdued compared to the ostentatious products Alienware is known for.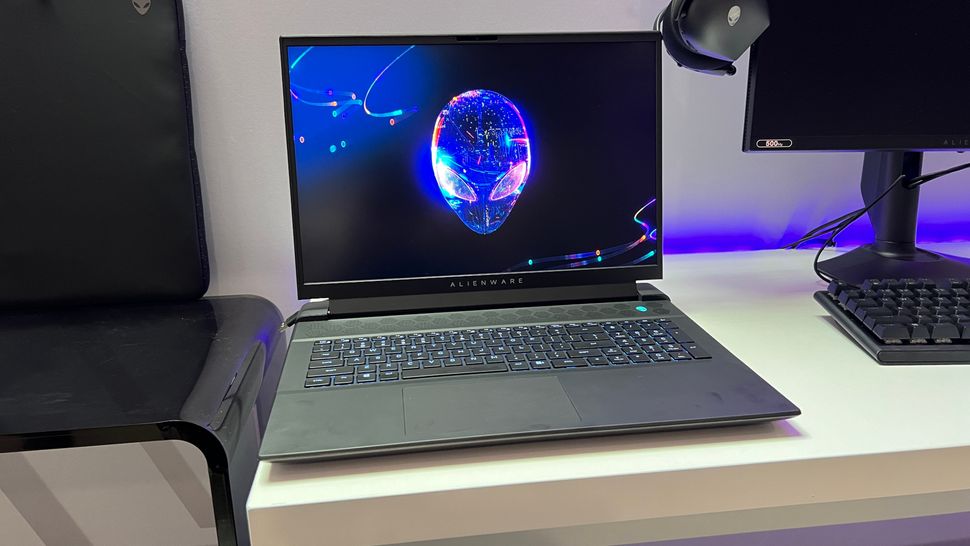 Spec-wise, this monstrous gaming laptop packs a 13th gen Intel Core CPU and an Nvidia RTX 40-series GPU, along with up to 64GB of RAM and up to 9TB of storage. That's not too special given how most of 2023's gaming laptops will have such specs, but it also means you're getting a machine with the latest (and most powerful) components.
The only potential drawback with this and the other 18-inch laptops announced at CES 2023 is that it's not exactly portable. As I said in my preview, I'm fairly strong and even I had a hard time holding this with two hands. I also wouldn't try placing this on my lap for extended periods. But to be fair, the Alienware m18 is meant to be kept on a desk. As a Dell PR told me, the Alienware m18 is effectively a desktop replacement and you're not necessarily meant to carry it around.
Lenovo Yoga Book 9i
The Lenovo Yoga Book 9i immediately commands attention thanks to its two 13.3-inch OLED displays. As we said in our hands-on preview, this machine could either be the laptop of the future or an overpriced toy. It might be the latter, but I have to give Lenovo kudos for creating such a unique machine.
Similar to the best 2-in-1 laptops, you can use this device as a traditional laptop or tablet, or go into tent mode while giving presentations. With the included kickstand, you can use the Yoga Book 9i with two displays stacked on top of each other or the two panels side by side. If you don't want to type on a touchscreen, you can use the detachable Bluetooth keyboard. This machine's versatility is the main reason to buy the Yoga Book 9i.
The two 13.3-inch displays open up all sorts of possibilities. For instance, with the included kickstand, you can treat the Yoga Book 9i like a mini all-in-one PC with a super tall display, having the same content run across both screens. Or you can have one app on top and another on the bottom. Flip the Yoga Book 9i and you can have two panels side by side.
The Yoga Book 9i is an intriguing alternative to foldable screen laptops like the ThinkPad X1 Fold and Asus ZenBook 17 Fold OLED. Instead of getting a single panel that folds in half, there are two screens you can position or flip around as you see fit. I think that's pretty intriguing. Definitely a product I want to test out first-hand.
Lenovo ThinkBook Plus Twist
The Lenovo ThinkBook Plus Twist lives up to its moniker by having a convertible twist-hinge design similar to 2-in-1 laptops from the early 2000s. It also has both an OLED display and color E-Ink screen — giving you the choice of which screen to use.
So why color E-Ink? This second display is designed to give you longer battery life, whether you're reviewing documents or you simply want to eke out more minutes while surfing the web before you reach for an outlet. Yes, you can run full Windows 11 in E-Ink mode, but you'll have to be willing to put up with a slower refresh rate of 12Hz. The 13.3-inch OLED display has narrow bezels, but the because the 12-inch E-Ink display on the opposite side is smaller it has chunkier bezels.
When you swivel the display around, it can mirror what you were doing on the OLED panel, but at least on this early model, it took several seconds for the display to spring to life. That time should be cut down once the ThinkBook Plus Twist reaches the market.
You can toggle between Speed and Quality mode on the E-Ink display when you want to prioritize performance over color and image quality. Another nifty ThinkBook Plus Twist perk is that the color E-Ink screen is that you can display your own screensaver on the outside of the laptop.
The main issue with the ThinkBook Plus Twist's design is that the E-Ink display is exposed when the laptop is "closed." We have to wonder if it will pick up scratches when you take it in and out of your bag over several months. We also wonder how durable the panel is overall in terms of standing up to daily wear and tear.
Lenovo Tab Extreme
The Lenovo Tab Extreme has a fitting name thanks to its huge 14.5-inch OLED display. This tablet clearly exists to rival the equally ginormous Galaxy Tab S8 Ultra. However, this super-sized tablet has more to offer, including a dual-mode stand that lets you use the Tab Extreme in portrait or landscape mode. There's also a floating keyboard design that rivals the iPad Pro and an included pen.
Things get really interesting when you look at what the dual-mode stand and dual-hinge keyboard bring to the table. With the stand, you can position the Tab Extreme in landscape or portrait mode, and it's easy to switch between the two modes. The dual-hinge keyboard is another key highlight, which enables users to tilt the tablet in order to achieve the optimal viewing angle. The Galaxy Tab S8 Ultra doesn't offer this flexibility.
The biggest question we have about the Tab Extreme is whether or not the processor can deliver the performance people would expect in this price range ($1,199). A MediaTek Dimensity 9000 octa-core chip runs the show along with 12GB of RAM. And there's 256GB of storage on board. We've generally found Qualcomm's Snapdragon chips to perform better, but we'll have to see how well the MediaTek CPU performs in our benchmarks and real-world tests.
The Galaxy Tab S8 Ultra is one of the best tablets so I'm curious to see if the Lenovo Tab Extreme can surpass it. Given its unique features, it could be the ultimate Android tablet of 2023. But of course, we'll need to get the Tab Extreme in for testing to see if it lives up to the hype.
Nvidia GeForce RTX 4070 Ti
Let's address the elephant in the room: The Nvidia GeForce RTX 4070 Ti is effectively a rebranded version of the "unlaunched" RTX 4080 12GB. However, I wanted to include it on this list because it's an RTX 40 series card that costs $799. Sure, it doesn't boast the beefy specs of the RTX 4080 or RTX 4090, but if you're upgrading from the RTX 30 series, you'll be treated to improved performance.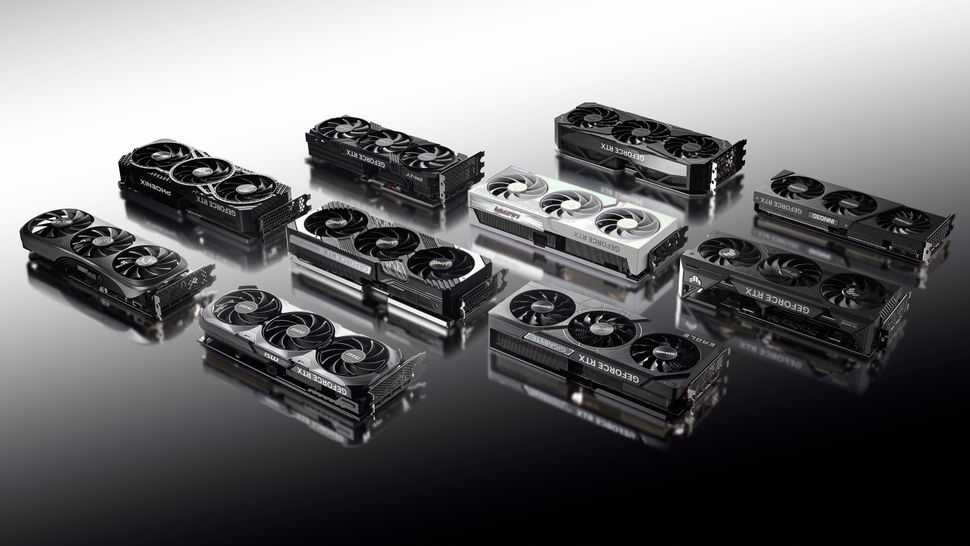 The RTX 4070 Ti ships with 7,680 CUDA cores and 12GB of GDDR6X memory, which puts it on the low end of the RTX 40-series GPUs. However, according to Nvidia, it's still significantly faster than the last-generation RTX 3090 Ti when you enable DLSS 3.
What the heck is DLSS 3? It's the latest version of DLSS (Deep Learning Super Sampling) graphics upscaling technology. It's only supported on Nvidia RTX 40-series cards, which makes it a key selling point of the GeForce RTX 4070 Ti. DLSS is a big deal because it uses machine learning to try and intelligently "upscale" graphics that are rendered at artificially lowered resolutions, affording you the speedy performance of gaming at a lower resolution without a big drop in graphical performance.
The GeForce RTX 4070 Ti doesn't have the raw power of its beefier siblings, but in all honestly, most games these days don't need that much power — unless you're trying to game in 4K with all the bells and whistles cranked to max settings. And even then, the higher-end RTX 30-series cards can still deliver on that front. But if you want a more powerful Nvidia card that won't break the bank, the RTX 4070 Ti seems like a solid choice.
Next: The Asus Chromebox 5 is my favorite PC of CES 2023 — here's why.