CES 2023 is in full effect, and as predicted Intel has brought a bumper crop of new processor to show off at the world's premier electronics show.
They're all part of the company's 13th Gen "Raptor Lake" CPU line, the latest and greatest yet from the venerable chipmaker. While the Intel 13th Gen Raptor Lake lineup was announced back in September 2022 (the same day competitor AMD launched its own new line of Ryzen 7000 processors), it only launched with a handful of desktop-grade CPUs.
Now Intel has unveiled more 13th Gen chips, including a slew of mobile options for laptops. That's significant because while CPU speed and power efficiency is key in a desktop PC, it's even more important in a laptop, which for many of us sinks or swims based on how much you can do before it runs out of juice.
Intel's recent advances in laptop chips have coincided with meaningful improvements in laptop performance, but in my experience reviewing laptops here at Tom's Guide Intel chips often underperform in terms of power efficiency compared to the latest chips from Apple and AMD (just look at our list of the best laptops for battery life and see how long you have to scroll down before you see an Intel chip).
However, these new Raptor Lake laptop CPUs may change all that. The most powerful new Raptor Lake laptop chip, the Intel Core i9-13980HX, is (according to Intel) the world's first 24-core laptop CPU, and it can be overclocked to achieve speeds of up to 5.6Ghz.
Intel claims that's the fastest laptop CPU on the market as of December 2022, which leaves plenty of room for competitors to challenge the title as CES 2023 rolls onward.
Of course, there are also some new desktop CPUs for chipheads to get excited about.
New Intel Raptor Lake desktop CPUs
Intel unveiled 16 new Raptor Lake desktop CPUs at CES 2023 which help fill out the line, which launched with powerful (and power-hungry) high-end flagships like the Core i9-13900K ($589 MSRP).
The new Raptor Lake desktop CPUs span the gamut from the relatively low-powered quadcore Core i3-13100F ($109 MSRP) to the Core i9-13900 and Core I9-13900T ($549 apiece). They're available in a variety of core counts and power draws, though the lion's share offer a processor base power (PBP) of either 65W or 35W.
What is processor base power, you ask? As far as I can tell it's Intel's new way of communicating how powerful a given CPU is, in a way that's roughly equivalent to the old TDP (thermal design power) measurement Intel used to try and convey how much heat a CPU generated at maximum load.
With Alder Lake Intel started rating these CPUs by PBP, and you can generally presume that a 65W CPU can deliver more raw power at load than a 35W CPU. The highest-end 35W and 65W Raptor Lake Core i9 desktop CPUs are priced the same ($549) and equipped equally, but the 65W model has higher clock speeds and tops out at 5.6GHz, while the 35W model tops out at 5.3GHz.
New Intel Raptor Lake laptop CPUs
But of course, the biggest news is the 32 new laptop CPUs in the Raptor Lake lineup that Intel brought to CES this week, including the company's first 24-core laptop CPU.
They span a wide range of power levels, from the high-end 55W "HX" chips intended for high-performance notebooks like the best gaming laptops to low-powered P- and U-series chips aimed at power-sipping ultraportables.
The most notable pitch Intel is making is that the new top-of-the-line 24-core Intel Core i9-13950HX chip delivers up to 11% better single-threaded performance and up to 49% better multitasking performance than last generation's Intel Core i9-12900HX in tests Intel conducted internally, using SPEC CPU 2017 benchmarking software.
By these metrics the new high-end Raptor Lake laptop chip also handily outperforms Apple's M1 Max and M2 chips in the same benchmarks, which is a clear shot at Apple silicon. But of course, we already knew that Intel Alder Lake chips beat Apple M1 Max for speed — they just also suck more power.
Also, by including these performance figures for Apple's M1 Max and M2 chips, Intel seems to be deliberately not saying that the new top-of-the-line Raptor Lake laptop chips still can't beat the beefy Apple M1 Ultra available in the MacBook Pro 2021— at least not in these benchmarks.
Intel also claims the latest and greatest Raptor Lake laptop CPUs can deliver performance improvements of up to 12% over the last generation, based on tests conducted with an MSI Titan GT77 HX gaming laptop packing an Nvidia GeForce RTX 3080 Ti GPU.
That's a meaningful improvement, though so minor that if you actually were considering upgrading your high-end gaming laptop with a 12th Gen Intel CPU and a 3080 Ti for a similarly-expensive model with an Intel Core i9-12900HX, I'd suggest you save the thousands of dollars it would cost and play League of Legends or Forza Horizon 5 with up to 12% worse performance.
But if you're in the market for a new high-end gaming laptop, there's good reason to go for one with the best Raptor Lake chip you can afford. These are now the leading chips in Intel's lineup, and they're among the best you can buy.
Farther down the power curve Intel also unveiled 12 new P- and U-series chips that are optimized for power efficiency over performance.
To give you a sense of how they differ in terms of raw power output, the flagship 24-core Intel Core i9-13980HX has a base power of 55W and a max turbo power of 157W, while the weakest Raptor Lake U-series chips (like the new Core i3-1305U) have 5 cores and a base power of 15W, with a max turbo power of 55W.
New features
Raptor Lake rings with it some new features, including Intel's new Unison app, which makes pairing your smartphone to your PC relatively straightforward regardless of whether it runs iOS or Android.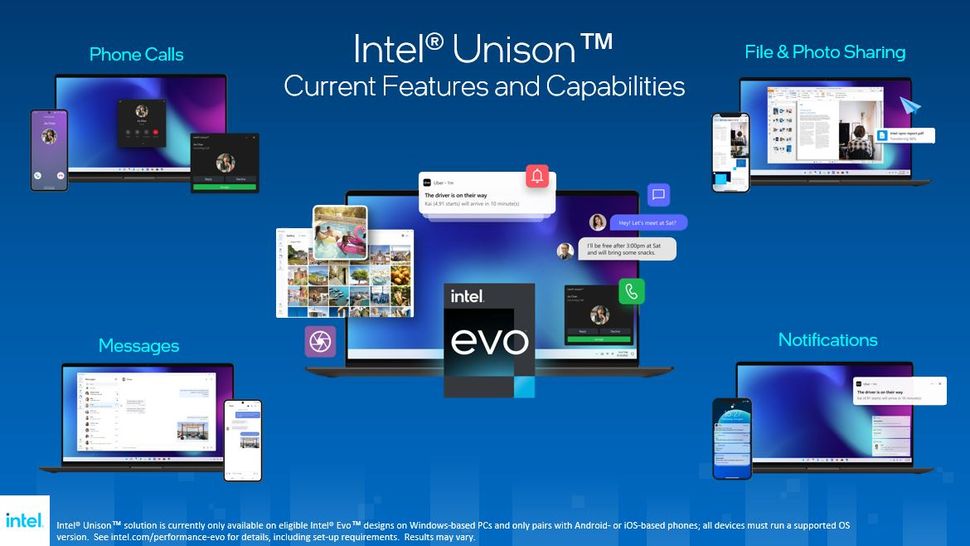 But there are also some new upgrades that may meaningfully improve your laptop's performance compared to those sporting older chips. These include a number of improvements to the way Intel's Iris Xe integrated graphics tech handles gaming on a laptop that should make playing games on an ultraportable a little more enjoyable.
Most notably, Intel claims its new "Endurance Gaming" tech improves power efficiency while gaming, enabling you to "play up to 4.5 hours unplugged" in games like League of Legends and Rocket League.
Also, select Raptor Lake laptops will ship with an Intel Movidius VPU, something Intel describes as a "discrete VPU AI accelerator" which can handle video call effects like blurring the background or dynamically reframing you to help you stay centered when moving around.
Intel claims offloading this AI-intensive work to the VPU will free up your laptop's CPU for other tasks, potentially improving performance during video calls.
Intel says it worked with Microsoft to design the VPU, and it seems like a neat bit of tech. However, it's yet unclear which laptops will ship with this feature or how well it works.
Outlook
Intel's 13th Gen Raptor Lake laptop chips have arrived, and you should expect to see them start showing up in laptops from the likes of Acer, Dell, HP, Lenovo and ASUS later this year.
Personally, as the editor in charge of laptop coverage here at Tom's Guide I can't wait to see what kind of performance and power efficiency Raptor Lake laptops are capable of — something we'll only know once we get some into the lab for testing. Stay tuned!