CES 2023 was a roaring return for the world's largest showcase for the next big things in technology. Las Vegas was buzzing and packed with people — and packed with lots of great gadgets that promise to make your life better, easier and more fun.
Some of the bigger trends at CES 2023 were VR and AR, with lots of companies jockeying for position ahead of Apple's rumored entry into the market. Wireless TVs wowed with the ability to stream 4K content from across the room, and dual-screen laptops open up new possibilities for computing.
Another big trend was sustainability, with lots of efforts being made to create products that are made of recyclable materials or appliances that can keep micro-plastics out of our oceans. After meeting with dozens of companies, walking countless miles and scouring multiple halls for the latest and greatest gear, we present the Best of CES Awards for 2023 from the editors and writers at Tom's Guide.
Best in Show: LG Signature Series M3 OLED (Wireless)
Among all the awesome and innovative products we saw at CES 2023, none left as strong an impression as the wireless LG Signature Series M3 OLED TV. This 97-inch behemoth of a set can transmit 4K/120Hz video across the room without cables, creating the near-cordless entertainment setup we've only ever dreamed of. With components and HDMI inputs offloaded to LG's proprietary Zero Connect Box that streams picture without inhibiting quality or latency, the M3 has achieved some feat. The model on display at CES 2023 seemed to be more than just a concept — in fact, we think it could be paving the way for a world of wireless TVs. — Kate Kozuch
Best Design: BMW i Vision Dee
Picking a color for your car seems easy enough, but what if you didn't have to choose just one? That's one of the incredible innovations BMW brought to CES with the I Vision Dee concept car. Like the iX Flow that came to CES last year, the I Vision Dee has a special e-ink wrap that lets it change color on the fly. Only this time, instead of switching between black and white, there's a whole range of colors to choose from. 32 to be precise, employed by applying variable voltage and a CMYK-style color palette.
But that's not all, because BMW is also employing what it has dubbed "phygital" features. That mix of physical and digital attributes include a color heads-up display that stretches the entire windshield, dimmable windows capable of displaying hi-resolution graphics (like passenger avatars), and virtual switches that only appear when your fingers are close by. Not to mention the ultra-minimalist interior, sculpted seats and a roomy open design. The car itself is similarly sculpted, with a smooth near-seamless body that looks more like a piece of art than a car. — Tom Pritchard
Sustainability: Samsung Microplastic Reduction Washing Machine
Microplastics — microscopic bits of plastic less than 5mm in size that come from degraded bottles, toothpaste, lotions, clothing and other sources — are everywhere, making it back into the food we eat and the water we drink. While the effects are still being studied, it can't be good to ingest plastic. So how do we keep microplastics out of our water supply? We like Samsung's approach. The company is adding a Less MicroFiber cycle to compatible washing machines, which the company says will reduce microplastic emissions by up to 54%. So, the next time you go to wash your clothes, the plastic microfibers that fall off won't go into the water stream.
Samsung has also developed a microfiber filter in partnership with Patagonia; it will be available in select Samsung washing machines in Europe beginning in the second half of 2023. You'll also be able to buy it separately and use it with any washer on the market, regardless of brand. It's not going to solve the issue of microplastics completely but it's a smart and practical idea to remove at least some from the environment. — Mike Prospero
Best TV: Samsung 77-inch S95C QD-OLED
The biggest news for TV lovers at this year's CES was the arrival of a new larger size QD-OLED screen from Samsung Display, which Samsung Electronics promptly placed in its new Samsung S95C OLED TV. The bigger screen size makes this QD-OLED an absolute showstopper, while new gaming-centric features means that there's a fair amount of innovation happening under the hood. Features like a new 144Hz refresh rate and AMD's FreeSync Premium Pro will make it a tempting purchase for anyone with a gaming PC in their living room and Samsung's latest Neural Quantum Processor does an excellent job producing crisp, clean and vibrant images. — Nick Pino
Best Laptop: Lenovo Yoga Book 9i
The Yoga Book 9i is the most ambitious laptop I've seen in years. This device sports dual 13-inch OLED displays that give you a wealth of usage modes. You can use the YogaBook 9i in tent mode, the two panels on top of each other or turn the device so that the two screens are side by side and run one app on each panel. There's also some nifty gestures, like putting 5 fingers on the screen to stretch one app across both screens, and activating the on-screen keyboard with 8 fingers. If you don't want to use a touchscreen keyboard, Lenovo includes a Bluetooth keyboard you place on the bottom display. And a pen and stand are included, too. Yes, the $2,100 price is steep, but the Yoga Book 9i feels like the laptop of the future. — Mark Spoonauer
Best Gaming Device: Sony PlayStation VR 2
While Sony didn't have too much to show off this year outside of its new AFEELA car, the entertainment giant used a vast majority of its showfloor space for the PS VR2. Being able to go hands-on with the headset allowed us to see Horizon Call of the Mountain, one of the launch games that will be packaged with the headset, on the PS VR's beautiful OLED HDR panel. The uptick in resolution (it's now 2,000 x 2040 per eye) and eye tracking capabilities are two major sources of improvement, while the newly redesigned controllers feel great in the hand. Gamers with a PS5 and an interest in virtual reality will have a hard time resisting the PS VR2 when it comes out on February 22, 2023. — Nick Pino
Best Startup: Displace Wireless TV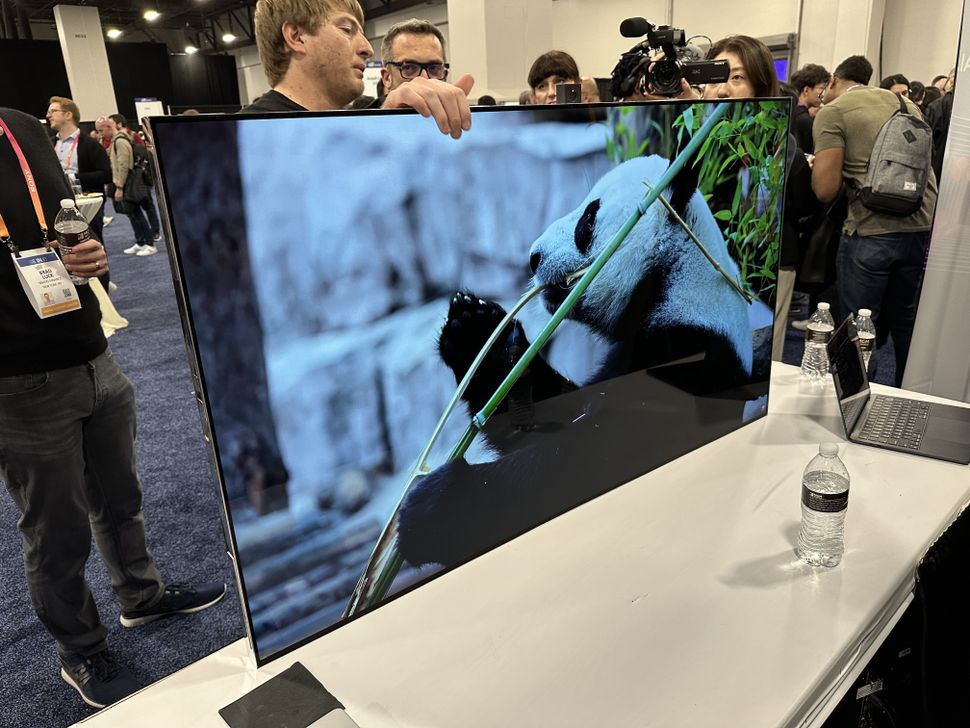 The Displace TV is the first wireless OLED TV that doesn't have any cables at all coming out of the set. This includes a power cord, as the Displace has a battery pack inside that's hot-swappable. Using active-loop vacuum technology, you can easily transport this 20 pound TV from room to room and stick it on any wall — no mounting required. A base control unit broadcasts a signal over Wi-Fi 6E. You can also snap two Displace TVs together for a 110-inch 8K experience or up to four panels for a ridiculous 220-inch 16K picture. The Displace TV also has voice and touch control as well hand gesture control. The starting price is $2,999 and it ships in December 2023. — Mark Spoonauer
Best Gaming Laptop: Alienware m18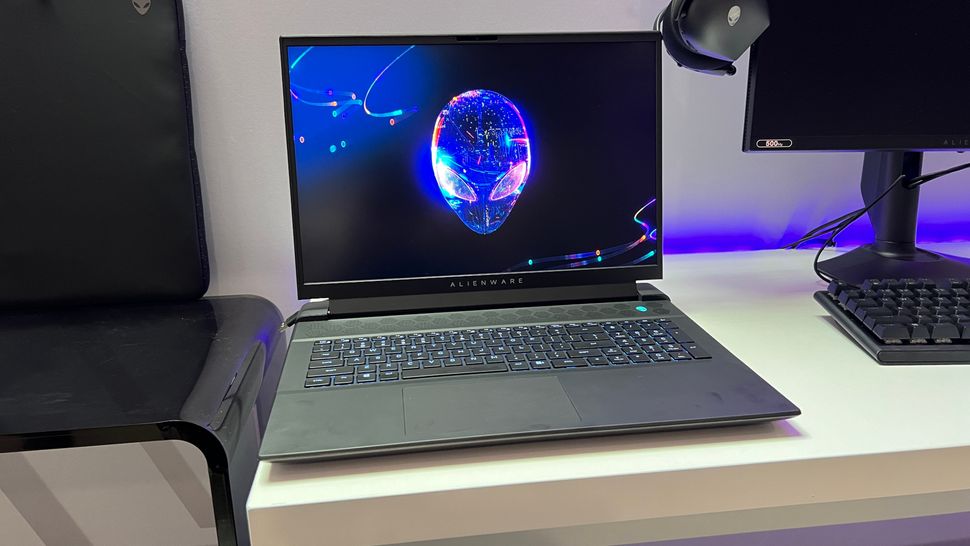 The Alienware m18 is one of several 18-inch laptops unveiled during CES 2023. Though it has similar specs to laptops like the Razer Blade 18, it narrowly ekes out a win in this category due to its striking appearance — which is still decidedly subdued compared to the ostentatious products Alienware is known for. Speaking of specs, this monstrous gaming laptop packs a 13th gen Intel Core CPU and an Nvidia RTX 40-series GPU, along with up to 64GB of RAM and up to 9TB of storage. The Alienware m18 is doing a lot of things, but messing around isn't one of them! This could be a legit desktop replacement. — Tony Polanco
Best Tablet: Lenovo Tab Extreme
The Lenovo Tab Extreme is what happens when a company says we're going to make the best Android tablet possible. Yes, it starts at a fairly steep $1,199, but think about what you're getting for the money. This slate packs a huge 14.5-inch OLED 120Hz displa, and there's a dual-mode stand that snaps on the back so you can use the Tab Extreme in portrait or landscape mode. I especially like the dual-hinge keyboard which enables the tablet to float above the layout and provide multiple viewing angles. I'm not sure how powerful the MediaTek Dimensity 9000 chip is going to be keeping up with Android 13 and this tablet's ability to run up to four apps at once, but overall this device looks very promising for power users. — Mark Spoonauer
Best Appliance: LG MoodUp refrigerator
It's ridiculous, but in a good way. The front of the LG MoodUp refrigerator has four large panels that are illuminated with LEDs. You can change the color of each panel individually to suit your personal taste and mood. What's more, the lights can be synced to music that's playing through the fridge's Bluetooth speaker for a real party in your kitchen. But the lights serve a practical purpose, too: if you venture downstairs for a late night snack, its lights can provide a gentle glow, and it'll start flashing if you accidentally leave one of its doors open. Inside, it can also make craft ice balls, which you'll need aplenty for everyone who comes into your kitchen to marvel at your new fridge. — Mike Prospero
Best Smart Home Device: Worx Landroid Vision
One of the biggest pains with robot lawnmowers is having to first install a boundary wire around your property. It's time-consuming, and if the wire ever breaks, it's a huge pain in the grass to fix it. Which is why Worx' new Landroid Vision robot lawnmower has us intrigued. It uses an HD camera and a neural network to know where your lawn ends. It's also smart enough to avoid other objects in your lawn — so it won't chew up your kid's toys or anything else that might be in its way. It can even cut your grass at night, so you can wake up to a freshly mowed lawn. And, its removable battery can be used in other Worx power tools. — Mike Prospero
Best Accessibility Tech: L'Oreal Hapta
Every person should be able to experience beauty, but tens of millions of people actually can't use traditional makeup due to motor skill impairments such as tremors, multiple sclerosis, a stroke or similar conditions. L'Oréal, in an effort to improve cosmetic inclusivity, worked with in-house brand Lancome to create a handheld corrective device for applying lipstick. The device, called HAPTA, can keep a lipstick steady for application, offering assistance and more confidence to enjoy beauty products. It kind of works like a gimbal, steadying the movement of the lip product even if the hand is moving irregularly. — Kate Kozuch
Best VR/AR: HTC Vive XR Elite
After a few years focusing a bit more on B2B VR headsets, HTC has returned with its first standalone XR headset that offers a little something for everyone. For anyone interested in a great VR experience, the Vive XR Elite will offer a 3840 x 1920 combined resolution, up to 110° field of view and a 90Hz refresh rate. There are four on-board tracking cameras for controller tracking and a depth sensor. However, it also has an ultra-vivid passthrough mode which allows you to interact with AR objects as well. According to the GM of the Americas for HTC, Dan O'Brien, there will be more than 100 new pieces of content released with the Vive XR at launch, and we're excited to jump back into the Viverse. — Nick Pino
Best Smartwatch: Citizen CZ Smart
The new Citizen CZ Smart has the full suite of "smarts" and fitness tracking features you'd expect from a Wear OS 3 watch, but it takes things further with an AI program that analyzes the user's behaviors to predict when they'll have the most (or least) energy on a daily basis. By tracking your activity and mental alertness, the CZ Smart YouQ app determines the user's "chronotype." A chronotype is someone's natural tendencies to sleep at a certain time. In the first few days with a CZ Smart and YouQ app will take you through a 1-minute mental alertness test a few times a day. YouQ's AI (powered by IBM Watson) can then gauge your trends to help you manage your energy throughout the day. — Kate Kozuch
Best Fitness Tech: Movano Evie ring
Movano's Evie ring mostly emulates the Oura Ring Gen 3 experience, but with a stronger emphasis on menstrual health management for people with uteruses. Paired with an adjustable design and portable battery case that can recharge the ring up to 10 times, Evie seems to offer plenty of practicality right out of the gate. What's more, the Evie ring features a unique open design that comes in sizes 5 to 11, while allowing some flexibility for swelling fingers. Having experienced the discomfort of swollen fingers while wearing rings, the Evie ring's design sounds ideal — it certainly felt comfortable when I tried it on. Movano hasn't announced an official price for the Evie ring yet, though promised it would land under $300 to undercut the Oura Ring's $299 starting price. — Kate Kozuch
Best Health Tech: Withings U-Scan
There's not many products we see at CES that allow you — nay, encourage you — to pee all over them. But that's just one of the things that makes the Withings U-Scan so noteworthy. This health monitoring device is hooked up inside your toilet bowl, where it can collect your urine and use that to analyze your vitals. (Initially, you can fit the U-Scan with one of two cartridges to either track menstrual health or nutrition and metabolic information.) It's an ingenious idea, requiring you to do little more than heed nature's call in order to get data beamed to your phone. Regulatory approval of the $500 device is still pending in the U.S., though European users should be able to purchase the U-Scan sometime during the first half of this year. — Philip Michaels
Best Audio: Razer Leviathan V2 Pro soundbar
Typically, soundbars don't try to reinvent the wheel. They often produce decent stereo sound with a wide soundstage but they don't strive to do much else. The Razer Leviathan V2 Pro really attempts something new: head tracking spatial audio with the help of infrared cameras. The result not only sounds like you're listening to everything in Dolby Atmos, but all the processing is done right on the soundbar, which means you can connect it to any laptop or desktop to get premium sound without installing any extra software. — Nick Pino
Best Monitor: Alienware 500Hz Gaming Monitor
Gaming laptops with 240Hz displays seem to be the new standard if the new notebooks unveiled at CES 2023 are anything to go by. That's impressive, but nothing compared to the Alienware 500Hz Gaming Monitor (AW2524H), which as you may have guessed by its name, can reach up to 500Hz! In all honesty, there are few games that can take advantage of such a high refresh rate, but you'll still get a buttery smooth experience — especially when playing competitive titles. Oh, and the monitor also has a super low 0.5ms response time that will help you get the edge in online matches. This may not be the flashiest-looking monitor of CES 2023, but its insanely high refresh rate can't be topped. — Tony Polanco
Best Router: TP-Link Archer BE900
The best Wi-Fi routers showcased at CES 2023 have one thing in common — they all support Wi-Fi 7. TP-Link brought several Wi-Fi 7 enabled devices to this year's show but the Archer BE900 stands out due to its unique V-fold design with two screens. While the touchscreen at the bottom has a clock and other useful system information is just a swipe away, the LED screen above it displays the weather, text, emojis and 3,000+ customized graphics. At the rear of the Archer BE900, there are two USB ports, a gigabit LAN port, four 2.5 Gbps LAN ports, a 10 Gbps WAN/LAN port and even a 10 Gbps Fiber/Ethernet combo WAN/LAN port. Not only is this a powerful, futureproof Wi-Fi router but it's also one you'll want to show off. — Anthony Spadafora
Best Car Tech: Ring Car Cam
We knew it was coming eventually, and CES finally saw Ring formally unveil the $250 Ring Car Cam — A Ring camera that also functions as a dash cam. The dual-camera design records what's happening in the car and on the road ahead, day or night, with automatic incident detection and LTE connectivity uploading footage straight to the cloud. There's even a privacy cover that shuts off the microphone and interior camera, while still keeping tabs on the open road. What sets the Ring Car Cam apart is its design, snugly fitting between the dashboard and windshield and drawing power from the OBD-II port. That should make it much easier to install and set up, while also ensuring it has power to monitor your car when the engine is switched off. — Tom Pritchard