After debuting a few new OLED TVs at CES 2023 yesterday, LG has saved its latest and greatest model for last — a 97-inch wireless OLED TV that can transmit 4K/120Hz video across the room without cables.
The TV's official name is the LG Signature Series M3 OLED and it uses a new proprietary technology called the Zero Connect Box to beam video data from one side of the room to the other.
Update: The LG Signature Series M3 OLED is one of the products we've included in our Best of CES 2023 Awards. Find out what other gear made the cut at this year's show.
According to LG, the box can be placed up to 30 feet away from the TV without any signal degradation — as long as it has direct line-of-sight to the screen.
So when can you buy one? According to LG, this model is still in the works and likely won't be available until much later in the year, but it says that the wireless technology embedded in the OLED has proven to be stable in every environment it's been tested in so far.
So what can you do with a wireless OLED?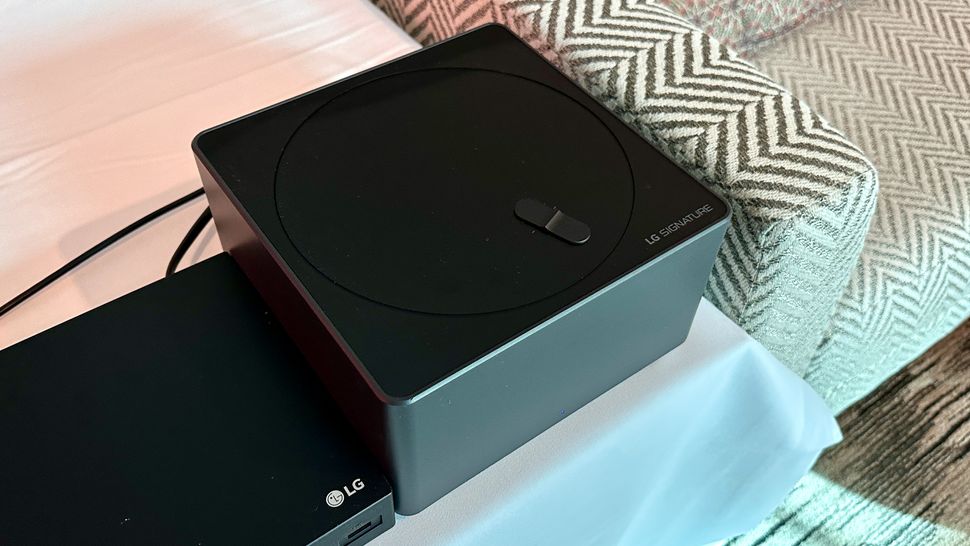 On the pre-production model here at CES, there are three HDMI 2.1 ports — only one less than you'd find on the new LG C3 OLED and LG G3 OLED — as well as two USB ports, optical audio out, Ethernet and an antenna coaxial connector.
With those ports, you'd be able to connect both the PS5 and Xbox Series X, as well as a streaming video player or 4K Blu-ray player on a shelf across the room from the TV. The TV wouldn't have any cables running to it — outside of a power cable, of course — but would be able to connect to those devices as if they were directly connected to the TV.
The M3 also supports Dolby Atmos and Dolby Vision over the wireless connection and supports 4K/120 with HDR, the same as any of the non-wireless OLED TVs its making.
If you're worried about latency — a potential issue for gamers who want the fastest, most responsive gameplay experience — LG told us that it would be "much lower than 20ms" and "almost imperceptible." That's not to say that there won't be some latency at all, but it shouldn't impact your viewing experience.
More than a concept but not quite ready for production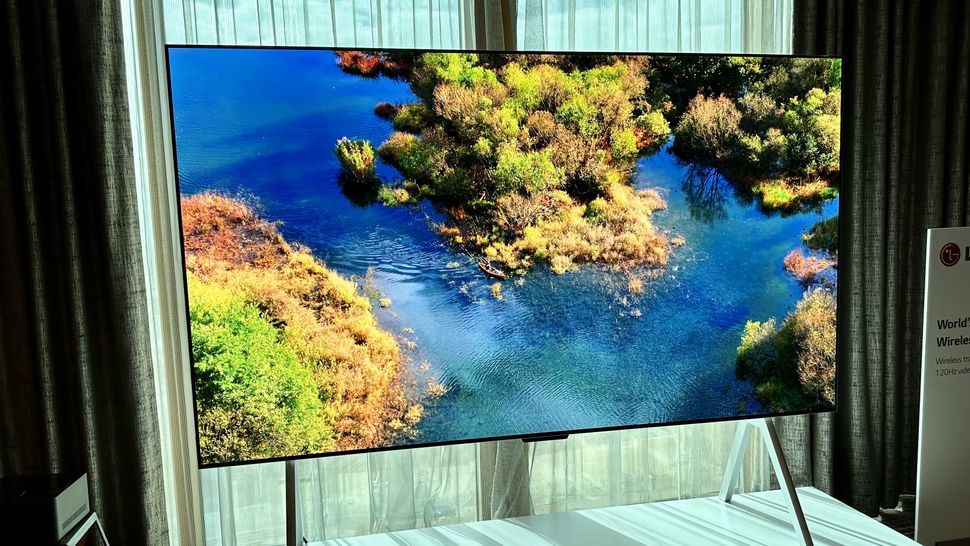 The one thing LG emphasized to us when we sat down to watch the M3 was that this was a pre-production model. Final specs could change before launch and more features could be made available, though all of the same core specs like a 4K/120Hz panel would all stay the same.
When asked where this model would sit in the lineup, LG said that it will sit above the LG G3 OLED and the Z3 8K. That will mean this TV will be the most expensive 4K OLED in LG's lineup but hopefully a bit less expensive than the top-of-the-line 8K models.
As far as other screen sizes, there will be an 83-inch and 77-inch model in addition to the 97-inch version shown at CES, but LG couldn't say whether those models would come with a stand or a proprietary wall-mount system like the G3.
From the sounds of things, all the M3 models will come with WebOS 23 and a 4.2-channel 60W speaker system, but those too could change when it goes into full production.
As for when that day will be, LG couldn't exactly say, but did promise that it would be available later this year, likely after the launch of its other LG C3, G3 and Z3 OLED models.