CES 2023 is at its midway point already, and all the major manufacturers have shown us their visions for the future of TVs.
While most of the TVs we've seen so far have been half-step upgrades rather than full-step innovations, we still came across some TVs that really blew us away during our time at CES.
To help highlight the best-of-the-best we've seen in Las Vegas, we've put together a list of the 10 best TVs of CES 2023. If you're looking for the next generation of truly great TVs here they are. And be sure to check out our Best of CES 2023 Awards to see all the winners.
LG Signature Series M3 OLED TV
Currently, the LG M3 OLED is the TV to beat at CES 2023. No, it's not the only wireless OLED TV at the show — wireless TVs are having a moment here — but the Signature Series M3 OLED is the most capable of the wireless TVs here in Vegas.
According to LG, it uses a proprietary wireless technology that's faster than Wi-Fi 6 to beam content from a nearby input box to the TV itself. That means there's no ports on the back of the TV so it looks immaculate in your living room.
Sadly, there's no price or release date set for this one other than a very vague 'late 2023' time frame and a price that's in between the LG G3 OLED and LG Z3 8K OLED. C'mon LG, tell us more!
LG C3 OLED TV
While the M3 is definitely the most innovative TV at the show, the most popular model from this year's CES is the successor to the LG C2 OLED, the new LG C3.
Not much has changed between last year's model and this one, but a few interesting features like a customized picture mode that is calibrated with photos you choose are neat additions. Even if there's not much new on it, the LG C3 OLED is still a top contender for the best TV of year.
LG G3 OLED TV
So if the C3 is popular and the M3 is the most innovative, what does the LG G3 OLED have going for it? Well, it's the LG OLED that's actually getting a substantial improvement in 2023.
To wit, LG says that you can expect "up to a 70% brighter overall picture than non-evo OLED TVs" and an uptick on brightness compared to last year's LG G2 OLED. Tack on the new upscaling process via the Alpha a9 Gen 6 Processor and you've got all the markings of a fantastic — if expensive — new addition to LG's OLED TV family.
Samsung S95C OLED
LG isn't the only OLED maker anymore, however. Samsung is also making OLED TVs of its own and has imbued them with a printed quantum dot layer. The Samsung S95C OLED is the second-generation QD-OLED from Samsung and this year's model looks to make a slew of design changes.
Those changes include a reduction in size — the display is now a mere 10mm from front to back — and will include Samsung's proprietary OneConnect Box to help hide cables. For gamers, the Samsung S95C OLED is chock-filled with great gaming features like a new 144Hz refresh rate and AMD's FreeSync Premium Pro.
The new 77-inch model won't be cheap, but it does look amazing.
Samsung QN95C Neo QLED TV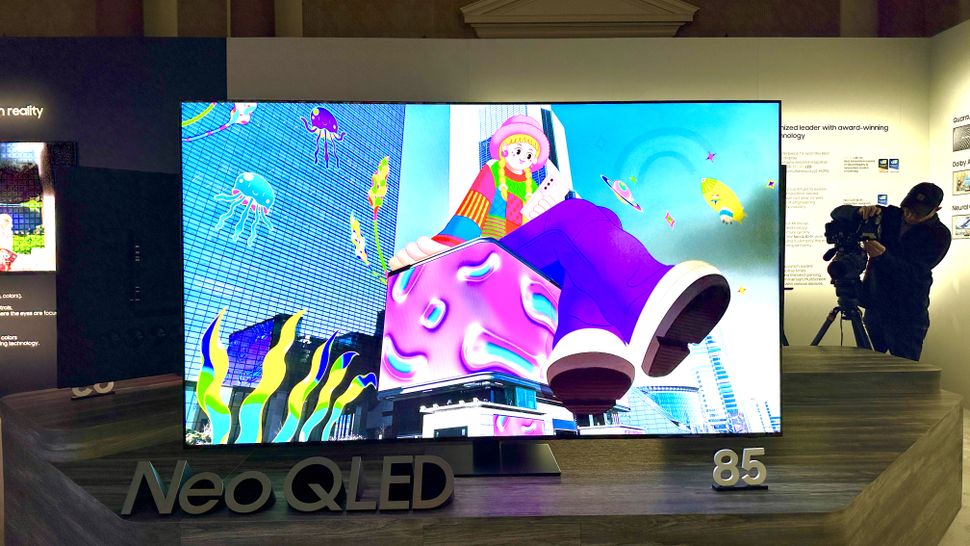 The Samsung QN95C Neo QLED TV is the company's top-shelf 4K QLED TV for 2023. Of course, there are 8K Neo QLED TVs and other exciting panel technologies from Samsung to consider, but this is the one that should most closely rival the best TVs overall of this year.
That doesn't mean it's an exact copy of last year's QN95B, though. For one, it ditches the One Connect box (that's being reserved for the S95C OLED TV), so the components and HDMI inputs are all built-in to the TV now. Otherwise, the big story in terms of performance is the new auto HDR remastering feature, which can take any content and make it look HDR.
We'll need to get the Samsung QN95C Neo QLED TV in the lab to truly see how it stacks up, but for now, it's shaping up to be a serious contender for TV of the year in 2023.
Samsung MicroLED TV
Most of the impressive TVs at CES were either Mini-LED or OLED, but Samsung's MicroLED doesn't fit into either group. The only MicroLED TV we saw at CES, however, was a tour de force.
With some of the brightest highlights and best black levels, Samsung's MicroLED TV has again shown us what the future of television tech really looks like. Now, all we need is for Samsung to bring down the price — and the screen sizes — so we can actually get one to fit inside our home.
TCL Q7 Series
TCL had a great "one more thing" moment at CES when it unveiled that it's working on a Mini-LED TV, but if you want your TV to be a little more affordable and available, you'll have to settle for the TCL Q7 Series.
The Q7, the new mid-level model in the 2023 TCL lineup, brings Dolby Vision IQ into the equation thanks to a built-in light sensor while supporting 240Hz gameplay via VRR. It's not exactly the successor to the legendary 6-Series that we were hoping for, but it looks to be a quality budget offering for gamers who want the latest and greatest features.
TCL QM8 Mini-LED TV
The worst news to come out of CES this year was that TCL won't be carrying on its renowned 6-Series that consumers and journalists adored. Instead, it's releasing a new series of models called the QM8 that will take its place.
The only Mini-LED TV in the lineup, the QM8 will offer Wi-Fi 6 and a built-in soundbar. According to TCL, it'll have five times the amount of local dimming zones compared to the 2022 6-Series and twice the peak brightness. If that translates to a big boost in performance and TCL keeps its prices competitive, the QM8 will continue to carry on the torch of the 6-Series. Without pricing or release date info, however, we're a bit nervous about the final outcome.
Displace TV
LG might have the higher quality wireless OLED TV, but Displace has the more portable of the two models. The lightweight design weighs less than 20 pounds, and the company claims that its battery back can last for about 30 days on a charge. The company also says that its "active loop vacuum technology" enables the Displace TV to be quickly secured to any surface without permanent mounting.
Displace TVs can also be used in combination with multiple Displace TVs to form any sized TV up to 110 inches. Picture quality is still a big question mark here — but its portability and design definitely impressed us.
Hisense ULED X
Lots of TV makers are afraid to share specifics about how many local dimming zones they have and what the peak brightness is of their new TVs. Not Hisense. According to information sent to Tom's Guide, the Hisense ULED X has 5000+ Local Dimming Zones, 2500 nits peak brightness and Dynamic X-Display that uses over 20,000 Mini-LED lights.
On the audio side of things, the ULED X has 7 speakers and an 80W 4.1.2 multi-channel audio system. The specs alone have us salivating.
We won't be able to see it for ourselves for another few hours, but based on numbers alone, this one deserves a spot on our list.