Are you ready for a 2023 filled with bigger, faster, prettier and just plain weirder laptops?
If not you'd better brace yourself, because that's what we've been seeing in Las Vegas at CES 2023. The world's biggest PC vendors have brought some of their most exciting new products to the show, and we've had a front-row seat to the next big things from Acer, Asus, Dell, HP, Lenovo and more.
CES is often where we get our first look at the next generation of laptop tech. This year is no exception, as Intel dropped the fastest 13th Gen Raptor Lake CPUs yet this week. Among them are the first Raptor Lake laptop chips, including the world's first 24-core laptop CPU. Plus, Nvidia's CES 2023 livestream included our first glimpse of Nvidia GeForce RTX 40-series laptop GPUs. And AMD's own new Ryzen laptop CPUs are likely to drive the laptops of 2023 to new heights of performance and power efficiency.
Looking for more great gear debuting at CES? Our Best of CES 2023 Awards are now live, honoring the top products we've seen at this year's show.
We're seeing these powerful new components driving some of the most exciting new laptops at CES 2023, which we've collected here so you can easily get an overview of the coolest notebooks at the show.
Of course we'll keep updating this list throughout CES 2023 as new laptops are unveiled and we go hands-on to see how promising they really are. Stay tuned!
Lenovo Yoga Book 9i
Lenovo's Yoga Book 9i is one of the most remarkable-looking laptops at CES 2023 thanks to its dual 13.3-inch 2K OLED touchscreens. If you'd rather not type on a touchscreen, the Yoga Book 9i also comes with a Bluetooth keyboard you can place in your lap, on top of the lower screen (when using the device like a traditional clamshell laptop), or wherever you find comfortable.
With a starting price of $2,099 this isn't a cheap laptop, but the plethora of ways in which you can use its two screens might make it the perfect device for some folks. The included kickstand gives you room to do wild things like stack the two screens on top of each other, or stand them up side-by-side when you need lots of screen real estate.
It should be more than powerful enough for day-to-day work thanks to its 13th Gen Intel Core i7 CPU and 16GB of RAM, and at just over 3 pounds heavy and 0.63 inches thin it won't drag you down while you're running around.
LG Gram Style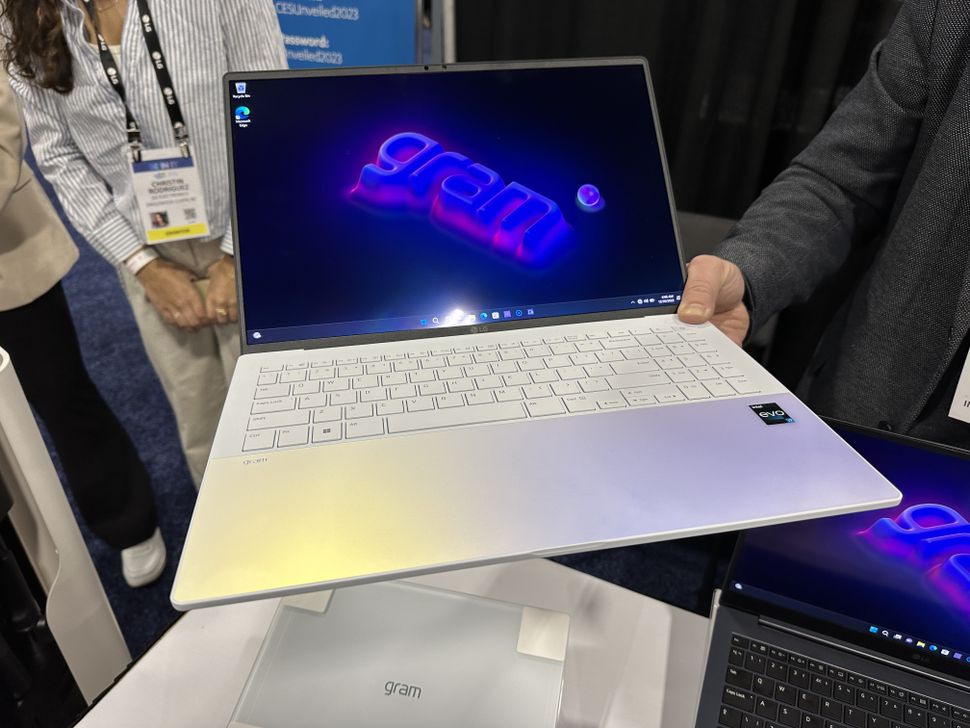 LG unveiled a few new additions to its Gram line of ultra-light laptops at CES 2023, including the appropriately-named LG Gram Ultrathin. But the most eye-catching new Gram is surely the LG Gram Style, a 2.7-pound 16-inch OLED ultraportable with a unique iridescent color scheme.
This causes the laptop to shimmer and change color as light moves across its Gorilla Glass 3 lid and deck, which will surely help it stand out from the pack at your local coffee shop. The laptop also sports an invisible haptic touchpad which lights up when you touch it — a cool feature that also feels like it could take some getting used to. Factor in the 16-inch 3.2K 120Hz OLED display and Intel 13th Gen Raptor Lake CPUs, and this is looking like one of the coolest-looking laptops of 2023.
Acer Swift Go
Acer's new Swift Go line of ultraportable Windows 11 laptops looks to offer some compelling competition to Apple's MacBook Air, Available in 14-inch and 16-inch varieties, the ultra-thin Swift Go laptops (roughly 0.59 inches, to be exact) pack the latest Intel 13th Gen Raptor Lake CPUs and are configurable with high-res OLED touchscreens.
How high-res, you ask? The 16-inch model can be ordered with up to a 3.2K 120Hz OLED touchscreen, which is probably the highest resolution you would really want on a 16-inch display. Once you start pushing up past 4K on a laptop like this, you're basically asking for eye strain if you try to look at anything at native res.
And while the 14-inch model has a smaller and slightly slower display (configurable with up to a 2.8K 90Hz OLED touchscreen), it also weighs just 2.76 pounds. That makes the 14-inch model nearly as thin and light as the MacBook Air 2022, which is just 0.44 inches thick and 2.7 pounds heavy. Plus, the Swift Go ultraportables offer a variety of ports (including USB-C, HDMI out and microSD card readers) and 1440p webcams, which is better than what Apple's ultraportable can offer you.
Alienware m18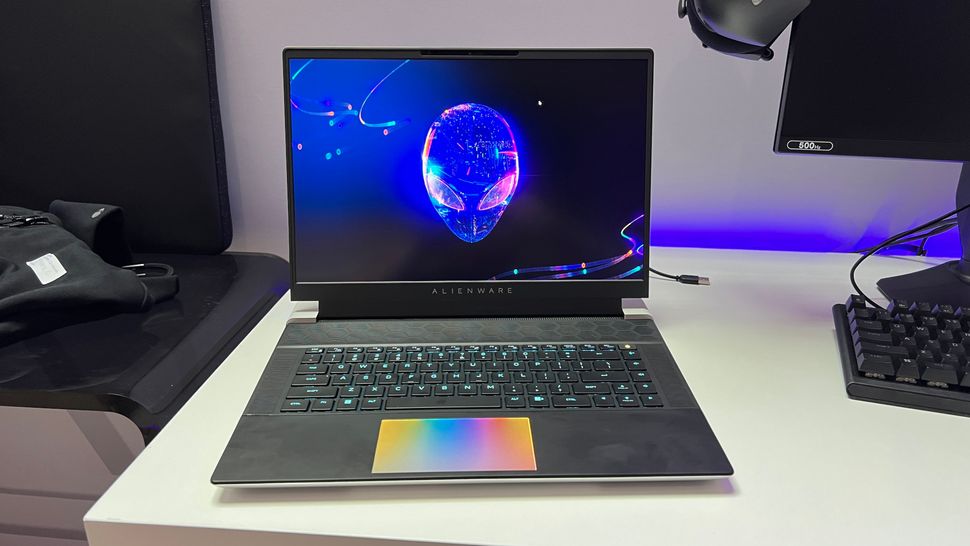 18-inch laptops are dominating CES 2023, and one of the most promising is the Alienware m18 gaming laptop. This isn't the first 18-incher Alienware has made, and it shows: The m18's 16.15 x 12.59 x 1.5 inch chassis is hefty but not ostentatious, with feet that help elevate the laptop off your desk to improve cooling and performance.
And with options to configure this beast with the latest and greatest CPUs and GPUs from AMD, Intel and Nvidia, along with up to 64GB of DDR5 RAM and up to 9TB of storage, the m18 can deliver performance to rival the best gaming PCs. Just don't expect to cart this hulk around for gaming on the go -- even if you find a comfortable place to set it up, it's unlikely to last long on battery when gaming at full power.
Asus ProArt Studiobook 16 3D OLED
Elsewhere in Asus' CES 2023 lineup you'll find the ProArt Studiobook 16 3D OLED, a 16-inch OLED-equipped laptop configurable with the latest Intel 13th Gen CPUs, Nvidia GeForce RTX 40-series GPUs, and up to 64GB of RAM.
Based on those specs alone it's clear this is a beefy performance machine that could be equally well-suited to cutting videos or playing the latest games. Both should look great on the 16-inch 3.2K 120Hz 3D OLED 16:10 display, which can bend up to 180 degrees back to lay flat on the table. But as you can tell from the name, the killer feature of this laptop is its 3D display capabilities, which rely on a camera built into the top of the laptop to track your eyes and dynamically display things in 3D.
Sure, it could be a gimmick, but in our Asus ProArt Studiobook 16 3D OLED laptop hands-on our own Tony Polanco was surprised at how well the 3D display tech works. "The 3D image stayed consistent regardless of where I looked," Tony said. "Even when I moved my head or moved the laptop to different angles, the 3D image moved as if it were a physical object. It's hard to describe, but trust me when I say that this is super impressive stuff."
Factor in the beefy specs, surplus of ports and creator-focused features like the built-in Asus Dial, and you have what's shaping up to be the best 3D laptop I've ever seen.
Asus Zenbook Pro 16X OLED
Asus, like many laptop vendors, unveiled a slew of new and refreshed laptops at CES 2023, including two new 18-inch gaming laptops joining its ROG lineup. But what really caught my attention is the new Asus Zenbook Pro 16X OLED, an odd-looking laptop aimed at creatives that's being refreshed with some new components under the hood.
If that were all Asus had done, we wouldn't be talking about this laptop. Laptop models are updated every year, sometimes multiple times as new mobile CPUs and GPUs hit the market. But Asus didn't just update the components in the Zenbook Pro 16X OLED this time around — the company claims to have completely redesigned the motherboard in partnership with Intel, redistributing components and effectively shrinking the CPU by more than 40% using its own Supernova SoM (System-on-Module) design.
Asus claims this affords it more room for cooling and powering the laptop, which can be configured with the latest Intel 13th Gen Raptor Lake CPUs and Nvidia GeForce RTX 40-series laptop GPUs. It's all in service of a laptop designed to help you create cool stuff effectively using the auto-raising keyboard (which may feel more ergonomic) and the built-in Asus Dial, which can be used in select apps to do things like switch tools or zoom in and out. Factor in the luminous 16-inch 3.2K OLED touchscreen, and you have what could be a fantastic laptop for creating art, movies, games and more.
HP Dragonfly Pro
The new HP Dragonfly Pro series of laptops were created specifically for freelancers and hybrid workers, so they're tailor-made to be easy to carry and last all day. HP currently plans to sell at least two variants of the Dragonfly Pro: A Windows 11 version packing an AMD CPU, and a Chromebook variant that runs on an older 12th Gen Intel CPU. Both weigh just over 3 pounds and sport 14-inch touchscreens, making them well-suited for getting work done on the go.
The Windows variant of the HP Dragonfly Pro is configurable with more power (16-32 GB of RAM, 512GB-1TB of storage) but a lower-res 1,920 x 1,200 display, while the Chromebook variant has less power under the hood (16GB RAM, 256GB storage) but a higher-res 2,560 x 1,600 touchscreen. Both models offer USB-C ports, though only the Chromebook supports Thunderbolt 4 since it has an Intel CPU inside.
In our HP Dragonfly Pro hands-on, we were impressed by the elegant look and feel of these laptops, and with promised battery life of 12-plus hours (or "all-day" if you opt for the Chromebook) they should be safe to take to work without worrying about bringing a charger. These laptops also sport four dedicated hotkeys on the right-hand side (one of which is programmable) which let you do things like quickly adjust camera settings or contact HP's 24/7 live concierge tech support service.
---
This isn't a definitive list, of course — there are loads of compelling notebooks being shown off at CES 2023, and we expect to see even more unveiled as the week progresses. We'll be at the show all week going hands-on with the latest and greatest, and we'll update this list as we discover the coolest laptops at the show. Stay tuned!