Nvidia helped kick off CES 2023 today with a live broadcast showcasing some of its upcoming hardware and software advances, the most exciting of which (at least for GPU heads) is the debut of the new GeForce RTX 4070 Ti graphics card.
We've expected to see this card launch for months now, so it's exciting to finally have a price and release date. When the GeForce RTX 4070 Ti hits the market January 5 it will have an MSRP of $799, and now that the worst of the GPU shortage is over you may actually be able to buy one for that price.
As some predicted, this new RTX 4070 Ti GPU looks an awful lot like a rebranded version of the $899 GeForce RTX 4080 12GB GPU that Nvidia announced, then abruptly cancelled late in 2022. Based on the specs, the RTX 4070 Ti seems awfully likely that it's basically the same card Nvidia tried to launch as the RTX 4080 12GB last November.
Nvidia GeForce RTX 4070 Ti: Price and release date
As noted, Nvidia's GeForce RTX 4070 Ti is expected to go on sale January 5 for $799. Nvidia doesn't appear to be selling its own "Founder's Edition" versions of these cards. So you'll likely only see versions of the card out in the wild from Nvidia's hardware partners, some of which will offer additional features (like extra cooling) at potentially higher prices.
Nvidia GeForce RTX 4070 Ti: Specs
The Nvidia GeForce RTX 4070 Ti ships with 7,680 CUDA cores and 12GB of GDDR6X memory, That puts it on the low end of the Nvidia GeForce RTX 40-series of GPUs, though according to Nvidia it's still significantly faster than the last-generation RTX 3090 Ti when you enable DLSS 3 (unique to the 40-series GPUs).
Swipe to scroll horizontally
| Header Cell - Column 0 | GeForce RTX 4090 | GeForce RTX 4080 (16GB) | GeForce RTX 4070 Ti |
| --- | --- | --- | --- |
| NVIDIA CUDA Cores | 16,384 | 9,728 | 7,680 |
| Boost Clock (GHz) | 2.52 | 2.51 | 2.61 |
| Memory Size | 24 GB | 16 GB | 12 GB |
| Memory Type | GDDR6X | GDDR6X | GDDR6X |
Of course, the discontinued GeForce RTX 4080 12GB also had 7,680 CUDA cores and 12GB of Micron GDDR6X memory onboard. Hence, it's pretty clear Nvidia has listened to customer backlash and rebranded the $899 "4080 12GB" as the more reasonable $799 RTX 4070 Ti, cutting the cost by $100 in the process.
Nvidia GeForce RTX 4070 Ti: Features
One of the most exciting new features of the Nvidia 40-series cards is DLSS 3, the latest version of Nvidia's DLSS (Deep Learning Super Sampling) graphics upscaling technology. It's only supported on Nvidia RTX 40-series cards, which makes it a key selling point of the GeForce RTX 4070 Ti.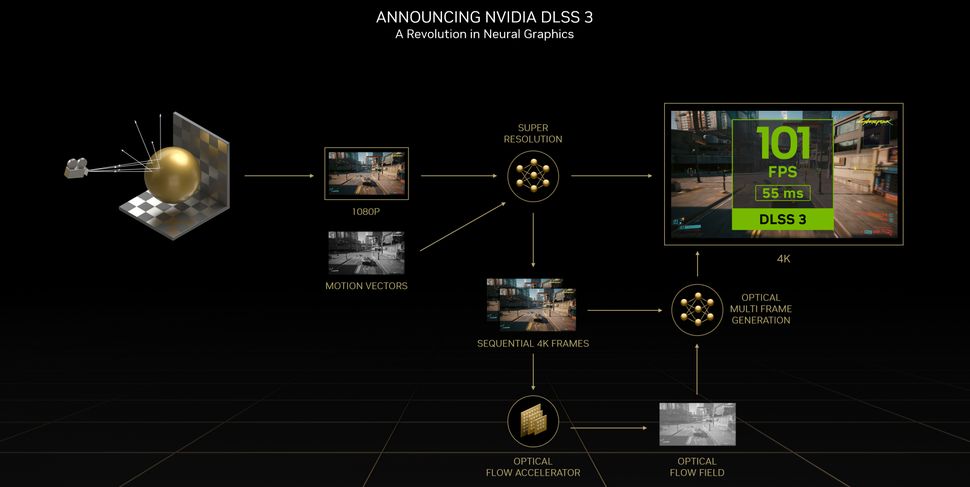 DLSS is a big deal because it uses machine learning to try and intelligently "upscale" graphics that are rendered at artificially lowered resolutions, affording you the speedy performance of gaming at a lower resolution without a big drop in graphical performance.
Nvidia pitches DLSS 3 as being leaps and bounds more effective than DLSS 2, and to use DLSS 3 you need the fourth-generation Tensor cores and new Optical Flow Accelerator tech built into Nvidia 40-series cards like the GeForce RTX 4090, 4080 and now the 4070 Ti. The company also claims that for the first time ever, it's possible to use AI to fill in whole frames of gameplay, rather than individual pixels, with DLSS 3.
Nvidia GeForce RTX 4070 Ti: Outlook
Finally, Nvidia has started to release RTX 40-series cards at prices the average person might be willing to pay. While the RTX 4090 and 4080 each cost over $1,000, the lower price of the 4070 Ti brings it tantalizingly within reach of us average mortals who just want a new GPU that won't cost as much as the rest of the PC combined.
Sure, the GeForce RTX 4070 Ti doesn't have the raw power of its beefier siblings, but honestly most games these days don't need that much power -- unless you're trying to game in 4K with all the bells and whistles cranked to max, of course.