15 Web Tools To Survive "Wedding Season"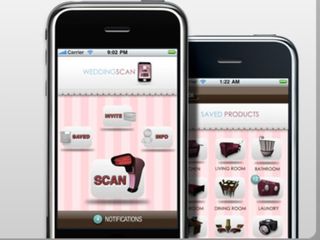 WeddingScan
One of the great parts about getting married is registering for nice stuff. WeddingScan can make that process easier. WeddingScan is an intuitive wedding registry application that allows you to register for any item, at any store simply by scanning a product's barcode with the WeddingScan iPhone app. If a product doesn't have a barcode, WeddingScan allows you to take a picture of it and add a brief description.
This is how it works: When you see an item to add, just press the Scan icon on the iPhone app, and the barcode capture window will open. Hold the capture window over the product's barcode for about 10 to 20 seconds, and the scanner will automatically capture the barcode information and will pull up the item description.
If the automatic barcode scanner does not effectively capture the barcode information, use the manual barcode input button to manually type in the barcode, and the item's information will then be registered. You can also use two separate iPhones to upload items into the same account – so both the bride and groom can start stimulating the economy at the same time. The app costs $2.99.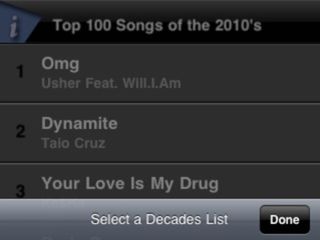 Fun Wedding
Music is key to starting any dance party, so why not turn the world of apps to plan your playlist? Fun Wedding is a $0.99 app that lets you see suggestions for top songs in different categories – from father/daughter dance to the bouquet throw. The app also has catalogued the 200 most requested songs of the past six decades (1950s-today). Nobody wants the thong song during a touching time in the reception, so ask for some help.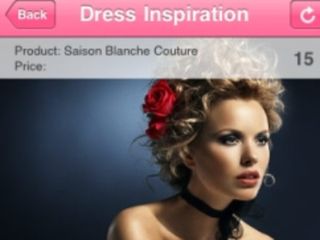 iWedding Deluxe
This application has it all, and then some. There are fully customizable to-do lists, multiple ways to organize your guest list and help with managing your budget. You can upload photos so you can keep track of things you like while on-the-go. It is like your own personal wedding planner in the palm of your hand! You can customize just about anything with this application, even the color of the title bars. There are also links to inspiration items, so that you can always look for fresh new ideas. Integration with Twitter and Facebook makes it a snap to keep family and friends up-to-date with your planning process! Or turn it off and keep part of the process a secret. With the app, you can keep track of all the people details – from logging guest info to creating seating plans for different events, and tracking their gifts and thank-notes. You can even export the guest info via email and set up mailing lists.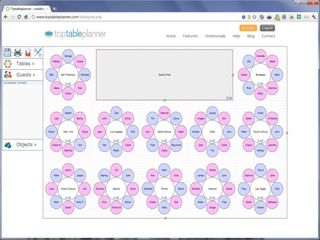 TopTable Planner
Toptable Planner is the best tool I've seen for creating seating charts. The tool would be useful for many situations, but it proves extra-useful for navigating the byzantine rules of who sits where at weddings. The website offers a number of tips from traditional to free-for-all on how to arrange tables and where different important family members should be seated. Just drag and drop guests and tables onto your plan, which is conveniently stored online so you can access it from anywhere. You can create more seats at certain tables and include meal choices so everything is in order for your event. Someone inevitably feels left out of seating choices, so the best you can do is go for comfort and plan ahead! You know you'll be hearing about it for years if your uncle felt like he was banished to Siberia – you know, the table by the ice cream station.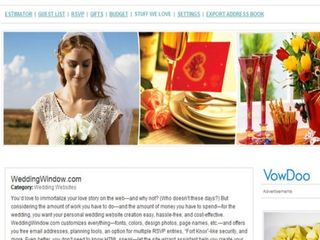 Vowdoo
Vowdoo is a free suite of planning software that can take you from Can I? to I do! The software lets you manage the guest list and RSVPs, track your budget and gifts, and streamline the get-ready process. It can also help with formatting of invitations, envelopes, programs – all the hair-pulling details. The creators say it'll save you 30 hours of frustrating grunt work – while I'm not sure where they came up with that number, a service like this will definitely save time. VowDoo interacts with Facebook and Twitter so you can broadcast your efforts online, and it allows you to collaborate your activities with your partner or planner. VowDoo is still in a testing mode, so look for the site to roll out more options in the future. Could it coordinate your little cousins to dance a rendition of Staying Alive?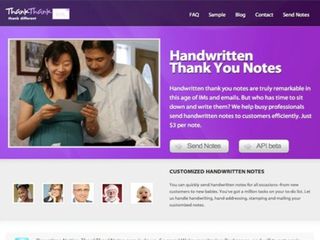 Thankthank Notes
When the wedding is said and done, there will be just one task left – to write an inordinate amount of thoughtful thank-you notes. Rather than slave over those little ditties, why not consider outsourcing the work to a service like thankthank notes who will write the notes for you? The $3 per note price tag may seem pricey, but if you consider all the effort and hand-cramps of writing endless notes, it might be a steal. Just make sure that each thank-you note contains and individual message to the correct wedding guest – you don't want Uncle George's note thanking him for the electric tea kettle going to your drinking buddies.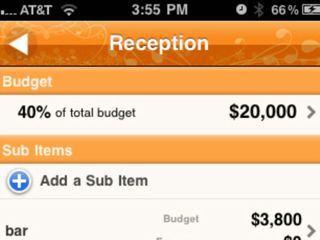 WeddingBudget
Whether you're planning to spend $1,000 on a backyard picnic or $50,000 on an evening soiree, budgeting for weddings can be tough. With Wedding Budget a $0.99 app, you can manage all the finance-draining parts of your big day in one place. The app lets you browse budget items by categories like reception or rings or hot air balloon entrance. You can also add/update the items, with a way to track what you actually spent compared with the budgeted amount. Check the total of your wedding budget in a separate screen, and peep at the pretty pie graphs you create. Wedding Budget is a simple app with clear interface for your wedding budget, and a whole lot easier than Excel spreadsheets. Keeping tabs on the cash flow is one part of a wedding that should become a little more fun.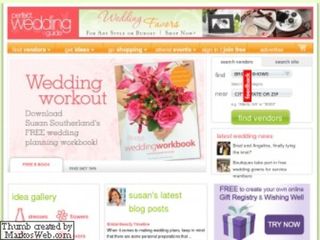 Perfect Wedding Guide
Another tool in the nuptial arsenal, My Perfect Wedding Guide is looking to take the role of an online party planner with tools in one spot. Signing up is free, and the tools run the gamut of wedding needs, from tracking a guest list to corralling vendors to creating a seating chart, calendar and budget. They also have a online signup for wedding shows, which can be fun places to gain inspiration for your grand event. Really, most of the wedding sites out there offer similar tools, from the Knot to smaller shops. They can be useful places to gather all your information in one umbrella – as long as you commit to using just one!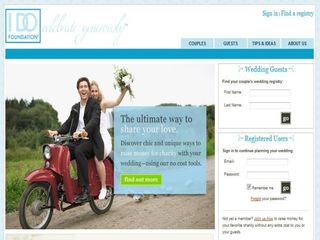 Charitable Registries
Whether you feel like you couldn't even look at another gold-rimmed gravy boat or you planned all along to focus on giving gifts, charitable registries are all the rage – and some include web-savvy tools. Just Give and the I Do Foundation have a database of nearly 1.8 million charities. How can you choose where to make your donation? The JustGive Guide includes 1,000 charities that have met stringent public requirements. The charities are grouped into19 categories to make your search easier and faster. Just click and choose your favorite causes, then share the link with your family and friends – just like a traditional registry. The I Do Foundation also partners with other websites, so shopping through them can gain your causes about 10% of any other type of gift. Giving back got a special boost this year. When Prince William and Kate Middleton got married in March, the royal couple asked that their wedding guests donate to charity instead of giving them presents. Their well-wishers got the message: In the eight weeks since the wedding, the couple's Royal Charitable Gift Fund has raised a whopping $1.7 million -- and inspired untold copycats in the wedding planning population.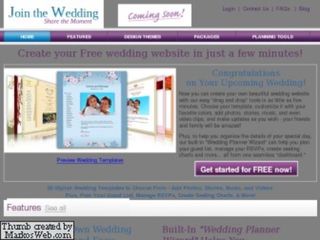 Join The Wedding
Join The Wedding is another good option for a one-stop-wedding-shop. Their wedding planning tools include a template for a website, track of vendors, budgets and deadlines. Everything you'll need is included and organized in one convenient central location- wedding checklists, wedding calendars, guest lists, gift registries and budget sheets. The site is free but has an option to upgrade to their premium features for a bit of cash. Join The Wedding lets you add unlimited photos to your galleries, which is nice, and lets you have a spot for guests to log in to specific parts – so your parents or bridal party could have access to extra information.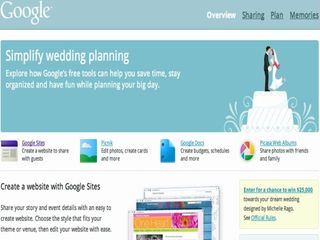 Google Weddings
Google has tentacles in music, networking, email and documents – so why not get to work on weddings? The Google wedding portal is another free option in the one-stop wedding service. It harnesses several of the company's products - including self-hosting service Google Sites, cloud-based office suite Google Docs, and online image editing service Picnik - into a single portal the company hopes will make planning a big day significantly easier. Each time a user visits your wedding site, signs the digital guestbook, or confirms their attendance at the event, Google gets another set of eyes for its adverts - and those all-important analytics thanks to its multi-year tracking cookie, which sits in the user's browser to identify subsequent visits to Google-powered sites. The company even teamed up with a professional wedding planner to select the pre-built website and card designs. For people who are truly venturing out on their own, Google weddings is a good place to start – and getting on board with the Goog is almost never a bad thing.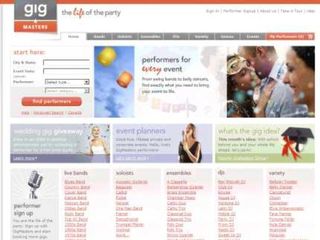 GigMasters
The right band can make or break a wedding reception. Other than word of mouth, there is only one tool on the web to help you find and book a band – Gigmasters. With different sections for DJs, soloists and bands, Gigmasters can help organize your musical acts for the big day – and each group can upload clips or video so you can see exactly how they rock a crowd. You can book performers, pay and leave reviews through the site as well. The company was founded in 1997 by a pair of musicians who saw a need to perfect how live acts are booked. In its 14 years, it has connected member entertainers and vendors with more than 130,000 events, generating more than $80 million in revenue for them. One tip? If bands on Gigmasters are too expensive or not available, check bulletin boards in coffee shops near your wedding venue. Sometimes there are hidden treasures there.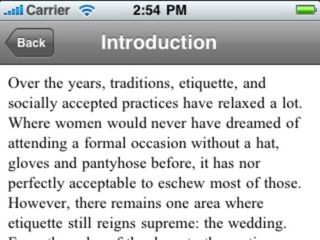 Wedding Gift Etiquette Guide
While weddings are a joyous occasion, they include many social landmines. Friends and family gather to celebrate the union of two people in matrimony, but they also have to suffer through giving the right gift and following rules of etiquette. To make it all a bit easier, an iPhone app helps you navigate the mires of gift and wedding etiquette. The Wedding Gift Etiquette Guide When is it okay to deviate from the wedding registry? How much to give, and when to give it? Can you just write a check to the happy couple? The Guide covers all these questions as well as the history of wedding-gift giving and suggestions of thoughtful but not pricey gifts.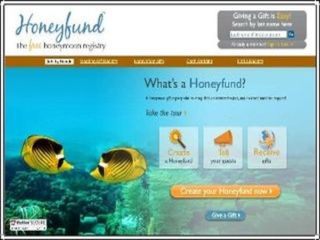 Honeymoon Registries
Honeymoon registries take the pain out of a long or expensive honeymoon, because you can ask your nearest and dearest to help you get to your destination. Even Aruba Tourism is getting in on the action, allowing couples to register for Jeep safaris and restaurant gift certificates. Airfare and lodging can be divvied up on the registry in suggested gift amounts ($100, say) or at per-night rates, the same way other couples list place settings. A honeymoon registry might also include vague items like happy-hour dollars and shopping. Some companies take a sizeable chunk from your wedding cache, so watch out for how the fees work. A couple tools that are worth checking out are honeyfund and travelersjoy. They let you add any activities or hotels you want, and cut you a check just before the wedding – with follow-up checks for late gifts. And if you're a gift giver, honeymoon registries let you give something you know the couple will actually use.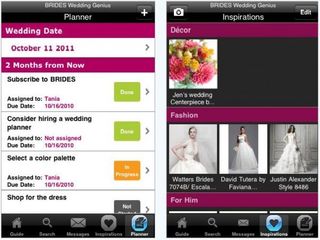 Brides Wedding Genius
From Brides magazine, the Brides Wedding Genius app for the iPhone or iPad. The app is free and has magazine-quality photos throughout for inspiration. There's a "Guides" section featuring ideas for gowns and bridesmaids' dresses, jewelry and travel. If you find something that strikes you, stash it in the "Inspiration Folder" for future reference. For an extra $3, you can download the Task Tracker that provides couples with a planning calendar based on their wedding date, and a quick way to e-mail tasks, ideas and status updates to others. It can be great tool to inspire brides and grooms and to help narrow down design styles and choices—sort of like tearing out your favorite photos and ideas from a bridal magazine but in a digital way. The dress section includes more than 1100 wedding gowns and hundreds of bridesmaid dresses. In the jewelry section, you can browse hundreds of style to see what might suit you. And since it costs nothing, it may be a good way to start thinking about styles, colors and inspiration. Why buy magazines when you have a digital platform to explore?