The best encrypted messaging apps can help protect your privacy. They make it difficult for anyone else to eavesdrop on your private chats and calls, including (in most cases) the companies running the apps. Some of these apps are developed and maintained by large corporations, while a few are run by startups.
Many of the best encrypted messaging apps are so heavily encrypted that even government agencies and police can't break into them. End-to-end encryption, which is used by Signal, Threema, WhatsApp and others, means that only the sender and the recipient of a message or call can see or hear its content.
It's worth noting that Apple's iMessage protocol also uses end-to-end encryption. However, its Messages app which displays encrypted messages also handles unencrypted SMS text messages. If you enable iCloud backups of your iPhone, law enforcement may be able to read some of your iMessage and WhatsApp messages, according to this FBI training document.
These are the best encrypted messaging apps available right now for both Android and iOS.
The best encrypted messaging apps you can download today
1. Signal (Android, iOS: Free)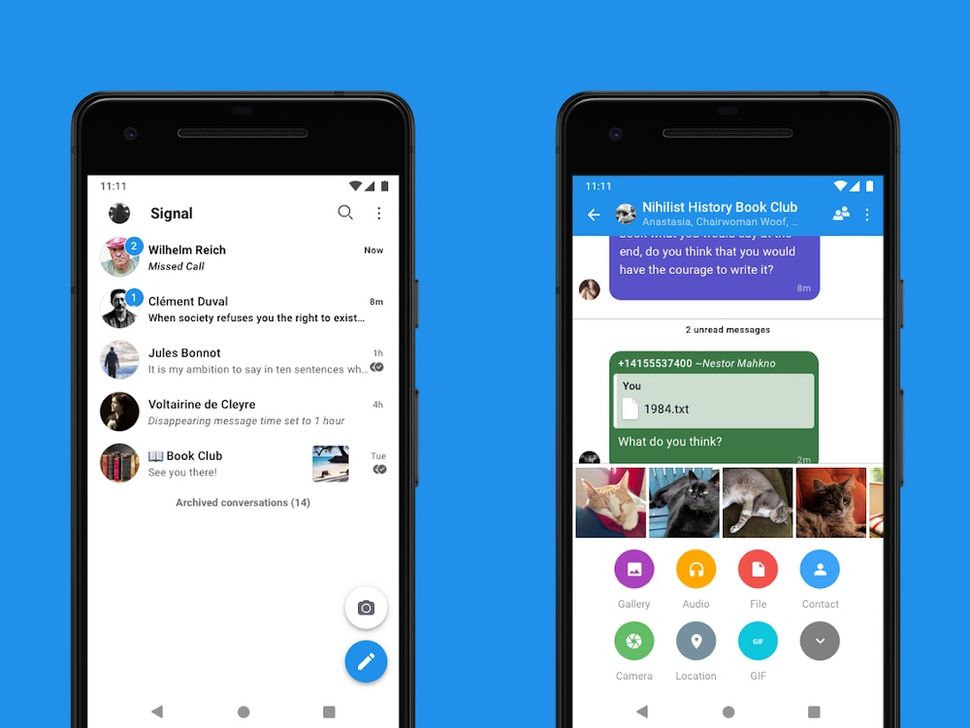 Signal is a fantastic messaging solution for security-conscious mobile users. It's a free all-in-one messaging, voice-call and group-chat solution that uses its own end-to-end encryption protocol.
You can send text messages, voice calls, group messages, media and attachments to your phone contacts, all without having to mess with PIN codes or special login credentials. Recent updates have added user-friendly features such as custom wallpapers and animated stickers, and Signal group video chats can now have up to 40 participants.
All Signal messages can be set to self-destruct after a certain amount of time. A Chrome browser plugin (opens in new tab) lets you use Signal from your desktop as well. You can transfer Signal accounts (opens in new tab) from one Android phone to another, and from one iOS device to another. A new update lets you change phone numbers while keeping Signal account data as long as you're staying on the same device.
Signal's encryption protocol is so strong that WhatsApp and Facebook Messenger use it too. But unlike Facebook, Signal's parent company is a non-profit foundation created by an anarchist cryptographer and one of the founders of WhatsApp.
Ease of use and strong, open-source, regularly audited encryption makes Signal a favorite of the security-conscious, with accolades from Edward Snowden and other privacy advocates. User-friendliness without compromising on security makes Signal a fantastic option for users looking for an encrypted messaging and calling app. Here's our guide on how to use Signal.
Download Signal: Android (opens in new tab), iOS (opens in new tab)
2. Threema (Android, iOS: $3.99)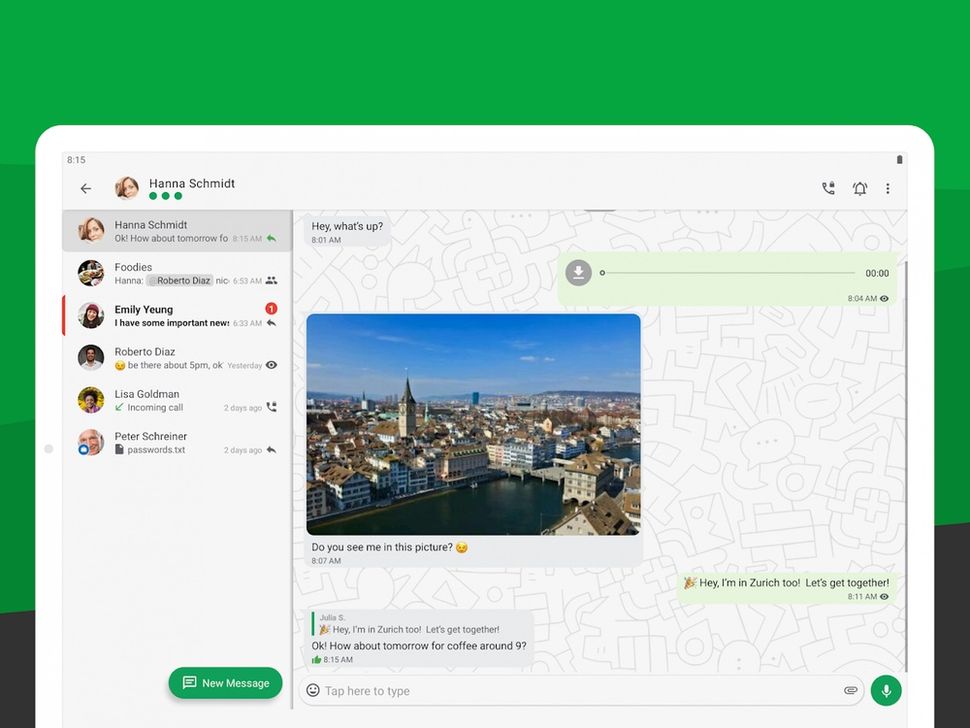 Threema is a very secure end-to-end encrypted messaging app that uses the NaCl cryptography library to protect your communications.
When you fire up the app, it generates a unique Threema ID key, allowing you to use the app completely anonymously — no names required. Otherwise, you can associate your account with an email address or phone number, which makes it easier for other Threema users to find you.
You'll also get a scannable QR code that you can present to other Threema users if you meet in person but don't want to exchange names.
In addition to the usual raft of messaging features such as encrypted text, voice, picture, and video messaging, the app also includes file sharing (20MB per file), emojis, group messaging and a polling system for getting feedback from friends and contacts.
While some other secure-messaging apps that haven't reached WhatsApp or Telegram adoption levels have pivoted toward the enterprise market to stay afloat, Threema still has one foot planted firmly in the consumer market. Charging a few bucks for the app makes that financially possible.
So what's the downside? Threema hasn't really caught on in the English-speaking world, so you may have a hard time finding other users unless you speak German. But its impeccable security is well worth spending $4 for.
Download Threema: Android (opens in new tab), iOS (opens in new tab)
3. WhatsApp (Android, iOS: Free)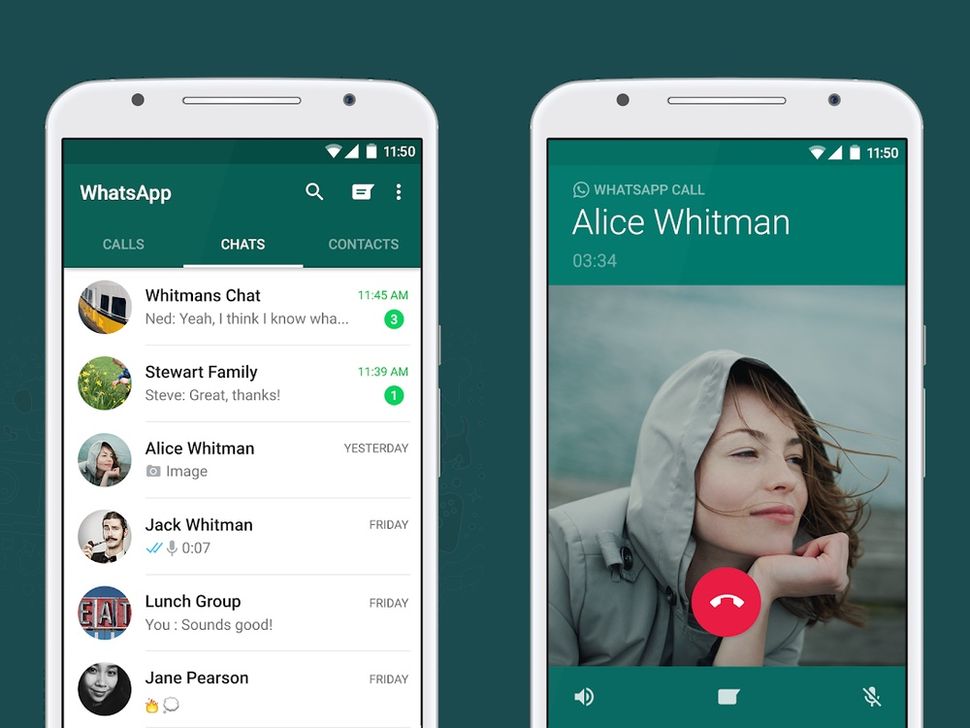 The world's most widely used stand-alone chat and call app, WhatsApp has used Signal's end-to-end encryption protocol on all messages since 2016.
Its developers are continuously adding tweaks to the app's security and privacy features, such as fine-tuned group invitations and controls so that you're always aware who is reading your group chats.
The app is also testing transfers of chat history when switching between iOS and Android phones and using a single account on four different devices at once. Updates to WhatsApp have made it possible to have end-to-end-encrypted backups and has added the ability to make disappearing chats your default. You can also transfer your chat history from iPhone to Android, and the iOS beta suggests an Android-to-iPhone transfer feature is coming soon.
In 2014, WhatsApp was bought by Facebook, which later broke its promises to WhatsApp's founders that it wouldn't "monetize" WhatsApp. (The founders left, and one co-founded Signal.) Some WhatsApp user behavioral data is now shared with Facebook, which created more demand for WhatsApp alternatives, but the messages remain entirely walled-off.
No matter who owns it, WhatsApp remains one of the easiest ways for anyone to use end-to-end encrypted messaging. If you're not comfortable with Facebook's presence, there are plenty of other options on this page.
Users who want to be absolutely sure about their security can verify each chat's 60-digit security-verification code or QR code that you can compare with a contact to ensure that your conversation is encrypted. You'll also want to make sure your messages are backed up with WhatsApp itself and not with Apple's iCloud.
Combined with WhatsApp's ubiquity, ease of use and the ability to send voice messages, photos, and video messages, and conduct group chats, this makes for a robust and fully encrypted mobile-messaging app.
Download WhatsApp: Android (opens in new tab), iOS (opens in new tab)
4. Telegram (Android, iOS: Free)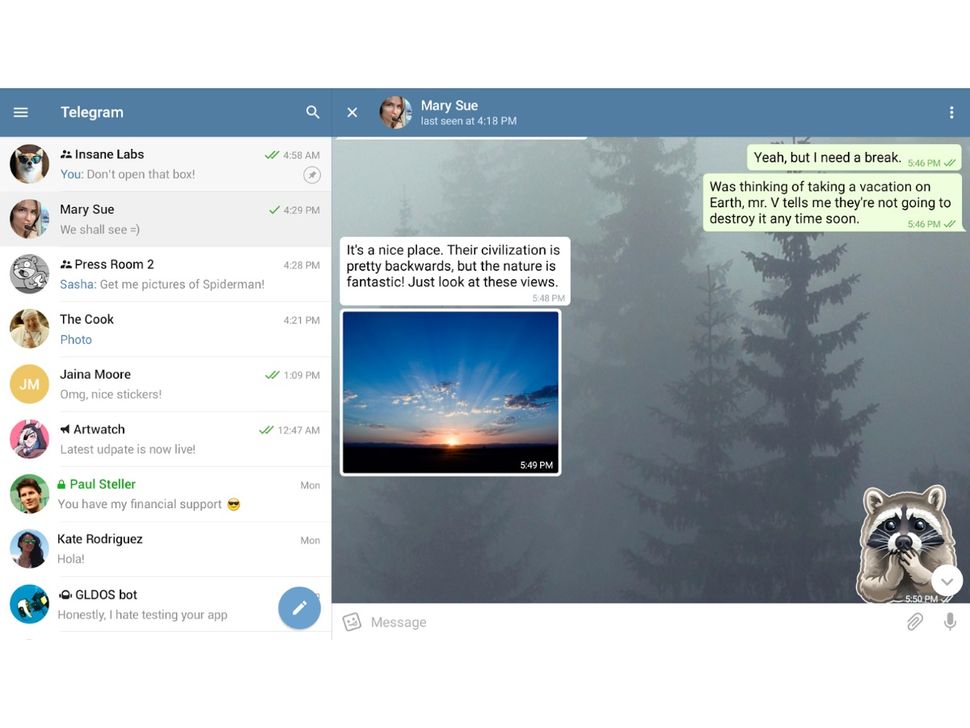 Like Signal and WhatsApp, Telegram lets users link their phone number to a Telegram account to send fast, encrypted messaging over the internet, with client-server encryption for standard chats.
But Telegram is much more than just a messaging service. It has grown into a worldwide social-media platform, with huge user groups and broadcasts that let accounts reach millions of followers in an instant. It has uses far beyond secure messaging.
However, end-to-end encryption is not enabled by default on Telegram. To get it, you'll have to switch to a Secret Chat mode. You can set messages to self-destruct, share videos and documents and participate in group chats of up to 200,000 users. (Yes, Telegram really does support group chats that large.) However, chats with more than two participants won't be end-to-end encrypted.
A caveat? Telegram uses its own custom MTProto encryption rather than a more proven system. The consensus among information-security experts is that aside from its group chats, Telegram may not be very secure (opens in new tab), although the FBI doesn't seem to have figured out a way to break in (opens in new tab). Here's our guide on how to use Telegram.
Download Telegram: Android (opens in new tab), iOS (opens in new tab)
5. Silent Phone (Android, iOS: $9.95 per month)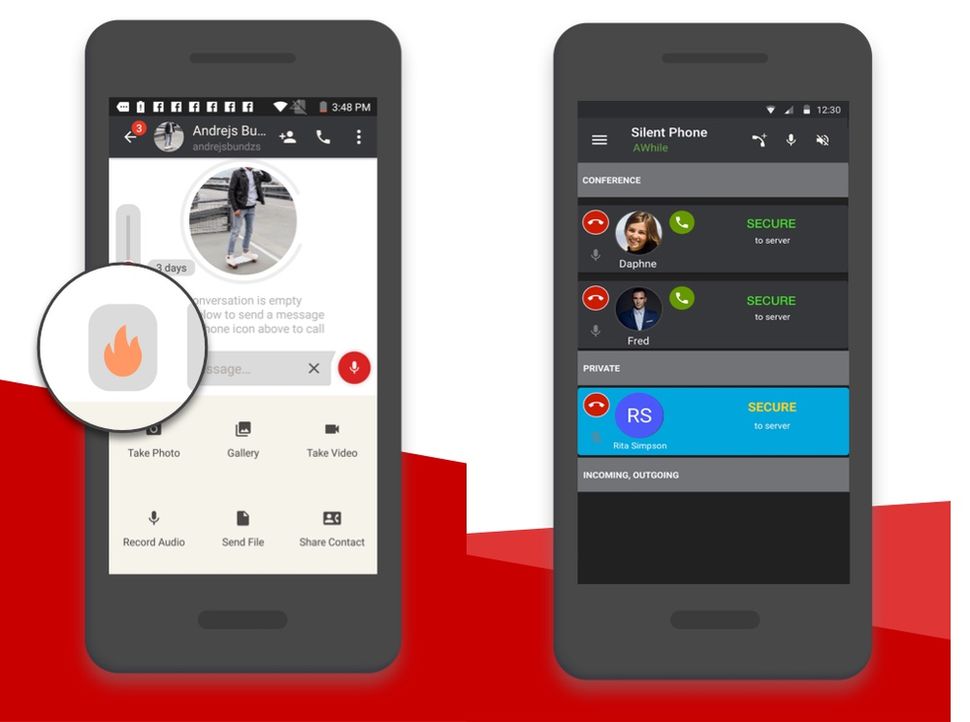 Silent Circle is a trusted provider of secure-communications software that provides encrypted video and voice calls, as well as encrypted, self-destructing messaging and file transfers.
Encryption keys are held by subscribers themselves, not by Silent Circle, so while your encrypted messages may pass through Silent Circle's network, the company can't read your data.
The downside is the rather high price. Installing the Silent Circle app is free, but it won't work until you pay $9.95 per month. Silent Circle is aimed at enterprise users who need total privacy for work. As such, you probably won't encounter many people who use it for personal communications.
Download Silent Phone: Android (opens in new tab), iOS (opens in new tab)
6. Wire (Android, iOS: Free)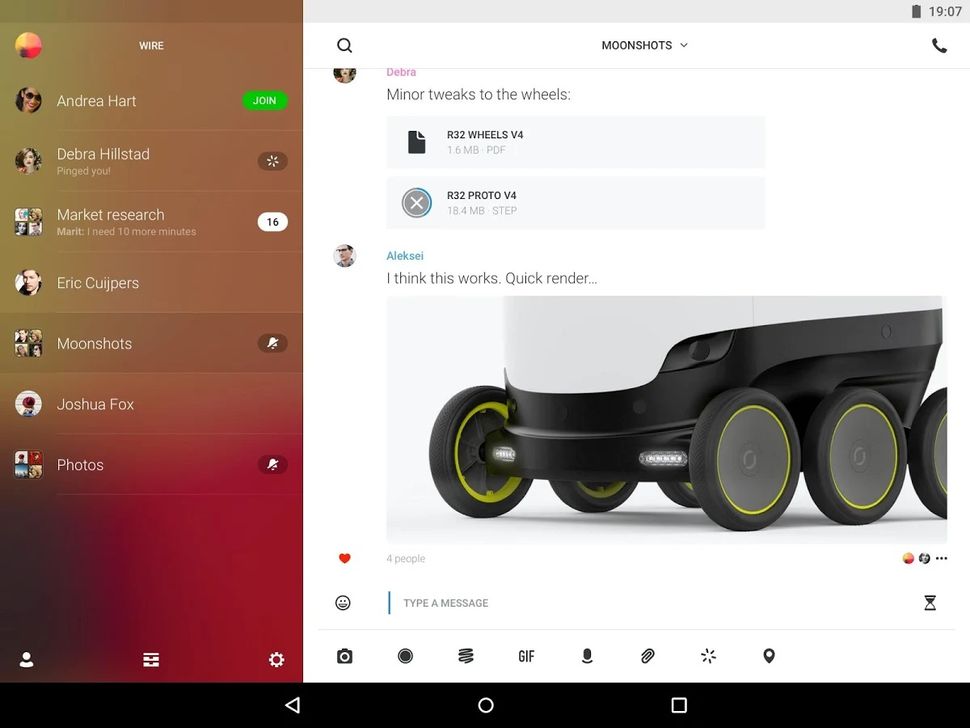 Wire features end-to-end encryption for instant messages, voice and video calls, with support for GIFs, audio and video clips, and sketches, and local and Dropbox file sharing. The app also offers multiplatform cross-device syncing and support for multiple accounts, allowing you to separate personal and work communications.
Wire uses its own Proteus encryption protocol based on the Signal protocol, and its code is open-source and subject to external security audits. The mobile and web versions of the app are free, with a premium tier available for businesses.
The parent company, Wire Swiss, was originally founded and run out of Switzerland, famous for its privacy laws. The holding company moved to the United States in 2019, which alarmed some users, but then moved to Berlin (opens in new tab) in early 2021.
Like Silent Circle and Wickr, the company seems to have retooled its website to appeal primarily to business users. But you can still get Wire's free consumer desktop software from the "Download" link at the bottom of the site's front page, and the mobile apps from the app stores.
Download Wire: Android (opens in new tab), iOS (opens in new tab)
7. Wickr Me (Android, iOS: Free)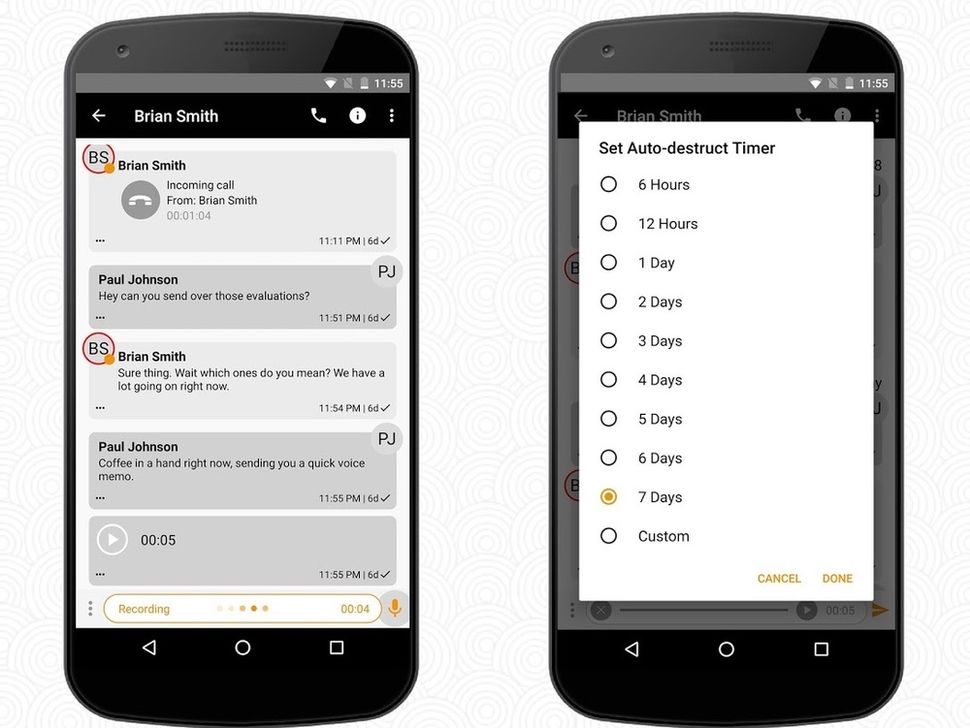 Wickr Me is a free end-to-end encrypted-messaging app that allows users to send private, self-destructing messages (text, photo, video, and voice) to other Wickr contacts. Think of it as a more secure Snapchat.
Wickr takes user privacy seriously, using strong encryption and deleting metadata such as geotags and message times. Users can configure how long it takes for messages to self-destruct. A video-key verification system adds a new layer of security, with users verifying each other with short bursts of encrypted video.
The app's security is a point of pride for Wickr; there's even a $100,000 bug-bounty program (opens in new tab) for anyone who gets in touch with the company to point out a security flaw.
However, the consumer Wickr Me app is not as versatile as some other encrypted messaging apps. Group chats are limited to 10 members, and audio and video calls are one-to-one only.
Wickr was bought by Amazon in June 2021, which may alarm some users worried about the retail giant's privacy issues. Like Silent Circle and Wire, it also seems to have retooled its primary marketing strategy to appeal primarily to business users.
Download Wickr Me: Android (opens in new tab), iOS (opens in new tab)
8. Viber (Android, iOS: Free)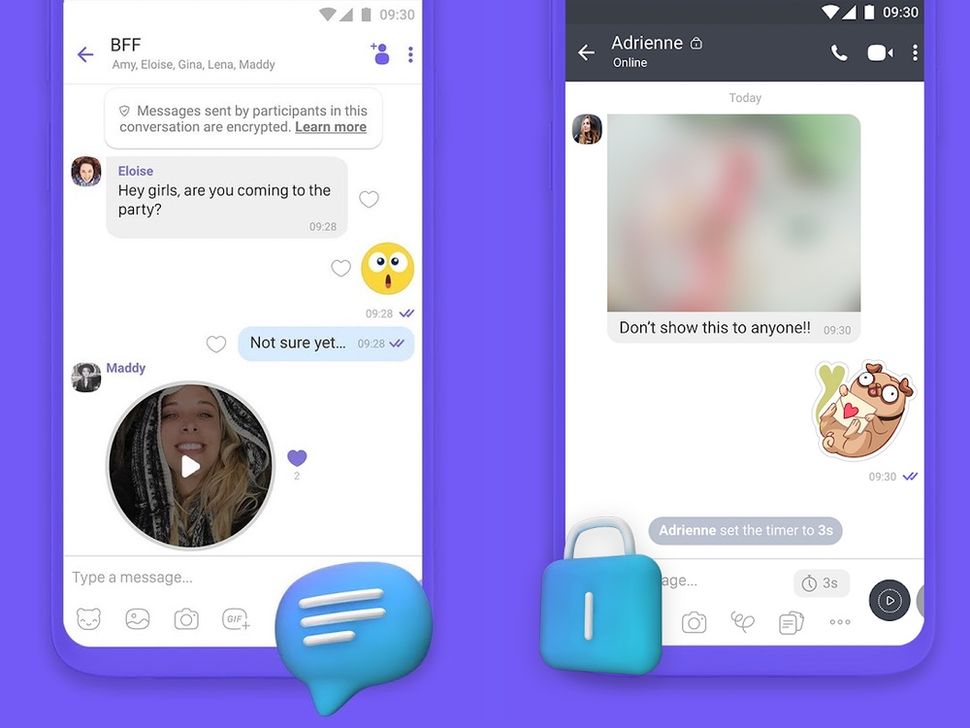 Viber offers end-to-end encryption on all platforms. Originally developed in Israel, the app is now owned and operated by Japanese e-commerce giant Rakuten. It offers many of the same bells and whistles as Telegram, including stickers and communities, and, most recently, augmented-reality filters to jazz up selfies.
A neat feature for Viber is a color-coded lock icon to quickly show users how protected a conversation is (gray for encrypted communications, green for encrypted communications with a trusted contact, and red in the event that there is an issue with the authentication key). Viber has self-destructing Secret Chats, including in group chats and on its desktop app, plus a Hidden Chats feature for hiding chatrooms on a shared device.
All of this is in addition to Viber's solid mobile-messaging feature set, including text, voice, and group messaging all tied to your phone number. The app and communications with other Viber users are free, but you'll have to pay a bit for calls to non-Viber users.
Download Viber: Android (opens in new tab), iOS (opens in new tab)
9. Facebook Messenger (Android, iOS: Free)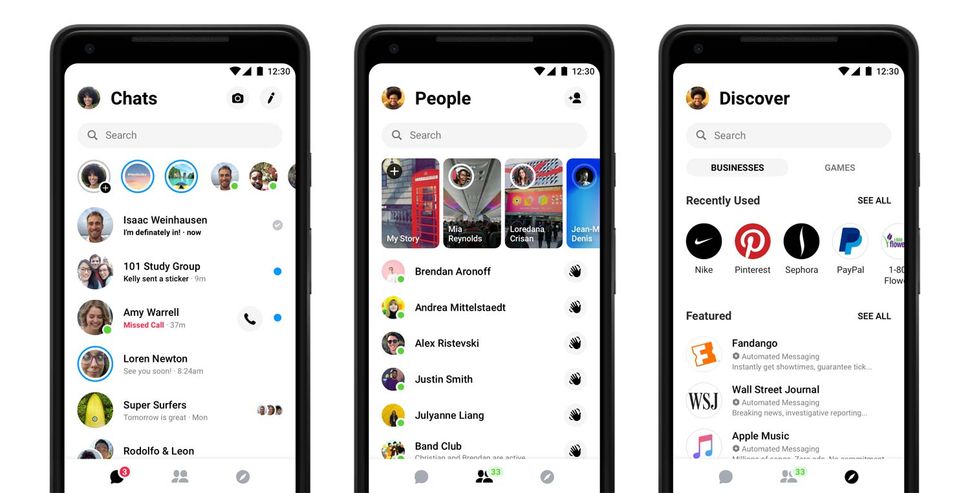 The near-ubiquitous Facebook Messenger may not be the first app you think of when it comes to encrypted messaging, but the mobile versions of the app include end-to-end encrypted communication options in the form of Secret Conversations.
Based on the same encryption system used in Signal, Secret Conversations requires users to opt into the feature. It allows them to send and receive encrypted text, pictures, and stickers to and from a single mobile device, with the option for time-limited self-destructing messages a la Snapchat.
Most recently, Messenger has added options for end-to-end encryption of one-to-one voice and video calls, and for end-to-end encryption of group chats, calls and video chats.
That said, Facebook Messenger is still vulnerable to being screen-grabbed, and the opt-in and single-device limitations can be an issue. Also, it's Facebook.
Download Facebook Messenger: Android (opens in new tab), iOS (opens in new tab)
10. Silence (Android: Free)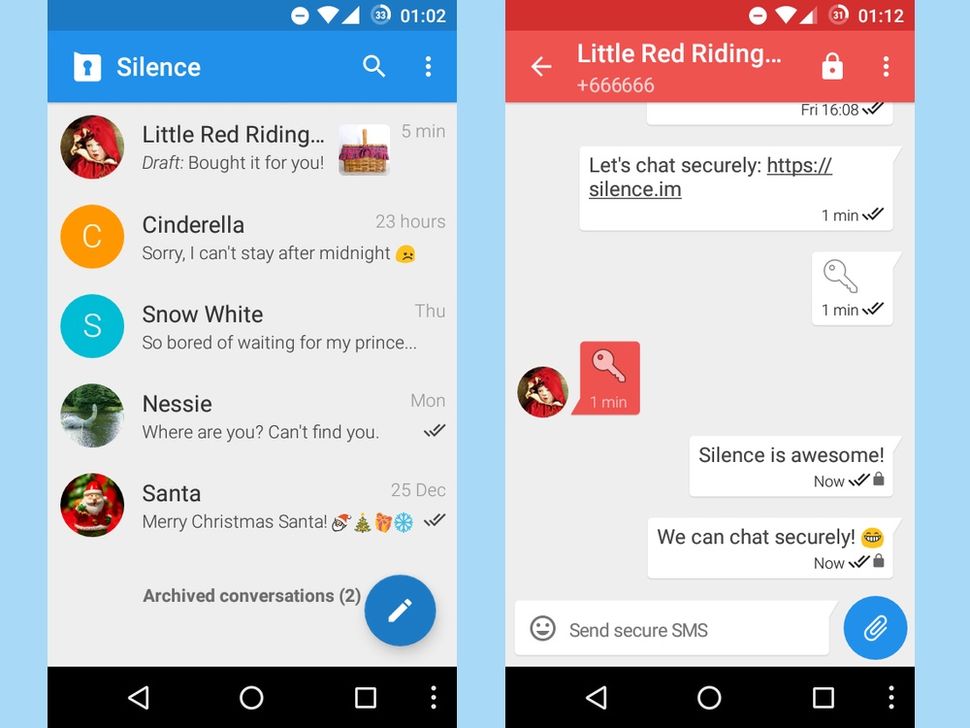 If you're looking for an SMS/MMS app that offers a bit more security than your standard text message, check out Silence, an open-source Android app that takes the Axolotl encryption protocol pioneered by Signal and applies it to telephone-based SMS.
Silence works just like your normal text messaging app, sending normal text messages to your contacts through SMS, with the option of sending encrypted SMS messages to other Silence users.
But be forewarned: Signal itself dropped its efforts to build SMS/MMS secure messaging in 2015 because it decided it wouldn't be able to do it properly. Silence is, or was, trying to push forward where Signal chose not to.
Silence is available in the Google Play Store, though American users won't be able to install it from there, apparently due to trademark issues. Also, the Google Play version hasn't been updated since March 2018.
A slightly newer version (August 2019) available to Americans can be found in the F-Droid open-source app repository (opens in new tab), even though we don't normally recommend sideloading apps.
Given the length of time without an update, the project may have been abandoned by its developers, although the Silence website (opens in new tab) was still up, and its warrant canary (opens in new tab) recently updated, last time we checked.
Download Silence: F-Droid (opens in new tab), Google Play (opens in new tab)
11. Dust (Android, iOS: Free)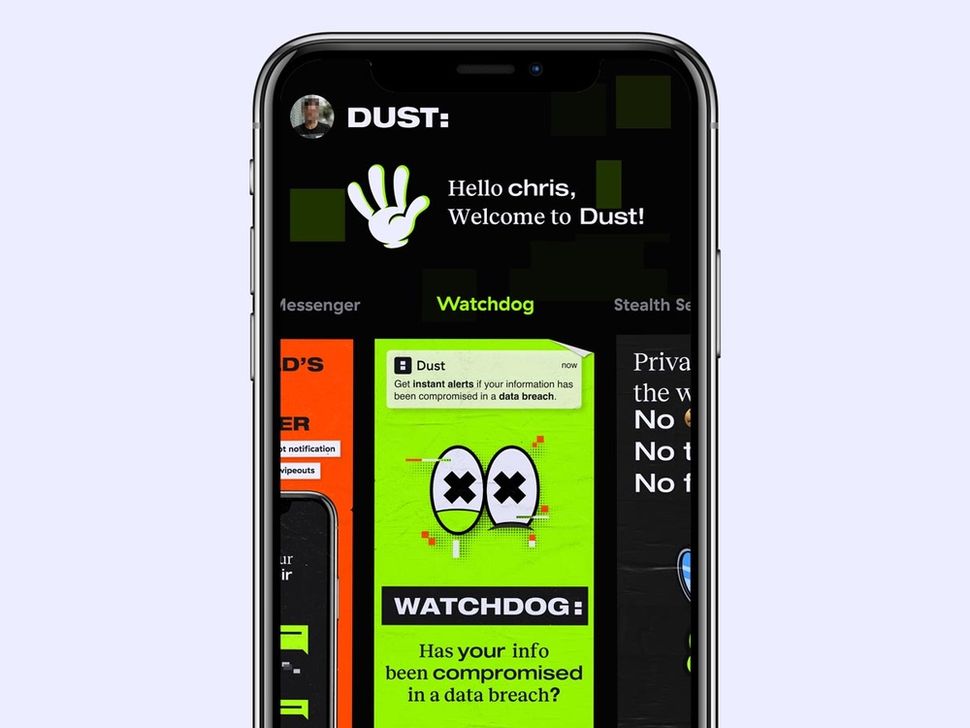 Dust, formerly Cyber Dust, throws in multiple security and encryption features in an attempt to maintain user privacy.
The app uses a combination of AES-128 and RSA-2048 encryption to secure posts and messages, and it's also designed to keep direct messages in RAM as much as possible, rather than in your phone's permanent storage. Messages can be set to self-destruct within 24 hours or right after being read.
Dust is also set not to display user names in a message and informs you if a screenshot is taken from within the app. In addition to the secure messenger, Dust also packs in a privacy-watchdog feature and a stealth search tool for maintaining privacy while searching the web.
That said, it appears the Dust app is being maintained rather than actively developed, with no major features introduced since mid-2020. We'll keep an eye on this.
Download Dust: Android (opens in new tab), iOS (opens in new tab)
12. Pryvate Now (Android, iOS: Freemium)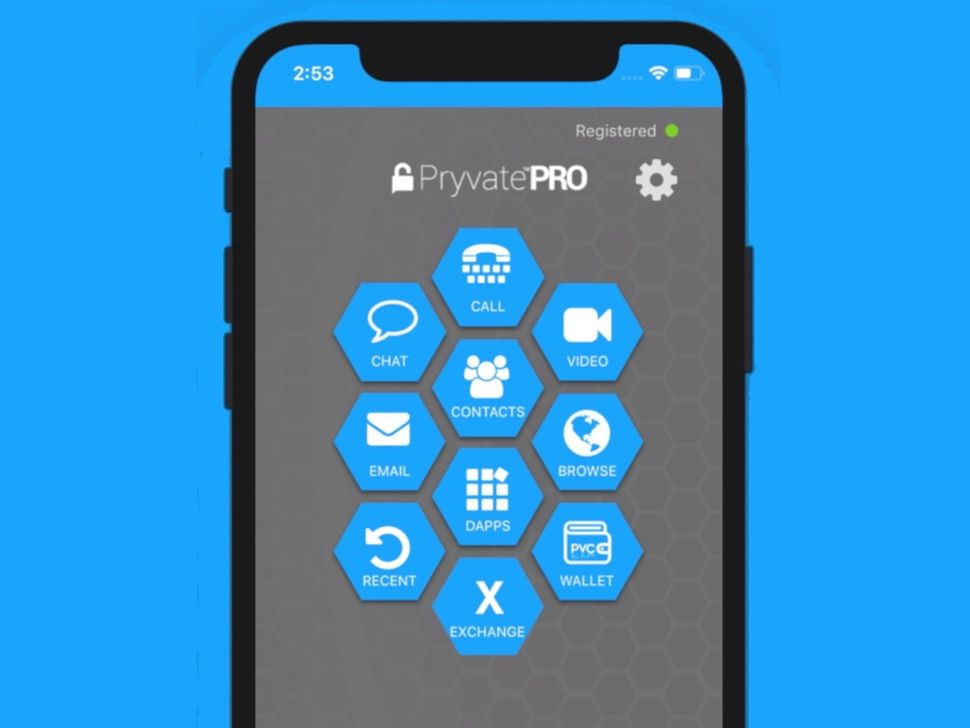 Pryvate Now is built with professional and business users in mind. But the app offers some solid functionality even in its free tier.
The Pryvate Now messenger offers RSA-4096 encrypted voice and IM messaging functions, as well as self-destructing messages. Users willing to spring for premium subscriptions get private voice and video calls, secured conference calls, private email, file storage and anti-blocking measures so that you can use the app globally.
However, like some of the other apps on this list, Pryvate Now seems to be being maintained rather than actively developed. We'll keep an eye out to watch for any new features.
Download Pryvate: Android (opens in new tab), iOS (opens in new tab)
13. Voxer (Android, iOS: Freemium)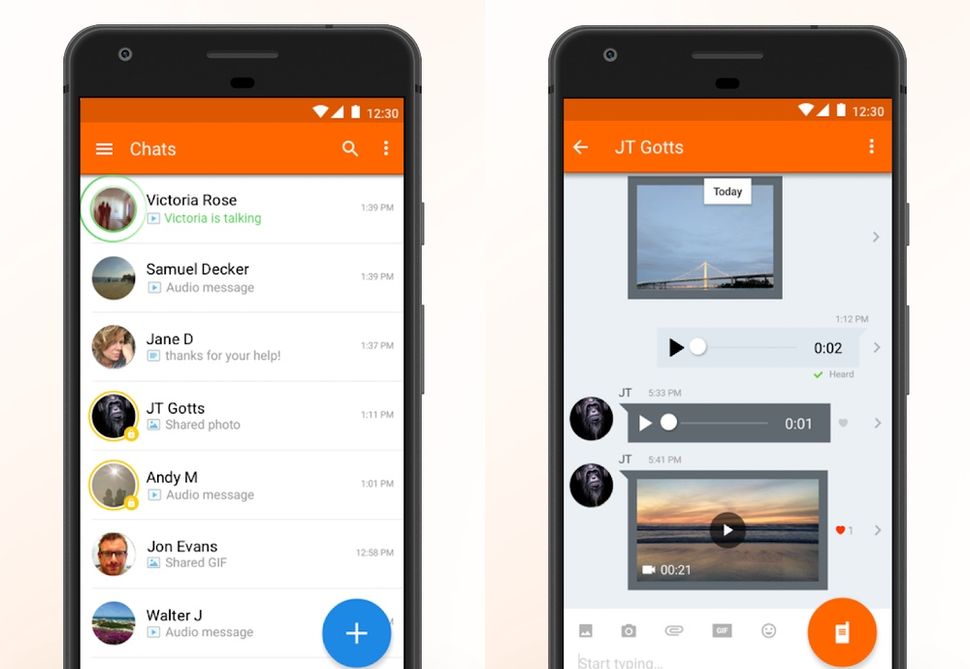 Voxer takes a more voice-oriented approach than most of these apps, letting users send voice messages similar to a walkie-talkie or push-to-talk device.
Users can listen to messages live in-app or play back messages like voice mail later on; they can also send and receive text, photos, videos, and location messages. In addition to direct messaging, the app supports groups of up to 500 individuals, and offers optional end-to-end encrypted messaging using the Signal protocol.
The app is free, but a premium subscription unlocks features such as unlimited message history, admin controls for group chats, and a hands-free walkie-talkie mode. However, you will need to opt in to encrypted messaging with the Private Chat mode — it's not on by default.
Download Voxer: Android (opens in new tab), iOS (opens in new tab)