We've seen big changes to the best foldable phones over the past few months. What used to be a Samsung-dominated zone now has some new competition, and that's all the better for consumer choice.
Now that Galaxy Z Fold 5 and Galaxy Z Flip 5 are here, we know that Samsung still produces the best foldable in the business. That said, the Google Pixel Fold and Motorola Razr+ are hot on their heels, and surge ahead in some areas. Plus the Microsoft Surface Duo, while flawed in some major ways, remains an interesting option for a certain niche.
Here's what we think of the various contenders, along with our recommendations on which foldable you should buy based on our extensive testing and comparisons.
The quick list
Here's the best foldable phones you can buy right now based on our testing and reviews. Scroll on for our full in-depth reviews.
Best Overall
1. Samsung Galaxy Z Fold 5
Best for most people
The Samsung Galaxy Z Fold 5 epitomizes everything we want in a foldable phone: excellent cameras, tons of multitasking options, long battery life, and a gorgeous display.
Best flip phone-style foldable
Best flip phone-style foldable
Sporting a stylish design, the Motorola Razr+ has everything we want in a flip phone-style foldable — including full apps access with its external screen.
Best foldable for cameras and usability
Best foldable for cameras
With its 5x optical zoom lens, no other foldable can get you closer to your subjects than the Google Pixel Fold. Its cameras are great, plus it's easier to handle.
Best flip foldable for cameras
4. Samsung Galaxy Z Flip 4
Best flip foldable for cameras
With a much larger Flex Window, you'll be able to capture incredible selfies and vlogs using the Samsung Galaxy Z Flip 5's cameras.
Best dual-screen phone
5. Microsoft Surface Duo 2
Best dual-screen phone
Even though it technically has two separated screens, the Microsoft Surface Duo 2 folds flat and feels like a mini notebook when you use it.
The best foldable phones you can buy today
Best foldable phone overall
Samsung didn't change much about the Galaxy Z Fold 5 compared to the Galaxy Z Fold 4, but it's enough of an improvement for Samsung to keep its spot at the top of its list.
With a new Flex hinge that made the Galaxy Z Fold 5 lighter and easier to fold flat, plus enhancements to the phone's cameras, main display, performance and multi-tasking abilities, it's still ahead of the competition as an all-round top quality foldable. However if you can still find one on sale (ideally at a discount), the Galaxy Z Fold 4 may still be a better option.
Read our full Galaxy Z Fold 5 review
Best flip phone-style foldable
It took Motorola a couple of earlier tries, but it finally has a foldable phone that can compete with Samsung's offerings. And not just compete — we think the Motorola Razr+ tops the Galaxy Z Flip 5 as the device to get if you like a clamshell-style phone.
What vaults the Razr+ ahead of the Z Flip 5 is the large cover display Motorola puts on its phone. At 3.6 inches and with sharp resolution, it's big enough to run apps without ever having to open the phone. When you do, there's an expansive 6.9-inch screen waiting for you, and you can pick up where you left off with apps you were using on the outer screen. The phone is easy to tote around when it's snapped shut, and the solid hinge mechanism lets the Razr+ remain flush when you have it open.
Some may balk at the older processor in the Razr+, though its the same chipset found in the Galaxy Z Flip 4. But you won't complain about battery life, as this is one of the longer lasting foldable phones we've tested.
Read our full Motorola Razr+ review.
Best foldable for cameras and usability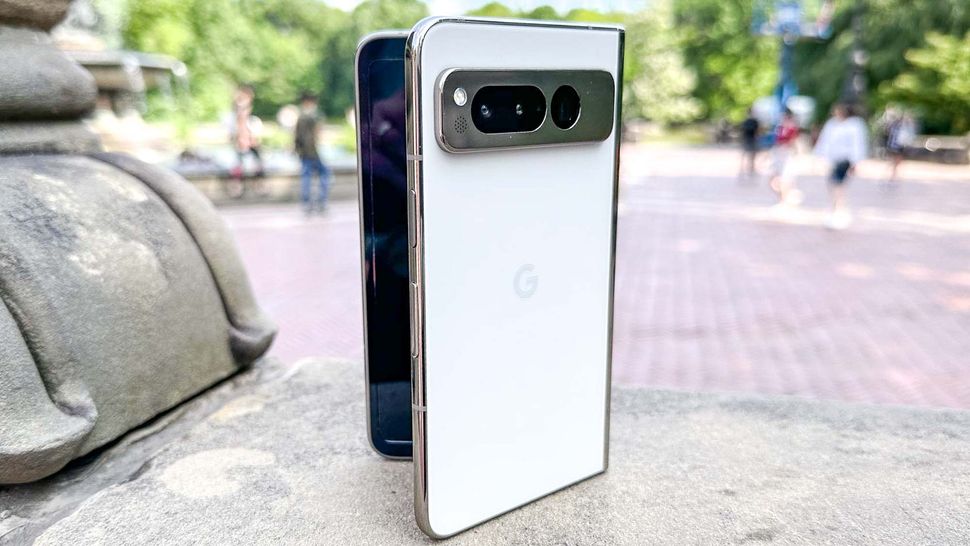 The Google Pixel Fold has been overshadowed by Samsung's latest foldables, but the fact that Google was able to get so much right on its first attempt at a folding phone is quite impressive.
The Pixel Fold stands out with a wide 5.8-inch front display that's easy to use (and type on), the thinnest design on a foldable when open and a super smooth hinge that feels natural.
Other highlights include a stellar camera system that includes a great 48MP main sensor and 5x telephoto zoom, along with great low-light performance. We also like the intuitive software for split-screen multitasking, handy tabletop and tent modes and bevy of apps optimized for the big internal 7.6-inch display. The performance from the Tensor G2 chip could be faster and the bezels smaller but overall this is a super foldable phone for those willing to pay the premium price.
Read our full Google Pixel Fold review.
Best flip foldable for cameras
Sadly for Samsung, it no longer produces the best flip-style foldable around. But the Galaxy Z Fold 5 is still a worthwhile product thanks to its upgrades.
The tiny front cover display has now been replaced by a much more usable Flex Window, although mostly you'll be using it just for app widgets rather than full usage. The cameras remain potent, and with other upgrades to the design, battery life and chip power, it's still worth shortlisting. If only it wasn't so iterative, it could have been a champion just like its predecessors.
Read our full Samsung Galaxy Z Flip 5 review.
Best dual-screen phone
Unlike the other entries on our best foldable phones list, the Microsoft Surface Duo 2 is not really a foldable device. Instead, it features two separate 5.3-inch panels that open up to give you an 8.3-inch workspace. You can run apps across the two panels, though you'll have to contend with a gap running right down the middle of your app where the screens come together. The design works better when using optimized apps where different tasks are relegated to different screens on the Surface Duo. You can also multitask, running two apps on different sides of the device.
Microsoft deserves credit for addressing many of the problems with the first Surface Duo in this sequel. The hardware is up-to-date, and the design is as elegant as ever. But the problem with Microsoft's approach is that this really isn't an expanded work surface — instead it's two separate 5.3-inch panels that are further squeezed by significant bezels. The Surface Duo 2 represents a better phone before, but it's still not the best big-screen experience out there.
Rumors suggest Microsoft may address our design complaints with the Surface Duo 3. And while that's welcome news, we're a long way from seeing that device.
Read our full Microsoft Surface Duo 2 review.
What to look for in a foldable phone
Before you buy a foldable phone, you'll need to consider what that kind of device will be able to do for you that a standard phone can't. Even with the $999 Samsung and Motorola charge for the Galaxy Z Flip 4 and Razr+, respectively, you'll still pay up for foldable phones, so unless you really need the extra screen real estate, you may be better off with a phablet or one of the other best big phones that we've tested.
If you do think a foldable phone will help you get more done, though, be sure to pay attention to the device's construction. Early foldable phones like the Galaxy Fold and original Motorola Razr had design quirks that led us to pan those handsets. With the Galaxy Z Fold 2 in 2020, though, Samsung made some critical changes that made the phone more likely to withstand everyday use, and that work has continued with subsequent models. After adding water-resistance to the Galaxy Z Fold 3, Samsung worked on a lighter, slimmer hinge for its latest foldables like the Galaxy Z Fold 4 and Z Flip 4.
There are two screens to consider when buying a foldable phone — the larger internal display and a secondary screen, usually on the outside of the device. Find out just what you can do with that exterior screen — can you run full apps or is it just there for notifications and a few other features? And does the screen support something like Samsung's continuity feature where the app you're using on the cover screen is waiting for you when you open the device?
Some foldable phones don't actually fold. The Microsoft Surface Duo 2, for example, is a dual-screen device that opens up to reveal two separate panels. Many of LG's now-departed phones took the same approach.
Apart from size — you'll want to make sure a closed foldable phone is something you're comfortable carrying around — you're looking at a lot of the same criteria you'd use to judge conventional phones. That includes the processor, cameras and — especially — the battery life. After all, there are usually multiple screens to keep powered up on a foldable phone.
Coming soon
While Samsung dominates the global market, keep your eye on China. In that country, devices like the Honor Magic Vs and Oppo Find N2 Flip have joined the mix of foldables. And with the arrival of the Motorola Razr+ and Pixel Fold, U.S. shoppers finally have their choice of foldable device.
In addition, OnePlus has confirmed that it's going to release a foldable device, and we're curious to see what the OnePlus V Fold has to offer, and how it might take on Samsung's well-established foldables.
A rumored Apple foldable is more up in the air than those other devices. The latest word we've heard is that the iPhone Flip could show up in 2023 — but that rumor is fairly thin. If we're to see an Apple foldable, it seems more likely to happen next year than this.
Samsung is certainly committed to foldables — we expect the Galaxy Z Fold 5 and Galaxy Z Flip 5 to be the star of the show at Galaxy Unpacked on July 26. But even turning back a few months to CES 2023, Samsung showed off the Flex Hybrid, a prototype screen that both folds and slides and could wind up in a new phone one day.
Another Samsung concept that could see the light of day eventually is a device with a scrollable screen that some people are calling the Galaxy Scroll. You can read our foldable vs. rollable explainer that looks at how this design should differ from Samsung's foldable models.
How we test foldable phones
We test for the best foldable phones the same way we review any smartphone. (See our look at how Tom's Guide tests and review smartphones for a more detailed explanation of our process.) We conduct lab tests, including synthetic benchmarks as Geekbench 5 and 3DMark Wild Life Unlimited to measure graphics performance. We also run a real-world video transcoding test on each phone using the Adobe Premiere Rush app and time the result.
To measure the quality of a phone's display, we perform lab tests to determine the brightness of the panel (in nits), as well as how colorful each screen is (DCI-P3 color gamut). In these cases, higher numbers are better. We also measure the color accuracy of each panel with a Delta-E rating, where lower numbers are better and a score of 0 is perfect.
We run a custom battery test in which we have the phone surf the web over cellular with its screen set to 150 nits of brightness. We then time how long it takes the phone to run out of power. For foldable phones, we conduct this test on the phone's main display.
We also test the cameras on each foldable phone, taking them out into the field to perform comparative shots, usually with another device that features comparable specs. In some cases, that's a foldable phone or another device in the same price tier.