Let's face it – we all love getting something for nothing. Free VPN services seem to be everywhere right now, and as our purse strings tighten due to the increased cost of living, they appear to be a simple and effective way to save.
However, we urge you to take a moment to research exactly how free VPNs differ from the very best VPN services. While there are some quality providers out there – we outline a number below – all of them come with some kind of restrictions, and there are many dodgy providers that will do more harm than good when it comes to your online privacy.
It's a fact of life that you get what you pay for, and no free VPN for PC or mobile can match the best VPN services. However, if you're just looking for infrequent basic protection, they can be useful tools to have at hand. Just make sure to do your research and choose wisely – our suggestions below are the very best free VPNs available today, and are well worth testing out.
The best providers overall
The three providers below – ExpressVPN, Surfshark and NordVPN – are our highest-ranked VPNs overall. While they are paid products, they include 30-day money-back guarantees, which allow you to trial them risk-free for a month. Don't think it's worth your money? Just claim a full refund – no questions asked.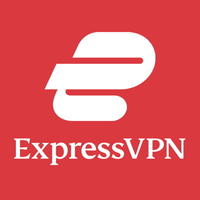 1. ExpressVPN – Trial our #1 VPN risk-free for 30 days
ExpressVPN is our top-rated VPN, and with class-leading privacy features and excellent streaming performance, it's simply the pick of the bunch. If you're on the fence about paying, Express offers a 30-day money-back guarantee so you can test it out with no risk.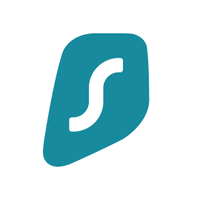 2. Surfshark – The best cheap VPN performs well
If you want a world-class VPN but can't afford to splash out, Surfshark is a great option. With world-class streaming and privacy performance, it's a quality product, and you'll now get 2 months FREE, working out at less than $2.50 a month.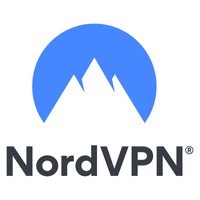 3. NordVPN – Security-focused VPN giant
Probably the most famous VPN on the scene, NordVPN provides a seriously secure option. It can unblock just about all streaming sites, including Netflix, and in terms of price it sits between ExpressVPN and Surfshark. Plus, you'll be covered by a 30-day money-back guarantee.
Are free VPNs safe?
It all boils down to which free VPN you choose. While there are a few decent ones, they're vastly outnumbered by dubious, ad-filled apps with no background and no privacy policies. What's more, these could be harvesting your data – exactly the opposite of what you want from a VPN.
Beyond any risk to your privacy, though, it's important to understand that every free VPN comes with limitations, even the good ones. Almost all impose some sort of data limit, speed caps, and restrict you to a handful of servers at best.
If you want the best experience possible, we'd recommend signing up to a paid provider. Our top-rated VPN is ExpressVPN, but if you're looking to save some money we'd recommend Surfshark. For just $2.30 a month you'll have unlimited data and simultaneous connections, excellent streaming performance, rock-solid security, as well as in-depth features not available with free VPNs – and you'll also have a 30-day money-back guarantee to test it out risk-free.
However, if you're dead-set on testing out a free VPN for PC, Mac, or any other device, below we've rounded up the best five which manage to avoid compromising usability too much. Plus, all offer an upgrade plan should you like the service and want to get all the available features at a later date.
Our complete list of the very best free VPNs: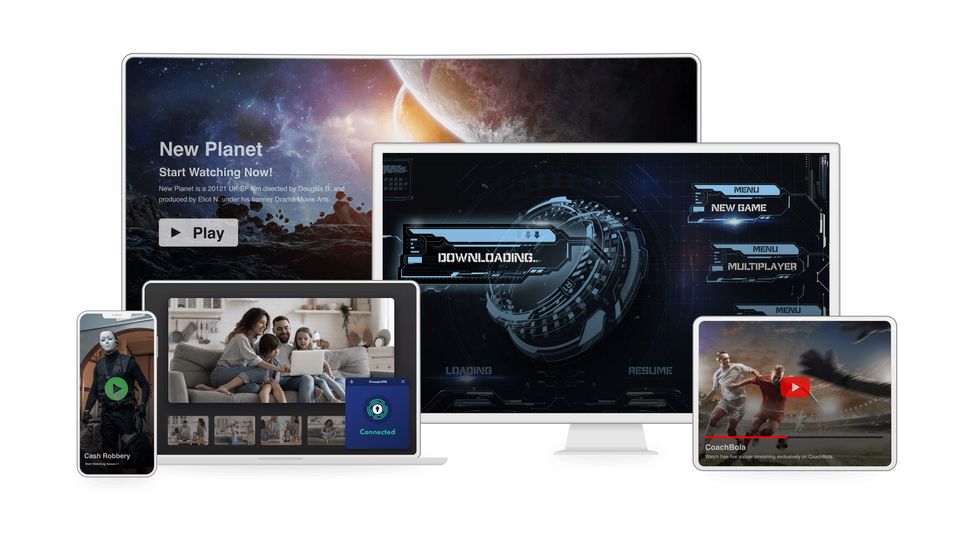 Rarely does a newcomer make it straight to the top, but despite only having been founded in 2019, PrivadoVPN has made serious waves in the last year or so. Offering both paid and free VPN plans, it's a great fit for just about every user – but most impressive is its PrivadoVPN Free offering.
Right off the bat you'll get 10GB of full-speed data every month – more than enough for regular browsing – and if you use that up you'll still be able to use the service, albeit at slower speeds from an 'Emergency Server'.
When you're still within that 10GB, you'll have a remarkably wide range of servers to choose from, including locations in the UK, US, Canada, Germany, France, Switzerland, Brazil and more. Few free services can match that.
PrivadoVPN is backed up by all the privacy basics we expect from any VPN. AES-256 encryption stops snoopers from seeing your online activity, while the kill switch ensures you're kept protected in the unlikely event of your VPN connection dropping out – a feature very often omitted from free versions.
The WireGuard protocol helps make sure the VPN isn't slowing you down, and at 350Mbps in our testing, Privado's really very speedy for a free VPN.
Most impressive, though, is PrivadoVPN's ability to unblock geo-restricted streaming sites. This is almost unheard of for free VPNs, but every time we tested Privado – multiple times, because we couldn't quite believe it – it was able to do the job.
We were able to access US Netflix from abroad, as well as BBC iPlayer, Amazon Prime Video, and Disney Plus. That makes PrivadoVPN's streaming ability better than many paid VPNs, let alone free versions.
Of course, there are still limitations. You'll only be able to use your plan on a single device, and the apps are pretty limited in terms of extra features. Also, while it does have a pretty robust no-logs policy, this hasn't been externally audited.
However, overall PrivadoVPN is quite simply the best free VPN on the market today, and if you want to stream overseas content for free, it's your only choice.
Sign up now on the PrivadoVPN website

Closely challenging PrivadoVPN is Proton VPN Free, and it offers a different set of features that may appeal to some users a little more. Its robust applications are open-source and super secure, and it delivers an excellent security-focused experience.
The biggest advantage Proton VPN has over the competition is its unlimited data policy – no matter how much you use this free VPN, you'll never find yourself restricted. What's more, with speeds peaking at 380Mbps in our testing process, you won't even notice it's switched on.
Just like PrivadoVPN, Proton protects your sensitive information with AES-256 encryption, and also offers the WireGuard protocol, leak protection, and that all-important kill switch. If you were hoping for Proton VPN's well-known advanced features like Secure Core, though, you're out of luck – they're only available for paying customers.
Proton's also limited when it comes to streaming, although this is no surprise. In our testing we weren't able to unblock any streaming sites like Netflix, meaning that if you want to globetrot and explore what's available on Netflix overseas, you'll have to use a different streaming VPN.
Other limitations include being restricted to only 3 server locations (US, Netherlands, Japan), no P2P support for torrenting, and you'll only be able to use your plan on a single device.
However, when compared to the competition, Proton VPN easily secures second place here, and may be a better choice if you find yourself using tons of data every month.
Sign up now on the Proton VPN website

Windscribe's premium service is excellent, and that translates over to its Windscribe Free VPN offering, too. It's powerful, has plenty of features, and will be a great choice for those who want flexibility in their free VPN.
The data limit is stricter than our previous two entries, at a hard-and-fast 10GB with no leeway, but that's should still be plenty for most users. And, unusually, you'll be able to install and use the same plan on as many devices as you need. There's no chopping and changing needed here.
Windscribe's also pretty generous when it comes to what servers free users can use. With 14 locations over 11 countries, it's got a wider range than both Proton VPN and PrivadoVPN.
In terms of speeds, it's fairly nippy at 240Mbps. That's not as good as our top two providers, but in reality, we're just pleased to see that the free version doesn't throttle speeds.
However, Windscribe's apps do let the side down a little – the interface is quite cramped and complex, and can make it tricky to find settings. But, if you stick to the recommended settings and just turn it on and off (or just get used to the UI), it's perfectly serviceable. It's also worth noting that neither paid nor free versions get 24/7 support, so you could be left in the lurch if something goes wrong.
However, we did find that Windscribe Free could unblock UK Netflix and BBC iPlayer, which again is quite a surprise.
Overall, Windscribe is a powerful free VPN service that's simple and effective, and although it can't match our previous two providers, it's still very usable. Well worth a look.

Newly acquired by the venerable NordVPN, in our full Atlas VPN review, we found the provider to be a decent choice – and the same goes for its free VPN.
With a decent data limit of 10GB a month – and a mega 2GB a day on Mac – Atlas VPN Free is a useful little tool for added privacy and changing your location to access geo-blocked websites.
With a range of 3 servers you won't be globetrotting too much, but it's enough to get by on, and privacy fans will be impressed by the fact that you don't have to enter an email to download or connect.
The apps are attractive, and while they need a little work to appear as polished as those of premium rivals, they're stable and usable – and in our testing, we found it able to deliver speeds of around 320Mbps, which is pretty good for a free VPN.
Overall, Atlas VPN is well worth considering, especially if data limits and a restricted server range don't bother you.
Download now on the Atlas VPN website

In our last round of reviews, Hide.me was a standout provider, and while not quite up there with the big dogs yet, it has improved as a service and is well worth considering – especially as a free VPN.
Perfect for those who like to dig around in features and settings, Hide.me Free offers tons of customizable features, all of which are available to free users. That includes a kill switch, a favorites list for servers that can be reordered, split tunneling, Stealth Guard, a whole host of protocols, and more.
Something that we didn't appreciate, however, is the fact that the free version removes support for the WireGuard protocol. Seeing as Hide.me retains a ton of its in-depth features in the free version, it seems like a strange decision to remove the next-gen protocol. And, it's clear that this has hurt the VPN's performance – we only saw speeds of 25Mbps in our testing.
However, with full P2P support and a fairly generous data cap of 10GB, Hide.me could make quite a useful free torrenting VPN, and while it can't match a number of the best services overall, for those who like tweaking software it could be an excellent choice. Just be aware of the limited speeds.
Sign up now on Hide.me's website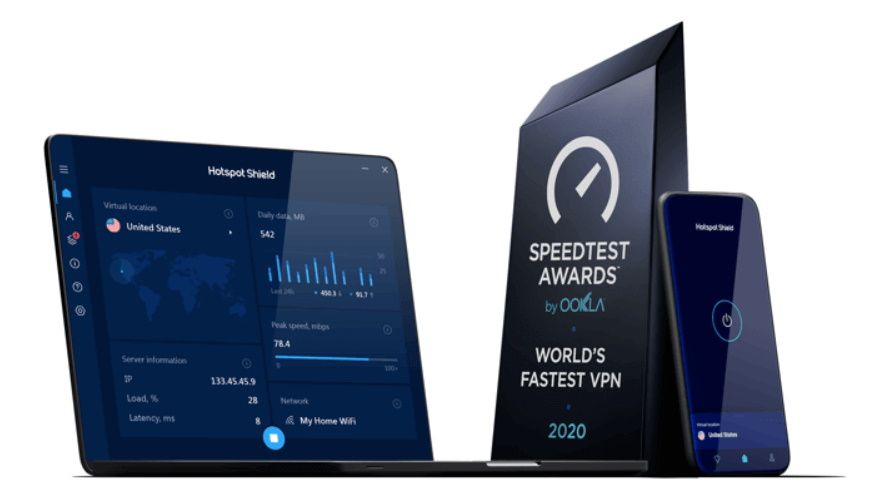 Our most recent Hotspot Shield review saw the US-based provider put in an admirable showing, and although it's no longer one of the very best, it's still a good product. However, its free VPN has fallen behind in recent years, and is now one of the lesser options in a jam-packed space.
That said, as of July 2022 Hotspot Shield Basic is one of the only free services to offer unlimited data (alongside Proton VPN), which is a major plus point.
Unfortunately, that's just about all Hotspot has going for it. You'll only get a single US server – nothing compared to PrivadoVPN and Windscribe's generous offerings – and while the speeds of 230Mbps aren't bad, they're not class-leading.
The apps are also quite intrusive in terms of usability. Mobile clients shows ads on connection, and while the Mac app doesn't show adverts, it does insist on opening the Hotspot Shield website on connection and disconnection.
You also don't get a kill switch on the Basic plan, which seems like a miserly decision considering the other limitations present. And, combined with Hotspot Shield's slightly excessive logging practices (bandwidth used, your OS, the time you connect and more), it certainly won't please those looking to use the VPN as a true piece of privacy software.
Overall, Hotspot Shield is a fairly capable free VPN, but the fact of matter is that there are a number of more well-rounded, flexible, and secure options out there right now.
Sign up now on Hotspot Shield's website


Free VPN FAQs
Free VPN vs paid – which should you get?
If you're considering whether to save a little cash or go for a fully fledged premium VPN, weighing up the options is well worth doing. The main thing to do is consider what you want to use your free VPN for.
Are you looking for a little extra privacy for select tasks or light daily browsing? If that's all you need, a free VPN might be a sensible choice.
However, if you're looking to torrent, stream content on Netflix, BBC iPlayer or any other streaming site, or access advanced features like Proton VPN's Secure Core servers and split tunneling, a paid VPN is your only option.
Plus, if you want to keep your VPN all the time and not have your connection speeds affected, even picking up a good cheap VPN will perform better than a free VPN.
Who are free VPNs best for?
Even the best free VPN services are only good for occasional use, such as when traveling or in a café. They simply don't provide enough data usage or speed for 24/7 home VPN connections. If you want to encrypt all your home internet traffic, all the time, you should pay for one of the best VPN services – our top pick is ExpressVPN.
If a VPN service is based in the USA, it will be subject to search warrants presented by US law-enforcement agencies. Also, all free VPN services log user connections, no matter what the service claims.
Many of the services we review here are based in Canada, Switzerland or Germany, which have stronger privacy laws, but one of the Canadian services, TunnelBear, was recently bought by a US company and will have to honor US warrants and subpoenas under a new US law.
How does a free VPN work?
Free VPN services encrypt your data while it's in transit, creating a virtual tunnel through the internet. This separates your data packets from the countless others around them until they reach the service's exit nodes many miles away from where you are.
Not only is the data encrypted, as it would be during a normal secure web session, but the routing information about the sender and intended recipient is hidden as well.
Today, the most popular VPN protocols are OpenVPN and various implementations of Internet Protocol Security (IPsec), which include IPsec by itself or in combination with Layer 2 Tunneling Protocol (L2TP) or Internet Key Exchange versions 1 and 2 (IKEv1 and IKEv2).
A VPN's scrambling and unscrambling of your data can sometimes slow internet traffic to a crawl. The best free VPN will have fast servers connected to huge data pipes to minimize this performance decline. They also have thousands of servers located in scores of countries, ranging from Albania to Zimbabwe.
Is there a completely free VPN?
Well, it depends on what you classify as 'free'. There are plenty of free VPNs that don't part you from your cash, but you could be paying for them by watching ads or even unknowingly giving them your data to sell.
The best free VPN services tend to be 'free versions' that are intended to give you a taster of a paid product before asking you to actually hand over your money. The best providers like Proton VPN and Windscribe do this by using data limits and server restriction to create an incentive to upgrade. Many people do, which pays for the company's costs overall.
We'd recommend avoiding any free VPN that doesn't have a paid option – if there isn't a paying customer-base supporting the development of the software, who knows where the company's getting its money?
When might a free VPN not be a good choice?
A free VPN is likely to come up short for those looking to stream or torrent, or people looking for a gaming VPN. That's because these activities use up tons of data. If you've got unlimited data with your VPN, that's not an issue, but if you've only got 500MB to play with, that's only about one episode in standard def on Netflix – and that's only if you can actually access the service.
Also, you might find that your connection speeds drop, and for gamers and torrenters that's a killer. Those activities rely on having high speeds, and only the best paid-for fast VPN services can provide that.
Finally, some free VPNs struggle with privacy issues, and the addition of ads can be a real pain for users. If you want the most secure service, you'll have to pay for one – at least then you'll know exactly how your VPN is making money, rather than hoping it's not using your info to cash in.
Are free VPNs legal?
In short, yes. VPN software itself is no less legal than any other mainstream software.
However, using it to torrent copyrighted files is still illegal, as is accessing any other illicit content.
Essentially, while a free VPN is perfectly legal to own and use, it doesn't make illegal acts legal just because it makes the crime harder to detect.