The best weather apps are essential in a world where conditions are proving to be increasingly unpredictable and more extreme. If there's a hurricane coming, extreme temperatures in the forecast or lots of UV sunlight when you step outside, a solid weather app can have you prepared for whatever's ahead.
Every weather app provides temperatures and a forecast — even the default apps that are already on your iPhone or Android device. (Did you know, though, that the iPhone includes a hidden interactive weather map as of iOS 15?) But the best weather apps provide more — incredibly detailed forecasts at a hyper-local level, radar images, severe weather warnings and even information about air quality. You can even track phases of the moon in some apps or find out the forecast at upcoming travel destinations.
That's why you might be interested in checking out some of the options that are out there. With climate change causing unpredictable and sometimes dangerous weather patterns, having one of the best weather apps can save you from more than just being caught without an umbrella. Here are our favorites.
The best weather apps you can download today
1. Carrot Weather (Android, iOS: Free)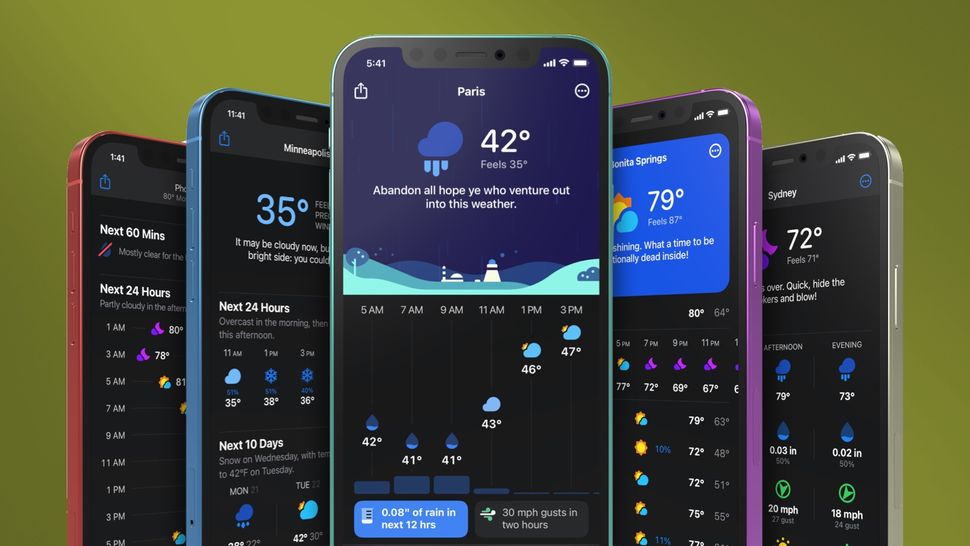 Long an iOS exclusive you couldn't get on Android, Carrot Weather has since bridged the platform divide, and now the malevolent AI overlord Carrot can bring Android users the weather forecast along with a big side helping of snark and sarcasm. iOS users still enjoy features like being able to add a Carrot Weather widget to their home screens; periodic updates also add customization features and bonuses for premium subscribers such as tide data. We particularly like an update that displays up to five forecasts for different locations on Carrot Weather's location screen.
The app pulls data from Dark Sky to provide current, hourly, and 7-day forecasts leavened with sarcastic humor to cushion even the gloomiest outlook. Infographics put useful information in quick reach, with more detailed meteorological data available as you tap and swipe. You can even configure Carrot's sense of humor to be friendly, snarky, or murderous, with the ability to set how political the AI's jokes can get.
Carrot Weather offers different subscription tiers if you're not satisfied with the basics in the free app. The Premium tier costs $4.99 a month and adds weather data sources, notifications, customization capabilities and widgets; if you've got an Apple Watch, you can also access complications for your wearable's watch face. The $9.99/month Premium Ultra tier unlocks more capabilities, while the $14.95/month family tier gives up to five people access to a Carrot Weather account.
Download Carrot Weather: Android (opens in new tab), iOS (opens in new tab)
2. The Weather Channel (Android; iOS: Free)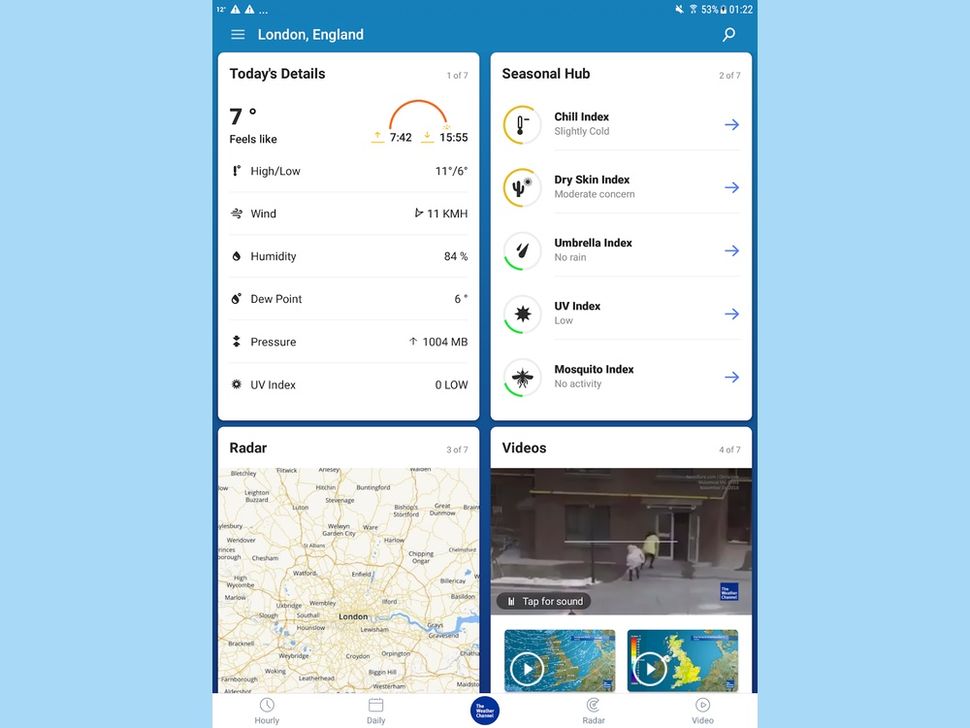 The free, ad-supported version of the Weather Channel app is available on Android and iOS. The TWC app provides you with a wealth of meteorological data such as temperature, wind and visibility on an hourly or daily basis, with an extended 10-day forecast available. Interactive maps can display the latest Doppler radar data to show rainfall and weather events and severe weather alerts.
The Weather Channel also includes social sharing features for users to upload images, tweets, videos and photos. A Premium Pro tier removes ads and unlocks features like 15-minute forecasts and 72-hour radar info.
Download The Weather Channel: Android (opens in new tab), iOS (opens in new tab)
3. Emergency: Alerts (Android; iOS)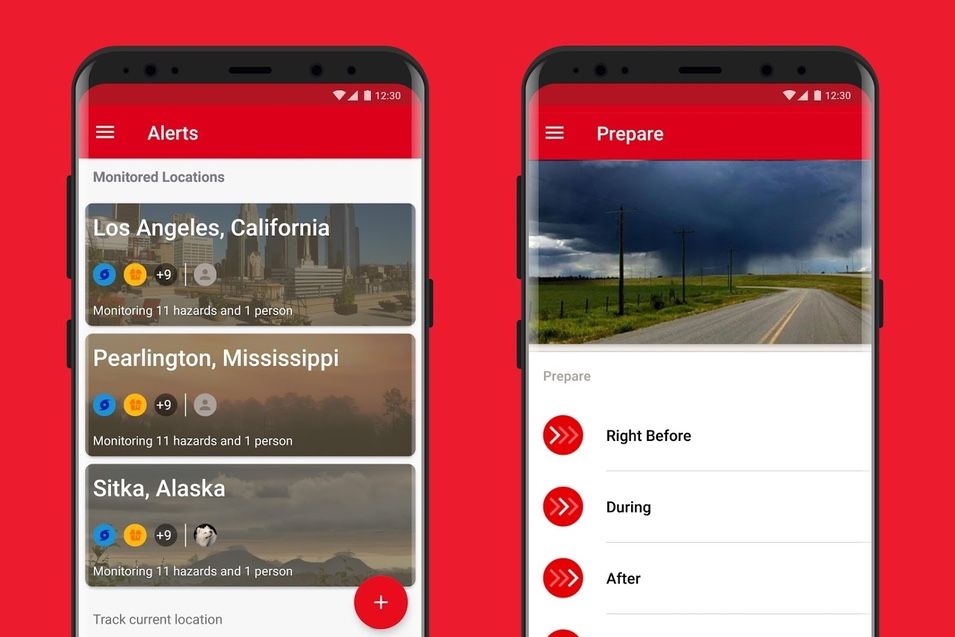 It's an app you hope you never have to use, but when disaster strikes, you'll be glad you have Emergency: Alerts from the American Red Cross on your iPhone or Android device.
Because it keeps tabs on everything from hurricanes and floods to extreme heat and winter storms, Emergency: Alerts is good to keep installed on your phone at all times, and not just during hurricane season. Not only will Emergency monitor where you live, you can also enter cities and people that are important to you. The app features customizable alerts and provides a map with shelter information in the event of an emergency.
You can use Emergency Alerts to make sure you're ready for a potential storm by scanning through the disaster preparedness info tucked within Emergency.
Download Emergency: Alerts: Android (opens in new tab), iOS (opens in new tab)
4. NOAA Weather Radar Live: Clime (Android, iOS: Free)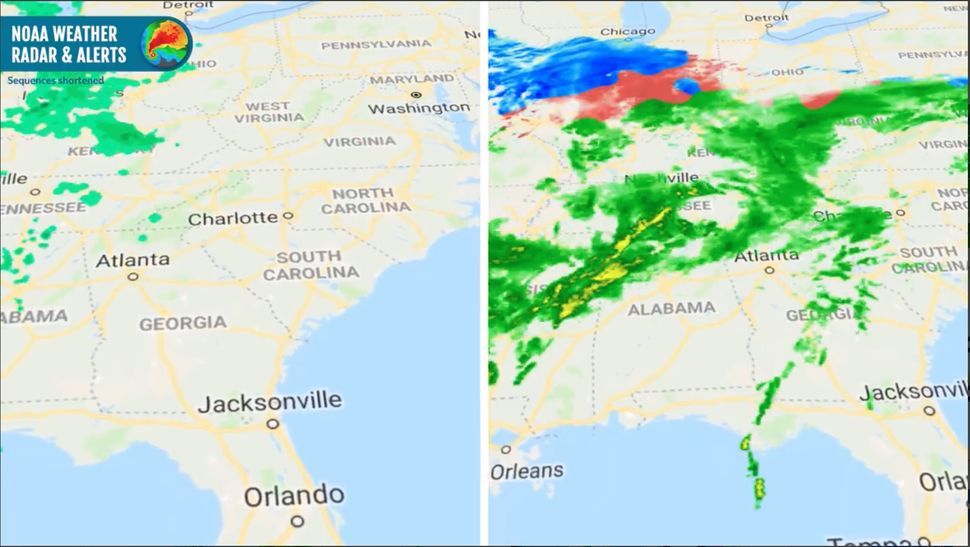 The app formerly known as NOAA Radar Pro has a new name — it's now NOAA Weather Radar Live: Clime on the iPhone and just Clime for Android users. But the focus remains the same. This weather tracker is highlighted by real time radar showing you changing weather conditions in your area.
You'll get the standard 24-hour and 7-day forecasts with severe weather alerts included. But the reason to turn to Clime is for the satellite weather imagery that gives you the full picture of precipitation, temperature and other weather details.
A premium subscription unlocks the best features on Clime, including severe weather alerts for all saved locations, trackers for hurricanes, lightning and wildfires and a temperature map. Subscribers get rid of ads, too.
Download NOAA Weather Radar Live: Clime: Android (opens in new tab), iOS (opens in new tab)
5. 1Weather (Android, iOS: Free)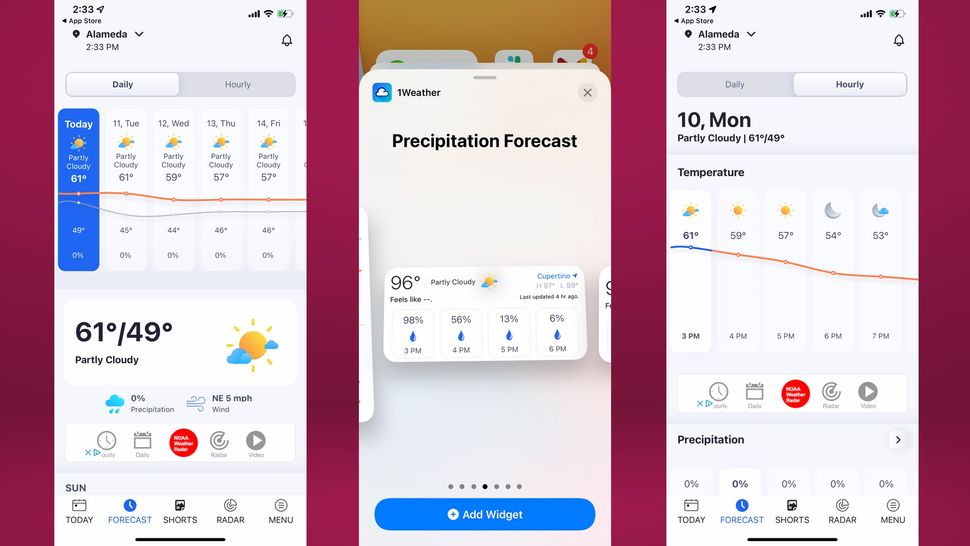 1Weather has all the features you'd expect from one of the best weather apps, including a 10-day forecast, live radar maps, severe weather warnings and more. But it also really takes advantage of widgets so that key weather day can be visible on your phone's home screen, whether you're using Android or iOS.
We also like 1Weather's minute-by-minute and hourly forecasts for temperature and rain. Because these forecasts extend for up to 48 hours, you can really use the app to plan ahead.
The app's a free download, and a $1.99/monthly subscription removes adds and ads other features like 10 days of daily forecasts, an AQI card and more.
Download 1Weather: Android (opens in new tab), iPhone (opens in new tab)
6. WeatherBug (Android, iOS: Free)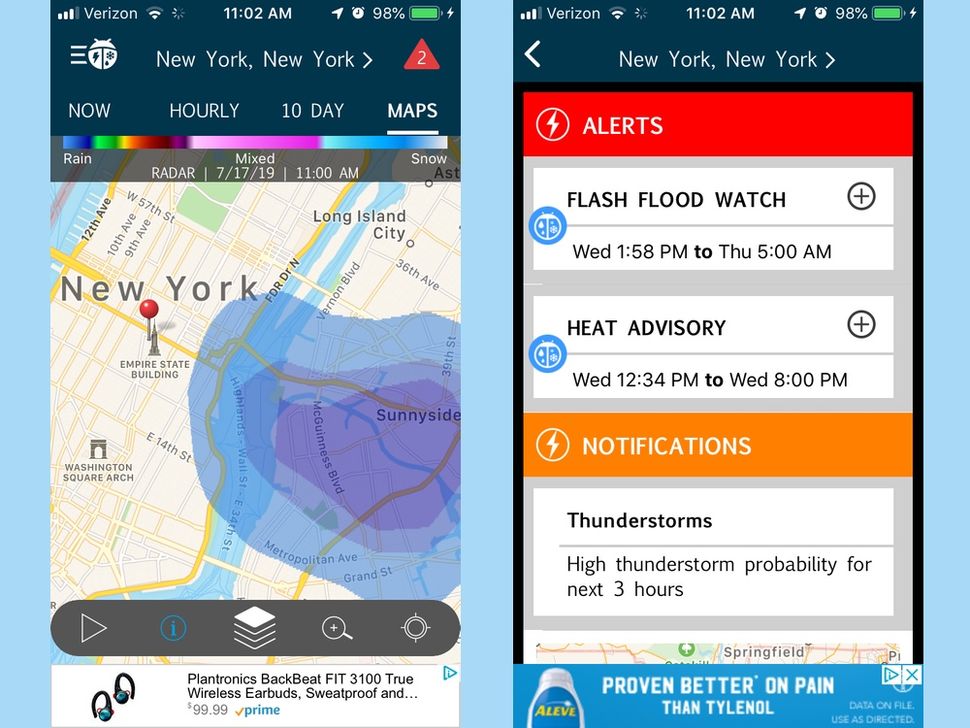 If there's a developing weather situation you need to track, WeatherBug can help you out. (On Android, the app is called Weather by WeatherBug.)
The free download not only offers Doppler radar for North America, but can provide hurricane forecasts, Spark lightning alerts, air quality info and pollen count data on top of the usual array of weather information. Since it pulls data from weather services, satellites and tracking stations, WeatherBug can provide hyperlocal real-time conditions with current, hourly and 10-day forecasts. Pay 99 cents a month or $9.99 a year, and you can remove ads from the app.
Download WeatherBug: Android (opens in new tab), iOS (opens in new tab)
7. IQAir AirVisual Air Quality Forecast (Android, iOS: Free)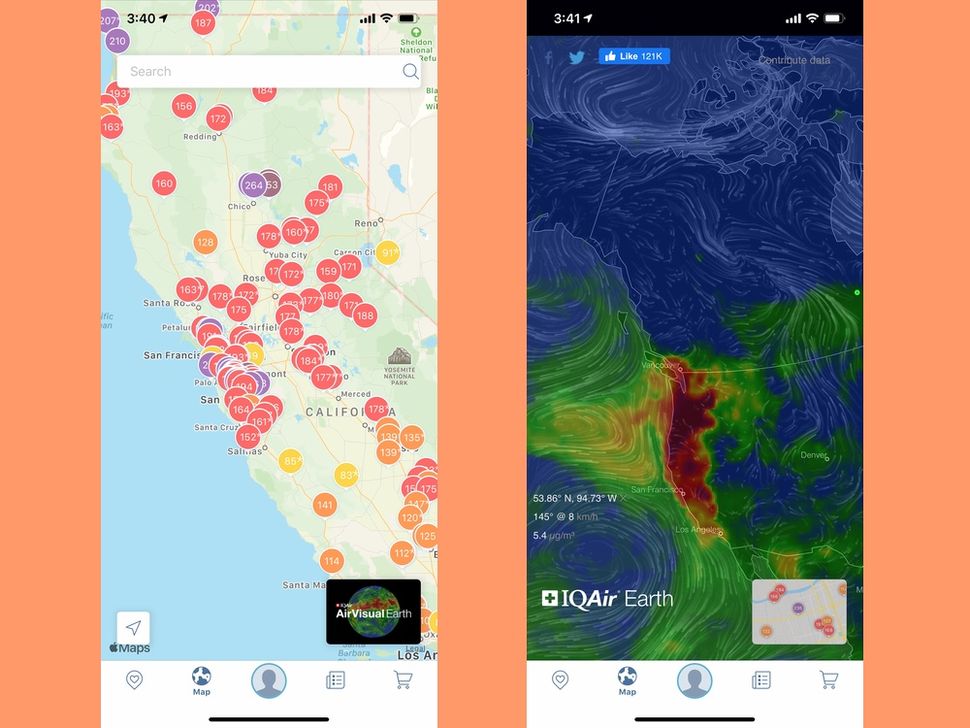 In a time of increasing pollution, knowing the quality of the air you breathe is even more important than knowing if it's going to rain. We like the IQAir AirVisual Air Quality Forecast app for the eye-catching way it presents vital data about air quality wherever your are as well as around the world.
The app promises detailed info on pollutants and the air quality index for 10,000-plus locations in more than 100 countries. You have a choice of maps for viewing air quality — either a color-coded 2D map or a Google Earth-like 3D version. AirVisual also works in 7-day forecasts so that you can plan ahead on your outdoor activities to make sure you're going out in healthy air. And if you've got on of iQAir's air quality monitors in your home, you can sync them with the app to get a mobile reading on your indoor air quality, too.
Download IQAir AirVisual Air Quality Forecast: Android (opens in new tab), iOS (opens in new tab)
8. Weather on the Way (iOS: Free)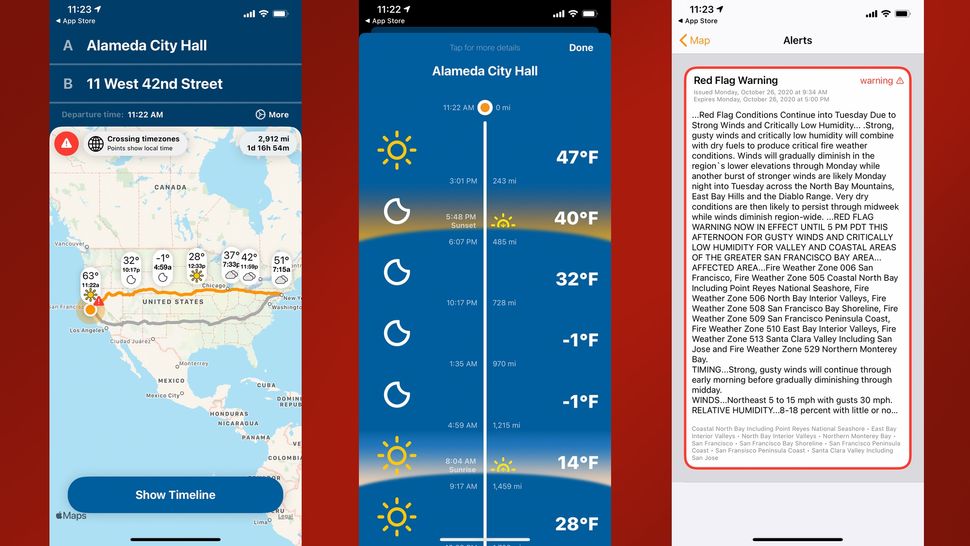 Knowing the weather before you start out on a road trip can be just as crucial as having the right directions. Weather on the Way, a free iOS download, understands this point, and so it combines navigation features with severe weather alerts that let you know whether to expect rain, snow or other potentially hazardous conditions during your drive from Point A to Point B.
While free, Weather on the Way becomes even more valuable with a Pro subscription ($4.99 a month or $24.99 annually). Pro users get more sophisticated features like alternate routes suggestions, road visibility and expanded data about conditions such as precipitation and wind speed. If you've got any extended trips in your future, Weather on the Way can be a helpful companion to make sure that you arrive safely at your destination.
Download Weather on the Way: iOS (opens in new tab)
9. Yahoo Weather (Android, iOS: Free)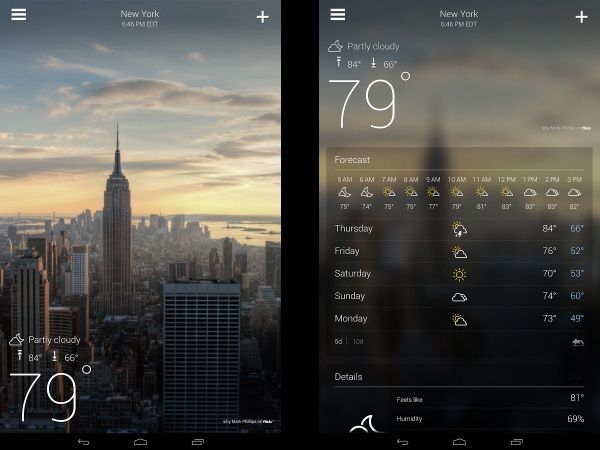 The beautiful Yahoo Weather app boasts a gorgeous interface that is both informative and striking. The app displays images of your location with matching time of day and weather conditions, with the option to view detailed five-day forecasts, as well as interactive radar, heat and satellite maps. Updates have brought the Android app in line with the iOS design for a unified experience across both platforms.
Other apps provide more details and features, but Yahoo Weather's clean, concise presentation makes it an eminently user-friendly, everyday app, marred only by a fairly large advertisement as you swipe up to get to the detailed forecast.
Download Yahoo Weather: Android (opens in new tab), iOS (opens in new tab)
10: Weather Up (iOS: Free)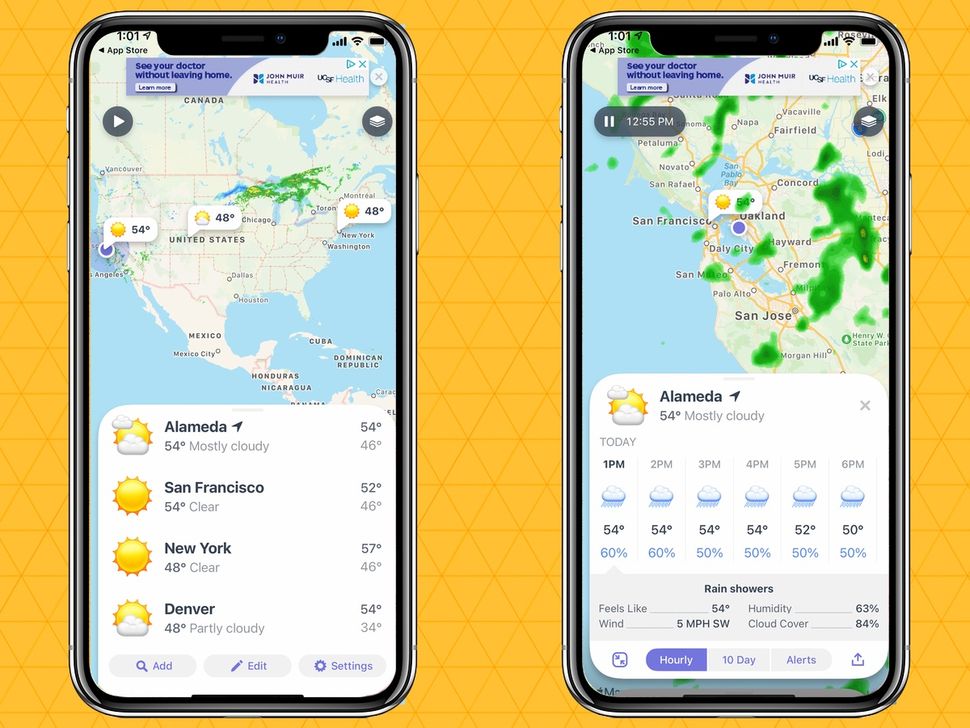 iPhone users who like to see a visual representation of upcoming shifts in the weather can give Weather Up a try. The free download offers hourly and 10-day forecasts, with your choice of icons for an at-a-glance look at the forecast. But Weather Up really proves its value with radar maps that can show shifting conditions in your area — all part of the basic app.
There is a rather prominent ad at the top of the otherwise uncluttered Weather Up interface, and to make it go away, you can subscribe to the Pro version. Subscriptions cost $1.99 per month or $9.99 annually. In addition to an ad-free experience, you can also pull your weather data from more sources, including Dark Sky and Aeris. Pro subscribers get additional options like warning layers and animation, really making the paid tier worth it.
Download Weather Up: iOS (opens in new tab)
11. My Moon Phase (Android: $1.99; iOS: Free)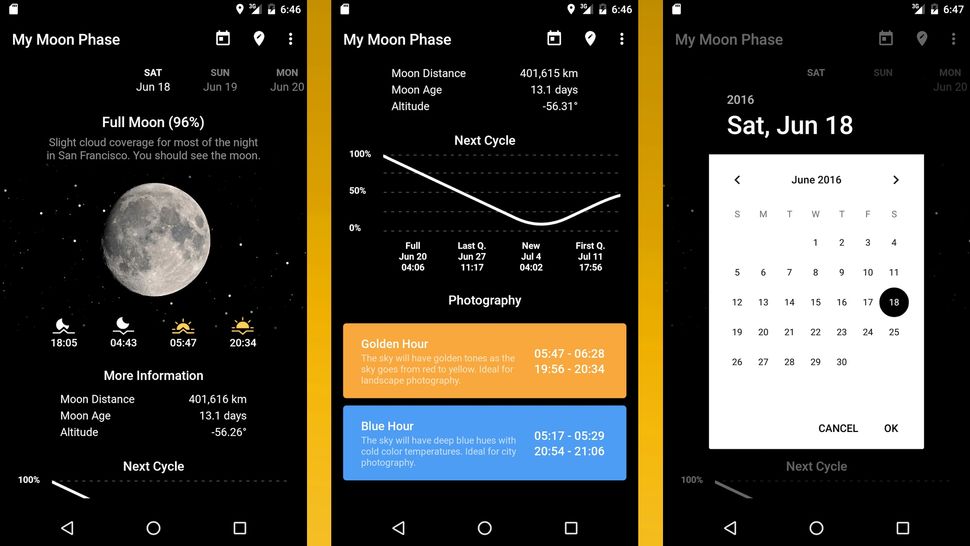 If your interest in the best weather apps extends to the lunar calendar, then My Moon Phase is a must-download. The app can help you pinpoint moonrise time as well as phases of the moon with an extensive calendar for tracking the cycles of the moon. You can even get notifications for when the moon is about to enter a particular phase.
Photographers will appreciate the clear interface of My Moon Phase, as it includes information about the golden hour and the blue hour — when the moon will be in a particular position of the sky best suited for taking specific photos. On the weather front, you can also see how cloudy it will be, so that you'll know if you have a clear view of the moon.
Note that on Google Play, the app is listed as My Moon Phase Pro, and it's a $1.99 download. iOS users can get the app for free.
Download My Moon Phase: Android (opens in new tab), iOS (opens in new tab)
12. AccuWeather (Android, iOS: Free)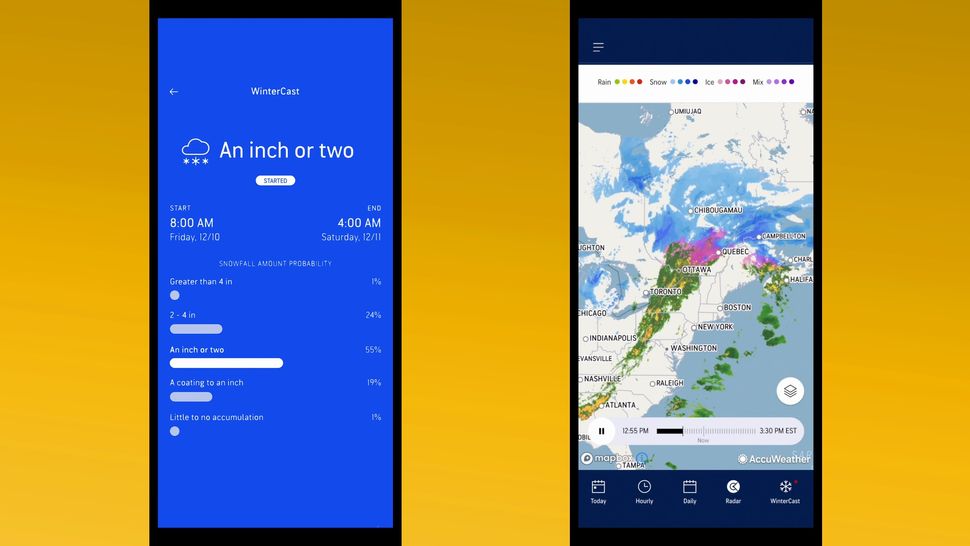 AccuWeather is the app to turn to for hyperlocal forecasts that help you drill down to get the informations you need. The app's daily forecasts pack in everything from rain probability to air quality, wind, cloud coverage and UV index. Live radar lets you track storms, snow, ice and temperature changes.
Detail-oriented users will appreciate AccuWeather's MinuteCast and its minute-by-minute precipitation updates. A WinterCast feature gives you a heads up on snowfall probabilities, and an update has added an ice forecast map layer.
AccuWeather is a free download, but there are now multiple paid tiers. For 99 cents a month, you can remove ads; Premium Plus costs $1.99 per month and adds an alerts feature.
Download AccuWeather: Android (opens in new tab), iOS (opens in new tab)
13. Flowx (Android: Free)
If geeking out over maps, graphs, and predictions is your thing, check out Flowx. Formerly known as Weatherbomb, the app provides users with a rich array of charts, forecasts, and weather maps presented in a scrolling animated forecast timeline. Users can have the app center on their location automatically, or set custom locations.
Flowx can display a variety of data overlays, such as precipitation, clouds and wind direction arrows, with data sourced from the NWS/NOAA and Environment Canada. The app is ad-supported, with an optional subscription that removes ads and rewards the developer.
Flowx remains an Android-only app, but the app's website (opens in new tab) appears to be soliciting feedback for a version that works with Apple's devices.
Download Flowx: Android (opens in new tab)
14. Weather Underground (Android, iOS: Free)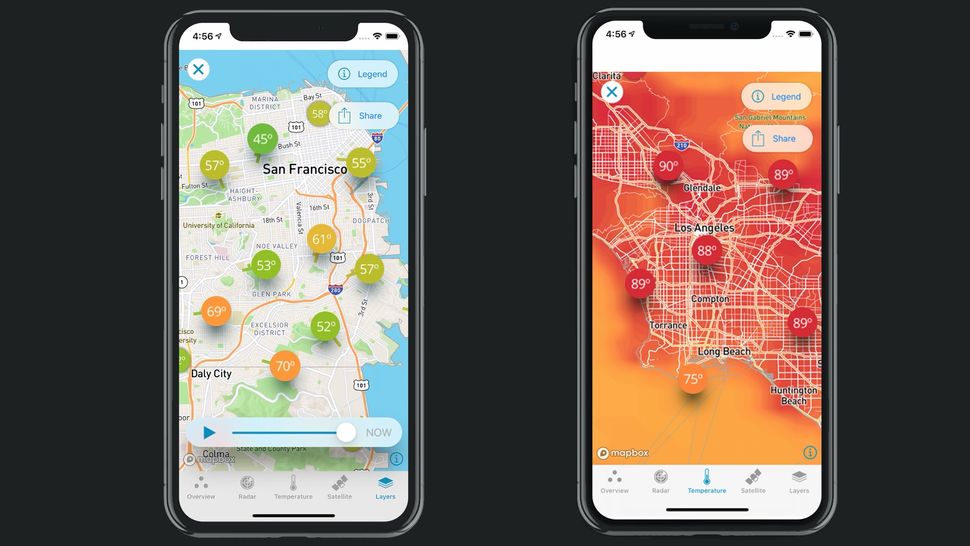 Weather Underground relies upon a network of more than 30,000 personal and amateur weather stations to deliver truly local weather forecasts. Crowd reporting features allow you to verify reported forecasts and post their own sky and hazard reports. A detailed weather map allows you to apply a variety of information overlays. You can receive severe weather alerts, meteorological data in your notification tray and receive hourly forecasts up to 10 days.
Removing ads for a full year costs $1.99, while a monthly $3.99 subscription promises smart forecasts that can tell you when it's ideal to head outside based on your preferred weather conditions. A subscription also gets you 15 days of extended hourly forecasts.
Download Weather Underground: Android (opens in new tab), iOS (opens in new tab)
How we pick the best weather apps
When we research the best weather apps, we're looking for features that go above and beyond what the default apps on the iPhone phone and Android devices offer. Those include extended forecasts, radar, location tracking, alerts and other collected weather data. We try to present a wide variety of options so that you can pick the app best suited for what your needs are.
We largely base our selections on customer reviews, though we do try out some of the free features available on the different weather apps.
Most weather apps offer some kind of free tier. When possible we list what paid options cost and what they provide in return for a recurring free or one-time payment. Be aware that pricing can change, and while we do update this story to reflect new pricing, it may be different from our last update.
We tend to highlight apps that work on both Android and iOS, though in some cases, we'll include platform-specific recommendations.
---
Now that you've got one of the best weather apps on your phone, it's time to check out more of the best iPhone apps and best Android apps. If you use weather apps to find out what the forecast is for where you're traveling, you'll also want to take a look at our picks for the best travel apps.