If you're in the market for one of the best Android phones, the breadth of options can be overwhelming. But choice is probably the greatest thing about Google's mobile OS. Android guarantees a similar user experience across many makes and models of phones, while letting you prioritize the features you want.
We've tested all of the best smartphones in all shapes, sizes and prices here at Tom's Guide, and the Samsung Galaxy S10 Plus is our current leader among Android handsets, thanks to its cutting edge design, superfast performance and long battery life.
However, the Galaxy S20, Galaxy S20 Plus and Galaxy S20 Ultra have all been announced and go on sale March 6, so we would wait if you're in the market for a Galaxy device. All three phones offer improved cameras with powerful zooms, smooth 120Hz displays and 5G capability. But the Galaxy S20 Ultra is getting the most attention for its huge 6.9-inch screen and 100x Space Zoom.
Android purists should consider the Pixel 4 and Pixel 4 XL. These phones, among the first to boast Android 10, offer a faster Google Assistant, secure face unlock and motion gesture controls, though the outstanding cameras remain the Pixels' big selling point. And they stand to get even better now that Google has announced an initiative to regularly update them with feature drops.
Those on a budget but still holding out for one of the best Android phones may want to take a look at the OnePlus 7T, which provides swift performance, a smooth 90Hz display good cameras and a slick design for a reasonable $599. The $399 Pixel 3a is another great choice, as it offers fantastic cameras for hundreds less than your typical flagship. Our top cheap phone under $300 is the Moto G7 Power, which offers great battery life, though a successor — the Moto G Power — promises the same big battery and a $249 price tag when it arrives this spring.
Missing from our list is the 2020 Motorola Razr, a new flip phone that opens to reveal a foldable screen. We just reviewed the Razr, and while we're intrigued by its design, its battery life is too short and its performance too subpar for a $1,500 phone. We're more excited about Samsung's $1,380 Galaxy Z Flip, which employs an ultra-thin glass display and free stop hinge, as well as a much more powerful processor and dual cameras.
Here are the best Android phones you can buy today. (And if you want to see how Apple's latest phones compare to these Android device, we've ranked the best iPhones, too.)
The best Android smartphones now
Samsung Galaxy S10 Plus
OnePlus 7T
Google Pixel 3a
Samsung Galaxy Note 10 Plus
Google Pixel 4 XL
Samsung Galaxy S10e
OnePlus 7 Pro
LG G8X ThinQ Dual Screen
Samsung Galaxy A50
Moto G7 Power
1. Samsung Galaxy S10 Plus
The best Android phone overall
Screen Size: 6.4 inches | Android Version: 9 Pie with OneUI | Processor: Snapdragon 855 (US)/Exynos 9820 (WW) | Cameras: 12 MP, 16 MP and 12MP (Rear); 10 MP and 8 MP (Front) | RAM/Storage: 8, 12 GB/128 GB, 512 GB, 1TB
Immersive Infinity-O display
Ultrasonic fingerprint sensor works well
Excellent cameras
Very fast performance
Superb battery life
Headphone jack
Pricey
Confusing gesture controls
The Galaxy S10 Plus muscles its way to the head of the Android class with both expected improvements and impressive innovations. Samsung's phone was one of the first to run on a Snapdragon 855 processor, so it's the among the best performing Android devices we've tested while also going a long way to closing the performance gap with Apple's A12 Bionic chip. A triple lens setup on the back of the S10 Plus coupled with AI improvements bolsters the phone's image capture abilities. And a 4,100 mAh battery means you can expect all-day battery life from one of the longest-lasting handsets we've tested in recent years.

But the S10 Plus offers other features that make it one of the best Android phones. The new Infinity-O display uses circular cutouts to house the phone's two-front cameras rather than a notch. There's an ultrasonic fingerprint sensor underneath the display that quickly unlocks your phone. And Wireless PowerShare means you can place other devices that support wireless charging on top of the S10 Plus' back and top off their batteries.
Before you jump at the Galaxy S10 Plus, be aware that the Galaxy S20 lineup is arriving March 6. The S10 Plus will continue to be available and at a lower price once the S20 models ship, but we're expecting major camera improvements with Samsung's next flagships.
Read our full Galaxy S10 Plus review.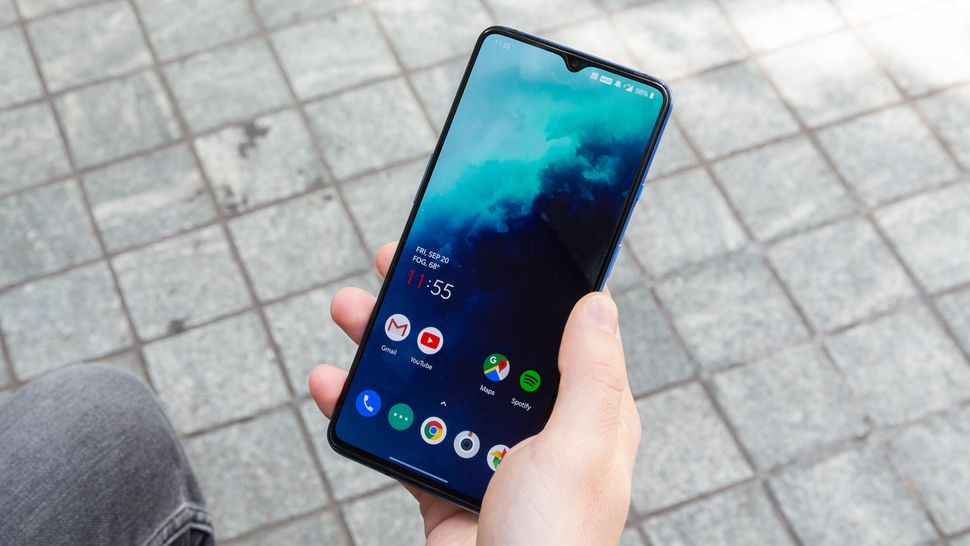 2. OnePlus 7T
The bargain among premium phones
Screen Size: 6.55 inches | Android Version: 10 with Oxygen OS | Processor: Snapdragon 855+ | Cameras: 48 MP, 16 MP and 12 MP (Rear); 16 MP (Front) | RAM/Storage: 8 GB/128 GB
Phenomenal value
Great software
Blistering performance
Speedy charging
Excellent build quality
Macro mode works well
Camera bump is an eyesore
No wireless charging
Battery life is just average
The OnePlus 7T might lack a few of the features found in its predecessor, the OnePlus 7 Pro. (There's no pop-out front facing camera and quad-HD+ display here.) However, where it counts, the 7T brings the Pro's finest features down to an easier-to-swallow price tag — even though the 7 Pro was already pretty inexpensive to begin with.
For $599, you get a premium handset powered by Qualcomm's powerful Snapdragon 855 Plus chipset, a Fluid AMOLED screen with an ultra-smooth 90Hz refresh rate, plus a triple-camera module on the back that retains the 7 Pro's primary 48-MP sensor and can hold its own against the year's finest camera phones, even if it isn't the outright best.
We do wish the 7T's battery life was a bit better (although it charges pretty quickly), but overall, the cheaper of OnePlus' late 2019 devices is likely to be the most compelling value proposition among Android phones for most people.
Read our full OnePlus 7T review.
3. Google Pixel 3a
The Pixel 3's best feature for less
Screen Size: 5.6 inches | Android Version: 9 Pie | Processor: Snapdragon 670 | Cameras: 12 MP (Rear); 8 MP (Front) | RAM/Storage: 4 GB/64 GB
Long battery life
Outstanding camera
Low price
OLED display isn't the best
No wireless charging
The Pixel 3a strikes a winning blow against the rising cost of smartphones by delivering the most critical features of the Pixel 3 — a terrific camera and a great Android experience — in a device that costs hundreds of dollars less.
The Pixel 3a uses the same single 12-megapixel camera found on the Pixel 3, but more importantly, it taps into the same AI-powered computational photography features. That means the pictures you snap with your Pixel 3a will be every bit good as what the Pixel 3 delivers.

You will have to make some compromises for the Pixel 3a's lower price tag. This phone is made out of polycarbonate, not glass and metal, and the processor isn't as powerful as the Snapdragon 855 found inside the leading Android phones. But the Pixel 3a offers solid performance and a long-lasting battery, as it held out for nearly 12 hours on our battery test. Other phones are fancier and may boast more features, but the value delivered by the Pixel 3a earns it a spot on this list as one of the best Android phones. (It's likely that Google is prepping the Pixel 4a as a successor for later this year.)
Read our full Pixel 3a review.

4. Samsung Galaxy Note 10 Plus
Screen Size: 6.8 inches | Android Version: 9 Pie with OneUI | Processor: Snapdragon 855 (US)/Exynos 9825 (WW) | Cameras: 12 MP, 12 MP, 16 MP and time-of-flight (Rear); 10 MP (Front) | RAM/Storage: 12 GB/256, 512 GB
Gorgeous 6.8-inch screen
Long battery life
Strong performance
S Pen supports Air Actions gestures
Air gestures can be finicky
Cameras not as good as Pixel 3 or Huawei P30 Pro
How do you make one of the best Android phones for phablet fans even better? Extend the screen so it leaves virtually no bezel, give it a massive battery that recharges faster than ever before and bake in the most powerful processor on the market (with gobs of RAM for good measure).
The 6.8-inch Galaxy Note 10 Plus may share a lot with the Galaxy S10 family on paper, but it feels different to use, thanks to its S Pen stylus which has learned some new capabilities. Using Air Actions, you can make motions with the S Pen in mid air to navigate the phone's interface, and even transcribe and export written notes to Microsoft Word documents and PDFs on the fly.
We do wish the phone's quad-camera system delivered photos that could rival those from Google's latest phones, but even so, the Note 10 Plus is a phenomenally well-rounded Swiss Army knife of a phablet.

Read our full Samsung Galaxy Note 10 Plus review.

5. Google Pixel 4 XL
The smartest camera around
Screen Size: 6.4 inches | Android Version: Android 10 | Processor: Snapdragon 855 | Cameras: 12 MP/16 MP (Rear); 8-MP (Front) | RAM/Storage: 6 GB/64, 128 GB
Excellent camera
Screen has a dynamic 90-Hz refresh rate
Cool Motion Sense feature
Real-time Live Caption and recording transcription
Screen is a bit dim
No more unlimited photo storage at original quality
The latest flagship phones from Google continue to stand out, thanks to their cameras. Both the Pixel 4 and Pixel 4 XL add a telephoto lens to go alongside the main rear camera, delivering a 2x optical zoom. But Google didn't stop with just new hardware — updated camera software lets you tweak brightness and shadows on images, get a live HDR+ preview on your phone's viewfinder and even snap photos of the night sky in an improved Night Sight mode.
The Pixel 4 is about more than just a great camera, though. Google improved the display on both models with a 90-Hz refresh rate that makes for smoother scrolling and better gaming. A new Motion Sense feature lets you use gestures to control music playback and dismiss alarms, while we found Google's implementation of facial unlocking to be even faster than Apple's Touch ID. A new Recorder app provides real-time transcription of your audio recordings, and improvements to Call Screen made in a post-release update now allow the Google Assistant to filter robocalls for you automatically, without forcing you to lift a finger.
We think the $899 Pixel 4 XL is the better of Google's two latest phones, not only because of its larger screen, but because it lasts longer on a charge than the $799 Pixel 4. Whichever Pixel you opt for, you'll have an easier time finding it — the new models are available from every major wireless carrier now instead of just being a Verizon exclusive.
Read our full Pixel 4 and Pixel 4 XL reviews.
6. Samsung Galaxy S10e
The best small Android phone
Screen Size: 5.8 inches | Android Version: 9 Pie with OneUI | Processor: Snapdragon 855 (US)/Exynos 9820 (WW) | Cameras: 12 MP and 16 MP (Rear); 10 MP (Front) | RAM/Storage: 6, 8 GB/128, 256 GB
Incredible display
Delightful, compact design
Super powerful
Wireless PowerShare
Headphone jack
Great price
OneUI is polarizing
Average battery life
So you like the Galaxy S10's Infinity-O full-screen design, powerful Snapdragon 855 performance and capable cameras, but you'd like it even more if it were cheaper. Enter the $749 Galaxy S10e. This is a smaller version of Samsung's 2019 flagship handset that incorporates the same processor, Dynamic AMOLED display technology and many of the same features you'd find in the larger variants, like Wireless PowerShare to charge other devices over Qi induction.
The difference is you're paying at least $150 less for the S10e than the pricier S10 and S10 Plus, and you're missing out on their triple-lens rear cameras and ultrasonic fingerprint sensors. However, given the money you're saving, those may be omissions you're willing to live with. If you prefer smaller handsets but don't want to skimp on flagship-caliber specs, the S10e is the best Android phone for those looking for the most compact device possible, and we'd expect its low price to drop further once the new Galaxy S20 lineup arrives this spring.
Read our full Galaxy S10e review.


7. OnePlus 7 Pro
Still a great flagship value
Screen Size: 6.67 inches | Android Version: 9 Pie with Oxygen OS | Processor: Snapdragon 855 | Cameras: 48MP, 16 MP and 8 MP (Rear); 16 MP (Front) | RAM/Storage: 6, 8, 12 GB/128, 256 GB
Powerful performance
Pop-up camera works well
Excellent low-light photos
Very fast charging
Underwhelming battery life
OnePlus' move upmarket with the new OnePlus 7 Pro this spring definitely surprised us. However, all skepticism was dismissed once we saw the device's gorgeous 90Hz, 6.67-inch OLED display, nearly bezel-free design, capable triple-lens rear camera and clever pop-out selfie shooter. The OnePlus 7 Pro packs most of what we love about the current stable of flagship handsets in a device that starts at just $669, instantly landing it in our list of the best Android phones.
For that, you get a still powerful Snapdragon 855 processor, a massive 4,000-mAh battery (with OnePlus' trademark Warp Charging, of course), smooth and useful software courtesy of Oxygen OS, and a 48-megapixel main shooter at the rear that can capture phenomenal images in low light, thanks to OnePlus' Nightscape technology.
You can now find a lot of these features in the even less expensive OnePlus 7T, but the 7 Pro's display and pop-up camera still make it a compelling choice for fans of affordable Android flagships.
Read our full OnePlus 7 Pro review.

8. LG G8X ThinQ Dual Screen
A lot of versatility for a good price
Screen Size: 6.4 inches | Android Version: 9 Pie with LG UX | Processor: Snapdragon 855 | Cameras: 12 MP and 13 MP (Rear); 32 MP (Front) | RAM/Storage: 6 GB/128 GB
Good price
Excellent performance
Dual-Screen case included
Fantastic battery life
Headphone jack
Compatible with all carriers
Dual-screen software has limitations
Display is a bit dim
Unremarkable cameras
The LG G8X ThinQ is a solid all-around flagship handset for $699, with a long-lasting battery, excellent performance and even a headphone jack built-in. But it's made better by LG's Dual Screen cover case, which adds a second display, and thus the ability to run two apps in parallel, side-by-side. The extra screen can rotate 360 degrees, which boosts the G8X's versatility, while intuitive gestures make it easy to manage content across both panels. And if you'd rather forgo the additional real estate, you can always remove the case.
Our one major gripe with the G8X pertains to its cameras, which range from decent to subpar, depending on the scenario. The 6.4-inch OLED displays aren't particularly bright either, which harms outdoor use. But if you're the kind of user who thinks they can benefit from the G8X's unique proposition, there's absolutely nothing out there like it — unless you feel like forking over $2,000 for a fragile foldable, that is.
Read our full LG G8X ThinQ Dual Screen review.
9. Samsung Galaxy A50
An excellent Pixel 3a alternative for less
Screen Size: 6.4 inches | Android Version: 9 Pie with OneUI | Processor: Exynos 9610 | Cameras: 25 MP, 8 MP and 5 MP (Rear); 25 MP (Front) | RAM/Storage: 4 GB/64 GB
Best display for the price
Design reminiscent of flagships
Low price
Solid performance
Camera falls short of Pixel 3a
Battery life is underwhelming
Verizon and Sprint exclusive
Feels a little cheap
The Galaxy A50 marks a big step forward for Samsung's non-flagship phones. Despite being less than half the price of the Galaxy S10e, the A50 still has a triple-lens camera system, massive 6.4-inch AMOLED display, a near bezel-free design with tiny notch for the selfie cam and good enough performance from Samsung's Exynos 9610 silicon.
The A50 is a great alternative to the Pixel 3a for $50 less than Google's phone, especially now that Samsung has began selling the handset unlocked. So long as you can stand losing the Pixel's remarkable flagship-caliber camera, longer battery life and better software support, the latest cheap Galaxy is a steal among this list of the best Android phones, and has us very excited for the future of Samsung's budget offerings.
Read our full Samsung Galaxy A50 review.
10. Moto G7 Power
The longest-lasting budget phone
Screen Size: 6.2 inches | Android Version: 9 Pie | Processor: Snapdragon 632 | Cameras: 12 MP (Rear); 8 MP (Front) | RAM/Storage: 3 GB/32 GB
Incredible battery life
Solid performance
Quality software
Low price
Works on all networks
Bland design
Not great for gaming
Low-res display
The Moto G7 Power isn't the flashiest smartphone in the world, but when you last 15-and-a-half hours on a single charge in our battery test, well — some users would rightfully argue that's important than a killer design. Indeed, the G7 Power is an excellent budget handset with good enough performance from a serviceable Snapdragon 632 chipset, along with easy-to-use, pure-Android software with a few Motorola enhancements thrown in for good measure, like a really intuitive gesture navigation system.
We actually prefer the $249 G7 Power to the slightly more premium $299 Moto G7, because of the cheaper variant's beefier battery and lower price. And despite the fact that the G7 Power features a bit less RAM, it doesn't feel any slower than the pricier model. A more consistent camera and higher-resolution display would have been nice, but where it counts, the G7 Power is an endurance workhorse on a shoestring budget — and that's reason enough to earn it a mention among our best Android phones.
A successor to this phone, the Moto G Power, is coming later in the spring. It retains the 5,000 mAh battery and $249 price, while getting a bigger display, a third rear camera and a slight processor bump.
Read our full Moto G7 Power review.
How we test smartphones
Every smartphone Tom's Guide evaluates is tested for days in real-world use cases and benchmarked with a gamut of performance-measuring apps. We use a light meter to ascertain display quality data, like brightness and color accuracy, and our proprietary battery test determines longevity on a charge by endlessly streaming webpages over an LTE network.
MORE: Best Smartphones — Here Are the 10 Best Phones Available
We explore the software, test gaming performance and conduct live camera comparisons with rival handsets — and each of these factors play a part in our comprehensive verdict.
What smartphones cost
Smartphones today range from double to even quadruple digits in terms of price, though most phones below $200 typically make more sacrifices than they're worth. Phones under $600 tend to lack the fastest processors, quality cameras and high-end features like wireless charging, in-display fingerprint sensing, edge-to-edge displays, water resistance and secure facial recognition. The more you spend, unsurprisingly, the more of these features you get. And while many "flagship" smartphones fall in the $800 to $900 range, some of the more luxurious, range-topping models — like the Galaxy Note 10, Galaxy S10 5G and Pixel 4 XL — can extend well above the $1,000 mark, depending on the memory configuration. Thankfully, quite a few entries on this list of the best Android phones come in at various price ranges. Still, if you're low on funds, be sure to check out our best Galaxy S10 and S10 Plus deals.