Whether you're training for your first 5K or your next marathon, the best running apps on the market will help you keep track of your training. Most of the best running apps will connect to your running watch or fitness tracker, or be used from your phone to track your run's distance, time, and calories. As well as recording all of the essential data, they can be used as a way to connect with other runners, provide advice, and receive motivation.
The world of running apps can seem overwhelming, and finding the right one for you can be costly. Like a class at the gym, there's no one-size-fits-all running app, and each has its own pros and cons to suit different runs. To simplify the process, we've filled our phones up with some of the most popular running apps on the market to help you click download on the best one for you.
Whether you want an app that gives you a training plan that'll let you smash your PB at your next half marathon, or one that turns your daily run-commute into a game we've found something for everyone on this list. So download, lace-up, and let's go find the best running app for your needs, whether you run outside or on a treadmill.
The best running apps for Android and iOS
Best running app for training plans
1. Runna
If you're gearing up for a race and looking for a personalized running plan, without the cost of a 1:1 coach, Runna is for you. Created by running coaches Ben Parker and Steph Davies, Runna has training plans for 5K-ultra-marathon distances and tweaks them depending on your running level.
During testing, we were impressed with the easy-to-use interface, and how the app breaks training down into easy-to-understand sessions. You can also easily download the sessions onto your running watch, as the app easily syncs with Garmin, Coros, and Apple Watches.
This isn't an app for runners who just want to track their running progress — it's built around following a training plan. That said, if you're the kind of runner who enjoys ticking days off when training for a race, this is definitely an app you'll find motivating. Our fitness editor used Runna for 16 weeks to train for her fifth marathon and ended up taking 14 minutes off her PR, but most importantly, she got to the startline injury free.
Runna won our Best Running App award in the 2023 Tom's Guide Fitness Awards because we were so impressed by the plans, and how easy the app was to use. It's extremely motivating, with the sessions clearly marked each week along with helpful pointers from coaches
Read our full Runna app review here.
Best running app for tracking your training
2. Strava
If you need people around you to keep you motivated, Strava is the app to download right now. The community part of the app allows you to follow your friends, running frenemies, and work colleagues and even set up group challenges, like fastest 5K or longest monthly mileage.
That said, if you're not a competitive runner, don't let this put you off. Strava has all the running tracking features you'd expect - from running speed and distance travelled, to more in-depth performance analytics and weekly miles.
Strava supports a variety of running trackers in addition to Wear OS devices and Apple Watch. (Just make sure you opt out of the location tracking features if you happen to be around restricted areas.)
There are also handy features like Strava Beacon, which are designed to keep you safe, by allowing your friends or family members to track your live location on a run.
Strava supports a variety of running trackers in addition to Wear OS devices and Apple Watch. (Just make sure you opt out of the location tracking features if you happen to be around restricted areas.)
Alongside the free version of the app, Strava has a paid-for membership, named Summit. Strava Summit gives you access to more features, such as more in-depth race and performance analysis and the Strava maps feature, which allows you to easily find route suggestions from your current location. Strava Summit costs $5.00 per month or $59.99 per year.
Read our full Strava app review here.
Best value running app
3. Nike Run Club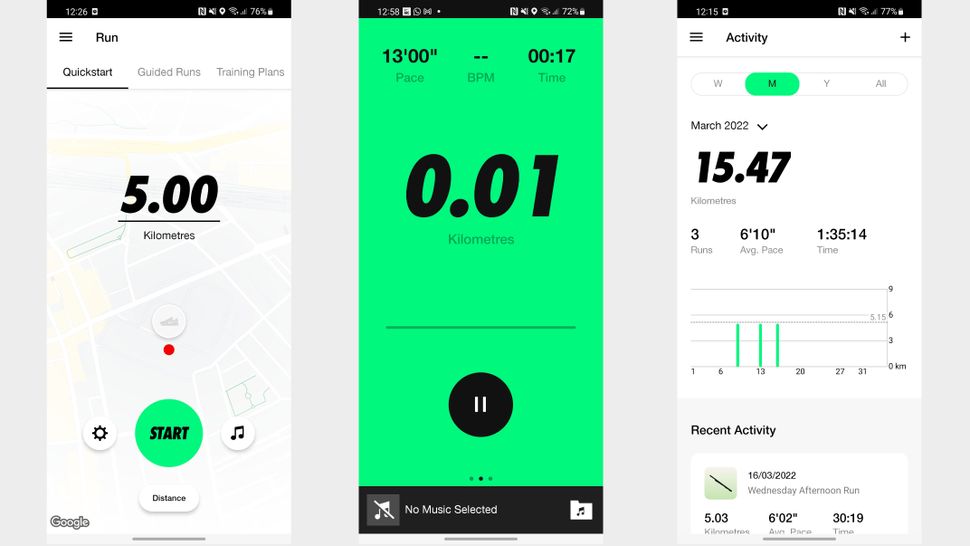 The Nike Run Club app is a completely free running app that allows you to track your runs, tune into coached runs, and connect with runners in your local area. The breadth and depth of this free content feels generous, especially when you consider that Strava now hides this kind of stuff behind a paywall. Occasionally, some of the narration veers into being cheesy, but during testing, we found the upbeat run coaches were a solid source of encouragement.
Designed for beginners and veteran runners alike, the app is an all-around run tracker, music player and social networking tool for runners. The app measures a variety of metrics such as your pace, distance run and mile splits; it also includes a variety of coaching plans that adapt to your fitness goals and progress.
Once you're done with your run, you can share your details complete with photos, stats and stickers, and compare your progress with other runners. In addition to the built-in music player, the app also allows you to listen to audio cheers sent by friends, as well as encouragement from Nike's pro athletes.
Read our full Nike Run Club review here.
Best running app for map building
4. Map My Run by Under Armour
Map My Run, now developed by Under Armour, uses the GPS and other sensors in your phone to track and map your running course, time, speed, and total distance traveled.
The app displays both your real-time stats and your end-of-run totals. Useful extras include support for a variety of fitness trackers and heart rate sensors, Wear OS support and nutrition tracking. A premium subscription provides voice coaching and location sharing and removes ads.
Another cool feature now that the app is developed by Under Armour is that newer Under Armour running shoes will connect to Map my Run via Bluetooth, allowing your shoes to sync your running data to the app the second you step back through the front door.
Enjoy other activities besides running? You'll find separate apps for cycling, walking and general fitness from Under Armour in both Google Play and Apple's App Store.
Read our full Map My Run app review.
Best running app for finding routes
5. Runkeeper
A perennial favorite among runners, Runkeeper uses your phone's GPS to track your running, cycling, hiking and other distance activities. The app records your pace, distance, total exercise time, calories burned and other useful metrics, while delivering a variety of training plans, complete with reminders and gamified challenges.
Users can go freeform or download and follow popular running routes. You can measure your progress and workout history, as well as sync with numerous other apps and services and receive detailed reports of your tracked activity.
Runkeeper also works with a variety of smartwatches and fitness devices such as the Apple Watch and Wear OS devices.
Read our full Runkeeper app review.
Best running app for treadmill runners
6. Peloton
If you're a runner who prefers to clock your miles indoors, finding an app that makes treadmill running more fun can be a challenge. The good news? The Peloton app can be used on all treadmills, not just Peloton's own Tread, and it's got loads of great on-demand and live classes for runners to choose from.
The main plus with the Peloton app is its trainers - from Becs Gentry to Chase Tucker. There are themed runs for runners who want to have fun, we particularly loved the Disney run, and you can tailor the runs by time or your goal. The sessions were extremely motivating and were easy to follow even using an iPhone propped up against the screen of the treadmill.
In a recent update, Peloton has also added outdoor running classes to the app, so if you're a runner who loves to take your training outside, you can follow an audio session from one of your favorite trainers. It's all of the same motivational chat and music, but without the Tread.
Peloton offers a month's free trial for their app, which is a fantastic amount of time to really test its different features (there are cycling and strength training workouts on there too). After that, it'll cost $12.99 per month.
Read our full Peloton app review, and our Peloton Tread review here.
Best new running app
7. Stride
Relatively new to the running app market, Stride allows you to track your runs and walks via your phone's GPS and play against other users nearby to control the biggest territory. You can play with neighbours or friends for champion status, and you'll get rewarded for determination over speed.
This isn't the best app for serious runners - there are no training plans or competitive running metrics, but if you want to make running with your local running club more fun, it's a cool way to do that.
There's a 7-day free trial when you download the app, after that it's $3.99 per month. There's also a yearly subscription that starts from $22.99 per month.
Read our full Stride app review.
Best running app for Apple watch wearers
8. Apple Fitness Plus
Another one for treadmill runners, the Apple Fitness Plus subscription has a number of treadmill workouts to keep you busy. It's tough to choose between this and Peloton, we found the Peloton app slightly more user-friendly but loved the lively Hip Hop sessions on Apple Fitness Plus and the fact you get a three-month subscription free when you buy an Apple Watch.
The sessions are divided up by time and music, so if you've only got 10 minutes to spare, that's enough to get a sweat on. There are not the same live workouts as there are on the Peloton app, but Apple has announced that group classes will be rolled out onto the platform later this fall.
Unsurprisingly, Apple Fitness Plus is only available on Apple devices. Apple Fitness Plus costs $9.99 for a month or $79.99 for a year.
Read our full Apple Fitness Plus review here.
Best virtual running app
9. Zwift
If you find yourself doing a lot of exercising at home these days, Zwfit can help you change up your surroundings while you shelter in place. And the mobile app even adds a little gamification to your runs as part of the bargain.
With Zwift, you can take your runs to virtual courses, while staying on your treadmill. Along with the different courses, you'll run alongside other people, using their times for encouragement or competition.
You'll need a compatible treadmill and foot pod to make Zwfit work — the company lists compatible devices on its website. But the run aspect of Zwift is free to use. (Zwift also works with cycling, but after a 7-day trial, rides require a $15 monthly membership.) If you've got the right equipment, Zwfit offers a unique way to get more out of your at-home runs.
Read our full Zwift app review here.
Best running app for Garmin users
10. Garmin Connect
If you own one of the best Garmin watches, Garmin Connect is an excellent training tool. Once you've successfully synced your watch to the Garmin Connect app, the first thing you'll see is the My Day screen, which shows you all of your data from the past 24 hours. You can expand this to see more data, but it'll include your: resting heart rate, intensity minutes, calories burned, respiratory rate, activities, steps, sleep, stress level, and calories.
As well as joining challenges, and downloading a training plan onto your watch, you can use Garmin Connect to drill down into the data of your workouts. If you click on a run, you'll be able to see your time, distance, and calories, as well as more in-depth data on your pace, speed, timing, heart rate, stamina, and more. Compared to Fitbit and Apple, Garmin Connect gives you a huge amount of data, without asking you to pay an additional monthly fee.
Depending on which watch you buy, you'll also be able to use the app to access Garmin's advanced training metrics. Under the Performance Stats tab of the Garmin Connect app you can see your Training Status, VO2 Max, Race Predictor, and Training Readiness Score, amongst others. Clicking into each tab gives you more data, as well as more information about what each metric means — you can find out more by clicking on the Help section in the top right corner when you're in a data screen.
Here's how to use Garmin Connect
Download Garmin Connect: iOS, Android
How to choose the best running apps
Most of the apps featured here are free, though a few offer subscriptions that deliver more advanced features, such as guided workouts, location sharing and training plans. You can decide if these extra features are worth the recurring cost or whether you can make do with the free tier. (Some free apps are ad-supported, so you'll have to decide if that's too much of a nuisance.)
As we've noted, different running apps focus on different things. So choosing the best running app for your needs depends heavily on what you want to use the app for — Tracking your stats? Mapping your runnings? Playing music that complements your workout? — and picking the one that ticks all those boxes.
If you do opt for an app that maps where you run, check out that app's privacy policy to see where that data is stored and who has access to it.
How we test the best running apps
By running with them! We've downloaded and used all of the apps on this list for at least 30 miles to find out more about how they work, and who they are best for. We looked at how easy the apps were to download and use, whether they were compatible with most of the best running watches on the market, and how motivating they were on days where we just didn't want to run.