I won't sugar-coat it – free iPhone VPNs quite simply can't match the top dogs when it comes to connection speeds, content unblocking, and even – in some cases – basic privacy. However, there are a few free VPN services for iPhones that are reliable in a pinch and will, at the very least, keep you safer online.
Me and the Tom's Guide team are constantly putting VPNs under the microscope, with research and hands-on testing, determined to figure out which services actually live up to their claims – whether they're premium providers or freebies. If you've already searched the App Store for a free iPhone VPN, you'll have seen countless providers promising the world alongside the best VPNs in the industry. However, I highly recommend you don't download the first free service you see. Do your own research and make sure your chosen provider is recommended by a trusted source.
Why? Well, if a service's privacy and security credentials haven't been verified, the VPN you're trusting to protect your data could actually put it at risk. My top picks balance proven privacy, performance, and sleek iOS apps – so keep scrolling to see which VPNs you can count on to keep your Apple device safe.
The best premium iPhone VPNs at a glance
If you want the very best experience, I recommend picking up a paid provider. The three options below span a range of price points, with the premium ExpressVPN being my #1 choice, through to Surfshark as a great-value cheap VPN that should cover all of your needs.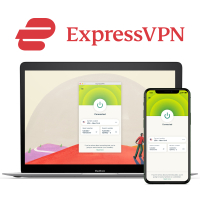 ExpressVPN – try the best VPN risk-free for 30 days
ExpressVPN is my overall favorite, thanks to its impeccable privacy credentials, intuitive apps for all devices, and great performance when it comes to unblocking censored and geo-blocked content.
A 30-day money-back guarantee gives you plenty of time to take the VPN for a test drive. If you fancy picking up a plan, you can claim an extra three months free with a 12-month subscription.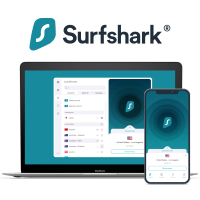 Surfshark – the best-value iPhone VPN on the market
If ExpressVPN is a little pricey, but you still want a fully-featured service, Surfshark is an awesome choice. It's lightning-fast and unblocks pretty much any streaming service you point it at – and its iOS app is super simple to use.
For less than $2.50 a month you'll get unlimited connections to share with friends and family, and 24/7 access to live chat support if you need it. You'll also be covered by a 30-day money-back guarantee – so you can trial Surfshark in your own time.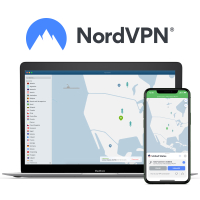 NordVPN – a top dog that's great for streaming
NordVPN has become a household name thanks to its sponsorships and is another paid service well worth considering. With over 5,000 servers, great streaming power, polished apps, and incredible encryption, it's a reliable service that can do it all.
At around $3-4 a month it's a healthy middle ground between ExpressVPN and Surfshark – and again, make a claim within 30 days and you'll get every penny back.
Recent updates
I've incorporated the results from the most recent Tom's Guide reviews in this page – and given the overall structure and layout a revamp, so it's easier than ever to find a free iPhone VPN that works for you.
The best free iPhone VPN apps in 2023
If you're dead set on bagging yourself a free iOS VPN, I'd highly recommend that you choose from the providers below. In my testing, they've all proven to be safe, secure, and quite capable when it comes to daily browsing. Some can even unblock streaming sites, and while they can't match up to their paid rivals, most offer a way to upgrade to a fully-featured premium plan if you find out you enjoy the basic product.
The best free iPhone VPN overall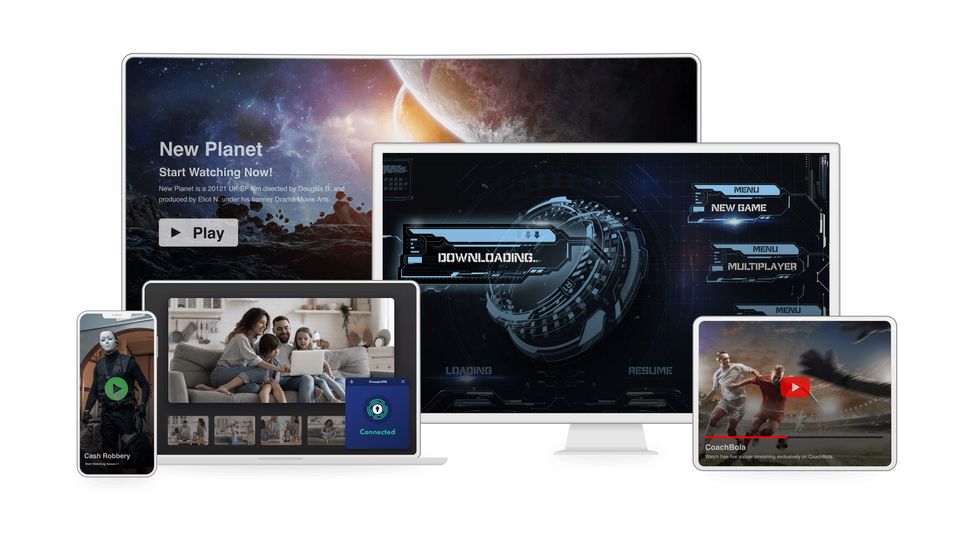 Subscribe if:
✔️ Privacy is your main concern. PrivadoVPN's free plan comes with some impressive tools, like split tunneling and a kill switch.
✔️ You want a speedy service. Clocking in at 350 Mbps, PrivadoVPN isn't much slower than a paid service – and blows most other free VPNs out of the water.
✔️ You need a free VPN that works with Netflix. PrivadoVPN is the only free VPN that unblocked Netflix (and other platforms) during my testing.
Avoid if:
❌ You really need unlimited data. Technically, PrivadoVPN offers unlimited usage, but going over 10GB a month restricts you to a sluggish 'emergency server.'
❌ You want straightforward apps. PriavdoVPN's iOS app works well, but it's not quite as polished as Proton VPN.
Bottom line: ⭐⭐⭐⭐⭐
While PrivadoVPN's free plan doesn't stack up compared to premium alternatives, it's an oustanding free service that you can count on to stream, secure your data, and work seamlessly with your iPhone.
A fairly new entry in the VPN sphere, PrivadoVPN has made a name for itself with its awesome, and safe, freemium PrivadoVPN Free plan – and it comes with more features than you'd expect.
PrivadoVPN Free offers 10 GB of high-speed data a month, which is pretty generous and should be enough for most users – and comes in handy if you rely on your iPhone for sending emails on the go or when you're traveling for work. If you use up your 10 GB, you'll be able to use an emergency server, albeit at around 1 Mbps. PrivadoVPN's full speed peaks at around 350 Mbps – faster than some paid VPNs, and likely much faster than your mobile data.
▶ Sign up to my #1 free VPN PrivadoVPN
In my PrivadoVPN Free review, I found that its iOS apps are pretty basic. The good news is that this makes them easy to use, especially for VPN newbies, but advanced users might wish for a little more customization.
You'll get access to a full security toolkit, however, including a kill switch that'll leap into action and block your traffic if the VPN connection drops. A handy split tunneling feature lets you pick and choose which apps and sites use the encrypted VPN tunnel and which don't. On a related note, PrivadoVPN doesn't pull any punches when it comes to deterring nosy third parties and cybercriminals, using industry-standard AES-256 encryption.
PrivadoVPN's most impressive party trick is its reliability as a streaming VPN. In my testing, I was able to unblock Netflix US, Prime Video, BBC iPlayer, Disney+, and more. It's the only free provider that managed to achieve this, and while I was initially skeptical that this would last, it's been steadfast for over a year. It's a great achievement for a freebie and sets it apart from the crowd.
It is worth mentioning that PrivadoVPN hasn't undergone an independent audit of its servers or privacy policy yet. That's disappointing, and something I'd like to see rectified, but I didn't find any red flags in my testing to indicate that it's in any way unsafe.
Swipe to scroll horizontally
PrivadoVPN Free: key review metrics

| Attributes | Comments | Rating |
| --- | --- | --- |
| App design | Straightforward design that's missing a few bells and whistles | ⭐⭐⭐⭐⭐ |
| Privacy and security | Tough encryption and a zero-logs policy, but no audit | ⭐⭐⭐⭐ |
| Ease of use | Ideal for VPN newbies thanks to an intuitive layout | ⭐⭐⭐⭐⭐ |
| Performance | Faster than most free VPNs | ⭐⭐⭐⭐ |
| Unblocking | Unblocks an astounding amount of content for a free VPN | ⭐⭐⭐⭐⭐ |
| Support | Agents are helpful, but the support site could use some TLC | ⭐⭐⭐⭐ |
The best for security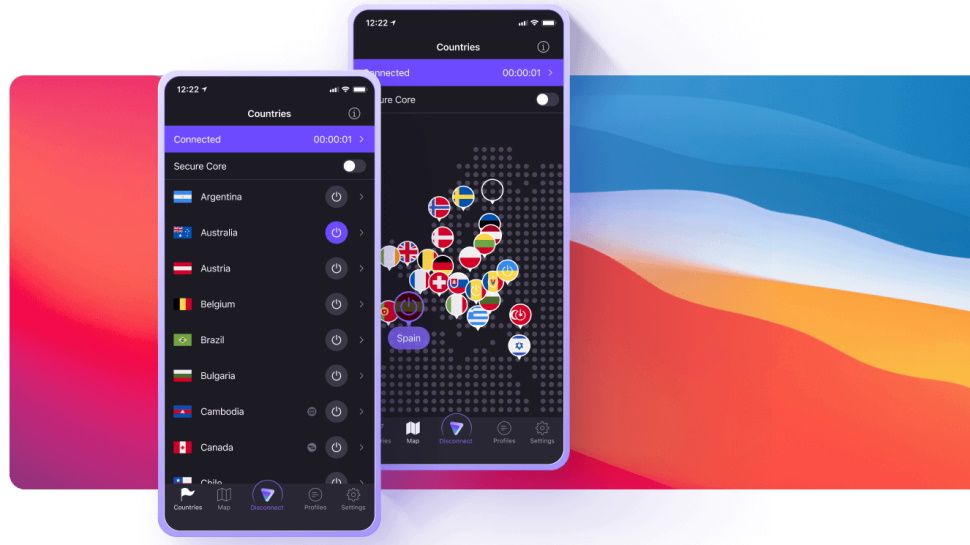 Subscribe if:
✔️ Limitations are a deal-breaker. Proton VPN really, seriously, offers unlimited data with its free plan.
✔️ You want a security-conscious service. Proton VPN's apps are all open source, so you can check out the code for vulnerabilities if you fancy it.
✔️ You're also a Linux user. If you've got a Linux device as well as in iPhone, you'll be glad to hear that Proton VPN offers a full GUI.
Avoid if:
❌ You need a wide choice of locations. Unfortunately, Proton VPN only gives users access to servers in three countries.
❌ You want to stream. Proton VPN can't match PrivadoVPN when it comes to unblocking geo-restricted content.
Bottom line: ⭐⭐⭐⭐½
Proton VPN Free has carved out an impressive niche in the industry as a privacy-focused service that's more reliable than ever. You might be better off with PrivadoVPN if you're an avid streamer, otherwise, Proton VPN is an awesome pick for iPhones.
In my review of Proton VPN Free, I was impressed right off the bat by the fact that the service actually delivers on its promise of unlimited data. It's pretty decent in terms of connection speeds, too, reaching peaks of 380 Mbps during my most recent tests. So, with this speedy service, you'll have no trouble scrolling through your TikTok 'For You' page or catching up on your YouTube favorites – whether you're using your iPhone on the go or at home.
I've always enjoyed the Proton VPN apps – the dark mode has a distinct Cyberpunk-vibe that's pretty awesome, in my humble opinion. On iPhone, they're easy to use, and you'll have no problem swapping servers or heading into the settings to do some customizing.
▶ Sign up to Proton VPN Free now
Proton VPN is an incredibly privacy-conscious provider, and its free plan comes packed with the same basic security features as its premium plan. Super-secure encryption ensures hackers don't intercept your data, and you'll even be able to take your pick of protocols (though I'd recommend sticking to WireGuard if you're prioritizing speed.) A reliable kill switch and a zero-logs policy round out the offering nicely, and Proton VPN even invited third-party auditors to comb through its policy.
I'm also glad to see that Proton VPN partnered with Deutsche Welle, a German news broadcaster, to allow free and unrestricted access to its unbiased news coverage. You'll be able to check out the site whether you're a free or paid provider, and regardless of where you are in the world.
However, as you might expect, Proton VPN does have its limitations. Even though its free network coverage just increased from 29 to over 100 servers, these are only located in three countries (US, Netherlands, Japan). So, those looking for a UK or Canadian IP will be left wanting. These also exclude the extra-safe Secure Core servers.
What's more, Proton VPN's free servers don't support P2P sharing, so it's not a great torrenting VPN. Its unblocking abilities are reserved for paid subscribers, too – which is pretty disappointing. So, if you fancy globetrotting on Netflix or any other platforms, you'll have to look elsewhere – or just download PrivadoVPN.
Swipe to scroll horizontally
Proton VPN Free: key review metrics

| Attributes | Comments | Rating |
| --- | --- | --- |
| App design | Proton VPN's makeover has updated and refreshed the UI | ⭐⭐⭐⭐ |
| Privacy and security | Open-source and audited, with plenty of tools to secure your data | ⭐⭐⭐⭐⭐ |
| Ease of use | Not quite as newbie-friendly as PrivadoVPN, but still straightforward | ⭐⭐⭐ |
| Performance | A speedy service, despite being free | ⭐⭐⭐⭐ |
| Unblocking | Only paid users get access to Proton VPN's unblocking capabilities | ⭐⭐⭐⭐ |
| Support | Agents are always happy to help, and online guides are handy in a pinch | ⭐⭐⭐⭐⭐ |
The best free VPN for Mac users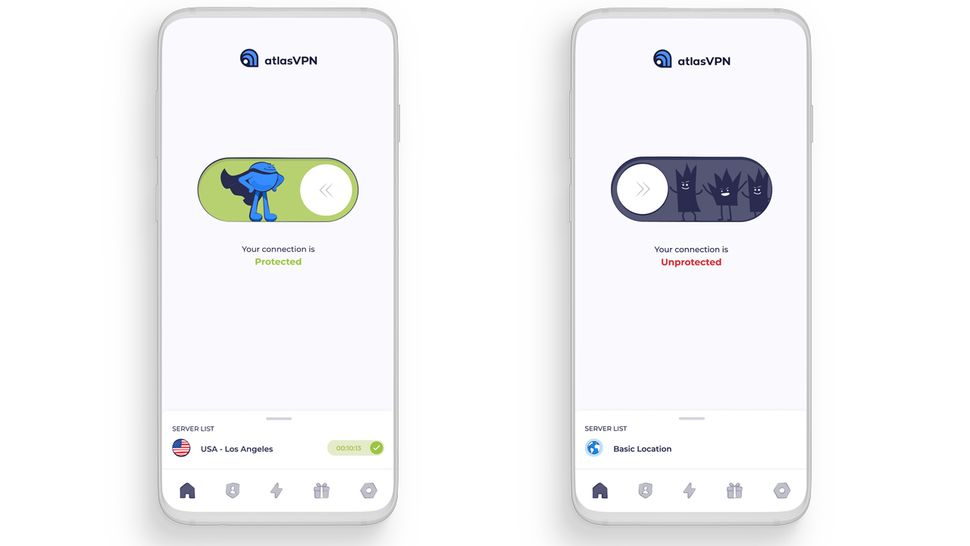 Subscribe if:
✔️ You're a big Disney fan. I was pleasantly surprised to find that Atlas VPN can unblock Disney+.
✔️ You've also got a Mac. Atlas VPN sweetens the pot for Mac users with a 20GB a month data allowance.
✔️ You don't want to be slowed down. Atlas VPN hit speeds of 320 Mbps during my tests, making it one of the quickest free services around.
Avoid if:
❌ You need locations around the globe. Unfortunately, Atlas VPN only has servers in America and the Netherlands, which is a little stingy.
❌ You need a long list of features. While it's great for newbies, VPN veterans might want to look elsewhere for more customizable services.
Bottom line: ⭐⭐⭐⭐
Atlas VPN is a solid option and a good all-rounder, though it has some of the typical free VPN drawbacks. However, it's quick, unblocks Disney+, and won't slow you down – making it well worth a try.
Atlas VPN isn't just a decent cheap option – it has its very own, and very capable, freemium plan, too. What's more, the service was recently acquired by Nord Security, which also owns NordVPN and Surfshark, which means Atlas VPN is in good company.
In my Atlas VPN Free review, I discovered that all of its apps are pretty decent, though there's a slight lack of polish when compared to the likes of Proton VPN. However, the iOS app performs well and is easy enough to use, making the provider a good starting point for total VPN newcomers.
▶ Check out Atlas VPN for free
You'll get a generous 10 GB per month allowance with Atlas VPN, although if you use it as a Mac VPN, you'll get 20 GB. That's great news if you find yourself using your iPhone to send emails with hefty attachments (and want data to spare.) On the topic of devices, Atlas VPN lets you use the service on two at once, so you'll be able to cover another of your Apple gadgets. Bear in mind, though, that unlike PrivadoVPN, once your data is up you need to wait until the start of the following month to keep using the software.
The server coverage is pretty limited, too – Atlas only has three locations in two countries, America and the Netherlands. That might be enough for some users (especially if you're from the States or the land of tulips), but doesn't stack up compared to PrivadoVPN. If hopping across digital borders is a priority of yours, you'll need to look elsewhere.
Atlas VPN performs better when it comes to speed, however. The provider managed to top out at 320 Mbps during my testing – which puts it right at the top of the list of the quickest free VPNs on the market. It also means that Atlas VPN won't slow you to a crawl when you're scrolling through Twitter, Instagram, or Facebook.
I'm glad to see that Atlas VPN ticks all the right boxes in terms of privacy, too. You'll be covered by tough encryption and a kill switch, to prevent your data from leaking if the connection drops. There aren't a ton of additional features, though this is par for the course with a free service, and no support for split tunneling or port forwarding. The good news is that Atlas VPN's iPhone VPN app has been audited, though the service in general hasn't invited any external parties to really put it under the microscope... yet.
Swipe to scroll horizontally
| Attributes | Comments | Rating |
| --- | --- | --- |
| App design | Fairly basic compared to its competitors | ⭐⭐⭐ |
| Privacy and security | Industry-standard encryption and a kill switch | ⭐⭐⭐ |
| Ease of use | The apps aren't quite as smooth as my other picks | ⭐⭐⭐ |
| Performance | Impressive speeds for a free service | ⭐⭐⭐⭐ |
| Unblocking | Unblocks Disney+, which is a great bonus | ⭐⭐⭐⭐ |
| Support | Lack of live chat means you'll have to make do with support articles | ⭐⭐⭐ |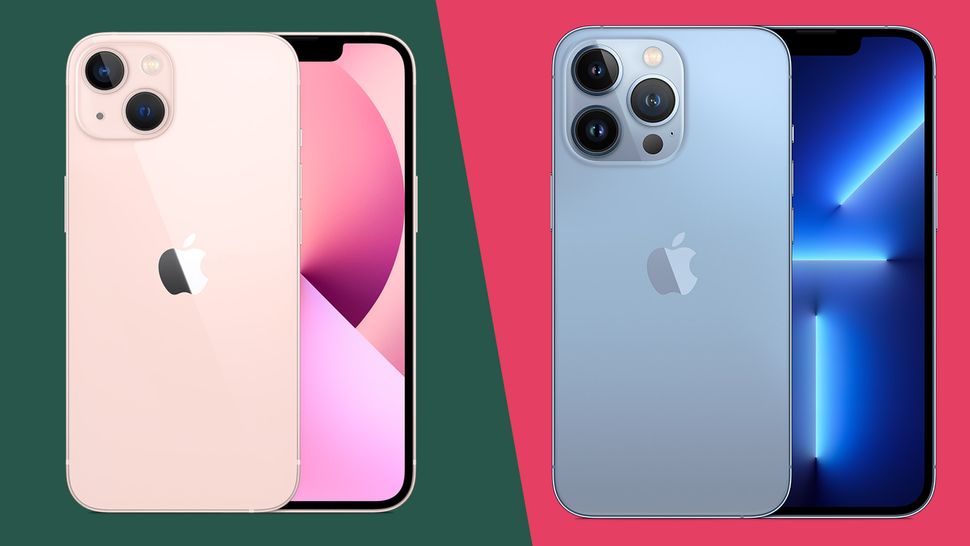 Complete industry standings
Swipe to scroll horizontally
| Provider | Header Cell - Column 1 | Summary |
| --- | --- | --- |
| 1. ExpressVPN | ⭐⭐⭐⭐⭐ | Our choice of the best VPN with unrivaled privacy features and easy-to-use apps. |
| 2. NordVPN | ⭐⭐⭐⭐½ | The perfect choice if you want a security suite beyond VPN. |
| 3. Surfshark | ⭐⭐⭐⭐½ | Our choice as the best cheap VPN, and also the fastest I've tested. |
| 4. Private Internet Access | ⭐⭐⭐⭐½ | Excellent for Linux thanks to a dedicated GUI, and the no-logs policy has been proven in court twice. |
| 5. Proton VPN | ⭐⭐⭐⭐ | Great paid and free plans, with the option of a wider security suite. |
| 6. CyberGhost | ⭐⭐⭐⭐ | Easy to use, fast, and cheap – a good choice for newbies. |
| 7. Windscribe | ⭐⭐⭐⭐ | Free plans standout more than paid, and the Chrome extension is very useful. |
| 8. IPVanish | ⭐⭐⭐⭐ | An established provider that's still top-tier, but lags behind the best |
| 9. Mullvad | ⭐⭐⭐⭐ | A very privacy-focused VPN that even accepts cash, but don't expect to stream with it. |
| 10. Hide.me | ⭐⭐⭐⭐ | Fast, and great for those who like to tinker with settings under the hood. |
| 11. PrivadoVPN | ⭐⭐⭐⭐ | The very best free service, with extraordinary Netflix unblocking performance. |
| 12. TunnelBear | ⭐⭐⭐½ | Simple and effective, but too basic for all but the lightest users. |
| 13. Atlas VPN | ⭐⭐⭐½ | NordVPN-owned provider focusing on providing a reliable, cheap product. |
| 14. PureVPN | ⭐⭐⭐½ | Well-known for its incredibly cheap deals. |
| 15. Hotspot Shield | ⭐⭐⭐½ | Speedy VPN with a few interesting features. |
| 16. StrongVPN | ⭐⭐⭐ | Mid-range provider that's making improvements. |
| 17. VyprVPN | ⭐⭐⭐ | Excellent for evading VPN blocks in countries like China, but generally outclassed elsewhere. |
| 18. AstrillVPN | ⭐⭐⭐ | Another provider known for its excellent performance in China |
| 19.AirVPN | ⭐⭐½ | Hacktivist-built provider that sits in the mid-tier. |
| 20. TorGuard | ⭐⭐½ | Useful VPN for torrenting and accessing overseas websites. |
What is a VPN?
A Virtual Private Network (or VPN) is a security tool that'll help you secure your information, and your device, whenever you're online.
How? Well, the VPN routes your internet traffic through one of its encrypted servers. This ensures that it can't be seen or snooped on – not by hackers, not by your ISP, and not even by your government.
VPNs also let you take your pick of servers in different countries. When you connect to a server, your original IP address will be masked and replaced with one based in the same location, so it'll look as though you're there physically, too. This is how a VPN can bypass geo-restrictions and instances of censorship.
Perhaps the most important of all VPN uses is the extra layer of protection that such software will give you when connected to unknown networks like public Wi-Fi. We're all guilty of connecting to these networks when we're on our mobiles, but they're notorious hotspots for hackers looking to snatch your data for their own ends.
How I test VPN services
When it comes to recommending a product that users will entrust with quite possibly every byte of their online life, I have to be absolutely sure that my choices are correct, and thoroughly tested.
Unlike some sites, we don't simply reel off a spec sheet and declare the provider with most impressive claims the winner. Instead, we have a dedicated team in-house that gets hands-on with all the providers listed (and more).
Every 6 months, after scouring the website for new claimed features or changes in policy, we sign up to a plan and install it on a range of devices. The Windows app sees the most rigorous testing, and it's here that we'll try to break the kill switch, ensure any leak protection is working correctly, and measure connection speeds.
The other apps, including the Mac VPN, iPhone VPN, and Android VPN also see comprehensive testing, and we'll check every available setting in every app to make sure it's functioning as promised by the provider.
As we use the apps, if anything appears to be behaving strangely we'll investigate that. We might dig into the source code, or view the contents of its RAM. This general usage stage is also how we make decisions on aesthetics and ease of use – although these are admittedly more subjective.
Then comes the streaming testing. We'll test each VPN with all the big streaming sites from a number of locations to ensure it's working as claimed. As Netflix is still hugely popular and somewhat troublesome when it comes to VPNs, we test the biggest providers every month to make sure my recommendations are still relevant.
Should I use a free VPN?
There's no straightforward answer to this question – it'll all depend on what you plan on using your free VPN for. One of the first things you'll need to keep in mind is that not all free VPNs can be trusted. There are countless instances of malicious free VPN apps used to scrape user data, and plenty of freebies use ads to make their revenue – and we all know how invasive these can be.
Even when an app's security is sound, a free iPhone VPN inevitably comes with some limitations compared to its premium counterparts.
For starters, the majority of providers impose a data limit on their free services. That's going to be an issue if you're after all-day protection or you want to use it while carrying out activities like torrenting or watching videos.
You're likely to experience slower connections, too. That's mainly because the network coverage is generally way smaller. Servers can get overcrowded, or they might be simply too far from your real location to deliver faster speeds, and you'll be slowed to a frustrating crawl.
People are increasingly using VPNs for streaming, too, and you'll have to be ready to make sacrifices here. I've already mentioned data caps, but many free VPNs aren't actually optimized for unlocking streaming libraries. If they do, well, they still can't compare to premium services in terms of reliability.
How to choose a free VPN
Let's face it, the internet can be a downright dangerous place to be – and there are constant threats to user anonymity and net neutrality. Even using your iPhone to connect to the coffee shop Wi-Fi can be majorly risky.
A VPN won't solve all these issues, but it can shore up your security.
Before you install your free iPhone VPN, however, you'll need to keep a few questions in mind – to make sure you're making the right choice.
1. What is its business model? Running a VPN takes money – there's no getting around it. As a result, providers need a stable source of income. That usually comes from subscriptions, but some free providers take the low road and sell user data to third parties that will undermine your privacy. On the other hand, some VPN services use their free plans as a marketing tool to tempt customers into upgrading to a paid plan once they've got a feel for the apps, features, and functionality.
2. What do I lose by going free? You've heard the old saying: 'There's no such thing as a free lunch.' The same is true in the world of VPNs, and you can usually expect free services to lack certain features and tools. Some providers are more generous with their bandwidth caps and server locations, sure, and a handful might even offer P2P-support and split tunneling. If there's a feature you can't do without, however, it might be worth upgrading to a paid plan.
3. Does the provider log anything? Simply put, if your VPN is keeping logs, there's no point using it – not if you're serious about safeguarding your privacy. You can check whether the service is storing user activities by combing through the terms and conditions page or the end-user license agreement. Some providers make these important documents impossible to parse, stuffed with jargon and miles long, trying to hide the weak spots in their policies. The best options out there will erase everything once you end your session and not keep a single log.
4. Can I sign up anonymously? To really maximize your online anonymity, you'll want to look for a VPN that doesn't demand all of your personal details when you sign up. This includes your name, email address, and even information about your physical location. There are even providers out there that'll let you pay for your plan with Bitcoin or cash.
Why is a free VPN good?
Free services make VPN encryption accessible to everyone – regardless of your budget. They're a great way to claw back your privacy and access international content if you're dealing with oppressive censorship, too.
There are plenty of free services out there, and most are compatible with iPhones, but figuring out which VPNs to trust isn't always straightforward. That's why I've rounded up the three stand-outs in this guide – and discussed how they differ to their premium counterparts.
Free iPhone VPN FAQ
What is the best free VPN?
PrivadoVPN claims the top spot in my rankings, thanks to its awesome unblocking power. For folks who need unlimited data, however, you'll be better off with Proton VPN (just be aware that it has server location restrictions.)
Can I stream with a free iPhone VPN?
Free iPhone VPNs might be useful for many things, but for streaming, I'd strongly advise you to check out a premium service like ExpressVPN, instead.
With no data limits and excellent regional unblocking on sites like Netflix and iPlayer, the best paid-for services don't have anything to worry about from the free contenders.
However, from time to time I do see some free iPhone VPNs perform well for streaming. So, if you trust the VPN to be secure, there should be no harm in downloading one to give it a go. At the time of writing, PrivadoVPN is a good bet as a free streaming VPN.
Why do I need a free iPhone VPN?
Despite iPhones being generally more secure against malware and viruses, users put their online privacy at risk every time they access the web.
A free iPhone VPN will especially come in handy if you're often connecting to unsecured public Wi-Fi hotspots, or if you just want peace of mind with a sensitive search once in a while.
For those looking to torrent, stream, or simply after a VPN you can have on all day with no hassle, then a paid provider is your best bet.
Can you get a premium VPN for free?
If you're torn between a free service and a premium alternative, don't worry – a compromise exists. Most of the industry's top dogs come with money-back guarantees and free trials, which allow you to try them in your own time, on your own devices, without risking a penny.
You will have to pay upfront for these VPNs, which could be a major deterrent, but rest assured that you'll be able to claim your cash back without any questions.
Disclaimer
We test and review VPN services in the context of legal recreational uses. For example: 1. Accessing a service from another country (subject to the terms and conditions of that service). 2. Protecting your online security and strengthening your online privacy when abroad. We do not support or condone the illegal or malicious use of VPN services. Consuming pirated content that is paid-for is neither endorsed nor approved by Future Publishing.