Best Android smartwatch: Quick Menu
1. The list in brief
2. Best overall
3. Best for Pixel
4. Best for wellness
5. Best for fitness
6. Best for step counting
7. Best for running
8. Best for battery life
9. Best for outdoors
10. Best under $200
11. How to choose
12. How we test
The best smartwatches for Android range greatly in terms of style, price and functionality. In other words, there's something for everyone.
Whether you have a handset from Samsung, Google or OnePlus, or any of the best Android phones, you'll want to consider the smartwatches below. Some are optimized to work with specific smartphones, but all are among the best smartwatches for Android you can buy now.
Not all of the best smartwatches for Android are made the same, though. Some are sophisticated fitness trackers, while others are designed to make the ultimate fashion statement. A few of these smartwatches even support LTE, so you can communicate from your wrist untethered from your smartphone.
Written by
My name is Kate and I oversee our guides to the best smartwatches, best Android smartwatches, best Apple Watches, best Samsung watches and more. This means I usually walk around like a cyborg with multiple devices on my wrists. I've been testing wearable tech for Tom's Guide for more than 4 years, documenting my experience on the site, on our YouTube channel and on my Instagram.
The quick list
Here's a quick overview of the best smartwatches for Android you can buy right now based on our testing and reviews. In-depth analysis on each of the products can be found further down this page.
View the next 3 products...
Best for running
Best for running
The Garmin Forerunner 265 is the best overall Garmin for most people. It has a bright AMOLED screen, comes in two different screen sizes, has accurate GPS, and advanced training metrics.
Best battery life
Best battery life
The TicWatch Pro 3 Ultra is a rugged GPS watch with up to 45 days of battery life, making it perfect for people who need a smartwatch that goes the distance.
Best for outdoors
Best for outdoors
The Garmin Instinct 2 is an adventure-ready sports watch for the right price. With solar charging for ongoing battery life and waterproofing up to 100m, it's up for the outdoors.
The best Android smartwatches you can buy today
The best Android smartwatch overall
The Galaxy Watch 6 is the best Android smartwatch thanks to design improvements, refreshed built-in apps and added health features. While Samsung's smartwatch lineup has received mostly iterative updates in past years, the Galaxy Watch 6 presents some truly substantial upgrades.
Samsung continues to offer one of the most robust smartwatch collections on the market with not one, but two wearable devices. The Galaxy Watch 6 strikes a balance of sleek and sporty, while the Galaxy Watch 6 Classic elevates style with the fan-favorite physical rotating bezel. Larger displays and a new interchangeable band mechanism make for a more user-friendly design, too. Our comparison of Samsung Galaxy Watch 6 vs. Galaxy Watch 6 Classic can help you decide which is right for you.
Read our full Samsung Galaxy Watch 6 review.
The best Android smartwatch under $200
The Fitbit Versa 3 is a highly capable smartwatch that won't cost you too much. It offers both Google's and Amazon's voice assistant, which lets you do such things as control smart home devices, look up the weather and news, and a lot more. It comes with advanced sleep-tracking features, which, when combined with the Versa 3's ability to monitor blood oxygen saturation levels, could help alert you to conditions such as sleep apnea.
You can also download apps and music onto the Versa 3 itself. We liked being able to leave our phone at home and still listen to tunes during workouts. It even has on-board GPS, so it tracked our walks and runs again without needing our phone.
However, this watch is a generation old; the newer Fitbit Versa 4 has a physical, rather than a capacitive button, but we weren't as enthused about the newer model. At its discounted price, the Versa 3 remains a great value.
Read our full Fitbit Versa 3 review.
The best Android smartwatch for Pixel
The Google Pixel Watch 2 is the best smartwatch for Pixel phone users. A full collection of Google apps and fitness tracking powered by Fitbit's platform make for a compelling smartwatch. In many ways, the Pixel Watch is the best of both worlds, pairing a top-notch Wear OS experience with Fitbit's holistic health-tracking (which is further enhanced with a Fitbit Premium membership.) There are plenty of tools on-board for staying connected and getting active.
But there's some room for improvement: the thick bezels and singular size option will still deter some users in terms of design. Luckily, an improved battery life compared to the original Pixel Watch makes up for it. Plus, we love the reassurance offered by the new Safety Check feature that shares your location with emergency contacts when you might need their help most.
Read our full Google Pixel Watch 2 review.
The best Android smartwatch for wellness
Compared to the original Fitbit Sense, the Sense 2 features an upgraded design, interface and EDA sensor, making for Fitbit's most holistic smartwatch yet. Thanks to advanced health analysis and deep integration with Fitbit Premium, the Sense 2 also sustains an edge in fitness-tracking over many of the best smartwatches for Android on this list.
An update to the stress-detecting EDA (electrodermal activity) sensor plays a large role in the device's success: now called cEDA ('c' for continuous,) the sensor monitors stress levels or heightened responses throughout the day, prompting the user to take action on mood monitoring with Body Response notifications. However, added support for Google Wallet and Google Maps, while useful upgrades, won't be available for the Fitbit Sense 2 at launch. There's oddly no third-party app support, either. Still, for a smartwatch that helps you get in touch with how you feel, the Sense 2 succeeds.
Read our full Fitbit Sense 2 review.
The best Android smartwatch for fitness
The Garmin Venu 3 is one of the best Garmin watches that's both a capable workout companion and stylish lifestyle device. The $449 Garmin Venu 3 maintains Garmin's reputation for thorough fitness tracking and accurate GPS, while having the smarts of mirrored notifications and an on-wrist voice assistant.
Though Garmin still lacks a large third-party app store and continues to steer clear of LTE support, nap-tracking and a new sleep coach work on tracking your rest while daily summaries offer behavioral insights. An abundance of sport profiles, added Recovery Time suggestions, and on-watch interval creation keep you tuned into your activity, too. What's more with a 14-hour battery life, you rarely need to stress about keeping the Garmin Venu 3 charged.
Read our full Garmin Venu 3 review.
The best Android smartwatch for step counting
The Fitbit Versa 4 is the best smartwatch for step tracking based on our testing. We will say it's not the best smartwatch for fitness tracking overall, as it struggles to provide accurate heart rate readings. But if you're looking for something that will get you moving with hourly step reminders and alerts when you've reached your daily goal, this smartwatch is a great choice.
Not only that, the Versa 4 a lovely-looking smartwatch with a slim profile and sleek metallic finishes. It looks very similar to the Fitbit Sense 2, yes, but this is the better choice if you're on a tighter budget or aren't as interested in stress-tracking. The Versa 4 still has reliable sleep-tracking and other perks available via Fitbit Premium.
Read our full Fitbit Versa 4 review.
The best Android smartwatch for running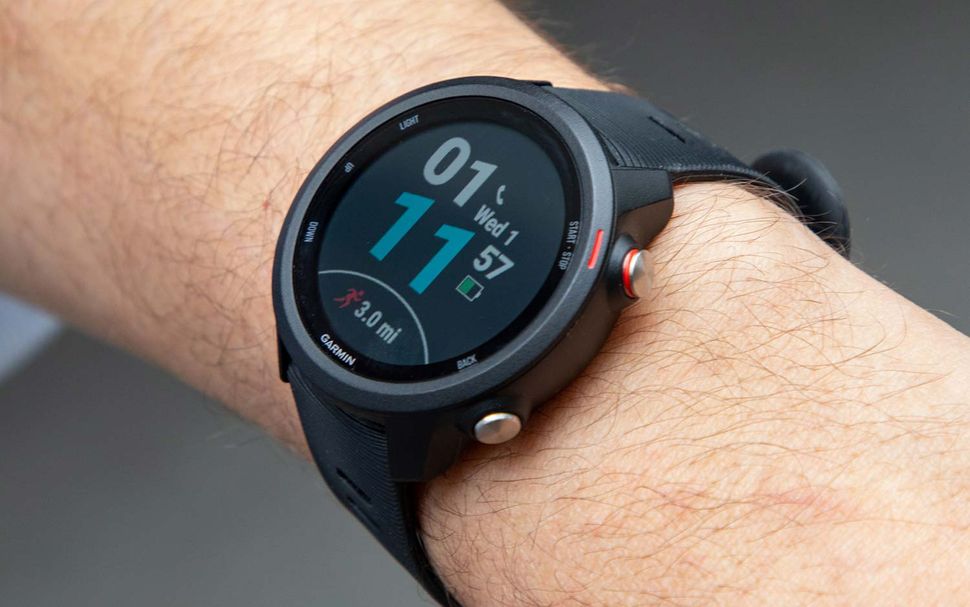 With an accurate GPS, a long-lasting battery, and the ability to track many types of workouts, the Garmin Forerunner 245 is one of the best sports watches. When synced with your Android phone, the Forerunner 245 can send (or cancel) emergency notifications at the push of a button, so you'll have peace of mind wherever your next workout takes you.
The Garmin Forerunner 245 is small and light, so it won't weigh down your wrist during runs or feel uncomfortable during everyday wear or while you're sleeping. And it gets the same fitness metrics as Garmin's latest higher-end GPS watches: Training Status to track progress, Training Load to see workouts over a seven-day period, and Training Effect to measure anaerobic and aerobic. It also supports sleep, stress, blood oxygen saturation, and menstrual cycle tracking. Garmin even offers a Forerunner 245 Music edition, which comes with onboard storage for up to 500 songs and syncs with Spotify and Deezer accounts.
Read our full Garmin Forerunner 245 review.
The best Android smartwatch for battery life
The TicWatch Pro 3 Ultra GPS might not be the most noteworthy Android smartwatch on the market, but it impresses where some of its competitors lack: battery life. Smart design, bright display and solid fitness tracking help round-out the TicWatch Pro 3 Ultra GPS to be one of the best smartwatches for Android you can buy. At $299, the TicWatch Pro 3 Ultra GPS is also more affordable than many of the outdoor sector-centered smartwatches you'll find on the market now.
Again, it puts an emphasis on endurance — this smartwatch lasts up to 45 days with certain settings enabled. Regrettably, the software doesn't run as smoothly as you might see on Samsung Galaxy Watch 5 or the Google Pixel Watch, which both have the latest version of Wear OS 3 (this TicWatch is eligible, but hasn't yet been updated.) Though if you're looking for something that's durable and goes the distance, we think there's a lot to like about the TicWatch Pro 3 Ultra GPS.
Read our full TicWatch Pro 3 Ultra GPS review.
The best Android smartwatch for outdoors
The Garmin Instinct 2 boasts an infinite battery life — yep, it has the power to last forever, charging with the sunlight. There are a few catches, from which features work on solar power, to which versions of the Garmin Instinct 2 even pack a solar panel, to how many hours a day the watch needs to be exposed to sunlight. But beyond that, the Instinct 2 is better than the first Garmin Instinct in almost every way.
It retains it's rugged feel, while borrowing features from some of Garmin's more expensive watches. It also now comes in a smaller 40mm size — the 2S, designed for smaller wrists. Unlike the new Garmin Fenix 7 range, there's no touchscreen, but the five-button functionality is easy to figure out, and use on the move.
Read our full Garmin Instinct 2 review.
How to choose the best smartwatch for Android for you
When looking at the best smartwatches for Android, you have plenty of options, no matter the connected smartphone brand (as long it's not an iPhone, obviously.) That said, if you have a Samsung smartphone, you'll probably enjoy the ecosystem experience of a Samsung-made Galaxy Watch more than a smartwatch from Fitbit or other third-party maker. But if fitness tracking or working out is your priority, a Fitbit or Garmin wearable might be better for reaching your goals.
After that, when picking any smartwatch, you want to get one that fits your wrist comfortably. Those with smaller wrists may find larger smartwatches — ones with case sizes larger than 44mm — bulky and cumbersome. Many of the watches listed above are large, which might make them awkward to wear overnight. On the other hand, the larger displays make whatever is on your screen easier to read.
Lastly, consider style. Some of the best smartwatches for Android look like high-tech fitness trackers while others look like traditional timepieces. If you want something sporty, stick to sleek materials with fewer embellishments. If you want something you can wear on nicer occasions, look for bezels or other eye-catching accents.
How we test the best smartwatches for Android
Whenever an attractive, Android-compatible smartwatch is released, we fully charge it up, then strap it on our wrist for about a week or so to test out all the features.
We gauge how it feels on our wrist throughout our day-to-day, as well as how easy (or not) the interface is to navigate when we need to read notifications, set timers or change other settings. Next, we look at its fitness features, such as heart rate readings, blood oxygen readings, step counts and, when applicable, GPS. How accurate are all these readings?
Finally we consider battery life claims and compare it to our actual use. Some features like continuous GPS use, playing music or enabling an always-on display chew up juice faster than others. We understand that not all smartwatches last two weeks — we just want our experience to match up with the expectations put forth by the company.