A good mattress for side sleepers should offer relief along your shoulders, hips and knees, main pressure points when sleeping on your side. If you're a dedicated side sleeper, look for a medium-firm bed when browsing the best mattresses, as it'll contour and cushion key areas whilst offering proper alignment and support. Memory foam can be a great choice, as it tends to shine when it comes to pressure relief around shoulders and hips.
Based on our research and testing, we think the best mattress for side sleepers is the Helix Midnight, which has been engineered specifically for that sleep style. It's great value for money and our testers found it to be comfy, supportive and breathable. It's also good for pressure relief, adding to its overall comfort.
How we test mattresses
We research and test the latest mattresses for side sleepers to provide expert recommendations, then use our test data to rank them out of 10. Read our mattress methodology for more.
That might not be the right choice for you, though, so below, we've rounded up the best mattresses for side sleepers, using our years of research and first-hand testing of a wide range of beds to help curate our list. Our selections span a variety of price points – and whether you're seeking a budget bed or a high-end model, it pays to be savvy about when you buy, if you can. There are mattress sales all year round, so there are plenty of ways to save.
Every model in our best mattress for side sleepers guide comes with a free trial included too, so you can test out your bed and make sure it's right for you. That should give you peace of mind if purchasing a mattress sight unseen gives you pause, as you'll be able to return it to the manufacturer for a full refund within the trial period if you're not satisfied.
The best mattress for side sleepers to buy now
Why you can trust Tom's Guide Our expert reviewers spend hours testing and comparing products and services so you can choose the best for you. Find out more about how we test.
The Helix Midnight is a highly rated hybrid, and it sits at the top of our best mattress for side sleepers guide, beginning with how it offers the perfect amount of sinkage at the shoulders and hips to keep your spine in neutral alignment when you're snoozing in this position, making it a great orthopedic mattress for anyone who sleeps on their side. Our testers loved sleeping on this mattress and found that it delivered plenty of support for the lower back, too.
At the top of the Helix Midnight mattress, you'll find a layer of blended memory foam that contours to your body and relieves pressure points. You won't feel as though you're being swallowed alive here, as the memory foam isn't hugely thick. It works with various other foams to effectively deliver cushioned comfort. Alongside these foams, the Helix Midnight mattress includes a layer of individually wrapped, 8" pocketed coils, which boost airflow through the mattress as well as limiting motion transfer from you to your partner and vice versa, making this a good choice for those with restless bed-mates. We found the Helix Midnight slept nice and cool, thanks to a range of material technologies designed for that very purpose. The soft-touch stretch cover stays cool to the touch, even during warmer weather, although very hot sleepers may wish to upgrade to the GlacioTex Cooling Cover for an extra $249.
Rated 6/10 on the firmness scale, this sits near the middle when it comes to softness. That medium softness offers the pressure relief you need around your hips and shoulders when lying on your side, but if you also like to lie on your front sometimes this will probably prove too soft for that. It also might not be supportive enough for those over 250lbs. Being too soft is one of the main complaints people have about this mattress, so factor in your personal preferences when deciding whether to buy or not. If you want something much firmer, check out the Awara Natural Hybrid at number 3 on this list.
The mid-range pricing is good value, but there are regular sales to lower the price, and quite often you'll get free pillows bundled in with your purchase. The Midnight also comes with a 10-year warranty, and you can trial it for 100 nights to ensure it is the best choice for you.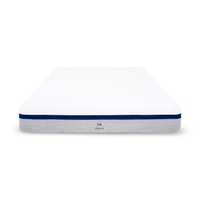 (opens in new tab)
Helix Midnight mattress: was $849 now from $699 + 2 free pillows at Helix (opens in new tab)
Save up to $250 - The Helix Sleep Cyber Monday sale knocks between $150 and $250 off this popular side-sleeper mattress. It's a bigger discount than we usually see, and you get two free pillows added to your order. After discount, you can get a queen size for $999 (was $1,249) in the Helix mattress sale (opens in new tab), and you'll have 100 nights to trial it at home.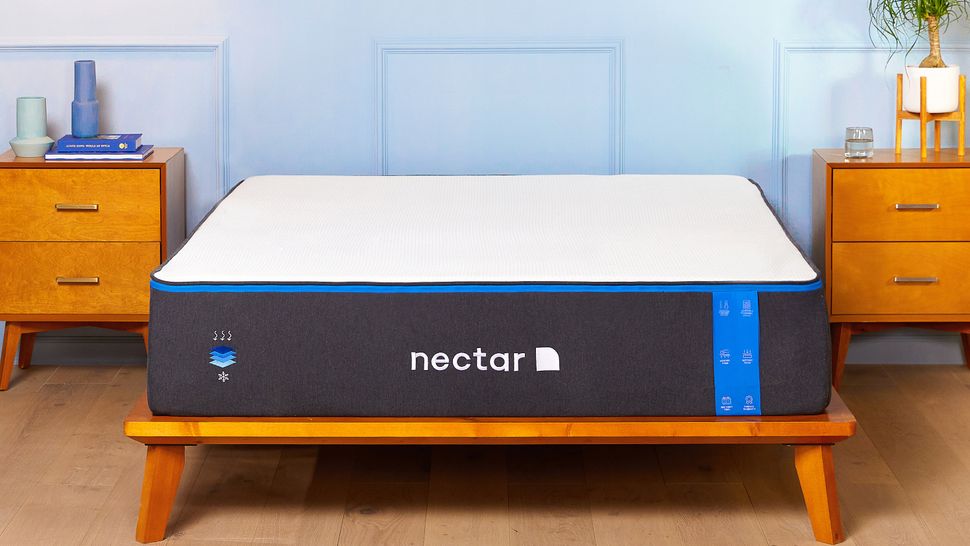 Nectar's popular memory foam mattress offers a cozy sink-in feel but with a more noticeable amount of firmness compared to squishier side sleeper mattresses. This medium-firm bed-in-a-box brilliantly balances comfort and support, and quickly contours to the shape of your body. It relieves pressure on your shoulders, hips and knees, so you won't wake up because you feel sore when sleeping on your side.
You can thank the 3 inches of high-density gel memory foam for that, which Nectar has designed to work in tandem with 2 inches of adaptive response memory foam for extra support. There's also 7 inches of standard foam at the base to provide you with a sturdy sleeping space. So don't expect to sink deeply into this one, but do expect some cozy cradling. The Nectar mattress also does a brilliant job at minimizing motion transfer, so you won't feel your partner (or pet) move around in bed next to you. We also recommend this as a good mattress for back and stomach sleepers, making it a versatile choice overall (it sits at #2 in our best mattress guide).
A quilted poly-blend Tencel top cover helps you sleep cool, and none of our testing panel overheated while sleeping on the Nectar. Reviewers also said there was minimal compression when all of their weight was on the edge of the mattress. So if you're a side sleeper who sleeps on the edge and often runs hot in bed, you should be cool and comfortable on the Nectar.
The Nectar mattress also receives top marks for added extras, thanks to a 365-night mattress trial period and a Forever Warranty, which is unbeatable at this price. There are regular Nectar mattress sales and deals throughout the year; this mattress is basically never sold at MSRP and you'll get a bundle of free sleep accessories included too, making it even better value for money.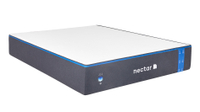 (opens in new tab)
Nectar Mattress: was $599 now from $359 at Nectar (opens in new tab)
Nectar is knocking 33% off all sizes of its popular flagship mattress for Black Friday and Cyber Monday. That drops the price of a twin to $359 (was $599) and a queen to $669 (was $999). No bedding freebies are included here, but you can apply your savings towards any bedding deals you find. There's also a 1-year trial and a lifetime warranty – making this a fantastic all-around value for the price.
The Awara Natural Hybrid is one of the best organic mattresses around. It's designed to support a range of sleeping positions, but during our testing we found it especially comfortable for side sleeping. This was surprising considering it has a firmer feel than the other options in this guide, but it has a lot to do with the addition of a two-inch top layer of natural Dunlop latex, which provides an instant hit of cushioning and contouring comfort for the body, and feels great around the hips, shoulders and knees when you're sleeping on your side.
The use of responsive Dunlop latex foam, along with memory foam, means that the Awara helps to relieve all major pressure points during sleep. However, we would add a caveat here: this might be too firm a surface for lightweight side sleepers, unless of course you prefer to sleep on a firm mattress. There is also a downside to that level of responsiveness: the motion isolation isn't as good here as it is with some of the best mattresses for side sleepers. It isn't a deal-breaker, but it's something to keep in mind if you're sharing a bed and one of you is a restless sleeper prone to switching positions frequently during the night.
There's plenty of naturally breathable materials to keep you cooler during sleep too, with the addition of temperature-regulating organic New Zealand wool and moisture-wicking organic cotton. As the Awara comes from the same parent brand as the Nectar Mattress and DreamCloud Luxury Hybrid, you'll enjoy the same perks: a 365-night trial, with a Lifetime Warranty. You'll also receive up a big bundle of free bedding, making this fantastic value for an organic side sleeper mattress with such a high build quality.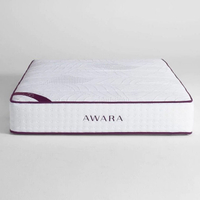 (opens in new tab)
Awara Natural Hybrid Mattress: was $1,099 now from $799 + free accessories bundle at Awara (opens in new tab)
It's rare that you'll find a natural mattress for this price, but most months we see a queen-size Awara hybrid discounted by $300 (which is the case for Black Friday and Cyber Monday), alongside a bundle of bedding that can be worth up to $499. There's a very generous 365-night trial period and Lifetime Warranty too. Our guide to Awara promo codes (opens in new tab) has more info.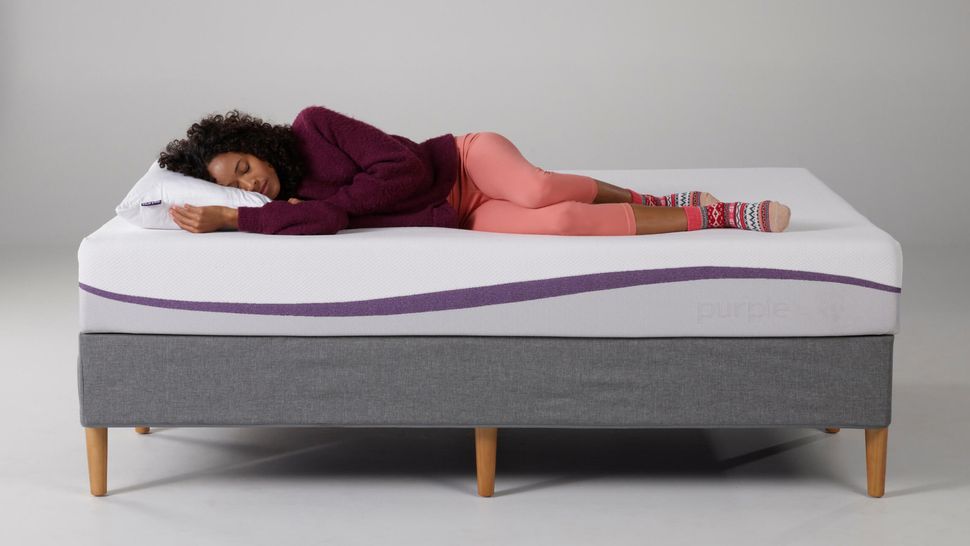 If you tend to wake up with hip and knee pain from lying on your side, the Purple Mattress might well be the best option for you. We tested this mattress across all sleeping positions and it was particularly comfortable for side sleeping, thanks to Purple's own Gel-Flex Grid technology; a durable hyper-elastic gel that flexes under pressure to deliver tailored support where you need it most in this position.
While we found the edge support to be a little weak compared to similar mattresses, there's little else to fault on the award-winning Purple Mattress if you're a side sleeper. The combination of hyper-elastic polymer material and dual layers of foam reduce all pressure on your main impact points, and our testers felt supported from head to toe when sleeping on the Purple Original. It has good airflow too, making it an excellent choice for restless side sleepers who toss and turn at night because they're overheating.
We found it to have a true medium-firm feel, yet it was still comfortable when we slept on our side. We didn't sink in too much at the hips and back, so our spine stayed in neutral alignment and we didn't feel any stiffness upon waking up. Overall we found it supportive, comfortable and cool, and liked the responsive yet firm feel. You'll have 100 nights to trial it at home, with Purple refunding your money if you change your mind during the trial. Keep in mind that if you buy it from Amazon, the returns policy may differ. Read our guide on how to return a mattress to Amazon for more information.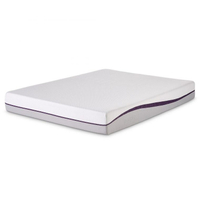 (opens in new tab)
Purple Mattress: was $799 now from $699 at Purple (opens in new tab)
Deals on Purple mattresses vary throughout the year, but for Black Friday there's $100 off any size (meaning you're getting a better deal with smaller sizes). Although you don't get free bedding with your purchase, you do unlock discounts on the Purple sheets, mattress protector and pillow, which could save you up to an extra $100. Purple sometimes ups its discounts for Cyber Monday, so perhaps worth checking again on 28 Nov. Find more info in our Purple mattress sales and deals (opens in new tab) guide.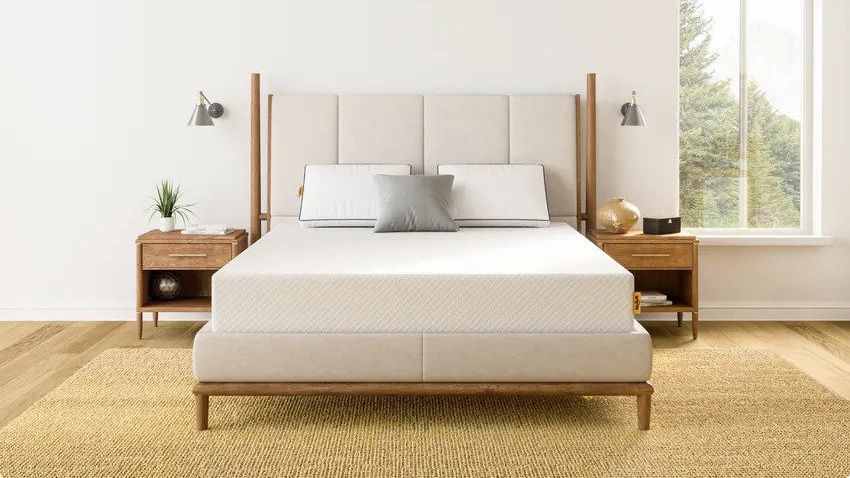 If you're a side-sleeper who tends to run hot, check out the Nolah Original 10". This mattress layers several types of foams to create a balance of support and cushioning, but the most interesting is the upper layer of something called AirFoam. This is designed to dissipate body heat rather than locking it in – something that cheaper memory foams have a nasty habit of doing. That makes the Nolah a good choice for side sleepers prone to overheating, hot flashes and night sweats.
This mattress has also impressed customers with its joint-cushioning properties; something we look for in a side-sleeper mattress. That same AirFoam contains billions of tiny air bubbles that the brand says creates a responsive pressure relief system that should put an end to morning soreness in your hips, knees or shoulders. It won't go flat over time, either – Nolah's AirFoam has undergone the industry standard ASTM Constant Force Pounding Dynamic Test. It sounds pretty intense and it is – the test basically involves assessing how durable a material is by having a robotic arm slam down on it at around 70 times a minute for 100,000 cycles. The Original 10" performed well, losing just 0.03 inches of thickness during the test.
We haven't had a chance to test this mattress out ourselves yet, but a deep dive into existing customer reviews finds the soft AirFoam top layer is popular, and the mattress delivers when it comes to pressure-relief for side sleepers, particularly along the shoulders and hips. Some reviewers even found that pain in their back decreased since they started sleeping on the Nolah Original 10.
A 120-night trial comes included in the price, but if you don't want that, you can choose to remove it and save $50 on MSRP.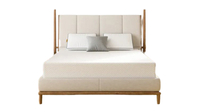 (opens in new tab)
Nolah Original 10" mattress: was $699 now from $549 + 2 free pillows at Nolah (opens in new tab)
The Cyber Monday Nolah mattress sale is offering between $150 and $400 off the Nolah Original 10", reducing the price of a queen size to $899 (was $1,149). You'll get free bedding in the form of two Nolah Squishy Pillows worth $178. This mattress comes with a 120-night trial, but you can opt out and drop the price by $50 if you prefer.
Like the Nolah Original 10" above, the GhostBed Luxe specializes in keeping side sleepers cool. It's a little softer – we rate it a 6 out of 10 firmness in our GhostBed Luxe mattress review. It's well-suited to lighter-weight side sleepers who spend half the night kicking off the covers because they feel too hot to sleep through. It's also a good choice for side-sleeping couples as it provides excellent motion isolation.
Hot sleepers will be drawn to the Ghost Ice fabric quilted cover that helps the surface stay cool to the touch. That, combined with patent-pending core cooling tech, is one of the reasons why the Luxe also features highly in our best cooling mattress guide. The Ghost Ice Fabric is followed by a 1-inch slab of gel memory foam to deliver a cozy body hug feel. After that comes an extra airflow-boosting layer, but we're most excited by the Ghost Ice Layer; it uses thermo-sensitivity tech to sense heat and keep the core of the mattress cool. None of our testers ever felt warm when sleeping on the GhostBed Luxe so the tech absolutely works.
There's an additional 2 inches of gel memory foam further down to relieve pressure points, followed by 2 inches of GhostBounce foam to contour to your body, with a 7.5-inch slab of high-density support foam at the base to help the mattress last for many a year to come. Edge support and motion isolation are also top-notch. Those who want a luxury mattress with a slow-moving feel will find this to be one of the best mattresses for side sleepers without question.
When you're buying a mattress with the word 'Luxe' in the title, you can normally expect a softer feel and a heftier price tag. You get both here, although GhostBed has been running a consistent 50% off sale that makes it more of a mid-range option at the moment. You'll also get a pair of the brand's best pillows, 101 nights to try it out, and a 25-year warranty to back up your purchase.
If you sleep hot and often feel pressure when snoozing on your side, and you want a slightly plusher, softer bed, this is the one for you. Otherwise, for a more affordable alternative, check out the Nolah Original 10" above – or for much smaller budgets, see the Nectar Memory Foam Mattress (at number 2).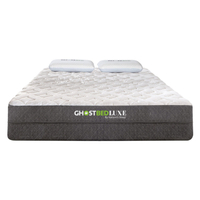 (opens in new tab)
GhostBed Luxe mattress: was $2,395 now from $1,198 at GhostBed (opens in new tab)
At MSRP, the GhostBed Luxe sits at the top end of the market, but regular 50% off sales take that price right down, and you'll get two pillows bundled in for free. With this discount a queen size is $1,485 (was $3,160). There's a 101-night sleep trial, a 25-year warranty and free shipping to take advantage of. Head to our GhostBed mattress sale (opens in new tab) guide for more info.
Side sleepers can benefit from a plush mattress since it'll cushion pressure points whilst keeping their spine aligned. The SleepOvation mattress is certainly one of the softest mattresses we've tried. In our SleepOvation mattress review, we agree with its assessment as a 5.5 out of 10 on the firmness scale. If you love sleeping on a plush mattress, the SleepOvation will tick the right boxes for you.
The SleepOvation mattress was developed by a sleep industry vet with the intention of alleviating back pain. It features freely-suspended 3-inch foam pockets plus a layer of 8-inch carbon steel cushion pocket springs to provide precise support and also move with the sleeper. In theory, this sounds remarkable – but in practice, this will all depend on the level of firmness you require to feel comfortable. You'll only really benefit from the SleepOvation if you like your mattress to curve and dip to shape itself to your body.
One area where the SleepOvation mattress shines is temperature regulation. Its compartmentalized design and knit top cover allow for ample airflow and heat dissipation, keeping sleepers nice and cool. But note that the foam within doesn't have any cooling materials so if it's a proper cooling mattress you'll need, there are other options on this list that will be better suited for you.
The SleepOvation is a luxury mattress with the price to match. A queen retails for $2,399, but right now you can score a 20% discount along with two free pillows. You'll be able to try it risk-free for 100 nights, and if you decide to keep it a 10-year warranty will apply.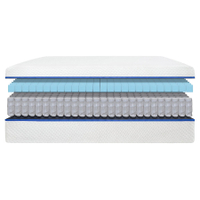 (opens in new tab)
SleepOvation mattress: was $1,799 now from $1,439 + 2 free pillows at SleepOvation (opens in new tab)
The SleepOvation mattress features a unique design that works to distribute body weight and relieve back pain, but all this technology means it has a higher price tag. SleepOvation does offer discounts and free gifts. Right now, a 20% off discount cuts the price of a queen to $2,039 – and you'll get two free pillows, as well. Also included are a 100-night trial, a 10-year warranty, and free shipping and returns.
One our of best budget mattress top picks, the Zinus Green Tea Memory Foam mattress has over 135k reviews on Amazon and a 4.4 rating out of 5 stars, which also makes it one of the best mattresses on Amazon. If you're on a very tight budget or upgrading your guest bed for less, this is the best option for you as a queen size 10" Zinus Green Tea Memory Foam mattress costs less than $450 – a fraction of the cost of the other models in this guide, though closely rivalled by the Nectar.
While we think the Zinus Green Tea Memory Foam mattress is a great budget mattress for side sleepers due to its pressure-relieving memory foam and price, the brand runs a mattress quiz (opens in new tab) (as does Helix Sleep) to help you choose the right mattress depth and size for your sleep needs and body size. That's because the Zinus Green Tea mattress comes in a range of heights from 6" to 12". The former regularly sells out and is a popular pick among people looking to boost the comfort of a pull-out sofa bed.
The Zinus Green Tea Memory Foam 10" mattress starts with a knitted cover, followed by 2.5" of memory foam, then 2" of a comfort foam transitional layer and 5.5" of high-density support foam. A taller Zinus mattress (the 10" or 12" versions) will feel softer than the shorter version, so if you want a softer feeling mattress for side sleepers that contours to your body's curves, those two would be a more comfortable fit. Overall, if you're a side sleeper with little money to spend, yet you want a decent boxed mattress made with CertiPUR-US certified pressure-relieving foam, the Zinus is hard to beat. That said, if you can spend a couple more hundred dollars, we highly recommend the Nectar as our best affordable mattress for side sleepers.
How we test mattresses
The Tom's Guide mattress review process is editorially independent and not influenced by any third parties. Our expert mattress testers sleep on each mattress for at least three weeks - that's roughly how long it takes for your body to get used to a new mattress - and spend hours scientifically testing the performance of each product.
Mattress firmness is subjective, so each lead reviewer also forms a trusted and experienced testing panel made up of people with different sleep needs and body types. We have side sleepers, back sleepers and stomach sleepers, with lighter, average and heavier bodies, who rate each mattress using a specific set of performance criteria.
Together, these processes enable us to produce accurate, well-balanced and data-backed mattress reviews, to help you easily decide whether the mattress you're interested in really is the best choice for you. Read our full mattress methodology for more.
Side-sleeping mattress FAQs
How to choose a good mattress for side sleepers
Side sleepers need uniform pressure relief since their hips and shoulders place increased force on the mattress. It's also important for sleepers in this position to buy a mattress that supports the spine and helps you keep a neutral spine while snoozing. All of the models in this best mattress for side sleepers guide do all of that and more.
Side sleepers shouldn't buy a mattress that's too soft as it could compress the spine and lead to pain. On the other hand, a mattress that's too firm might make those points of the body that hit the mattress hardest – such as your shoulders and hips – feel too much pressure. Also, if you're a side sleeper who prefers to sleep on the edge of the bed, you'll want a mattress that offers robust edge support so that you are constantly supported and don't feel like you're tumbling out of bed.
When buying a new mattress, make sure it has a trial period of at least 100 nights so you can see how the mattress feels as a side sleeper without making a purchase you're stuck with for years to come. All of the best mattress in a box brands offer trial periods, with 100 nights being the average and 365 nights being the most generous. Don't forget to invest in a good quality mattress protector too, because if you don't cover your new side sleeper mattress properly during the trial period, you may not be able to return it should you change your mind.
Also, consider your budget. You don't have to necessarily spend the most money in order to achieve a perfect night's sleep. Browsing regular mattress sales will help you save on a new bed — and you may even avail of other perks like free bedding. Labor Day is coming up, and we anticipate some substantial discounts on our favorite side sleeper mattresses in the upcoming sales. However, Black Friday mattress deals tend to be when we see the largest savings of the year so certainly keep an eye out for those.
If you're in the market for more new bedding, then consider one of the best pillows for sleeping, as well as a cozy comforter made from either down or a cooling down-alternative. For sleepers with anxiety, take a look at our guide to the best weighted blankets.
Are softer mattresses best for side sleepers?
You need to take your own firmness preferences into account, but yes, generally speaking, soft or soft-medium mattresses are the best choice for side sleepers because they offer more cushioning around high impact pressure areas such as your shoulders, hips and knees.
This is vital when you sleep on your side for hours at a time, because you'll be putting continuous pressure on those parts of your body. Without ample cushioning and pressure relief, you'll experience pain which will wake you up from sleep.
Memory foam mattresses are widely regarded as the first choice for side sleepers because they create a cradling, body-hug feel that also relieves all pressure on your body during side sleeping. You can normally find these in soft-medium and medium-firm, both of which would suit side sleepers.
Read more