Brooklyn Bedding Signature Hybrid mattress review in brief
It's hard for a mattress to be suited to all types of sleepers, so it's really nice to see that there are three firmness level options when you order the Brooklyn Bedding Signature Hybrid. Customers can thereby customize the mattress to fit their sleep style and softness preference.
Our reviewer slept on a king sized firm mattress with optional extra Cloud Pillow Top for three weeks to see how it matches up to the rest of today's best mattress models. The Tom's Guide Sleep Editor also had a chance to test out the medium firmness option during a visit to the 3Z Brands showroom and factory. Overall, we found this mattress supportive for sleeping on our back or stomach, with the Cloud Pillow Top providing additional cushioning for a softer sleep experience.
Brooklyn Bedding Signature Hybrid specs
Type: Hybrid
Materials: Foam, coils, optional pillow top (reviewed)
Firmness: 3, 5 or 7 (reviewed)
Depth: 11.5"
Trial period: 120 nights
Warranty: 10 years
Price bracket: Mid range (or upper-mid with Pillow Top)
While the mattress doesn't offer the greatest pressure relief overall, it does perform well when it comes to motion isolation. If your partner gets in and out of bed during the night, you won't be awoken by their movements. We also found the edge support around the corners and along the foot of the bed to be weak, although it's unlikely to affect your sleep experience because the side edges are more reinforced.
Our main issue was with temperature regulation: our tester, who doesn't sleep warm, got hot many times during the night when sleeping on this mattress. That's despite the fact that our review model had the pillow-top upgrade, with a GlacioTex cover designed specifically to keep you cool.
This bed sits roughly in the middle of the Brooklyn Bedding range. To see how we got on with a pricier option, head to our Brooklyn Aurora Luxe review, or for the budget all-foam model, check our DreamFoam Essential review. Like many of this brand's beds, it's also available in a wide range of sizes, including more niche options like RV mattress sizes.
We will go deeper into the different performance areas of the mattress throughout our Brooklyn Bedding Signature Hybrid review, but overall, we have to say that for the price and the customization options, it's a good mattress. Just look at the overwhelmingly positive customer reviews.
Brooklyn Bedding Signature Hybrid mattress review: Price
A mid-range hybrid mattress, or upper-mid with Pillow Top upgrade
Regular discount knocks 25% off
Expect 30% off over major sales events / national holidays
The Signature Hybrid sits roughly in the middle of Brooklyn Bedding's lineup, and falls in the mid-range price bracket overall. As with many bed brands, you can ignore MSRP as there's a permanent mattress sale that takes 25% off, or more if you're savvy about when you buy (more on that later). A pillow-top is an option for all sizes of the mattress, but it'll cost an additional $300, based on queen size.
Here's a look at the prices for the main sizes of the Brooklyn Bedding Signature Hybrid with the regular 25% off discount:
Twin size: Normally sells for $498 or $648.80 w/ Cloud top
Full size: Normally sells for $749 or $948.80 w/ Cloud top
Queen size: Normally sells for $999 or $1,299 w/ Cloud top
King size: Normally sells for $1,199.30 or $1,499.30 w/ Cloud top
CA King size: Normally sells for $1,199.30 or $1,499.30 w/ Cloud top
There are several points in the year that tend to attract especially good deals, and Brooklyn Bedding typically bumps up its discount to 30% for these. They are: the Black Friday mattress deals (running into the Cyber Monday deals), the Memorial Day mattress sales in May, the Presidents' Day mattress sales in Februrary, and the 4th of July mattress sales.
Many bed brands will bundle in bedding, or at least pillows, to amp up the value, but Brooklyn doesn't. Delivery is included in the price, though.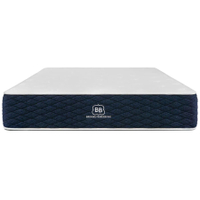 See the Signature Hybrid at Brooklyn Bedding
With this mattress, you get to choose your own firmness level. It's supportive and excels in motion isolation. Edge support and heat retention could be better. Buyers get a 10-year warranty and 120 nights to test the mattress (it can be returned after 30 days for a $99 fee.)
Brooklyn Bedding Signature Hybrid mattress review: Design
11.5-inch hybrid mattress with foam and coils
No memory foam – more responsive foams are used
Optional Cloud Pillow Top offers more plushness and a cooling cover
This hybrid mattress is 11.5 inches tall and has five layers. The bottom layers are individually wrapped coils on a thin base of foam. Layers of CertiPUR-US certified foams are placed above the coils and are designed to respond to body movements and provide comfort. These aren't billed as memory foams and they don't behave like memory foam either – don't expect a slow-moving, sink-in feel (head to our memory foam FAQ explainer for more info).
The regular version has a tight top, but you can choose to add a Cloud Pillow Top. This is a popular upgrade, and was included on our review model. The pillow-top is supposed to add a contouring feel, and plushness. It also has a cover made from GlacioTex fabric, designed to keep the sleeper cool. The GlacioTex fibers give the cover a silky feeling, which caused the fitted sheets to slip and slide whenever our tester moved during the night. Often, it caused the fitted sheet to come undone. A mattress protector or pad may be needed to prevent this.
The Brooklyn Bedding Signature Hybrid is the brand's most popular mattress, and sits somewhere near the middle of the range in terms of price and features. As is the case with many of this brand's beds, it's available in a massive range of sizes.
We consider it one of the best queen size mattresses, but as well as those standard sizes (twin size, full size, queen size, king size, Cal king size) – you'll also find short versions of the latter three, as well as an olympic queen option and three RV sizes. To see how it compares to other hybrids on the market, check out Tom's Guide's best hybrid mattress guide.
Brooklyn Bedding Signature Hybrid mattress review: Support and comfort
Choose between Soft (3), Medium (5) or Firm (7)
Optional pillow-top adds softness, with a firmer level underneath
We reviewed the Firm with pillow-top
Bouncy, springy feel, rather than sink-in memory foam or contouring
The Brooklyn Bedding Signature Hybrid comes in three different firmness levels – soft, medium, and firm. Our reviewer (who weighs 180lb) ordered a firm mattress with a Cloud Pillow Top, and our Sleep Editor also had a chance to check out the medium option on a visit to the 3Z Brands showroom.
Both the medium and firm options have a bouncy, supportive, springy feel. The Cloud Pillow Top adds some springy plushness, and if you press down though it you can feel a firmer lower level beneath. There's no memory foam here, so you won't sink into the mattress. You're basically sleeping on top of the sleep surface – and especially so if you pick the version without the pillow-top. That's good news if you prefer a responsive sleep surface, less so if you're seeking that joint-hugging feel. Brooklyn says this mattress has a contouring feel, but that was not our experience.
When lying on the mattress, our tester's spine felt aligned and supported, which is why they were surprised that the mattress didn't alleviate their hip and lower back pain. In fact, they couldn't tell if the mattress was causing this pain or not. Some customer reviews mentioned having hip and back pain in the first few weeks of sleeping on the mattress.
Officially, the firm version is a 7 out of 10 on the firmness scale, but if you pick the pillow-top upgrade, you can expect it to be a little softer (our main reviewer judged it to be a 6.5). We ran our usual tests to assess firmness – placing a weight in the middle of the mattress and seeing how far it sank in. A 15lb weight sank around 3 inches into the medium-firmness version, on both the pillow-top and standard mattresses. This is in our 'soft' bracket for sinkage.
Which option you go for will depend on your body type and sleep position preference. Here's Brooklyn's ratings, and who they're recommended for:
Swipe to scroll horizontally
| Version | Rating | Recommended to | Sleep feel |
| --- | --- | --- | --- |
| Soft | 3/10 | Side sleepers, those requiring extra pressure relief, lightweight people | Sink-in, hugging feel |
| Medium | 5/10 | Combination back / stomach / side sleepers, couples with different preferences | Lie on top rather than sinking in |
| Firm | 7/10 | Stomach and/or back sleepers, those seeking extra lumbar support, heavier bodies | Don't sink in |
We agree that the firm Signature Hybrid is best suited to those who like to sleep on their back or stomach. These positions require a slightly firmer surface to keep the spine in correct alignment. We found there wasn't enough give in the foam of the firm version to make sleeping on your side comfortable – the best mattresses for side sleepers tend to be on the softer side, to allow the hips and shoulders to sink into the surface, where pressure points could build up.
The medium Signature Hybrid might suit some heavier side sleepers. We haven't tested the soft version, but we'd expect this to be the best option for side sleepers and those of a light body weight.
Brooklyn Bedding Signature Hybrid mattress review: Performance
Minimal motion transfer makes it a good choice for couples
Retains more heat than expected, even with cooling cover
Edge support is good along the sides but poor at the corners and ends
Our tester ordered a firm king-sized mattress to test over the course of three weeks in June. To provide the best insights as possible, we tested the Brooklyn Bedding Signature with Cloud Pillow Top in all key areas including edge support, temperature regulation, and motion isolation.
Motion isolation
If you have a fidgety partner, a mattress' motion isolation capabilities will make a difference in whether you wake up when your partner moves at night. Overall, this mattress does a good job with motion isolation. Our tester had another person lie on the bed and barely felt their movements.
To objectively assess motion isolation, they also placed an empty wine glass in the center. When they dropped a 20lb weight at 15 and 25 inches away, it didn't affect the wine glass. However, the wine glass shook when the weight was dropped 10 inches away and toppled at four inches. We think this is because the Cloud Pillow Top has deep grooves around quilted patterns which didn't provide a stable base for the wine glass. With that in mind, we would suggest this mattress for couples who don't want to feel their partner move at night.
Score: 4 out of 5
Temperature regulation
Hybrid mattresses are usually more breathable than all-foam mattresses, which is why our tester was surprised by how much heat this mattress retained. To the touch, the mattress is neither hot nor cold, but there were many nights when our tester found themselves having to remove the comforter and sleep under a portion of their microfiber sheets.
While it was fairly hot in Texas during the testing period, the house remained no warmer than 77 degrees at night (our tester's standard air conditioning setting for all mattress testing). This is the first and only time in their mattress testing career that our reviewer has found themselves being consistently awoken at night because they were too hot sleeping on a mattress. This is more notable because our review model had the GlacioTex cover upgrade, which is specifically meant to sleep cool.
Score: 3 out of 5
Edge support
Edge support might not seem like the most important thing, but it can help you get in and out of bed, sit on the edge to fold clothes, and prevent sagging around the edges so you have more area to sleep. Unfortunately, the Signature Hybrid's edge support is not the best.
There is some support along the sides, thanks to reinforced side coils. When a 20lb weight was placed on the sides, it sunk half an inch. That's the same as in the center, which is a good result for edge support. Our tester didn't slip when sleeping near the edge and felt decently supported getting in and out of bed.
The real issue lies in the corners and the foot of the bed. The mattress curves down toward the corners, and our tester slipped off when sitting near them or along the foot of the bed. The dumbbell rolled off when placed at the end of the mattress and on the corners.
Score: 3.5 out of 5
Brooklyn Bedding Signature Hybrid mattress review: Delivery & setup
Mattress was delivered vacuum-packed, rolled, and boxed
Free delivery, no white glove option
Slight off-gassing that disappeared in five minutes
Brooklyn Bedding provides free shipping through FedEx. There is no white glove delivery option, so if you have any kind of mobility problems, or even if you're not especially strong, you'll need to rope in someone to help get the mattress set up. The king-sized bed came vacuum packed and rolled in a flimsy cardboard box that was crumbling upon arrival. There were holes and rips in the box which made it difficult to move to the bedroom.
After removing the plastic wrapping, the mattress unfurled quickly. Even as a king-sized mattress, our reviewer was able to move the mattress by themselves (though some help would have been nice) thanks to the side handles. Brooklyn Bedding suggests waiting 3-5 hours to sleep on the mattress, however, it appeared to reach its full height in an hour.
A slight off-gassing smell was noticeable when removing the mattress from the plastic. It wasn't that pungent and disappeared in less than five minutes. No other smells remained.
The extras are fine but not amazing. There's a 120-night sleep trial you can use to test the mattress – this is about standard, although plenty of brands give you longer, even up to a full year. You're required to sleep on the mattress for a minimum of 30 nights before returning it, which is pretty standard and is designed to give your body time to adjust. If you opt for a return, you'll have to pay a $99 fee (this is fairly unusual in the mattress market). The notes on the Brooklyn website aren't super clear, but it looks like if you decide to exchange the mattress, the second model cannot be returned. There's a 10 year warranty, which covers the recommended lifespan – really you should replace your mattress every 7-10 years.
Brooklyn Bedding Signature Hybrid mattress review: Customer reviews
Average of 4.7 out of 5 stars over 10k reviews on the brand site (June 2023)
Praise for comfort and support
Some complaints about edge support and it sleeping warm
The Brooklyn Bedding Signature Hybrid has the most reviews of any of the brand's mattresses. From over 10,100 reviews (June 2023), the average rating is 4.7 out of 5 stars. These reviews seem to only be related to the Signature Hybrid, with some reviews pulled from RVMattress.com because this mattress comes in RV sizes. (Side note: RV owners seem to really love this mattress.)
When looking through the reviews, customers who are satisfied with the mattress are brief in their praise. 'Comfortable' and 'supportive' seem to be the most consistent comments. Buyers like the ability to choose different firmness levels, though some noted that the firmness level they chose was too soft or firm for them, and yet they still liked the mattress for the most part.
Some reviewers noted that the temperature regulation was average and that buyers should add a cooling cover or upgrade to the Aurora Luxe (we found the temperature regulation on that mattress was good – it does use the same GlacioTex cover found on the Signature Hybrid though).
The most common complaint had to do with edge support and how it could be better.
Should you buy the Brooklyn Bedding Signature Hybrid mattress?
Our favorite thing about the Brooklyn Bedding Signature Hybrid mattress is that you can choose between three firmness levels. It's likely why so many people have been satisfied with the product because they can choose their comfort level to suit their sleeping style.
If you go with a firm option, like our tester did, the Cloud Pillow Top may be necessary to provide some plushness to the mattress. You won't sink into this mattress and the foam won't contour around your body: a bouncy feel and super support are the winning features here.
The motion isolation of this mattress is above average, but despite being a hybrid, this mattress retains heat, likely because the foam used doesn't seem to have any features that pull heat away or make the mattress more breathable. Yes, the edge support near the corners and at the end of the bed are poor, but you should be satisfied with the support along the sides (which is what usually matters to buyers).
Based on our experience and the large number of high rated customer reviews, we think most buyers will be happy with investing in a Brooklyn Bedding Signature Hybrid.
Brooklyn Bedding Signature Hybrid mattress review: Alternatives to consider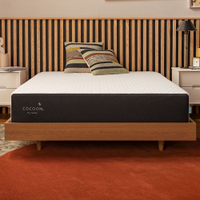 Cocoon Chill Hybrid Memory Foam Mattress
In the same price bracket (but slightly cheaper) is the Cocoon Chill. There's only one firmness option here, but the we were very impressed with the temperature regulation on this model, and found the cooling cover especially effective. We tested the all-foam version, but for maximum breathability upgrade to the hybrid. Read our Cocoon Chill mattress review for more info.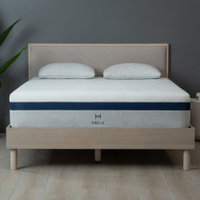 Helix Midnight Mattress
Side sleepers should will likely get on better with something like the Helix Midnight (in fact, we rate it the best mattress for side sleepers). Rather than the bouncy foams of the Signature, this model has body contouring memory foam that relieves pressure around the hips and shoulders. We found the temperature regulation good, but if you sleep hot you could consider upgrading to the GlacioTex Cooling Cover (the same fabric found on the Signature). Head to our Helix Midnight mattress review for more info.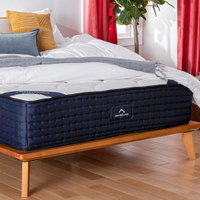 DreamCloud Luxury Hybrid Mattress
The DreamCloud is a luxe-feeling hybrid mattress for a mid-range price. Again there's only one firmness option, but the mix of contouring memory foam and bouncy coils is super comfortable and supportive – we rate it amongst the best mattresses for back pain. Lightweight sleepers might find it a bit too firm, though. Head to our DreamCloud mattress review to find out more.