Helix Midnight mattress review in brief
The Helix Midnight mattress is a mid-range, hybrid mattress that we rate as one of the very best mattresses for side sleepers. The brand's USP is that it makes mattresses for 'every body', which means the range includes something for every sleep style and firmness preference combination. The Midnight is the Helix's medium mattress for side sleepers, and alongside the Midnight Luxe – the upgraded version of this model – it's the brand's bestseller.
Helix Midnight mattress specs
Type: Hybrid
Materials: Memory foam, other foams, coils
Firmness: 6.5/10 (medium)
Depth: 11.5 inches
Trial period: 100 nights
Warranty: 10 years
Price bracket: Mid-range
We slept on a king-size Helix Midnight mattress for three weeks, to assess key areas like comfort, support, quality, temperature regulation and value for money. We also had a chance to visit the showroom of parent company 3Z Brands to run a series of tests, and compare and contrast this model directly with the rest of the lineup, alongside models from Brooklyn Bedding, Birch, Bear, Nolah and Leesa. In this review, we'll dig into who this bed would and wouldn't suit, and how it compares to the rest of today's best mattresses. If you're in a rush, here's the short version, though...
The Midnight has a hybrid design that includes memory foam, other foams and coils. Helix rates it a 5-6 out of 10 in terms of firmness, but we judged it to be a little firmer than that – maybe a 6.5 or 7. The upper levels of memory foam provide excellent pressure relief and cushioning that's particularly welcome in a side-sleeping position, and overall the feel is softly supportive. Our testers also slept comfortably on their backs, with pressure points well-cushioned and cradled by the memory foam. However, we think stomach sleepers, as well as heavier people, should approach with caution – a firmer model might work better for you.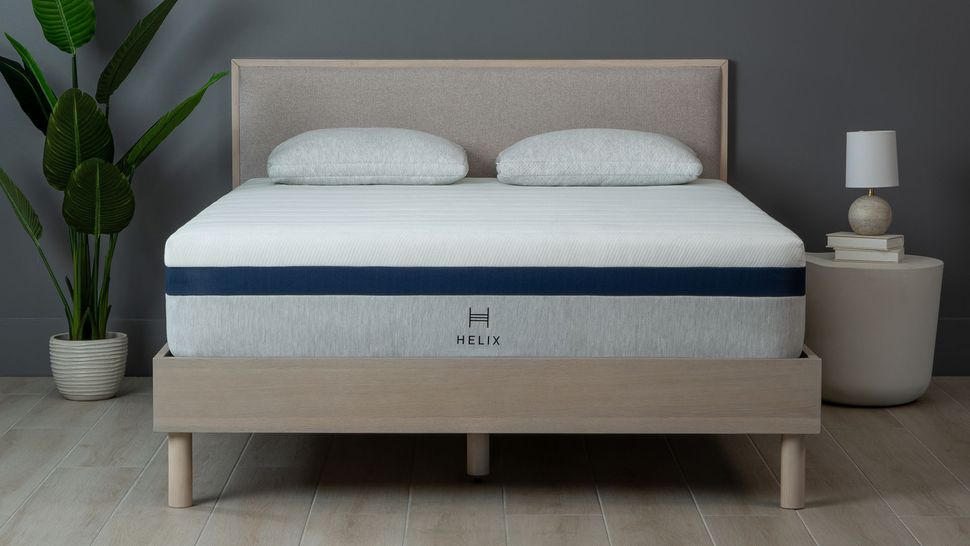 We found the Midnight delivered excellent motion isolation, making it a good choice for restless sleepers or anyone who shares a bed with a wriggler. Temperature regulation is also good, but if you want it to be better, you can upgrade to the GlacioTex cover (this wasn't on our review model, but it's a reliably effective cooling fabric, and we have tested it on other beds). Our only minor complaint was with the edge support, which was acceptable but not amazing. This might be an issue if you want to be able to sit confidently on the edge of the bed, or use it to push up off to get up in the mornings.
How much does the Helix Midnight mattress cost? Well, you can ignore the MSRP, as there's always a Helix mattress sale or deal running that takes this bed into the mid-range bracket, and puts it in line with most of its main competitors. Usually, a queen size costs $1,099. The extras – a 100-night trial and 10-year warranty – are fine but not especially generous. We'll expand on all these points in more detail, as well as offering some alternatives worth considering, in our full Helix Midnight mattress review below.
Helix Midnight mattress review: Price
Mid-range mattress – queen usually $999
Expect 20% off MSRP, or 25% off around national sales events
Great value for money
Officially, the Midnight sits in the upper mid-range bracket, but in reality there's always a Helix mattress sale that takes it into mid-range territory. While many other brands have been raising their prices, MSRP on the Midnight actually fell in June 2023.
You'll typically get 20% off, rising to 25% off around major sales events. The cheapest price we've recorded (as of July 2023) is $999 for the queen size. Whenever you buy, you can expect to get two free pillows added to your order, and there's free shipping too. A 100-night trial and 10-year warranty rounds out the package. We consider it one of the best affordable mattresses around.
Here's the official pricing for all sizes of the Helix Midnight mattress, and the prices you can expect to actually pay:
Twin: MSRP $936 (usually sold at $749)
Twin XL: MSRP $1,061 (usually sold at $849)
Full: MSRP $1,248 (usually sold at $999)
Queen: MSRP $1,373 (usually sold at $1,099)
King: MSRP $1,748 (usually sold at $1,399)
California King: MSRP $1,748 (usually sold at $1,399)
It's a fairly good bet we'll see the 25% off deal in the Labor Day mattress sales, in September, but we're hoping for a slightly bigger discount in the Black Friday mattress deals – this is traditionally the time when brands bring out their very best deals.
So far this year, we've seen 25% off in the Presidents' Day mattress sales, the Memorial Day mattress sales, and the 4th of July mattress sales.
Helix has a relatively straightforward pricing structure. All of its 'standard' models (like the one we're reviewing here) cost the same and have the same discounts applied. The (fancier) Luxe versions all have the same pricing as each other, and the (fanciest) Elite models all have the same pricing too. You can also pay extra to upgrade to a specialist cooling cover on any model.
Price-wise, factoring in the regular deals pricing, the Midnight is comparable in price to other popular hybrid beds like the DreamCloud (which you can read about in our DreamCloud mattress review), the flagship Awara model (read our Awara Natural Hybrid review) and the Amerisleep AS3 (read our Amerisleep AS 3 review). Note that hybrid mattresses almost always cost more than all-foam beds, which is why almost all of today's best budget mattresses are foam models.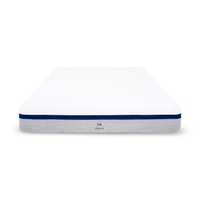 View the Midnight mattress at Helix
Constant sales mean you can usually pick up a Helix Midnight in queen size for around $999, and sometimes slightly less. You'll be able to try it out risk-free at home via a 100-night sleep trial, with a full refund and free returns if you're not satisfied. Otherwise, your purchase will be backed by a 10-year warranty.
Helix Midnight mattress review: Design
An 11.5-inch mattress with four layers
Hybrid design includes memory foam, other foams, and coils
Optional GlacioTex cooling cover upgrade available
The 11.5-inch Helix Midnight mattress is made up of five layers plus a cover. On top you'll find a slightly stretchy, soft-touch cover. It's designed to be breathable, but there's also the option to upgrade to a GlacioTex Cooling cover if you're a very hot sleeper.
Inside, the upper layer is made from Helix's proprietary 'Memory Plus Foam', designed to relieve pressure, provide soft sinkage and deep body contouring, while cradling pressure points along your shoulders, hips and lower back. Beneath that are two transitional layers of responsive, high-grade polyfoam. These define the 'medium' sleep feel, as well as stopping the memory foam from getting too 'sinky'.
All foams are CertiPUR-US certified, which means they meet certain manufacturing, health and environmental standards. All mattresses from reliable brands will have this certification, but it's worth double-checking for.
Beneath these foams, you'll find a layer of coils. These are individually pocketed to help limit motion transfer, and a firmer coil is used along the sides to bolster this mattress' edge support. The coils boost breathability too, by creating space for air to circulate (even the best memory foam mattresses can struggle with trapping heat on occasion). Finally, a solid base layer lends durability and stability.
There are two upgrade options within the Midnight line. The 'better' version is the Luxe. The main differences are that this one adds a pillow top, making it a couple of inches taller, and the springs are reinforced in the central third, for extra support in the lumbar region.
The 'best' version is the Elite – added to the range in spring 2023. On this lofty 16-inch tall model, the GlacioTex cooling cover is included as standard (this is an extra on the other two models), and there are two little mini-coil layers sandwiched between the foams at the top.
Helix Midnight mattress review: Support & comfort
Officially a 5-6 out of 10 on firmness scale, we rate it slightly firmer
Deceptively supportive, but perhaps too soft for stomach sleepers
Memory foam provides soothing cushioning and pressure relief
Helix classifies the Midnight as between 5 and 6 out of 10 on the firmness scale, and describes it as "pretty much smack in the middle – not too soft, not too firm". We think it's slightly firmer than that. Our main reviewer judged it to be around a 6.5. To get an objective view of softness, we also placed a 15lb weight in the centre of the mattress. It sank in 2 inches, which we class as a medium-firm.
However, sometimes a score can be misleading, and of course your exact experience will vary depending on your height, weight and other personal factors. We had a panel of testers try it out to see what it's actually like to lie on; we found the Helix Midnight felt soft and cushy to press on, but firmer and surprisingly supportive when laid down.
The upper memory foam layer delivers some of that slow-moving, body-hugging feel, which is especially welcome when lying on your side. The mattress molds around your hips and shoulders in a dreamily comfortable and soothing way, providing deep pressure relief. Most of our reviewers found it comfy in all positions, but some stomach or back sleepers might find it a little too soft. Indeed, one tester found the Midnight wasn't quite as supportive as they'd typically prefer.
If you don't like the sink-in feel of memory foam, consider switching to one of Helix's models aimed at back or stomach sleepers. These have the same design but swap the memory foam layer for an alternative foam that's bouncier and more responsive. Note that the Dusk, which is officially the same softness rating as the Midnight, is actually slightly firmer in reality (our Helix Dusk hands-on article goes into more depth there).
Alternatively, if you're thinking of upgrading to the Luxe version, be aware that the quilted pillow top means you lose a lot of the sink-in memory foam feel. There is plenty of cushiony softness, however. Get a feel for this mattress in our Midnight Luxe hands-on review.
There's loads of info on the Helix site, but this table gives you an idea of how we found some of the different models compared:
Swipe to scroll horizontally
| Model | Official description | Centre sinkage | Sleep feel |
| --- | --- | --- | --- |
| Midnight | Medium, side sleeper | 2" (medium-firm) | Sink-in, less responsive |
| Dusk | Medium, back/stomach sleeper | 1.8" (firm) | Bouncier, more responsive |
| Twilight | Firm, side sleeper | 2.3" (medium-firm) | Sink-in memory foam |
| Midnight Luxe | Medium, side sleeper | 2.9" (medium-soft) | Cushiony pillow-top |
Helix Midnight mattress review: Performance
Minimal motion transfer – absorbs movements extremely well
Good temperature regulation and option to upgrade to cooling cover
Edge support acceptable but not amazing
In this section of our Helix Midnight review, we're going to focus in on three specific areas of performance – motion isolation, edge support, and cooling. These will all play into this mattress' ability to deliver a great night's sleep.
Motion isolation
Motion isolation refers to how well a bed absorbs movement, which is important if you share a bed and/or are a light or restless sleeper. In our review, we found the Midnight dampened movements very effectively. Comparing it directly to the Dusk (the other medium option in the Helix range) we found the Midnight absorbed movements slightly better (likely thanks to the memory foam layer), although both delivered excellent motion isolation.
To gain an objective rating, we placed an (empty) wine glass in the centre of the mattress, and then dropped a 15lb weight at distances of 4, 10 and 25 inches away from it. At the furthest distance, the glass didn't move at all. At 4 and 10 inches, it wobbled. With most mattresses, the glass will fall over on the 4 inch drop test, so this is impressive.
The mattress also didn't make any noise – there was no creaking from the coils. Overall, this would be a good choice for anyone with a restless partner.
Temperature regulation
During our three-week test period, the mattress never felt too warm, or caused us to overheat. It kept our testers at a cool, comfortable temperature throughout the night – even somewhat alleviating one of our reviewers' 'hot sleeping' issue.
As a rule of thumb, foams can trap body heat, while coils allow space for air to circulate within a mattress. For this reason, hybrid models (like this one) will almost always sleep a little cooler than all-foam beds.
While we were impressed with the temperature regulation delivered by the Midnight, if you really struggle with overheating, consider upgrading to the cooling cover. For our review, we slept on the regular cover, but we've also had a chance to inspect the GlacioTex version. GlacioTex is the best-known and generally accepted to be the most effective cooling fabric (it crops up regularly in our best cooling mattress guide). It's definitely worth considering if you sleep hot, but do be aware that it makes the top of your mattress rather slippery, which can cause your sheets to bunch up.
Edge support
One of the only areas where we felt the Helix Midnight fell down a little was on the edge support. While adequate, we felt the edges could have been slightly sturdier. Our testers found this most noticeable when sitting on the side of the bed for longer periods of time. This was reflected in our test results too – when placing a weight on the edge of the bed, it sank in 2.2", which is slightly more than the sinkage in the centre (2").
Note that while there are reinforced coils on the long edges of this mattress – which is typically where it's most useful – if you want that around the full perimeter, you'll need to opt for the Luxe or Elite version. It's worth flagging also that if you pick the GlacioTex cover, the slipperiness of the fabric can exacerbate any slight weakness around the edges. This can be a particular problem with designs like this one where the hem sits on the side of the mattress rather than around the top edge.
Finally, on our main review model, we did notice an area of irregular stitching on one of the sides. There were 12 inches of bunched-up fabric that weren't as smooth as the three other sides. This didn't cause any performance issues with our Helix Midnight review mattress, but it's a minor cosmetic complaint.
Helix Midnight mattress review: Delivery & setup
Delivery is free in the US, and like all bed in a box models, the Midnight comes vacuum-packed and rolled for easier maneuvering. There's a real lack of information about delivery on the Helix website, but our box was deposited at our tester's door, which we assume is standard. There's no option to upgrade the delivery – for example if you wanted it taken directly to your bedroom, or have your old mattress collected.
Weighing between 100-110lbs, the king-sized Helix Midnight mattress isn't quite the heaviest bed-in-a-box mattress we've tested, but it's still extremely heavy for one person to move, so we tipped our delivery person to help us carry the box into the right room.
It was then fairly easy to unpack and unroll the mattress with two people. Helix says the Midnight needs 30-45 minutes to unwind and fully expand, and our mattress fell within that bracket – just! – taking 45 minutes to reach its full dimensions. We heard a slight wheezing as the vacuum seal released, but there was no noticeable off-gassing or odor from the packaging or mattress (although some users have reported a light off-gassing that dissipates within a few hours).
All of Helix's mattresses comes with a 100-night trial period. This is about the shortest you'll find at any of the big bed brands – 200 nights is pretty common now, and a few brands give you a full year. If during this time you decide the mattress isn't right for you, you can return it or reach out to the Customer Experience team to request a topper that'll adjust how firm the mattress feels. To give your body time to get used to the mattress, you'll need to wait 30 nights before returning, but you can request a comfort layer during this time.
For the standard models, there's a 10-year warranty (this increases to 15 years for the Luxe and Elite). Realistically, you should be replacing your mattress every 7-10 years anyway.
Helix Midnight mattress review: Customer reviews
We highly rate the Helix Midnight mattress, but mattresses are subjective – you'll have a different experience depending on your height, weight, sleeping style and a range of other factors. So to build a more rounded picture of what this mattress is like to sleep on, we researched hundreds of user reviews online to see what other people say about the Helix Midnight.
On the Helix website, the Midnight mattress has an average of 4.5 out of 5 stars from over 6,000 user reviews (May 2023) – with over 4,300 five-star reviews. There's no way to filter according to a reviewer's sleep style or body type, but you can input search terms that'll help you find what you need.
Satisfied customers commented that the Helix Midnight mattress alleviated their back and shoulder pains, and praised the bed's cushioned pressure points. Side sleepers were also well-represented among the 5-star reviews, along with back and combination sleepers who were looking for something that could adapt to their movements. We haven't been able to easily find any feedback from long-term users, although those who have owned their Helix Midnight for several months claim it's quite durable.
Of all the reviews we saw that gave the mattress a lower score, being too soft was the number one complaint. Many exchanged it hassle-free for a different Helix mattress, such as the Twilight. Another user reported that they didn't find it firm enough, so Helix sent them a mattress topper free of charge, which helped. Meanwhile, shipping delays and delivery problems were usually cited for the smaller amount of negative reviews.
Should you buy the Helix Midnight mattress?
Overall, we were extremely impressed with the Helix Midnight, and think it's an especially good choice for side sleepers. The memory foam layer cradles the shoulders comfortably in this position, while still providing plenty of support to keep the spine aligned. Couples will also want to give it some consideration due to its slight bounce and low motion transfer. While we didn't have any issues with overheating on this mattress, hot sleepers might wish to upgrade to the GlacioTex cover – just beware it will make your bed a little slippery.
We judged it to be slightly firmer than Helix's own 5-6/10 rating, but it still might be a little too soft for back/stomach sleepers or those who weigh over 300lb. Luckily, if you like the look of the Helix brand, there are plenty of options at the same price – including firmer and softer beds, and ones that swap out the memory foam for something more responsive.
Helix Midnight mattress: Alternatives to consider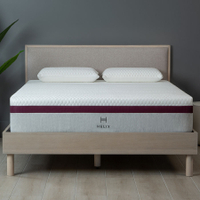 Helix Dusk
If you aren't fond of the sink-in feel of memory foam, check out the Dusk. The design is the same as the Midnight, but instead of memory foam, there's a latex-alternative layer that's bouncier and more responsive. In our tests, we found this mattress was slightly firmer than the Midnight, with sturdier edges, but a smidge more motion transfer. Pricing is the same.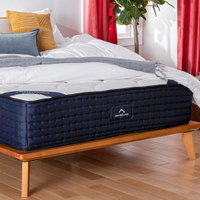 DreamCloud Luxury Hybrid Mattress
If you want something a little firmer – for example if you weigh above average or suffer from back pain – try the DreamCloud. This mid-range hybrid is around an 8/10 on the firmness scale, but the upper layers of memory foam still provide plenty of pressure relief. It's also thicker at 14" (compared to 11.5"), which makes it feel a bit more luxurious. Head to our DreamCloud mattress review to find out more.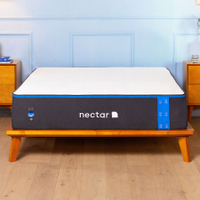 Nectar mattress
If you're on a tighter budget, check out the Nectar. It's a few hundred dollars cheaper than the Midnight, and delivers good quality for its lower mid-range price tag. It's around the same softness, and also an excellent choice for side sleepers. Be aware this is all-foam rather than a hybrid, which partly accounts for the cheaper price, and also means it'll likely sleep slightly warmer than the Midnight. The extras blow Helix out of the water though – you'll get a year's sleep trial and a lifetime warranty. Read our Nectar mattress review to learn more.