Leesa Sapira mattress review in brief
The Leesa Sapira is a hybrid mattress and the brand's bestseller. It has six layers, including a soft, zipped cover, dense high-quality foam comfort and recovery layers, a coil layer for support and base layer for stability. Unlike most bed brands, Leesa publishes the foam density information for its mattresses, and the fact you're getting super high-quality foams here helps justify the premium price tag.
We slept on a queen-size Leesa Sapira mattress for three weeks, and also worked with a panel of other testers to get a rounded view of how the Sapira performs in the real world, who it will and won't suit, and how it compares to the best of today's best mattresses. We were impressed with this brand's all-foam models in our Leesa Original mattress review and Leesa Studio hands-on tests, so were interested to see how one of its hybrid options matched up.
Leesa Sapira specs
Type: Hybrid
Materials: Memory foam, coils, other foams
Firmness: Medium to medium-firm (6/10)
Depth: 11 inches
Trial period: 100 nights
Warranty: 10 years
Price bracket: Premium
The Leesa Sapira mattress has a medium to medium-firm feel, though we judged it to be more medium (around a 6 out of 10). It nicely balances contouring and support without being too soft or too bouncy. In our tests, it performed exceptionally well for motion isolation, so it's a safe bet for fidgety and light co-sleepers.
Side sleepers and lightweight sleepers are likely to reap the greatest rewards from this hybrid mattress, while most stomach sleepers and heavyweight sleepers are likely to find that the Leesa Sapira isn't supportive enough for their needs. Moreover, while this mattress was designed to assist with temperature regulation, this isn't the most impressive feature and hot sleepers may not experience the level of cooling they require. Edge support isn't terrific, but it's not terrible either.
Overall, our reviewer slept well and slept comfortably with the Leesa Sapira, though largely on account of meeting the criteria for ideals shared above. It also faces stiff competition in the premium price bracket – arguably there are alternatives, such as our #1 rated mattress, the Saatva Classic, that offer more for a similar cost. Read our Leesa Sapira review in full to get a better sense if it'll be worth the investment for you.
Leesa Sapira mattress review: Price
Premium priced mattress
… even factoring in regular discounts of up to $400 off MSRP
Comes with free shipping and two pillows to boost value
The Leesa Sapira is a premium-priced mattress, even with ongoing promotions. Within Leesa's own hybrid mattress offerings, it's the middle option of three, being pricier than the Original Hybrid but less expensive than the Legend Hybrid.
As is the case with most bed brands, there's almost always a mattress sale on at Leesa. The typical sale offers tiered discounts from $150 to $400 off the MSRP (increasing with mattress size). You can pick up Leesa mattresses at a range of third-party retailers, including Amazon, Home Depot and Target, but we'd recommend purchasing direct from Leesa.com where possible, to make aftercare smoother.
Here's a quick look at both the MSRP and the typical sale prices for the Leesa Sapira:
Twin size: MSRP $1,349 (normally sells for $1,199)
Twin XL size: MSRP $1,399 (normally sells for $1,249)
Full size: MSRP $1,699 (normally sells for $1,499)
Queen size: MSRP $1,999 (normally sells for $1,699)
King size: MSRP $2,299 (normally sells for $1,899)
Cal king size: MSRP $2,299 (normally sells for $1,899)
The Leesa Sapira comes with free no-contact delivery and two free pillows to increase the value for what you pay. (Note: We received the Leesa Sapira complimentary for review purposes and the shipment didn't include the pillows, so we won't cover them in this review.) There's also a 100-night trial and 10-year warranty.
None of these extras are particularly exceptional, and we might expect a little more for the higher price – for example, Saatva makes similarly priced mattresses, and those come with free white glove delivery, a 365 night trial and a lifetime warranty.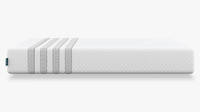 See the Sapria Hybrid at Leesa
The Leesa Sapira mattress is a premium hybrid mattress. Medium to medium-firm, it's best for lightweight to average weight sleepers, most side sleepers, and select back sleepers. It's also a winning choice for co-sleepers given its excellent motion isolation properties. Regular sales can save you up to $400 off MSRP. There's a 10-year warranty and a 100-night trial period.
Leesa Sapira mattress review: Design
11" thick hybrid mattress with memory foam and coils
Upper foam layers are dense and high quality
Comes with soft zipped cover designed to wick moisture
The Leesa Sapira has six layers. First is the soft breathable cover, which is made of ultra fine viscose and plant-based rayon. The 1.5-inch, 3-pound comfort foam layer is charged with air channels to avoid overheating and provides body contouring. The next 1.5-inch, 4-pound memory foam recovery layer offers further contouring and facilitates pressure relief.
Many brands don't publish details around foam density, yet Leesa does provide this info – as you'll learn in our foam density guide, denser foams are higher quality and more durable. 3lb and above is very dense, high quality foam, and ideal for upper comfort layers. You'd expect less-dense foams to be used for transitional / base layers, where the purpose is structural rather than comfort, and a dense foam would hike up the price unnecessarily.
Next, the 1-inch, 2-pound transition foam layer provides a buffer between the foam layers and coils and bolsters support. All foams in the Leesa Sapira are CertiPUR-US certified, indicating materials are low in volatile organic compounds (VOCs) and are made without ozone depleters, phthalates, BPDE, formaldehyde, or heavy metals.
The 6-inch responsive support layer has over 1,000 pocket springs to minimize motion transfer and enhance airflow, as well as edge support around the perimeter. The sixth and final 1-inch, 1.8-pound base layer provides stability and durability over years of use.
We're fans of Leesa's pared-back but slightly quirky styling (all its beds have a pattered cover). The Sapira does perhaps look a little less high-end than its luxury mattress rivals, but it goes some way to justifying that higher price tag via the indisputably high-quality foams.
Leesa has two other hybrid mattresses: the Original Hybrid and the Legend Hybrid. The Sapira Hybrid sits in the middle of this range. Today's best hybrid mattresses tend to offer improved support, as well as being more breathable than foam-only models (the coils provide space for air to circulate within the mattress).
Leesa also makes two all-foam mattresses: the Original and the Studio. You can read about those in our Leesa Original and Leesa Studio (hands-on) review – they have a sink-in feel that mean they might be a good budget-friendly Tempur-Pedic alternative, and we consider them some of the best memory foam mattresses around.
Leesa Sapira mattress review: Support and comfort
Medium to medium-firm mattress with a 6 out of 10 rating
Good balance of contouring and responsiveness
Best for light-average weight side sleepers and some back sleepers
The brand states that the Sapira has a medium to medium-firm feel (per the brand's scale, an 6-8 out of 10 for firmness) with the product page indicating that 86% of customers agree. Our tester believes that a 6 out of 10 firmness rating (i.e. medium) is most accurate. This rating is based upon carrying out a kettlebell weight test, as well as in comparison to reviewing other mattresses in this firmness range. Our tester placed a 55-pound kettlebell in the middle of the mattress to mimic body weight. The amount of sinkage measured 3 inches, which was slightly more than the sinkage from a previous mattress review that our tester gauged at a 6.5 firmness rating.
The Leesa Sapira offers mild contouring to your body shape, providing adequate nestling upon contact without a 'sinking in' feeling you're more likely to experience with an all-foam model. The surface is moderately responsive with a bit of bounce without being very taut. Once weight from an object or your body lifts from the mattress, the top layers quickly spring back to place.
Our reviewer—a combination sleeper under 130 pounds—tested the Leesa Sapira in all positions to assess comfort and support. Side sleeping provided exceptional alignment and comfort. Our reviewer appreciated the mild cradling upon contact and didn't experience any pressure building up or worsening in the shoulders or hips. Back sleeping proved to be highly comfortable as well, without yielding any low back pain (or any other kind of discomfort) upon pivoting to the Leesa Sapira from a slighter firmer mattress. Stomach sleeping, though not uncomfortable per our reviewer, isn't ideal for this mattress. A firmness rating of 8 or above is often required for most people to facilitate neutral alignment and prevent the hips from sagging.
These points considered, our reviewer's sleeping position preferences and weight were ideally suited for Leesa Sapira mattress. Side sleepers of light to average weights—as well as back sleepers of light and to average weights who prefer medium versus medium-firm or firm mattresses—are most likely to enjoy the Leesa Sapira. Some heavier sleepers who prefer side sleeping may also take well to it. Stomach sleepers across the board will largely benefit from opting for a firmer mattress.
Leesa Sapira mattress review: Performance
Minimal motion transfer – excellent for couples
Adequate temperature regulation
Edge support could be better
Our reviewer tested a queen-size Leesa Sapira mattress for 3 weeks. In this section, we'll cover how it fared in three major areas of performance. Keep reading to uncover details on how it fared for motion isolation, temperature regulation, and edge support. Here's how we got on.
Motion isolation
Motion transfer is a crucial performance indicator in a mattress, particularly for co-sleepers and if one or both partners sleep lightly. If a co-sleeper (or say, a pet) moves on the bed throughout the night, the other sleeper may be roused out of rest.
To objectively gauge how well the Leesa Sapira performs with motion isolation, our tester placed a wine glass in the middle of the bed. They dropped a 15lb kettlebell at varying distances from the glass, as the level of movement reflects how much external motion a sleeper could anticipate feeling. Dropping the weight 4 inches away, the glass moved and looked in danger of tipping over but never did. From 10 inches away, there was significantly less wobbling, and from 25 inches away the glass moved ever so slightly but barely budged.
These results were very impressive, so the Leesa Sapira gets an unequivocal thumbs up for co-sleepers, fidgety or not.
Score: 5 out of 5
Temperature regulation
The Leesa team designed the Sapira with temperature regulation in mind. This is reflected in the breathable cover, the comfort foam layer punctured with air channels, and the coils further below in the support layer that facilitate airflow.
Hybrid mattresses like the Leesa Sapira tend to be more ideal than all-foam mattresses to keep cool. This is because memory foam more easily traps body heat and inhibits airflow—not to mention they lack coils for additional breathability.
While the Leesa Sapira is cool to the touch, our reviewer—who sleeps hot every so often—didn't find the temperature regulation to be exceptional and warmed up several times during the testing period. That said, it's still breathable and shouldn't bother sleepers who don't run hot. Those who heat up regularly while sleeping may wish to consult our guide to the best cooling mattresses with even more advanced temperature regulation features.
Our reviewer tested the Leesa Sapira at the height of summer in Southern California with nightly temperatures in the high-60s Fahrenheit, next to an open window for a cool breeze. They used bamboo sheets, a comforter, and a bamboo duvet—sometimes only sleeping on top of the fitted sheet alone for greater relief from the global heat wave.
Score: 3.5 out of 5
Edge support
Edge support is important for solo sleepers and co-sleepers alike. Strong edge support enables you to use the full surface of the bed, lay or sit down and rise up with ease, and allow you to feel as though you won't roll off.
Edge support is important for solo sleepers and co-sleepers alike. Strong edge support enables you to use the full surface of the bed, lie or sit down and rise up with ease, and allow you to feel as though you won't roll off.
To objectively gauge edge support, our reviewer placed a 55-pound kettlebell near the perimeter of the mattress. It sank just slightly under 3 inches (the amount of sinkage at the center). If the sinkage is uniform across both counts, this indicates that the edge support is likely to be robust. In this case, the result was good but not perfect.
However, by sitting at the edge of the bed, our reviewer found the support to be lacking in spite of the reinforced perimeters in the coil layer. Sleeping along the edges doesn't provoke the fear of rolling off, but it doesn't provide stellar protection from doing so, either.
Score: 3.5 out of 5
Leesa Sapira mattress review: Delivery & setup
Mattress delivered vacuum-packed, rolled and boxed
Free no-contact delivery, or in-home setup for $199
Has faint off-gassing smell hours after unboxing
The Leesa Sapira comes with complimentary no-contact delivery. We weren't able to choose a delivery window but kept tabs on shipping via the tracking details. Customers can also pay $199 for in-home delivery and setup (available in select locations)—including removal of your older mattress. This option also comes with greater control over the shipping date and the option to choose a four-hour window for delivery. Fortunately, the mattress arrived at our apartment unit doorstep (accessible by elevator) instead of in the lobby, so it was easy enough to push the box inside solo. The box also comes with perforated "handles," should you need to pull it or move it around significantly.
Most brands' free delivery is only to the door of the building (although Saatva does include white glove delivery for free), and we are pleased to see that there's an option to upgrade if it's needed.
However, setting up the mattress got more challenging from there. Our petite solo tester followed the instructions on the box, which suggested placing the vacuum-packed, rolled mattress directly on the base/bed frame (not the floor) and then removing the plastic. Despite the first thick plastic layer offering tear-along perforations, it was very difficult unrolling it solo compared to other mattress unboxings. We recommend enlisting the help of another unboxer—or, if solo, taking off the plastic near (but not on top of) the base/bed frame. (Of course, you can also opt for the $199 delivery and setup service.)
After unwrapping the first plastic layer, the mattress began to hiss. Cutting into the second (vacuum-wrapped) plastic layer, the mattress expanded rapidly and continued to hiss. We noticed a faint off-gassing smell from 2 to 3 feet away for up to 3 hours after unboxing. We could also notice that faint smell on the first night of testing. Note that off-gassing experiences can vary from person to person, even within the same mattress model.
The brand says that the Sapira is ready to sleep on within an hour but 'perfect' after a day. From the naked eye, it seemed to expand fully within an even shorter time frame. That's usually an indication that the mattress hasn't been sitting around in its box for ages, which is a good sign.
Leesa Sapira mattress review: Customer reviews
Average 4.4 / 5 stars from 2k reviews on the brand website (Aug 2023)
Lots of praise for side sleepers, back sleepers, and co-sleepers
Some complaints about firmness, edge support, and sizing
At the time of writing (early August 2023), the Leesa Sapira has an average of 4.4 out of 5 stars from 2,015 reviews on the official product page. High praise routinely comes from those who prefer side and/or back sleeping—as well as co-sleepers with these position preferences—given the perceived comfort, support, pressure relief, and improved sleep quality. Over the years, a few dozen customers also praised the high quality of the mattress as well as the care provided by Leesa's customer service team.
Less enthusiastic customers noted that the mattress was too soft or too firm for their liking. (Note: Firmness levels are largely subjective and will vary based on factors like weight, preferred sleeping position, and perceptions of comfort.) Some reviewers were also disappointed in the Sapira after switching from other options in Leesa's lineup. While considerations around durability were largely positive, some reviewers were disappointed with uneven edges (which our reviewer noticed firsthand, as well).
Though the Leesa Sapira is also available for purchase at West Elm and Pottery Barn, neither site currently has customer reviews listed. It's also sold at Home Depot. Of the dozen reviews listed there at present, most are positive. Dissatisfied customers cited the lack of edge support, no perceived benefits upon upgrading from a less expensive Leesa model, and undersized twin XL mattresses.
Should you buy the Leesa Sapira mattress?
Based on our reviewer's experience, the Leesa Sapira is worth buying if you meet several criteria. Namely, this applies if you're committed to investing in a high-quality hybrid mattress with a premium price tag as a lightweight to average weight side sleeper or back sleeper, and/or if you're a co-sleeper within these groups. Some heavier side sleepers may also enjoy the Leesa Sapira, yet other heavier sleepers as well as stomach sleepers will probably want something firmer. In addition, some sleepers who run hot at night may find the Sapira's cooling features lacking, but it shouldn't be a dealbreaker for sleepers who don't struggle with temperature regulation.
Despite a few demerits for subpar edge support and average cooling properties, our lightweight combination sleeper enjoyed the comfort and pressure relief from the Leesa Sapira across all sleeping positions. Moreover, the high-quality dense layers of foam help justify the cost and are engineered to retain their shape, withstanding years of use. These pros outweighed the aforementioned cons, so we stand behind our support for the specific sleepers cited above.
Leesa Sapira mattress review: Alternatives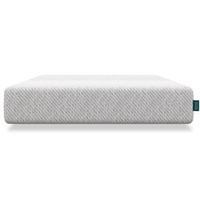 Leesa Original Hybrid Mattress
If you're interested in a hybrid mattress and like the Sapira brand but want to save a few hundred dollars, check out their Original Hybrid. This relatively new mattress (introduced in 2022) has a medium to medium-firm feel. You'll still get the comfort and breathability of a hybrid, but with less dense foam layers and around 20% fewer coils.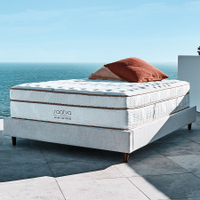 Saatva Classic mattress
Not a fan of contouring foam? The Saatva Classic is a luxurious innerspring hybrid with a plush pillow-top and a double layer of coils. You can choose from three firmness levels and two heights, plus it offers excellent pressure relief. Motion transfer is a little more pronounced though, so it might not be the best choice if you share the bed with a very restless partner. Read more in our Saatva Classic mattress review.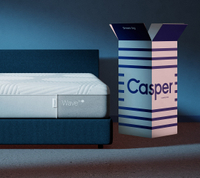 Casper Wave Hybrid Snow
Set on getting a premium hybrid mattress and ready to invest in one with vetted cooling properties and relief from back pain? The Casper Wave Hybrid Snow comes with a significantly higher price tag (even at a promotional price, we're talking an extra $1,000 or so) compared to the Sapira, but temperature regulation and comfort can be priceless for those who need these enhancements to rest well. Read more in our Casper Wave Hybrid Snow mattress review.