Best mattress for back pain: Menu
Sleeping on the best mattress for back pain will offer a keen balance of support and pressure relief – alleviating tension in your neck, shoulders, and lumbar. Some of our expert mattress testers are all too familiar with the unpleasant experience of trying to sleep with a back injury – but on the flip side, that means we know what to look for if you're seeking salvation from aches and pains. Among our best mattress contenders are nine models we deem exceptional at alleviating back issues based on our extensive research and testing.
Why is it important to find the right mattress for back pain? Constantly shifting positions to get comfortable will add more strain to your back if you're sleeping on the wrong bed. It'll also diminish your sleep quality, leaving you tired and unfocused during the day. To supplement our knowledge, we also spoke to a couple of experts in the field of chiropractic medicine about finding the right mattress for back pain when it comes to firmness and materials. (Of course, this is general advice they're providing; consult with a doctor directly if you're seeking a specific diagnosis or treatment.)
We think the customizable Saatva Classic mattress is the best mattress for back pain for most people. It also comes with free white-glove delivery and in-home set-up so all you'll have to do is sleep on it. However, our picks span a range of budgets and preferences so you'll be able to find exactly what you need for relief. Most of our selections are regularly discounted during mattress sales throughout the year – and right now a few have an even bigger discount in the Memorial Day mattress sales. Keep scrolling for a look at the top mattresses for back pain...
What's the best type of mattress for back pain?
Broadly speaking, the best type of mattress to look for is medium-firm to firm with adaptive layers of foam, springs, and/or latex providing contoured support along the back, hips, and shoulders. Such mattresses are also made with breathable materials to regulate temperature and wick away sweat, reducing any tossing and turning that'll torque the back even worse.
You'll also want to consider the position you're lying in. Sleeping on your side or sleeping on your back are typically better for spinal support, while stomach sleeping is a big no-no.
Searching for an orthopedic option may help; see our guide to what is an orthopedic mattress for more details. Also, if you're in the US, you could qualify for Medicare assistance should you require a specialist mattress. For more details see our guide: What types of mattresses are covered by Medicare?
Best mattress for back pain overall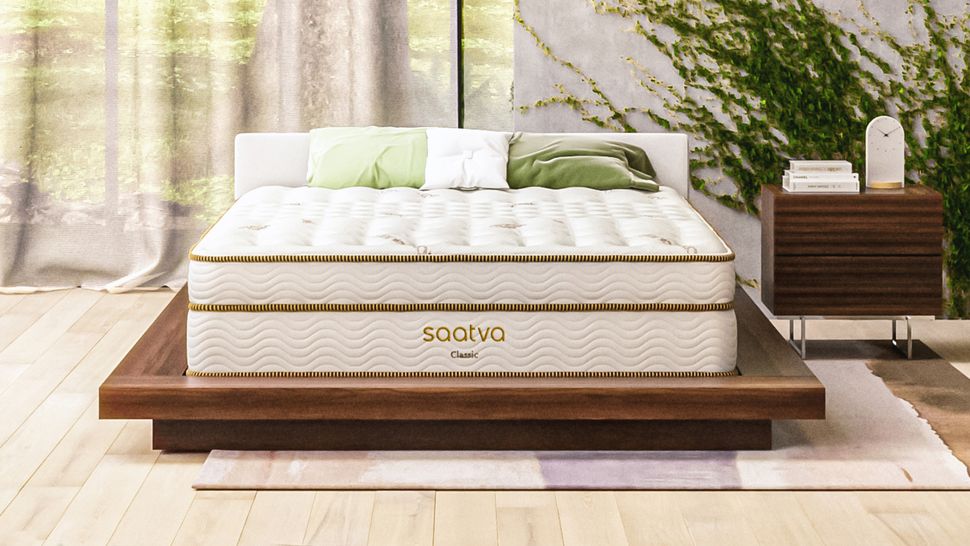 The best mattress for back pain is the Saatva Classic. This mattress stands out for its high level of customization: three firmness levels plus two depth levels, which enables shoppers to design the ideal bed for their sleep preferences and body type. We found it comfortable in all sleeping positions. Nearly 1,000 of Saatva's 5-star customer reviews come from those who claim their backaches have decreased or disappeared. That was our experience when we tested the 11.5-inch medium-firm version in our Saatva Classic Mattress review; the improvement in our back pain was obvious when coming from an older, less supportive mattress.
Saatva has also earned a seal of approval from the Congress of Chiropractic State Associations for its lumbar zone technology. You'll get a full year to test it out, although you'll have to pay $99 for return shipping. Free white glove delivery is standard with all orders so you won't have to worry about setting this over 100lb. mattress on your bed – a huge benefit for anyone with back pain.
Like most brands, Saatva is feeling the effects of inflation as MSRPs continue to rise. (The cost of a twin rose from $935 to $995 as of January 2023.) However, frequent Saatva mattress sales shave hundreds of dollars off, so it's still a competitively-priced luxury mattress option.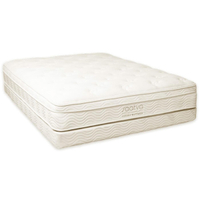 Saatva Classic mattress: from $995 at Saatva ($375 off orders over $1,000)
Head to Saavta using the link above and you'll unlock our special deal, which knocks $375 off all orders over $1,000. That's not quite the best Saatva sale we've seen this year, but it is cheaper than the regular deal prices (typically you'll pay $1,695 for the queen, but with this link that drops to $1,620). Buy now if you don't want to wait until Black Friday.
Deal ends 30 May
Best for bigger bodies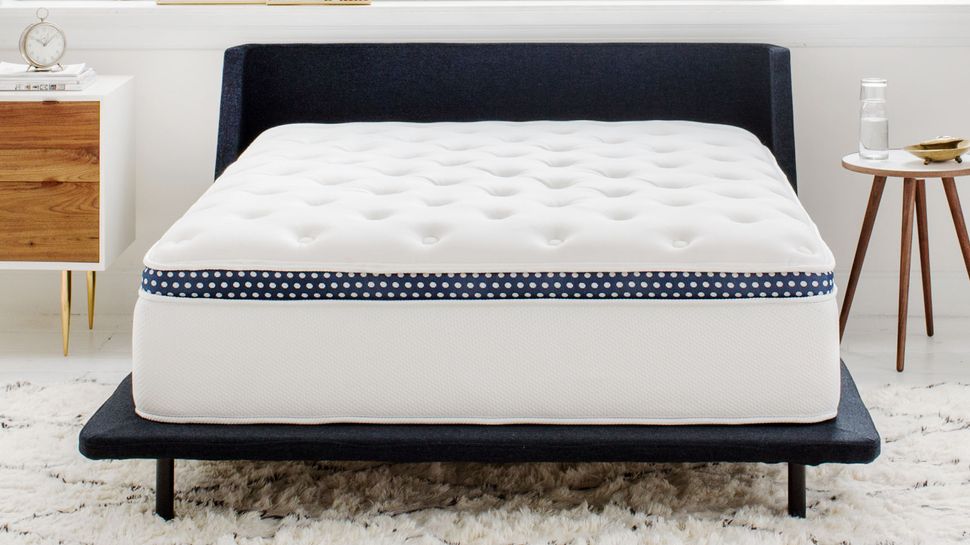 Similar to the Saatva, the WinkBed is a customizable luxury mattress. Choose from four firmness levels, including a Plus option for individuals over 250lbs. Although nobody on our WinkBed Mattress review testing panel grapples with regular back pain, we still felt well-aligned thanks to its Back Relief System. Hundreds of WinkBed 5-star customer reviews note reduced back pain and improved sleep quality.
The WinkBed's edge support is excellent, which bodes well for heavier people with mobility issues who must sit on the edge of their bed in order to get up or lie down, since it won't compress too much. However, the 13.5-inch height can't be adjusted so it may not suit sleepers who prefer to be lower to the ground.
Regular WinkBed mattress sales feature hundreds of dollars in savings for this award-winning mattress. You get 120 nights to test it at home, but you'll have to pay $49 to send it back. It's also quite heavy, weighing as much as 145lb, so you'll want to ask someone to help set up your new WinkBed mattress. (In-home delivery is not provided as a service.)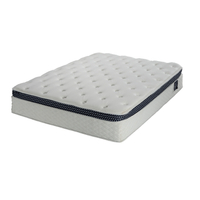 The WinkBed Mattress: was $1,149 now from $849 at WinkBed
The evergreen WinkBed discount knocks $300 off all sizes, which means a queen will currently set you back $1,499 (down from $1,799). This deal runs pretty much all the time, but we've never seen it bettered.
Best for couples with back pain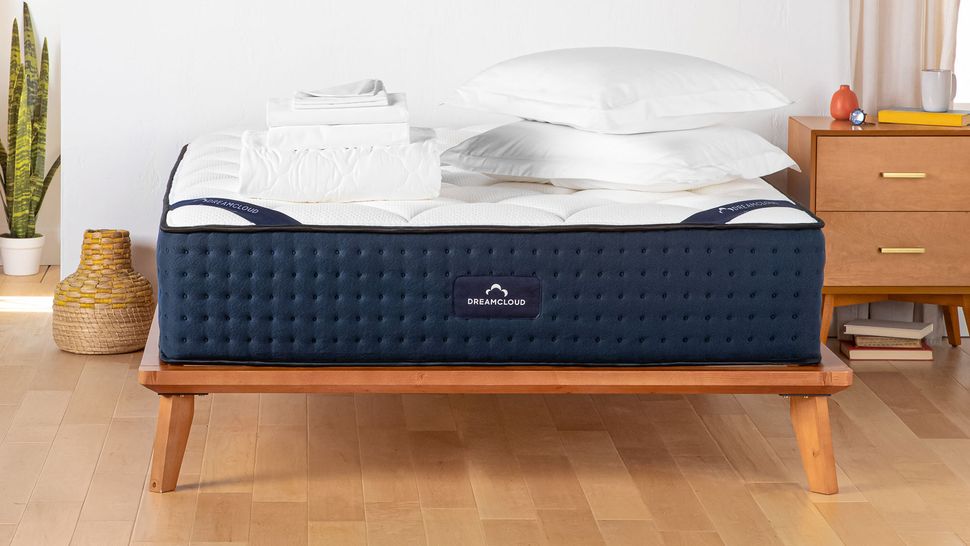 Whether you or your sleeping partner (or both) suffer from back pain, the DreamCloud mattress will offer loads of relief. Those who slept on it for our DreamCloud Mattress review were impressed by the layers of adaptive foam and innersprings that immediately contoured their hips and lower lumbar, resulting in much less pain in those areas.
Another area where the DreamCloud mattress shines is its excellent motion isolation. There's little chance your partner's movements will disrupt your sleep (or vice versa). If either of you tosses and turns due to back pain, the relief that comes from the subtle hug of the DreamCloud will help solve that problem anyway.
This is one of the firmest mattresses we've tried, rated an 8 out of 10 on the firmness scale. Petite and average-sized sleepers will definitely need time to break it in; fortunately, DreamCloud offers a 1-year trial with free returns if you're not satisfied. This affordable luxury bed is discounted often during DreamCloud mattress sales and now comes with up to $599 in free bedding.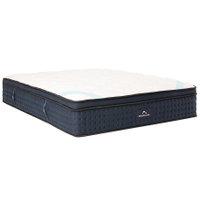 DreamCloud Luxury Hybrid mattress: was $839 now from $499 at DreamCloud
DreamCloud always offers generous discounts, but this 40% off sale yields lower-than-Black Friday prices. A queen DreamCloud is now $799 ($100 under its recent sale price) while a twin is down to just $499. Just note that the free bedding isn't included, though you can still bring some home at a massive discount if you want.
Best for back and joint pain
A cooling mattress such as the Purple Plus can aid with aches and pains. (Hot sleepers who toss and turn to get comfortable can wind up contorting their spine in unpleasant ways.) The Purple Plus features a 2-inch layer of GelFlex Grid elastic that boasts over 1,400 individual holes for improved airflow whilst also adapting to every movement of your body.
In our Purple Plus mattress review, we gave it two separate firmness ratings out of 10. We found it's softer underneath the arms and legs (6/10) yet firmer along the spine and lumbar (7.5/10). This means you'll have support in all of the right places and not wake up feeling misaligned. Edge support is middling, but the low motion isolation makes the Purple Plus a fine choice for couples.
The Purple Plus mattress weighs up to 140lb, so ask someone to help move it if you're dealing with back pain. You can opt for in-home delivery and setup, but it costs an extra $200. Shipping is free otherwise, and you'll have 100 nights to trial the mattress.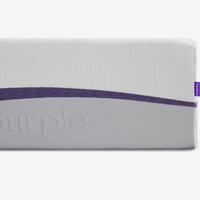 Purple Plus mattress: was $1,495 now from $1,295 at Purple
There's $200 off all sizes of the Purple Plus for Memorial Day, which means a queen size will cost you $1,695 rather than the usual $1,895. It's a decent Purple mattress deal, but this brand has been known to knock $400 off its Plus model, so if you're not in a rush it might pay to wait.
Best organic mattress for back pain
If eco-friendly sleep is a priority for you, the Awara Natural Hybrid is one of the best (and most affordable) organic mattresses you can buy. This hypoallergenic mattress is Rainforest Alliance-certified and crafted from GOLS-certified Dunlop latex plus a New Zealand wool cover on top. These materials combine for an adaptive feel that'll also keep most sleepers exceptionally cool.
Our Awara Mattress review features testers of varying sleep styles – and all of them felt well-supported in their shoulders (side sleepers), lumbar (back sleepers), and hips (stomach sleepers). Edge support here is very good so sitting on the perimeter of the bed is unlikely to compress your back. (You'll also be able to spread out without fear of falling.)
The Awara is rather bouncy, which may be off-putting for couples seeking something with low motion transfer. Otherwise, it's an excellent value buy for sleepers with back pain. There's a 1-year risk-free trial and a lifetime warranty.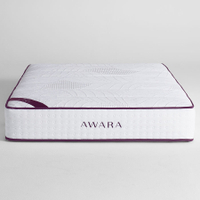 Awara Natural Hybrid mattress: was $1,398 now from $799 + free bedding at Awara
The Awara Natural Hybrid is $300 off MSRP at the moment, and you'll get up to $499 worth of free bedding included with your purchase. This is Awara's evergreen deal, but it means you're getting really great value for money here. No need to enter an Awara promo code to claim.
Best mattress for hot sleepers with back pain
The premium Casper Wave Hybrid Snow mattress is imbued with specialized 'Snow' technology that offers a 24% cooler-to-the-touch feeling than the original Casper Wave Hybrid. It also has HeatDelete Bands designed to remove 34% more body heat while sustaining temperature regulation for up to 12 hours. This bodes well for hot sleepers with back pain as they'll be less inclined to toss and turn in order to feel comfortable, thereby reducing the risk of torquing their spine.
Among the testers who slept on this bed for our Casper Wave Hybrid Snow mattress review, our back sleepers found the most relief. It has continuous ergonomic zones so it's firmer along the hips, waist, and lower back yet softer around the shoulders. Meanwhile, up to 78 gel pods placed in the center of the mattress help alleviate lumbar pressure and promote proper alignment.
It's on the firmer side of the scale so side sleepers and lightweight individuals may need time to break it in. Fortunately, Casper includes 100 nights to trial it at home with free returns and a full refund if you're not satisfied. The Casper Wave Hybrid Snow is also the priciest option on our list although it's less money than comparable Tempur-Pedic beds thanks to regular Casper mattress sales.
Best affordable mattress for back pain
One of the best mattresses under $1,000 is the Cocoon by Sealy Chill, an all-foam mattress that's regularly on sale for $799 in a queen. Better yet, Sealy often bundles its Cocoon Chill mattress with nearly $200 in free bedding and pillows, further increasing its already terrific value.
These days, opting for a budget mattress doesn't necessarily mean skimping on quality. The Cocoon by Sealy Chill is a perfect example of this. Not only is it one of the most consistently cool all-foam mattresses we've tested, but it also does an excellent job of distributing weight and alleviating pressure points, no matter which sleeping position you drop into at night. As we mention in our Cocoon Chill Mattress review, most side sleepers will find it comfortable, but heavier side sleepers may need something more supportive.
If you're on a tighter budget, browsing Cocoon by Sealy promo codes will help you keep some extra cash in your pocket. You'll avail of a 100-night trial plus free delivery and returns, as well as a 10-year warranty to protect your purchase.
Best memory foam mattress for back pain
Saatva makes our list once again – this time for its Loom & Leaf mattress. This handcrafted memory foam mattress comes in two firmness levels and features specialized lumbar support and body-contouring foam that work together to relieve pressure in your lower back and keep everything aligned. The upper and lower thirds of the mattress are slightly firmer but still soft enough to contour to your shoulders and knees.
We recently tried the relaxed firm model for our Loom & Leaf mattress review and our lead tester noticed a marked improvement in her lower back pain after three weeks of sleeping on it. The rest of our testing panel was also comfortable regardless of their position or stature. Despite the presence of cooling tech, we found the Loom & Leaf is still prone to trapping heat so chronically hot sleepers may want to check out the budget-friendly Sealy or premium Casper models above.
Otherwise, we recommend the Loom & Leaf for sleepers with back pain who like the hug of memory foam and want something durable that they won't have to replace too often. Complimentary white-glove delivery is a nice perk, as is a 1-year trial – but you'll have to pay $99 to return it.
Best mattress for back sleepers with pain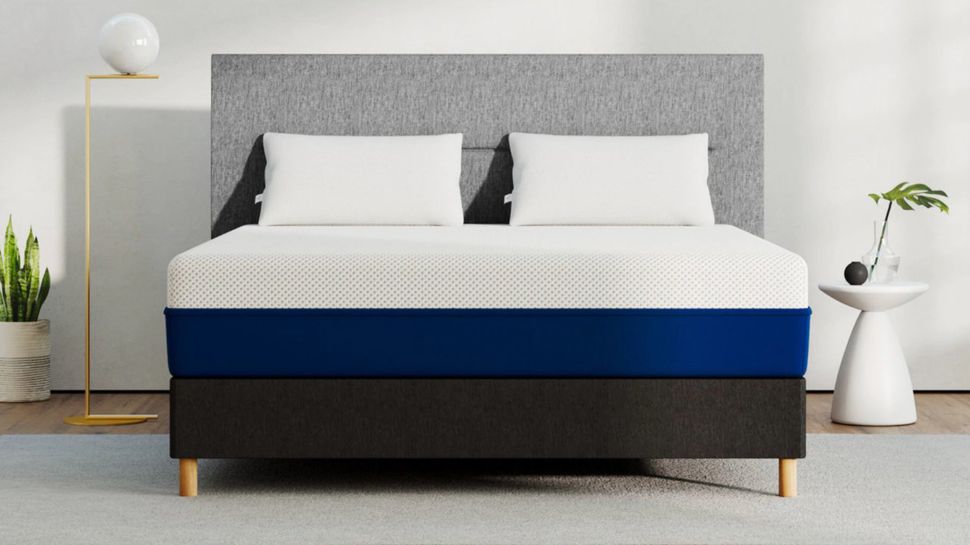 The Amerisleep AS2 is billed as a mattress-in-a-box specifically made for back sleepers. Whether you choose the all-foam version or the hybrid model, you'll avail of medium-firm comfort plus targeted support and pressure relief that'll soothe your aches and pains whilst keeping everything properly aligned. While it's not a cooling mattress per se, the Amerisleep AS2 is also loaded with advanced temperature-regulating tech so you won't be thrashing about in a sweat.
Although stomach sleeping isn't recommended for back pain if you're most comfortable in that position the firmness and construction of the Amerisleep AS2 should also suit you well. Beware if you're a side sleeper, however, since this might not be soft enough for your liking. (Browse the best mattresses for side sleepers instead.) We'd also recommend opting for the AS2 Hybrid if you're a larger sleeper who needs more support as the foam-only variation only consists of three layers.
We've yet to try the Amerisleep AS2 Mattress ourselves but its stellar reviews have caught our attention. Among over 3,200 verified customers on the Amerisleep website, 97% of them would recommend the AS2 to a friend as of January 2023 – and hundreds proclaim it's improved their back issues in a major way. You'll be able to trial it at home yourself for 100 nights, and if it doesn't work out you can return it free for a full refund.
Is a soft or firm mattress better for back pain?
A medium or firm mattress is typically best for back pain. Generally speaking, a soft mattress won't provide enough support, especially if you're prone to changing positions at night and/or have mobility issues. However, the exact firmness to go for depends on the individual. Many find that traditional sprung mattresses provide a firmer sleep experience; see our article on what is a pocket sprung mattress for more details.
There's no catchall solution as everyone is different. Dr. Lev Kalika, clinic director and founder of NYDN Rehab in New York City, says the type of back issue someone has will influence whether they should opt for a soft or firm mattress. "For patients with hypermobility or spondylosis [spine degeneration], I recommend hard mattresses. For people who are super stiff with fixed spine deformities, I recommend soft mattresses," says Dr. Kalika, who adds that people with less severe back ailments will benefit from something in between.
You'll also want to consider your dominant sleep position. If you often drop onto your side, take a look at the best mattresses for side sleepers, most of which are smack in the middle of the firmness scale.
Remember that firmness is subjective. You won't get a true feel for a mattress until you sleep on it yourself. Fortunately, the best mattress-in-a-box brands come with trial periods of at least 100 nights, which is more than enough time to determine whether or not a mattress is improving (or worsening) your back pain.
Is memory foam good for back pain?
Are memory foam mattresses good for back pain? According to Dr. Grant Radermacher, owner of Ascent Chiropractic in Brookfield, WI, they are for most people.
"Memory foam evenly distributes weight across its surface as it compresses. It can automatically adjust to your body's shape, contouring itself around your shoulders, back, and hips for a more pain-free sleeping experience," explains Dr. Radermacher.
The majority of our best mattresses for back pain picks are hybrids – a blend of foam and springs. When choosing between memory foam vs hybrid mattresses, you'll need to take into consideration what else you'll need in order to sleep comfortably.
Full memory foam mattresses have a 'hugging' feeling that'll help alleviate any pressure, but they tend to sleep warm if they're designed without any additional cooling tech (like gel or charcoal). Hybrids sleep cooler and tend to be firmer and more supportive; however, they don't isolate motion as well as foam beds, which can be tricky if you're a light sleeper or share a bed with a fidgety partner.
Remember that it takes more than the right mattress to unlock quality sleep. The best pillows will work in harmony with your mattress to ensure you're properly aligned each night so you wake up pain-free and refreshed. For more advice on what to look for in the best mattress for back pain, you'll find expert tips here.
Can a mattress cause back pain?
A mattress can create back pain or amplify an existing injury. But how can you tell? If your back pain is much worse right after waking up, chances are your mattress is to blame.
More obvious signs include visible sagging and sleeping on a mattress that's too hard or soft to properly support you. If firmness (or lack thereof) is the issue, adding a mattress topper can provide an instant upgrade if your current mattress is in otherwise fine shape.
We go into more detail in our feature explaining why some mattresses can cause aches and pains, which also provides additional tips for finding a new bed with proper spinal support so you can avoid nights of uncomfortable sleep.