The best cheap mattresses today are designed to help you sleep soundly without putting too much of a dent in your bank balance. Trickle-down technology and an ultra-competitive marketplace means there are some really good-quality options around in the budget price-bracket these days. There are also some rubbish mattresses that you should avoid all costs.
Our team of expert testers has reviewed a load of models from across the market, so we have plenty of experience when it comes to discerning which low-cost mattress is worth your hard-earned cash. You'll recognize some of these brands from our best mattress guide, while others come from smaller companies you may not have heard of but are well-rated by existing customers. Choosing the best cheap mattress for your body and sleep is no different from taking your pick of more expensive models; you should factor in your sleep position, body type, whether you share a bed, and any health needs you have.
How we rate mattresses
We rigorously research and test the latest mattresses using our testing methodology to provide accurate, unbiased recommendations. We rate each mattress out of 10, and use our review data to inform our rankings. Read more about how we test mattresses.
Our selection of top-rated affordable mattresses all cost less than $500 for a queen size, and most also include a trial basis or returns window so that you can test yours at home to make sure it really is the best option for you. Also note that most sleep brands offer year-round mattress sales, which means you might be able to snag a more luxurious mattress than you'd expect, within your budget.
A note before we start. In general, you do get what you pay for, so we'd always recommend investing as much as you can in your new mattress – it's going to be with you for several years, after all. Now, let's take a look at this year's best cheap mattresses to help you sleep better for less...
The best cheap mattresses under $500 for a queen
The Allswell Mattress is a popular budget hybrid mattress made by a well-known manufacturer, and it's currently the cheapest option in the Allswell Home range of memory foam and hybrid models. The quilted top is designed to feel soft and plush to the touch, creating an air of luxury for less. The base houses individually wrapped coils to minimize motion transfer from your partner to you and vice versa, making it a good choice for couples.
There's also an edge support system so that you can spread out and use more of the mattress for sleeping, as well as sitting on the edge to get dressed. We haven't reviewed The Allswell yet so can't vouch for these features, but user reviews published on the site claim that the motion isolation and edge support are decent for a cheap bed.
The Allswell Mattress isn't a proper cooling mattress, but there is a layer of charcoal and copper gel-infused memory foam here. Based on our experience of reviewing mattresses made with similar materials – read our Nectar Premier Copper mattress review for a similar example – this type of gel should transfer heat away from your body during sleep.
How comfortable is the Allswell Mattress? Per the company, it's a medium firmness, rated 4.5-6.5 out of 10 on the firmness scale. However, customer reviews suggest that it'll be too firm for lightweight side sleepers and not supportive enough for heavier bodies since it's prone to premature sagging. We think it'll be best for light and average-weight back and front sleepers, and many Allswell customers are inclined to agree.
Allswell Home offers a 100-night trial to help you get a better idea of whether the firmness suits your body type and sleep position. Budget mattresses simply don't last as long as mid-range and premium models, but there is a 10-year limited warranty on this model. As of January 2023, 87% of Allswell customers recommend this mattress in a box based on over 2,800 reviews.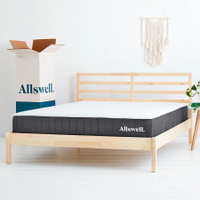 (opens in new tab)
Allswell Hybrid Mattress: was $339 now from $271.20 at Allswell (opens in new tab)
The Allswell is already a bargain, but right now if you pop the code SWEETDEAL in at checkout, you'll knock an extra 20% off MSRP. That means a queen size is just $359, which is ridiculously cheap.
The Siena Memory Foam mattress has an MSRP of $699 for a queen, which exceeds our max budget here. However, it hasn't sold at retail price since its launch in March 2022. It's consistently been $200 off until the start of 2023 – it's now $300 off, which drops the price of a queen Siena mattress to $399. For that price, you get an advanced design that includes three different foams, for comfort and support. (Its parent brand, Resident, also manufactures the Nectar Memory Foam mattress.)
In our tests, we found the Siena sleeps very firm – there's not much of the typical memory foam 'hug'. That makes it a good choice for stomach sleepers or back sleepers who need that extra support, but side sleepers might find it doesn't have enough give around the shoulders and hips for a comfortable night's sleep.
We were also impressed with the edge support and motion isolation on offer here, which makes it a good choice for those who share a bed and don't want to be bothered by wriggly partners. Some more affordable memory foams can trap heat, but we found the Siena performed well on that front.
The Siena Memory Foam mattress includes a 180-night trial, which is the longest on this list. This will allow you to test drive this cheap mattress throughout a couple of seasons. The warranty is more standard at 10 years.
Memory foam mattresses are prone to trapping heat, but this model from Lucid has a gel-infused foam layer to help you sleep cooler. It's topped with a Tencel blend cover to wick away moisture, and also features a charcoal bamboo foam base to keep things stable and hygienic. (In other words, it prevents your mattress from smelling bad.)
The Lucid 10-Inch Gel Memory Foam Mattress is available in three comfort options: plush, medium, or firm. This allows it to cater to all sleep styles. Side sleepers may benefit most from the plush version, whilst the firmest option could help sleepers with back pain or stomach sleepers.
You can bring home a queen-sized Lucid mattress from just $340, or spend under $500 for a king in any firmness level. But with such a cheap mattress comes a few risks. There's no proper trial period included so you'll need to be mindful of the returns policy from whichever store you purchase it. (It's currently available from Amazon, Home Depot, or Target.)
There's also the question of durability. A 10-year warranty applies, but per some user reviews we've read signs of wear may appear sooner than that with regular use. It's also not designed to support over 500 pounds. Thus, we'd recommend it for instances in which there's not much heavy-duty use – say, a kid's bedroom or a guest room.
Despite those concerns, the Lucid 10-Inch Gel Memory Foam Mattress is a customer favorite over at Amazon. As of January 2023, it boasts a 4.5 out of 5 star rating from over 18,000 reviews. You'll be making some concessions here for the low price, but it also has a lot going for it when it comes to appeasing most types of sleepers. If you need to replace a mattress right away, it could be a serviceable stopgap in between something more long-lasting.
Whether you're a taller individual or want to give your bedroom a more elegant look, there's the GrandRest 13-Inch Ultra Support Hybrid Mattress. This Walmart exclusive is incredibly affordable with a king fetching just under $300 after discount. It's also among the best rated beds on Walmart's website at 4.3 out of 5 stars from over 700 reviews as of January 2023.
This budget hybrid mattress consists of a base layer of coils plus multiple layers of memory foam, including a panel of gel-infused foam to help regulate temperature. On top is a polyester jacquard cover with fiber padding underneath to soften things up a bit. There's also decorative stitching to give it the impression that this is a much pricier bed than it actually is.
Based on the customer reviews, the GrandRest has a medium-firm feel but it also has a fair amount of give after you lay on it for a while. But you'll also want to temper your expectations accordingly – whilst many say it provides excellent value for money, there are questions regarding durability. (In other words, don't intend to buy this for regular long-term use.) You'll also need to exercise patience when it comes to setup, as some people say it takes longer than the recommended 72 hours to fully inflate. (And even then, there are claims that it doesn't expand to its full 13 inches.)
There's no proper trial period involved, but Walmart offers a 90-day returns window, which is more than enough time for your body to adjust. Warranty information was hard for us to come by but per a couple of outside accounts, it comes with 10 years of coverage. That may sound like a bit of a gamble but at such a low price, it could be worth the risk if you're in a pinch.
The best cheap mattresses under $300 for a queen
The Zinus Green Tea Memory Foam bed-in-a-box is one of the most well-known budget mattresses in America. It's among the best mattresses on Amazon, with an average rating of 4.4 stars out of 5 from nearly 143,000 customer reviews as of January 2023. Part of its appeal is that it comes in four mattress heights – 6, 8, 10, and 12 inches. We tested the 10-inch version and found that it delivered a perfectly adequate night's sleep for the low price, making it the best option for upgrading your main mattress without spending much.
The Zinus is made with toxin-free memory foam, plus green tea-infused foam with ActivCharcoal microparticles to naturally control odors and bacteria. Zinus rates it a 6.5 out of 10 on the firmness scale and in our experience, that's an accurate assessment. In fact, we recommend the Zinus Green Tea Memory Foam as one of the best mattresses for side sleepers on a super-tight budget because it offers support along the shoulders, hips and knees without too much sinkage.
It also offers good pressure relief, so while it won't be enough for people with long-term back and hip pain, it should be enough to boost general sleep comfort for most child and adult sleepers. We also noticed zero motion transfer with this mattress, making it a budget alternative to The Allswell for couples and restless sleepers.
The user reviews on both the Zinus website and on Amazon (the brand's authorized third-party retailer) are largely positive, with most customers recommending it as a good balance of value for money versus comfort and support. We did spot some user reviews complaining that it's too firm for lighter side sleepers, and others who said they had issues returning the Zinus during the trial period, but the brand's customer services team responded in most cases with a solution.
Overall, if you want a decent memory foam mattress at some of the cheapest prices online, the Zinus Green Tea Memory Foam should be on your list. It's a best-seller on Amazon, and you'll have up to 100 days to return it there should you change your mind. Check out our guide answering how to return a mattress to Amazon.
The Linenspa Memory Foam Hybrid Mattress is another best-selling Amazon mattress, with over 130,000 reviews and a rating of 4.5 stars out of 5 as of January 2023. It comes in three height choices: 8, 10, or 12 inches. We tested the 8-inch version, which is the firmest of the bunch (6.5 out of 10 on the firmness scale). However, if you want your mattress to hug you, go for the plush 12-inch version (5 out of 10 on the firmness scale).
All iterations of the Linenspa Memory Foam Hybrid Mattress contain three layers. On top is a polyester-blend cover quilted with 1.5 to 2 inches of memory foam. That's followed by a 1.5 to 2.5-inch layer of supportive comfort foam, then a base layer of 6-inch durable steel springs to offer some bounce and airflow. The 8-inch Linenspa mattress that we reviewed suited our main tester, who's a lightweight stomach sleeper. However, average to heavier builds may want to consider the 10-inch or 12-inch versions – but even those may not offer enough support for larger sleepers.
Whilst the 12-inch Linenspa Memory Foam Hybrid Mattress could be a decent luxury alternative for a main bedroom, we find that overall, this budget mattress is best suited for guest rooms or kids' bedrooms – instances where there's little heavy-duty use. After all, the price is right, as you'd not want to spend a lot on a mattress that'll barely be used or need to be replaced within a couple of years, given how quickly kids can grow. The low price tag also means you don't need to be too precious about it if you're buying this mattress for a younger child, but we'd still recommend using a mattress protector. A 10-year warranty applies, although you'll only get 30 days to trial it if you purchase via Amazon.
The IKEA Hasvåg mattress is an affordable innerspring mattress that'll suit a seldom-used guest bedroom or kids who are likely to outgrow their mattress quickly. Sure, it could also be a serviceable mattress for your main bedroom if you're on a very tight budget – as you don't have any specific sleep health issues, such as joint pain or overheating. Oh, and it's only available in three sizes: twin, full, and queen so if you need a king size or larger, check out the other options in this guide.
The IKEA Hasvåg mattress is described as having a medium-firm feel, and from our experience testing other medium-firm mattresses it should feel comfortable enough for most sleeping positions. IKEA has made it with up to 375 Bonnell springs (in the queen size), which is an hour-glass-shaped coil interconnected with mesh metal that we'd often find in a traditional innerspring or pocket sprung mattress.
With these onboard, the Hasvåg should offer a little more bounce and responsiveness than a full memory foam model. The downsides are that those springs will be noisier (and this may increase with frequent use over the years) and the motion transfer will be higher. Restless sleepers who share a bed are better off looking at The Allswell Mattress (number one) or Siena Mattress (number two).
IKEA has also opted for PU foam instead of memory foam to keep costs down, and the entire mattress is spot-clean only. It should be rotated (never flipped) every three to six months to spread out wear and tear. User reviews state that it takes the full 72 hours to inflate; otherwise, some of the corners are uneven. Positive user reviews focus on value for money and simple yet effective support and comfort, while customers who didn't like the Hasvåg complain that it's too thin at 8.25 inches for heavier bodies and only suitable for short-term use.
You'll have 90 nights to get a refund if you change your mind (IKEA does not refer to this as a mattress trial) as long as you have your original proof of purchase. You can also use IKEA's 'Love It or Exchange It' mattress policy to exchange the Hasvåg within 365 days of the original purchase date.
How we test mattresses
The Tom's Guide mattress review process is editorially independent and not influenced by any third parties. Our expert mattress testers sleep on each mattress for at least three weeks - that's roughly how long it takes for your body to get used to a new mattress - and spend hours scientifically testing the performance of each product.
Mattress firmness is subjective, so each lead reviewer also forms a trusted and experienced testing panel made up of people with different sleep needs and body types. We have side sleepers, back sleepers and stomach sleepers, with lighter, average and heavier bodies, who rate each mattress using a specific set of performance criteria.
Together, these processes enable us to produce accurate, well-balanced and data-backed mattress reviews, to help you easily decide whether the mattress you're interested in really is the best choice for you. Read our full mattress methodology for more.
Cheap mattress FAQs
How to choose the best cheap mattress for you
Why you can trust Tom's Guide Our expert reviewers spend hours testing and comparing products and services so you can choose the best for you. Find out more about how we test.
There's no denying that budget mattresses don't last as long as mid-range and premium models, which is why many of them come with limited warranties that only cover you for certain defects. It's also fair to expect that you'll be sacrificing some features in return for the cheapest prices, but as our list of affordable mattresses shows, you don't have to skimp on support and comfort if you're clever about the mattress you pick.
Our best tip is to only buy a cheap mattress that comes on a trial basis or that offers a money-back guarantee that extends for longer than 30 days. All of our top choices above tick this box. We'd also recommend looking through existing user reviews to see what customers think of the mattress – especially if they have been using it for longer than a year and can comment on durability; one of the biggest issues with budget mattresses.
When choosing the best cheap mattress for you, consider the following:
Your sleep position (side, stomach, back or combi)
Your body type (thin mattresses won't offer enough support for heavier bodies)
Whether you share your bed (you'll need motion isolation and good edge support)
The base you're using it on (most budget mattresses are compatible with all bed types, though some can't be used directly on the floor)
Whether you can return or exchange it for a better alternative
Are cheap mattresses worth it?
Sometimes we have no choice but to buy a cheaper mattress. The current cost of living crisis means that many of us are looking to tighten our belts, and a mattress can be a big expense depending on the one you opt for. Memory foam and innerspring mattresses are cheaper than hybrids, while organic mattresses are the most expensive - that's why you rarely see queen size latex beds for under $500.
From our experience, affordable mattresses are a good stop-gap to get you through a period of time where you need a new mattress but have little to spend on one. You can get a decent queen size for under $300 or less, and many manufacturers are now offering finance plans to help spread the cost. Of course this applies to mid-range and luxury beds too, so you could consider whether a more expensive mattress bought in that way is better value in the long-term.
The other option is to take a good look at your current mattress and decide whether its lifespan can be extended by a great mattress topper. You can find some very effective ones for under $100 for a queen size, picking one to add softness, firmness or extra cooling. This really depends on the state of your current mattress though - if it's sagging badly, then it's time to move on for the sake of your back health. If the sagging is slight, a topper could help it to last for another year or two. We cover this more in our feature on how to fix a saggy mattress.