The best mattress toppers make an instant difference to the feel of your existing bed, making it cooler, softer, firmer, more responsive or more contouring depending on the type of mattress topper you buy. Toppers are an excellent way to extend the lifespan of your mattress, renewing the support, comfort and pressure relief you feel when lying down. They're easy to set up too, and usually only need to be rolled on top of your mattress or anchored down with elasticated straps. Some luxury toppers are as plush as an option from our best mattress guide – they just cost much less.
Our experts have spend hundreds of hours testing a wide range of mattress toppers, ranking the very best right here. In our guide you'll find cooling mattress toppers, latex toppers, cozy toppers to make hard beds softer, plus inexpensive toppers for use on sofa beds or guest rooms. We test each mattress topper for three weeks, rating them in all key areas such as pressure relief, temperature control and durability. We rate each topper out of five, then use those scores to create our best mattress topper rankings.
While Black Friday and Cyber Monday might be over, the Cyber Week sales continue and we are still seeing active discounts on many of our top-rated mattress toppers. The best deal is 40% off the Tempur-Adapt Topper at Tempur-Pedic with prices from $191 (was $319). That's an excellent price for a topper capable of relieving joint and back pain during sleep. If you sleep hot, the best cooling mattress topper for overheating is on sale too – in the Cyber Week sales you can buy a ViscoSoft Active Cooling Mattress Topper for $174, saving 30% on every size.
Here are our top recommendations for this year's best mattress toppers...
The best mattress toppers 2023 – expert-tested
Best mattress topper overall
The Tempur-Adapt Mattress Topper is the best mattress topper around, offering the feel of this luxury bed brand's mattresses for a fraction of the price. The Adapt topper contains three inches of NASA-developed Tempur material, which will meld to your shape and provide custom, soothing support as you sleep.
In our Tempur-Adapt topper review, our tester found it delivered plush, luxurious cushioning, and recommend it for side sleepers of light or average weight who like to be cradled by their mattress. The softer, hugging sleep surface means it'd also be a great choice for anyone who suffers from joint pain. Stretchy, elastic straps keep the topper in place well, and there's a removable and machine-washable cover, which is good news from a hygiene point of view.
A browse through the other user reviews for the Tempur-Adapt topper reveal plenty of enthusiastic customers. Multiple customers comment that it has helped ease or even eliminate their back pain, as well as preventing achy shoulders and hips.
Memory foam can sometimes trap body heat, but we found that the Tempur-Adapt topper performed well when it came to temperature regulation. If you sleep really hot, there's the option to upgrade to a specialist cooling version; the Tempur Adapt+ Cooling costs $80 more, and features a phase-changing cover that's designed to stay cool to the touch. We didn't test it out ourselves, but plenty of customer reviews say it works impressively well to prevent night sweats.
Although the Tempur-Adapt topper will be a great choice for many people, we wouldn't necessarily recommend it to back sleepers or stomach sleepers, as the soft sleep surface won't provide the support needed in these positions. We also think it'll be too soft for heavier bodies.
Another potential sticking point is price. This might be the best memory foam mattress topper around, but it's not cheap, even if you manage to snap it up at a discount in a Tempur-Pedic mattress sale. The extras are a bit stingy, too – there's no trial and unless it's damaged at delivery, the topper can't be returned. That's a bit of a risk to take if you're unfamiliar with the feel of the mattress. On the other hand, it is far cheaper than going for the full mattress (which you can read about in our Tempur-Adapt mattress review), but still delivers the same sleep feel and level of quality.
The best time to buy is always in the Black Friday mattress deals where we see 40% off the Tempur-Adapt in every size. This saving usually lasts through Cyber Monday mattress deals too, helping you get this top-rated mattress topper for less.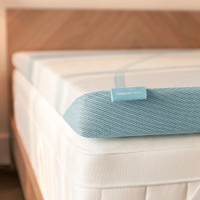 Tempur-Adapt Topper: was $319 now from $255.20 + freebies at Tempur-Pedic
A Tempur topper can transform the sleep feel of your bed, and while it's not cheap, it's still a fraction of the price of a full mattress. Add a cooling cover for an extra fee if you tend to sleep warm. This is weaker than the 40% off promo that crops up on occasion, but to make up the difference, Tempur-Pedic is throwing in a free sleep bundle that includes a Cloud pillow and a sleep mask, an $118 value overall.
Best mattress topper on Amazon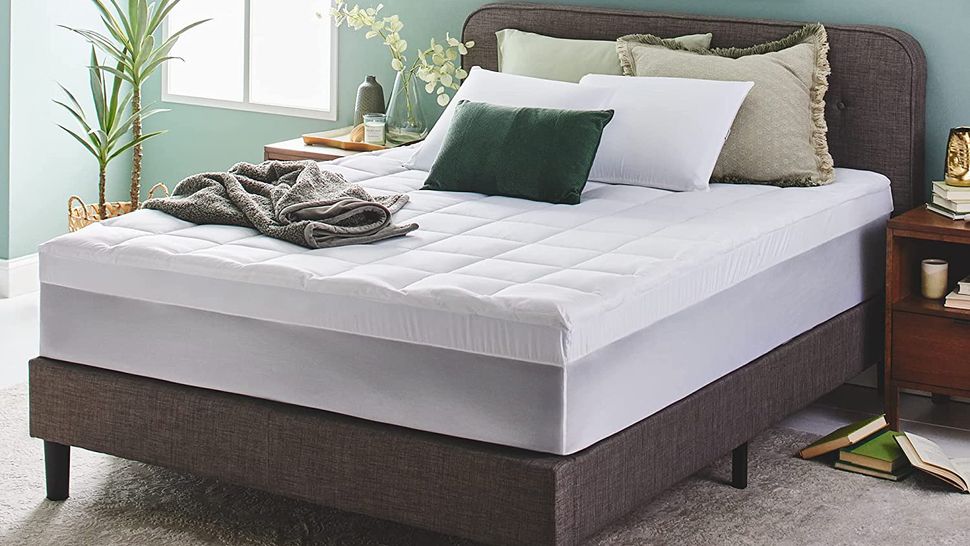 If you're on a tighter budget, the our top value pick is this Sleep Innovations topper. For a very affordable price, you get a two-part design that includes a slab of memory foam and a quilted cover with an elasticated skirt that keeps everything in place. While it is possible to buy just the foam bit on its own, the great thing about the cover is that it's machine-washable, which is a win on the hygiene front.
We haven't had a chance to test this one out for ourselves yet, but the Amazon reviews paint an extremely positive picture. As of 2023, this bed topper has almost 30,000 user reviews on Amazon and 86% of those are rated 4 or 5 stars. This mattress topper is praised for offering excellent pressure relief, with many customers saying it helped ease their joint or back pain. The cushiony sleep surface is an excellent choice for anyone whose mattress is feeling a bit too firm.
With a queen size costing less than $150, this isn't the cheapest mattress topper on the market – it is possible to pick up a cheap mattress topper under $50, although you'll have to make sacrifices on quality, durability and comfort. It is, however, much cheaper than many topper options, and we think it offers excellent value for the price.
So what are the downsides? Of the people who didn't get on with this topper, a common complaint is that it's too soft. While a softer sleep surface is great for side sleepers and anyone struggling with joint pain, heavier people and those who prefer a back or stomach sleeping position typically need something firmer for support. Quite a few customers also report an off-gassing smell, so do factor in time to air this out if you decide to buy one. Finally, as a more budget-friendly option, you won't get the same quality of materials or longevity as pricier, big-brand options. But if you don't want to spend a fortune, this two-in-one option is a strong recommendation.
The best cooling mattress topper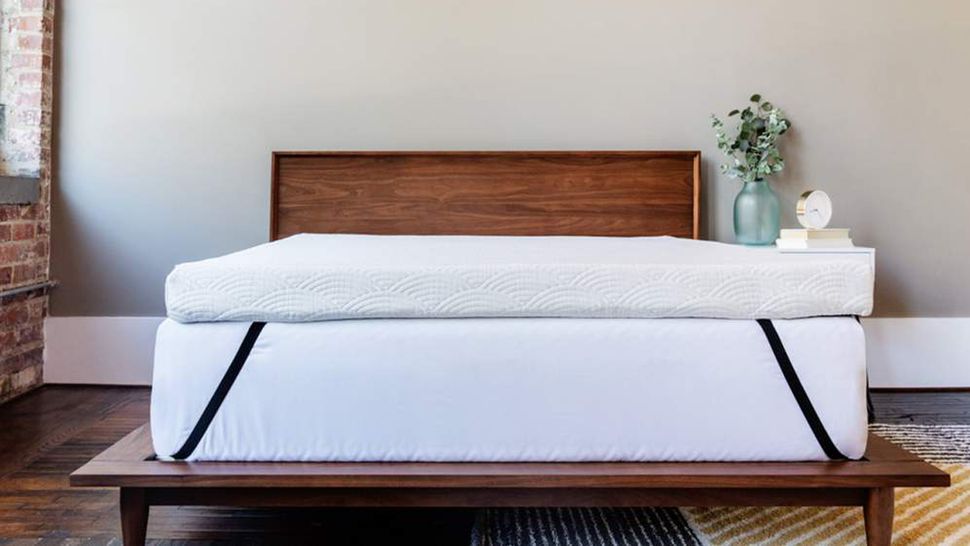 If you're not a fan of the contouring 'hug' of memory foam, check out the Viscosoft Active cooling topper. This 4-inch thick, medium-firm option offers gentle pressure relief alongside more solid support, and it's perfect for back sleepers. As you'd guess from the name, it also offers good temperature regulation. Although the phase-change cover wasn't cold-to-the-touch for us, the copper-infused foam kept our testers comfortably cool on even the warmest nights.
The Viscosoft topper attaches to your mattress securely with easy-to-fit elastic straps. The cover, which is made from a breathable mesh with an airy feel, has anti-slip properties too. In our ViscoSoft Active Cooling Topper review, we were pleased to find that the cover can be removed and washed, but did find it a little bit tricky to get on and adjust. Our tester also noted some potent off-gassing, which shouldn't be a deal-breaker but is worth being aware of before you buy. It's worth noting that lighter side sleepers might find this topper a touch too solid for comfort (it's slightly firmer than the Saatva above).
While the ViscoSoft Active Cooling Copper Topper is at the pricier end of our best mattress toppers list, it is a high-quality option. Other customers agree, with this topper getting an average of 4.5 out of 5 stars (~150 reviews, as of May 2023) on the company website. The reviews highlight the topper's comfort and luxurious feel. What's more, regular discounts will drop the price into a more affordable bracket for most.
Officially, there's no trial period for this topper, although if you buy direct from Viscosoft, there's a 90-day money-back guarantee, during which time the brand will refund you if you're not satisfied with your purchase. You'll also get a 7-year warranty.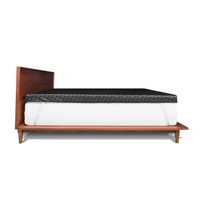 ViscoSoft Active Cooling Mattress Topper: from $249 $171 at ViscoSoft
You can normally save around 25% on this cooling mattress topper, but for the Cyber Week sales there's 30% off every size of the Active Cooling Mattress Topper, reducing the price of a queen to $244 (£349).
Best mattress topper for easing aches and pains
Unlike most of the models on this list, the Molecule CopperWELL Mattress Topper features an ergonomic multi-zone design. There are three softer relief zones (for the shoulders, hips, and knees) plus four firmer areas (around the head, waist, legs, and feet). This targeted support will ensure your pressure points aren't triggered, whilst promoting proper alignment.
The medium-firm sleep feel should suit a wide array of sleepers, but in our Molecule CopperWELL Mattress Topper review, we found it be most comfortable for side sleeping. The Molecule's open-cell, copper-infused memory foam kept us comfortably cool throughout our testing period. As a bonus, copper has anti-microbial properties, so it's also a great choice for those with allergies.
The main down-side is that there's no cover to speak of. The brand suggests that's so sleepers can fully experience the zoned support and airflow benefits, but in reality it means it'll be a bit of a pain to keep clean. We'd recommend finding a machine-washable mattress protector that'll safeguard it from spills, as well as helping to anchor it in place on the bed (there are no straps here).
Price-wise, the Molecule CopperWELL Mattress Topper sits at the higher end of the mid-range bracket. A queen retails for $249.99, but you can find it on sale from Molecule direct plus third-party retailers like Amazon and Target. Regardless of where you buy, your purchase will be backed by a 5-year warranty. Buy from Molecule and you'll have 30 nights to trial it at home, which is more than we can say for most of the toppers in our ranking.
The best mattress topper for back pain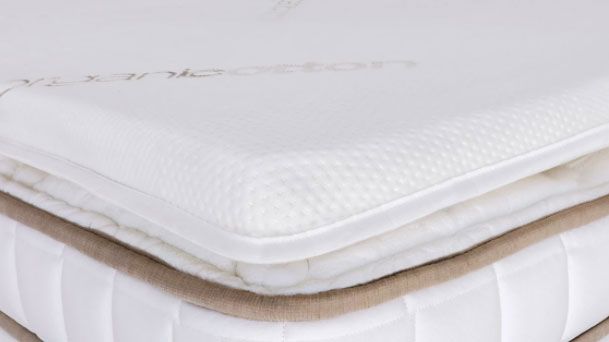 If you read our Saatva Classic mattress review and want all that Saatva luxury and comfort but don't have the budget or need for a whole new mattress just yet, a Saatva mattress topper is the next best thing. This brand makes three toppers; we tested out the graphite one and were very impressed. The graphite layer is designed to draw heat away from your body, and in our Saatva Graphite Mattress Topper review, we were very impressed with its temperature regulation. This topper stayed cool to the touch throughout our test period, making it a great choice for anyone prone to sleeping warm.
This topper includes three inches of memory foam, which delivers contouring, cushioning pressure relief, especially in the lower lumbar. The medium-firm sleep feel (we'd rate it a 6 out of 10) will suit any sleep position, but we'd recommend it to those who like to sleep on their back in particular. We sank into the graphite topper but also felt well-supported in this position.
The build quality here is excellent, as we'd expect from Saatva. Stretchy, elasticated bands anchor the topper in place. One slight downside is that the cover cannot be removed, so this model is spot-clean only.
It's a bit of a mixed bag when it comes to extras, too. On the one hand, there's a 180-night home trial – the longest of any topper in this ranking. On the other, it's only backed by a 1-year limited warranty, which is very short for a product of this price. Typically, toppers aren't discounted in the Saatva mattress sales, but it's worth checking before you buy, just in case. Torn between the Saatva and the Tempur-Pedic? We talk you through it in our Saatva vs Tempur-Pedic mattress topper comparison.
Alternatively, if you're a side sleeper who only needs a small boost in comfort then check out the 1.5-inch Saatva Foam Mattress Topper. It's also more affordable, with a queen retailing for $295 (versus $345 for the Graphite version).
The best natural cooling mattress topper
If you are an eco-conscious shopper, there's plenty to love about Birch's organic mattress topper. This topper is organic, responsibly sourced and sustainably produced, and the multi-layer design uses premium natural materials. At the top, you'll find a soft-touch, quilted cover made from breathable cotton. In the middle is a layer of wool, which delivers an extra bit of cushioning as well as being hypoallergenic, temperature-regulating and and a natural fire retardant. Finally, at the base you'll find a layer of Talalay latex.
Latex has some similar properties to memory foam, in that it'll mold to your shape and relieve pressure points, but if you go for a natural latex it's also eco-friendly, biodegradable, and hypoallergenic (see our memory foam vs latex mattress comparison for more detail). Talalay latex is the spongier, less dense and more cushioning type of latex, which makes it perfect for a topper.
While the internal design is relatively complicated, the outside is quite basic. The organic cotton cover can't be removed and is spot-clean only, and there are no straps to secure the topper to the bed. Birch says the weight of the topper should keep it in place, and a fitted sheet or mattress protector will help.
Reviews on the brand website are overwhelmingly positive. As of May 2023, this topper has an average of 4.7 out of 5 from over 800 reviews. Customers say it offers the perfect balance of softness and support, praise the build quality and say it's worth the money. There's a little disagreement in terms of heat retention – lots of people comment that it stays at a comfortable temperature, although a minority found it sleeps slightly warm (not enough to suggest this is a major issue, though). We haven't rested this topper out ourselves, but we were very impressed by this brand's full mattress in our Birch Natural mattress review.
The Birch organic topper is one of the pricier options on our list, which is what you'd expect for an organic product. Semi-regular Helix mattress sales (the parent company) mean you might not need to pay full price if you time things right, though. You have a 100-night sleep trial to make sure it suits you, and it comes backed by a 10-year warranty.
The best mattress topper for side sleepers
The Casper Comfy Mattress Topper is like adding a giant pillow to your bed. This three-inch tall topper topper is luxuriously cushiony, and the perfect way to add some softness to a too-firm bed. Inside, you'll find two layers of memory foam: a firmer base layer at the bottom, and a body-cradling layer of memory foam at the top. In our Casper Comfy Mattress Topper review, our tester found it delivered excellent comfort and good support in a side sleeping position, although stomach or back sleepers might need something slightly firmer to promote healthy spinal alignment.
One area in which this topper particularly impressed us is temperature regulation. The foam is perforated to encourage movement of air, and in our tests we found it worked well – our testers didn't overheat when trying out this topper, even with a heavy duvet added. There's a removable knit cover made from partly recycled materials, although the benefits of that are somewhat undermined by the fact that it's not machine washable (spot-clean only). It can be a bit of a pain to get on and off, and there are no straps to keep it in place.
Price-wise, we're at the lower end of mid-range here. Casper sales and deals aren't super common, but you might get luckier at third-party sellers like Target (our widget above will pull in the best prices for you). A 30-night trial gives you a bit of time to test it out and make sure it's a good fit for you.
The best cooling mattress topper for night sweats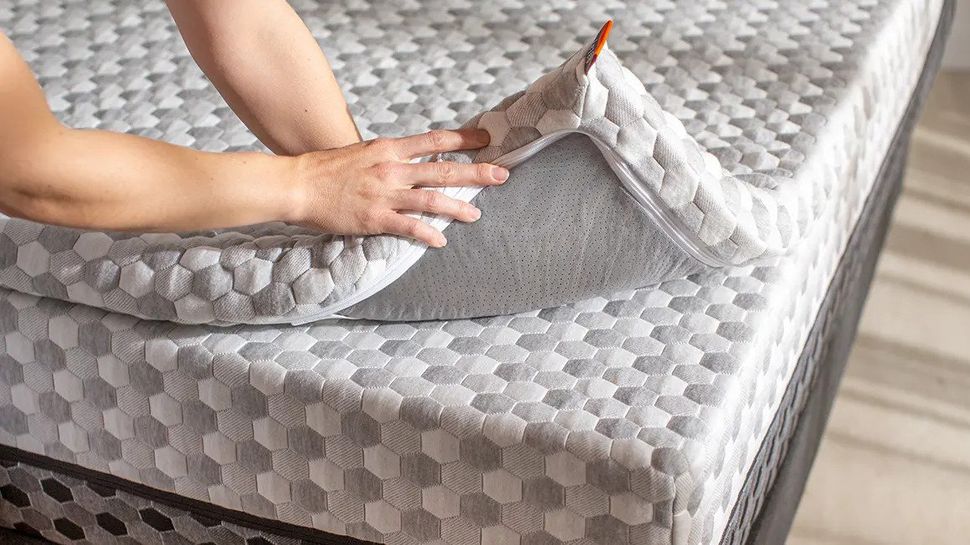 The sweat-wicking Layla Memory Foam mattress topper might only be 2-inches thick (most of our picks are 3 or 4 inches), but it's great for adding softness to a too-firm bed. Layla rates it as a 5 or 6 out of 10 on the firmness scale. Multiple customer reviews comment on how good it is at relieving pressure and adding a cushioning feel that's ideal if you suffer from joint pain.
The memory foam here is infused with copper, which is designed to dissipate heat and help you sleep comfortably cool. The jury's out on how well this works; some customers found it good at regulating temperature, while others comment that this topper sleeps warm. Copper also has the benefit of being naturally antimicrobial (it kills bacteria).
The cover is made from a polyester / viscose / lycra blend, in a fun honeycomb pattern. There's not loads of information on the product site, but we reached out to a brand rep who confirmed it can be removed for cleaning. You can machine wash it, but only on a cold, gentle cycle, and dry on delicate with low heat. There's an elasticated strap on each of the four corners to anchor it in place on your bed, although some customers comment that this topper still has a tendency to slide about.
Another thing to be aware of is that the returns process is a bit unusual. If you don't get on with your topper during the trial (which is referred to as a 'money-back guarantee' period) you'll need to donate your topper to charity, get a receipt proving your donation, and then Layla will refund you. In general the extras a decent though – 120 nights is a good amount of time to test out your purchase, and it also comes with free delivery and a 5-year warranty.
The best inexpensive mattress topper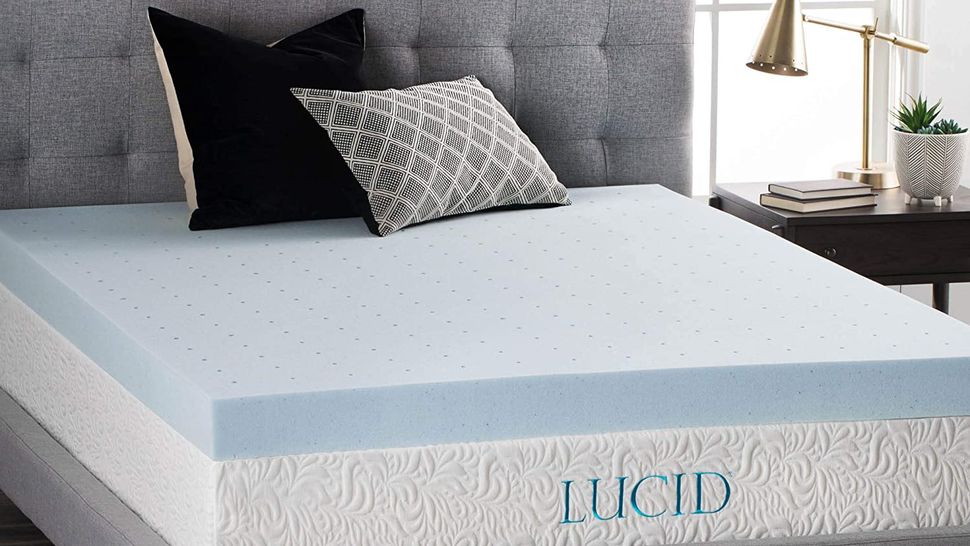 The Lucid Gel Memory Foam mattress topper is a budget model that's worth considering if you want a thick bed topper with decent cooling and a lower price. At 4 inches deep, there's lots of cushioning for maximum pressure relief, and it's chunky enough to mask an uncomfortable sleep surface too (for example, if you've got an old innerspring mattress, and the coils have become bumpy).
Although there are cooler toppers out there if you're willing to pay a bit more, in our Lucid Gel Memory Foam mattress topper review we were surprised at how well it regulated our body temperature. We tested out the foam-only version, but you can opt to add on a polyester-blend cover that can be machine-washed. The cover also features a non-slip rubberized base, although there are no straps to anchor your topper in place.
This topper has a high star rating of 4.4 out of 5 on Amazon with over 28k reviews (May 2023). Many happy customers sing its praises, commenting on how it transformed their sleep and improved their current firm mattress. Of those who didn't like it, the main complaints surround it being too squishy and unsupportive. We wouldn't recommend it to back or stomach sleepers, who need a supportive sleep surface, and you might find it's too unstable if you suffer back pain. Note, that there are shallower versions available, which might address the issue.
Another big draw here is the price. A queen retails for $120 (based on the 4-inch, no-cover version). While that's much cheaper than many of the models on this list, when you compare it to the Sleep Innovations topper at #2, it seems less good value for money. That one comes with a quilted cover, and only costs slightly more. In the budget arena, it's also worth checking out the Linenspa topper – our Linenspa vs Lucid mattress topper comparison feature breaks down the differences between the two.
Best affordable latex mattress topper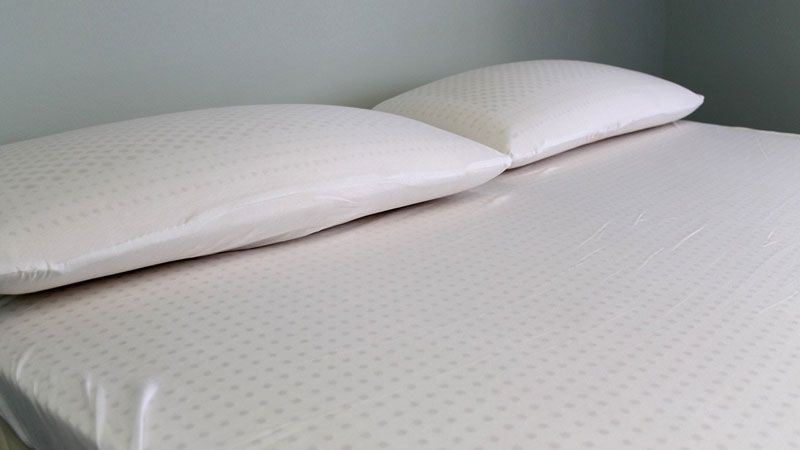 If you want a natural, latex option and the Birch is too pricey, check out this Turmerry mattress topper. Latex offers some of the body-molding support you'll find with memory foam, but it's natural and biodegradable. The Turmerry topper is available in two and three-inch thick versions, as well as three firmness levels – soft, medium and medium firm. That means you can pick the option that suits your exact preferences.
Like the Molecule CopperWELL Mattress Topper, this model is zoned to provide pressure relief and support in all the right places. Turmerry promises pain relief in the shoulders, hips and back especially. Although we haven't tested this model out yet and can't vouch for that personally, a number of customers say this topper has helped ease or even eliminate joint pain. Latex is known for sleeping cooler than most foams, and the organic Dunlop latex here is ventilated with lots of small holes to help the air circulate. However, a handful of reviews comment that this topper sleeps slightly warm (we'd guess that these are from customers who are used to innerspring mattresses, which are typically very breathable).
All Turmerry toppers are hypoallergenic, making these a safe choice for anyone with allergies. These toppers should also appeal to eco-conscious consumers too: the company's manufacturing facility is carbon-neutral certified, and the latex used has 100% organic certification. Plus Turmerry plants a tree with every sale.
Most organic mattresses and toppers are very pricey, but the Turmerry options are relatively affordable in comparison. You're making a few concessions for that lower price. Except for the 4-inch version, there's no cover included, although you can pay extra to add on an organic cotton cover (which we're assuming is removable and washable because it specifies there's a zipper). Whether you go for the cover or not, there's nothing to secure the topper to your bed either, so you might have issues with it sliding around.
The Turmerry website features almost 1,475 reviews as of May 2023, the majority of which rate its products a full five stars – the general consensus being the toppers are good quality at a great price. Extras are decent, too: free shipping, a 120-night sleep trial, and a 5-year warranty. If you suffer from aches and pain while you sleep, or you're looking for a sustainable option, the Turmerry Organic is one of the best mattress toppers around.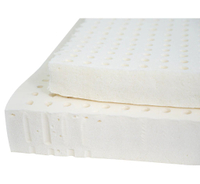 Turmerry Latex Mattress Topper: from $150 $99 at Turmerry
You can currently save around 20% on this sustainable topper, with a queen size discounted to $193 down from $239. While that may seem expensive at first, this topper uses eco-friendly natural latex, which is a high-quality, durable material and you'll get a warranty of up to 5 years, too. Plus, there's free shipping.
The best cheap mattress topper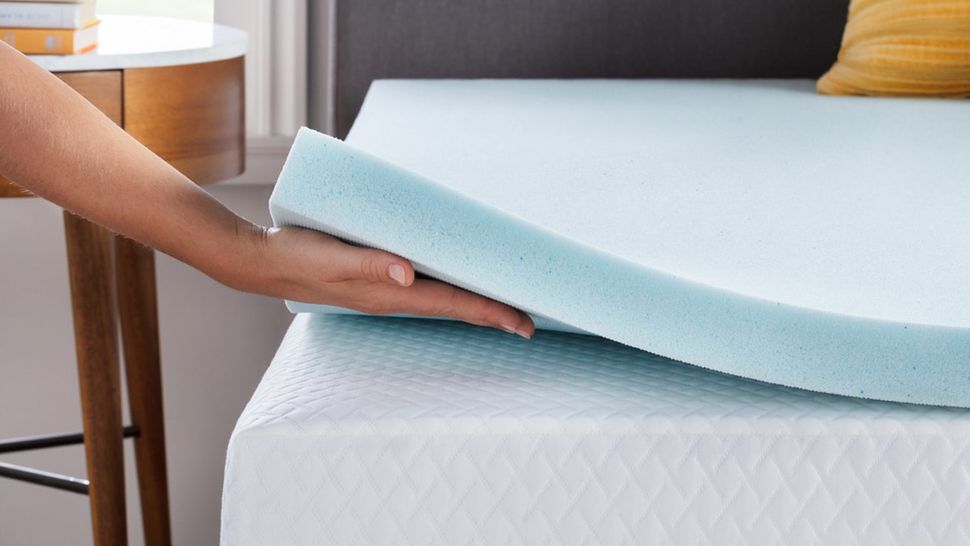 If you're on a super-tight budget, Linenspa's Gel Infused Memory Foam mattress topper can't be beaten for value. There are a two- and three-inch thick versions, and whatever you go for, you won't have to spend much – prices start from $39.99 for a 2-inch thick twin. As you'd expect, the design is basic. The standard design is just a wodge of polyurethane memory foam, although you can opt to add a machine-washable cover. The foam is also infused with gel to help with temperature regulation.
On Amazon, the topper has over 100K user reviews, with an average rating of 4.5 out of 5 as of May 2023. Fans of the Linenspa topper like that it contours to their body without overheating. They also feel well-supported along their hips and shoulders. There are some complaints about the potent off-gassing smell, but the good news is that it doesn't linger for long. (Rest assured this topper is made using CertiPUR-US standard foam that guarantees safe emissions, as well as durability.)
The Linenspa topper is backed with a three-year warranty, free delivery, and free returns. It's also available in 10 sizes – including twin to California king, as well as sizes suitable for cots or RV beds. While it won't deliver the same quality and longevity as pricier options in our list, if you just need something cheap to add softness to a too-firm mattress, this looks like a great option.
What is the best mattress topper in 2023?
The Tempur-Pedic Tempur-Adapt is our number one pick of the best mattress toppers. This three-inch thick luxury foam topper offers a lot of comfort and pressure relief at a fraction of the cost of a full-fledged Tempur-Pedic Tempur-Adapt Mattress. Prices start at $319 for a twin, but there are regular sales and promotions.
The Tempur topper gets an average of 4.5 out of 5 stars from over 5,400 user reviews, and with a 10-year warranty, you're covered for the long haul. We recommend most it for side sleepers who like an ultra-plush bed.
How to choose the best mattress topper for you
Choosing the best mattress topper for you is easier when you know what qualities you would like it to have. For example, if your existing mattress is the wrong firmness, look for a bed topper such as the Turmerry Organic Latex Mattress Topper that offers a choice of firmnesses so you can find one that's more suitable.
You might want a firmer topper that supports you if you sleep on your back or front, or you might prefer a softer memory foam or plush-top option to cushion joints.
If you need something vegan or hypoallergenic, then the best mattress topper for you is The Company Store Legends Hotel Down Alternative Baffled Featherbed. This one offers luxurious levels of comfort, while also taking the strain off your hips, shoulders and knees.
There's plenty of choice if you need a mattress topper with cooling properties. It's best to find one with a removable cover, as well as antimicrobial properties to keep the topper hygienic. Saatva and Eight Sleep go the extra mile when it comes to keeping things cool at night, with innovative materials or tech that help keep the body at a comfortable temperature for sleeping.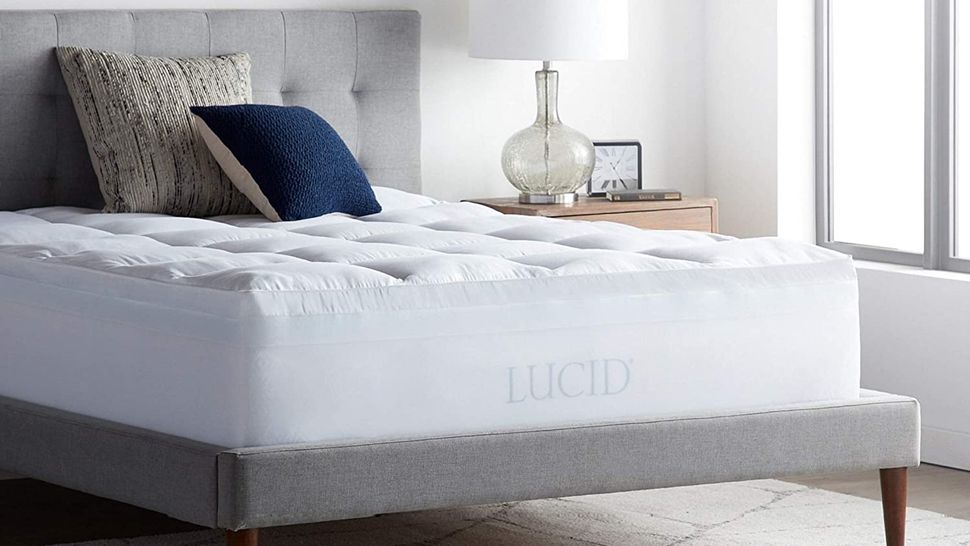 When is the best time to buy a mattress topper?
Good value mattress topper deals come up regularly throughout the year. Usually at least one of the toppers in our guide will have a discount at any given time. That said, there are some key periods that tend to offer slightly bigger discounts. November is when we normally see some of the best Black Friday mattress topper deals from the biggest names in sleep, and these usually form part of the wider Black Friday mattress sales.
In February, there are big discounts in the Presidents Day sales; and in May there's always a wide variety of toppers on sale during Memorial Day. We also tend to see decent deals during the summer sales, on Labor Day in September, and in early December with Cyber Monday.

Mattress toppers vs mattress pads vs protectors
This is a common question, but there's an easy way to tell the difference between these three main mattress accessories:
Mattress toppers, also known as bed toppers, are the thickest of the three and are designed to sit right on top of your mattress. They are usually anchored in place by thick straps that go over and under your mattress. You can buy toppers that are up to seven inches deep, and their goal is to make your bed more comfortable for your body. That could be by adding firmer support or quilted top softness, or even dedicated cooling gels to dissipate body heat.
Mattress pads are thinner and therefore make less of an impact than toppers. Some people choose them if they aren't sure whether they need a full bed topper, but keep in mind that mattress pads won't add anywhere near as much comfort as a proper topper will. They are cheaper though and can add a layer of protection to help protect your bed from stains.
Mattress protectors are the thinnest of the three but they play a very important role: they are designed to keep spills, dust, urine, dust mites and pesky bed bugs away from your mattress. We always recommend placing a protector over your mattress topper for maximum hygiene, and to help all of your accessories last longer, giving you more value for money in the long-term.
What are the benefits of a mattress topper?
If your mattress is still in good condition, but isn't quite right – maybe it's too soft, too firm, or not cooling enough – then there will be a mattress topper to help. Bed toppers are a simple way to transform any mattress, instantly, cheaply and easily, with just a few inches of memory foam, latex, or feathers providing that little extra something you need.
If you're looking to bring the temperature down, try a bed topper with cooling qualities such as a gel-infused top or a sweat-wicking cover. Many come with covers that can be removed and washed too, making it easier to keep fresh.
Most mattress toppers are around 3 inches thick, but there are many that are deeper if you need extra support or stability beyond your existing mattress. If you need more relief for pressure points, then a memory foam topper is ideal.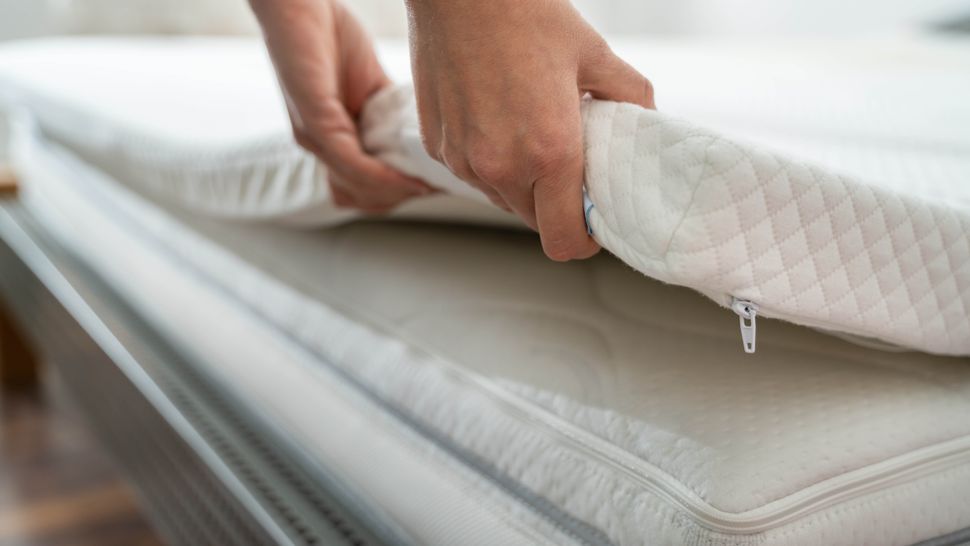 Mattress topper materials guide: foam, gel, latex
There are countless number of mattress toppers available, so it can be difficult to know what to choose. Here's a quick guide to the three main materials that you'll find in bed toppers and the benefits of each.
Memory foam – a popular material used to make many of the best mattresses in a box, memory foam bed toppers are a cheap and easy way to change up your mattress, making it softer or firmer depending on what you need. If you get chilly, then memory foam is a cosier option as it tends to retain heat, although there are some cooling options too.
Gel – if you sleep hot then bed toppers made with cooling gel-infused foam are designed to keep your body temperature at a cooler level as you sleep. These are often cool to the touch, which is total bliss for hot sleepers. Look out for gel-infused toppers that also have washable and antimicrobial covers, which is essential for keeping your bed topper hygienic if you sweat.
Latex – natural latex is extremely durable, nicely springy and breathable making it ideal if you're looking for something long-lasting and hard-wearing on top of the comfort. Latex mattress toppers are often a good choice for RVs/campervans.
How thick should a mattress topper be?
Mattress toppers can range in thickness greatly, from just an inch or two to eight inches or more. However, a happy medium for most is around four inches, and those under two inches should probably be avoided.
A thin topper is unlikely to actually provide much extra support or cushioning, and in use you're likely to 'bottom out', meaning your pressure points won't really be feeling any difference compared to your mattress alone.
Those that are too thick, however (especially standard memory foam toppers), will have you sinking deeply into the topper. While some might enjoy this, it can prove problematic when it comes to moving around in bed. You might find yourself feeling a little trapped, and if it doesn't spring back into shape immediately you could also struggle to get comfy when you change position.
While it all depends on your preference and what material you've chosen, we think between two to four inches is the best for a mattress topper.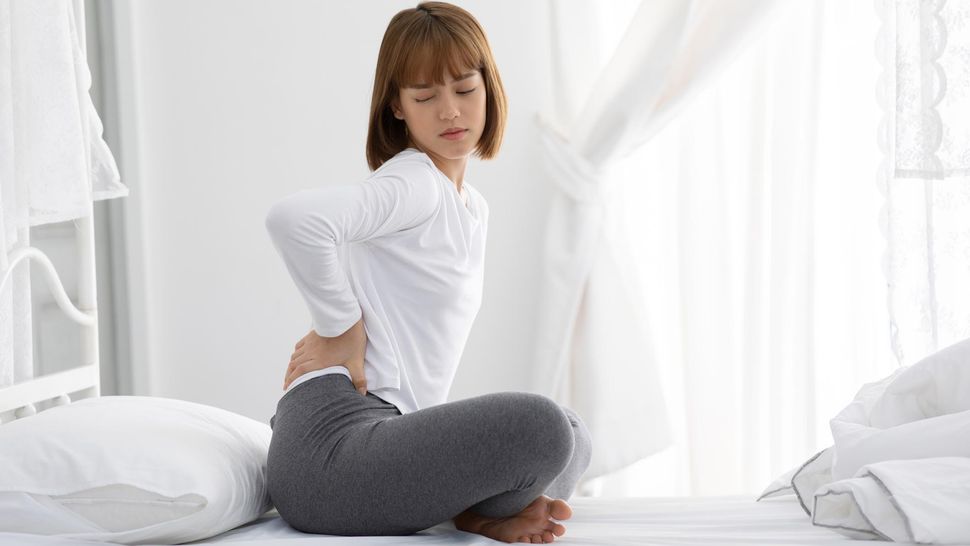 Are mattress toppers good for back and hip pain?
If you suffer from back ache and suspect it could be caused by your mattress, it could just take adding a mattress topper to help relieve the pain. Side sleepers, for instance, should be properly supported along the spine and at the pressure points, something a memory foam topper can help with.
If you're sinking too much into your mattress, that can push your spine out of alignment, so a firmer topper will help even straighten things out. The same is true for a mattress that is too firm, which can quickly cause soreness. A mattress topper with a softer surface, such as a plush top, will soon transform your sleep and make it less painful at pressure points too.
If your pain is severe or persistent then check with a healthcare professional, who should be able to advise you further.
The best way to wash a mattress topper
When browsing for mattress toppers online, check to see what the care instructions are, because not all bed toppers can be washed, although you should still be able to spot clean them. Meanwhile, some mattress toppers are machine washable, while others offer a middle ground with a removable washable cover.
Whatever the care instructions are for your bed topper, using the best mattress protector you can afford will help keep the topper fresh and protected against accidental spills, sweat and dust mites. It's always a good idea to freshen up your topper by airing it regularly if you can.
Gel vs memory foam mattress toppers
Memory foam bed toppers dominate the market and provide affordable, effective ways of both firming up or softening your current mattress, depending on the thickness you choose. However, cheaper versions often suffer from heat retention, which can make some sleepers overheat at night.
Gel and gel-infused foams perform much in the same was as memory foam toppers but have technologies baked in to help dissipate heat. This is great if you tend to run hot, but many premium foams without gel have other ways of dissipating heat. We pit two of these types against one another in our Saatva vs Tempur-Pedic mattress toppers article.