Amazon is a great place to go for a bargain bed in a box. If you're looking for a cheap and cheerful new mattress, you're in the right place: our sleep experts have rounded up the best Amazon mattresses under $400 for a queen size.
While $400 isn't going to get you one of the very best mattress around, all of our picks offer good value for money, and are ideal if you're on a tight budget or are looking for an occasional mattress or a short-term sleep solution. And there's no denying shopping on Amazon is convenient – some of our picks are even eligible for super-speedy shipping via Prime.
All of these mattresses have been chosen by knowledgeable reviewers, and meet our criteria for what we'd expect from a mattress in this price bracket (at least 10 inches tall, CertiPUR-US certified foams, a decent warranty). Be aware that you'll have to make some sacrifices for those lower prices – while all of these mattresses come well-reviewed, they won't be the most long-lasting or robust, don't expect features like handles and removable covers, and you aftercare will likely be a little trickier than if you buy direct from a brand (figuring out how to return a mattress to Amazon is a little confusing, for example).
We have a separate guide to the best mattresses on Amazon, which covers slightly more expensive models. Alternatively, if budget is the key thing but you don't mind where you buy from, check our best cheap mattress guide (those options are all under $500 for a queen) or our best affordable mattress ranking (for better quality options between $500 and $1200 for a queen size). Happy where you are? Read on for a rundown of the best mattresses on Amazon for under $400.
The best mattresses on Amazon under $400
The best cheap boxed mattress on Amazon is the Lucid memory foam mattress. The design includes layers of different foams, all of which are CertiPUR-US certified. The base is made from bamboo- and charcoal-infused foam, there's a transition layer in the middle, and the top tier is gel-infused memory foam.
The purpose of these kinds of infusions is to add extra properties to the foam – so gel is meant to help with cooling, while charcoal is odor-eliminating – but industry insiders will tell you that they're added in such small quantities as to be unlikely to make much of a difference to the feel or behavior of a foam. This is the case across the board, not just with Lucid.
Most of the models in this sub-$400 Amazon mattress list are only available in one sleep feel, but here you can choose from plush, medium or firm. Firmness is very subjective but reviews suggest this mattress is on the firmer side in general. As a rule, stomach and back sleepers should opt for a firm mattress to ensure their hips and back get adequate support. Side sleepers might prefer something softer (we'd recommend the medium) to prevent pressure from building up around the shoulders and hips. Factor in body weight too: heavier people should err on the firmer side, petite and lightweight people can get away with softer mattresses. There's only one thickness option – 10 inches, which will work fine for most adults.
Within the Amazon reviews, customers say the sleep surface is slow-moving but not unpleasantly squishy, and praise this mattress as offering good value for money. There are a few complaints about the edges being unsupportive, so may not be able to comfortably sit or lie on the edges. Unsurprisingly for a cheap all-foam mattress, this seems to sleep a bit warm (note: we were pretty impressed with the temperature regulation on this brand's topper in our Lucid Gel Memory Foam topper review).
We can't see any information about a warranty, although we would expect there to be one. Finally, we were pleased to note that Lucid's parent company, Malouf, is B-Corp certified – an award given for responsible social and environmental performance, and fairly rare amongst mattress companies, on Amazon and elsewhere.
The Zinus Green Tea Memory Foam mattress is a consistent Amazon best-seller with an average 4.4-star rating (out of 5) from nearly 150k customer reviews (Jul 2023). It comes in four different heights, but for most adults we'd recommend at least the 10-inch version. That's what we tested for our review, and found that for its exceptionally low cost (typically around $365 for the queen mattress size), it offers a good night's sleep.
This medium-firm model consists of three layers of different types of mattress foam. At the bottom, a 5-inch foam base for stability, followed by 2 inches of pressure-relieving comfort foam, then at the top is a 2.5-inch slab of memory foam. That upper layer is infused with green tea and charcoal, apparently to absorb moisture and neutralize odors for a more hygienic sleep. As ever, approach these claims with a healthy skepticism – infusions are unlikely to really make a difference to how a foam performs. Regardless, we'd recommend adding a mattress protector to any mattress to safeguard it from stains and spills, and make cleaning easier.
In our tests, we found it had a supportive, medium-firm feel (perhaps a 7 out of 10 in terms of firmness). There's a classic memory foam feel, in that this is a mattress that you sink into rather than lying on top of. The upper levels of foam contour around your body, relieving pressure on your joints and making this a great mattress for side sleepers. Our testers found it less comfortable for front or back sleeping. We also didn't notice any motion transfer, so it'll work for couples who share a bed with a restless partner.
It's not perfect. As you'd expect for this price, the foams don't offer the best temperature regulation. Our testers found this mattress sometimes slept warm. That'll likely be the case with all the mattresses in this guide. If you can stretch to it, something like the Cocoon Chill will deliver much better temperature regulation. And like all the models on this list, it won't offer the best longevity.
Zinus does offer a 100-night trial plus a 10-year warranty, but it's unclear if those perks are included with purchases made from Amazon. If you're on a tight budget and need a new bed in a pinch, the Zinus Green Tea Memory Foam is a great option.
Most cheap mattresses are all-foam, as anything with springs tends to command a higher price tag. We've found a few good exceptions: this Modway, the Linenspa (#4) and Classic Brands (#5). All of these mattresses are under $400 for a queen size, which is incredibly cheap for a hybrid mattress.
While the Modway can't compete with the quality and comfort of today's best hybrid mattresses, it offers a lot for its ultra-low price tag. The 10-inch tall design includes coils, topped with a layer of memory foam. It looks like the proportion of coils to foams here is weighted towards the coils, which means this mattress should offer more of a traditional sleep feel, with a bit of bounce and some responsiveness (not everyone loves the sink-in feel of memory foam).
The coils will create space for air to circulate within the mattress, boosting breathability. For that reason we'd expect this model to sleep cooler than the all-foam mattresses on this list. Here, the coils are individually wrapped, which means they'll be able to respond individually to the sleeper's movements and helping prevent too much movement transfer across the sleep surface (although for maximum motion isolation, consider an all-foam model).
Overall this mattress promises a firm sleep feel that we'd recommend to back or stomach sleepers who need a sturdy surface to keep their spine properly supported. Some side sleepers might find this mattress causes pressure to build up in their shoulders and hips, and would prefer something softer (the Linenspa #4 is available in medium and plush versions). The Jenna comes in multiple height profiles; we'd recommend the 14-inch version if you're on the heavier side as reviews suggest that's the most supportive option.
This Linenspa is another bargain hybrid mattress for under $400. Like all the foam-and-springs models in this ranking, we'd expect it to sleep cooler than an all-foam mattress because the coils create space for air to circulate.
This mattress is available in 8, 10 and 12-inch versions, and the deeper the mattress, the softer the sleep feel. We've included the 12-inch version here, which has a plush sleep feel. While firmness is subjective, we'd only ever recommend 'plush' mattresses to side sleepers – back and stomach sleepers should opt for something firmer in order to ensure their spines are properly supported. Unless you're sure you love a soft mattress, the 10-inch option might be a better bet, or check out the firm hybrid Modway (#4).
The design has a memory foam top layer, with another layer of foam beneath it and then the tempered steel coils beneath that. The foam section looks to be pretty deep, so we're expecting some of that sink-in, contouring feel, with the springs adding a bit of bounce and responsiveness. Because they're not marketed as pocket coils, we're expecting this to be a continuous coil. That means there may be some motion transfer here, although the thick upper layers of foam may help dampen that down. Light sleepers and/or those with wriggly partners may get on better with an all-foam mattress, though.
Combing through the Amazon reviews for this mattress, shoppers praise how easy it is to set up, and many are 'pleasantly surprised' at how comfortable it is to sleep on. As you'd expect, some are concerned about long-term durability. However, if you're looking for a cheap Amazon mattress and have your heart set on a hybrid, this is one of the best.
The Classic Brands Decker Memory Foam and Innerspring is a 10-inch mattress that's capable of supporting a lot of weight – 1,000lb max for a queen. If you and/or your sleeping companion are on the heavier side, this 4-layer hybrid will securely support you with its mix of individually-wrapped coils, contouring memory foam, and open-cell comfort foam. It's all the more impressive because the rest of today's best mattresses for heavy bodies all sit in the upper-mid or premium price bracket, whereas this is a budget option.
This is a firm mattress with a quilted tight-top cover. Back sleepers, as well as anyone with nagging back pain, will find it particularly comfortable. Plus, its combo of coils and perforated foam should promote decent airflow, meaning it'll sleep cooler than an all-foam model.
The Classic Brands Decker doesn't have as many reviews as the other selections on this list, but of the ~3,000 reviews it does have, customers praise this mattress for its low cost and improved sleep quality, especially in regards to back pain. Be aware that it'll take a while to expand once it's removed from the box, and there are also some complaints of off-gassing odors (note, experiences with off-gassing can vary from person to person and mattress to mattress, so you may not have this problem).
How to choose the best mattress on Amazon under $400
Budget is obviously a factor if you're glancing at this list, but cost alone should not be a motivating factor when choosing a new mattress. Buying a bed that doesn't mesh with your unique sleep needs will impact your health and well-being due to a lack of quality sleep. What's more, you'll end up spending more money in an attempt to land a mattress that's right for you – so it's important to get it as right as possible the first time.
When it comes to finding the best mattress on Amazon for under $400, consider the following criteria...
Your sleep style: Most people will benefit from a medium-firm mattress. However, side sleepers may be inclined for something more plush to cushion their hips and shoulders, whilst back and front sleepers can benefit from a firmer bed that'll prevent their mid-section from dipping.
Your body type: Generally, a heavier sleeper with a broad build will prefer something firmer than a lightweight, petite individual. However, firmness is subjective which is why it's important to test your new mattress if possible – more on that below.
Your sleep concerns: You'll also have to pay mind to your primary sleep issues. For instance, do you overheat at night, or share a bed with a restless partner? Seek a model that'll best address those issues.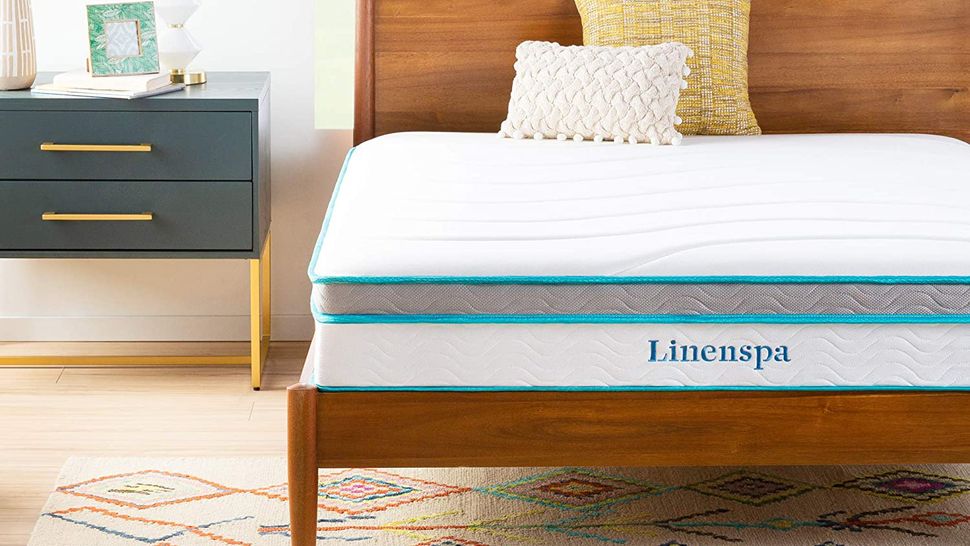 Buying advice
There are some good mattresses on Amazon, but there are also some rubbish mattresses on Amazon. If you're in the super-budget category, it stands to reason you'll need to make some compromises on quality and design. However, there are a few key things you should expect, even for a very cheap mattress. Here's what to look for:
A CertiPUR-US certification confirms the foams in your mattress meet certain minimum health and environmental standards. It's pretty standard across all mattresses, even cheap ones, and we'd consider it a red flag if a mattress' foams weren't CertiPUR-US certified. If it's not mentioned on the Amazon product entry, check the company website, because sometimes things like that can get missed off the Amazon listing.
A depth of at least 10 inches
Most adults need a minimum mattress depth of around 10 inches in order to get the comfort and support they need. Heavier individuals (250lb plus) might need something thicker (12 inches) while children and petite / lightweight individuals might get away with a slightly thinner mattress (say 8 inches).
Some kind of warranty or returns process
Most Amazon mattresses don't come with their own sleep trial, so while you might not be able to return your mattress just because it doesn't suit you, there should be a returns process for faults. Look for warranty information on the product listing page, as well as double-checking what happens if you need to return your mattress to Amazon.
If you're buying a name-brand like Casper or Nectar via Amazon, you might be eligible for the brand's own trial period, but make sure you check and jump through the required hoops to get that activated. Alternatively, consider investing a bit more and buying direct from a known bed brand – most of today's best budget mattresses (all under $500 for a queen size) come with a trial period of at least 90 nights.
Foam that's a least 1.8lb
Foam quality is indicated by its density – measured in pounds. Denser foams are higher quality, more durable and more expensive. This is an important spec, but it's last on our list because it's basically impossible to figure out – in the vast majority of cases, brands won't publish this information.
If you can find the info, ideally you want your comfort layer (the top tier of the mattress that defines the sleep feel), you want the foam to be at least 1.8lb. According to mattress manufacturing expert Tim Dilworth, this is the minimum density to look for in a mattress, if you want it to be comfortable and to last (you'll find more insights from Tim in our memory foam density guide). That's especially true for bed-in-a-box mattresses, because the compression process puts the foams under stress, and poor quality foams likely won't recover properly.
When's the best time to buy a mattress on Amazon?
You might expect that the Amazon Prime Day deals events – a 2-day sales extravaganza, exclusively for Amazon Prime members (or those taking advantage of the free trial), which typically takes place sometime in July. However, in reality over the past few years, good Prime Day mattress deals have been very few and far between.
In the 2023 event, which took place on 11-12 July, yielded just one actually worthwhile mattress deal (on Casper mattresses). There were, however, some genuinely strong mattress topper deals. Interestingly, a number of bigger brands, which aren't available via Amazon, ran their own 'Prime Time' rival deals to coincide with Amazon's event.
The generic Amazon mattresses in this ranking do sometimes attract further discounts, but there's no real pattern to when we'll see price drops. Unfortunately, it's just a case of keeping an eye on the listing if you really are determined to snag a discount. We will highlight any significant offers that do arise though.
Should I buy a cheap mattress on Amazon?
Whether or not you should buy a cheap mattress on Amazon depends on what you're looking to get out of it.
For example, if you're moving into a forever home, then you might want to invest in something more durable since you'll want it to last a long time. However, if your mattress is for a seldom-used guest room or a kid's bedroom, then a cheaper mattress should suffice. If you need a mattress for your main bedroom ASAP, then a cheap mattress from Amazon will help fill that need before you can expand your budget and purchase something longer-lasting.
It's also important to keep in mind that Amazon doesn't offer mattress trials unlike the brands themselves, which could be a downside. Mattress brands such as Nectar and Zinus offer their own trial periods but don't always bring that perk to their Amazon storefronts. Most budget-priced mattresses don't provide such an amenity, either, regardless of where you buy.
It's crucial to allow your body time to break in a mattress – on average, it takes about three weeks to adjust. Save yourself a lot of hassle ahead of time by learning how to return a mattress to Amazon just in case. We also suggest checking the Warranty and Support section of the mattress listing on Amazon, or contact the manufacturer directly to find out if their trial and return policies apply to third-party purchases.