Tempur-Adapt mattress review in brief
The Tempur-Adapt mattress is a mid-range model from Tempur-Pedic, a brand that's no stranger to best mattress distinctions. However, it's still quite pricey relative to other top memory foam mattresses on the market, with a starting MSRP of $1,699 for a twin. It promises legendary pressure relief, low motion transfer, and personalized comfort, but does it deliver on those claims? We slept on a Tempur-Adapt mattress for three weeks to find out if it's worth its premium asking price.
The 11-inch Tempur-Adapt mattress comes in one firmness level (medium) and is also available as a hybrid. This three-tier bed consists of TEMPUR-ES Material, Original Tempur Material, and a polyfoam base. These layers work together to provide pressure relief, offer tailored support, and adapt to your movements. The cover has cooling fibers woven into it and feels cool to the touch.
Tempur-Adapt Mattress specs
Type: All-foam
Materials: Tempur Material, polyfoam
Firmness: Medium-firm (7.5)
Depth: 11 inches
Trial period: 90 nights
Warranty: 10 years
MSRP: $1,699 - $3,398
Our 6-member testing panel unanimously agrees that the Tempur-Adapt mattress is best for back sleepers. Resting in this position allowed us to fully experience the Tempur Material's exceptional pressure relief and all-over support. (We think it's a good mattress for back pain, too.) We found the Tempur-Adapt comfortable for stomach sleeping, as well, but reactions were mixed among our side sleepers, who found it too firm along their shoulders or not supportive enough for their hips.
If you're looking for a capable cooling mattress, the Tempur-Adapt isn't it. Despite a cooling cover and a layer of open-cell Tempur Material, our lead tester woke up warm or downright sweaty most mornings. There's a possibility we didn't quite find the right balance of room temperature and breathable bedding to optimize the Tempur-Adapt's cooling properties. (But that also sounds like a whole lot of work.)
On the flip side, motion isolation is excellent, which will appeal to couples. The Tempur-Adapt mattress absorbs virtually every movement so your partner's movements are unlikely to disturb you. Edge support is above average for a full foam mattress – you won't have to worry about falling over the side of your bed – but it's nowhere near the level of support present in most hybrid mattresses.
Complimentary white glove delivery is included, along with optional removal of your existing mattress. That's a fantastic perk. However, a 90-day warranty and a 10-year warranty seem meager when you're paying close to two grand (or more). Tempur-Pedic doesn't run mattress sales outside of major holidays, but during such events, you'll usually find up to $300 off the Tempur-Adapt. Alternatively, you can shop around for deals from authorized third-party retailers, but they often match Tempur-Pedic's direct prices.
Tempur-Adapt mattress review: price
Tempur-Pedic's second most-affordable mattress
Includes free in-home delivery, setup, and removal
Sales are rare, but usually take up to $300 off
The Tempur-Adapt mattress is Tempur-Pedic's mid-range model, but it's still among the pricier memory foam mattresses on the market. A twin retails for $1,699, while the list price of a queen is $2,199. That said, these are lower MSRPs than we've seen in recent months – a twin previously retailed for $1,949, and a queen was $2,749.
Here's the official 2023 pricing for the Tempur-Adapt Mattress:
Twin MSRP: $1,699
Twin XL MSRP: $1,699
Full MSRP: $2,049
Queen MSRPP: $2,199
King MSRP: $2,899
Split King MSRP: $3,398
California king MSRP: $2,899
Split Cal king MSRP: $3,398
Tempur-Pedic mattress sales only crop up during major holidays. The Tempur-Adapt is usually up to $300 off, but discounts generally fall in the $100-$200 off range. Alternatively, you can browse mattress sales from authorized Tempur-Pedic resellers like Amazon and Macy's, but since prices are generally the same we'd recommend buying directly from Tempur-Pedic for easier aftercare.
Purchasing from Tempur-Pedic ensures free in-room delivery and setup, with optional mattress removal. A 90-night mattress trial and a 10-year warranty apply. (Returns cost $175.) The Saatva Loom & Leaf is a similar luxury mattress that also includes white glove delivery but instead offers a generous 1-year trial and lifetime warranty. Saatva's MSRPs fluctuate often due to inflation, but frequent Saatva mattress sales help match or undercut Tempur's prices.
As far as Tempur-Pedic mattresses go, the Tempur-Adapt is one of the most affordable models you can buy. (Only the entry-level Tempur-Cloud mattress-in-a-box costs less.) A possible effect of this lower cost is a lack of firmness options, which the premium ProAdapt and LuxeAdapt models provide, albeit for thousands of dollars more. (However, you can upgrade to the Tempur-Adapt Medium Hybrid for $300 extra for a bouncier feel.)
Another way to save on a Tempur-Pedic mattress is to opt for a Tempur mattress topper instead. The Tempur-Pedic Tempur-Adapt topper offers the same body-hugging comfort at a fraction of the cost of a full-fledged mattress. (Prices start at $319 for a twin.) Our Tempur-Adapt topper review has more details.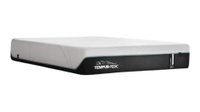 View Tempur-Adapt mattress at Tempur-Pedic
The Tempur-Adapt series of mattresses specialize in pressure relief. This is the least expensive of the Adapt line – an 11-inch mattress with a medium-firm feel that's also available as a hybrid if you need more bounce and edge support. In addition to Tempur's legendary pressure relief, you'll also receive a 90-day trial, a 10-year warranty, and free in-home delivery and mattress removal.
Tempur-Adapt mattress review: design
An 11-inch mattress made of Tempur Material and foam
Adapts to your body shape, temperature, and movement
Woven cover feels cool-to-the-touch
The Tempur-Adapt mattress is 11 inches tall and consists of three layers – 1.5 inches of soft TEMPUR-ES Material, 1.5 inches of denser Original Tempur Material, and an 8-inch polyfoam core for stability. These layers work together to cushion your joints, offer ample support, and adjust to your movements if you change positions while sleeping.
The cover of the Tempur-Adapt has cooling yarn woven into the fabric, giving it a cool-to-the-touch sensation. Combined with the open-cell construction of the Tempur Material, this mattress is designed to wick away sweat and adapt to your body temperature so you don't overheat at night.
The Tempur-Adapt mattress is spot-clean only, so you'll want to wrap it in a mattress protector to shield it from stains, spills, bed bugs, and allergens. (Note that Tempur-Pedic strongly recommends using one of its specialty mattress protectors to optimize the contouring properties of the Tempur Material.)
Tempur-Adapt mattress review: support and comfort
A medium-firm mattress with a 7.5 out of 10 rating
Exceptional support and relief for back sleepers
Some side sleepers may not find it comfortable
We understand that firmness and comfort are subjective. Our methodology for mattress testing includes bringing together a group of sleepers with varying builds, preferences, and concerns. For this review, we had six people try out the Tempur-Adapt memory foam mattress, most of whom are side sleepers ranging in build from petite to tall.
The Tempur-Pedic Tempur-Adapt mattress comes in one firmness level (medium). We rate it a 7.5 out of 10 on the firmness scale, which is close to Tempur-Pedic's assessment, if not a touch firmer. Only one person on our testing panel rated it as medium-soft (5 out of 10).
Overall, we found the Tempur-Adapt ideal for back sleeping. In this position, our testers felt plenty of pressure relief along their back, but without sinking too low into the mattress. (This was a boon for our lead tester, who regularly deals with back pain.) Our stomach sleepers experienced a similar level of comfort, as the mattress cradled their hips and torso without creating any misalignment.
The reaction was mixed among side sleepers. Some felt there was just enough give along their knees, hips, and shoulders – while others thought it was either too firm (around their shoulders) or too soft (around their hips). Our lead tester primarily sleeps on her side and found that she needed a couple of weeks to break in the mattress before feeling comfortable sleeping that way.
Our testers' assessments are largely based on their preferences and the type of mattress they're used to sleeping on at home. The majority of our participants are accustomed to a firm mattress and found the Tempur-Adapt more plush by comparison. The lone person in our group who sleeps on a soft mattress at home appreciated the contoured support, especially since she deals with chronic pain.
To further test the Tempur-Adapt's 'legendary pressure relief,' we placed a 56lb weight in the center to simulate a person's body sinking into the mattress. The mattress compressed about 2.5 inches and took about 20 seconds to snap back into place. It was similar to what our human testers experienced – they felt the gentle hug of the top TEMPUR-ES layer, but not to the point where they couldn't easily change positions or get out of bed.
Based on our findings, we recommend the Tempur-Adapt mattress for back sleepers. Our entire testing panel found that the Tempur Material provided excellent pressure relief and weight distribution in this position. However, side sleepers may benefit from a specially-designed mattress for side sleepers, like the Helix Midnight mattress.
Score: 4 out of 5
Tempur-Adapt mattress review: performance
Absorbs nearly every movement – great for couples
Decent edge support for a foam-based bed
Sleeps hot, despite the cooling cover
We slept on a twin-size Tempur-Pedic Tempur-Adapt mattress for three weeks, testing its motion isolation, temperature regulation, and edge support – as well as its pressure relief and overall comfort, as noted in the previous section.
Our Tempur-Adapt mattress review reflects the perspectives of our veteran lead reviewer and expert testing panel. To supplement our experiences, we analyzed nearly 2,000 verified customer reviews on the Tempur-Pedic website to offer a thorough assessment of how this mattress performs for sleepers of all stripes. Here's what we discovered...
Motion isolation
A twin mattress is designed to comfortably accommodate one person. To measure the Tempur-Adapt's motion isolation, we placed an empty wine glass at the center of the bed and dropped a 10lb weight from six inches high at varying distances away from the glass to mimic the effect of a partner shifting positions or getting in and out of bed.
When we dropped the weight from 25 inches away, the wine glass didn't budge. It jiggled once when we dropped the weight from 12 inches away but it otherwise stayed in place. The empty glass briefly bobbed back and forth after we dropped the weight from four inches away, but it quickly returned to its original position.
Our verdict: the Tempur-Adapt mattress will suit co-sleepers who share a bed with a restless partner or someone who operates on a different sleep schedule. Memory foam is great for limiting motion, but Tempur Material is engineered to absorb virtually every movement so you can sleep uninterrupted.
Score: 4.5 out of 5
Temperature regulation
When a mattress feels cool to the touch, the expectation is that it'll limit overheating and night sweats. Unfortunately, that wasn't our experience with the Tempur-Adapt mattress.
Our lead tester is prone to sleeping hot yet prefers to wrap herself in covers. Despite wearing breathable pajamas, using lightweight cotton-polyester bedding, and keeping the thermostat between 70 and 73 degrees F, she woke up warm or sweaty most mornings.
Tempur Material is meant to adapt to your body temperature, which aids in its ability to mold to your body. According to Tempur-Pedic, this could lead to an increase in circulation that may result in needing fewer covers. Unfortunately, that didn't matter for our lead tester, who resorted to wrapping herself in a lightweight crochet blanket but could still feel the heat emanate beneath her.
Hot sleepers will fare better with a proper cooling mattress. The Tempur-Pedic Tempur-Breeze sleeps up to eight degrees cooler – but it also has a starting retail price of $4,000. The Nectar Premier Copper mattress and the Cocoon by Sealy Chill mattress are a couple of affordable alternatives we've personally tested and found effective at regulating temperature.
Score: 2 out of 5
Edge support
To test the edge support of the Tempur-Adapt mattress, we placed a 56lb kettlebell on the edges of the mattress – in the middle of the perimeter and at the bottom. The mattress compressed two inches at either edge, with a slight bulge in the top layer in both instances. (The edges returned to form once we removed the weight.)
Our human testers also sat on the edges of the mattress – in the center and along the corners. The consensus among our group is that the Tempur-Adapt has good edge support. There was some obvious sinkage, but nobody had any issue getting up from the mattress. Our lead tester never felt in danger of rolling over the side of the bed in her sleep, either.
But like standard memory foam, Tempur Material still has plenty of give to it so it won't appeal to individuals who need to sit on a firmer surface to safely get in and out of bed. If edge support is a priority, consider a hybrid mattress with reinforced coils, or read our Siena memory foam mattress review for a full-foam bed that excels in this area.
Score: 3.5 out of 5
Tempur-Adapt mattress review: Delivery and setup
Free in-home delivery and setup, with optional removal
Arrives flat so you can sleep on it immediately
No obvious off-gassing smell
The Tempur-Adapt mattress arrives flat – not vacuum-sealed and rolled up in a box like most mail-order mattresses. Tempur-Pedic offers free in-home delivery, so all we had to do was confirm the best time and date for someone to come by and set up our mattress.
About a week after making our appointment, a two-person crew delivered, unwrapped, and placed a twin-sized Tempur-Adapt mattress onto our platform bed. We could sleep on the mattress immediately if we wanted to since it was already fully formed.
Removal of your existing mattress is also included free of charge. We requested this service when we confirmed our delivery time as we had no use for our previous bed. It's a nice perk if you're unsure of how to dispose of your mattress.
The Tempur-Adapt mattress weighs between 44lbs and 96lbs, depending on the size. If you live alone, have an injury, and/or sleep in a larger bed, you'll appreciate the convenience of Tempur-Pedic's complimentary white glove delivery.
Foam mattresses are prone to emitting unpleasant (but otherwise harmless) odors due to off-gassing. To our pleasant surprise, our Tempur-Adapt mattress didn't smell at all, so we didn't have to crack open a window during a chilly mid-January morning to air out the bedroom.
According to Tempur-Pedic, its Tempur Material may have a slight odor right after it's manufactured, although it should be gone by the time you receive your mattress. It also helps that Tempur-Pedic uses CertiPUR-US-certified foams, which are low in volatile organic compound (VOC) emissions (aka the reason your new mattress might stink).
Score: 5 out of 5
Tempur-Adapt mattress review: customer reviews
Our six-person panel provides a diverse range of perspectives, but we acknowledge that it's still a relatively small sample size. Thus, to offer a more complete take on how well this mattress performs, we analyzed hundreds of user reviews from verified Tempur-Pedic customers.
As of February 2023, the Tempur-Adapt Medium mattress has a 4.5-star rating out of 5 from nearly 1,000 reviews on Tempur-Pedic's website. There are only 120 reviews on Amazon, but they're generally positive with a 4.3-star rating out of 5. Other major retailers give the mattress an average rating of at least 4 stars, but note that most of their reviews are sourced right from Tempur-Pedic's website.
Fans of this mattress claim it's helped alleviate their back and joint pain, and some reviewers say they've also noticed an improvement in their (or their partner's) snoring. A lot of sleepers are fond of the gentle hug of the Tempur Material, and couples sing the praises of the Tempur-Adapt's low motion transfer.
Many shoppers admit to having high expectations due to the high cost and Tempur-Pedic's brand reputation, but the Tempur-Adapt doesn't hit the mark for everyone. Less favorable reviews say it sleeps too hot, and the sink-in feeling only exacerbates that discomfort. Meanwhile, several side sleepers found it too firm, resulting in stiffness and pain in their hips or shoulders.
Should you buy the Tempur-Adapt mattress?
The Tempur-Pedic Tempur-Adapt mattress is a worthwhile investment for back sleepers seeking optimal pressure relief and all-over support. Couples that want a bed to absorb every little movement will also be satisfied. It's definitely not a budget mattress, but the Tempur-Adapt is among the lowest-priced models in the Tempur-Pedic range, especially on the rare occasion it's on sale.
You'll still be paying a premium for NASA-developed sleep technology (and also Tempur-Pedic's brand reputation if we're being honest). However, complimentary in-home delivery and setup along with optional mattress removal are nice perks to have, especially if you're unable to move a mattress on your own. On the other hand, the 90-night trial does seem meager for the price, especially since plenty of cheaper brands offer much longer timeframes – some even up to a year.
The Tempur-Adapt mattress feels cool to the touch, but we found it retains too much heat while sleeping. (Our lead tester woke up sweating on multiple occasions, despite her best efforts to facilitate a comfortable sleep environment.) The Nectar Premier Copper memory foam mattress offers exceptional cooling and pressure relief for a much lower price – and includes a lifetime warranty and 1-year trial, to boot.
Outside of upgrading to a hybrid, the Tempur-Adapt's lack of customization could turn off sleepers who want more control over the comfort of their mattress. It's only available in a medium-firm feel, which won't appeal to many side sleepers. Higher-end Tempur-Pedic mattresses provide multiple firmness levels, but the Saatva Classic mattress is a more cost-effective option that allows you to choose the firmness and height you want.
Our experience with the Tempur-Adapt mattress shows why it's important not to purchase a mattress based on brand reputation and cost alone. Based on our testing, we strongly recommend this mattress for back sleepers and couples. Side sleepers and hot sleepers, on the other hand, should invest in a mattress better suited to their needs.
Tempur-Adapt mattress review: Alternatives to consider
1. Saatva Loom & Leaf Mattress
Type: Delivered flat
Firmness (1-10): relaxed firm (5-7), firm (8)
Materials: Memory foam, regular foam
Height: 12 inches
MSRP: $1,195 - $3,150
Trial/Warranty: 365 nights/lifetime
This luxury foam mattress was designed to compete against Tempur-Pedic by offering exceptional pressure relief at a more affordable price. In addition to that, the Loom & Leaf emphasizes back support through a gel-infused foam lumbar crown situated in the middle of the mattress. As we note in our Loom & Leaf mattress review, the relaxed firm version did wonders for our lead tester's back pain – and it also comes with free in-home setup. However, it does sleep warm.
Choose Loom & Leaf if: you have back pain and want a longer trial period
Avoid it if: you overheat at night
2. Nectar Premier Copper Mattress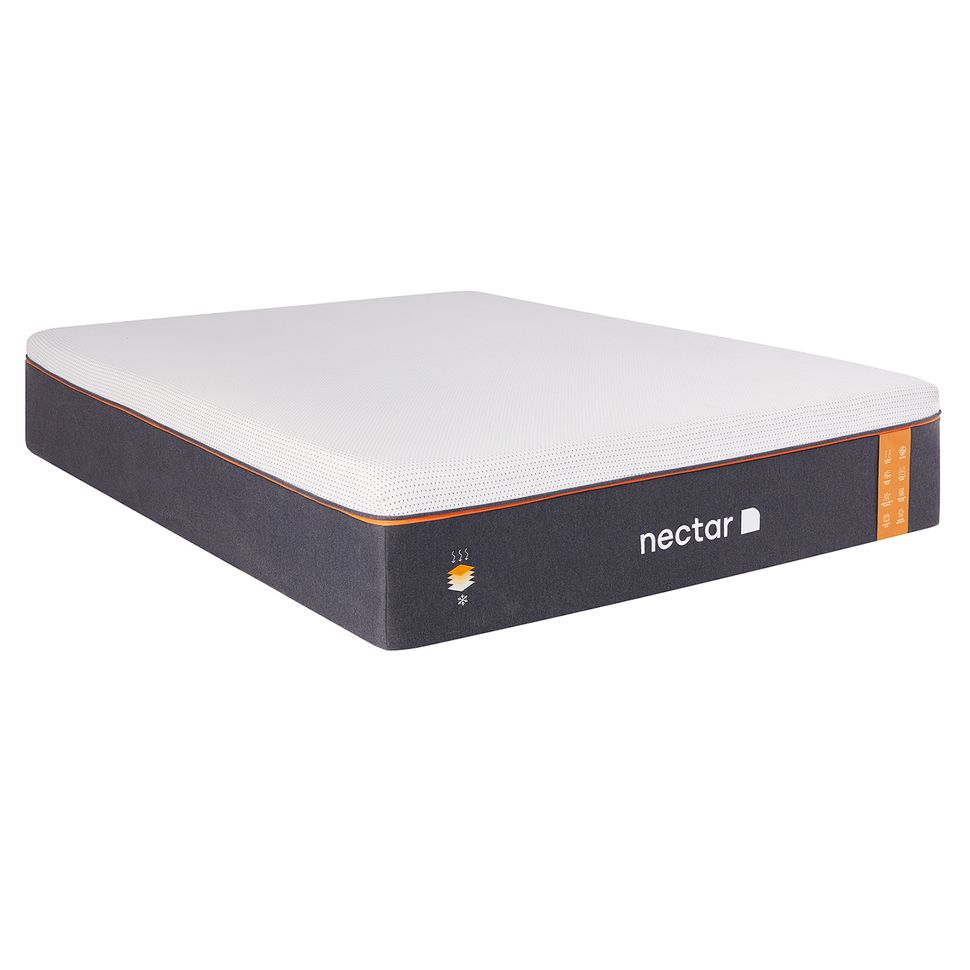 Type: Bed-in-a-box
Firmness (1-10): 6
Materials: Memory foam
Height: 14 inches
MSRP: $1,499 - $3,298
Trial/Warranty: 365 nights/lifetime
The Nectar Premier Copper mattress is similar to the Tempur-Adapt when it comes to providing adaptive, contouring support, although the plusher Nectar is better suited for side sleeping. The Nectar Premier Copper is an incredible value, between generous warranty and trial periods and frequent Nectar mattress sales and deals. It's also among the best cooling mattresses we've tried. The copper-woven top cover and phase-changing gel-infused foam yield comfortably dry sleep – find out more in our Nectar Premier Copper mattress review.
Choose Nectar if: you're a side sleeper prone to overheating
Avoid it if: you need a firmer mattress for back sleeping
3. Helix Midnight Mattress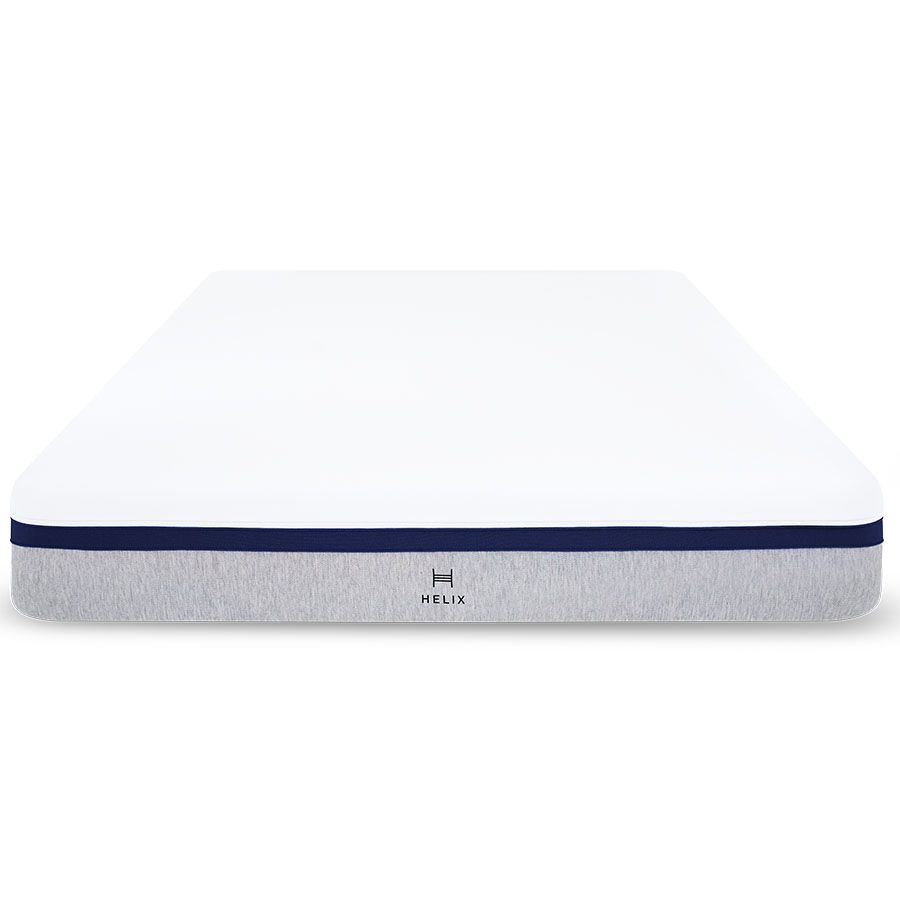 Type: Bed-in-a-box
Firmness (1-10): 6
Materials: Memory foam, springs
Height: 11.5 inches
MSRP: $936 - $1,749
Trial/Warranty: 100 nights/10 years
The Helix Midnight is a hybrid mattress specially designed for side sleeping. It'll have less of a hug than the Tempur-Adapt, but as we discovered in our Helix Midnight mattress review, it's a plush mattress that's also supportive in the areas side sleepers need it most. As a hybrid, the Helix Midnight naturally sleeps cooler, too. (Cooling upgrades are available, as well.) Thanks to frequent Helix mattress sales, you'll always find ways to save on this already-affordable Tempur-Adapt alternative.
Choose Helix if: you're a side sleeper on a limited budget
Avoid it if: you're not exclusively a side sleeper