Best memory foam mattress: Menu
The best memory foam mattresses offer body cradling comfort and deep pressure relief for most sleepers. We've tested a wide range of all-foam beds from leading brands to bring you our top-rated rankings below. These include memory foam mattresses priced at a range of budgets, from cheap to luxury, and for different sleep positions.
Many of our best mattress picks are made from either all foam or foam plus coils (hybrid beds). Typically, memory foam mattresses excel when it comes to pressure relief – they'll cushion your joints, making them a good choice for people with aches and pains. They also shine at motion isolation, meaning they absorb the movements of each bedmate so you don't disturb each other moving around in bed. Advances in sleep technology mean newer versions are better at temperature regulation too. Even so, some all-foam beds (especially cheap ones) may still sleep warmer than hybrids or traditional innerspring models.
So, how much do memory foam mattresses cost? They can be some of the most affordable mattresses around (anything with springs usually commands a slightly higher price). Mattress sales and deals happen all year round, but national holidays often deliver the lowest prices – you can still catch a few Memorial Day offers if you're quick.
Every mattress on our list comes with a trial period to give your body plenty of time to adjust. Ready to go? Read on for our top rated memory foam mattress picks 2023...
Best memory foam mattress overall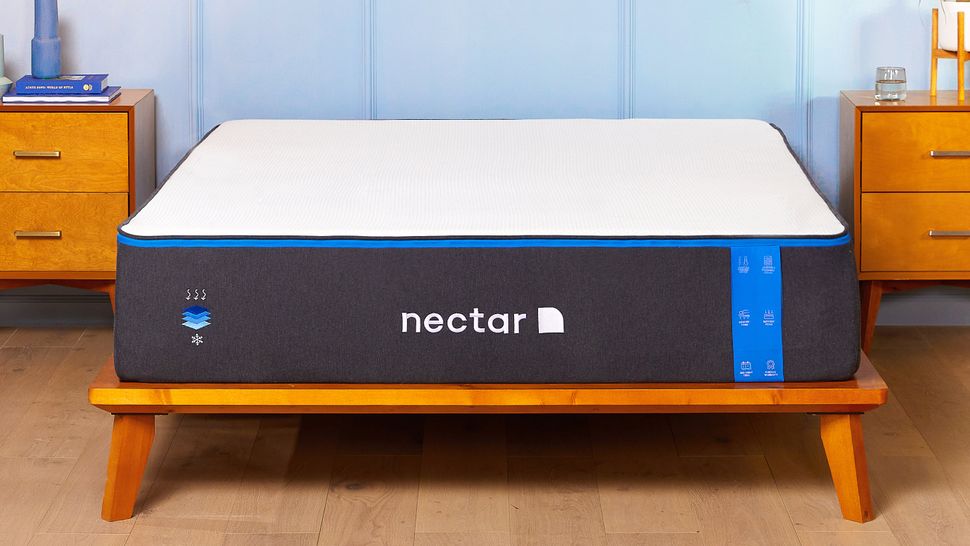 Nectar Sleep takes the top position in our memory foam mattress guide because it's comfortable and supportive, but also incredible value for money. We tested the medium firm Nectar Memory Foam mattress for two months and loved it. This all-foam mattress has a soft, quilted cover that's designed to help you stay cool. There's then three inches of memory foam, followed by a layer of support foam, a sturdy base layer and a no-slip lower cover.
The Nectar performed well across the board in our tests. We noticed good edge support – so you can use the full sleep surface, and confidently sit on the edges – and very little motion transfer, which makes the Nectar Memory Foam mattress a good choice for couples, and anyone with a restless partner in particular. Temperature regulation was also good, even in hot summer weather, although if you really struggle with overheating, there are some specialist cooling models further down our ranking.
With a firmness rating of 6.5 out of 10, it'll work for most people and sleep positions, although we'd recommend it most to those who like to lie on their side (we rank it amongst the best mattress for side sleepers). The contouring of the memory foam really comes into its own here, cushioning the hips and shoulders as you sleep in this position. One of our stomach-sleeping reviewers found their hips sinking in too far in this position, so if this is your preferred position, you might be better off with something a little firmer, like the Siena at #2.
You're getting a great mattress for your money here, but extras amp up the value further. The full year's trial and forever warranty are both as generous as you'll find on the market, and one of Nectar's regular deals bundles in a whole load of sleep accessories, too. If you're looking for a versatile all-rounder for an excellent price, the Nectar is the best memory foam mattress you can buy.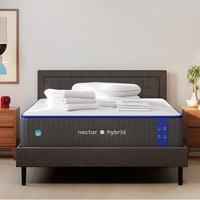 The Nectar Mattress: was $599 now from $359 at Nectar
Nectar has cut 33% off its mattresses, which means a queen Nectar mattress is now $699. It's not quite the lowest price we ever see on this model, but almost. Do note that as you're paying less for the mattress, you won't get the usual free bedding bundle, although you can pick one up at a big discount if you need it.
Best budget memory foam mattress
The Siena Memory Foam mattress is our top budget pick, punching well above its low price tag when it comes to quality. It's much firmer than you'd expect for a memory foam mattress, with very little 'hug'. That makes it a great choice for stomach sleepers and back sleepers, as these positions require a more supportive sleep surface in order to keep their spine correctly aligned. Side sleepers, however, might be better off with something that offers more give around the shoulders and hips (the Nectar at #1 is a great option, or for something super-soft, the Puffy at #4).
In our tests, we were impressed with the edge support and motion isolation on offer here, which makes it a good choice for those who share a bed and don't want to be bothered by wriggly partners. While pricier memory foams will do a better job of temperature regulation, the Siena still did a decent job of not trapping body heat.
The main draw here is the price – this is one of the very best cheap mattress options on the market. At MSRP, a queen is $699, but since it launched in March 2022 it has perpetually been on sale for $200 to $300 off. That puts it in line with some of the cheapest Amazon mattresses, but the quality here is head and shoulders above those. The Siena also comes with a 10-year warranty plus 180 nights to test it, which is generous for a budget mattress.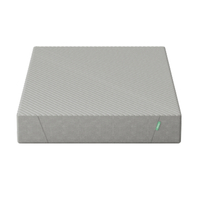 Siena Mattress: was $499 now from $199 at Siena Sleep
Right now there's $300 off all sizes of the Siena Mattress. This is Siena's evergreen deal rather than anything special, but it's still fantastic value for a budget mattress that feels more like a mid-range contender. After discount, a queen costs $399 and a twin is only $199.
Best luxury memory foam mattress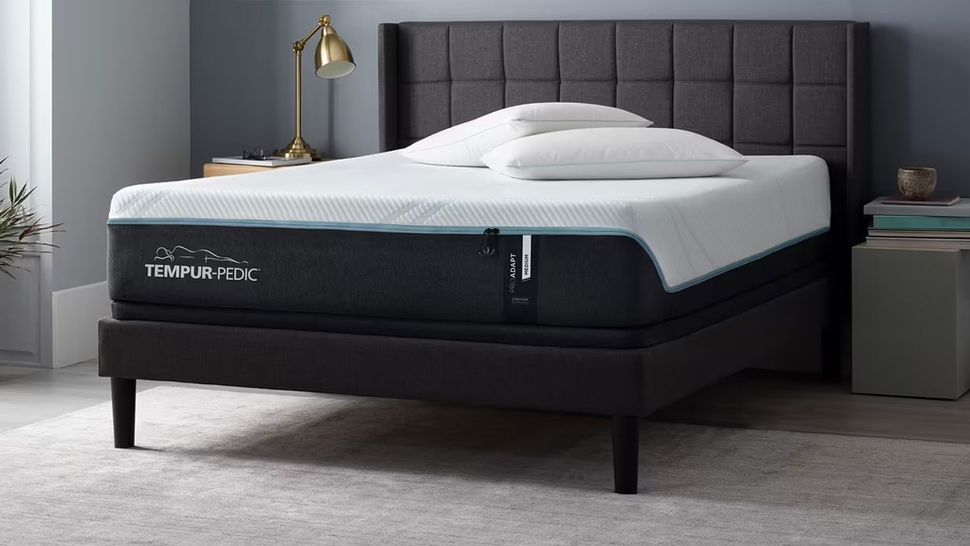 The Tempur-Pedic Tempur-Adapt mattress places a big emphasis on relieving pressure points so that you sleep soundly through the night, with far fewer wake-ups due to feeling uncomfortable. This is an investment purchase for sure, but Tempur-Pedic is known for being one of the best luxury mattress brands around, with a fairly unique, ultra-soothing feel that many swear by.
The most obvious thing you'll feel when lying on the Tempur-Adapt is how much it hugs your body. This makes it the best memory foam mattress for people who love the sensation of being cradled and who are dealing with neck, hip, back and knee pain, as the Tempur-Adapt relieves pressure in all of those areas. It uses the brand's famous NASA-developed Tempur material to alleviate pressure points, all while adapting to your unique body shape, temperature and weight. In our tests, our reviewers all agreed it was most comfortable in a back-lying position.
We were also extremely impressed with this motion cancellation going on here, with the Tempur Adapt quickly absorbing movements so that you and your partner don't wake each other up with your wriggling. The only area we found it fell down in was in temperature regulation. The cover is meant to be cooling, and the open-cell Tempur material is designed to boost breathability during sleep, but we found it slept warmer than other beds we've tested. If you know you struggle with overheating at night, consider the Ghostbed Luxe at #5 instead, or browse our cooling mattress guide for more specialist alternatives. While it's certainly an investment, Tempur-Pedic mattress sales crop up from time to time, so you might not have to shell out the full list price.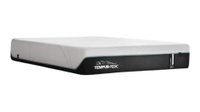 Tempur-Pedic Tempur-Adapt mattress: was $1,699 now from $1,499
If you're quick, you can still catch Tempur-Pedic's Memorial Day offer, which knocks $200 off the Adapt lineup. Prices vary depending on which model you opt for, but the cheapest queen is now $1,999, which is actually pretty affordable for a Tempur. These luxurious mattresses are an investment, and you can't always bank on there being a Tempur-Pedic sale to take the price down.
Best plush memory foam mattress
If you're seeking cloud-like comfort, the best memory foam mattress for you might be the Puffy. The official firmness rating is 6-8, but reviews suggest it's on the softer side, so perhaps more of a 6 than an 8. It's manufactured in the USA, and includes layers of three different foams, designed to cradle your body as you sleep.
The Puffy has that classic, slow-moving memory foam feel that some people find ultra-soothing. That's not to say there's no structure here: it comes with backing from the American Chiropractic Association, which suggests it will deliver good spinal support. We'd typically recommend this level of softness to those who like to lie on their side, while front and back sleepers might need something slightly firmer. Personal preference does come into it though.
Reviews suggest good motion isolation, which is great news if you're a light sleeper and have a restless partner. It might also be a good choice for those who suffer from allergies, thanks to a hypoallergenic, stain-resistant cover, which can be zipped off for easy cleaning. There are some reports that edge support could be better, though, so bear that in mind if you like to use every inch of your bed's sleep surface. We're in the process of reviewing this model, and will update this guide with our findings as soon as we have them.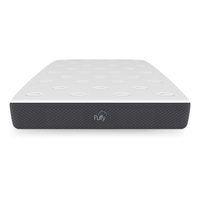 Puffy mattress: was $1,449 now from $699 + free bedding at Puffy
Puffy has a permanent deal that knocks $750 off all sizes of its original mattress, which takes a queen size down to $1,049. The brand amps up the value further with a big free sleep bundle, including pillows, a mattress protector and sheet set with your mattress purchase.
Best cooling memory foam mattress
Memory foam can struggle a bit with trapping body heat, which means all-foam mattresses often sleep warmer than hybrid or innerspring models. Not so the GhostBed Luxe. This memory foam mattress is one of the best cooling mattresses around, thanks to multiple features geared specifically towards temperature regulation.
Alongside body-contouring memory foam and study support foam, you'll find a heat-sensitive 'Ghost Ice Layer' designed to keep the core of the mattress cool. The cover is made from 'Ghost Ice fabric', which stays cool to the touch. In our review, none of our testers ever felt warm when sleeping on the GhostBed Luxe.
This is a softer mattress, with plenty of sink-in pressure relief and a slow moving feel. It's especially well suited to side sleepers, as there's plenty of give around the shoulders and hips in this position. Heavier people, and front or back sleepers, may well find this bed doesn't provide enough support, and should look for something a bit firmer. Despite having a softer feel, the edge support here is excellent, so you'll be able to comfortably use the whole surface without fear of rolling off. In our tests, the Luxe also excelled when it came to motion isolation, making it a strong choice for couples.
At MRSP this mattress is firmly in the luxury camp, but thankfully there's pretty much always a 50% off sale on, which takes the prices down into more affordable (although still 'premium' territory). If that's too expensive for you, check out the much cheaper Cocoon Chill at #6 – although don't expect the same cooling powers as the GhostBed.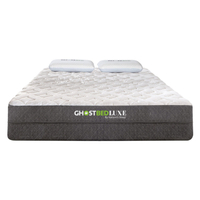 GhostBed Luxe mattress: was $2,595 now from $1,298 at GhostBed
At MSRP, the GhostBed Luxe sits at the top end of the market, but regular 50% off sales take that price right down, and you'll get two pillows bundled in for free. With this discount a queen size is $1,598 (was $3,195). Head to our GhostBed mattress sale guide for more info.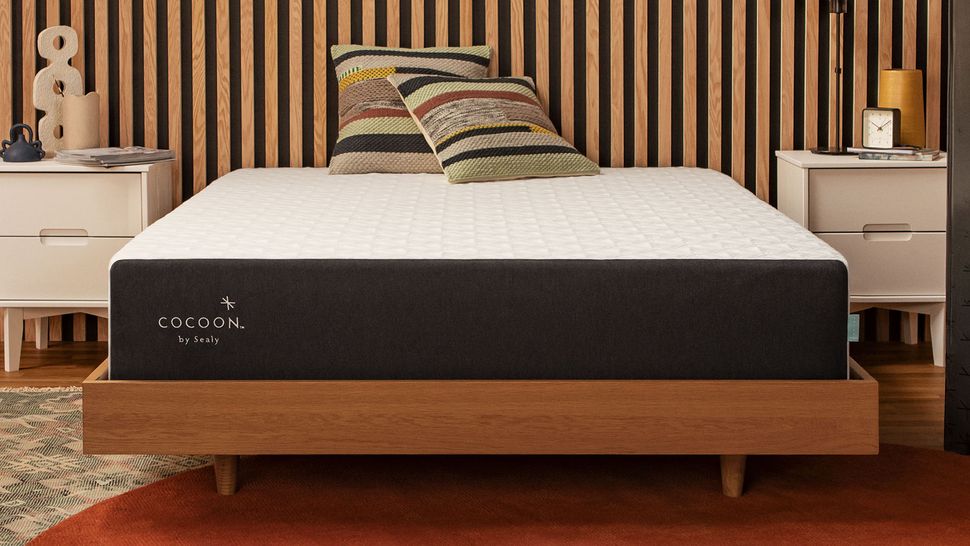 For hot sleepers on a tighter budget, the Cocoon Chill Memory Foam is well worth a look. Its cooling powers aren't as good as you'll find with a pricey specialist model like the GhostBed Luxe (#5), but the Chill delivers impressive temperature regulation for that mid-range price.
This medium-firm bed in a box comes from industry giant Sealy, and comprises three different foam layers. Of those, the memory foam tier is relatively thin, so you'll sleep closer to the surface of this mattress rather than sinking right in. There's a little squishiness here, but if you're after a full memory foam 'hug', look elsewhere in our ranking. We also suspect that heavier bodies (over 230lb) will sink through to the firmer support layers (our guide to the best mattress for heavy bodies has recommendations that might work better).
Those foams are topped off with a stretch-knit cover that's infused with a proprietary phase-change material that's designed to absorb and dissipate body heat. We were impressed with how well this material worked – none of our testers ever felt overheated during our review period. While it doesn't sleep as cool as something like the GhostBed, the temperature regulation is excellent for the price.
It's available in foam-only and hybrid versions. Because this is a memory foam mattress guide we've focused on the former here, but do bear in mind the hybrid will almost certainly offer better breathability, as the coils provide space for air to circulate.
In our tests, this mattress scored highly in terms of motion isolation (so you won't be disturbed by a partner's movements), but less well on edge support (you might feel unsupported if you lie or sit close to the perimeter). Overall though, we're big fans of this mattress. Our positive experience is echoed by other customers, too. The Chill (hybrid and foam versions combined) has an average of 4.7 out of 5 from over 8,500 user reviews (February 2023).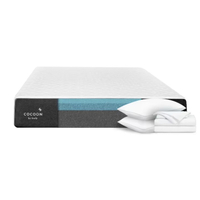 Cocoon by Sealy Chill: was $769 now from $474 at Cocoon by Sealy
Ignore those 'Ends Today' claims, this 35% off discount is the standard Cocoon by Sealy sale. However, but we have a little extra discount for you: add code EXTRA25 and you'll knock an additional $25 off. That takes the price of a queen down to $774, which is the cheapest you'll find this mattress for. Plus you'll take home up to $199 of free cooling pillows and sheets.
Best memory foam mattress for back pain
The Saatva Loom & Leaf is a premium, hotel-quality mattress from luxury online brand Saatva. We tested the Loom & Leaf mattress for three weeks and consider it one of the best mattresses for back pain – our lead reviewer noticed a significant improvement in her back injury after sleeping on this bed. It has a zoned design with a reinforced middle-third featuring a gel-infused foam lumbar crown that relieves pressure and improves circulation in the lower back. The top and bottom thirds are slightly softer to contour the shoulders and knees. Note that it comes in two firmness options: relaxed firm (which we tried) and firm, which will suit those who need a little more support and want a subtle 'hug'. No matter your sleep style, you'll find yourself comfortably contoured when sleeping on the Saatva Loom & Leaf.
Although the Loom & Leaf sports some cooling tech in its build, we found it was prone to trapping heat overnight. Chronically hot sleepers may want to look towards some of the other options on this list. On the flip side, motion isolation is top-notch so couples won't have to worry about being interrupted by a restless partner.
The Loom & Leaf mattress isn't cheap, even if you buy during one of the regular Saatva mattress sales and deals. However, it's still far cheaper than our luxury pick, the Tempur-Pedic at #3. The extras as good as you'll find anywhere, too: a 1-year trial and lifetime warranty. Saatva offers free white glove delivery to your room of choice (plus optional removal of your existing mattress) – given that this is a mattress that can weigh up to 116lbs, you'll welcome that convenience. There's also the build quality to consider; this handcrafted bed is made to last and long-time customers say it hasn't lost its comfort level after years of regular use.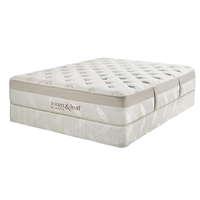 Saatva Loom & Leaf mattress: was $1,195 now from $820 at Saatva
Click any of the links here and you'll unlock our special deal, which knocks $375 off all purchases over $1k at Saatva. That takes the price of a queen size Loom & Leaf down to $2,020 – not quite the cheapest we've ever seen it, but definitely a Saatva mattress sale worth taking advantage of.
The Bear Original is an all-foam mattress that offers excellent value for money. Depending on what you're used to, the slightly firmer sleep feel might take a little getting used to, but after an initial breaking-in period, our reviewer found this bed offered plenty of comfort and support in any sleep position.
In our review, the Bear Original scored highly on motion isolation. That's great news if you share a bed with a restless partner, as it'll absorb their nighttime wriggling rather than letting it ripple over to your side of the bed. You'll also be able to use every inch of this mattress' sleep surface, thanks to excellent edge support around the perimeter.
The memory foam here is infused with gel, to help with temperature regulation, and the cover is made with Celliant fabric, designed to convert body heat into infrared energy. Despite these features, out testers found the Bear mattress did sometimes sleep warm. If you know you struggle with overheating at night, check out the GhostBed (#5) or Cocoon Chill (#6) instead. However, if you run cold, you might enjoy the extra coziness. Overall, we rate this amongst the best mattress in a box options around, especially if you're on a slightly tighter budget.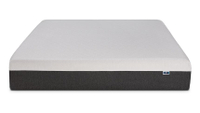 Bear Original mattress: was $748 now from $487 at Bear
The current offer knocks 35% off site-wide, discounting the queen size to a very affordable $649. It's one of the best Bear mattress sales we see, and you'll get a sleep bundle with pillows, sheets and a mattress protector thrown in for free.
This award-winning Leesa Original memory foam mattress stands at 10 inches tall and relies upon a mix of premium foams to prevent overheating during sleep. While it isn't a specialist cooling mattress, during testing we found that the Leesa Original remained cool to the touch during sleep, thanks to a temperature regulating top layer with twill cover. It also sleeps cooler than some of the other models featured in this memory foam mattress guide.
The Leesa Original is rated as a 5-7 on the firmness scale by Leesa, and when we reviewed it we felt it was a 6, making it a true medium-firm feel. The stomach sleepers on our testing panel found it to be the most comfortable, but because it has a contouring effect too, we'd also recommend it as a good mattress for side sleepers who like a slightly firmer feel and less of a full body hug sensation.
We rated the cover for its softness and for how breathable it remained during sleep, and we also liked how well the Leesa Original absorbed motion transfer. This is true of most memory foam mattresses though and, because they absorb motion so well, in our experience they are the better choice for restless sleepers who share a bed. The Leesa also expanded to full height within an hour for us, though it reached peak firmness within a few days. By comparison, the Nectar Mattress (see #1) took up to 48 hours to fully expand.
The only things we didn't like about the Leesa Original were the pungent off-gassing smell (read more about what is mattress off-gassing), and the edge support, which we felt was pretty weak compared to similar models we have tested. But overall, if you're a stomach or combi-sleeper looking for a reliable and comfy memory foam mattress from a leading sleep brand, the Leesa Original is a good choice for your sleep.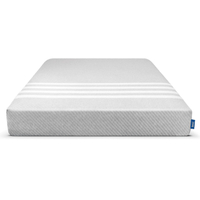 Leesa Original mattress: was $849 now from $749 + 2 free pillows at Leesa
The current Leesa offer knocks up to $200 off, with a queen size dropping to $1,099. That's a pretty standard deal from this brand, but it's still strong value, and you won't be paying over the odds if you buy now.
Which memory foam mattress is best?
We believe this year's best memory foam mattress is the Nectar. This boxed mattress is an excellent all-rounder that's comfortable in all positions and will suit most people. It also offers unbeatable value for money, with regular deals that knock it down into the mid-range price bracket, and outstanding extras including a 365-night risk-free mattress trial and a lifetime warranty. While the cover isn't machine washable, you can easily invest in a good mattress protector to safeguard it from spills and stains and to help it last longer.
Are memory foam mattresses any good?
It depends on personal preference, whether you have specific health or posture needs, and what budget you have. From our testing, we believe that memory foam mattresses are good for the majority of sleepers as they offer high levels of pressure relief and body contouring. That makes them best-suited to side sleepers and combi sleepers, plus anyone dealing with sore joints.
As a rule, memory foam mattresses also excel at motion isolation, making them a good choice for couples with different bedtime routines, as the memory foam will reduce any motion from your partner's in-bed movements being transferred to you.
But memory foam mattresses don't suit everyone. If you dislike the feeling of being cradled by your mattress, you might not enjoy a memory foam bed unless it's a hybrid (made with foam and coils). A medium-firm feel would also be best for you so that you are sleeping more on top of the mattress, rather than sinking into it.
Here are some of the main benefits of a good memory foam mattress:
Above average pressure relief - Memory foam was first developed to boost comfort, so no wonder it does such a good job at hugging your body during sleep and relieving pressure. Latex is another good material choice for pressure relief, though it's a little bouncier and responsive, so not as good at motion isolation (see below). For more guidance, read our memory foam vs latex mattress comparison.
Motion isolation - Memory foam mattresses are a good choice if you share with a restless partner, as they have high levels of motion isolation. All that dense foam does make it a little tricker to get in and out of bed, but manufacturers are tackling this with responsive foam and stronger edge support.
They're ideal for side sleepers - While they suit a variety of sleep styles, memory foam mattresses are well-suited to side sleepers. When you sleep on your side you experience more pressure on your hips and knees. Memory foam cushions these impact areas. Our guide to the best mattress for side sleepers goes into more detail.
Hot sleepers usually run from memory foam mattresses, but new cooling, gel-infused memory foams, and those infused with copper and graphite, regulate temperature so that you don't overheat during sleep. That said, if you sleep very hot, we'd recommend investing in the best cooling mattress instead.
You can read more about this in our feature answering, are memory foam mattresses hot?
Do memory foam mattresses need a box spring?
Even the best memory foam mattresses need a solid foundation or bed base, but that doesn't always mean a box spring is the right solution. That's because some memory foam models sag when placed on a box spring that has slats spaced too far apart. Flimsier box springs may not also provide the support a dense memory foam mattress needs, so you won't get the support and comfort you need during sleep.
As we explain in our feature answering do memory foam mattresses need a box spring, you should use a box spring if you are placing an all-foam bed on a metal frame. But you don't need one if you have a well-made wooden bed frame with closely spaced slats, or a platform bed as these are supportive enough on their own.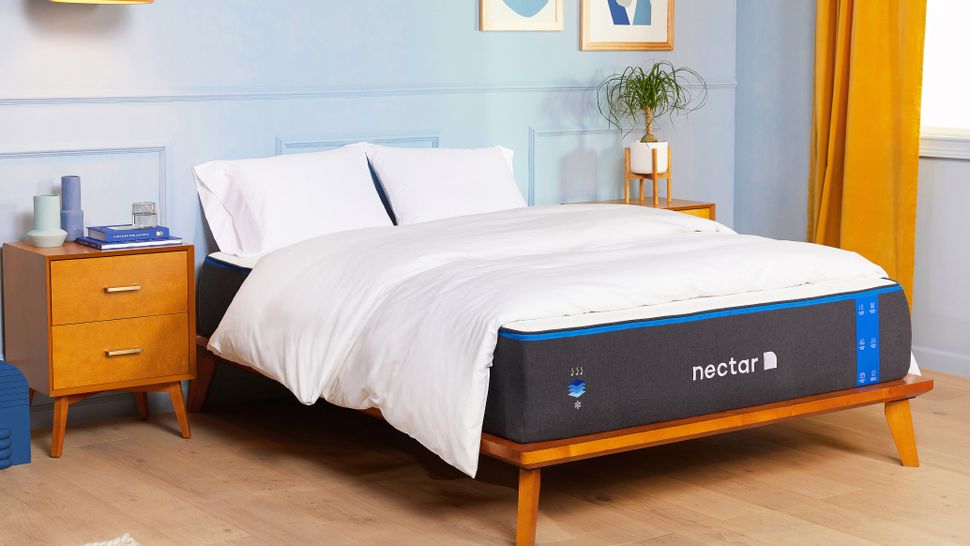 How to choose the best memory foam mattress
How do you know which is the best memory foam mattress for you when there are so many to choose from? These are the things to consider:

Cooling – If you sleep hot, look for memory foam with cooling properties, such as gel infusions. This will make all the difference, especially if you're prone to sweating at night. Many memory foam mattresses also come with temperature-regulating covers to provide extra breathability.
Sleep position – Memory foam mattresses vary in firmness, so find one that supports your spine in the position you sleep in. If you mostly sleep on your side, a medium mattress will keep you comfortable, while firmer mattresses tend to be better suited to stomach sleepers. Back sleepers, meanwhile, often benefit from a medium-firm memory foam mattress.
Sleep trial and warranties – If your memory foam mattress comes with a risk-free trial then you have nothing to lose. Another good indication of quality is long warranty – if the brand has faith in its mattress, you can too.
How much does a memory foam mattress cost?
Memory foam mattresses are typically more expensive than traditional spring mattresses, but usually cost less than hybrids, which combine layers of both foam and coil. They are usually at their cheapest during the Black Friday mattress sales, with prices normally rolling over to the Cyber Monday mattress deals. However, in the last few years, we've seen MSRPs rise across many top sleep brands. While sale prices are generally solid these days, a return to all-time low prices is less common.
Saatva's Loom & Leaf memory foam mattress starts at $1,195, while you can pick up a Nectar mattress for from less than $400. At Amazon, you can find a Lucid memory foam mattress for under $250 for a twin – ideal for a guest room. At the other end of the price scale, the Tempur-Pedic Tempur-Adapt Mattress starts at $1,699 for unrivalled comfort, cooling and contouring.
How long will a memory foam mattress last?
Memory foam mattresses can last up to 10 years, which is at the longer end of the mattress lifespan when you consider the average spring mattress typically lasts for 5-6 years. There are plenty of ways you can make it last longer, including rotating it, airing it and cleaning up spills as they happen.
While there are plenty of affordable options available, the more you spend on a memory foam mattress the longer it should last you. But also pay attention to the length of the mattress warranty, which should signal how long you can expect a mattress to last. Brands like Saatva and Nectar offer lifetime mattress warranties, which suggests they have a lot of faith in the integrity of their materials.
When is the best time to buy a memory foam mattress?
Most memory foam mattress brands run deals throughout the year, but not all are worth buying. How come? Prices fluctuate and there are definite points throughout the year when it's cheaper to buy a memory foam mattress compared to others. These include Black Friday through Cyber Monday, when brands drop big sales to lure pre-Christmas shoppers. We'll be covering all of these in our Black Friday mattress deals round-up.
The Memorial Day mattress sales are popular too, and are one of the best times to buy a memory foam mattress outside of Labour Day and Black Friday. The one thing to watch out for is price hikes, where even though a retailer announces a big price drop for Memorial Day, the actual price of the mattresses is higher than normal.
To help you find a genuinely good price, we have included the MSRP of every product featured in our best memory foam mattress guide so you can see the original prices at a glance.
To a large extent, the best time to buy depends on your needs. Are you desperate for a new mattress today? Then we'd suggest using our guide to find the top three models for you, then compare them in terms of the price, discounts and the trial period to help you narrow down your choice.
Are memory foam mattresses good for your back?
If you regularly deal with back pain (and even if you don't), a memory foam mattress will do a top-notch job of alleviating pressure and tension in your joints and lumbar. Memory foam compresses when you lie down on it, evenly distributing your weight and contouring your body for a more comfortable (and less painful) sleep experience.
Per our research, the best memory foam mattress for back pain is the Saatva Loom & Leaf. We tried the relaxed firm model in our Saatva Loom & Leaf mattress review. Our main tester was dealing with a severe back injury at the time and noticed a major improvement in her lower back pain after three weeks of sleeping on it. The Loom & Leaf does tend to sleep warm so for a cooler full-foam bed that's also great for back pain, take a look at our Cocoon by Sealy Chill mattress review.
We offer a more detailed answer to this question in our feature: Are memory foam mattresses good for back pain?
Also read: