The Avocado Green Mattress is one of the most highly rated and well-known organic mattresses on the market. It's clear that Avocado puts eco-friendliness at the fore, as this hybrid mattress only uses natural and 100% organic materials – and the brand boasts certifications to prove it. Avocado prizes value and craft as well, as the mattress is fully needle-tufted by hand, rather than glued.
But does that mean it's the best mattress for you? We slept on a queen Avocado Green Mattress for three weeks, evaluating it for overall comfort, pressure relief, motion isolation, temperature regulation, and edge support. If you only need the highlights, check out our review in brief below – otherwise, keep scrolling for our in-depth Avocado Green Mattress review.
There is currently a proposed class action in California against Avocado Mattress, disputing the brand's 'green' credentials. Avocado intends to contest these claims.
Avocado Green Mattress review in brief
Avocado's award-winning, highly rated organic hybrid mattress
Offers terrific support for back sleepers of all sizes
Side sleepers will likely find it to be too firm and uncomfortable
The Avocado Green is widely regarded as one of the best organic mattresses around, and after testing it for three weeks, we'd agree. In fact, we'd consider it one of the best choices (organic or otherwise) for back sleepers and stomach sleepers, offering excellent support for those who prefer these positions. Given its firmness of 7 (out of 10), it's also great for heavier sleepers who require extra support.
Avocado Green Mattress specs
Best for: back sleepers, heavier sleepers, hot sleepers
Type: mattress in a box
Firmness: medium-firm (7/10)
Materials: Dunlop latex, wool, and cotton (all 100% organic); coils
Depth: 11 inches
Weight: 76-158 lbs
Sizes: Twin, twin XL, full, queen, king, Cal king
The materials make this hybrid mattress highly breathable, so it's a good option for sleepers who run hot at night. Compared to competing organic mattresses – as well as Avocado's own Luxury Organic Mattress – we believe that the high price tag is justified and a good value.
However, we found this isn't the best mattress for side sleepers or lightweight individuals, as it lacks the extra give and contouring that such sleepers typically require. Also, in case you're switching from a softer mattress to a firmer one, there may be an adjustment period to get used to how firm this mattress is.
A 1-year mattress trial is included, as is a 25-year mattress warranty. Those are among the industry's best for either of those perks. Shipping is free, although you can opt for white glove delivery for an additional $249. (Given how heavy this mattress is, it may not be a bad idea if you don't have anyone on hand to assist.) Returns are free if you decide not to keep it, and Avocado will donate the mattress to a local charity.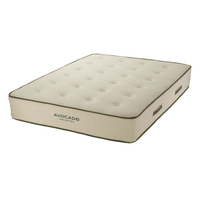 See the Avocado Green Mattress from $1,399 at Avocado
The Avocado Green Mattress is best for back sleepers, stomach sleepers, and heavier sleepers. It's also a breathable option for sleepers who run hot overnight. The brand offers a 1-year trial period and a 25-year warranty (full coverage years 1 to 10; limited coverage years 11 to 25).
Avocado Green Mattress review: Materials
The Avocado Green hybrid mattress is constructed of three layers: the cover, a comfort layer, and a base/support layer.
The cover features 100% GOTS-certified organic cotton and wool. These materials make the cover soft, breathable, and moisture-wicking so you can get a great night's rest without trapping heat or sleeping on synthetic materials. The wool also acts as a natural fire barrier, is naturally antimicrobial, and protects against dust mites, making it attractive for sleepers with allergies (you'll still want to wrap it in one of the best mattress protectors to save it from spills and stains).
If you prefer a mattress that doesn't use animal-derived products, check out the Avocado Vegan Mattress. This PETA-certified mattress has the exact same qualities as the Green, yet replaces wool with cotton.
The comfort layer features two inches of Dunlop latex and a one-inch layer of Dunlop organic latex in the base/support layer. The GOLS-certified organic latex is durable and resilient to ensure that your mattress holds up well as the years go by. The support layer/core also features 1,414 coils across five ergonomic zones and steel around the perimeter.
Avocado Green Mattress review: Price and deals
The brand's second least expensive mattress
A mid-range organic bed, from $1,399
Save up to $880 during regular Avocado mattress sales
Compared to other leading organic mattresses, the Avocado Green Mattress falls somewhere in the mid-range in terms of price. A queen retails for $1,999 while a twin goes for $1,399. (Things get pricier if you add on the pillow-top – this will cost you an extra $400 to $600, depending on your mattress size.)
However, given the brand's emphasis on sustainability, eco-friendliness, and dedicated craftsmanship, we believe that the cost is justified when considered alongside other options that lack some or all of these built-in benefits. Plus, frequent Avocado mattress sales offer plenty of ways to save.
Here's the official 2023 pricing for the Avocado Green Mattress:
Twin size RRP: $1,399
Twin XL size RRP: $1,499
Full size RRP: $1,699
Queen size RRP: $1,999
King size RRP: $2,599
California king size RRP: $2,599
Note that if you want to make the mattress a touch softer, you'll need to factor in that pillowtop fee. A $39 package protection charge is automatically added at checkout, but you can remove this if you don't want it.
Organic mattresses aren't necessarily cheap, and purchasing the Avocado Green Mattress will be an investment for most people. A queen-sized Avocado Green costs $1,999 before markdowns. Across the market, mattress sales happen throughout the year, but Avocado mattress deals are rarer. You can't always count on any kind of discount, but we did see a decent price drop in the Black Friday mattress deals (the price of queen dropped down to $1,710).
If you're looking for a slightly more budget-friendly organic mattress, consider checking out the Awara Natural Hybrid Mattress. It's often on sale from $799 for a twin and includes up to $499 in free bedding. And like Avocado, Awara also offers a 1-year at-home trial.
For the lap of eco-conscious luxury, you may want to look at the Avocado Luxury Organic Mattress, which retails from $2,799 in a twin. It's Avocado's softest and tallest mattress, topping out at 17 inches with the optional pillowtop.
Before you purchase any mattress, be sure to check out the Tom's Guide mattress sale page so you don't ever have to pay full price.
Avocado Green Mattress review: firmness and comfort
A medium-firm mattress with a 7 out of 10 firmness rating
Great for neck and back support
Top foam layer has some give but does not sink
On Avocado's official page for the Green mattress, they designate it as a 7 out of a 10 rating for firmness (landing it at medium-firm). We agree with this rating. Since we had recently tested mattresses and toppers that were lower on the firmness scale but still in the medium range,
it took a few nights to get used to it. Our lead reviewer (who is prone to side sleeping and combination sleeping) had difficulty adjusting to the extra firmness at first—especially since the mattress didn't cradle the shoulders and hips while side sleeping. Fortunately, this discomfort dissipated as the review period went on, namely since we switched sleeping positions.
For personal reasons, our reviewer was interested in prioritizing back sleeping at the advice of a doctor, and the Avocado Green Mattress ended up making this adjustment much easier. Back sleeping on less firm options provided too much sink, particularly around the hips, which made this change in sleeping position more difficult. Luckily, the Avocado Green provided much more firmness and support around the hips and the whole body. We also tested out the mattress while stomach sleeping, and had no complaints about comfort here.
Note: Avocado offers a pillowtop option for this mattress, which they say is a 6 out of 10 for firmness – so it may be worth the upgrade if you're seeking a little extra give, if you're a side sleeper, or lighter in weight. However, we didn't test it ourselves.
At any rate, it's important to remember that firmness and comfort are subjective. When shopping for a mattress, be sure to read detailed reviews. You may also want to compare your current mattress with the one(s) you have in mind to ensure that your new mattress of choice is neither too firm nor too soft for your preferences.
Avocado Green Mattress review: performance
Stays cool to the touch
Minimal motion transfer
Excellent edge support
For this review, we slept on a queen-sized Avocado Green Mattress for three weeks. We tested it in all major areas of performance—including pressure relief, motion isolation, edge support, cooling, and ease of set-up—to ensure that readers get a solid grasp of this hybrid organic mattress to help them decipher if it's best for their preferences and needs. (Read more about our methodology for mattress research and testing.)
The Avocado Green Mattress feels sturdy and durable, and we can vouch for the high-quality materials used. While it may not be Avocado's most luxurious mattress, we still felt that it offered exceptional value and a great feel overall. Here's what else we discovered...
Setup
Score: 3.5 out of 5
Our reviewer is relatively petite and lives alone, so we opted for white glove delivery. Naturally, this made the setup a breeze. All we had to do was schedule the day and four-hour window to coordinate delivery directly to our apartment unit. A queen Avocado Green Mattress in weighs 114 pounds, though the outer packaging listed 130 pounds on the label. Given the weight, we'd suggest that setup is a two-person job.
White glove delivery doesn't come standard with an Avocado mattress purchase, and instead will cost an extra $249. Meanwhile, the regular shipping cost, assuming you're setting up the Avocado mattress, yourself starts at $99 for packages up to 150 pounds. We're a little surprised by the fees for shipping. Many mattress brands offer free delivery, and some – like Saatva – even offer a complimentary white glove service.
The mattress came in a box, one tight layer of opaque plastic, and another layer of thick plastic. Nothing seemed excessive (as we'd expect from a brand that bills itself as a more eco-friendly, natural option), though it did appear as though the first layer of plastic was extra tight and required a bit more 'muscle' than anticipated. Once the final layer of plastic was cut open, the mattress began to decompress at a rapid pace. Within a minute, it expanded to full form on our bed frame. Avocado notes that a box spring is neither required nor recommended for their mattresses, as firmer surfaces are ideal.
Off-gassing
Score: 4.5 out of 5
Upon unwrapping, the mattress made a loud hissing sound as it started to decompress. This lasted for about a minute. Since Avocado is eco-friendly and uses organic materials, toxicity from off-gassing isn't a major concern from a scent or greater health perspective.
However, we still noticed an odor when hovering directly over the mattress, and could still smell it up to 30 inches away from the bed for about an hour after unboxing. (Although we situated the mattress next to a window, we kept it closed to better assess off-gassing smells.) The odor wasn't completely off-putting, but it was still detectable, hence the minor demerit.
Pressure relief
Score: 4 out of 5
As a reminder, the Avocado Green Mattress is medium-firm and clocks in at 7 out of 10 on the firmness scale. To assess pressure relief with greater detail, we did some testing with kettlebells. We placed a 55lb weight in the center of the mattress in order to simulate the feel of a sleeper's body sinking into it. From there, we measured the amount of sink from the kettlebell, which was approximately two inches. This relatively small amount of give validated the firmness ranking.
When back sleeping and stomach sleeping on the mattress, we felt supported and comfortable (that is, after the adjustment period mentioned earlier). However, side sleeping was a different situation; we felt that tension was building up around our shoulders and hips since it didn't cradle or contour our curves.
We give it a 4 out of 5 ranking since the mattress ended up working well for back sleeping especially, but didn't perform as well for side sleeping – so those types of sleepers and combination sleepers may not benefit from this mattress (the best mattresses for side sleepers tend to be softer, offering some give around the hips and shoulders).
For greater pressure relief (especially from back pain), you may wish to consider the Nolah Natural 11 Mattress. This organic mattress uses Talalay latex, which the brand notes offers 33% more pressure relief than Dunlop and synthetic varieties of latex.
Motion transfer
Score: 4.5 out of 5
Motion transfer indicates the impact that movement on one part of the bed will have on another part of it. It's an essential consideration when researching mattresses, particularly if you co-sleep with someone else and one of you sleep lightly.
We used an empty wine glass and a smaller kettlebell to assess motion transfer. We placed the wine glass in the middle of the mattress and dropped a 10lb kettlebell at various distances away from the glass to see if (and how much) it would move or tip over. We employed this test to mimic the disruption that different levels of movement could make if you co-sleep with a partner.
When we dropped the kettlebell four inches away from the glass, it shifted a few times but didn't tip over. We then dropped it 10 inches away; the glass moved slightly, but didn't appear to be in danger of falling over. Finally, we dropped the kettlebell 25 inches away from the glass. The glass barely moved on the first bounce, but wiggled slightly with successive bounces. Based on the results from this test, the Avocado Green Mattress proved to offer only minimal motion transfer, making it a worthy option for co-sleepers, including those who are fidgety or restless.
Temperature regulation
Score: 5 out of 5
Breathability and temperature regulation are essential features of a mattress for everyone, yet especially for those who tend to run hot at night. Our reviewer is prone to elevated body temperatures while sleeping every now and then, but didn't notice any issues overheating or sweating while reviewing the Avocado Green Mattress.
Like several of the best cooling mattresses, the Avocado Green feels cool to the touch, which isn't always the case with other bed-in-a-box options we've reviewed before. To this benefit, we largely credit Avocado's use of organic cotton and wool in the mattress cover, both of which are breathable and moisture-wicking. We used linen sheets throughout the testing period, which complemented the impressive temperature regulation of the Avocado Green.
Edge support
Score: 5 out of 5
Edge support is another essential factor to consider when purchasing a mattress. Adequate edge support will ensure that the mattress will support you when you get in and out of bed and roll around, permit you to sit on the edges comfortably when you're not asleep, and prevent premature sagging.
We tested the edge support of the Avocado Green Mattress by placing a 55lb kettlebell on the side and bottom of the bed. It sank two inches, which was the same measurement when we placed the weight at the center of the bed. Plus, any time we rolled over from one side to the next in bed, we never felt in danger of falling off or that we lacked support.
Due to these considerations, we found that this organic mattress offers great edge support compared to other mattresses we've tried. We credit it to the mattress's layer of pocketed coils, spaced out across five ergonomic zones, with a fully reinforced steel perimeter all the way to the bed's edges.
Durability
Score: 4 out of 5
After testing the mattress for three weeks, the look and feel don't vary too much from when it was unboxed. The only change we noticed were more pronounced wrinkles from one tuft to another on the side of the bed we sleep on most often, notably close to where our hips lay. To date, we don't believe that this will impact our sleep quality or the durability of the mattress overall to any major extent.
However, some reviewers have noted that these dips are accentuated over the course of a few years, which negatively impact their sleep. We suspect that this concern will be greater for co-sleepers and/or heavier sleepers – so potential buyers across both groups should take note.
Avocado Green Mattress: customer reviews
As of January 2023, the Avocado Green Mattress has a 4.7 out of 5 stars from nearly 17,000 reviews on the brand's website. (It's worth noting that Avocado is the sole online retailer of their mattresses, so a wider pool of verified user reviews and experiences is currently unavailable.)
Satisfied customers love its firm support and cooling properties the most. Some noted that switching to this mattress was a good value and worth the price tag since it offered plenty of pressure relief and absorbed the right amount of body weight without feeling restrictive. Others call out the high-quality materials and sustainable aspects of the Avocado brand at large. In addition, positive reviews mention that this mattress offers enough support and comfort for heavier sleepers.
Customers who don't love the Avocado Green Mattress have a few common points of complaint—the most popular one being that they find the mattress too firm for their preferences. Other customers write that after only a few years of use, there are noticeable indentations where they sleep, which hinder their sleep quality and lead to body aches. Other customers are unhappy with the brand's customer service and delivery, even if they enjoy the mattress itself.
Should you buy the Avocado Green Mattress?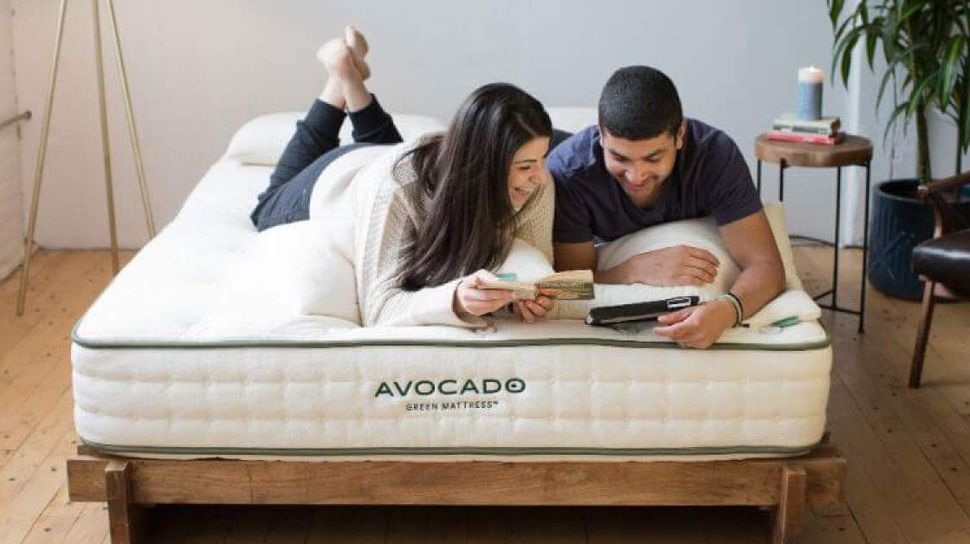 After testing the Avocado Green Mattress for three weeks, it has our approval for specific cohorts of sleepers: namely back sleepers, stomach sleepers, heavier sleepers, sleepers who run hot, sleepers who enjoy a medium-firm feel, and co-sleepers who fall under the previous designations.
While it may be costly compared to conventional mattresses and other bed-in-a-box options, the fact that it's organic, non-toxic, and sustainably produced makes it a good value for the price overall. We don't recommend it if you're a dedicated side sleeper, as it won't cradle your body to maximize comfort around your shoulders, hips, and knees as the Helix Midnight mattress does.
If you're truly interested in Avocado—namely their use of organic materials, eco-consciousness, and high quality—yet are prone to side sleeping only and/or prefer less firmness, you may wish to consider opting for the Avocado Green Mattress with the pillowtop add-on. Although it'll cost you a few extra hundred dollars, it provides a gentle-firm feel (closer to a 6 on a scale of 10). Another worthy organic option would be the Nolah Natural 11 Mattress, which works well for both back sleepers and side sleepers given its 6 out of 10 firmness.
But overall, there's a lot the Avocado Green Mattress does well – from exceptional temperature regulation to superb edge support. It'll cost you more than most other boxed mattresses, but you'll get what you pay for.