Best organic mattress: Menu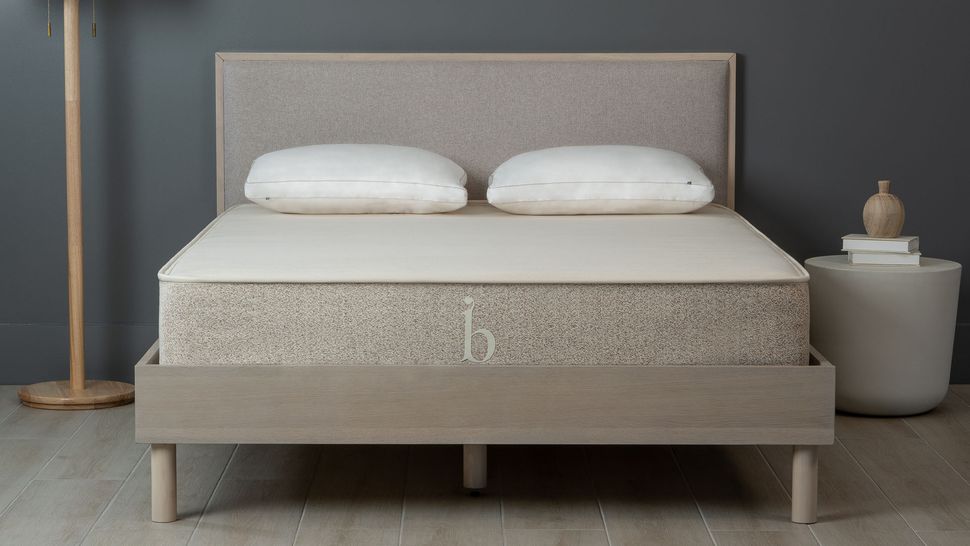 1. Best overall
2. Best budget
3. Best for support
4. Best soft
5. Best customizable
6. Best premium

How we test
We rigorously research and test the latest mattresses to provide accurate, data-driven and unbiased recommendations. We rate each mattress out of 10, and use our testing methodology data to inform our rankings. Read more about how we test mattresses.
The best organic mattresses are crafted from natural and often sustainably-sourced materials that are free from harmful toxins. In order to produce an organic product, there are certain standards that brands need to meet in terms of materials and manufacturing processes. The upshot of that is that you should be getting a better quality, more responsibly made mattress, but it'll likely cost a bit more (you can see how prices compare by heading to our general best mattress guide).
The most affordable organic mattresses start from around $1,100 for a queen size, although if you shop around national holidays, you can pick up a bargain. This year's Memorial Day mattress sales are in full swing, and delivering some of the lowest prices of the year, so now's a great time to shop.
The organic mattress market is small compared to the wider industry, but it's steadily growing in popularity. Most of the models in this list have a design that includes latex, wool and coils. Natural latex foam (either Dunlop or Talalay) is a kind of natural substitute for synthetic memory foam, offering contouring support. Wool provides cushioning and acts as a natural fire retardant (those avoiding wool should check out the Avocado at #3, which is available in a Vegan version). Coils boost breathability and help absorb motion.
If you're ready to venture into eco-friendly sleep, we've tapped into our years of research and experience to round up the best organic mattresses currently available.
Best organic mattress overall for 2023
The Birch Natural mattress is well-priced for the premium certified materials it features. This model is made up of a breathable Global Organic Textile Standard (GOTS) Certified cotton cover with organic fire retardant wool directly underneath. Following that are an organic birch wool comfort layer, a Talalay latex pressure relief layer, 1,000 individually-wrapped coils, and one more (base) layer of fire-retardant wool.
All of that translates to a medium-firm to firm feel that'll mildly cradle your body. It's quite responsive, which we particularly liked for combination sleeping as we didn't feel trapped by our mattress while changing positions at night. It's also one of the most cooling mattresses in this guide, so if you regularly wake up in the night because you feel too warm to sleep, this is the best organic mattress for you. We didn't wake up in a sweat once, but it makes sense – wool is one of the most breathable natural materials available, and the ventilated latex and coil layers inside the Birch take that enhanced airflow to another level.
This is a firmer mattress, so if you're a side sleeper and/or a petite individual, we'd recommend investing in one of the best mattress toppers to add a little extra comfort and softness while you're breaking it in. For those who suffer from back pain, particularly if you sleep on your back or stomach, the springs and latex inside this Birch organic mattress will help keep your spine lifted and supported. This also results in some of the best edge support we've experienced with a mattress – however, it's also quite bouncy so if you sleep with a restless partner you'll want something that does a better job of isolating movement (like the Avocado at number 3 or Amerisleep Organica at number 4).
For an organic mattress, the Birch Natural ships quickly too, with shipping times estimated to be around three to 10 days. You'll have a 100-night risk-free trial to ensure it really is the best choice for you, and after that there's a 25-year warranty to lean on when needed.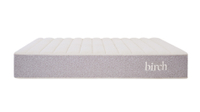 Birch Natural mattress: was $1,373 now from $1,030 + 2 free pillows at Birch
The Birch Memorial Day sale cuts 25% off this Natural mattress, reducing the price of a queen size to $1,499. The MSRP on this bed has risen recently, so it's not the lowest price we've seen, but it is a strong discount in context of current prices (and $100 cheaper than the previous sale price, based on queen size!). You'll get a free pair of pillows, valued at $150.
Best budget organic mattress
The Awara Natural Luxury Hybrid Mattress is a reasonably priced latex mattress considering that it's certified by the Rainforest Alliance and uses GOLS-certified latex along with GOTS-certified New Zealand wool. As one of the best hybrid mattresses made with natural materials, its biggest strength lies in its ability to keep hot sleepers cool at night and to regulate temperature: the latex is breathable and the coils boost airflow further, while the cotton cover is particularly good at wicking away moisture. All of this makes the Awara the best organic mattress for hot sleepers, as well as for those wanting a natural mattress at a cheaper price.
The medium-firm Awara Natural Luxury Hybrid Mattress is also a particularly good mattress for side sleepers and is supportive for back and stomach sleepers weighing between 130 and 230lbs. If you want an organic mattress for heavier bodies, take a look at the Avocado Green Mattress (at number 3), as this can support a combined weight of up to 700lbs. There's good shoulder and hip cushioning in the Awara mattress too, so it's a good choice for sleepers with back pain.
When we tested an Awara mattress ourselves, we felt it has a responsive surface but the downside is all of that bounce creates more motion transfer – something to keep in mind if you're a restless sleeper or if you share your bed with a partner. Unlike some other models here, there's only one level of firmness. The Saatva Zenhaven Latex (at number 8) is a better choice if you aren't sure what firmness you need, as that model offers two different types in one organic mattress.
But if you want a cooling organic mattress with bounce, and at a reasonable price too, then the Awara Natural Luxury Hybrid Mattress should be on your list. It's usually on sale, and is often bundled with hundreds of dollars in of free bedding to increase its value for money, making it a good cheap mattress (for an organic bed) made from certified organic materials. Basic delivery is free, though Awara charges $149 for white glove delivery compared to Saatva which offers this enhanced delivery service for free. You'll get a year's mattress trial plus a Forever Warranty.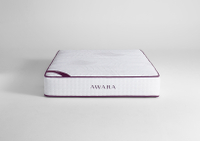 Awara Natural Hybrid mattress: was $1,398 now from $799 + free bedding at Awara
Head to Awara for $300 off MSRP, and up to $499 worth of free bedding. It's described as a Memorial Day deal, but in fact it runs all the time. Even so, it's still an excellent price for a natural mattress – after discount, you can bring home a queen for $1,099. You don't need an Awara promo code to claim.
Best supportive organic mattress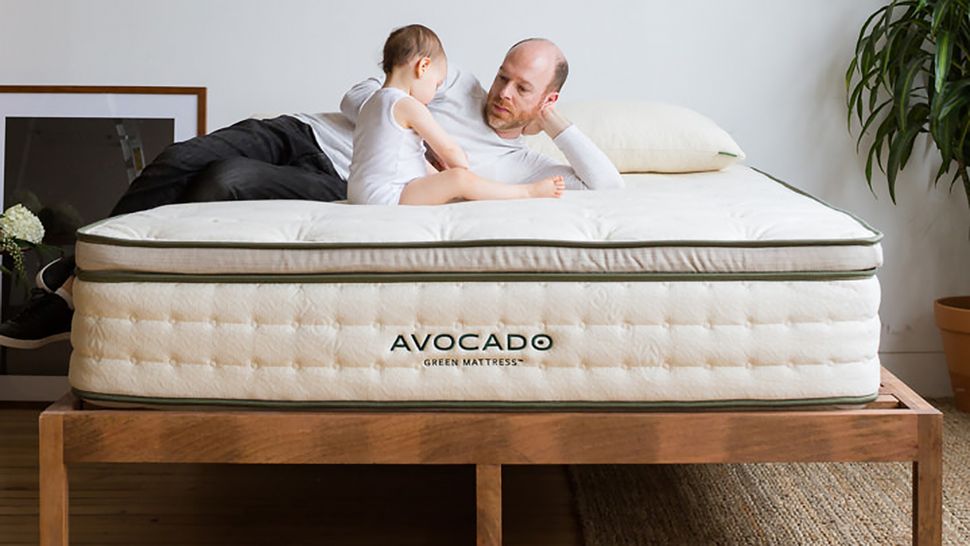 The 100% certified organic Avocado Green Mattress is solidly made. It contains a 2-inch Dunlop latex comfort layer that lies over the top of a zone support core. This delivers different levels of support to different parts of your body, so you won't feel the same level of firmness across the entire mattress – it will be firmer or softer in specific areas. It's the coils that give it a firmer feel, which also makes it one of the best mattresses for heavier bodies. (The mattress can support up to 700lbs. of combined weight.)
We tested the Avocado Green Mattress and can recommend it to anyone who is prone to sleeping hot. That's because its breathable organic cotton cover is naturally able to wick away sweat, so you'll feel cooler and drier, even during the warmer months. (It's also cool to the touch.) The 100% natural latex is cooling too and is combined with tall pocketed coils for a slightly bouncy yet firm feel. For as much bounce as it has, we found the Avocado Green's motion isolation impressive so couples will fare well with this one. Edge support is also excellent.
If you're a back or stomach sleeper, the medium-firm feel of the Avocado Green, combined with its ergonomic zones, will be a blessing. If you're not used to a firm mattress, allow yourself some time to break it in. However, if you're a side sleeper, you're unlikely to get as much pressure relief along the shoulders and hips as you'd like, even after a week or two of sleeping on it. (Alternatively, you can add a pillowtop for a plusher feel for another $400.)
You'll get a one-year trial, which is market-leading, and it comes with a 25-year warranty. For the latest savings, see our guide to the best Avocado mattress sales and deals as well as our Avocado Mattress promo codes. Discounts range from 10% off to $200 off after coupon – but note that like most brands in the industry, Avocado has raised the retail prices of its beds in response to the current cost of living crisis. Also, beware that unlike most mattresses on this list, delivery is not free – it costs between $99 and $249.
There is currently a proposed class action in California against Avocado Mattress, disputing the brand's 'green' credentials. Avocado intends to contest these claims.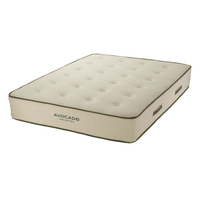 The Amerisleep Organica mattress is our second budget-friendly pick. This mattress slightly pricier than the Awara at #2, but still affordable in the context of organic mattress prices. The Organica is made in the USA and has an almost pillow top feel thanks to its one-inch layer of New Zealand Joma wool (placed beneath the organic cotton cover). That's one of the reasons why it's so good for side sleepers, as it offers responsiveness and gentle contouring, alongside a buoyancy that prevents you from feeling 'stuck' in the mattress. That buoyancy (and support) comes from a three-inch layer of natural Talalay latex, coupled with a one-inch layer of Dunlop latex and eight-inch coils.
The Joma wool is ethically sourced and the latex in the Amerisleep Organica is certified by the Rainforest Alliance and Eco-Institut, meaning the rubber trees used to produce the latex are sustainably farmed without the use of harmful pesticides. The wool is naturally sweat-wicking, meaning this is a good organic mattress for people dealing with night sweats and hot flashes.
While latex mattresses are renowned for their bounce, the Organica's wool layer and the pocketed construction of the coils reduces motion transfer better than many other similar latex mattresses. The mattress offers gentle cradling for pressure points such as shoulders, hips and lower back, while the coils are designed to offer targeted support to the areas needing pressure relief (hips, back, neck).
The Amerisleep Organica comes on a 100-night trial, but you'll have to sleep it on for at least 30 nights before asking for a refund if you change your mind during the trial. There's a 20-year warranty too, and you'll regularly find this one on sale for as low as $1,049, which is a competitive price for an organic mattress. For more top picks for side sleeping, see our guide to the best mattress for side sleepers.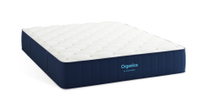 Amerisleep Organica mattress: was $1,499 now from $1,049 at Amerisleep
The Amerisleep Memorial Day sale just the regular sale we see all the time, but it still represents good value. With $450 off, with a queen size Organica is reduced to $1,299 (was $1,749).
Nolah Sleep makes a wide range of highly rated boxed mattresses, and the Nolah Natural 11 is the brand's eco-friendly hybrid. It's a smidge more expensive than the Amerisleep Organica at #4, but still affordable in the context of the organic mattress market. This model is made from natural Talalay latex, a durable material that offers 33% more pressure relief than synthetic and Dunlop latex. That makes it the best organic mattress for sleepers with back pain and sore joints, and for those who need higher levels of pressure point relief (think shoulders, hips and back).
The natural and organic materials continue apace, starting with an organic cotton cover that's breathable and moisture-wicking. You'll still need to use a mattress protector, but it's good to know that the Nolah Natural 11 prevents any moisture from building up within. Handcrafted in the USA, this eco-friendly mattress also packs in layers of GOTS certified organic wool that's naturally breathable and temperature-regulating. This helps the Nolah to feel warm and cozy in cold weather, yet breathable and cool to the touch when the temperature rises. The hole-punched latex foam also increases airflow.
Tri-zone coils, made from recycled steel, deliver targeted support in high pressure areas for a range of sleeping positions, whether you're snoozing alone or you share your bed. The natural Talalay latex is very responsive too, offering a nice amount of bounce while cushioning your joints. You won't sink in like you would on a memory foam mattress, but you will feel well-supported and rested. And because the Nolah Natural mattress is rated as a 6 out of 10 on the firmness scale, it will best suit back and side sleepers who enjoy something just a little softer than medium-firm.
You'll have 120 nights to trial it at home (you have to trial it for a minimum of 30 nights), and the mattress comes with a market-leading Lifetime Warranty. If you change your mind during the trial period, Nolah will issue a refund but you will have to pay a $99 fee to cover collection and removal of the mattress. The award-winning Nolah Natural 11 is normally on sale for hundreds of dollars off, usually via Nolah Mattress coupon codes.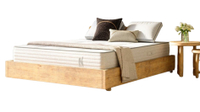 Nolah Natural 11 mattress: was $1,499 now from $974 at Nolah Sleep
For Memorial Day, Nolah has bumped up its discounts from 30% off to 35% off! That means a queen size Nolah Natural will set you back $1,364 rather than $2,099. You'll also get two free pillows with your purchase.
Best softer organic mattress
The award-winning WinkBeds EcoCloud Hybrid Mattress is one of the best eco-friendly mattresses you can buy in the US right now. This medium firmness hybrid organic option is made with 100% natural materials, including Oeko-Tex-certified natural Talalay latex, organic New Zealand wool and GOTS-certified organic cotton. This not only makes it safe to sleep on, it's luxurious and cozy too.
The hybrid design features a layer of recycled-steel coils that are zoned across five sections to support your shoulders and hips, while also aligning the spine. On top of the coils sits 4" of Talalay latex for superior pressure relief, conforming to the body to keep you feeling held. The latex is also naturally hypoallergenic, durable and provides impressive bounceback keeping motion transfer to a minimum.
The WinkBeds EcoCloud organic mattress provides cooling without using synthetics or additives, with the natural ventilation of latex and New Zealand wool regulating your body temperature so that you don't overheat or feel too cold in bed. The mattress also has a certified organic cotton cover for a fresh feel that remains cool to the touch.
The EcoCloud Hybrid Mattress is made in America and comes with a 120-night risk-free trial, so if you're not sure whether it's right for you, then you'll have nearly four months to put it to the test. There is also free delivery and returns, plus a forever warranty.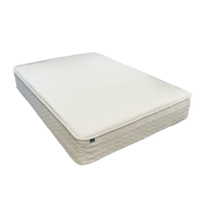 WinkBeds EcoCloud Hybrid: was $1,399 now from $1,099 at WinkBeds
There's basically always $300 off at WinkBeds, which means a queen size Eco Cloud Hybrid is typically around $1,699. Sure, it's not a particularly special WinkBeds mattress sale, but you won't be paying over the odds if you buy now, either.
Best customizable organic mattress
If you're looking for a versatile option, the PlushBeds Botanical Bliss could be the best organic mattress for you. This latex mattress is available in three different height profiles of 9, 10 and 12 inches and you can pick your firmness preference, too: medium or medium-firm. If you pick a split model, you can choose to have different sleep feels on different sides of the bed.
In the reviews section, there is a mention of being able to buy layers to swap in and out, but we reached out to PlushBeds to confirm and this is no longer the case. You can, however, request to swap for a different comfort layer within 100 days of purchase, at no charge and with free shipping.
According to PlushBeds, most people will get on best with the Medium sleep feel, and definitely side sleepers and combi-sleepers who change position in the night. Back and stomach sleepers should consider the Medium Firm option, as these positions require a little extra support in order to keep the spine properly aligned. (Those on a bigger budget should also check out the Saatva Zenhaven at #8, which is flippable to give two firmness profiles).
The main part of the mattress is made from different layer of latex (two on the 10" and 11" models, three on the 12" version). The upper tier is Talalay latex, which is softer and more cushioning, while the lower tier is made from the sturdier, more durable Dunlop type of latex. Topping it all off is a layer of cushioning wool sandwiched between organic cotton. The cover has been woven in a circular knit to allow flexibility around the hips and shoulders.
This is one of two organic mattresses that don't feature springs (the other is the aforementioned Zenhaven). The result is less bounce, and potentially weaker temperature regulation, because the overall design is denser with less space for air to circulate. It will be heavier than most innerspring designs, too.
At time of writing, the PlushBeds Botanical Bliss had an average of 4.9/5 stars over ~4,350 reviews. This falls into the 'suspiciously positive' camp for us, and it's difficult to discern potential down-sides from customer experiences. However, there is plenty of enthusiastic praise for the comfort and support on offer here, with a number calling out the lack of off-gassing smell in particular.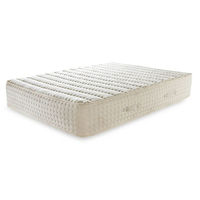 PlushBeds Botanical Bliss Mattress: was $2,449 now from $1,199 at PlushBeds
The PlushBeds Memorial Day deal knocks $1,250 off ticket price, which sounds incredible but is actually a pretty standard offer from this brand. That means a queen size currently costs $1,699.
Best premium organic mattress
The Saatva Zenhaven Natural Latex Mattress is a dual-sided mattress, meaning there's a different firmness rating on each side so that sleepers can alternate between their preferred feel, depending on their needs. The Zenhaven is therefore able to cater to a wider range of sleeping styles and body types, making it the best organic mattress for anyone who is unsure what type of firmness they need.
For example, the Zenhaven's Gentle Firm side is particularly well suited to those experiencing back pain. Why? Because it's supportive and offers good pressure relief to the lower back. Likewise, the Gentle Firm side is a good fit for stomach sleepers because it keeps them on top of the mattress (as opposed to them sinking in) and provides support at the hips to keep your spine in alignment.
The Luxury Plush side of the Saatva Zenhaven Natural Latex Mattress works well for side sleepers as it provides enough sinkage for pressure relief. And because the mattress is made using all-natural latex, it's extremely durable and should last much longer than something like a memory foam mattress. All that latex does make it one of the heaviest mattresses in this guide; fortunately, white-glove delivery is included so you'll already have help in setting it up.
The Saatva Zenhaven is also hypoallergenic, antimicrobial and, like all other models in our best organic mattress guide, it's free from harmful chemicals. All of that healthy support and comfort comes at a price though, so check out our guide to the best Saatva mattress sales and discounts for the latest savings. However, Saatva now offers a full year to trial its Zenhaven mattress – up from 180 nights, although you'll need to pay $99 to return it if you're not satisfied.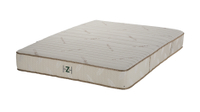 Saatva Zenhaven Latex Mattress: was $1,795 now from $1,420 at Saatva
Our special link knocks $375 off all purchases over $1k at Saatva, which means you'll save on all sizes of the Zenhaven. With this offer, a queen costs $2,820. Partly thanks to rising MSRP, it's not quite the cheapest we've seen this mattress go for, but it is a strong offer in the context of current prices.
How we test mattresses
The Tom's Guide mattress review process is editorially independent and not influenced by any third parties. Our expert mattress testers sleep on each mattress for at least three weeks - that's roughly how long it takes for your body to get used to a new mattress - and spend hours scientifically testing the performance of each product.
Mattress firmness is subjective, so each lead reviewer also forms a trusted and experienced testing panel made up of people with different sleep needs and body types. We have side sleepers, back sleepers and stomach sleepers, with lighter, average and heavier bodies, who rate each mattress using a specific set of performance criteria.
Together, these processes enable us to produce accurate, well-balanced and data-backed mattress reviews, to help you easily decide whether the mattress you're interested in really is the best choice for you. Read our full mattress methodology for more.
Organic mattress FAQs
What is an organic mattress?
Organic mattresses are made using non-toxic, certified organic materials including wool, cotton and natural latex. In most cases these materials are sustainably sourced, with many organic mattress brands working to keep their supply chain as short as possible (this is especially true for beds handmade in the same country).
Not only do organic mattresses minimize the chance of allergic and asthmatic reactions, they are cooler to sleep on and they're durable too, so they last longer. So while they seem expensive in the beginning, long-term they will actually save you money. Not all organic mattress materials are suitable for all people though – if you are allergic to latex or wool, then you'll need to consider another type of mattress, such as a hybrid mattress in a box that's made of synthetic materials.
The best organic mattress brands to look out for include Birch by Helix, Avocado Green, Saatva and PlushBeds. All of them offer trial periods of at least 100 nights (some offer a year's trial), with warranties ranging from 10 years to a Forever Warranty.
Are organic mattresses worth it?
This depends on why you're thinking of buying an organic mattress in the first place. If it's because you are taking steps towards a more eco-friendly lifestyle, then yes, organic mattresses are worth the higher cost. That's because they have a smaller carbon footprint and focus on using natural and sustainable materials, such as Talalay latex.
As we explain in our feature answering what is an organic mattress, manufacturers also tend to partner with fairtrade material companies and those that ensure excellent animal welfare. An innovative few, such as the climate neutral-certified Avocado Green, even have their own rubber farm and own a herd of sheep to produce organic wool.
If your reason for choosing an organic mattress is better sleep hygiene and health, then a natural or organic bed is also an excellent choice because they are free from toxins and use naturally breathable and moisture-wicking materials (such as cotton and wool) that are hypoallergenic.
The other benefit of organic mattresses is that they are built to last longer than a standard mattress in a box, with warranties ranging from 15 years to lifetime warranties. The use of durable natural materials such as latex helps them last longer, which saves you money in the long-term and it means you won't have to dispose of a mattress for a long time to come.
However, if you just want a good mattress made from CertiPUR memory foam and that will last you a good seven to eight years, then there are plenty of cheaper models to save you a lot of money and still help you sleep comfortably at night.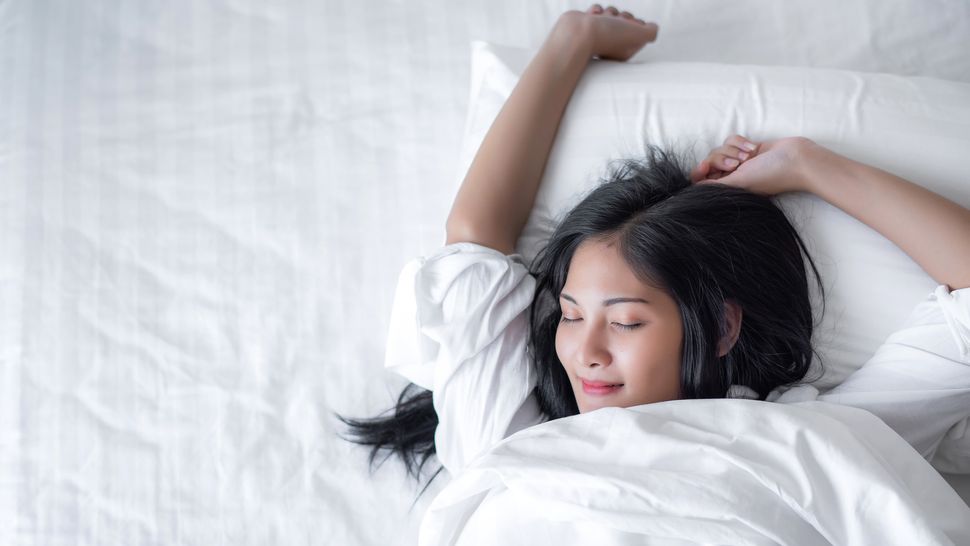 What's better, Talalay or Dunlop latex?
Our Talalay vs Dunlop latex explainer goes through it in more detail, but here's the short version. Both types are made from the same raw material, but manufactured in slightly different ways. Talalay latex is typically softer, less dense and more expensive. It's better for comfort layers. Dunlop latex is typically firmer, denser, and cheaper. It's ideal for support layers, but is also sometimes found in comfort layers. Because of the way it's produced, Talalay latex cannot be GOLS certified organic.
When is the best time to buy an organic mattress?
As with standard mattresses, there are specific periods throughout the calendar year when you can get a top-rated organic mattress for a lot less than normal. The best time to buy is in late November when all the Black Friday mattress deals arrive. We have been covering this sale period for years and now that organic mattresses drop to their lowest prices at this time thanks to large discounts from competing manufacturers.
These offers always roll over to the Cyber Monday mattress deals too, which lands on the Monday directly following Black Friday. You may find that some brands throw in free gifts to help sweeten the deal, and it isn't unusual to see savings made up of money off and free bedding or other sleep gifts. Obviously with an organic mattress, the free bedding will always be made from natural or fully certified organic materials, further boosting your value for money.
Other shopping events to look out for include the Memorial Day mattress sales towards the end of May, and this is a good chance to save on an organic mattress before the prices are generally increased over the summer period.
All of that said, we have noticed a continuing trend among the best organic mattress brands to offer similar price cuts each month, as a way to make these normally more expensive beds a little more accessible to buy. Brands such as Plush Beds, Saatva and Awara offer evergreen discounts, and these normally comprise money off and free bedding.