Nectar Memory Foam Mattress review in brief
Note: we're reviewing the US model here. For the UK review, toggle the flag dropdown in the main navigation bar.
The Nectar Memory Foam mattress is the flagship offering from award-winning sleep specialist Nectar. This affordable bed in a box has exploded in popularity since its launch, thanks in no small part to its competitive pricing. In fact, when it comes to value for money, the Nectar Memory Foam is one of the very best mattresses you can buy.
Nectar mattress specs
Type: All-foam
Material: Memory foam, other foams
Firmness: 6.5-7/10
Depth: 12"
Sizes: Twin, Twin XL, Full, Queen, King, Cal King
Trial: 365 nights
Guarantee: Lifetime
We initially reviewed this mattress in June 2020, but since then Nectar has updated the design slightly – the cover was replaced with an improved version, and the base layer was made an inch thicker. We called in a twin size of the updated Nectar Original in May 2023, and slept on it for three weeks. What follows is an updated review of the newest version of the Nectar mattress.
The Nectar mattress is available in all-foam and hybrid versions, but we're focusing on the former here. The design includes three different foam layers: an upper layer of memory foam for that body-contouring feel, a more responsive and supportive middle layer, and a sturdy foundation layer.
But what's it actually like to sleep on? It's one of the firmer memory foam mattresses we've tested, but we found it delivered an excellent balance of softness and support. You won't sink too far in, but there is enough contouring to comfortably cushion your joints. We think it offers a good middle-ground for most sleepers, but do factor in personal preference – some heavier people, as well as back and stomach sleepers, might prefer a firmer option.
On top, you'll find a specialized cooling cover made from polyethylene fibers to help draw away heat. We were impressed with how well this cover kept us from overheating – a common issue with non-cooling memory foam mattresses. Motion isolation here is also very good, so it'll suit couples who tend to shift a lot in their sleep, or operate on different schedules. Edge support is what you'd expect for a memory foam bed – sufficient, but not super firm.
While this mattress performed well in our tests, the extras help it stand out from the crowd, especially for that lower mid-range price. Delivery and returns are free, there's a full 365-night sleep trial (which matches the longest you'll find anywhere) and a forever warranty. Want to know more? Read on for our full Nectar mattress review.
Nectar Mattress review: Price and deals
Brand's cheapest mattress, queen size usually $669 - $799
Never sold at MSRP
Generous extras – long trial, free returns, often a free bedding bundle
When shopping for a Nectar mattress, the first thing you should know is that these beds are never sold at full price. In fact, it's quite difficult to tell what MSRPs even are, because Nectar will include the value of any freebie extras in the 'total price' listed on its site.
Based on the regular sale prices, the Nectar sits near the bottom of the mid-range bracket, and we consider it one of the best affordable mattresses around. Despite some sneakiness with its pricing, it's actually one the best value mattress options around, in terms of what you're getting for your money. Here are the prices you can expect to pay for the Nectar mattress:
Twin: usually $359
Twin XL: usually $569
Full: usually $599
Queen: usually $669 or $799
King: usually $899
Cal King: usually $899
Split king: usually $1,138
There are currently two main Nectar mattress sales that the brand alternates between. One knocks 25% off mattress prices and includes a bedding bundle for free. The other knocks 33% off, with no bedding bundle (but a big discount on bedding, if you do buy some).
If you're lucky, you may come across one of Nectar's 40% off flash sales, which yield the lowest prices we've seen for these mattresses (albeit without the extras). The most recent one took place in early May 2023, only lasted a few days and took the price of a queen size Nectar original mattress down to $629. The timing of these is hard to predict, as they don't coincide with traditional sales events.
Since we first reviewed this mattress in 2020, the prices Nectar has been charging have gone down. That's especially interesting because in general, over 2022 and into 2023, we saw most big bed brands putting their prices up. The size of the bedding bundle has also gone up over time. Once, it was just two free pillows. Nowadays, it can include sheet sets, pillows, mattress protectors, and more. However, Nectar has been focusing more on offering its mattress at a lower price and foregoing the extra bedding, although you can add a sleep accessory bundle at a substantial discount.
For the lower mid-range price, the extras that come with this mattress are outstanding. There's a full 365-night sleep trial (which matches the best on the market, and is longer than some premium brands offer) and Forever Warranty. Delivery is free, and so are returns if you decide this mattress isn't for you.
Foam-only mattresses tend to be cheaper than innersprings or hybrids anyway, but the Nectar mattress costs less than most of the other entries in our best memory foam mattress guide. Based on typical prices, its roughly in line with the Bear Original (which didn't perform as well in our review), and a bit cheaper than the Cocoon By Sealy Chill (which adds a specialist cooling cover).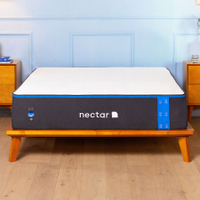 View Nectar mattress at Nectar
Ignore the MSRP, this mattress is always discounted, and sits in the lower mid-range price bracket, undercutting most rival products. Nectar gives you a whole year to test it out, as well as a lifetime warranty if you decide to keep it.
Nectar mattress review: Design & materials
12-inch tall, all-foam mattress (hybrid version also available)
Inside are three different foam layers, including memory foam
Cover technically removable, but not advised to remove
The Nectar is an all-foam mattress with a 12-inch profile and five-layer design. The internal structure is made from layers of three different foams, all of which are CertiPUR-US Certified, which means they meet certain essential safety and environmental standards.
At the top, a 2-inch layer of gel-infused memory foam provides that body-contouring feel. The gel is designed to help with temperature regulation, as some foams can trap body heat. Below this is the so-called Dynamic Response Layer. This 3-inch layer is geared towards boosting support and balancing that sink-in feel with some bounce and responsiveness, making the mattress easier to move around on. At the bottom is a sturdy, 7-inch durable base layer.
All of this is topped off with a polyethylene cover designed to absorb and wick away excess heat. Interestingly, although this cover has a zip, Nectar really does not want you to undo it. The FAQ section states that doing so might damage the foam layers, and will void all warranties. The cover itself is spot-clean only, anyway. (Prevention is better than cure though, and we advise buying one of the best mattress protectors to keep your mattress mark-free and hygienic.)
The lower cover is made from polyester and is described as shift-resistant. We initially assumed this meant it stopped the mattress from shifting on your bed frame, but in fact, it's to do with keeping the different layers in place within the mattress. In addition to that, there's another thin layer of fabric beneath the cover that keeps the layers intact.
It's the cheapest and firmest of the three mattresses in the Nectar US range, all of which are available as foam-only or hybrid versions, which add springs (if you're interested in the likely differences between the two types, our memory foam vs hybrid mattress explainer should help). In the middle of the range is the Premier, which is slightly softer and adds an extra cooling layer (head to our Nectar Premier Hybrid mattress review for more info on that one). At the top of the line is the Premier Copper, which is softer again, the thickest of the range, and adds cooling fibers into the cover. (Get the low-down on that one in our Nectar Premier Copper mattress review.)
Nectar Memory Foam Mattress review: Support & comfort
6.5-7 out of 10 on the firmness scale
Excellent support and pressure point relief for side sleeping
Front / back, and heavier sleepers might need a firmer option
Nectar classifies the memory foam mattress as medium firm, rating it near the middle of the firmness scale at 6.5 (10 is the firmest). However, we feel the updated model skews closer to a 7 – still in medium firm territory. To test the pressure relief of the Nectar, we placed a 50lb kettlebell in the middle of the mattress. It sunk about three inches, and the top surface took several seconds to expand back into shape when we removed the weight.
As for human bodies, our lead tester – a 5ft 4in, 150lb side/front sleeper – spent three weeks sleeping on the updated Nectar mattress. After transitioning from a firm all-foam bed, she found the Nectar mattress to be one of the best mattresses for side sleepers she's ever tried. When resting on her side, the Nectar provided ample cushioning for her shoulders and hips while keeping her well-aligned.
Stomach sleeping was also comfortable for our tester, with enough support along her pelvis to prevent her midsection from sinking. She enjoyed the subtle sink-in sensation, which allowed her to easily shift from her side to her front without feeling swallowed by the mattress. However, when lying on her back, she noticed her lower back dipping slightly more than she'd have liked.
When testing the previous iteration of the Nectar mattress (which was almost exactly the same, except the base layer was an inch shorter), some of our testers found it slightly too firm, and one of our stomach-sleeping reviewers found their hips sinking in, which became uncomfortable after a while.
It'll depend on your weight, but if you sleep on your front your body might not suit this type of mattress. As a rule of thumb, people who sleep on their front or back, and/or are heavier in weight, will benefit from a firmer mattress, while side sleepers and lighter-weight sleepers may get on better with softer options.
In general, though, we found the Nectar manages to deliver a fantastic balance of softness and support without too much sinkage – especially for side sleeping. It'll suit a wide range of sleepers, and is a good introduction to memory foam in general (we consider it one of the best mattresses for college students, for this reason). If you're not sure if the sleep feel will suit you, use the 365-night trial and see how you get on.
Score: 4.5 out of 5
Nectar Memory Foam Mattress review: Performance
Sleeps even cooler thanks to an upgraded cover
Very good motion isolation; absorbs movements effectively
Edge support is acceptable but not outstanding
We've first reviewed the Nectar mattress over a two-month period in the summer of 2020, offering a general overview of its comfort. For this update, a new batch of testers spent three weeks sleeping on the slightly updated version of the Nectar mattress, focusing on pressure relief (see above), edge support, motion isolation, and temperature regulation per our mattress testing methodology. Here's how this mattress fared...
Motion isolation
We slept on a twin Nectar mattress for our updated review, which comfortably accommodates a single person. Thus, to simulate the effects of a partner changing positions and getting in or out of bed, we conducted a motion isolation test by placing an empty wine glass on the center of the bed and dropping a 10lb weight from six inches high at various distances away.
When we dropped the weight four inches away from the glass, there was a noticeable wobble, indicating you might feel a slight disturbance if your partner moves right next to you. When we increased the drop distance to 12 inches, the wine glass shook briefly but then quickly returned to its original position. From 25 inches away, the wine glass remained completely steady when we dropped the weight.
Although we detected some motion at closer distances, the wine glass never toppled over. The weight didn't bounce too much, either, highlighting the Nectar's ability to absorb movement well. Based on our results, we think most couples should be able to sleep undisturbed on a Nectar mattress, even with a partner who fidgets or operates on a different schedule. For that reason, it appears in our best queen size mattress ranking.
Score: 4.5 out of 5
Edge support
Regardless of the size of your bed, edge support is important if you want to be able to use the whole sleep surface, or to use the mattress to push up off when getting up in the morning.
We tested the edge support of the Nectar mattress by placing a 50lb weight on the edges – at the middle of the perimeter and at the bottom. In both cases, the mattress compressed roughly two inches, with a bulge in the top cover. Everything returned to form as soon as we removed the weight.
When our human tester sat along the edges, she felt adequate support and had no issue getting up or sitting down. However, she would have preferred a firmer feel. Of course, most memory foam mattresses aren't known for having above-average edge support – Nectar's budget-friendly sibling, the Siena Memory Foam mattress, is an outlier here. Alternatively, a hybrid mattress with reinforced coils will often provide better edge support. (The Nectar mattress is available as a hybrid, as well.)
Score: 3.5 out of 5
Temperature Regulation
All-foam mattresses can sleep slightly warm, but the Nectar has a couple of features geared towards combatting this. There's a specialized cooling cover woven with polyethylene fibers designed to draw away body heat. Inside, the 2-inch memory foam top layer is infused with gel. Infusions like this are common in foam mattresses across the market, but in reality they're mainly a marketing gimmick, and unlikely to make a difference to how well the foam regulates temperature.
The cooling cover wasn't present on the first version of the Nectar, but we tested it out on the current version during our re-review. For this, we slept on the mattress for three weeks in May of 2023, when outside temperatures in our area of the Mid-Atlantic averaged around 50 degrees Fahrenheit, with a few unseasonably warm evenings sprinkled in. We kept the room temperature around 71 degrees Fahrenheit and dressed our mattress in cotton sheets with a mid-weight polyester comforter.
We found the cover lacked the cool-to-touch sensation we experienced in our Nectar Premier Copper mattress review, but we were still thoroughly impressed with how comfortable the flagship Nectar mattress kept our lead tester, who's prone to sleeping warm and refuses to give up her covers.
While the Nectar original can't compete with today's best cooling mattresses, those cost a fair bit more. We think the Nectar offers good temperature regulation for the price, and especially considering it's an all-foam model. Chronic overheaters who are still on a tight budget might want to consider something like the Cocoon by Sealy Chill, which has an even more effective cooling cover.
Score: 4.5 out of 5
Nectar Memory Foam Mattress review: Delivery & setup
Delivered vacuum-packed, rolled, and boxed
Can take a day or two to completely expand
Premium In-Home Setup is available for $199
Like all mattress in a box brands, the Nectar is delivered rolled and boxed, making it much easier to move into place. Standard delivery is free, and you'll have a full 365 nights to make sure you love your mattress. If during that time you decide against keeping it, returns are free too.
In our original review, our Nectar mattress fully expanded in about 48 hours. That was the case the second time around, although we were able to sleep on it 12 hours post-unboxing. Nectar says it takes between 24 and 72 hours for the mattress to fully expand – and although the company says you can safely and comfortably sleep on the mattress right away, just know that it'll be a much softer mattress than the end result. If you must sleep on it the same night, we recommend unboxing it at least five hours prior to bedtime.
Relative to the rest of the market, that's quite a long time for a mattress to take to expand, which is often an indicator that it has been stored in the box for a longer. However, after the initial wait period, it shouldn't make any difference to your experience with the mattress itself.
The Nectar memory foam mattress weighs between 39lbs and 84lbs, depending on the size. If you're sleeping on a larger bed, you'll want to enlist the help of a family member or friend to help you haul it, especially if you live alone and/or are recovering from an injury. Alternatively, you can pay an extra $199 for Premium In-Home Setup, which includes delivery of your Nectar mattress to a room of your choice plus optional removal of your existing mattress.
Although a little pricey, we're pleased to see that Nectar does at least offer the option to upgrade your delivery – this isn't the case with all mattress brands, especially within this price bracket.
We did experience an off-gassing smell upon unfurling our Nectar mattress, but it wasn't terribly potent and dissipated after a couple of hours once we cracked open a window. Off-gassing experiences can vary from person to person, even within the same mattress model, so don't assume your experience will be the same as ours.
Nectar uses CertiPUR-US certified foams which means they meet certain health and environmental standards (all reputable US bed brands will have this certification, but it is worth double-checking for).
Score: 4 out of 5
Nectar Mattress review: Customer reviews
Average score of 4.7/5 from 55K user reviews (June 2023)
Majority say they love how comfortable it is
A few think the edges could be firmer
Our reviewers loved the Nectar mattress, but everyone's experience of a mattress is different; your shape, size, weight and sleeping style can all affect how comfortable you find a mattress. So we also combed through hundreds of user reviews to build a more rounded picture of what the Nectar Memory Foam mattress is like to sleep on. Overwhelmingly, the mattress gets positive reviews from customers. On the Nectar website, it boasts 4.7 out of 5 stars, from nearly 55,000 reviews (May 2023).
On Amazon the mattress scores an average of 4.3 out of 5 stars from 5,300 reviews. Note that's for Nectar's full lineup rather than just the Original – although we would expect most purchases to be of the Original. That qualifies it for a top spot in our best mattress on Amazon guide. We'd recommend buying direct from Nectar if possible, not least because if you order the Nectar mattress through Amazon, you'll be subject to Amazon's 180-day return policy, rather than Nectar's 365-night sleep trial. Reading through the reviews on Amazon, we saw complaints from several customers who hadn't realized this (here's more on how to return a mattress to Amazon).
Overall, users consistently praise its comfort and cooling properties, with several reviewers claiming the mattress helped relieve aches and pains during the night. Most of the Nectar's 5-star reviews come from customers who identify as side sleepers.
There were, of course, some negative reviews. These mainly consisted of users complaining that the mattress was too firm or soft for their liking, and that it took a while for their bodies to adjust to the sleep feel. Some commented that the sides of the mattress weren't as firm as they would have liked for sitting on the edge (which we'd agree with), but many more reported firm edges with no sagging at all. We also noticed several people pointing to sub-par customer service, with some saying they had difficulty getting in contact with the company.
If you're looking for specific feedback based on age, sleep preferences, or other key criteria, Nectar offers multiple filters plus a keyword search.
Should you buy the Nectar Memory Foam mattress?
Yes. The Nectar Memory Foam mattress is easy for us to highly recommend. For comfort, quality, and sheer value for money, it's an excellent choice. Ours was exceptionally comfortable and supportive, and kept us from overheating, regardless of the temperature in the room. We also liked that the medium firmness of the Nectar mattress helped us adjust from sleeping on a regular box spring.
Overall, we found that the supportive cushioning of the memory foam provided ample comfort for side sleeping while remaining adaptive enough to allow us to shift positions with ease. However, if you're a front or heavier sleeper, you may prefer a firmer bed. If you like to sleep on your back, you might also fare better with a firmer option – check out our Tempur-Pedic Tempur-Adapt mattress review, where we call it a dream for back sleepers.
Bottom line, if you're looking for outstanding value at an affordable price, the Nectar Memory Foam mattress is a clear winner. Add in the huge 365-night trial, forever warranty, and convenience of free bed-in-box shipment, and we think the Nectar Memory Foam mattress is a superb choice for anyone who wants a brilliant night's sleep without breaking the bank.
Re-review: May 2023
First reviewed: June 2020

Nectar mattress review: Alternatives to consider
Swipe to scroll horizontally
| Header Cell - Column 0 | Nectar mattress | Purple Original | Siena memory foam | Helix Midnight |
| --- | --- | --- | --- | --- |
| Type | All-foam | Hybrid | All-foam | Hybrid |
| Materials | Memory foam, other foams | Gel-Flex Grid, foam | Memory foam, other foams | Memory foam, coils |
| Firmness (/10) | 6.5 | 6 | 9 | 5.5 |
| Height | 12" | 9.25" | 10" | 11.5" |
| Trial | 365 nights | 100 nights | 180 days | 100 nights |
| Warranty | Forever | 10 years | 10 years | 10 years |
| MSRP (queen) | $1,049 (usually $699) | $1,399 | $699 (usually $399) | $1,374 (usually $1,099) |
Siena Memory Foam mattress
If you're on a tight budget, the Siena offers quality beyond what you'd expect for such a ridiculously low price tag. It's an all-foam model, but much firmer than the Nectar, with minimal hugging. Back and front sleepers might appreciate that extra support, but side sleepers will likely get on better with the softer Nectar.
Read more: Siena mattress review.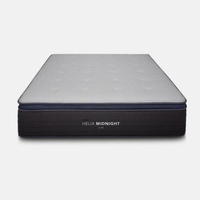 Helix Midnight
The Helix Midnight is a mid-range mattress with a softer sleep surface that's especially comfortable for side sleepers. It's a hybrid, with a layer of coils providing a little extra support along with that cushiony memory foam.
Read more: Helix Midnight mattress review.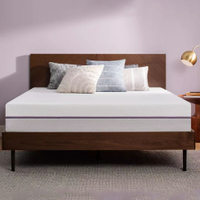 Purple mattress
Purple's mattress features a unique GelFlex grid – a layer of hyper-elastic polymer that flexes to your body shape to cushion and relieve pressure. The open structure means it won't trap body heat like foams can, so this might be a better choice if you sleep warm. It's pricier than the Nectar, though.
Read more: Purple mattress review.