The best phones can be any price, which is why our list has cheap devices alongside the flagship handsets you'd likely expect.
Contenders from the best Android phones and best iPhones can be found on this list, meaning you're likely to be satisfied no matter what phone you're moving from. And you can rely on the fact these are all phones we at TG have tested thoroughly, with all the pros and cons laid out for you to see to help you make your mind up.
Read on for the top phones you can buy, whether that's from a big brand like Apple or Samsung, or smaller players like OnePlus, Xiaomi or Realme.
Editor's note: Samsung just announced the Galaxy S23 series. Be sure to check out our Galaxy S23 and Galaxy S23 Plus hands-on review.
The best phones in the UK you can buy today
Why you can trust Tom's Guide Our expert reviewers spend hours testing and comparing products and services so you can choose the best for you. Find out more about how we test.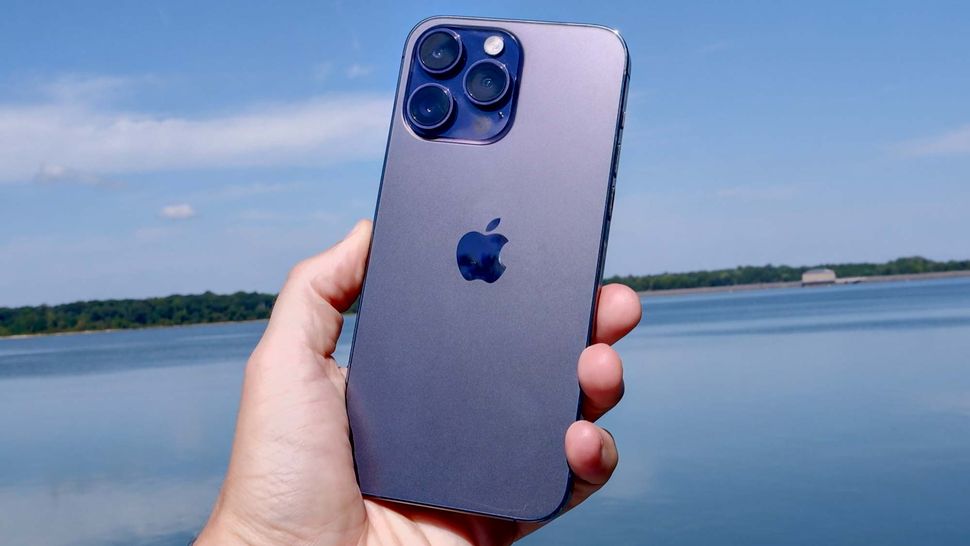 Apple once again leads the phone world with its top-tier iPhone 14, the iPhone 14 Pro Max. Building on last year's Pro Max, this model features a new 48MP main camera (making it again top of our best camera phones list too), a longer battery life and a long-awaited always-on display. Apple still equips it with a mighty chipset too, and a new Dynamic Island to replace the notch and hold your notifications and active app widgets.
What isn't so great is that Apple's still sticking with its 20W charging standard, which is the slowest among flagship phones right now. Also, adding all the new features has expanded the thickness and mass of the phone, making it even more unwieldy if you're trying to use it one-handed.
That said, you can't argue that the iPhone 14 Pro Max's features have no real equal. Therefore it's a natural fit for the top spot on this list.
Read our full iPhone 14 Pro Max review.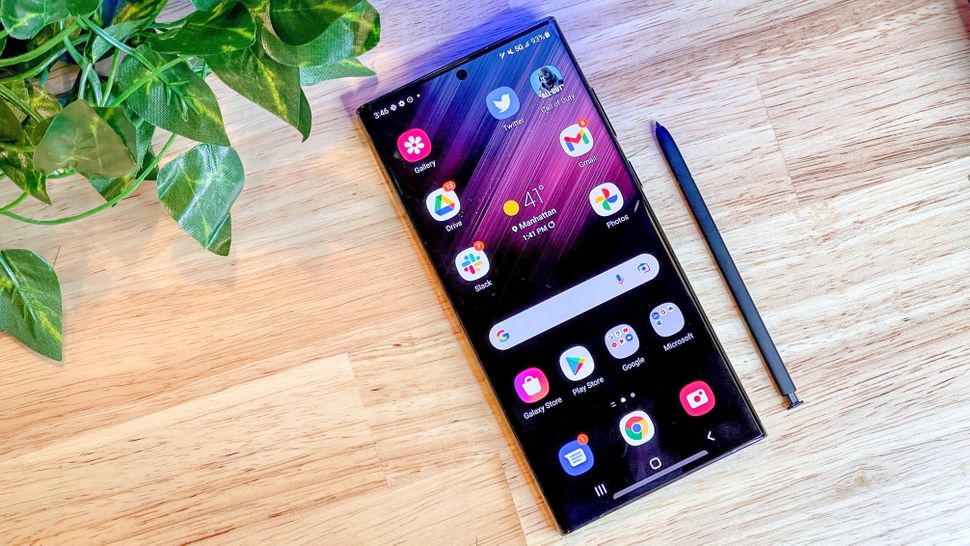 The Galaxy S22 Ultra is the most refined and most well-rounded of all the Android phones on this list. It features class-leading tech like a 120Hz LTPO 2.0 display and quad rear cameras, while also adding a stylus into the mix for even more versatility.
Our only complaints are that there's still no charger in the box, which is made extra annoying this time around since the S21 Ultra now supports faster 45W charging. Also, Samsung's lowered the amount of RAM available for the phone, with the default model offering less memory for the price than the S21 Ultra did. Even with those caveats though, the S22 Ultra remains top of the Android stack.
Read our full Samsung Galaxy S22 Ultra review.
Last year's Pixel 5a skipped the U.K., but we're more fortunate with the Pixel 6a, which is more widely available. And that's a good thing, too, as Google's midrange phone continues to deliver superior camera performance for a low cost.
The Pixel 6a doesn't just pick up the Pixel 6's powerful camera software, it also runs on the same Google-built Tensor chip that powers last fall flagships. That means the Pixel 6a is capable of many of the same machine learning-powered features, from the Magic Eraser photo-editing tool to on-the-fly translation that takes place entirely on the phone itself.
Battery life remains a weakness for the Pixel A series devices, but we like the phone's bright 6.1-inch display. The phone ships with Android 12, but it's in line for the Android 13 update, and Google is promising up to five years of security updates, so you should be able to hold onto the Pixel 6a for some time.
Read our full Google Pixel 6a review.
Due to the size difference in the display and battery capacity, the iPhone 14 Pro doesn't quite reach the same heights as the iPhone 14 Pro Max. Don't be fooled though, this iPhone still crushes most of the Android competitors beneath its heel, thanks to the combination of power and ease of use that Apple works hard to perfect.
The 6.1-inch 13 Pro still offers an excellent display with always-on and Dynamic Island features, fantastic cameras and an identical A16 Bionic chipset to the one inside the iPhone 14 Pro Max. But the smaller size means both a small discount compared to the Pro Max, but also a shorter battery life.
Aside from this, we aren't fans of how Apple's still got some of the slowest charging speeds in the business, with a maximum of just 20W. Also, our Phones editor Jordan Palmer didn't like how Apple's new low-light photo processing system, called Photonic Engine, treats some images, particularly those taken with the ultrawide camera. Even so, this is still one of the best, most complete phones on the market right now.
Read our full iPhone 14 Pro review.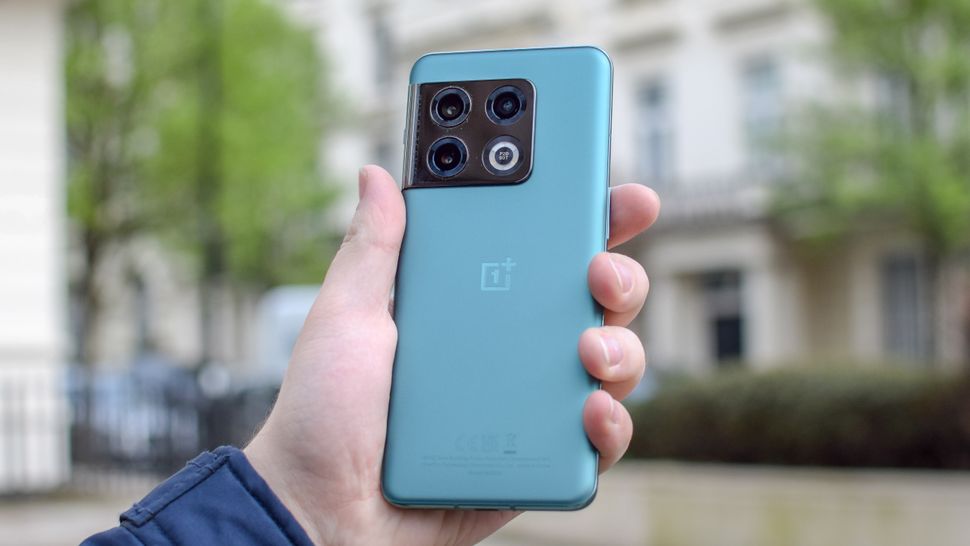 OnePlus has made several strong upgrades with the 10 Pro, but the best decision it's made is lowering the price from last year. Now you get a big, capable smartphone for the same price as an entry-level Samsung or iPhone.
Other highlights include the new design with a matte-finished back and curved camera block, a refined 120Hz QHD display and vastly improved photography, achieved with the help of Hasselblad. The battery life is excellent too, thanks to an efficient LTPO 2.0 display and a large 5,000 mAh battery that you can charge at up to 80W.
About the only issue we found in our review is the limited resolution of the telephoto camera. At 8MP, it's quite a bit smaller than rival phones' zoom cameras, and you can tell when comparing images. This aside, the OnePlus 10 Pro is our pick for the best premium phone value.
Read our full OnePlus 10 Pro review.
The Pixel 7 is a refinement of last year's breakthrough Pixel 6, improving on many of the prior phone's existing strengths.
Highlights of the Pixel 7's feature set is its smart Tensor G2 chipset that powers AI abilities like the new Photo Unblur mode, its bright and colorful display, and the fact that it still costs just £600. While the Pixel 7 Pro offers more, it still can't beat the amazing value of its non-Pro sibling.
Two of the Pixel 7's limitations, the 90Hz display (rather than the smoother 120Hz) and the weak battery life, are unfortunate holdovers from the previous generation. But if you're looking for a solid phone that won't break the bank, it's hard to beat the Pixel 7.
Read our full Pixel 7 review
Realme is still a fresh face in the smartphone business, but with the GT 2 Pro it's shown it can assemble a flagship phone that's as worthy of your consideration as more established companies.
For an attractively low price, you get the display and chipset you'd expect from a much more expensive phone, plus excellent 65W charging that outpaces most other Android phones. It also comes in a rather attractive bio-polymer body that gives the phone a very unique look, and offers the rather nifty 360-degree NFC contactless functions.
The limitation you'll have to accept with the GT 2 Pro are its cameras. Its photo processing isn't up to the standard of the bigger players, as fun as its 150-degree ultrawide and microscope cameras can be. If you're not a big snapper though, you need to consider this Realme phone if you're looking for a new premium Android.
Read our Realme GT 2 Pro review.
Samsung's made some good decisions when updating the S21 to the Galaxy S22 as it's now basically as premium as its Plus and Ultra siblings without costing nearly as much.
Although the S22 stands at a surprisingly small 6.1 inches, you still get triple rear cameras (including much-improved telephoto and night modes), an Exynos 2200 chipset and one of the best quality displays in smartphones. It's the best value way to get in on the Samsung flagship action for sure.
There are some limitations though. The small size means a small battery, and that in turn means disappointing battery life. It's also the only one of the S22 handsets to not support speedy 45W charging, which is a shame. But as sacrifices go for getting a top-tier Samsung phone go, it's not that bad, and the rest of the experience far outweighs these problems
Read our full Samsung Galaxy S22 review.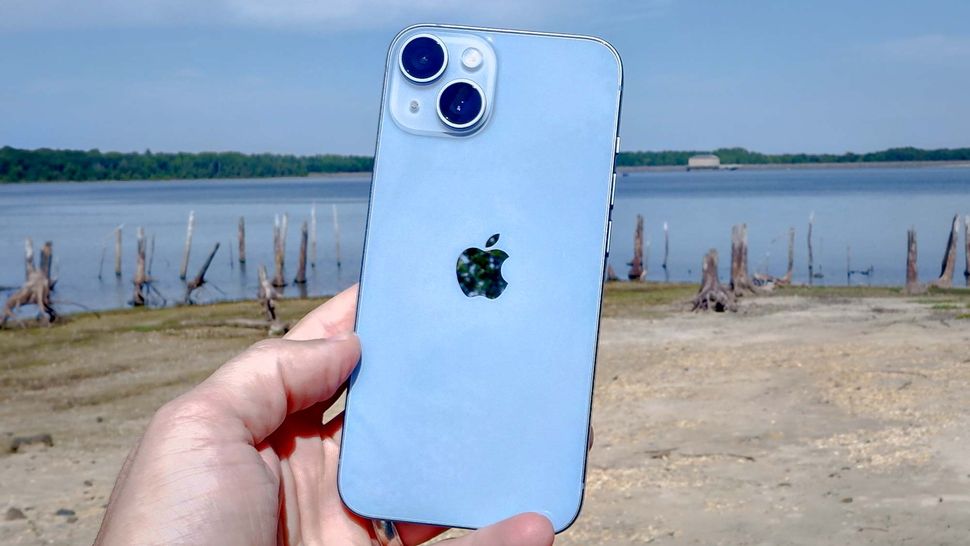 Apple's basic iPhone 14 is only a slight upgrade over the iPhone 13, meaning it's still a great phone but one we expected a bit more from.
It still has plenty of performance thanks to the A15 Bionic chipset, a great display and powerful cameras. However that's still the same chip as last year, still a display without the new standard refresh rate of 120Hz, and still an £849 phone that doesn't have a telephoto camera.
We'd recommend looking at the iPhone 14 Pro if you can afford another £200, as it'll get you some Pro-only features like the Dynamic Island and 48MP main camera. But if this is as far as your budget can stretch, the iPhone 14 will make a good upgrade if you're using a phone that's several years old already.
Read our full iPhone 14 review.
The Xiaomi 12 Pro is the ideal phone for anyone who wants to charge up as fast as possible. How does a 0 - 100% fill-up in 22 minutes sound?
Where things fall down is that it's still more costly than last year's Xiaomi Mi 11, which makes it a harder sell. Also if you're hoping to enjoy the in-built speakers, we don't particularly rate their quality.
The rest of the phone is still more than up to scratch though. Its 6.7-inch, QHD 120Hz display looks amazing, and its cameras are pretty good too. Plus even though the price has gone up, it still undercuts the competition from Samsung.
Read our full Xiaomi 12 Pro review.
Samsung's Galaxy A53 gives you a more affordable entry point to the biggest ecosystem in the Android world, and with relatively few sacrifices. We don't like the macro or depth cameras' results on the back, and the chipset is a little underpowered, but with a 120Hz AMOLED display, decent ultrawide and low-light photography and the rare ability of expandable storage, you get enough options to cover your everyday needs.
We also really like how this phone shares the Galaxy S22's lengthy four-year update promise, meaning you can get a lot of value out of this phone even when it's no longer the latest handset. It's an easy phone to choose if you're limited on funds, but one you'll still find fun to use long into the future.
Read our full Samsung Galaxy A53 review
The Noting Phone (1) arrives with a lot of hype, primarily because it's the new device created by OnePlus founder Carl Pei. And while it's a midrange phone with some trade-offs — performance is only so-so and the cameras underwhelm — this device still makes a solid first impression.
The best thing about the Nothing Phone (1) is its unique design, which features a transparent back and a lot of glyphs. These glyphs are more than just eye candy — they light up and you can adjust them in settings to flash different ways for different callers. The glyphs reflect notifications and Google Assistant indicators, too.
Battery life approaches 11 hours on our test with the adaptive 120Hz refresh rate turned on for the Nothing Phone (1)'s 6.55-inch display, and Nothing is dangling four years of security patches. Factor in a friendly price, and we may have a new phone maker worth keeping an eye on.
Read our full Nothing Phone (1) review.
The latest Nord handset is a mid-range champion, offering all the basics plus several premium features on top for a very reasonable price. The option of 12GB RAM and 256GB storage, along with the surprisingly powerful Dimensity 1300 chipset means you get performance that's close to flagship quality.
For downsides, the Nord 2T offers a static 90Hz maximum refresh rate, rather than a 120Hz or dynamic one that would help make the experience smoother or more power efficient. Also, OnePlus promises only two years of full software updates, which is quite low compared to rivals.
The other highlight is its 80W rapid charging, taken from the OnePlus 10 Pro. That lets it charge faster than any other phone in its price bracket, and many more expensive than it too.
Read our full OnePlus Nord 2T review.
With this budget handset from Redmi, you won't find yourself wanting for much. The Redmi Note 11 Pro uses a large AMOLED display with a 120Hz refresh rate, just like phones four times as expensive. It even beats some of those more expensive phones on charging speed with an included 67W charger.
The cons you'll have to accept if you get this phone are its low-powered chipset, and its outdated software. One means you won't get much out of high-performance apps and games, the other means you're always going to be behind rival phones when it comes to default Android features. If neither of these bother you, then you can save a bunch of money by going for the Note 11 Pro instead of a flagship phone of similar size.
Read our full Redmi Note 11 Pro review.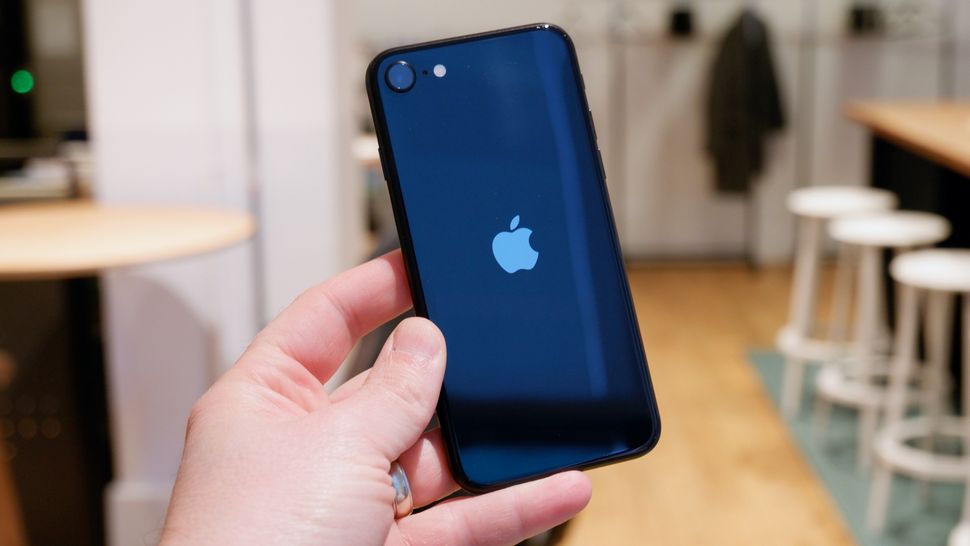 Apple's latest iPhone SE looks a lot older than it appears. If you don't mind, or even prefer, a phone with thick bezels and a physical home button, then you can save a lot of money by going for this cheaper iPhone.
Using the same chip as the iPhone 13, you get incredible performance compared to similarly priced Android phones. It can also use that performance to take some great photos, although there's only a single camera on the back which can limit the kind of shots you can take.
Probably the worst part of the experience is the display, which has a very poor resolution since the iPhone SE's body is based on the 2017 iPhone 8. You won't be enjoying movies or games to their fullest extent on the iPhone SE 2022, but you may well appreciate how well it covers the bases of the iPhone experiences for half of a new iPhone 13.
Read our full iPhone SE (2022) review.
How to choose the best U.K. phone for you
Your first question when picking which phones to shortlist should be: Apple or Android? iPhones are excellent, but deciding against any kind of Android phone means limiting your choice significantly. Generally, if you want the latest and greatest hardware, you're better off with a recent Android phone, whereas iPhones prioritise well-optimised features that work seamlessly with user-friendly software.
It's also important to keep the size of the phones you're looking at in mind. Many phones are above 6 inches in size these days, which suits most people but if you want something more compact, you'll need to search more thoroughly for the best small phones.
As for key features, the two you'll want to focus on are cameras and battery. With phones having all but replaced the compact digital camera, it's important to have a versatile array of cameras. High megapixel (MP) counts aren't everything though, so take a look through our comparison photo sliders in our reviews to see how all the cameras on a phone perform against a rival phone.
The importance of battery and charging should be obvious: you want your phone to last as long as possible, and ideally power up again quickly. As a general rule, the more milliamp hours (mAh) in a phone's battery, the better. However it's not always accurate — iPhones have some of the smallest batteries of any modern phone, but some still place highly on our best battery life phones list. Again, it's a good idea to check our reviews where we detail how long these phones last doing everyday tasks.
How we test smartphones
In order for a smartphone to make our best phone list, it needs to excel on several tests that we run on every handset. We perform some of these tests in our labs and some in the real world.
When it comes to performance, we rely on such synthetic benchmarks as Geekbench 5 and GFXBench to measure graphics performance. These tests allow us to compare performance across iPhones and Android devices. We also run a real-world video transcoding test on each phone using the Adobe Premiere Rush app and time the result.
To measure the quality of a phone's display, we perform lab tests to determine the brightness of the panel (in nits), as well as how colorful each screen is (DCI-P3 color gamut). In these cases, higher numbers are better. We also measure color accuracy of each panel with a Delta-E rating, where lower numbers are better and a score of 0 is perfect.
One of the most important tests we run is the Tom's Guide battery test. We run a web surfing test over 5G or 4G at 150 nits of screen brightness until the battery gives out. In general, a phone that lasts 10 hours or more is good, and anything above 11 hours makes our list of the best phone battery life.
Last but not least, we take the best phones out in the field to take photos outdoors, indoors and at night in low light to see how they perform versus their closest competitors. We take shots of landscapes, food, portraits and more, and also allow you to be the judge with side-by-side comparisons in our reviews.