The best big phones offer huge screens and massive batteries, but at the cost of easy one-handed use. Opposite of compact, these large devices let you lose yourself in games, videos, and text. All that screen real estate also makes it easier to type without typos.
Alongside their more expansive displays and improved longevity on a charge, the best big phones pack more elaborate cameras, with a greater quantity of lenses and the best optics and sensors on the market. Rest assured, we've tested them all.
If you're ready to go big on your next phone, we've put together a list of some of our super-sized favorites. And should you want one of the best small phones instead, we've got you covered there, too.
The best big phones you can buy today
Why you can trust Tom's Guide Our expert reviewers spend hours testing and comparing products and services so you can choose the best for you. Find out more about how we test.
Our pick for the best big phone belongs to Samsung and the Galaxy S23 Ultra. This is a beast of a device with a massive 6.8-inch Super AMOLED display, the powerful Snapdragon 8 Gen 2 for Galaxy chipset, an amazing 200MP camera, and the fan-favorite S Pen.
Battery life is vastly improved since the Galaxy S22 Ultra (which is still available for sale). Samsung kept a similar to design to last year, though we don't think the display is flat enough yet since the curves can get in the way. The Galaxy S23 Ultra is also the most expensive traditional smartphone on this list at a starting price of $1,199. At least you get a base storage of 256GB.
Read our full Galaxy S23 Ultra review.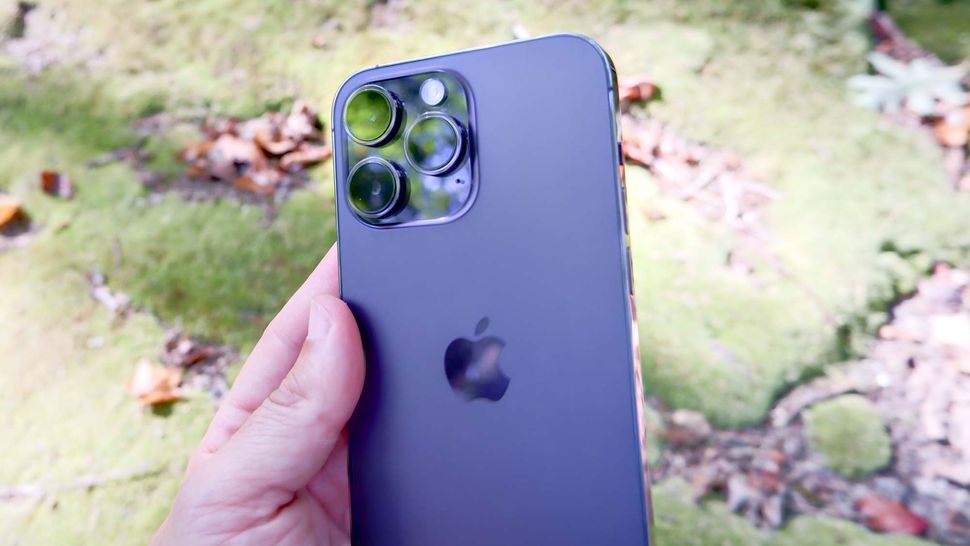 The iPhone 14 Pro Max is not only the best big phone around, but it's the best phone period. Its battery life is even better than last year's iPhone 13 Pro Max, while other new upgrades help round out the experience even more.
Other than the new even longer battery life, Apple's changed up the cameras to add a 48MP main sensor, swapped the notch for a new Dynamic Island cutout, and added an always-on display. Several of these upgrades are arguably the same as those seen on Android phones for the past several years, but Apple's level of polish takes them to another level.
If you want the best phone possible, then you want the iPhone 13 Pro Max.
Read our full iPhone 14 Pro Max review.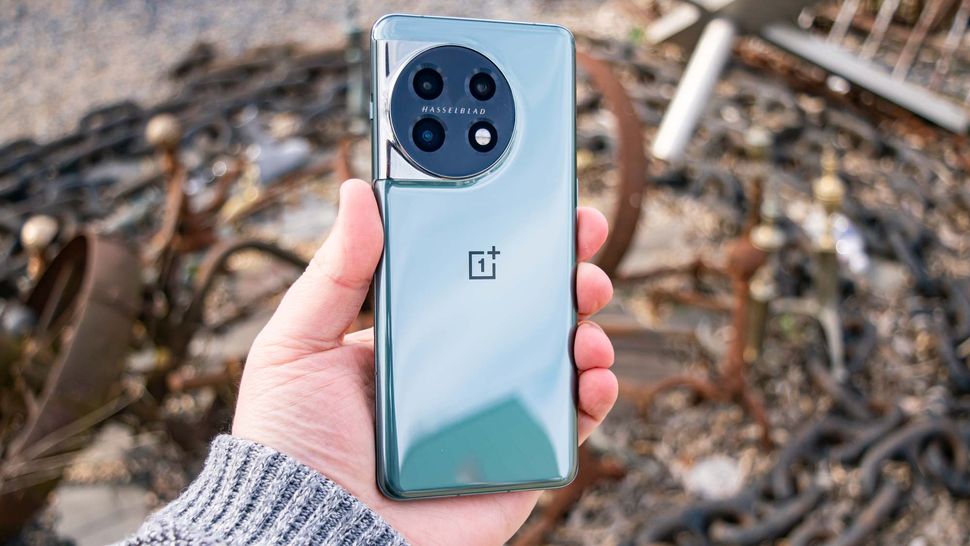 If you want the best big phone for your money, then look no further than the OnePlus 11. This flagship boasts top-tier specs, great cameras, and stellar battery life for just $699. It goes head-to-head with the likes of the Pixel 7 Pro, Galaxy S23, and iPhone 14 Pro, all while costing less.
With a 6.7-inch QHD+ AMOLED display, the OnePlus 11 has plenty of screen real estate for gaming, which it can handle without a problem thanks to its Snapdragon 8 Gen 2 system-on-chip. This is the best value right now and well worth your consideration.
Read our full OnePlus 11 review.
Samsung continues to show that it's serious about midrange phones with the Galaxy A53. Opt for this model and you can get a device with a screen that refreshes at 120Hz and delivers reasonable performance for hundreds less than what Samsung charges for one of its flagships.
Yes, the $449 price of the Galaxy A53 means some compromises, such as a less powerful Exynos 1280 chipset instead of the top-of-the-line Snapdragon silicon found in the Galaxy S22 series. We also wish Samsung didn't include a superfluous macro camera with the A53's array of lenses.
But that low price — equal to the Pixel 5a's cost — is hard to beat, especially in a phone that comes with a solid design and a generous amount of software updates. If you're a Samsung fan in search of bargains, the Galaxy A53 is the phone to get.
Read our full Samsung Galaxy A53 review.
On the surface, not much seems to have changed from the Galaxy S21 Ultra to the Galaxy S22 Ultra. After all, both phones sport 6.8 inches displays with fast refresh rates.
But beyond the surface, Samsung packed some big changes into the Galaxy S22 Ultra. The new phone features a super-bright display, boasting a peak brightness of 1,750 nits. (We measured 1,359 nits on a light meter, which still makes the S22 Ultra one of the brightest displays we've seen.) The refresh rate has been tweaked to scale all the way down to 1Hz when the action on the screen is static.
Beyond display improvements, the Galaxy S22 Ultra features a new chipset, fast 45W charging and a bigger main camera sensor that helps better capture low-light photos. Android fans who want a big-screen phone with premium features should choose this Samsung model.
While the Galaxy S23 Ultra is the new kid on the block and features many improvements, you can still pick up the Galaxy S22 Ultra at reduced price. Samsung sells the phone unlocked for $919.
Read our full Samsung Galaxy S22 Ultra review.
With an expansive 6.7-inch OLED display, the Pixel 7 Pro is a large phone without a doubt. But thanks to the curved edges and front glass, it easily fits in your hand (though it is a bit slippery). It has a large 5,000 mAh battery that, somehow, continues to manage to disappoint us in our battery life test.
But the Pixel 7 Pro's strengths come down to its new Tensor G2 chipset and its cameras. The photos the Pixel 7 Pro can take are amazing, with beautiful colors, sharp focus, and nifty features like Photo Unblur. Tensor G2 itself is a big improvement over the first-generation chip, offering performance that's closer to Qualcomm.
The Pixel 7 Pro is a big boy and worth it if you want the best cameras in an Android phone.
Read our full Pixel 7 Pro review.
If it's big phones you like, why not opt for a phone that gets even bigger when you open it up? That's the idea of the Samsung Galaxy Z Fold 4, which features a 6.2-inch cover display but can open up to reveal a tablet-sized 7.6-inch screen.
Even better, the Galaxy Z Fold 4 effectively behaves like a tablet when open, offering users a taskbar to quickly switch between apps, and stylus support for note-taking and drawing (although S Pens are sold separately). The upgraded cameras and more comfortable, wider profile are also welcome improvements too.
It isn't a phone for everyone, particularly because of the high price. But if you want to biggest possible display on a smartphone, the Z Fold 4's the way to go.
Read our full Samsung Galaxy Z Fold 4 review.
The Samsung Galaxy S22 Plus features an ample 6.6-inch display. Like the Galaxy S23 Ultra, the S23 Plus offers a peak brightness of 1,750 nits, making it easy to see the display when you're outside. Unlike the S23 Ultra, you can have this phone for less than $1,000 with a base storage of 256GB.
It may not be the top-of-the-line model in the Galaxy S23 lineup, but the Plus packs in plenty of premium features, from an improved telephoto lens that offers a 3x optical zoom to the new Snapdragon 8 Gen 2 for Galaxy chipset powering the device. The Galaxy S23 Plus also supports 45W wired charging. It's not a big leap forward from the Galaxy S22 Plus, but if you've got an older phone, the S22 Plus is a solid upgrade.
Read our full Samsung Galaxy S23 Plus review.
iPhone 14 Plus is here to let you get an iPhone that's the same size as the iPhone 14 Pro Max, but for $200 less.
Unfortunately for this larger basic iPhone, it doesn't have a 120Hz display refresh rate, a telephoto camera, or particularly fast charging. These are all things that its Android-using rivals all have, meaning it's a hard sell in some ways.
Lucky for Apple, there's still plenty to like about the iPhone 14 Plus. Its main, ultrawide and selfie cameras all produce fantastic photos, its A15 Bionic chipset still outperforms anything excluding the iPhone 14 Pro, and it's surprisingly light for its size. Plus, with all the standard iPhone software and UI polish, it's still a joy to use.
Read our full iPhone 14 Plus review.
Fast-refreshing displays are becoming a more common feature among flagship phones, though most of the phones on this list top out at a 120Hz rate. The Motorola Edge Plus (2022) does that one better with a 6.7-inch panel that refreshes at 144Hz when your on-screen activity demands it. That makes for smoother scrolling and more immersive graphics.
The Snapdragon 8 Gen 1 chipset powering Motorola's flagship can keep up with any Android phone released in 2022, and the 50MP main camera can produce some great shots in the right conditions. We wish the 4,800 mAh battery in the Motorola Edge Plus was better equipped to last long on a charge, and Motorola's software upgrade policy lags behind Samsung's. But if you can find this flagship at the right price, the Motorola Edge Plus has some appeal to gamers who like big displays.
Read our full Motorola Edge Plus (2022) review.
How to choose the best big phone for you
Android or iPhone? Android phones give you more choice in terms of price, size and innovative designs — many of them happen to be larger, too. However, iPhones offer speedier software updates, better games and apps and better security and privacy. See our iPhone vs Android face-off.
Unlocked or carrier? Most shoppers in the U.S. buy new phones through their wireless carrier. But an unlocked phone gives you the freedom to buy the device without any sort of contract and then bring it to the provider you want to use.
Screen size: For fans of big phones, 6 inches and up is a good place to start. The biggest phones are 6.5 to just under 7 inches. If you want something you can easily use with one hand, go with one of the best small phones with a screen under 6 inches.
Cameras: Don't pay attention to the megapixel count. Instead, look at camera face-offs between phones to see the photo quality and look for special features like Night Mode to get better quality in low light. Also see our best camera phone roundup.
Battery life: Generally, phones with larger batteries (measured in mAh) offer the longest battery life, but that's not always the case. That's why we run our own custom battery tests, where phones repeatedly load webpages over a T-Mobile data connection while set to 150 nits of display brightness until they run out of juice.
How we test smartphones
In order for a smartphone to make our best phone list, it needs to excel on several tests that we run on every handset. We perform some of these tests in our labs and some in the real world.
When it comes to performance, we rely on such synthetic benchmarks as Geekbench 5 and 3DMark to measure graphics performance. These tests allow us to compare performance across iPhones and Android devices. We also run a real-world video transcoding test on each phone using the Adobe Premiere Rush app and time the result. (We unfortunately have to skip this test on some phones due to app compatibility issues, but we attempt this benchmark with each device we get in to review.)
Swipe to scroll horizontally
Performance benchmarks

| | | |
| --- | --- | --- |
| Row 0 - Cell 0 | Geekbench 5 (single-core / multicore) | 3DMark Wild Life Unlimited (FPS) |
| Galaxy S23 Ultra | 1578 / 5081 | 88 |
| iPhone 14 Pro Max | 1882 / 5333 | 74 |
| OnePlus 11 | 1166 / 4926 | 84 |
| Galaxy A53 | 745 / 1888 | 14 |
| Galaxy S22 Ultra | 1240 / 3392 | 57 |
| Pixel 7 Pro | 1060 / 3046 | N/A |
| Galaxy Z Fold 4 | 1328 / 3831 | 53 |
| Samsung Galaxy S23 Plus | 1524 / 4642 | 87 |
| iPhone 14 Plus | 1735 / 4473 | 69 |
| Motorola Edge Plus (2022) | 1196 / 3644 | 61 |
To measure the quality of a phone's display, we perform lab tests to determine the brightness of the panel (in nits), as well as how colorful each screen is (DCI-P3 color gamut). In these cases, higher numbers are better. We also measure color accuracy of each panel with a Delta-E rating, where lower numbers are better and score of 0 is perfect.
Swipe to scroll horizontally
Display benchmarks

| | | | |
| --- | --- | --- | --- |
| Row 0 - Cell 0 | sRGB (%) | DCI-P3 (%) | Delta-E |
| Galaxy S23 Ultra | 193 (Vivid) / 111 (Natural) | 137 (Vivid) / 79 (Natural) | 0.37 (Vivid) / 0.3 (Natural) |
| iPhone 14 Pro Max | 117 | 83.2 | 0.26 |
| OnePlus 11 | 171 (Vivid) / 117 (Natural) | 121 (Vivid) / 83 (Natural) | 0.31 (Vivid) / 0.24 (Natural) |
| Galaxy A53 | 204 (Vivid) / 123 (Natural) | 145 (Vivid) / 87 (Natural) | 0.32 (Vivid) / 0.31 (Natural) |
| Galaxy S22 Ultra | 138 | 98 | 0.25 |
| Pixel 7 Pro | 104.9 | 74.3 | 0.28 |
| Galaxy Z Fold 4 | 207.2 | 158.7 | 0.34 |
| Galaxy S23 Plus | 208 (Vivid) / 117 (Natural) | 148 (Vivid) / 83 (Natural) | 0.33 (Vivid) / 0.23 (Natural) |
| iPhone 14 Plus | 120.6 | 85.4 | 0.25 |
| Motorola Edge Plus (2022) | 192 (Saturated) / 104 (Natural) | 136 (Vivid) / 74 (Natural) | 0.33 (Vivid) / 0.28 (Natural) |
One of the most important tests we run is the Tom's Guide battery test. We run a web surfing test over 5G (or 4G if the phone doesn't have 5G support) at 150 nits of screen brightness until the battery gives out. In general, a phone that lasts 10 hours or more is good, and anything above 11 hours makes our list of the best phone battery life.
Swipe to scroll horizontally
Battery life benchmark

| | |
| --- | --- |
| Row 0 - Cell 0 | Battery life (Hrs:Mins) |
| Galaxy S23 Ultra | 12:22 (Adaptive) / 13:09 (60Hz) |
| iPhone 14 Pro Max | 14:42 |
| OnePlus 11 | 13:10 (Adaptive) / 12:48 (60Hz) |
| Galaxy A53 | 9:49 (120Hz) / 10:38 (60Hz) |
| Galaxy S22 Ultra | 8:50 (Adaptive) / 8:56 (60Hz) |
| Pixel 7 Pro | 6:31 |
| Galaxy Z Fold 4 | Inner: 7:09 (Adaptive) / 11:31 (60Hz) |
| Galaxy S23 Plus | 11:38 (Adaptive) / 12:28 (60Hz) |
| iPhone 14 Plus | 11:57 |
| Motorola Edge Plus (2022) | 6:57 (144Hz) / 8:24 (60Hz) |
Last but not least, we take the best phones out in the field to take photos outdoors, indoors and at night in low light to see how they perform versus their closest competitors. We take shots of landscapes, food, portraits and more, and also allow you to be the judge with side-by-side comparisons in our reviews.