The best iPhones lineup is going to see a big shakeup soon. Apple took the wraps off its new iPhone 13 models, which hit stores September 24. And when they do arrive, we anticipate a big change to how we rank iPhones.
We won't know what the best iPhone is until we have a chance to test the four new models. But from what we've seen, the iPhone 13 certainly boasts some impressive specs, from the A13 chip to the improved cameras to the brighter displays. And if you opt for the iPhone 13 Pro or Pro Max, you can expect a ProMotion display with a dynamically adjusting refresh rate, just like the best Android phones.
It's not just the arrival of the iPhone 13 that means big changes for the best iPhone picks. Apple's shuffling up its existing models, dropping prices on some older phones and removing others from circulation. In short, there's a lot of change afoot, and our guide to the best iPhones can help you sort out which phone to get.
Editor's note: We crowned our picks in the Tom's Guide Awards 2021 for the phones category.
What are the best iPhones?
Until we can review the four iPhone 13 models, the iPhone 12 Pro Max is the best iPhone you can buy — it's just about perfect thanks to a big, immersive screen and impressive camera setup. Apple no longer sells the iPhone 12 Pro Max, but you can find it at wireless carriers and retailers. Many of its top features like the powerful A14 Bionic processor and 5G connectivity are found in the three other entries in the iPhone 12 lineup.
That's why the iPhone 12 Pro and iPhone 12 are both worth your consideration, too, especially since they cost less than the iPhone 12 Pro Max. (The iPhone 12, in fact, has seen its price fall by $100 now that the iPhone 13 is here.) And if you like compact phones, you can't go wrong with the iPhone 12 mini, which is now the smallest iPhone Apple makes and costs $599.
You have lots of options now if you don't want to spend more than $600 on your next iPhone. Apple slashed the price of the iPhone 11 by another $100. Before the iPhone 12 came along, that was the best iPhone for most people, and it remains an excellent choice even two years after its release. Anyone who wants the cheapest iPhone available will likely turn to the iPhone SE, especially if they prefer phones that are small and easy to slip into a pocket. This is by far one of the better back to school options, providing a top-tier iPhone experience for under $500. It'll get iOS 15 at the same time as the other iPhones here, too.
The best iPhones you can buy right now
The iPhone 12 Pro Max sat at the pinnacle of iPhones for the past year, especially if you wanted a bigger display. This phone has it all, starting with a stunning 6.7-inch OLED display that's bright and colorful; it's the perfect complement to a best-in-class camera system for shooting and enjoy all the photos and videos you'll be taking. Now that the iPhone 13 Pro Max is replacing it, though, you may want to wait until reviews of the new phone start coming in.
The Pro Max had all the same great camera features as the regular iPhone 12 Pro — including Smart HDR 3, improved Magic Fusion for better details and Night Mode portraits via the new LiDAR sensor. But you also got a larger main sensor for better low-light performance and a longer 2.5x optical zoom.
Another reason to splurge for the iPhone 12 Pro Max was the battery life. This handset lasted nearly 11 hours on our 5G web surfing test, which is nearly 2 hours longer than the regular iPhone 12 Pro. A blazing fast A14 Bionic processor, 5G capability and a touch Ceramic Shield display round out the features on this masterpiece.
The iPhone 12 Pro Max won the best phone overall award.
Read our full iPhone 12 Pro Max review.
Apple didn't hold much back with the iPhone 12 Pro. Like other models in the iPhone 12 family, this handset runs on an A14 Bionic — the fastest mobile processor we've tested prior to the A15's arrival — and offers compatibility with 5G, no matter what kind of network a wireless carrier has built. The three rear cameras from previous iPhone Pro models were augmented with a LiDAR sensor for improved photo features. And Apple did all this while holding the price of the phone to $999. It's now out of Apple's lineup, pending the arrival of the iPhone 13 Pro.
You had to get by without an included charger, but the iPhone 12 continues to support Apple's new MagSafe interface in which wireless charging pads attach to the back of the phone magnetically for a more consistent charging experience. Spring for a 20W fast charger and you'll get a 50% charge in 30 minutes — which you'll need since 5G connectivity eats into battery life.
It's the cameras on the iPhone 12 Pro that really delighted us, especially now that portrait mode works at night and you can use Night Mode with both the Ultra-Wide camera and the front TrueDepth camera. This is the phone to get if you want the best that Apple has to offer, without having to go too far above the $1,000 threshold.
The iPhone 12 Pro (and iPhone 12) won a highly recommended award.
Read our full iPhone 12 Pro review.
If you're looking for a compact iPhone, look no further than the iPhone 12 mini. It's the smallest phone Apple makes — yes, smaller than the iPhone SE — but it doesn't skimp on features. You get the same A14 processor found in the other iPhone 12 models, and the rear cameras on the iPhone 12 mini are every bit as impressive as the ones found on the larger iPhone 12. Even better, it's now $100 cheaper, as it makes way for the iPhone 13 mini.
Like the rest of the iPhone 12 lineup, the iPhone 12 mini offers 5G connectivity, supporting all flavors of the faster networking standard. That includes mmWave 5G, which is particularly impressive given the number of antennas Apple had to fit inside such a compact phone. And the mini has the most attractive price of any new iPhone, now starting at just $599.
Overall, the iPhone 12 mini is one of the best iPhones yet because its design is so refreshing. And the addition of a purple option to the original five colors gives you yet another way to get an iPhone that matches your particular tastes.
Read our full iPhone 12 mini review.
The iPhone 12 features many of the best aspects of the iPhone 12 Pro, but for less money — this model now starts at $300 less than Apple's Pro handset after a price cut triggered by the iPhone 13 launch. But you're not making too many compromises to get this more affordable iPhone.
After all, the iPhone 12 has the same A14 Bionic processor and comprehensive 5G connectivity as the more expensive Pro model. You only get two rear cameras on the iPhone 12, but they perform better than ever, thanks to software improvements Apple made. A new 7-element lens on the main camera combined with a wider aperture than before means better photos in low-light and sharper images overall.
The LCD panel Apple used on the iPhone 12's predecessor is gone, replaced by an OLED screen that offers the same 6.1 inches of display real estate as before. You're still confined to 64GB of storage in the base model and there's no charger included with the phone, but otherwise, this is a stellar addition to the iPhone lineup. And Apple recently shook things up by adding a purple color to the five other color options for the iPhone 12. (Check our our purple iPhone 12 hands-on for a look at this new color.)
Read our full iPhone 12 review.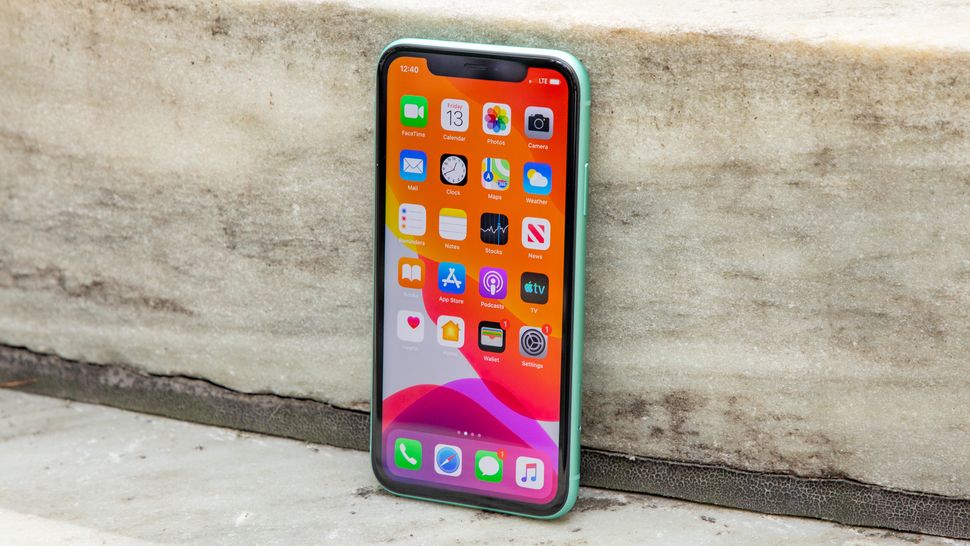 The iPhone 11 has long since stopped being the new kid in town, with Apple releasing two subsequent generations of phones after this device's 2019 debut. But it's still available and it's the least expensive it's ever been at $499. That price, combined with the fact that the A13 Bionic processor is still more powerful than contemporary Android phones, makes this a good buy.
As with the iPhone 12, you are giving up a dedicated telephoto lens, as the iPhone 11 features a 12-MP wide angle and ultra wide angle shooters. But it's capable of the same camera effects as the rest of the iPhone 11 family, including portrait shots, ultra wide angle selfies and Night Mode for better low-light photos. You can also expect more than 11 hours of battery life from the iPhone 11, though you'll have to spring for a separately-sold fast-charging adapter to juice back up at the quickest speeds.
See our full iPhone 11 review.
You can't keep a good iPhone down, which is why Apple revived the iPhone SE four years after launching the original low-cost, compact iPhone. The iPhone SE 2020 is a little larger than before — adopting the 4.7-inch screen and form factor of the discontinued iPhone 8 — but it's kept a low price that will appeal to iPhone fans looking for the best bargain around.
It's not just the price that makes the iPhone SE so appealing. The phone runs on the same A13 processor you'll find in the iPhone 11, so the iPhone SE will remain a top-performing phone for years into the future, especially as regular iOS updates add new features. You'll just get one rear camera with this phone, but it's a good one, augmented by the A13's Neural Engine to augment your photos with computational photography.
This isn't the longest-lasting iPhone by any stretch of the imagination, as our iPhone SE 2020 battery tests found, and we wish that camera would support Apple's Night mode for better low-light photography. But if you want some premium power in a phone that fits comfortably in one hand, the iPhone SE was built with you in mind.
Read our full iPhone SE 2020 review.
How to choose the best iPhone for you
The best way to determine the iPhone you should buy is to take stock of the features and capabilities that matter most to you. If battery life is especially important, seek out a larger iPhone, as they tend to have bigger batteries to match their screen size. What's more, because iOS is known to be generally efficient in terms of energy consumption, even the smaller models tend to last longer than average on a charge.
If you're basing your next iPhone purchase off camera quality, the top-tier Pro variants are easy recommendations, thanks to triple-lens designs that allow you to capture multiple different perspectives, from zoomed-out ultra wide-angle images to shallow depth-of-field portraits. They're also remarkably good in challenging lighting scenarios, like when shooting in a dimly-lit indoor space, or outdoors at night.
All that said, if price is king, and saving the absolute most on your next smartphone purchase is your top priority, you should have no reservations about nabbing an iPhone SE 2020 or iPhone 11. These may be on the cheaper side of Apple's range, but they're still made of flagship-quality materials, with enough power and performance to sustain years of use.
However, be mindful of storage. Apple's most recent iPhones start at $499 for the iPhone 11 and $599 for the iPhone 12 mini. Those base prices get you a phone with 64GB of space, but if you want more capacity, be prepared for that price tag to go up. The iPhone 13 addresses that problem by bumping base storage to 128GB.
If you buy your iPhone through Apple, you may be able to save money by trading in your current phone. Apple's trade-in rebates promise anywhere from $110 up to $790 off if you have an iPhone 8 or newer. (The trade-in value increases for newer models.) We also track special offers from carriers and retailers to find the best iPhone deals and we expect a lot of deals for iPhone 13 pre-orders.
When Apple releases new iPhones, it cuts the price on the models it keeps around. That's why you'll pay less for the iPhone 12, iPhone 12 mini and iPhone 11 now that the iPhone 13 models are announced. (The iPhone XR is no longer part of Apple's lineup.)
All of the iPhones mentioned here run iOS 14, which came out last fall. They're also compatible with iOS 15, which is now available as a public beta. (Find out what to expect from Apple's latest software in our iOS 15 beta review.) As a matter of fact, iOS 15 will work on iPhones dating back to the iPhone 6s, just like iOS 14 did, some features will require at least an iPhone XR. Stick to the phones on our best iPhone list, and you'll be fine.
How we test iPhones
As with any smartphone we test at Tom's Guide, we evaluate iPhones for days in real-world use cases. We also benchmark Apple's phones using a gamut of performance-measuring apps that allow us to compare iPhone performance to what Android devices are capable of. In addition to synthetic benchmarks, we also run real-world tests, including a video transcoding test in Adobe Premiere Rush that compares the iPhone's processing speed with other devices.
In our lab, we use a light meter to ascertain display quality data, like brightness and color accuracy to help us evaluate the display of the best iPhones. Our proprietary battery test determines longevity on a charge by endlessly streaming webpages over an LTE network; we then recharge the iPhones to see how quickly they charge in 15-minute intervals.
To compare cameras, we take any iPhone we review out and shoot photos in a variety of settings. We also bring along a comparable smartphone to see how the iPhone's photographic output measures up.
We explore Apple's iOS improvements, test gaming performance and evaluate the phone's speakers — and each of these factors play a part in our final verdict.