Don't expect any changes to the best iPhone rankings until the fall when the iPhone 15 models are likely to debut. Until then, Apple's lineup is set — and that's good news if you're in the market for a new phone for Apple.
That's because the models released last fall include some of the best iPhones Apple's ever made. And even if you can't afford the top-ranked iPhone 14 Pro Max, there are a number of other options at a variety of prices.
Our guide to the best iPhones can help you pick out the right model, as we turn to all the testing we've done on Apple's phones to identify who should pick which version of Apple's phones. If you're weighing an iPhone 14 vs. iPhone 14 Pro decision, it's a matter of deciding whether the Pro models' more premium features are justified by their higher price. iPhone 14 Pro vs. iPhone 14 Pro Max and iPhone 14 vs. iPhone 14 Plus decisions come down to screen size preference and budget.
Of course, if it's bargains you're after, why not get an older iPhone? Apple has kept three models around at reduced prices — the iPhone 13, iPhone 13 mini and iPhone 12 mini — and they just might fit your needs without requiring you to pay out big bucks. And that's before we even consider the least expensive phone in Apple's lineup, the iPhone SE.
Whether you're a long-time iPhone fan or just making the switch from Android to iPhone, we can help you find a phone you'll be happy to use. Here's how we rank the best iPhones currently available.
The best iPhones you can buy right now
Who should get the iPhone 14 Pro Max: Anyone who wants the best iPhone around, regardless of price
Every premium feature Apple packs into its phones is on display with the iPhone 14 Pro Max, and the phone has the price tag to show it. While this is the most expensive iPhone, you also get the super-fast A16 Bionic processor, an improved 48MP camera and the eye-catching Dynamic Island feature that replaces the notch. Plus, the Pro Max offers an expansive 6.7-inch display with a big battery to match. That battery kept the iPhone 14 Pro Max running for more than 14 hours in our test, placing it near the top of the best phone battery life rankings.
The iPhone 14 Pro Max's hits keep on coming. The new Action mode captures smooth video even when you and your subject are on the move. The always-on display brings a long-requested feature to the iPhone and does so in an elegant way. Even the front camera sees an improvement with addition of autofocus and a wider aperture to let in more light.
We struggle to come up with any serious complaints about the iPhone 14 Pro Max, which is not only the best phone you can buy right now, but the best iPhone Apple's ever made.
Read our full iPhone 14 Pro Max review.
Who should get the iPhone 14 Pro: Anyone who wants the iPhone 14 Pro Max's features, but at a lower price
You don't necessarily have to pay $1,099 for the best iPhone features. Most everything you find in the iPhone 14 Pro Max is also available in the iPhone 14 Pro, but for $100 less. You'll sacrifice battery life — the battery inside the iPhone 14 Pro is smaller — and the Pro model only offers a 6.1-inch display (though it matches the 144Hz refresh rate of the larger Pro Max).
The A16 Bionic chipset is here, as is the improved 48MP main camera. Dynamic Island replaces the iPhone's notch and does more than just provide a home for Face ID sensors and the improved front camera; it's also a hub for notifications that will only become more powerful as app makers take advantage of the space. From cameras to display brightness to the way it handles demanding apps, the iPhone 14 Pro is a winner, and a way to enjoy the high-end Pro features Apple has added to its lineup without paying Max prices.
Read our full iPhone 14 Pro review.
Who should get the iPhone 14 Plus: Big-screen phone fans on a budget
The iPhone 14 Plus is the best iPhone for people who prefer a larger display but don't want to pay big bucks for one of the best big phones. For $200 less than the iPhone 14 Pro Max, the iPhone 14 Plus gives you an expansive 6.7-inch OLED screen, whether you want to watch movies and shows on the go or you just want a bigger viewfinder for your photos. And the photos look amazing from the improved cameras on the iPhone 14 Plus, thanks to a bigger main sensor and Apple's Photonic Engine for better pics in low light.
As much as we like the regular iPhone 14, you'll want to get the Plus if you want more time between charges. The iPhone 14 Plus lasted nearly 12 hours on our web surfing test. There's some things we don't like about the iPhone 14 Plus — including the 60Hz refresh rate and lack of telephoto lens — but overall it's a great value. And like the iPhone 14, the iPhone 14 Plus has added another color option, with a yellow iPhone joining the black, white, blue, purple and red colors.
Read our full iPhone 14 Plus review.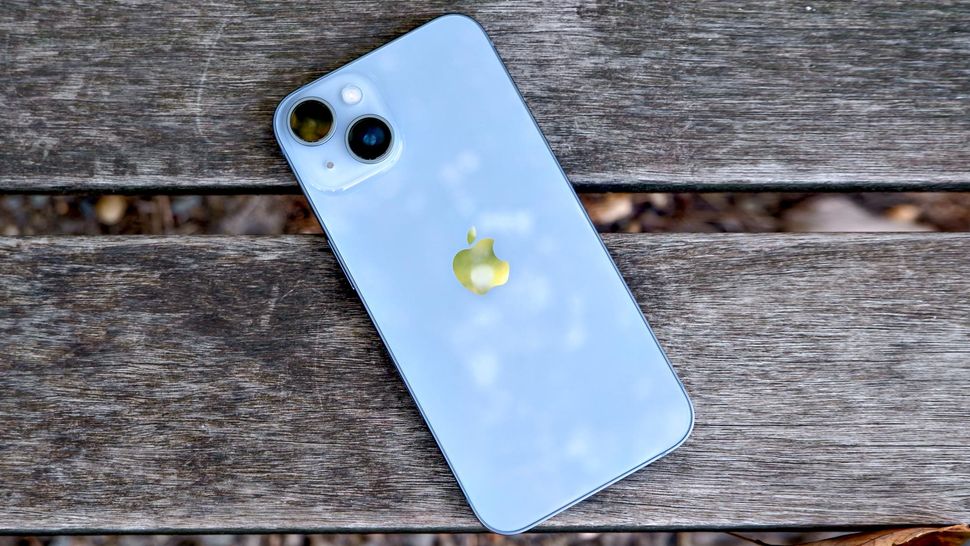 Who should get the iPhone 14: Anyone who wants the least expensive model of Apple's latest phone
The iPhone 14 doesn't have the flashier features found in its Pro siblings, but it's still a solid upgrade, particularly if you're looking to make the move from an older iPhone — we're thinking iPhone 12 or later.
The notch is still around on the iPhone 14, and like the iPhone 13, the iPhone 14 features an A15 Bionic chipset instead of the newer A16. But at least the iPhone 14's version of the A15 features an extra GPU core, giving it a boost over the iPhone 13.
While the 48MP main camera on the iPhone 14 Pro is grabbing most of the attention, the iPhone 14's camera improvements are noteworthy — so much so that this model ranks among the best camera phones even without a dedicated telephoto lens. A larger sensor with bigger pixels powers the main camera, improving performance in low light. The iPhone 14 also benefits from Apple's new Photonic Engine, which delivers brighter images.
Action mode for capturing smoother video is available to iPhone 14 owners, and later this fall, the new phone will add support for crash detection and Emergency SOS via satellite. And that comes in a device that continues to cost $799, making it one of the more affordable flagships out there.
Read our full iPhone 14 review.
Who should get the iPhone 13: Bargain hunters who are unimpressed with the new features included on the standard iPhone 14
Even with the iPhone 14 available, the lack of major changes to Apple's $799 phone means the iPhone 13 remains a viable choice for many people, especially now that Apple's older phone costs less. By skipping more recent iPhones, you won't get a slightly improved A15 Bionic chipset in the iPhone 14 or the camera improvements in the new models. But the iPhone 13 is a worthy upgrade from older phones, and now it costs less than before at $699. (Our iPhone 14 vs. iPhone 13 comparison has more on the differences.)
One of the best things about this model is its storage — Apple includes 128GB with the base model after years of forcing people to upgrade from the skimpy 64GB if they wanted a higher capacity. The A15 processor remains a solid processor, though upcoming Android devices are likely to out-muscle it if Snapdragon 8 Gen 2 benchmarks are any indication.
As with any iPhone 13 model, the real story here is the cameras. The iPhone 13 still features two rear lenses, but they have bigger sensors than the iPhone 12's, leading to improved low-light photography. The iPhone 13 also supports Cinematic mode for shifting the focus in videos.
Read our full iPhone 13 review.
Who should get the iPhone 13 mini: Small phone fans who don't mind older hardware
The iPhone 13 mini is the most powerful compact phone Apple's ever made, thanks to that A15 Bionic chip that powers all the iPhone 13 models. That means you can get iPhone 13-comparable performance in a 5.4-inch phone that costs less than $600.
Compact phones aren't for everyone, and you won't find the dynamically refreshing displays featured with recent iPhone Pro phones from Apple, but the iPhone 13 mini has plenty to recommend it. It's got the same camera setup as the iPhone 13, with large sensors that let in more light than before. The display is also brighter than the iPhone 12 mini's screen, and battery life is improved, if ever so slightly.
There's no mini in the iPhone 14 lineup so if you want the best small phone, the iPhone 13 mini remains the one to buy.
Read our full iPhone 13 mini review.
Who should get the iPhone SE 2022: Anyone who wants the least expensive iPhone
The iPhone SE (2022) is the most budget-friendly option in the current iPhone lineup. Starting at $429 for the 64GB model, the latest SE is a veritable powerhouse that runs laps around anything else at this price point. You will not find something that performs better under $500, helping it rank among the best cheap phones (even if it came up short in our Samsung Galaxy A54 vs. iPhone SE 2022 comparison).
With the same A15 Bionic chipset that's in the iPhone 13 — but lacking the extra GPU core found in the A15 powering the iPhone 14 — the iPhone SE (2022) can handle any task you set before it, all in an incredibly compact body. However, the 4.7-inch LCD is a bit of a letdown with a low resolution by today's standards (1344 x 750). The chunky bezels of the classic iPhone design also look incredibly dated.
Perhaps the most egregious omission from the new SE is the lack of Night mode. It's even sadder because the phone takes great photos in daylight. And it also lacks mmWave 5G, so people hoping to take advantage of Verizon's Ultra Wideband network will be left out in the cold with the latest iPhone SE.
Read our full iPhone SE (2022) review.
Who should get the iPhone 12: People with only $600 to spend who want a bigger screen than the iPhone 13 mini
The iPhone 12 is the lone remaining phone from Apple's 2020 lineup that is still available from the phone maker. At $599, it costs the same as the iPhone 13 mini, but you're getting a bigger 6.1-inch screen.
Opt for the iPhone 12, and you get an A14 Bionic processor — still a top performer — and comprehensive 5G connectivity. You only get two rear cameras on the iPhone 12, but they perform better than ever, thanks to software improvements Apple made. A 7-element lens on the main camera combined with a wider aperture than before means better photos in low-light and sharper images overall than Apple's older phones.
The LCD panel Apple used on the iPhone 12's predecessor is gone, replaced by an OLED screen that offers the same 6.1 inches of display real estate as before. You're still confined to 64GB of storage in the base model and there's no charger included with the phone, but otherwise, this remains a fine budget buy in the iPhone lineup.
Read our full iPhone 12 review.
How to choose the best iPhone for you
When shopping for an iPhone, take stock of the features and capabilities that matter most to you. If battery life is especially important, seek out a larger iPhone, as they tend to have bigger batteries to match their screen size. What's more, because iOS is known to be generally efficient in terms of energy consumption, even the smaller models tend to last longer than average on a charge.
If you're basing your next iPhone purchase off camera quality, the top-tier Pro variants are easy recommendations, thanks to triple-lens designs that allow you to capture multiple different perspectives, from zoomed-out ultra wide-angle images to shallow depth-of-field portraits. They're also remarkably good in challenging lighting scenarios, like when shooting in a dimly-lit indoor space, or outdoors at night.
All that said, if price is king, and saving the absolute most on your next smartphone purchase is your top priority, you should have no reservations about nabbing either the iPhone SE or an older model with a lower price tag. They may be on the cheaper side of Apple's range, but they're still made of flagship-quality materials, with enough power and performance to sustain years of use. iOS software updates, which are available to every model at the same time, generally provide five years of support, adding to the value of older models.
However, be mindful of storage. The $599 iPhone 12 only comes with 64GB of space in its base model; if you want more capacity, be prepared for that price tag to go up. The iPhone 13 and iPhone 13 mini address that problem by bumping base storage to 128GB. The iPhone 14 lineup starts at 128GB, too.
If you buy your iPhone through Apple, you may be able to save money by trading in your current phone. In the spring, Apple bumped up trade-in values on select models. You can expect anywhere from $40 up to $600 off if you trade in an iPhone 7 or newer. (The more recent your iPhone, the higher the trade-in value, and yes, switchers, Apple will accept Android devices, too.)
Note that if you buy your iPhone unlocked from Apple, you'll need to tack another $30 onto the base price of the iPhone 14 and iPhone 14 Plus. (The exception to this is the iPhone 14 Pro and iPhone 14 Pro Max.)
We track special offers from carriers and retailers to find the best iPhone deals by model:
When Apple releases new iPhones, it cuts the price on the models it keeps around. That's why you're paying less for the iPhone 13, iPhone 13 mini and iPhone 12 after the iPhone 14's launch.
All of the iPhones mentioned here can run iOS 16, which is available for download now. In fact, we're already up to iOS 16.4, which introduced new emoji among other changes. A beta for iOS 16.5 is already available, too.
All of those updates are building up to the release of iOS 17 later this year. We expect an iOS 17 preview at WWDC 2023 on June 5, at which time we'll find out which iPhones will no longer be supported with iOS updates. Among the rumored changes coming to iPhones are Active Widgets, a new journaling app and improvements to existing apps such as Wallet and Health.
With the iPhone 14 now in place, expect iPhone 15 and iPhone 15 Pro rumors to pick up ahead of the fall release of new models. We're already hearing about potential features like a periscope camera for better zooming and USB-C replacing the phone's Lightning port. Talk of an iPhone 15 Ultra model has cooled — an Ultra phone may arrive in 2024 instead. That could mean more premium features for the iPhone 15 Pro Max.
Another rumored device we're unlikely to see this year is the iPhone SE 4; the latest rumor about that budget phone suggests a new SE model won't arrive until 2024.
Apple's chief rival Samsung has released new flagship phones. You can see how they compare to the current iPhones in our Samsung Galaxy S23 vs. iPhone 14 and Galaxy S23 Ultra vs. iPhone 14 Pro Max face-offs.
How we test iPhones
As with any smartphone we test at Tom's Guide, we evaluate iPhones for days in real-world use cases. We also benchmark Apple's phones using a gamut of performance-measuring apps that allow us to compare iPhone performance to what Android devices are capable of. In addition to synthetic benchmarks, we also run real-world tests, including a video transcoding test in Adobe Premiere Rush that compares the iPhone's processing speed with other devices.
In our lab, we use a light meter to ascertain display quality data, like brightness and color accuracy to help us evaluate the display of the best iPhones. Our proprietary battery test determines longevity on a charge by endlessly streaming webpages over an LTE network; we then recharge the iPhones to see how quickly they charge in 15-minute intervals.
To compare cameras, we take any iPhone we review out and shoot photos in a variety of settings. We also bring along a comparable smartphone to see how the iPhone's photographic output measures up.
We explore Apple's iOS improvements, test gaming performance and evaluate the phone's speakers — and each of these factors play a part in our final verdict.