The best Samsung phones come in all shapes and sizes, whether you're looking for a budget model under $500, a powerful flagship or a versatile foldable phone. And we're here to help you pick the right device for your needs based on our testing.
With Samsung rolling out new flagships to start the year, the Galaxy S23 Ultra leaps to the top of the best Samsung phones list, though the more affordable Galaxy S23 and Galaxy S23 Plus fall right behind it. And if you're really looking to save, the Galaxy S22 remains a part of Samsung's lineup at a reduced cost.
Beyond flagships, Samsung's other handsets include everything from unique (and pricey) foldables to more affordable budget models. It's a diverse set of offerings, and you can potentially benefit from the company's wide array of phones. Our list of the best Samsung phones includes devices from al those categories. See what you can save with the best Samsung Galaxy S23 deals along with our Samsung promo codes.
If you do wind up grabbing a Samsung device, make sure you check out the first app you should install on your Samsung Galaxy phone and all of the Samsung hidden features that will change the way you use your phone.
The best Samsung phones you can buy right now
Why you can trust Tom's Guide Our expert reviewers spend hours testing and comparing products and services so you can choose the best for you. Find out more about how we test.
As well as being the new top Galaxy S model, the Galaxy S23 Ultra is also one of the best phones around generally, beating even the usually indomitable iPhone on photography and performance in some areas.
The new 200MP camera proves to be very versatile, offering wonderful detail and color depending on your priority. The special Galaxy-only version of the Snapdragon 8 Gen 2 offers lots of power, while the display is as colorful and bright as ever, even though Samsung's improved the phone's power efficiency.
Samsung's still asking for a lot of money for this phone, and has stuck with a curved display, even if the angle's less extreme than previous years. We're also unimpressed by its charging speed, which even at 45W is a bit slow. But if you've got the cash to splash, you won't get a better Galaxy phone right now than this one.
Read our full Samsung Galaxy S23 Ultra review.
The changes that Samsung made with the Galaxy S23 lack the pizzaz of some Galaxy S23 Ultra features. Nevertheless, there are some solid improvements over past Galaxy S flagships, largely driven by the introduction of the customized Snapdragon 8 Gen 2 chipset. Not only does this silicon bolster the Galaxy S23's performance, it also helps improve battery life over last year's model, addressing one of our key concerns about Samsung's flagships.
Samsung also improved the Galaxy S23's display, giving it the same maximum brightness as the Galaxy S23 Plus and Galaxy S23 Ultra screens. Throw in some worthwhile if not earth-shattering photo processing improvements, and this is certainly a solid addition to the Galaxy lineup. At $799, it's the Samsung flagship most people can afford, and they'll be getting plenty of premium features for their purchase.
Read our full Samsung Galaxy S23 review.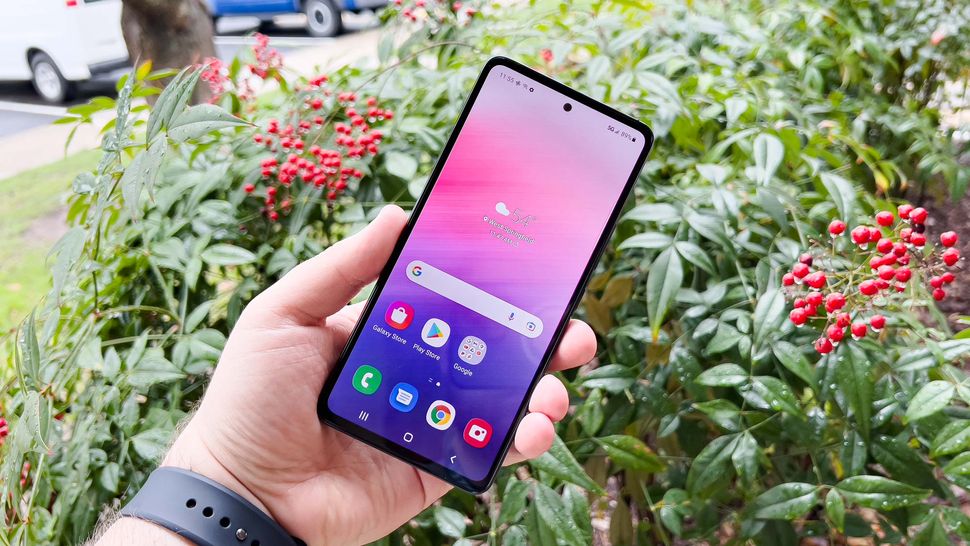 Samsung continues to show that it's serious about midrange phones with the Galaxy A53. Opt for this model and you can get a device with a screen that refreshes at 120Hz and delivers reasonable performance for hundreds less than what Samsung charges for one of its flagships.
Yes, the $449 price of the Galaxy A53 means some compromises, such as a less powerful Exynos 1280 chipset instead of the top-of-the-line Snapdragon silicon found in the Galaxy S22 series. We also wish Samsung didn't include a superfluous macro camera with the A53's array of lenses.
But that low price — equal to the cost of the Google Pixel 6a — is hard to beat, especially in a phone that comes with a solid design and a generous amount of software updates. If you're a Samsung fan in search of the best cheap phone under $500, the Galaxy A53 is the phone to get — at least until the rumored Galaxy A54 appears this spring, as is widely expected.
Read our full Samsung Galaxy A53 review.
Everything you get from the Galaxy S23, you'll find in the Galaxy S23 Plus, only with a much bigger screen. It's the best Samsung phone to get if you prefer super-sized displays but can't swing the Galaxy S23 Ultra's $1,119 starting price.
While screen size is the most prominent difference from the standard S23, it's not the only way the Galaxy S23 Plus stands out from its smaller sibling. You also get a bigger battery that helps the S23 Plus last nearly 11.5 hours on our battery test — an outstanding time. And the phone charges at 45W speeds, too, allowing you to top off that battery faster.
Otherwise, there's little difference between the Galaxy S23 and Galaxy S23 Plus, though we'd say that's a good thing. You can expect a bright, beautiful display, good cameras, and four years of Android software updates. That should be more than enough for fans of big-screen phones.
Read our full Samsung Galaxy S23 Plus review.
The Samsung Galaxy Z Fold 4 takes the best foldable phone and makes it better in multiple ways. For one, Samsung and Google made it much easier to multitask by adding a taskbar, and you can now drag and drop content between more apps when you're running them side by side.
We also really like the improved camera system on the Galaxy Z Fold 4, headed up by the same 50MP main sensor as the Galaxy S22 series. In our testing, the Fold 4 held its own against the iPhone 13 Pro Max and beat it in a few shots.
Other highlights of the Galaxy Z Fold 4 include a slimmer hinge and narrower bezels, as well as a brighter main display. The battery lasted longer, too, in our testing.
However, $1,799 is still a lot to spend on a phone — even one that doubles as a tablet — and this is still one thick and heavy device. But if you want a foldable phone that can do it all, this is it.
Read our full Samsung Galaxy Z Fold 4 review.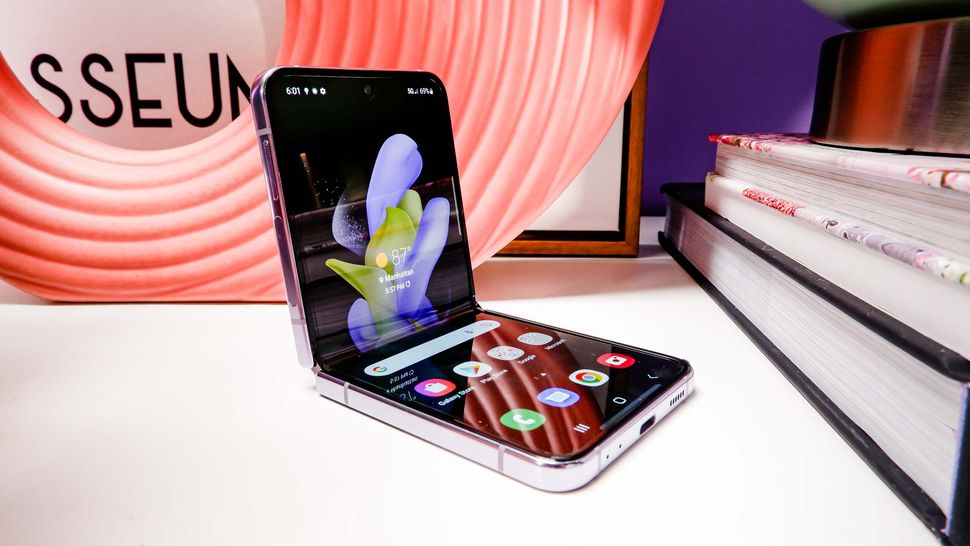 The Samsung Galaxy Z Flip 4 is an impressive foldable phone for someone who wants a big screen in a compact design. Not only is the design ever so slightly sleeker, the battery life has vastly improved over the Galaxy Z Flip 3 last year. In our custom battery life test, the Flip 4 went for considerably longer than its predecessor.
The folding 6.7-inch Super AMOLED display is beautiful, even though the display crease remains very noticeable. The Snapdragon 8 Plus Gen 1 certainly makes this foldable a little powerhouse, turning in excellent scores in our benchmarks.
While the cameras saw minimal upgrades this year, the Galaxy Z Flip 4's night mode is something to behold. It gives Apple and Google a run for their money, but daytime photos could be better.
Read our full Samsung Galaxy Z Flip 4 review.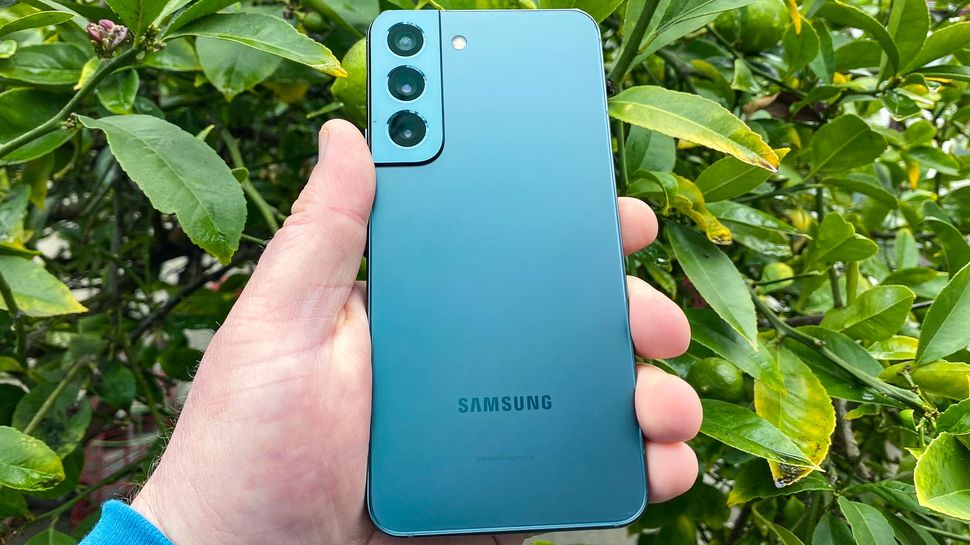 Does the Galaxy S22 get better with age? Perhaps not, but the fact that Samsung cut the price on this phone by $100 after the arrival of the Galaxy S23 makes it an attractive option for bargain hunters.
Our Galaxy S23 vs. Galaxy S22 face-off addresses the differences between these two phones, but the upshot is that the Snapdragon 8 Gen 2 chipset in the newer phone gives a big boost to both performance and battery life. There's not much difference in the cameras, though, and while the Galaxy S23 display has a higher maximum brightness, the Galaxy S22 is plenty bright in its own right.
Thanks to Samsung's generous update policy, the Galaxy S22 can expect another three years of software updates. If you don't need the latest and greatest hardware, this older model could be your chance to save on one of the best Samsung phones.
Read our full Samsung Galaxy S22 review.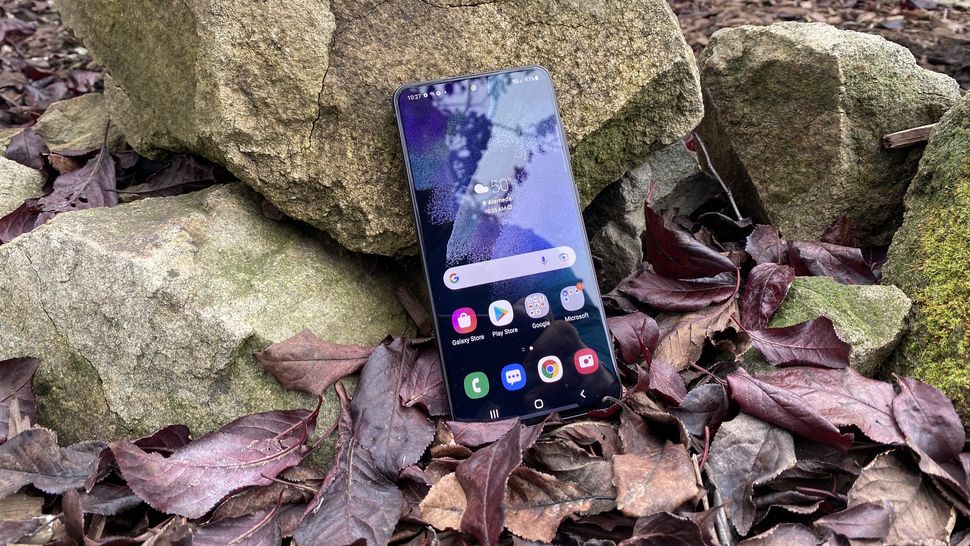 Just as the Galaxy S22 remains around after the Galaxy S23 though at a reduced cost so does the Galaxy S21 FE. Samsung now offers this stripped-down variation of 2021's Galaxy S21 for $599 — the same price at as the Galaxy A53.
That's an attractive price for a phone that shares many of the Galaxy S21's features. (The S21 FE has less RAM than its counterparts and you have to manually adjust the display's refresh rate.) Then again, the Galaxy A53 is no slouch either, and new versions of the Galaxy A series will be here before you know it. If you absolutely need a new phone now and $600 is the limit of your budget, the Galaxy S21 FE is a decent enough option with a still solid chipset powering the device. But it's just one of several budget options among the best Samsung phones — just be aware that rumors point to a Galaxy S23 FE coming out later this year.
Read our full Samsung Galaxy S21 FE review.
How to choose the best Samsung phones
Picking which Samsung phone to buy is primarily driven by budget considerations. You're not going to spring for a Galaxy S23 Ultra, for example, if you're not prepared with at least $1,199 even if you opt to spread those payments out over time. But other factors need to be taken into consideration as well.
Start with how you use your smartphone. If it's primarily a productivity device, the Galaxy S23 Ultra and Galaxy Z Fold 4 are appealing, despite their high price tags, because they both support the S Pen. (Like the S22 Ultra before it, the S23 Ultra comes with an S Pen; the stylus is an optional add-on for Samsung's foldable.) If you turn to your phone for photography, the Galaxy S series is usually first in line for Samsung's camera innovations, and all three S23 models offer impressive camera features — particularly the 200MP main camera on the Galaxy S23 Ultra. (Check out our initial 200MP camera test results.)
Budget-minded shoppers have a plethora of options, from the reduced price tags of the Galaxy S22 and Galaxy S21 FE to the midrange Galaxy A series. You can also find discounts on Samsung phones by buying directly from the phone maker and trading in your current device. Check out the best Samsung phone deals for the latest savings.
With the Galaxy S23 release now behind us, Samsung will likely turn to its midrange phones next. We've already seen the low-cost Galaxy A14 at CES 2023, with more Galaxy A releases rumored for the spring. The Galaxy S22 FE has been dropped from Samsung's plans, but there could be a Galaxy S23 FE in the second half of this year. Also around that time, we're expecting to see new versions of Samsung's foldable phones in the form of the Galaxy Z Fold 5 and Galaxy Z Flip 5.
How we test the best Samsung phones
In order for a smartphone to make our best phone list, it needs to excel on several tests that we run on every handset. We perform some of these tests in our labs and some in the real world. See our detailed explanation on how Tom's Guide tests and reviews smartphones for more information.
When it comes to performance, we rely on such synthetic benchmarks as Geekbench 5 and 3DMark to measure graphics performance. These tests allow us to compare performance across iPhones and Android devices. We also run a real-world video transcoding test on each phone using the Adobe Premiere Rush app and time the result. (We unfortunately have to skip this test on some phones due to app compatibility issues, but we attempt this benchmark with each device we get in to review.)
Swipe to scroll horizontally
Performance benchmarks

| | | |
| --- | --- | --- |
| Row 0 - Cell 0 | Geekbench 5 (single-core / multicore) | 3DMark Wild Life Unlimited (FPS) |
| Galaxy S23 Ultra | 1578/5081 | 87.5 |
| Galaxy S23 Plus | 1524/4642 | 87 |
| Galaxy S23 | 1522/4876 | 87.3 |
| Galaxy S22 | 1204 / 3348 | 60 |
| Galaxy A53 | 745 / 1888 | 14 |
| Galaxy Z Fold 4 | 1328 / 3831 | 52 |
| Galaxy S21 FE | 1101 / 3199 | 34 |
| Galaxy Z Flip 4 | 1291 / 4015 | 67 |
To measure the quality of a phone's display, we perform lab tests to determine the brightness of the panel (in nits), as well as how colorful each screen is (DCI-P3 color gamut). In these cases, higher numbers are better. We also measure color accuracy of each panel with a Delta-E rating, where lower numbers are better and score of 0 is perfect.
Swipe to scroll horizontally
Display benchmarks

| | | | |
| --- | --- | --- | --- |
| Row 0 - Cell 0 | sRGB (%) | DCI-P3 (%) | Delta-E |
| Galaxy S23 Ultra | 193 (Vivid) / 111 (Natural) | 136 (Vivid) / 78 (Natural) | 0.37 (Vivid) / 0.3 (Natural) |
| Galaxy S23 Plus | 204 (Vivid) / 117 (Natural) | 148 (Vivid) / 83 (Natural) | 0.33 (Vivid) / 0.23 (Natural) |
| Galaxy S23 | 212 (Vivid) /128 (Natural) | 150 (Vivid) / 91 (Natural) | 0.34 (Vivid) / 0.24 (Natural) |
| Galaxy S22 | 210 (Vivid) / 100 (Natural) | 149 (VIvid) / 78 (Natural) | 0.33 (Vivid) / 0.22 (Natural) |
| Galaxy A53 | 204 (Vivid) / 123 (Natural) | 145 (Vivid) / 87 (Natural) | 0.32 (Vivid) / 0.31 (Natural) |
| Galaxy Z Fold 4 | 224 | 158.7 | 0.34 |
| Galaxy S21 FE | 207 (Vivid) / 120 (Natural) | 147 (Vivid) / 79 (Natural) | 0.32 (Vivid) / 0.29 (Natural) |
| Galaxy Z Flip 4 | 187 (Vivid) / 110 (Natural) | 132 (Vivid) / 78 (Natural) | 0.36 (Vivid) / 0.24 (Natural) |
One of the most important tests we run is the Tom's Guide battery test. We run a web surfing test over 5G (or 4G if the phone doesn't have 5G support) at 150 nits of screen brightness until the battery gives out. In general, a phone that lasts 10 hours or more is good, and anything above 11 hours makes our list of the best phone battery life.
Swipe to scroll horizontally
Battery life benchmark

| | |
| --- | --- |
| Row 0 - Cell 0 | Battery life (Hrs:Mins) |
| Galaxy S23 Ultra | 12:22 (Adaptive) / 13:09 (60Hz) |
| Galaxy S23 Plus | 11:24 (Adaptive) |
| Galaxy S23 | 10:27 (Adaptive) |
| Galaxy S22 | 7:51 (Adaptive) / 8:02 (60Hz) |
| Galaxy A53 | 9:49 (Adaptive) / 10:38 (60Hz) |
| Galaxy Z Fold 4 | 8:19 (Adaptive) / 9:28 (60Hz) |
| Galaxy S21 FE | 7:40 (120Hz) / 9:15 (60Hz) |
| Galaxy Z Flip 4 | 8:33 (Adaptive) / 8:57 (60Hz) |
Last but not least, we take the best phones out in the field to take photos outdoors, indoors and at night in low light to see how they perform versus their closest competitors. We take shots of landscapes, food, portraits and more, and also allow you to be the judge with side-by-side comparisons in our reviews.