Best small phones: Quick menu
You'll find it easy to fit the best small phones into small pockets and bags, or even just in your hand, as they remain some of the only holdouts against the general size increase we've seen in phones lately.
While small phones are rarer than they used to be, there's still a decent variety. Android and iPhone users will find representation on this list, as will anyone looking for a cheaper device, or looking to move to a cutting-edge foldable phone. You can see our list in brief below, and further down more detailed descriptions of what makes these phones suited to certain types of user.
The quick list
We've gone through all of the best options and put them through rigorous testing to see which ones you should buy. Here are the best small phones you can still get your hands on in brief, with longer summaries below.
The full list: Best small phones in detail
Apple continued the small phone legacy laid down by the iPhone 12 mini with the iPhone 13 mini. This little handset is very powerful, thanks to the new A15 Bionic chip. There's nothing it can't handle, all while being easily pocketed or used one-handed. The 5.4-inch OLED display is still crisp with excellent colors and viewing angles.
Compared to the iPhone 12 mini, Apple kept the 13 mini's design the same, but improved the battery life — in the Tom's Guide battery test, the iPhone 13 mini lasted for more than 1.5 hours longer than its predecessor. The cameras also got an upgrade. Both the 12MP wide-angle main and 12MP ultrawide cameras feature larger sensors now that let in more light. The ultrawide also has autofocus now. But also new this year are Cinematic Mode and Photographic Styles.
The former lets you record portrait videos with dynamically shifting focus for that artistic look. Photographic Styles are basically real-time filters that you can test out while you're aiming the camera, letting you capture photos that match your personal taste.
We love the iPhone 13 mini's compact frame and impressive power. It's perfect for people who want a small phone with powerful hardware and great creative capabilities. You can't buy it from Apple any more, but it should still be easy enough to find from third-party retailers and carriers.
Read our full iPhone 13 mini review.
The best small Android phone
Small phones may be a rarity, but Asus isn't giving up. No siree, the Zenfone 10 is exactly what we wanted to see in a small Android phone. It packs in a ton of horsepower thanks to its Snapdragon 8 Gen 2 processor, paired with up to 16GB of RAM. The 5.9-inch AMOLED display is great with punchy colors, but the battery life doesn't suffer. We really like some of Asus' software alterations to base Android too, such as using the power button as a notification shade switch.
The cameras are generally pretty good for most purposes, though we wish there was a telephoto camera. Also only two years of full Android updates isn't great for a phone of this price. Nonetheless, the Zenfone 10 is head of the pack when it comes to small Android phones.
Read our full Asus Zenfone 10 review.
The best small foldable phone
One of the best ways to make a phone small is to give it the ability to fold in half. Which is why despite containing a 6.7-inch display, the Galaxy Z Flip 5 is one of the best small phones.
Even better than that, the new Flex Window on the outside is much more usable than the old external display on the Galaxy Z Fold 4. There's not a lot of full app support for it, but you can still swipe through many different widgets that may help you find what you need without having to open up the phone.
Beyond this, the Snapdragon 8 Gen 2 for Galaxy chipset provides great performance, the cameras perform just as well as you'd hope from a flagship Samsung phone, and the new design now folds more tightly together for a more compact overall design.
The main problem we have is the expense of this phone, with the basic version starting at $999. We're also a bit concerned with how short the battery life can be, but these are understandable sacrifices for a foldable.
Read our full Samsung Galaxy Z Flip 5 review
The best small flagship phone
The iPhone 15 Pro is one of the largest phones on this list despite still being small for a modern flagship. But if you forgive it being a little taller and wider than the other phones on this list, you'll get in return one of the best phones on the market.
Apple's equipped the iPhone 15 Pro with amazing cameras as usual, and a super-powered A17 Pro chip that'll eat up even the most demanding apps. It's also surprisingly light thanks to its titanium body, and features a customizable Action button on its left side for muting the phone, using shortcuts and more.
The only other difficulty with this phone you'll need to accept is that it's quite expensive. You definitely won't be wasting your money if you do decide to splash out on this as your new small phone though.
Read our full iPhone 15 Pro review.
The best small budget phone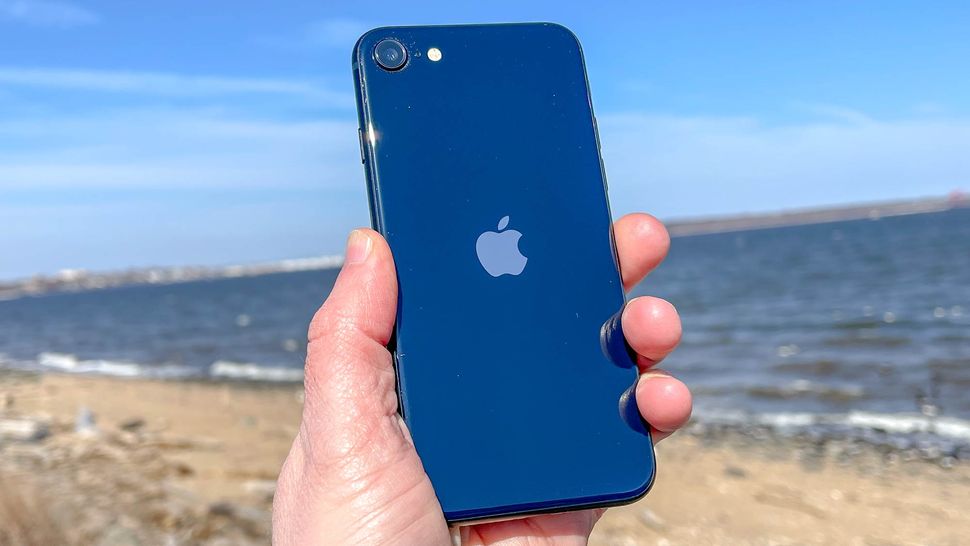 Apple seems to be the last bastion of small phones, we're sad to say. The recent iPhone 13 mini and now the new iPhone SE (2022) both keep the screen size well under six inches. In the SE's case, it's a teeny 4.7-inch LCD. We don't think it's the prettiest, nor does it have a high resolution, but it fits in small hands and pockets.
It's also no slouch when it comes to the performance department. Using the same A15 Bionic chip that powers the iPhone 13 series, you'll not find any phone that is faster under $500 — even the most expensive Android phones have a hard time keeping up in some places.
Of course, there's no Night mode here, something the equally diminutive iPhone 13 mini has. The new SE also lacks support for Verizon's mmWave 5G network. Again, the iPhone 13 mini enjoys that luxury. But for $429, you can't have everything. If having the smallest phone is what you want, the iPhone SE (2022) should be one of your top considerations.
Read our full iPhone SE (2022) review.
How to choose the best small phone for you
You usually have to sacrifice something when buying a small phone. Of course, screen real estate is part of the tradeoff; but small phones also have smaller batteries, and sometimes less RAM or fewer camera lenses than larger, more expensive versions of the same device.
If you prioritize a compact form factor over all else — and you probably do if you're reading this page — these tradeoffs will likely be well worth it. Apple and Google are featured prominently on our list of the best small phones because they don't eliminate critical features from more compact handsets. That's illustrated by the fact that the iPhone 13 mini packs the same punch as the iPhone 13 Pro Max. Or how the new iPhone SE (2022) utilizes the same A15 Bionic chipset found in those more premium iPhone 13 models.
But the biggest challenge you might face when shopping for the best small phone is just how little choice there is. Smartphone shoppers favor bigger screens and that's where most device makers are putting their efforts these days.
How we test smartphones
In order for a smartphone to make our best phone list, it needs to excel on several tests that we run on every handset. We perform some of these tests in our labs and some in the real world.
When it comes to performance, we rely on such synthetic benchmarks as Geekbench 5 and 3DMark to measure graphics performance. These tests allow us to compare performance across iPhones and Android devices. We also run a real-world video transcoding test on each phone using the Adobe Premiere Rush app and time the result. (We unfortunately have to skip this test on some phones due to app compatibility issues, but we attempt this benchmark with each device we get in to review.)
Swipe to scroll horizontally
Performance benchmarks

| | | |
| --- | --- | --- |
| Row 0 - Cell 0 | Geekbench 5 (single-core / multicore) | 3DMark Wild Life Unlimited (FPS) |
| iPhone 13 mini | 1733 / 4643 | 61 |
| Zenfone 10 | 1451 / 5027 | 84 |
| Galaxy Z Flip 5 | 1354 / 4288 | 76 |
| iPhone 15 Pro | Not tested | 94 |
| iPhone SE (2022) | 1718 / 4482 | 50 |
| iPhone 12 mini | 1602 / 4123 | 54 |
To measure the quality of a phone's display, we perform lab tests to determine the brightness of the panel (in nits), as well as how colorful each screen is (DCI-P3 color gamut). In these cases, higher numbers are better. We also measure color accuracy of each panel with a Delta-E rating, where lower numbers are better and score of 0 is perfect.
Swipe to scroll horizontally
Display benchmarks

| | | | |
| --- | --- | --- | --- |
| Row 0 - Cell 0 | sRGB (%) | DCI-P3 (%) | Delta-E |
| iPhone 13 mini | 117 | 83 | 0.27 |
| Zenfone 10 | 148 (Optimal) / 175 (Natural) | 105 (Optimal) / 124 (Natural) | 0.35 (Optimal) / 0.39 (Natural) |
| Galaxy Z Flip 5 | 181.6 (Vivid) / 114 (Natural) | 128 (Vivid) / 80 (Natural) | 0.08 (Vivid) / 0.28 (Natural) |
| iPhone 15 Pro | 117 | 83.5 | 0.14 |
| iPhone SE (2022) | 115 | 81 | 0.21 |
| iPhone 12 mini | 118 | 83 | N/A |
One of the most important tests we run is the Tom's Guide battery test. We run a web surfing test over 5G (or 4G if the phone doesn't have 5G support) at 150 nits of screen brightness until the battery gives out. In general, a phone that lasts 10 hours or more is good, and anything above 11 hours makes our list of the best phone battery life.
Swipe to scroll horizontally
Battery life benchmark

| | |
| --- | --- |
| Row 0 - Cell 0 | Battery life (Hrs:Mins) |
| iPhone 13 mini | 8:54 |
| Zenfone 10 | 12:41 (auto), 12:48 (120Hz), 11:21 (90Hz), 13:10 (60Hz) |
| Galaxy Z Flip 5 | 9:42 (Adaptive), 8:52 (60Hz) |
| iPhone 15 Pro | 10:53 |
| iPhone SE (2022) | 7:39 |
| iPhone 12 mini | 7:28 |
Last but not least, we take the best phones out in the field to take photos outdoors, indoors and at night in low light to see how they perform versus their closest competitors. We take shots of landscapes, food, portraits and more, and also allow you to be the judge with side-by-side comparisons in our reviews.
Which small phone is best?
Our top pick for best small phones is the iPhone 13 mini, although if you want something newer, and don't mind Android, the Asus Zenfone 10 is a fantastic pick too.