Everyone wants a smartphone that can take amazing-looking photos that will get more likes, or ones that will look great in a photo frame. After conducting in-depth testing and photo comparisons, the brand new, triple-lens iPhone 11 Pro and Pro Max are the best mobile cameras on the market today.
The latest batch of premium iPhones improve upon 2018's iPhone XS and XS Max by adding an ultra-wide lens for stunning landscapes. But it's not just about hardware — these new handsets can pull off remarkable low-light shots with Apple's advanced computational photography techniques. Meanwhile, iPhone users that want a similarly high-quality photo-taking experience for less can save $300 and spring for the dual-lens iPhone 11 instead.
On the Android side, the Pixel 3 still leads the pack roughly a year since its launch thanks to Google's ability to leverage artificial intelligence to improve images taken with the phone's single-lens,12.2-megapixel sensor. Features like Top Shot, Super Res Zoom and Night Sight get the most out of the handset's optics, while a secondary ultra-wide front-facing camera works wonders for group selfies. Of course, the soon-to-arrive Pixel 4 will go even further, potentially swiping at the iPhone 11 Pro for ultimate camera phone supremacy.
Those on the hunt for an especially versatile mobile camera will want to take a look at Samsung's four-lens Galaxy Note 10 Plus. Armed with ultra-wide and telephoto lenses, as well as a time-of-flight sensor for more accurate depth effects, the Note 10 Plus is built to handle any photo op — even if the images it captures fall just short of the iPhone 11 Pro's and Pixel 3's.
Those who really want to maximize their mobile photography, yet spend as little as possible are well advised to check out Google's Pixel 3a, which offers phenomenal image quality on a par with the Pixel 3 in a package that costs half as much. It's far and away our pick for the best budget camera phone, though if you're limited to $300 or less, Motorola's long-lasting G7 Power captures adequate shots for the price.
While a lot of our top picks take excellent photos in low light, you can increase your chances of getting a sharp shot if you attach your phone to a tripod. Based on our research, here are the best iPhone tripods, which will also work with other smartphones.
Latest News (Updated Sept. 20)
The iPhone 11 Is Here: Apple's trio of smartphones for 2019 have finally gone on sale, and they happen to have the finest cameras you can get on a phone today. (That is, of course, unless Google has something to say about that when the Pixel 4 launches.) All iPhone 11 models utilize the same primary 12-megapixel and ultra-wide lenses, while the Pro and Pro Max incorporate an extra telephoto shooter that can deliver 2x optical zoom and more dramatic portraits. If you're interested in snagging an iPhone 11 for the lowest possible price, take a look at our roundup of the best iPhone 11 deals.
Best Overall Camera Phone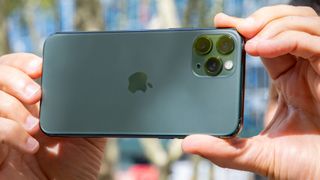 The iPhone 11 Pro and Pro Max incorporate ultra-wide angle and telephoto lenses, though those are the least of the enhancements Apple has made to its newest flagships. The real work has been done in software, where the new iPhone's computational photography and video capabilities have been stepped up massively. Apple's Night Mode sets a benchmark for low-light photography within the industry, while the company's Smart HDR technology utilizes a breakthrough machine learning technique called semantic rendering to selectively over- or underexpose specific areas of the scene differently. For example, highlights in a subject's face might be left mostly intact, while highlights in the background are reduced more aggressively.
On the video front, all three of the iPhone 11 Pro's rear cameras can record at 4K resolution and 60 frames-per-second, and even the front-facing shooter captures slow motion clips for dynamic and dramatic "slofies." Both the regular 5.8-inch model and the 6.5-inch Max variant feature the same cameras, while the cheaper 6.1-inch iPhone 11 ditches the telephoto lens, but can still capture the same quality photos otherwise.
Best Android Camera Phone
The Pixel 3 and 3 XL may be a year old, though they continue to impress by leveraging Google's expertise with AI and computational photography. The phone's Top Shot feature takes many exposures, then suggests a better one when an unwanted blink or blur mars your shot. Super Res Zoom makes up for the Pixel's lack of optical zoom by combining multiple frames to fill in the details when you close in on a shot. Up front, dual lenses help you squeeze more people and background details into your selfies. And Google's Night Sight feature may have been recently surpassed by Apple's work in the field, though it's still one of the finest implementations of low-light software we've seen on any smartphone to date. The Pixel 4, due to be revealed October 15, will likely render it obsolete, but the fact the Pixel 3 remains one of the best camera phones on the market today is a testament to Google's imaging prowess in recent years.
Most Versatile Camera Phone
The Galaxy Note 10 Plus can do it all. Need a shallow depth-of-field portrait? The phone's telephoto lens and time-of-flight depth sensor are perfect. How about a landscape shot? The 117-degree field of view offered by the phablet's ultra-wide lens was made specifically for that purpose. At the center of the quad-lens rear camera stack is a 12-MP sensor, primed to expose any scenario properly thanks to a variable aperture system borrowed from Samsung's other flagship, the Galaxy S10.
The Note 10 doesn't always capture our favorite-looking images; it has a predisposition for slightly flat, subdued shots that prioritize over-brightening shadows rather than preserving realistic contrast. However, this 6.8-inch device really is the jack-of-all-trades of flagship camera phones. Its S Pen can be used as a remote shutter, for example, which is tremendously useful when using a tripod, or setting up a photo from afar. And Samsung's Scene Optimizer technology incorporates artificial intelligence to identify certain subjects and tune colors and lighting appropriately, for delicious shots of food and adorable portraits of your pets.
Best Budget Camera Phone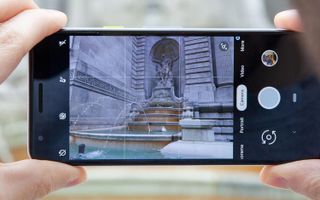 Midrange phone makers have had to step their game up ever since Google's $399 Pixel 3a has finally arrived. Boosted with the same computational photography software that powers the $799 Pixel 3, as well as an identical 12.2-megapixel sensor and a similarly high-end Qualcomm Spectra image signal processor, the 5.6-inch Pixel 3a can pull off shots that are nigh indistinguishable from Google's other handsets that are twice as expensive. It also comes with the firm's latest cutting-edge imaging modes, like Night Sight for amazing shots in the dark, and Super Res Zoom that delivers digitally zoomed images that are shockingly similar to what you get from devices with 2x optical zoom lenses. For $400, no other camera phone comes close — not even Samsung's triple-lens, $349 Galaxy A50 — though if you'd prefer a larger handset, the $479 Pixel 3a XL stuffs all the same hardware into a larger 6-inch body with a bigger battery to match.
Best Under $250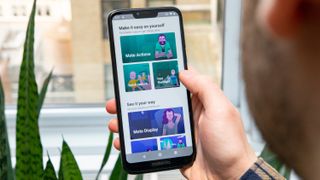 No, the lone 12-MP lens on the back of the Moto G7 Power won't take unbelievable photos that are going to make you question spending hundreds more on a true, multi-lens flagship. That said, if all you have to spend is $250, you could do so much worse. The G7 Power can be heavy-handed with its image processing sometimes, and it struggles in low-light, as most cheap handsets do. But when conditions are ideal, it's not too shabby. Don't sweat the lack of a second camera for depth effects, either — those always tend to produce poor portraits on budget handsets anyway.
Fortunately, Motorola's easy-to-use camera interface and stock inclusion of the Google Photos app ensures a flagship-caliber software experience, despite the handset's bargain price. And although it has nothing to do with photography, the G7 Power's unbelievably long-lasting battery alone should make it worthy of your attention.
How We Test Smartphone Cameras
We put the market's leading handsets through a variety of common shooting situations, such as landscapes, portraits and selfies in daylight and at night. Then, we analyze each set of images on a color-calibrated monitor to see which smartphone had the best combination of color accuracy, clarity and contrast. We also perform in-depth camera comparisons between the top phones, using each handset in their auto mode to take a wide range of photos in different conditions. After declaring a winner in each round, we name an overall winner of that face-off.
In each of our smartphone reviews, we also factor in any special features, such as dual lenses and what they enable, Portrait Modes, and other special modes, before we come to a conclusion.
5 Quick Tips for Buying a Camera Phone
The megapixels don't matter as much as aperture. Cameras with a wider aperture (lower f-stop numbers translate to wider lenses) let in more light, which can help produce better shots in the dark. The high-megapixel sensors found in the latest devices are nice, but less necessary — so don't be afraid to snap up last year's model, perhaps even used, to get a solid camera phone on the cheap.
Not all multi-lens cameras are created equal. While more smartphones are featuring multiple rear cameras, those cameras don't necessarily perform the same. Some phones, like the Galaxy Note 9 and iPhone XS, use their extra lenses to allow for depth-of-field effects; others, like the LG V30, just let you switch between wide-angle and standard perspectives. Newer flagship phones, like the iPhone 11 Pro, are adding a third lens, for even more points of view.
Do you need Portrait mode? It goes by different names — Portrait mode on the iPhone, Live Focus on Samsung's phones — but more phones let you play around with bokeh effects. That's where the subject of the photo is in sharp focus, while the background features an artistic blur. While that's mostly a feature on dual-camera phones, the single-lens Pixel uses software to produce a bokeh effect. Some phones also let you adjust the effect before and after you take a shot.
The front camera specs are just as important. In a world where we're taking more selfies, you shouldn't overlook a phone's front camera. Besides the megapixels, check out the aperture to get a sense of how the camera will perform in low-light. And some front cameras, like the ones on the iPhone XS and Pixel 3, can perform the same Portrait mode effects that dual rear cameras pull off. The Pixel 3 is one of a handful of phones to add dual lenses up front, letting you fit more people or include more background in your shots.
Don't forget about video. Your cameras shoot more than just still images. Consider what resolution the camera captures video at along with the frame rate. (The Pixel 3, for example, can record 4K video at 30 frames per second, while the iPhone 11 and 11 Pro double the frame rate to 60 fps for 4K video.) Also look at the camera offers slow-motion features and video filters.