The Most Powerful PCs of 2008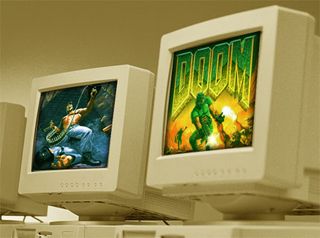 Powerful PCs, but what to do with them?
The PC has always been a great platform for gamers. Since they're flexible, PCs give consumers the chance to play the latest video games under optimal conditions without putting too big a hole in their pockets. At the same time, you also have the option of souping up your machine for maximum graphs capabilities. Do that, of course, and the bill goes up fast–and so high that it can reach prices that many netbook buyers couldn't even fathom.
We've picked 10 machines introduced last year that are geared for the most difficult-to-please gamers… and the wealthiest. With such titles as Crysis Warhead, GTA IV, Far Cry 2, and even Red Alert 3 available, there are enough graphically intensive games out there to make one dream about owning one of the machines that we cover in the following pages.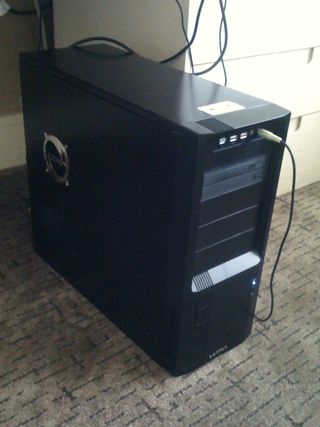 The Crysis Warhead PC
The first desktop computer we look at doesn't even have a name. Announced last July, it was created with one specific game in mind: Crysis Warhead. The idea for the computer came after the success of the first Crysis game, which had put to shame the technical prowess of the majority of computers out at the time of its release at the end of 2007. The makers of the franchise, having decided that graphics were too important a point for the Crysis series to warrant being scaled down to accommodate just average machines, opted not to do away with the detailed massacres of their first opus. Instead, their team came up with a machine that cost between $600 and $700 on which they would base the development of Crysis Warhead. This computer had to be able to run the game with the graphics options on high, at a frame rate of 30 frames per second. The PC also has a Core 2 Duo E7300 processor (2.66 GHz), plus 2 GB of RAM, as well as a GeForce 9800 GT graphics card (a simple evolution, as maybe you'll remember, from the 8800 GT). Made by the U.S. manufacturer UltraPC, the Warhead PC retails for $699.

FX542XT: We haven't heard the last from Gateway.
[Image: "Gateway FX542XT"]
Gateway hasn't stopped coming up with new computers since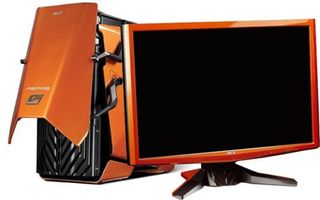 Aspire Predator: Acer jumps into the heart of the game.
The parent company of Packard Bell and Gateway, Acer also came out with its own PC competitor in 2008 when it put the Predator on the market. In addition to adding expensive components, Acer went all out with the machine's design, which is one of the most unique we've seen. With a look that's somewhere between a Transformer and a cyborg, the Predator gives us the impression that Acer wanted to get closer to players by concocting an exterior design that's close to that of Alienware. As for the configuration of the computer, the PC comes with a 3.0-GHz Intel Q9650 processor and two Nvidia GeForce 9800 GTX's in SLI mode. Add to that 4 GB of RAM, two 10,000-RPM hard drives, as well as two additional 640 GB hard drives that are geared for backups. For $2,700, the fully tricked-out Predator is sold with a Blu-ray reader, a G5 mouse, and a G11 keyboard. That's certainly one of the best prices we've come across for such a configuration.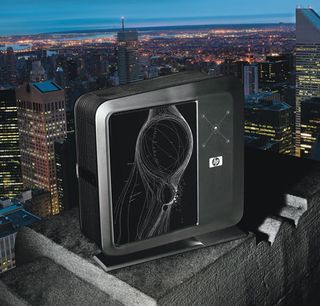 HP Blackbird: the best of the less good
HP's 2008 budget busting machine is called the Blackbird 002 LCI. The latest version of its gaming-computer series, the Blackbird is the first configurable PC in our roundup. If you max out on every single option, you'll end up with a bill of more than $6,100. For that tidy sum, HP offers a quad-core 3.2 GHz QX9770 processor pair with 8 GB of high-frequency DDR3 from Corsair, as well as two 280 GTX cards in SLI mode, and a Sound Blaster X-Fi Xtreme Gamer sound card. Everything has been attached to an eVGA motherboard and gets cooled by a Liquid Cooling system. We should also mention that HP throws into this configuration two 10,000 RPM Velociraptor hard drives from Western Digital with a capacity of 300 GB each as well as a Blu-ray burner.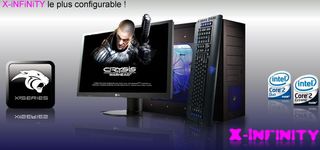 X-Infinity: a PC à la carte
Usually, PC firms offer consumers preset configurations that you can't really modify, with three or four models from which to pick for each line. Online stores, on the other hand, offer you the chance to combine a crazy number of components and come up with your own machine by choosing from a smorgasbord of options. This computer, the X-Infinity from Lemondedeneo.com, is one of those customizable PCs. The most extensively equipped machine you can assemble with those parts comes out to about $5,700 with a quad-core QX9850 processor, 1,000 Watts of power, 4 GB of high-frequency DDR2 (PC9200), a 150 GB Raptor hard drive, and two Radeon HD 4870 X2 cards in CrossFire mode to top it all off. The finished product is, indeed, a powerful machine. With this PC, you'll have almost no reason to desire any high-end gaming PC that Alienware and Dell might offer.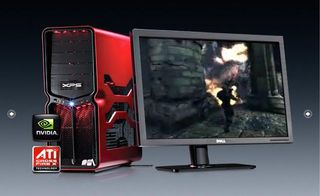 Dell XPS 730x: play with the big guys
Dell has a whole new reputation these days, within a certain genre. It's one of the first companies to have integrated the new line of Intel processors, the Core i7, into its customizable options. You'll even find the Extreme version of that CPU in the XPS 730x H2C configuration, while 6 GB of DDR3 RAM give this latest-generation processor a boost. The 300 GB from the Western Digital Velociraptor accounts for the available disk space, and a Blu-ray burner takes care of the optical drive part of the machine. Definitely a computer for gamers, this XPS equips itself with two GTX 280s from Nvidia in SLI mode. More expensive than ATI's best offering, this card also offers slightly better performance. In order to buy such a machine–and we're not even counting the X-Fi sound card, the accessories, and the software sold with the computer–you have to part with $5,899.

ROG CG6190: Asus goes after hardcore gamers
[Image: "ROG CG6190"]
This recently introduced Asus machine ranks third in our list of the top-10 most powerful configurations of 2008. Called CG6190, it's part of the Republic of Gamers (ROG) line put out by this Taiwanese manufacturer. Announced only a few days ago in Taiwan, this PC doesn't have an official configuration yet. All we know is it's going to take advantage of the upcoming release to ship a model that uses the latest family of Intel processors. The consumer will get to choose from either a basic or an Extreme Core i7 device. This ROG PC will support up to 12 GB of DDR3 RAM, as well as 4,000 GB of storage space. Graphics options include either three-way SLI Nvidia or CrossFireX ATI cards. The motherboard, the graphics card, and the cooling system will probably be Asus components, if we think about it logically. With a very futuristic design, the CG6190 definitely isn't shy about its Alienware-esque inspirations. To complete its configuration, this power monster will use a water-cooling system. An impressive 2000 Watts of power takes care of keeping this little wonder running. As for the price, it hasn't yet been announced.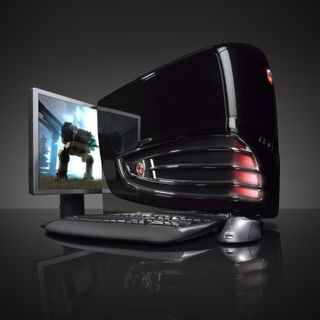 Alienware ALX-X58: the price of exceptional quality
While it came in second place instead of in the lead, Alienware put out plenty of new or modified machines this year. We were particularly struck by the arrival of the ALX-X58, based on the Core i7 CPU. As usual with this manufacturer, all the parts of the configuration can be modified to your wishes. The two Core i7s currently on the market are available, of course. Much like the Asus PC, this ALX supports 12 GB of RAM. There is also an HD 4870X2 CrossFire X graphics card. It is interesting to note that Alienware is the only manufacturer in our feature to offer an SSD disk. The one in this machine has a capacity of 256 GB, and it considerably increases the price of the computer. With a 1,200 Watt power supply unit, a Blu-ray burner, and an X-Fi sound card, it's easy to spend up to $9,200 for this impressive configuration.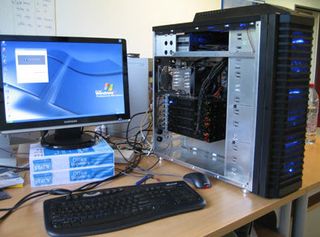 And finally…
Our first place spot is actually a bonus, since we've handed it over to a super calculator. Nevertheless, this machine definitely looks a lot like an office PC. Called "Fastra," it was created last May to replace the old super calculator for the Belgian scientific community. The story goes that the old device had cost the trifling amount of $4.6 million. As for the Fastra, its makers have settled for $5,300. The machine has an AMD 9850 Phenom processor. It's bolstered by 8 GB of RAM and a 750 GB Samsung hard drive. But the processor and hard drive are the machine's "normal" components. The most impressive component is the graphics capabilities, with four GeForce 9800 GX2s in quad-SLI mode. The high-end components are justified by how the scientists used their machines to execute CUDA calculations. Remember, CUDA is the programming language conceived by Nvidia, which helps to unload computing tasks from the CPU by allocating all the calculations to the GPU (there are eight GPUs in this machine).