Best Mesh Wi-Fi System: Quick Menu
1. The list in brief
2. Best overall
3. Best for Wi-Fi 7
4. Best for gamers
3. Best value
5. Best for power users
6. Best for Wi-Fi 6
7. Best for smart home
8. How to choose
9. How we test
The best mesh Wi-Fi systems can easily fill your entire home and even your backyard with a strong Wi-Fi signal while eliminating any Wi-Fi dead spots you may find around your house.
Unlike a traditional router, mesh Wi-Fi systems use multiple nodes or satellites to create a single, seamless Wi-Fi network across your entire home. This means you won't have to switch networks as you move throughout your home like you do with one of the best Wi-Fi extenders.
To test the best mesh Wi-Fi systems, we used a combination of real-world testing and network benchmarks carried out using Ixia's IxChairot software and iPerf3. Just like with the best Wi-Fi routers, we test performance at multiple distances from a mesh router to see how much data it can move at 5, 50, 75 and 100 feet. At the same time, we also test how well each mesh Wi-Fi system can transmit data through walls and how they handle coverage in one-story, two-story and three-story homes.
We've rounded up the best mesh Wi-Fi systems you can buy today based on their price, features, coverage and download speeds. Upgrading to a mesh router doesn't have to break the bank either as we've also highlighted the best cheap mesh Wi-Fi systems under $100.
The quick list
Here's a quick overview of the best mesh Wi-Fi systems you can buy right now based on our testing and reviews. And keep scrolling if you want to see our in-depth analysis of the best mesh Wi-Fi systems for every type of home.
The best mesh Wi-Fi systems you can buy today
The full list: Best mesh Wi-Fi systems in detail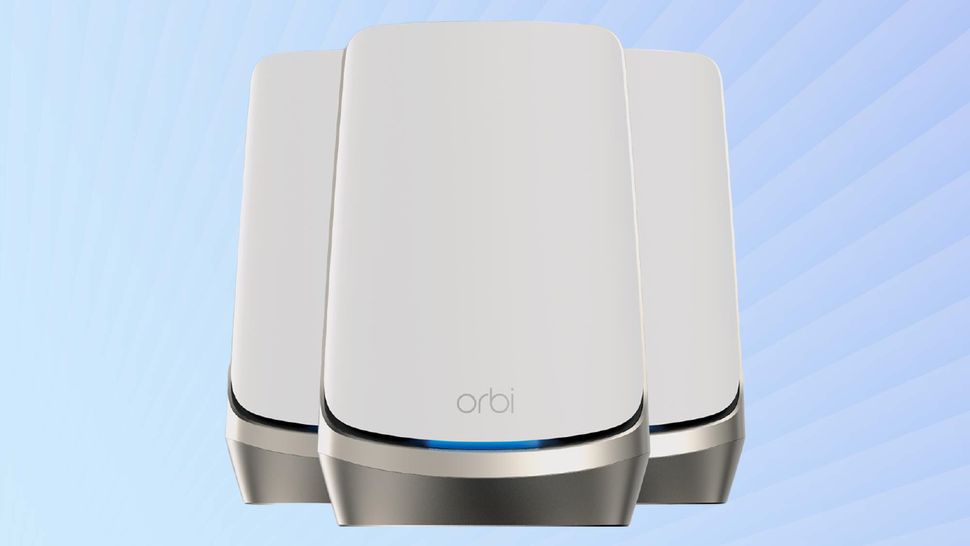 Netgear's Orbi WiFi 6E is easily one of the fastest mesh routers on the planet — and also the most expensive. But if you have money to spend, a very fast broadband connection and a large home, then this is probably the mesh system for you.
The Orbi WiFi 6E, model number RBKE963, can cover up to 9,000 square feet. Add a third satellite and you can go to 12,000 square feet. At a distance of 15 feet, the router's 6-Ghz channel delivered throughput of more than a gigabit, the first mesh router to do so in our tests.
Each unit has 12 antennas and four Ethernet ports (one rated at 2.5 Gbps) which is why this mesh Wi-Fi system is one of the largest around. After the initial setup process, the Orbi RBKE963 creates channels on the 2.5, 5 and 6-Ghz bands, plus a fourth 5-Ghz one for backhaul between units. This way you can get a strong Wi-Fi signal between the units without taking precious bandwidth away from your other devices.
Netgear offers trial subscriptions to its Armor security software, which includes Bitdefender antivirus and parental controls. You'll also have to pay for tech support after 90 days though.
If you can afford to pay for this mesh Wi-Fi system, you won't mind. If not, the Wi-Fi 6-based Orbi RBK852 further down on this list is a worthy alternative and half the price of this premium system.
Read our full Netgear Orbi WiFi 6E (RBKE963) review.
Best mesh Wi-Fi system for Wi-Fi 7
The TP-Link Deco BE85 is the first mesh Wi-Fi system with Wi-Fi 7 on board. This comes with a number of performance-enhancing features like the combination of ultra-wide 320 MHz data channels, 4K QAM and Multi-Link Operation (MLO) which allows it to aggregate multiple data channels. All of these upgrades make the TP-Link Deco BE85 the fastest mesh Wi-Fi system you can get right now but it comes at a steep price with a two-pack selling for $999 and a three-pack available for $1,499.
During our testing with a OnePlus 11 placed next to the Deco BE85, we were able to reach speeds of 3.9 Gbps. As is common with the 6 GHz band, as we moved farther away from the router, speeds dropped off quickly though we still managed to get 1.7 Gbps at a distance of 15-feet. However, the Deco BE85 still has a range of 100 feet.
The Deco BE85 is more than ready for multi-gig internet and at the back, you'll find two 10 Gbps WAN ports, though one of them can be used as an SPF+ fiber port. There are also two 2.5 Gbps Ethernet ports for connecting all of your wired devices, a WPS button for quick connections as well as a USB 3.0 port for sending data over your home network using an external drive. The Deco BE85 may be expensive but that's the cost of being one of the first people to have a home filled with much faster Wi-Fi 7 data.
Read our full TP-Link Deco BE85 review.
The best mesh Wi-Fi system for gamers
The Asus ROG Rapture GT6 is a mesh router designed specifically for gamers that pushes Wi-Fi 6 to the max. Part of Asus' Republic of Gamers line, this mesh Wi-Fi system is available in a two-pack and can cover up to 5,800 square feet with a strong Wi-Fi signal.
Unlike other mesh routers that are meant to be tucked away and hidden out of sight, the Asus ROG Rapture GT6 stands out with its trapezoidal shape and built-in RGB lighting. Under the hood, the GT6 has an array of nine antennas for better coverage and on the back, there's a 2.5 Gbps Ethernet port as well as three gigabit Ethernet ports and a USB 3.2 port for accessing data from a storage deviceacross your network.
Since the GT6 doesn't ship with Wi-Fi 6E, it's limited to a single 2.4 GHz band and a pair of 5 GHz bands. However, besides using 160 MHz data channels and beamforming, it creates 2X2 2.4GHz streams as well as 4X4 5GHz transmissions to reach a maximum throughput of 10.1 Gbps. In our testing, we were pleasantly surprised by how the GT6 was able to meet the Orbi RBK852 in terms of raw performance while also being cheaper.
Read our full Asus ROG Rapture GT6 review.
The best value mesh Wi-Fi system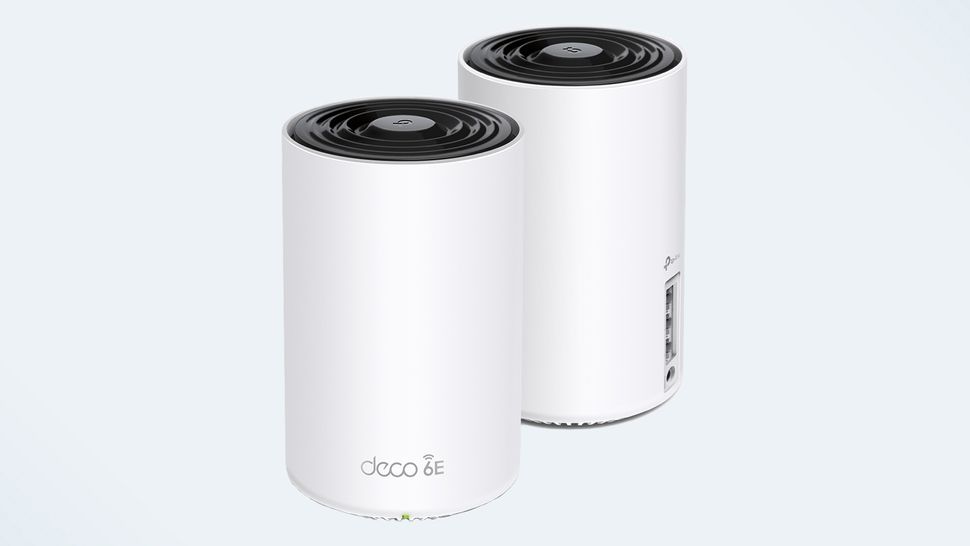 The Deco XE75 from TP-Link is available in either two-packs or three-packs and this mesh router system provides an inexpensive way to create a Wi-Fi 6E network that can fill your whole home with a strong Wi-Fi signal. Each of the two (or three) nodes can act as either a satellite or a router and they all have three Ethernet ports that can be used to hardwire devices or as a wired access point.
In our testing, the Deco XE75 had excellent data flow through walls, close up and at middle distances with a throughput of 1.220 Gbps at 15 feet. While you can use the 6GHz band to connect newer computers and phones, you can also use it for wireless backhaul between the unit designated as the router and the satellites.
One downside to the XE75 is that its Ethernet ports only support 1Gbps which is why TP-Link just released the Deco XE75 Pro which features a 2.5G Ethernet port for multi-gig connections.
Read our full TP-Link Deco XE75 review
The best mesh Wi-Fi system for power users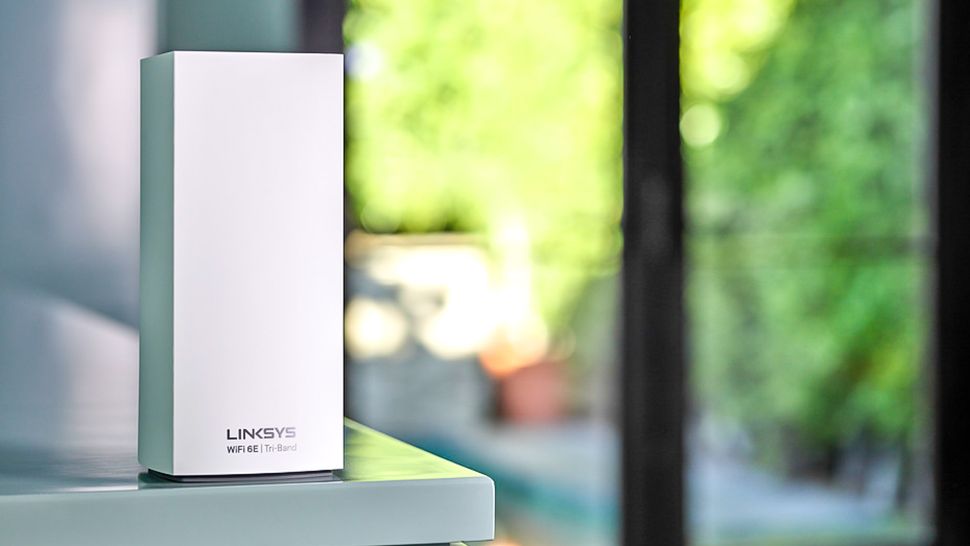 The Linksys Atlas Max 6E was the first mesh Wi-Fi router we tested that beat the Netgear Orbi Wi-Fi 6E (RBKE963) in terms of overall throughput. At 15 feet, the Atlas 6E had a throughput of 1.189 Gbps of data, which stayed strong at 25 feet (1.008 Gbps), before dropping to 382.2 Mbps at 50 feet.
Each Atlas Max 6E device has 12 amplified antennas, one 5Gbps WAN input port, four downstream gigabit LAN ports and a USB 3.0 port for attaching a storage device. Just as important, each unit can be configured as the host router or satellite during setup. We also like the fact that it comes with a three-year warranty and lifetime support, which blows away the competition.
However, the Linksys Atlas Max 6E is a much larger mesh Wi-Fi system than the likes of the Eero 6E or the Nest Wifi Pro. Just like with the Netgear Orbi Wi-Fi 6E (RBKE963), you'll want to make sure you have enough room for the router and its satellites before picking one up.
Read our full Linksys Atlas Max 6E review.
The best Wi-Fi 6 mesh Wi-Fi system
The Netgear Orbi RBK863SB is a follow-up to the Netgear Orbi WiFi 6 (RBK852) which we've long hailed as the best Wi-Fi 6 router. This time around, Netgear has included an innovative new antenna design to help boost mid-distance performance as well as range. The Orbi RBK863SB can also create a separate network for all of your smart home devices for those that want to keep them isolated from the computers and smartphones on their main network.
During our testing, the Orbi RBK863SB reached 806 Mbps at 15 feet and we found that the router has a maximum range of 105 feet. Besides better mid-range performance and range, Netgear has an all-black version of the Orbi RBK863SB available to purchase on its site. The router and each of its satellites can support up to 100 devices which can tap into 40 and 80 MHz data channels but not the wider 160MHz channels like the Orbi RBKE963 can.
At the back of the Orbi RBK863SB, you'll find four gigabit Ethernet ports as well as a 10 Gbps WAN port for connecting the main router to your cable modem. There's also a Sync button as well as a recessed reset key but no On/Off button nor a USB port. Still, the Orbi RBK863SB is a big step up from its predecessor and can fill your home with a strong and reliable Wi-Fi 6 signal.
Read our full Netgear Orbi RBK863SB review.
The best mesh Wi-Fi system for smart homes
The Eero Pro 6E combines tri-band Wi-Fi 6E networking with a mesh setup that is quicker and easier than many of the other mesh Wi-Fi systems we've reviewed. With a single unit covering 2,000 square feet with fast Wi-Fi, the three-pack Eero Pro 6E will blanket up to 6,000 square feet with ease – and we set up the three-piece system in about 10 minutes.
It may not be the fastest or longest-reaching mesh kit we've tested, but the Eero Pro 6E can provide a gigabit of data per second up close while its 2.5Gbps Ethernet port means this mesh router is ready for when you decide to upgrade to multi-gig internet. The built-in Zigbee host can make this mesh router the center of your smart home and Amazon's engineers are also working on adding Matter support in a future update. The Eero Pro 6E lets you set it and forget it while giving you speedy Wi-Fi 6E speeds. If you're on a tighter budget though, the Eero Pro 6 and the Eero 6+ are both excellent Wi-Fi 6 mesh systems.
Another great thing about Eero's mesh Wi-Fi systems is that you can use an Echo Dot as a mesh extender for additional Wi-Fi coverage. Also, if you're an Eero Plus subscriber ($10 per month, $100 per year), you can set up Eero Internet Backup which uses your phone's mobile hotspot to keep your home network and all of your devices working in the event of an internet outage.
Read our full Eero Pro 6E review.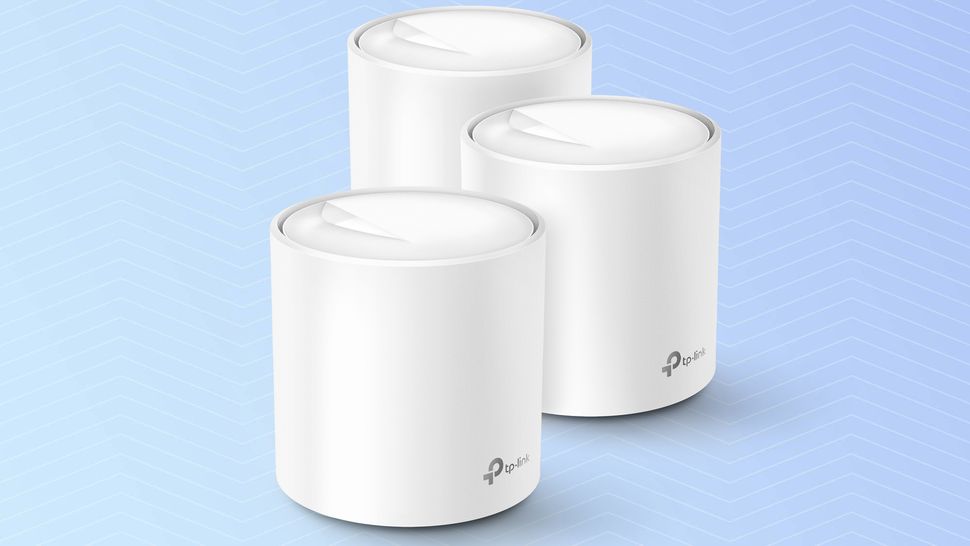 Inexpensive, small and easy to set up, TP-Link's Deco X20 mesh networking kit offers an inexpensive way to fill a home with Wi-Fi 6 data while protecting a family online with an extra layer of security.
If you want mesh capability and Wi-Fi 6, the TP-Link Deco X20 is the best budget option for covering larger homes with better speed and capability than any older 802.11ac (Wi-Fi 5) system can match. Selling in a 3-pack of matching units, the Deco X20 covers up to 5,800 square feet, and can manage up to 150 separate connected devices.
With dual-band connectivity and two gigabit wired connections on each node, the Deco X20 offers several different connectivity options along with easy setup and management. The accompanying Deco app lets you set up your network quickly and control the individual features of the network with illustrated, easy-to-navigate menus. It also protects with WPA3 encryption and a lifetime subscription to TP-Link HomeCare security and antivirus included.
Read our full TP-Link Deco X20 review.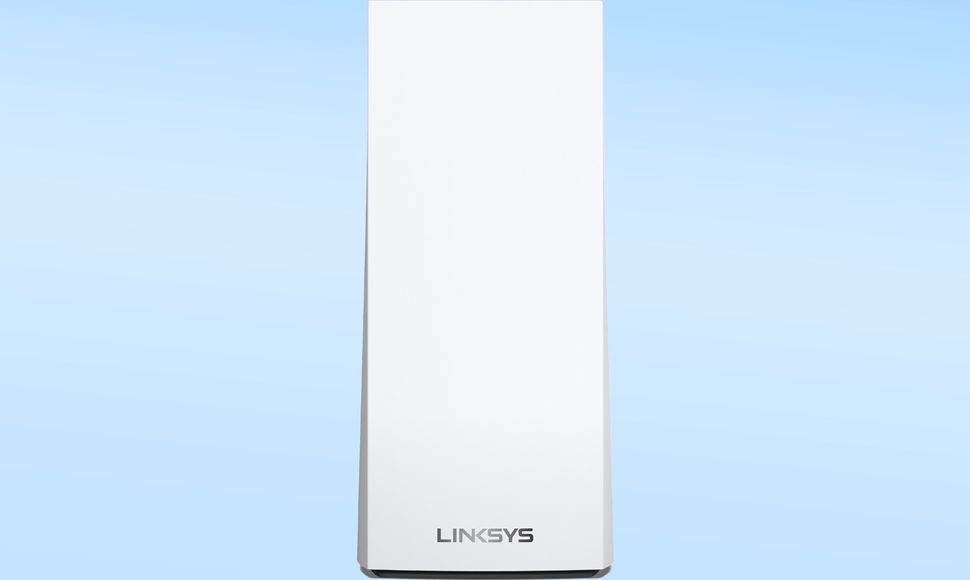 The Linksys Velop AX4200 mesh kit offers tri-band Wi-Fi 6 that can cover a large home with a strong Wi-Fi signal at a reasonable price.
With decent throughput and great range, the three-pack we reviewed can fill 8,000 square feet, and is easily expanded with additional units. It also offers simple configuration tools, a generous three-year warranty and has USB connectivity, a small touch, but one that some users will really appreciate.
However, it's not the fastest mesh kit on the block, lagging behind more expensive competitors and offering none of the extra security and customization options you'd get from other manufacturers. That said, the three-pack Linksys Velop AX4200 is a good bargain, offering a relatively cheap way to set up a wide-ranging Wi-Fi network in a big house.
Read our full Linksys Velop AX4200 review.
Google has completely revamped its line of mesh Wi-Fi systems with its new Nest Wifi Pro that features Wi-Fi 6E speeds along with Matter support to control all of your smart home devices. This new system is tiny compared to the likes of Netgear's Orbi RBKE963 and Linksys' Atlas Max 6E and there are even more color options available to help it better blend in with your home décor.
The addition of a new 6GHz band allowed the Nest Wifi Pro to reach speeds of 971.9 Mbps at 15 feet during our testing but we've seen other Wi-Fi 6E routers perform even faster. While Wi-Fi 6E gives you better performance at close range, it's actually a blessing and a curse for the Nest Wifi Pro since it's no longer compatible with Google's previous mesh Wi-Fi systems.
Like with Google Wifi and Nest Wifi before it, the Nest Wifi Pro is controlled entirely through the Google Home App with no way to configure your network using a PC or Mac. If you have gigabit Ethernet at home, it's certainly worth upgrading but for those with slower plans or on a budget, Google's Nest Wifi is still a better pick. Check out our Nest Wifi vs Nest Wifi Pro comparison for more information on both mesh Wi-Fi systems.
Read our full Nest Wifi Pro review.
How to choose the best mesh Wi-Fi system for you
Coverage: If you have a larger home with 3,000 square feet or more, a regular router just won't cut it. The same is true for multistory homes and oddly laid out houses, which don't necessarily match the range pattern of coverage most standalone routers deliver.
Even if your home looks like it may be well-served by one of the best Wi-Fi routers, there are plenty of obstacles and signal-disruptions that can make it difficult to get strong wireless coverage in every part of your home. In this case, the usual steps to make your Wi-Fi faster may not work.
The basic guideline is this: If your router leaves you with dead spots in your home or even in your yard, you're likely better off with a mesh Wi-Fi system instead.
Speed: Picking the right mesh Wi-Fi system is much like any other Wi-Fi device. Our reviews examine the design, range and throughput performance, setup process and which settings you can adjust. We also look at each device's built-in security features and parental controls. We even look at whether a mesh extension is easy to add to your home décor or whether it's something you'll want to tuck away out of sight.
All of our reviews dig into these aspects of a product while also highlighting any unique features worth considering in your decision making, like whether you want voice integration or how well a mesh system pairs with other smart home devices.
Ports: Though improved wireless connectivity is the main thing you want from a mesh Wi-Fi system, you'll also want to think about wired connections. Ethernet offers faster connectivity for devices like game consoles and smart TVs that use more bandwidth and USB ports are useful for attaching older printers or storage to your network. However, not every mesh system has physical ports, so make sure you get a system that will meet your needs. Keep in mind though, you can always use an Ethernet switch to easily add more ports to your mesh router.
Price: For many shoppers, it all comes down to value – which mesh Wi-Fi system provides the most bang for your buck. So we also consider what you really get for your money, weighting which features are worthwhile and how any given product compares with other devices from competing manufacturers.
Mesh routers range in price from $120 to $400 or more. As mesh systems use multiple devices, you can generally buy a complete mesh Wi-Fi system as a two or three-unit package. However, you can also buy individual satellite units to extend a mesh network to cover a larger area. Individual units often sell for $100 to $200, though specialized units offering additional functions may cost more.
The products on this list are our top picks as they are the best mesh Wi-Fi systems you can buy right now. Whether it's a question of performance, value or features, we call out the products that deliver the best value and explain why they might be the perfect fit for your home.
How we test the best mesh Wi-Fi systems
How we test the best mesh Wi-Fi systems
We test every mesh Wi-Fi system to measure performance and range, using Ixia's IxChariot software. Testing is done in a multi-story home with brick walls. As with standard routers, we test performance at a distance to provide real-world information about coverage and speeds. In addition to lab testing, we evaluate the ease-of-setup and features of each device.
We measure performance at a 5-foot distance without obstructions, so that we can gauge the maximum amount of data that the router can move. Higher throughput will serve you better in data-heavy uses, like streaming video, gaming, or connecting multiple users at once.
Range measures the furthest usable distance for the router. Longer ranges are better for larger homes, where rooms are spread out at a distance. We measure how much data a router can move at 5, 50, 75 and 100 feet, as well as what the maximum coverage area of a mesh Wi-Fi system.
We also test how well each mesh Wi-Fi system transmits and receives signals through drywall, brick, concrete and even metal walls; and how each handles coverage of a two- or three-story home. They also get additional testing to see how well each system does when sending a signal through the main router and through the included satellite units.
For more information, check out our guide on how we test Wi-Fi routers as well as our more general how we test page for Tom's Guide.
---
Check out all of our home networking coverage:
Best Wi-Fi routers | Best Wi-Fi 6 routers | Best gaming routers | Best Wi-Fi extenders | Best powerline extenders