Puffy Deluxe Mattress Topper review in brief
The Puffy Deluxe mattress topper is a 2.5-inch tall memory foam topper that comes in two different feels: soft or firm. Investing in one of the best mattress toppers on the market is a budget-friendly way to breathe new life into an old or uncomfortable bed, and we were interested to see if this brand, known for its memory foam mattresses, could translate the same magic into a topper.
Puffy Deluxe Mattress Topper specs
Type: Memory foam
Thickness: 2.5 inches
Cover: Bamboo rayon and polyester, removable and washable
Straps: Straps + elasticated skirt
Trial period: 101 nights
Warranty: Lifetime
Price bracket: Mid-range
We tested the Puffy Deluxe mattress topper in firm for three weeks, and found it added some much-welcomed comfort and support to an otherwise super firm innerspring bed. Like all the best memory foam mattress toppers, the dense memory foam gently conforms to the sleeper's body, offering custom support and cushioning the joints. It'll suit most front or side sleepers, as well as some back sleepers. However, those who weigh above 250lb (and especially those who usually lie on their back) might benefit from something firmer, to achieve the support they need around the shoulders and spine. Petite and lightweight sleepers may prefer the softer version.
This topper will be a good choice for allergy sufferers, thanks to an easy-to-remove hypoallergenic cover designed to reduce the spread of allergens. This can also be popped into the washing machine for a deep clean when needed. Most toppers have just straps (if that), but this version uses a full elasticated skirt (more common on mattress pads or mattress protectors) as well as straps and a grippy lower cover, all of which means it's super-secure on your bed, no matter how much wriggling you do.
Our only real complaint with this topper is that it ran a little hot on a couple of nights (we didn't have this issue in our Puffy Hybrid Luxe mattress review). However, overall this topper offers plenty of comfort, and plenty of features you won't find with most topper options. A queen bed size Puffy Deluxe topper costs $229 at MSRP, but regular mattress topper sales bring that down to under $200, which puts this topper in the lower-mid price bracket – and of course, far cheaper than investing in one of today's best mattresses. Read on for our full Puffy Deluxe topper review.
Puffy Deluxe Mattress Topper review: Design
2.5" memory foam topper, available in soft or firm feels
Bamboo rayon / polyester cover, removable and washable
Elasticated skirt, straps and grippy fabric anchor it in place
This is a 2.5-inch tall, memory foam topper, available in two different sleep feels (soft or firm – we tested the latter). It looks and feels well-made. According to the brand, the memory foam filling has an 'open cell' construction to allow for better airflow and improve temperature regulation – in reality, all mattress foam is open-cell (learn more in our memory foam FAQ article). As you'd expect, the foams are CertiPUR-US certified, meaning they're made without harmful chemicals like mercury, lead and formaldehyde.
The foam inner is encapsulated in a hypoallergenic cover made from 40% bamboo rayon and 60% polyester. This feels smooth to the touch and the cloud-print design is a nice finish. The cover is designed to help reduce the spread of allergens, as well as being removable and machine washable, so you can keep your sleep set-up hygienic month after month.
There are multiple features designed to keep this topper in place on your mattress. As well as deep elasticated pockets (which also protect the sides of the mattress) and straps, there's a thin grippy layer on the underside to stop any movement. The topper is designed to fit mattresses up to 15 inches deep, and comes in six sizes, from Twin to Cal King.
Puffy Deluxe Mattress Topper review: Price and deals
Sits in the mid-range price bracket, queen size is typically $229
Brand runs regular deals which slash prices
The Puffy Deluxe Mattress Topper sits in the mid-range price bracket, with a Twin starting from around $179 and a Cal King setting you back up to $249. Like many mattress brands, Puffy runs regular sales and discounts throughout the year – you can probably expect 15% off. Here's the official pricing for this topper, alongside the regular deal price:
Twin: MSRP $179 (usually sold at $152)
Twin XL: MSRP $189 (usually sold at $161)
Full: MSRP $209 (usually sold at $178)
Queen: MSRP $229 (usually sold at $195)
King: MSRP $249 (usually sold at $212)
Cal King: MSRP $249 (usually sold at $212)
You can pick up toppers for far less (there are cheap mattress toppers for under $50), but you can also spend a lot more, with some premium toppers costing as much as a cheap mattress.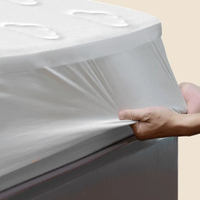 View the Puffy Deluxe Mattress Topper at Puffy
The Puffy Deluxe Mattress Topper is a mid-range, 2.5 inch thick memory foam mattress topper that's available in two firmness ratings and comes with hypoallergenic properties, a non-slip backing and deep elastic pockets. Regular sales bring the MSRP down, and you can enjoy a 101-night trial and lifetime warranty.
Puffy Deluxe Mattress Topper review: Comfort
Body-cradling memory foam feel, comfortable in all positions
Perhaps too soft for heavier-bodied front sleepers
Lightweight side sleepers could try the soft version
We tested out the firm Full size Puffy Deluxe Mattress Topper for three weeks, and it gave our extra firm spring mattress a dreamy, cloud-like feel.
This topper has that classic memory foam feel, in that it molds to the sleeper's shape – as you lie in one position, you can gradually feel the dense foam curving around your outline, gently suspending your body and joints as you focus on drifting off. When you move, the foam gradually responds to your movement, and it's not so sink-in that you'll feel like you're being suffocated.
Our main tester tends to sleep on her front and found this topper to be comfortable in all sleep positions. However heavier-bodied front sleepers might benefit from a firmer topper to ensure their shoulders and back are fully supported. We'd perhaps recommend the soft version to lightweight side sleepers, who may appreciate the extra cushioning, and can get away with a plusher sleep feel without sacrificing spinal support.
Puffy Deluxe Mattress Topper review: Temperature regulation
Did occasionally sleep warm during our review period
Memory foam can have a habit of retaining body heat
Memory foam is not usually the first option for hot sleepers, as this material often gets a bad rep for retaining heat. Puffy states that this memory foam mattress topper is crafted with an 'open cell' construction, which allows for better air flow through the foam and most nights. The open-cell bit is a bit misleading, because all mattress foams are open-cell. Overall, we found this topper was okay, but not great, at regulating temperature. We tested out this topper during the summer months where temperatures ranged from to 60 to 66 degrees Fahrenheit. Our main tester found that this topper ran hot twice throughout the 21 day period.
Puffy Deluxe Mattress Topper review: Other features
Straps as well as a skirt keep the topper in place
Skirt also protects your mattress
The Puffy Deluxe Mattress Topper is suitable for mattresses up to 15 inches deep, and comes with deep elastic pockets and straps. These are easy to fit and secure over the corners of your mattress. The topper also has a thin, super grippy dotted layer on the flip side which helps to eliminate movement, no matter how much you wriggle in the middle of the night. In short, this topper isn't going anywhere.
The topper is crafted with hypoallergenic materials and an easy-to-remove cover, meaning you can strip the topper, pop the cover in the wash, dry it and have it ready to reuse that same day.
Puffy Deluxe Mattress Topper review: Setup & delivery
Free delivery
101-night sleep trial and lifetime warranty
Our review model had a distinct off-gassing smell
Ordering the mattress topper is very simple. Once you've decided on what size and firmness rating you want, you can simply add your topper to the basket and enjoy free delivery.
Your topper will arrive in a box and plastic wrapping. It took our testers just under 10 minutes to unwrap, and roll out the review model on their mattress. Within minutes the topper looked like it was ready to use. There's no official guideline as to how long you should leave your topper to decompress before sleeping on it, but when we reached out to the PR, we were told 24-48 hours (that's an extremely long time for a topper, and we suspect more applicable to full mattresses).
Upon unwrapping and seeing the mattress topper inflate in front of our eyes, there was a strong new-mattress smell. This off-gassing aroma took a few days to dissipate. It isn't an uncommon phenomenon with foam toppers or mattresses, and although it might be unpleasant it's harmless.
The Puffy Deluxe Mattress Topper comes with a 101-night sleep trial, which is really good in the context of the market – while mattress trials are common, many brands (even the ones charging premium prices) don't offer a trial at all on their toppers. The topper also comes with a lifetime warranty, which again, is great and goes above and beyond other topper warranties.
Puffy Deluxe Mattress Topper review: Customer reviews
Apparent 5/5 average from ~500 reviews on brand's website (July 2023)
... we are suspicious of this rating
Customers highlight durability and praise brand-new-bed feeling
You can only buy the Puffy Deluxe Mattress Topper directly from the brand. Therefore all customer reviews are only available on the brand's website. As of July 2023, the memory foam topper scores what looks like a perfect 5 out of 5 stars average, over 487 reviews. We're not convinced that's accurate.
Durability can be hard to review after only three weeks of using the topper. But according to the reviews, customers rated the quality and durability of the topper, highlighting that there were no issues with sagging even after months of use.
Performance was another area customers praised, with many stating that the topper is able make any bed feel brand new in minutes.
Not every review stated which firmness rating customers chose for their topper. But either way, no matter whether it was the soft or firm, the topper's comfort levels scored top points. Users stating that thanks to the 2.5 inch memory foam design you feel like you're sleeping on a cloud that can cushion joints and ease back pain.
Should you buy the Puffy Deluxe Mattress Topper?
Yes, but that comes with some caveats. If you would like to add some more comfort to an old bed or sofa bed, suffer from allergies and love a memory foam mattress feel, you should absolutely buy the Puffy Deluxe Topper.
The 2.5inch cloud-printed mattress topper essentially gives you a memory foam mattress for a fraction of the price, and allows you to customize your preferred sleep set-up in minutes. It's suitable for most side and back sleepers as the memory foam gently contours around your body. For most people it'll be the perfect firmness for most people, although heavier-bodied front sleepers might need a firmer topper to help prevent their spine from dropping too low as they catch some ZZZs. We wouldn't recommend it to hot sleepers – if that's you, consider a specifically designed cooling mattress topper (we like the Saatva Graphite Mattress Topper).
Coming with a generous 101-night trial, you get just over three months to make up your mind as to whether this is the right topper for you. If not, simply send this product back before the trial period is over and you'll get all your money back. It's also backed by a lifetime warranty.
Puffy Deluxe Mattress Topper review: Alternatives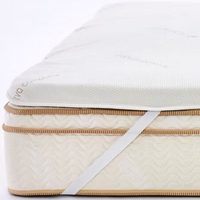 Saatva Graphite Mattress Topper
If you sleep warm, the Saatva Graphite Mattress topper could be the cooling solution you've been looking for. It offers 3-inches of cooling, including one layer of graphite-infused foam, and can wick away body heat throughout the night. It offers exceptional pressure relief, however all these features come at a premium price. Read more in our Saatva Graphite Mattress Topper review.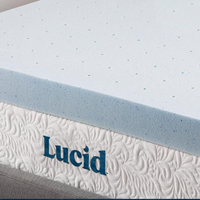 Lucid Gel Memory Foam Mattress Topper
Budget-friendly, decent at cooling and coming with 4 inches of comfort, the Lucid Gel Memory Foam Mattress Topper is a thicker budget-friendly option at a much lower price point. It comes with lots of cushioning for maximum pressure relief. However, it is more plush that others listed, and may be too squishy for many people. There's also no cover or straps of any kind. Find out more in our Lucid Gel Memory Foam Mattress Topper review.