Saatva Graphite Mattress Topper review in brief
The Saatva Mattress Topper comes in your choice of three different materials – high-density foam, graphite-infused foam, or latex. We've been sleeping on the graphite version of the Saatva Mattress Topper for two weeks and recommend it as one of the best mattress toppers for instantly boosting in-bed comfort. So if you don't have the budget or the need for a new mattress, yet you're looking for extra sleep comfort, this luxury bed topper is worth considering.
Saatva makes our #1 best mattress (read about it in our Saatva Classic review), and a topper is a great way to get some of that magic for a much lower price.
Saatva Mattress Graphite Topper specs
Best for: Back sleepers, temperature regulation
Material: Graphite-infused memory foam
Firmness: Medium firm
Depth: 3 inches
Warranty: 1 year
Trial: 180 nights
Sizes: Twin, twin XL, full, queen, king, Cal king, split king
Based on our testing experience, we'd recommend the graphite Saatva Mattress Topper for small to average weight back sleepers who enjoy a medium-firm feel. It offers exceptional pressure relief, especially in the lower lumbar, and the graphite-infused cooling foam is adept at wicking away body heat throughout the night.
The graphite Saatva Mattress Topper adds three inches to the height of your mattress, but if that would make your bed too tall, opt for the slightly softer standard foam model (which we rank amongst the best memory foam mattress toppers) or the firmer latex variation as both add 1.5 inches of height.
If you're a side or stomach sleeper, you may find the latex version offers better support around your hips than the graphite. Meanwhile, if you're on the petite side and prefer a plusher mattress, the standard foam topper will likely suit you the most. Heavyweight sleepers might want to consider thicker and firmer alternatives than any of Saatva's offerings, but most sleepers should find what they need here.
The Saatva Mattress Topper is backed by a limited one-year warranty, which is meager by industry standards. However, you do get a risk-free trial of 180 days on its toppers, with free returns if you change your mind.
Saatva Graphite Mattress Topper review: materials
As mentioned earlier in our review, the Saatva Mattress Topper is available in three different materials. This high level of customization means you can select the one that's most suited to your sleep style and preferences. Here are the three variations of the topper and who they'd most suit:
High-density foam – ideal for side and back sleepers who want a mattress topper that cradles the contours of their body for pressure point relief.
Graphite-infused memory foam - suits those who sleep warm and would benefit from a mattress topper infused with cooling technology. We tested this one.
Talalay latex - a good choice for individuals who want an all-natural material that's breathable, buoyant and hypoallergenic.
The foam and latex models will each add 1.5 inches to the height of your mattress, while the graphite topper will add an extra 3 inches, making it the tallest of the three. All variations of the Saatva Mattress Topper are wrapped in a 100% organic cotton cover that's spot-clean only. (Learn how to clean a mattress topper to keep it fresh and hygienic for a healthier night's sleep.)
Saatva Graphite Mattress Topper review: Price and deals
A durable mattress topper starting at $175
Comes with a 180-night risk-free trial
The warranty only lasts for one year
The price for the Saatva Mattress Topper varies by material, with the least expensive option being the standard foam starting at $175. Meanwhile, the latex and graphite toppers start at $295 and $245 respectively. These aren't the cheapest toppers on the market, but they are a great way to get some of the benefits of a Saatva mattress at a much lower price.
Here's the official 2023 pricing for the Saatva Mattress Topper:
Swipe to scroll horizontally
Saatva Mattress Topper Prices

| Size | Foam Topper | Graphite Topper | Latex Topper |
| --- | --- | --- | --- |
| Twin | $175 | $245 | $295 |
| Twin XL | $195 | $255 | $325 |
| Full | $245 | $315 | $395 |
| Queen | $295 | $345 | $445 |
| King | $325 | $445 | $545 |
| California King | $345 | $445 | $545 |
| Split King | $390 | $510 | $650 |
In terms of performance, durability and build quality, Saatva's biggest rival is the Tempur-Pedic Adapt, which retails from $319 in a twin before markdowns in Tempur-Pedic mattress sales. Both Saatva and Tempur-Pedic sit in the luxury topper market and are closely compared. If you're undecided between them, read our Saatva vs Tempur-Pedic mattress toppers head-to-head for a closer look at how they stack up, or check out our Tempur-Adapt topper review to see how we got on with it.
As far as full-foam toppers go, the foam Saatva Mattress Topper is cheaper than the 2-inch Tuft & Needle Mattress Topper, which starts at $200 for a twin, making it competitively priced if you're looking for a reliable mid-range all-foam topper that's Eco-Certified too.
While there are Saatva mattress sales and discounts running most months to save you money on these luxury sleep products, the Saatva Mattress Topper isn't always included. However, we have spotted discounts of around 12% on all three variations of the topper before, reducing the starting price of a queen size to $259.
Not all toppers come with a trial, but Saatva grants you a generous 180 nights to test your purchase out. Should you decide it's not the right fit, you can return it free of charge for a full refund.
Saatva also offers a one-year limited warranty, which we think is very short for a bed topper of this quality. By comparison, leading mattress in a box brands Tempur-Pedic and Tuft & Needle both offer a 10-year warranty with their toppers.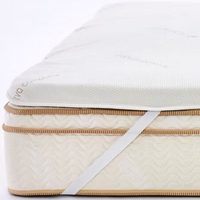 See the Saatva Mattress Topper from $175 at Saatva
There are three variations of the topper, with the cheapest being the Eco Certified foam model, priced from $176. Next comes the latex version, from $295, while the graphite model (the one we tested) is priced from $245. Saatva rarely offers a sale on its toppers, but we have seen savings of up to 12% off, which is a good amount on a popular topper.
Saatva Graphite Mattress Topper review: firmness and comfort
We rate the firmness of the graphite topper as a 6 out of 10
It offers great support for back sleepers
Latex topper is more buoyant yet also cooling
The feel of the Saatva Mattress Topper depends on which material you choose. We tested the graphite model and rate it as a 6 out of 10 on the firmness scale (with 10 being the firmest).
We sank into the graphite topper but also felt well-supported, especially when sleeping on our back. We were comfortable on our sides and stomach too, but needed time to adjust as our hips dipped slightly in those positions.
The graphite Saatva Mattress Topper took our Awara Natural Hybrid Mattress from 10 to 13 inches tall, which was still an accessible height for us. If your bed doesn't need so much elevation – and you generally sleep well without overheating at night – the 1.5 inch foam topper should suit. It'll give you around the same level of support as its graphite counterpart, with a slightly softer feel.
For a firmer and more buoyant feel, consider the latex version instead. It'll be a boon for hot sleepers too, as latex is a naturally breathable material that sleeps fairly cool. Read our memory foam vs latex mattress comparison for more guidance on which material you should choose for your new bed topper. And if you decide that what you really need is a natural bed, check out our best organic mattress guide.
Saatva Graphite Mattress Topper review: performance
Foam provides superb pressure relief for most back sleepers
Side and stomach sleepers will find better support with the latex model
Graphite-infused cooling foam keeps hot sleepers comfortable
We spent two weeks sleeping on a twin-size graphite Saatva Mattress Topper. During this period we abided by our mattress methodology and tested all key areas of performance: off-gassing, pressure relief, durability and temperature regulation. We also rated the ease of setup, and this is what we discovered during the review process...
Set-up and off-gassing
Score: 4/5
The Saatva Mattress Topper we received for testing arrived rolled-up and vacuum-sealed. It flattened out immediately once we unrolled it, and we were able to easily attach it to our bed using the elasticated anchor bands fixed to each corner. We believe the set-up process will be easy enough for one person to handle regardless of the size you buy, but of course this depends on your mobility requirements.
Upon unpacking we did detect an off-gassing smell, signaling vapors being released into the air. This is common with foam-based products so we cracked a window and it started to ease off. The scent was generally mild and dissipated completely by the next morning.
If you'd rather bypass any potential off-gassing odors, go for the latex Saatva Mattress Topper. As we explain in our feature on what is mattress off-gassing, organic materials like latex contain little to no volatile organic compounds (VOCs) that yield that characteristic 'chemical' smell.
Pressure relief
Score: 4/5
Our review of the Saatva Mattress Topper coincided with one of us laid up in bed with a back injury... but we used an otherwise unpleasant situation as an opportunity to effectively gauge its pressure relief.
In our compromised state, we were most comfortable lying flat on our back — and it helped that the graphite infused topper suits that sleep position the most. During testing we felt our body weight was evenly distributed across the topper, and we felt plenty of relief in our otherwise-achy lower lumbar.
We also felt at ease sleeping on our sides and stomach, but it took some time to adjust since our hips dipped slightly lower than the rest of our body at first. Otherwise, in those positions we felt well-supported along our shoulders, neck and head.
The degree of pressure relief is likely to be comparable with the standard foam Saatva Mattress Topper, while the latex model will provide more subtle contouring.
Durability
Score: 5/5
Saatva mattresses are renowned for the integrity of their organic materials, and this extends to the brand's mattress topper too. The graphite-infused foam model has a plushness to it but always snaps back into place. We found that the cotton cover on our review model did have a tendency to bunch up in areas, but it's easy to flatten out and doesn't impact overall performance.
Generally speaking, foam tends to have a shorter lifespan than latex, so we'd be remiss if we didn't point out that the latex Saatva Mattress Topper is the most durable one you can buy. However, how well a topper is cared for over time can influence how long it lasts in your home, regardless of the material. Our feature answering how long does a mattress last provides further insight.
Temperature regulation
Score: 4.5/5
The graphite Saatva Mattress Topper is designed with hot sleepers in mind, so, as hot sleepers ourselves, we were keen to test its temperature regulation. For context at the time of writing this review, we're in the midst of changing seasons in the Mid-Atlantic, with warm days interspersed with chillier ones.
Regardless of the temperature outside we slept quite comfortably on this topper, with an experience on par with some of the best cooling mattresses we've tested, which is impressive. There's also a subtle cool-to-the-touch feeling that's refreshing rather than jarring.
While we can't speak to the exact temperature capabilities of the standard foam and latex models, bear in mind that latex is a naturally breathable material while foam retains heat if it lacks any proper cooling materials and technology.
Saatva Graphite Mattress Topper: User reviews
A mattress topper's comfort and performance are subjective. Variables such as height, weight, sleep style, ideal temperature and any nagging pains can each impact a person's experience. So in addition to our own testing, we've also analyzed user reviews of the Saatva Mattress Topper to offer a more complete picture.
As of April 2022, the topper has a user rating of 5 out of 5 stars... but it also only has five customer reviews on the Saatva website, which isn't enough for us to pinpoint any patterns or trends. The most meaningful feedback indicates that the foam model is good for relieving hip pain, but that's about it as far as insight from customers.
Venturing outside of that microcosm, other internet reviews for the Saatva Mattress Topper are very positive. Sleepers like how they have a choice of materials so they're not locked into a single level of firmness, but they wish the topper wasn't so pricey. Plus, some sleepers suggest that heavier bodies (230lbs or more) may not experience the same level of support as average or lightweight sleepers, regardless of the chosen material.
Should you buy the Saatva Mattress Topper?
A Saatva Mattress Topper is an opportunity to experience the luxury feel of a Saatva bed at a relatively low price. If your current mattress is too firm or doesn't keep you cool enough during sleep, adding a Saatva topper should make a noticeable difference and at a much lower cost than a new mattress.
That said, Saatva is one of the more expensive mattress topper manufacturers, particularly if you opt for the latex or graphite models. There are plenty of perfectly decent toppers that cost less than $100, including the Sleep Innovations 4-Inch Dual Layer Gel Memory Foam Mattress Topper, priced from $99 at Amazon, and the Lucid 4 Inch Gel Memory Foam Mattress Topper, from $89 at Mattress Firm.
However, you get what you pay for with Saatva, and that's a well-constructed topper that can be closely tailored to your sleep and comfort needs. We wish the warranty period extended beyond one year, though.
Regarding the graphite-infused memory foam topper we tested, we highly recommend it for most back sleepers who tend to overheat. It yields superb pressure relief and regulates temperature very well so we were comfortable all night long. Side and stomach sleepers, however, may find their hips sink too much — for those sleep styles, the slightly firmer latex model might be better. For extra inspiration, read our best mattress for side sleepers guide.
Before purchasing any bed topper, it helps to know if you'll benefit from having one in the first place. As our feature answering are mattress toppers worth it explains, there are situations when adding one makes perfect sense, while there are other scenarios where you'd be better off buying a new bed altogether.
Don't forget that the better you look after your topper, the longer it will last, so consider investing in a good mattress protector that's deep enough to fit over your topper and your mattress beneath.