Saatva Graphite Mattress Topper review in brief
Saatva Graphite Mattress Topper specs
Material: Graphite-infused memory foam
Firmness: 6/10 (medium)
Depth: 3 inches
Warranty: 1 year
Trial: 180 nights
Sizes: Twin, twin XL, full, queen, king, Cal king, split king
The Saatva Graphite Mattress Topper is a luxurious topper that combines graphite-infused memory foam and an organic cotton cover. Like any of today's best mattress toppers, it's designed to be added to an old, worn out or uncomfortable bed to improve the sleep feel. While this is a premium priced topper, it's still far cheaper than investing a whole new Saatva mattress.
As the brand behind our #1 best mattress (see our Saatva Classic review), we were intrigued to see if this topper could capture some of the same magic at a lower price. We slept on the Saatva Graphite Mattress Topper for two weeks and found it instantly boosted our testers' in-bed comfort.
Based on our testing experience, we'd recommend the graphite Saatva Mattress Topper for light to average weight back sleepers who enjoy a medium sleep feel. It offers exceptional pressure relief, especially in the lower lumbar, and the graphite-infused cooling foam is adept at wicking away body heat throughout the night.
The Saatva Mattress Topper is backed by a limited one-year warranty, which is meager by industry standards. However, you do get a risk-free trial of 180 days, with free returns if you change your mind. Not many mattress toppers come with a trial at all, so this is a welcome perk.
This is one of three options from Saatva – there's also a latex topper, a cheaper foam topper (read about that one in our Saatva Foam Mattress Topper review), and a micro-coil topper. So if the graphite version doesn't sound quite right for you, one of those might fit better – you'll find details in the Alternatives section. Read on for our full Saatva Graphite mattress topper review.
Saatva Graphite Mattress Topper review: Price
A premium priced mattress topper, rarely discounted
Generous 180-night trial, but warranty only lasts for one year
The Saatva Graphite Topper sits in the premium price bracket. It's the same price as the latex and coil topper options, while the more budget-friendly foam topper starts from $195 and sits in the mid-range price bracket. There's almost always a Saatva mattress sale or deal running, but unfortunately it's rare that the toppers will be included in the offers. These aren't the cheapest toppers on the market, but they are a great way to get some of the benefits of a Saatva mattress at a much lower price.
Here's the pricing for the Saatva Graphite Mattress Topper:
Twin size: $195
Twin XL size: $195
Full size: $245
Queen size: $295
King size: $345
Cal King size: $345
Split King size: $390
Not all toppers come with a trial at all, but Saatva grants you a generous 180 nights to test your purchase out. Should you decide it's not the right fit, you can return it free of charge for a full refund. Saatva also offers a one-year limited warranty, which is very short for a bed topper of this quality. (By comparison, leading mattress in a box brands Tempur-Pedic and Tuft & Needle both offer a 10-year warranty with their toppers.)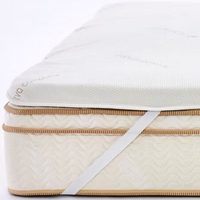 See the Saatva Graphite Mattress Topper from $325
The Saatva Graphite topper is a memory foam topper that features cooling graphite, and provides excellent pressure relief. It's a great choice for adding some Saatva magic to an old mattress. This topper comes with a 180-night sleep trial and a one-year warranty.
Saatva Graphite Mattress Topper review: Materials
3 inches of cooling, graphite-infused foam
Cover made from organic cotton, spot clean only
Elastic straps to anchor it in place
This 3-inch thick topper is filled with a single layer of graphite-infused memory foam. The foam is CertiPUR-US certified, which means it meets certain health and environmental standards.
The foam is wrapped in an organic cotton cover, which is a naturally breathable and moisture-wicking fabric. We found that the cotton cover on our review model had a tendency to bunch up in areas, but was easy to flatten out and didn't impact overall performance.
Unfortunately, this cover is not removable or machine-washable, although it does feature a Guardin botanical antimicrobial treatment that's designed to inhibit the growth of bacteria, mold and mildew, and should help keep things fresh. Saatva suggests spot-cleaning with a mild cleaning solution if necessary, and we'd recommend adding a mattress protector over the top, just in case. (Or consult our guide to how to clean a mattress topper for more tips.)
Four elasticated bands, found on each of the corners, help anchor the topper in place and stop it from shifting around on your bed. The graphite Saatva Mattress Topper took our mattress from 10 to 13 inches tall, which was still an accessible height for us. It is worth bearing in mind how thick your mattress is when choosing a topper, because some will require you to purchase extra-deep sheets.
Saatva mattresses are renowned for the integrity of their materials, and this extends to the brand's mattress topper too. The graphite-infused foam model has a plushness to it but always snaps back into place, and we'd expect it to last a good long time. (Although if longevity is your priority, it's worth checking out Saatva's latex topper, as latex is one of the most durable mattress materials.)
Because this topper is foam-based, don't expect a sleep feel like the innerspring Saatva Classic – instead it's likely to be more similar to the Saatva memory foam hybrid mattress.
Saatva Graphite Mattress Topper review: Firmness & comfort
We rate the firmness of the graphite topper as a 6 out of 10
It offers great support for back sleepers
Absorbs movements on the sleep surface
We rate the Saatva Mattress Topper as a 6 out of 10 on the firmness scale (with 10 being the firmest). We sank into the graphite topper but also felt well-supported. Like all the best memory foam mattress toppers, this model contours to your shape for a body hugging feel. Remember that your experience will depend partly on the mattress you place it on (we were using the Awara Natural Hybrid Mattress at the time, which has an 8/10 firmness).
Our review of the Saatva Mattress Topper coincided with one of our testing panel laid up in bed with a back injury... but we used an otherwise unpleasant situation as an opportunity to effectively gauge this topper's support and pressure relief.
In our compromised state, we were most comfortable lying flat on our back — and it helped that the graphite infused topper suits that sleep position the most. During testing our body weight was evenly distributed across the topper, and we felt plenty of relief in our otherwise-achy lower lumbar.
We also felt at ease sleeping on our sides and stomach, but it took some time to adjust since our hips dipped slightly lower than the rest of our body at first. Otherwise, in those positions we felt well-supported along our shoulders, neck and head.
The squishy foam also helped to absorb movements on the sleep surface, which is good news for anyone who sleeps light and shares a bed. (Again, the extent of the motion isolation will be effected by the mattress underneath.)
Saatva Graphite Topper review: Temperature regulation
Topper remained a comfortable temperature throughout testing
Graphite foam is designed to help regulate temperature
Cotton cover is breathable
Foam can trap body heat, but the graphite Saatva Mattress Topper is designed with hot sleepers in mind. The graphite-infused foam is meant to help prevent overheating, and the cover (made from organic cotton) is breathable and moisture-wicking too. As hot sleepers themselves, our main reviewers were keen to test out this topper's temperature regulation. For context, at the time of writing this review, we're in the midst of changing seasons in the Mid-Atlantic, with warm days interspersed with chillier ones.
Regardless of the temperature outside we slept quite comfortably on this topper, with an experience on par with some of the best cooling mattresses we've tested, which is impressive. There's also a subtle cool-to-the-touch feeling that's refreshing rather than jarring.
Saatva Graphite mattress topper review: Set-up & delivery
Arrived rolled and vaccum-packed
Easy to set up, and most will be able to do this alone
Some minor off-gassing on our model
The Saatva Graphite Mattress Topper we received for testing arrived rolled-up and vacuum-sealed. It flattened out immediately once we unrolled it, and we were able to easily attach it to our bed using the elasticated anchor bands fixed to each corner. We believe the set-up process will be easy enough for one person to handle regardless of the size you buy, but of course this depends on your mobility requirements.
Upon unpacking we did detect an off-gassing smell, signaling vapors being released into the air. This is common with foam-based products so we cracked a window and it started to ease off. The scent was generally mild and dissipated completely by the next morning.
Off-gassing experiences will vary from person to person (some customer reviews specify that they didn't notice any odors at all). However, if you'd rather bypass any potential off-gassing issues entirely, go for the latex Saatva Mattress Topper. As we explain in our feature on what is mattress off-gassing, organic materials like latex contain little to no volatile organic compounds (VOCs) that yield that characteristic 'chemical' smell.
Saatva Graphite Mattress Topper: User reviews
4.8 / 5 star average (174 reviews, June 2023)
... but that's for all Saatva's toppers
Praise for the soft feel, body contouring, and pain relief
A mattress topper's comfort and performance are subjective. Variables such as height, weight, sleep style, ideal temperature and any nagging pains can each impact a person's experience. So in addition to our own testing, we've also analyzed user reviews of the Saatva Graphite Mattress Topper to offer a more complete picture.
The topper has an average rating of 4.8 out of 5 stars, over 174 reviews (June 2023). Note however that the reviews include all of Saatva's toppers, rather than just the graphite one. Still, the fact that no one has rated it below a 3 is reassuring speaks highly of the quality that can be expected from this brand.
Filtering by the word 'graphite' yields 13 reviews (there will be more discussing this topper, but there's no way to know for sure). Of these, multiple reviews that say this topper has improved their bed's comfort levels, praise the soothing body hug feel and say it's good for adding softness to a firmer mattress. Four reviews specifically say it has helped them with body pains.
On other points there's more disagreement. For example, one review complains of an off-gassing smell while another says there was no smell at all (this experience can vary from model to model and person to person). Two testers say they had issues with this topper trapping body heat, while four say it sleeps cool.
Should you buy the Saatva Mattress Topper?
A Saatva Mattress Topper is an opportunity to experience the luxury feel of a Saatva bed at a much more affordable price than a whole new mattress. If your current mattress is too firm or doesn't keep you cool enough during sleep, adding a Saatva topper should make a noticeable difference.
We'd recommend the graphite foam topper specifically to back sleepers who tend to overheat. It yields superb pressure relief and regulates temperature very well so we were comfortable all night long. Side and stomach sleepers, however, may find their hips sink too much, and would be better off picking something firmer (perhaps the latex model). Heavyweight sleepers might want to consider thicker and firmer alternatives than any of Saatva's offerings.
Saatva is one of the more expensive mattress topper manufacturers, and there are plenty more affordable alternatives on the market if you're on a budget. However, you get what you pay for with Saatva, and that's a well-constructed topper, and extras like the long trial period help elevate it from the competition and justify that asking price. We wish the warranty period extended beyond one year, though.
Before purchasing any bed topper, it helps to know if you'll benefit from having one in the first place. As our feature answering are mattress toppers worth it explains, there are situations when adding one makes perfect sense, while there are other scenarios where you'd be better off buying a new bed altogether.
Saatva Graphite Mattress Topper: Alternatives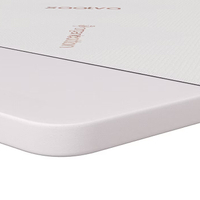 Saatva High-density Foam topper
If you're on a budget, this is Saatva's cheapest topper. It's half the thickness of the Graphite version, which is good news if you already have a tall mattress. Expect good pressure relief but a less squishy, hugging feel overall. In our Saatva Foam Topper review we found it best for side sleeping, although we had minor issues with it shifting around over time. Although this topper doesn't have the graphite for cooling, we actually found it did an excellent job of regulating temperature and preventing overheating.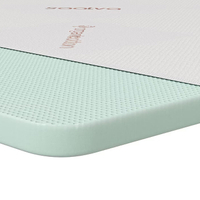 Saatva Natural Latex Mattress topper
This 1.5" topper is half the height of the graphite version, and made from natural latex. This is known as one of the most durable mattress materials, and delivers a buoyant, responsive feel rather than the sink-in hug of foam. We'd expect this topper to be overall firmer and more supportive than the graphite version (read our memory foam vs latex mattress explainer for more info).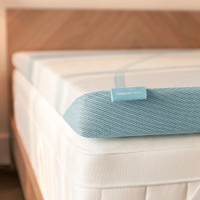 Tempur-Adapt topper
In the luxury mattress market, one of Saatva's biggest rivals is Tempur-Pedic. The Tempur-Adapt topper is similar to the Saatva Graphite topper in that it's a luxurious, 3-inch thick topper, and it's around the same premium price (depending on if there's a Tempur-Pedic sale on at the time). In our Tempur-Adapt topper review we found it delivered plush, ultra-soothing comfort. The temperature regulation isn't as good as you'll find with the Saatva Graphite, but it does have a removable and machine-washable cover, while the Saatva is spot clean only.