Saatva Foam Mattress Topper review in brief
The Saatva Foam Mattress Topper will give your existing mattress a small but noticeable boost in comfort. (It only has a 1.5-inch profile.) We previously reviewed the graphite version and think it's one of the best mattress toppers you can buy — you can read more about that in our Saatva Graphite Mattress Topper review. But how does the less expensive high-density foam model compare? After three weeks of sleeping on a twin Saatva Foam Mattress Topper, here's what we discovered...
Saatva Foam Topper specs
Inner: High-density foam
Cover: Organic cotton
Straps: Yes
Thickness: 1.5 inches
Trial period: 180 nights
Warranty: 1 year
MSRP: $195 - $390
Price bracket: Premium
It features a 1.5-inch high-density foam layer wrapped in a breathable organic cotton cover. This lends it a medium-firm feel for a more subtle cradling of your body. We found it excellent for side sleeping, especially since we paired it with a mattress that wasn't as accommodating for that position. Back and stomach sleepers, on the other hand, may find it doesn't provide enough support along their midsection.
Our lead tester didn't wake up warm or sweaty, but we'd sooner recommend a proper cooling topper for those who chronically sleep hot. It's a well-constructed topper overall, but it did slide around during sleep, despite the presence of corner straps. (The smooth surface of our mattress likely didn't help matters.) Meanwhile, the cover is prone to bunching up in areas, but it'll smooth out over time.
A twin retails for $195, and the MSRP of a queen is $295. It's not discounted often, but you may find the rare bargain when shopping for the best mattress topper deals. It does come with a 180-night trial, which is very generous for a topper (and longer than we see included with some of the best mattresses), but the 1-year warranty is meager for the price you pay.
Still, as a low-cost way to bring Saatva's signature comfort into your bedroom, it's certainly an attractive option for side sleepers who don't need to completely overhaul the feel of their current mattress. Read on for our complete Saatva Foam Mattress Topper review...
Saatva Foam Mattress Topper review: Materials & design
A 1.5-inch layer of high-density foam
Organic cotton cover has corner straps
The cover is spot-clean only
The Saatva Foam mattress topper consists of a 1.5-inch high-density foam core with an organic cotton cover. Saatva designed this medium-firm topper to add pressure relief and cushioning to an existing mattress. Side sleepers in particular should get on well with it, although the brand says it'll suit any position.
There are elastic straps on each corner to keep the topper in place, but they're not adjustable. While the cover is removable, it is not machine-washable. In case of a stain or spill, you can spot-clean and air-dry the topper.
Learn how to clean a mattress topper so it stays fresh every night. You'll also want to wrap it in one of the best mattress protectors to help it last longer.
Saatva Foam Mattress Topper review: Prices & deals
An upper-mid range topper, from $195
Seldom on sale, outside of a rare 12% off discount
Generous 180-night trial, but only a 1-year warranty
Saatva offers three types of mattress toppers: standard foam, latex, and graphite foam. The standard Saatva Foam Mattress Topper is the most affordable of the bunch, starting at $195 for a twin.
Here's the official 2023 pricing for the Saatva Foam Mattress Topper:
Twin: $195
Twin XL: $195
Full: $245
Queen: $295
King: $345
Cal King: $345
Spilt king: $390
Saatva mattress sales are always taking place but it's rare to find a deal for any variation of its mattress topper. At most, we've spotted a 12% discount that brought the price of a queen topper to as low as $259.
The Saatva Foam Mattress Topper has a profile of 1.5 inches, which is relatively thin compared to other toppers in this price range, which are at least 2 inches. For example, the Serta Comfort Zone Memory Foam Mattress Topper is also 1.5 inches high but you can buy it for less than $60 in any size.
However, Saatva includes a generous trial period of 180 nights. If you're not satisfied with the topper, you can return it within that timeframe for a full refund. On the flip side, Saatva's warranty is only valid for a year, which we find short for a topper of this quality – especially considering that brands like Molecule and Tempur-Pedic provide 5- to 10-year warranties with their respective toppers.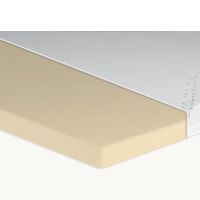 View the Saatva Foam Mattress Topper at Saatva
This is the least expensive of Saatva's three toppers, featuring 1.5 inches of high-density foam wrapped in an organic cotton cover. Sales for this topper are rare, but we have seen 12% off the MSRP in the past. A 180-night trial applies, as does a 1-year warranty.
Saatva Foam Mattress Topper review: Performance
A medium-firm foam topper that's best for side sleeping
Prone to shifting during sleep, despite the anchor straps
We didn't overheat, but this isn't a proper cooling topper
Our lead tester, and average-sized combi (side/front) sleeper, had just completed her Tempur-Pedic Tempur-Adapt mattress review when she got her hands on the Saatva Foam Mattress Topper. Since she didn't find the Tempur-Adapt comfortable for side sleeping, she was eager to find out if adding the Saatva topper would give her more relief in that position.
After sleeping on the Saatva Foam Mattress Topper for three weeks, our tester felt that it provided loads of comfort when sleeping on her side. In particular, she noticed a significant improvement in pressure relief around her shoulders, which wasn't readily present on her Tempur-Adapt mattress.
Our tester occasionally flops onto her stomach, and she preferred the firmer feel of her Tempur-Pedic mattress over the slightly softer Saatva topper in this position, specifically around her hips. The same was true for back sleeping, although our tester does not usually sleep in this position. (In our Saatva Graphite Mattress Topper review, we found it to be very supportive for back sleeping.)
A happy surprise for our tester was that she didn't wake up in a sweat while sleeping on the Saatva Foam Mattress Topper – especially after her Tempur-Adapt mattress caused her to overheat most nights. She used polyester-cotton bedding, wore lightweight pajamas, and kept her room temperature between 70 and 73 degrees F.
This baffled our tester because this isn't even Saatva's dedicated cooling model. She hypothesized that the organic cotton cover may have played a role in wicking away moisture and allowing air to circulate. Additionally, the Saatva mattress topper possibly acted as a barrier between our tester and the Tempur Material, which is prone to trapping heat.
The most glaring issue we experienced with the Saatva Foam Mattress Topper was that it often shifted during sleep, despite us securely fastening the anchor straps in each corner. It's possible the smooth surface of the Tempur-Adapt mattress contributed to this movement, but we believe this issue could have been mitigated if the Saatva topper had adjustable straps like the Viscosoft Active Cooling Mattress Topper to ensure a better fit.
Saatva Foam Mattress Topper review: Delivery & extras
Our Saatva Foam Mattress Topper arrived in a brown box, rolled up and vacuum-sealed. It took some time for the topper to properly expand once we unfurled it — but it was packed away for a couple of weeks before we got around to trying it. Set-up is easy enough for one person to handle, though that may vary depending on your mobility.
There was no obvious off-gassing smell, which was a different experience than when we tested the graphite version of this topper a year ago. (Even then, the odor was slight and brief, though we did have to open a window.) Saatva uses CertiPUR-US certified foams in its products, so they contain minimal levels of the volatile organic compounds (VOCs) that produce a harmless but unpleasant "chemical" smell.
We were able to attach the topper to our bed using the elastic anchor bands in each corner. One minor issue we noticed was that the cotton cover bunched up in a few areas, particularly during the initial set-up period. However, this didn't affect the topper's overall performance, and the cover flattened out naturally over time.
Extras are a mixed bag here. There's a 180-night trial, so you can test it out across multiple seasons and scenarios. However, the warranty is only valid for a year. Although we have confidence in Saatva's reputation for producing high-quality bedding and mattresses, a 1-year warranty falls mighty short compared to other major brands that offer 5 to 10 years of coverage against defects.
Saatva Foam Mattress Topper: Customer reviews
Has a 4.8/5 star rating from limited reviews
Praised for adding some softness to a firmer bed
However, some people wish it was plusher
The Saatva mattress topper is only available to purchase from the brand directly. It has a 4.8-star rating out of 5 from over 150 reviews as of March 2023. Note that this is a cumulative score for all three versions.
Reviews specific to the standard foam version say that it does a sufficient job of making a firm mattress softer. (Several accounts are from customers who purchased a Saatva mattress that felt too hard for them.) There's also praise for its pressure relief, quality of materials, and Saatva's attentive customer service.
Among the smattering of 4- and 3-star reviews are sleepers who say this topper sleeps warm and isn't soft enough for their liking. Of course, firmness is subjective — but this topper is only 1.5 inches tall so it's not designed to be very plush.
Should you buy the Saatva Foam Mattress Topper?
If your mattress doesn't need a drastic change in comfort, the 1.5-inch Saatva Foam Mattress Topper should do the trick, especially if you're a side sleeper. Our tester thought it complemented her Tempur-Adapt mattress perfectly – it added the pressure relief that was sorely lacking along her shoulders.
For stomach and back sleeping, it may make your mattress a touch too soft around the hips and lumbar. For back sleepers, we recommend the 3-inch Saatva Graphite Mattress Topper instead since it provides better all-over support. Stomach sleepers, on the other hand, may prefer the firmer 1.5-inch Saatva Latex Mattress Topper.
Our tester didn't sleep warm on the Saatva Foam Mattress Topper, but keep in mind that this isn't a proper cooling topper. If you frequently struggle with night sweats, we suggest going for the graphite version of Saatva's topper or checking out the 3-inch, copper-infused Molecule CopperWELL Mattress Topper.
We wish the warranty period was much longer than a year and that the anchor straps were adjustable. However, a 180-night trial is the longest we've seen offered for any topper so you'll have plenty of time to figure out if it's right for your needs.
Bottom line: if a full-sized Saatva mattress is out of your budget, the Saatva Foam Mattress Topper is an affordable alternative that still offers the brand's signature luxury comfort and support.
Saatva Foam Mattress Topper review: Alternatives to consider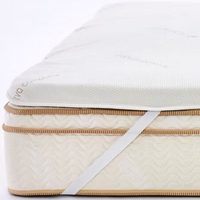 Saatva Graphite Mattress Topper
This is the mid-range model in Saatva's line of mattress toppers; a queen retails for $445. It has a 3-inch graphite-infused memory foam layer plus a breathable organic cotton cover like its high-density foam counterpart. If you tend to overheat and primarily sleep on your back, this version of the Saatva mattress topper may be the right choice for you. We found it provided the best all-around comfort for back sleeping, although it may be too plush for heavier bodies. There's also a subtle cool-to-the-touch feeling, and temperature regulation is on par with some of the best cooling mattresses we've tried. The same trial and warranty terms apply (180 nights and 1 year, respectively). Read more in our Saatva Graphite Mattress Topper review.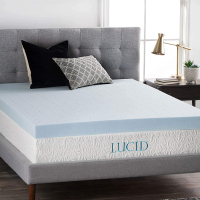 Lucid Gel Memory Foam Mattress Topper
Meanwhile, if you're working with limited funds the lusciously-plush 4-inch Lucid Gel Memory Foam Mattress Topper will be much easier on your wallet. (A queen retails for $120 and it's regularly on sale for less at multiple retailers.) It'll effectively soften up even the firmest mattress, and it provides exceptional comfort for side sleepers. Perforations in the gel-infused foam layer resulted in cooler sleep than we expected from a budget topper — but since it is a budget topper, it may not last as long as something more expensive. (However, it does come with a 3-year warranty.) Read more in our Lucid Gel Memory Foam Mattress Topper review.