Naturepedic Adagio Mattress Topper review in brief
If you need to soften a firm mattress or squeeze a little more life out of an old one, the Naturepedic Adagio 2" Organic Latex Mattress Topper does that – and more. This premium topper is made from latex, with a cotton stretch knit fabric cover, and the whole thing is certified organic. From a comfort perspective, this is one of the very best mattress toppers we've tested.
The organic latex is designed to provide pressure point relief – and it does that well by redistributing weight and keeping the spine aligned, especially when sleeping on your side. The mattress is 2 inches in depth, so it's firm enough to be supportive, but still soft enough to provide marshmallowy comfort. While exact preferences will vary, for most people, we think the Naturepedic Adagio 2" Organic Latex Mattress Topper will provide a comfortable balance of firmness and cushioning.
Naturepedic Adagio topper specs
Inner: Organic latex
Cover: Organic cotton
Straps: No
Thickness: 2 inches
Trial period: 100 nights
Warranty: 10 years
MSRP: $499 - $849
The cover is smooth under sheets, but has enough texture that it won't slide around the bed or need to be readjusted – which is good, because there are no straps to anchor this topper in place. We found the Adagio topper remained cool throughout the night, so you don't wait up hot and sweaty. But be advised that you can't take the cover off and launder it, and this may be a concern for people prone to spillages.
At $749 for a queen size, this is also one of the most expensive mattress toppers on the market, even factoring in the fact you always pay a premium for organic products. (It's more expensive than some of the budget options in our best mattress ranking.) If you can afford it, it might be worth it though – we'd recommend it for side sleepers in particular, as well as those with joint pain, since it does such a good job of providing joint relief. You have a 100-night trial to make sure it suits you, and latex is also renowned as one of the most durable mattress materials, so it should last a good long time too. Read on for our full Naturepedic Adagio 2" Organic Latex Mattress Topper review below.
Naturepedic Adagio Latex Mattress Topper review: Materials & design
2-inch thick, organic latex mattress topper
Organic stretch cotton fabric cover
No straps and cover can't be removed
The Naturepedic Adagio 2" Organic Latex Mattress Topper is made of organic latex, and designed to provide pressure point relief for aching joints. Latex foam offers some of the same benefits as memory foam, in that it'll meld to your shape and provide custom support as you sleep. It's also renowned as being one of the most durable mattress materials around, which bodes well for longevity. Naturepedic doesn't specify if it's Dunlop or Talalay latex found in the Adagio topper, but it is described as organic, and comes with GOTS approval, which means it meets certain environmental and socially responsible manufacturing standards.
The cover is made of a stretch-knit organic cotton fabric, which provides a luxurious touch. There are no straps or elasticated skirt here, but the cover is textured enough to keep the topper in place on the bed. Disappointingly, the cover isn't removable and is spot-clean only. (Overall, we'd recommend adding one of the best mattress protectors for easy and efficient cleaning.)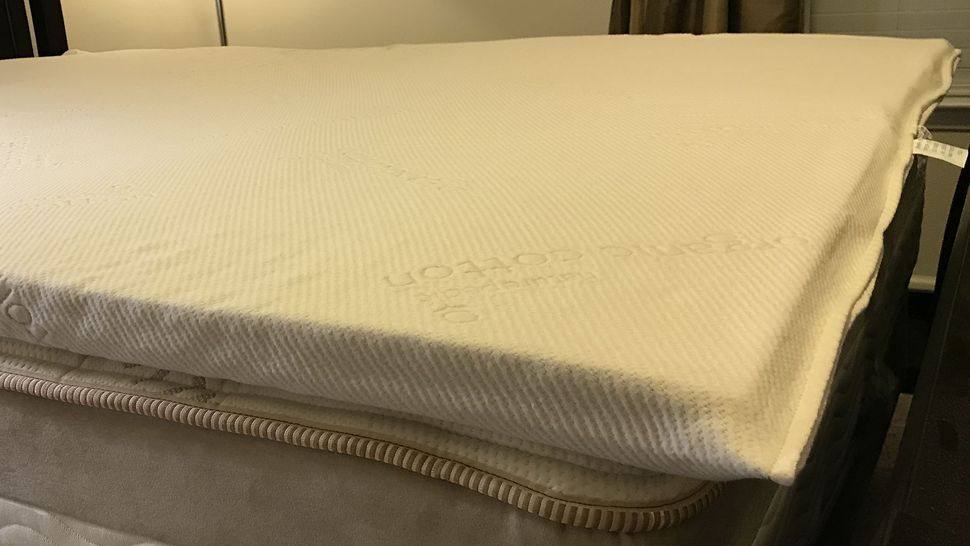 Naturepedic Adagio Latex Mattress Topper review: Price
Top of the market in terms of price
Available in six sizes ranging from Twin to California King
Only available on the Naturepedic site
The Naturepedic Adagio 2" Organic Latex Mattress Topper is considered a luxury topper – in fact, it sits at the top of the premium mattress topper market. This isn't hugely surprising; in general, you'll always pay a premium for an organic product. It's only available to buy direct from Naturepedic, with an MSRP as follows:
Twin: $499
Twin XL: $549
Full: $649
Queen: $749
King: $849
Cal King: $849
Clearly, this isn't a bargain option – if price is your main deciding factor, you can buy cheap mattress toppers for under $50. Instead this is aimed at people who don't want to compromise on quality or those organic credentials. Although do note that it's not a massive jump in price between this topper and some of the models in our best organic mattress ranking (the cheapest full organic latex mattresses will cost you in the region of $1,099 for a queen, compared to $750 here).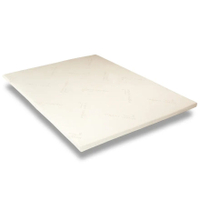 View the Naturepedic Adagio 2" Organic Latex Mattress Topper
The Adagio is a premium-priced, 2-inch thick mattress topper that's only available to buy direct from Naturepedic. We haven't spotted any sales, but it's worth checking around major sales events if you're keen to snag a discount. It comes with free shipping, a 100-night trial and 10 year limited warranty.
Naturepedic Adagio Latex Mattress Topper review: Performance
Marshmallowy soft sleep feel with excellent pressure relief
Best for side sleepers who like plushness or have a too-firm bed
Sleeps cool even with additional bedding
The Naturepedic Adagio 2" Organic Latex Mattress Topper is definitely soft, and really excels when it comes to relieving pressure points and ensuring our tester didn't wake up with any aches and pains. However, just because it's soft doesn't mean that it isn't supportive. The organic latex helps to redistribute weight, and it's thin enough so as not to feel too unstable.
Our main tester tends to go to sleep on her side and wake up on her stomach, and during our three-week testing period, she found the mattress topper provided support in both of those positions. Even when she slept on her back (which admittedly, wasn't often since that's not a natural position for her), the mattress topper provided support. Overall we'd say this level of softness is best for side sleepers – who tend to add pressure to their shoulders and hips in this position – as well as anyone who suffers from joint pain.
We realize that there's no one-size fits all mattress topper for pressure relief. For example, some people who sleep on their stomach might do better with a firmer option, while side sleepers might sleep more comfortably with an even softer mattress topper. Also keep in mind what you're putting it on top of. Our tester prefers a soft mattress topper because she has a medium-firm Saatva Loom & Leaf Mattress, and a soft mattress topper helps to balance the mattress and make it less rigid. If you have a soft mattress, you may prefer a firmer mattress topper to balance it out.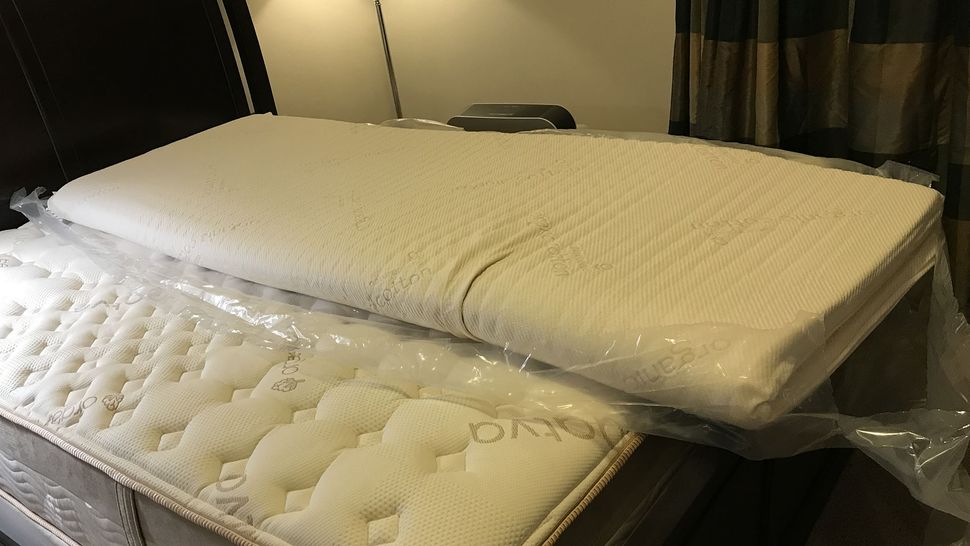 The first few nights, we didn't put any bedding on top of it, so we could observe its performance without any interference. It's not necessarily cool to the touch, but the important thing is that it kept us cool throughout the night.
When we added bedding (Casper percale sheets and down duvet), the Naturepedic mattress topper remained cool when we slept. That's because the latex material doesn't trap body heat, which makes it a good choice for those who sleep hot (like our tester). Throughout the testing process, the Naturepedic Adagio 2" Organic Latex Mattress Topper dissipated heat and regulated our tester's body temperature to keep her comfortable throughout the night.
Although the cover feels smooth beneath bedsheets, it's textured enough that we didn't have an issue with this topper shifting about on the mattress overnight. For such a premium priced product, we'd prefer some straps to anchor the topper in place. The fact that it's spot-clean only, and not removable, is also a bit disappointing – we'll have to add a mattress protector to ensure it stays looking box-fresh.
Naturepedic Adagio Latex Mattress Topper review: Delivery & extras
The Naturepedic Adagio 2" Organic Latex Mattress Topper arrived in a Naturepedic-branded shipping box. It was very securely wrapped in one very long sheet of plastic – which was rolled completely around the mattress topper twice, so it was the equivalent of two layers of plastic. After cutting through this outer layer, there was yet another layer of plastic. It took about five minutes to carefully cut through it all – but we're not complaining because we love this level of care.
The mattress topper started expanding immediately. We don't stand around and clock expansion times, but when we came back in the room about 30 minutes later, the mattress topper had fully expanded. Fortunately, there were no off-gassing smells.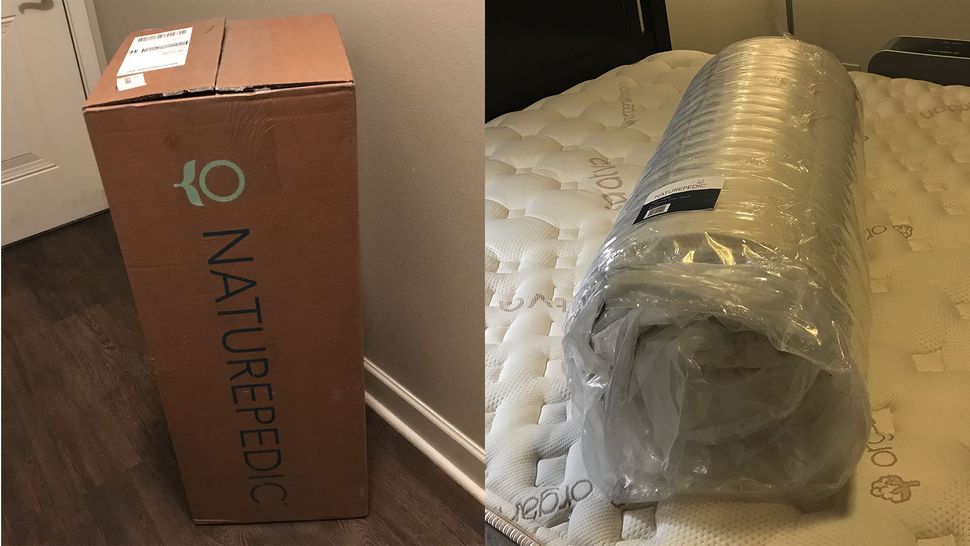 The extras are good, as you'd expect for the premium pricing. There's free delivery and returns, and a full 100-night sleep trial which you can use to make sure this topper suits your needs. There's also a 10-year limited warranty.
Naturepedic Adagio Latex Mattress Topper review: Customer reviews
Very limited number of reviews at time of writing
Most reviews are extremely positive
Complaints include it being heavy and lack of removable cover
The Naturepedic Adagio 2" Organic Latex Mattress Topper is only available on the Naturepedic website. At time of writing, it has 25 reviews with an average score of 4.6 (March 2023), with 100% of respondents saying they'd recommend the mattress topper to a friend. Overall, the verified buyers found it really comfortable and cushy, and some praised it for being supportive and for relieving soreness and joint pain. However, there were also a few complaints. One person returned it for being too heavy, another person thought it was too thin, and a third person commented on a latex odor that caused her to remove it from her bed.
Should you buy the Naturepedic Adagio Topper?
How good is the Naturepedic Adagio 2" Organic Latex Mattress Topper? Let's put it like this: our tester tries out a lot of mattress toppers, but this is the one she comes back to when testing is over. That's because she considers this to be the Goldilocks mattress topper: the 2-inch profile is not too soft (although it's on the soft side) and not too firm. For someone with a relatively firm or medium firm mattress, a side or stomach sleeper, and a person who needs joint pain relief, this seems like an ideal purchase.
We only have two complaints: the mattress topper isn't washable, and the price is extravagant. But if you want to treat yourself to an organic latex mattress that feels plush and marshmallowy, while also providing support, it's an excellent choice.
Naturepedic Adagio Mattress Topper review: Alternatives to consider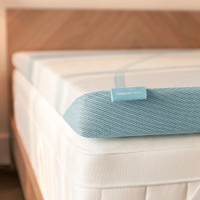 Tempur-Pedic Tempur-Adapt Mattress Topper
The Tempur-Adapt Topper is also a good choice for side sleepers and those with joint pain. A queen size retails for $419, and is often on sale for almost half of that. Both mattress toppers are designed to relieve pressure. However, the Tempur-Pedic is 3-inches thick, and some people may find that extra inch makes the mattress topper too soft. The Tempur-Pedic has straps to keep the mattress in place, and the cover is removable and washable, making it more convenient to keep clean. It's an extra $60 to upgrade to the cooling topper, but that's still significantly less than the Naturepedic. Read more in our Tempur-Pedic Tempur-Adapt Mattress Topper review.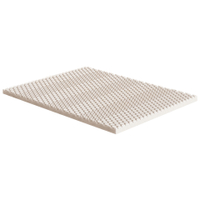 Molecule CopperWELL Mattress topper
For more targeted pressure point relief, the CopperWELL Mattress topper has a 7-zoned design. It provides specific relief for shoulders, hips, and knees, head, waist, legs, and feet. It's also costs significantly less than Naturpedic – a queen size is $250. However, the mattress topper does not have any type of cover (the company says the lack of a cover allows sleepers to directly experience support provided by the different pressure-relief zones). And the 3-inch topper may also be too soft for some people. Read more in our Molecule CopperWELL Mattress topper review.