Viscosoft Serene Hybrid mattress topper review in brief
Viscosoft Serene Hybrid is a two-layer mattress topper that includes a layer of memory foam beneath a down-alternative pillow top. It has a medium-soft feel, with a cloud-like sink that makes lying in bed instantly feel luxurious. We tested a queen Serene Hybrid for about a month, and found it excels at taking the pressure off key points of your body, especially when you're a side sleeper, while still offering plenty of support so you don't wake up sore instead of well-rested. That makes it one of the best mattress toppers for combination sleepers, who frequently change position in the night.
Viscosoft Serene Hybrid mattress topper specs
Inner: Gel-infused memory foam, down-alternative fill
Cover: 300-thread count cover with down alternative-fill
Thickness: 4" (3" also available)
Straps: Yes
Trial period: 90 days
Warranty: 5 years
MSRP: From $169.95
We think the Viscosoft Serene Hybrid may be proof that mattress toppers aren't mere add-ons to less-than-perfect mattresses. Traditionally, mattress toppers are used as a fix if your mattress isn't up-to-par – it lacks support, doesn't offer pressure relief, or doesn't have any cooling properties – or if it's just a bit old and not delivering like it used to. But we tested the Serene Hybrid on a mattress that's incredibly comfortable and supportive to begin with (the Brooklyn Aurora Luxe, since you ask), and found it filled an already full cup to the brim without overindulging.
That isn't to say, of course, that it's completely without fault. For one, while it has an elasticated skirt to keep the pillow-top in place on the foam layer, as well as adjustable straps to anchor the whole thing to your mattress, we still had a few issues with things getting misaligned.
It's not the cheapest option around, but regular deals take it down into mid-range territory, which is pretty good value considering the two-part design (and, of course, much cheaper than investing in one of the best mattresses). Read on for our full ViscoSoft Serene Hybrid mattress topper review, where we take a closer look at the design, comfort, support, extra features and value to help you decide whether it's the right purchase for you.
Viscosoft Serene Hybrid topper review: Price
Mid-range mattress topper, with regular deals
Queen size is $329.95 at MSRP, but often discounted to $249.95
Not the cheapest, but excellent value for the two-part design
While you can find very cheap mattress toppers under $50 at places like Amazon and Target, they're typically basic in design and are really only designed as a short-term fix. The ViscoSoft Serene Hybrid sits in the mid-range, with regular topper deals that take the price down so you don't have to pay MSRP. Here's a rundown of the prices for the main sizes in the four-inch model that we tested:
Twin: MSRP $239.95 (often discounted to $169.95)
Queen: MSRP $329.95 (often discounted to $249.95)
King: MSRP $374.95 (often discounted to $279.95)
Cal King: MSRP $374.95 (often discounted to $279.95)
To take the price down further, you could consider the three-inch version, which costs $264.94 for the queen (usually discounted to $199.95). That price includes a 90-day money-back guarantee, free delivery to your door, and a 5 year warranty. Some pricier toppers don't come with a trial period at all, so that 90 days gets the thumbs up from us, and the warranty is also about standard.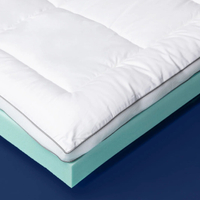 View the Viscosoft Serene Hybrid at Viscosoft
The Viscosoft Serene Hybrid is a fantastic mattress topper made up of two layers to deliver a plush yet still supportive sleeping experience. Though not a budget option, it's affordable and is often discounted at the Viscosoft online store. It also comes with a 90-day trial period.
ViscoSoft Serene Hybrid mattress topper review: Design
4-inch topper with two layers, with elasticated skirt and straps
1.5-inch down-alternative, machine washable pillow top
2.5-inch gel-infused memory foam for contouring support
The Viscosoft Serene Hybrid is made up of two layers: a 1.5-inch pillow-top cover that features a 300-thread count cover and a plush 400gsm down alternative fill, and a 2.5-inch gel-infused memory foam. That gives you four inches of slumbering bliss. It's designed to be breathable, but there aren't any specialist temperature regulation features here.
The pillow-top cover is machine-washable, just make sure to remove the foam layer before you throw it in the wash (figuring out how to clean a memory foam topper isn't that easy, so we're grateful for that extra washable layer). There's an 18-inch elastic skirt on the pillow-top, as well as four corner straps. If you've got a relatively thin mattress, the skirt might stretch over the entire thing, but otherwise the skirt will attach the pillow-top to the foam layer, and the straps will anchor the whole thing to your mattress. Together, these work to minimize – though not completely eliminate – slippage (we'll get into this more in the Performance section).
Meanwhile, the gel-infused memory foam is a certified, CertiPUR-US foam. Keep in mind that while you don't need to open any windows for off-gassing, you will still need to give the foam 24 hours to expand before putting it all together. If you've got pets and kids in the house, make sure to toss a cover over it or just close the door behind it.
The Viscosoft Serene Hybrid comes in seven different sizes: twin, twin XL, full, queen, king, California king, and (unusually) short queen, for RVs. We tested the four-inch version, but there's also a three-inch version with a thinner memory foam layer (2 inches rather than 2.5 inches).
Viscosoft Serene Hybrid mattress topper review: Performance
Plush and pressure-relieving yet supportive
Good temperature regulation and motion isolation
Anti-slip feature could be better
True to its hybrid nature, the Viscosoft Serene Hybrid is all about balance. It utilizes both down alternative fill and memory foam, and in doing so, it's able to give users that contouring yet supportive with a nice plushy luxe sink. Because of its medium-soft comfort, it isn't the most sensible choice for belly sleepers. But it's amazing for side and back slumber lovers.
We tested a queen Serene Hybrid for about a month, sleeping on our sides and back. We've never experienced any pressure point pain or spine misalignment discomfort – despite the fact that this tester historically errs on the side of medium-firm when it comes to mattresses and toppers (even our usual mattress topper is firmer than the Serene Hybrid.)
Comfort and support
The brilliant thing about the Viscosoft Serene Hybrid is that despite being medium-soft, it's still very supportive. Yes, there's that cozy, hugging sink in the beginning, but the second or bottom layer also combines pressure relief in the right areas with support in others.
When our main tester slept on her sides, they found there was enough sink to take some of that weight off around her shoulders and avoid restricting blood flow, but not so much that her hips sank in deeply, putting her spine into an unnatural position all night. It was the same case when she slept on her back – there's enough support to the lower part of our torso to maintain a healthy, neutral spine alignment. None of our testers experienced any soreness or back and shoulder pain sleeping on this topper.
Of course, it does depend a bit what type of mattress is under it, and if your mattress is too soft, and you need it a little firmer, this might not be ideal.
Temperature regulation
The Viscosoft Serene Hybrid doesn't come with any active cooling properties, of the kind you'd find in one of today's best cooling mattresses. Despite this, it does a decent job of regulating temperature: the down-alternative fill allows for good airflow while the gel-infused memory foam does its best to minimize heat retention. Our testers never felt hot on this topper, even when the rest of our room was sweltering at around 70F to 75F from the heater being on medium or the highest setting.
Do note that our main tester doesn't run especially hot, and if you regularly struggle with overheating at night, it might be worth investing in something specifically geared towards cooling.
Other features
Viscosoft says that the Serene Hybrid eliminates motion transfer, and while we can't agree fully, we found that it does minimize it a great deal. We tested this on a mattress that has practically non-existent motion isolation, and it made a massive difference.
We tested it out by balancing an empty wine glass on the topper, and then dropping a 5lb dumbbell on the bed 2 feet, 3 feet and 4 feet away from where it's standing. At two feet there was considerable movement; at one point, it even toppled over. That's still a good result for a topper.
Probably our biggest complaint here is that the topper could have a better system for minimizing slippage. While the two-part design makes a decent effort at staying in place, we found it tended to start slipping and leaning towards where we usually get in and out of bed after a few days. We think it could have used a textured, semi-sticky base that would have helped prevent misalignment. As it is, you might find you have to readjust it every week or so.
Viscosoft Serene Hybrid mattress topper review: Delivery & extras
Free delivery typically within 3 business days
90-day sleep trial to make sure it suits you
Off-gassing odor quickly dissipated
The Viscosoft Serene Hybrid comes in a moderately heavy, medium-sized box, but you need not worry about shipping. Viscosoft offers free delivery, via Amazon Fulfillment, within three business days so long as you place your order before 2pm EST. Sadly for customers outside the mainland US, however, the brand only ships its products within the 48 contiguous United States, so you're better off finding an alternative if you're outside the region.
If you are in the mainland US, you can order worry-free as the Serene Hybrid comes with a 90-day trial period. That means that you have 90 days to test the product, and if you're not completely happy with it, you can return it and get a full refund as long as you do so within 90 days of purchase. It also comes with a five-year warranty.
The product comes in two pieces – the rolled-up and vacuum-sealed memory foam and a blue storage bag that stores the cover. Setting it all up is relatively easy, and we didn't have any major issues with off-gassing – there was a slight odor when we unrolled the foam, but it wasn't bad, and it quickly dissipated. The only thing is that it is vital to give the memory foam 24 hours to properly expand, which means you won't be able to finish putting it all together and use it until the next day.
Viscosoft Serene Hybrid topper review: Customer reviews
Average of 4.5/5 over 1,900 reviews (March 2023)
Customers mentioned improved sleep comfort and pressure point relief
Some reports of off-gassing taking longer
The Viscosoft Serene Hybrid enjoys mostly positive reviews from verified customers – more specifically, 4.5 out of 5 with many five-star reviews. Not everyone absolutely loved it, but those who did praised its comfort, with many saying that it alleviated their back pain and other issues, and a handful commending its motion isolation capabilities. Most positive reviewers also said that the topper improved the quality of their sleep.
There are some 3 and 3.5 out of 5 reviews, with those reviewers claiming either that the topper hasn't made a difference or it has somehow worsened their back pain. Based on our experience with it, we're guessing this is likely because they either needed a firmer topper or have a mattress that was already too soft. A couple of people also mentioned that it took longer for the odor to disappear – although most didn't seem to have that experience at all.
Should you buy the ViscoSoft Serene Hybrid mattress topper?
Mattress toppers are sort of treated like a last-resort option for those who aren't satisfied with their mattress. The Viscosoft Serene Hybrid topper, however, makes a case for getting it for the sake of having that added luxurious comfort – even if you already have an amazing mattress under it.
Thanks to its hybrid design, which combines gel-infused memory foam with a pillow-top cover with down-alternative fill, you're getting pressure relief and cloud-like comfort but also plenty of support. That makes it great for side and back sleepers as well as combination sleepers – though it might be a bit too squishy for most front sleepers. It also offers good motion isolation and temperature regulation so that regular, non-hot sleepers stay comfortable throughout the night.
The mid-range price is great value for what you're getting here, and if you're not happy with it, you have 90 days to return it.
ViscoSoft Serene Hybrid review: Alternatives to consider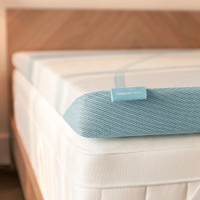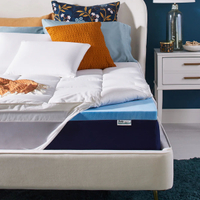 Sleep Innovations Dual Layer Topper
This 4" topper boasts a similar two-part design to the Viscosoft one, with gel memory foam plus a quilted cover and an elasticated skirt. This is a cheaper option, so the overall quality is likely to be lower than the Viscosoft version, but it'd be a great alternative if you're on a tight budget. Also note that it's on the soft side, and while that will suit many side sleepers, overall there's less support than you'll find with the Viscosoft offering.