4 Reasons to Buy The Crew 2 (and 4 Reasons to Skip It)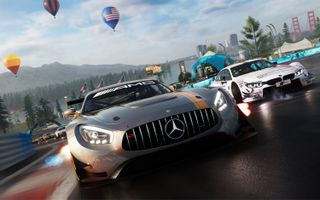 Is The Crew 2 worth the (road) trip?
Summer's in full swing now, so it's only fitting that The Crew has returned to take thrill seekers on an epic cross-country journey they won't soon forget. Once again, Ubisoft's Ivory Tower studio has claimed the entirety of the continental United States as the setting for its latest open-world racer. Only this time, cars represent just one of a few ways to get around. The Crew 2 sheds its predecessor's Fast and Furious-aping story (family, revenge, etc.) and spares little time getting you on the road, in the air or out at sea — and it's a better trip for it.
However, much like with the first Crew, the sequel offers anything but a smooth experience. Awkward vehicle handling; lifeless, ugly environments; an overreliance on loot crates; and missing multiplayer modes undermine the fun. The Crew 2 is an arcade racer with conflicting characteristics, and thus what follows is a list of reasons why this title is and isn't worth your time.
Image Credit: Ubisoft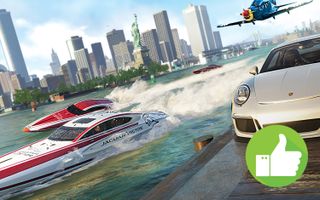 A huge, sprawling open world
The Crew 2 condenses the entirety of the mainland United States into a map that can be traversed from coast to coast in about an hour (by car, anyway). It's not the richest or most inspiring open world we've seen in a racer, but nothing compares to its scope.
I have a feeling that upon starting The Crew 2, everyone who plays it will want to flout their first objective and venture somewhere in the country — perhaps to their hometown or their favorite vacation spot. Jersey native that I am, I bolted for Bayonne, simply because it's oddly one of the only locations in the state labeled on the map. That's not something I ever expected to say I did in a video game, but I'm glad The Crew 2 gave me the opportunity.
Image Credit: Ubisoft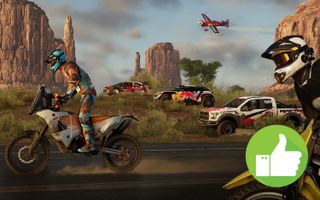 You can drive anything
Diversity defines The Crew 2's world, but it also applies to the vehicle roster. Ubisoft's racer puts you behind the wheel (or stick, or handlebars) of hundreds of cars, planes, boats and motorcycles. There are drift stages, rally raids, powerboat races and even aerobatics trials. Some longer-form challenges actually combine multiple modes of transportation into a triathlon, placing you in different machines to complete each leg of the journey. If it has a motor and goes fast, The Crew 2 lets you tame it.
Image Credit: Ubisoft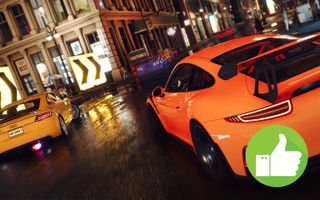 Co-op cruising
Like so many of our favorite open-world multiplayer racers, The Crew 2 encourages you and your friends to travel and take on challenges together. Players can effortlessly invite up to three of their mates into their games to tag along on adventures. But even better, most of The Crew 2's campaign events are playable in co-op mode, and if one of your buddies wins, so does the whole squad. In other words, it's not only way more fun to play as a team, but far more rewarding, too.
Image Credit: Ubisoft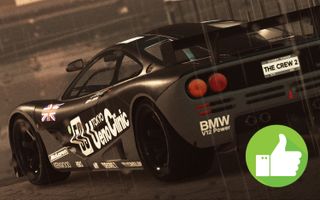 Customization nation
One of the major omissions from the first Crew, when compared to the likes of Forza Horizon and Need for Speed, was a bona fide livery editor. The Crew 2 doesn't offer much in the way of body kits, spoilers or other cosmetic upgrades (though you can choose between a couple of stock rims when you buy a car). But the game's new livery editor offers quite a robust feature set for anyone who enjoys painting their rides as much as driving them. And that's an awfully good thing because...
Image Credit: Ubisoft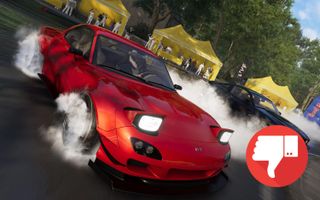 The handling needs work
Of course, your mileage may vary (no pun intended there). But if you're expecting Forza or Driveclub-esque driving dynamics — with weight transfer, oversteer and all the trappings of an engaging handling model — you'll be disappointed in The Crew 2, which has none of that. The cars aren't responsive much of the time, but every so often, they overreact to steering inputs. They're also uncannily light and dart around flatly, with no sense of inertia or mass, and they interact inconsistently with solid obstacles.
That might seem like no big deal for an arcade racer, but Forza Horizon manages gameplay that's both nuanced enough for seasoned sim racers and spirited enough for amateurs. The upshot is that the cars in The Crew 2 — the vehicles you're most likely to encounter — just aren't fun to drive, which often means the game isn't fun to play. Perhaps you'll want to spend the bulk of your time racing planes instead.
Image Credit: Ubisoft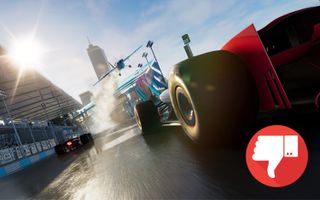 Lifeless environments
When you have a world as large as The Crew 2's, the level of detail will likely fall by the wayside. Developers just can't put the same degree of attention into so many hundreds upon thousands of square miles as they can into linear, constrained circuits. And The Crew 2 is guilty of that fault, perhaps more so than any other open-world racer in recent memory.
The roads between major cities are too often long stretches of highway that you'll probably fall asleep on. The urban centers themselves are uninhabited concrete ghost towns totally devoid of any of the personality of their real-world counterparts. (New York contains maybe a quarter of Times Square, as well as the most ridiculous-sounding randomly generated storefront signs I've ever seen.)
The cars, paradoxically, are works of art built to precise detail that you can appreciate using the game's photo mode. But the same can't be said about much of The Crew 2's America.
Image Credit: Ubisoft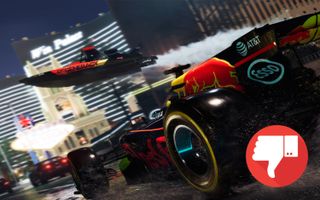 Limited multiplayer modes
The existence of co-op play is nice, but it's not enough. As it stands, The Crew 2 has no provisions for competitive racing online. That's an astonishing oversight in this day and age, and especially unforgivable considering the game features a strict always-online requirement. Ivory Tower says that a true PvP mode will arrive in December, but that's a long way away, and it's hard to imagine players holding their breath for another five months.
Image Credit: Ubisoft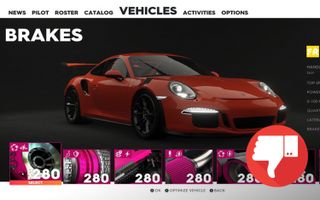 Hope you like loot crates
The Crew 2 isn't the first racer to embrace loot crates. Need for Speed Payback did it too, albeit with a more complicated system, and Onrush employs crates for vehicle skins and other cosmetic enhancements. But The Crew 2's approach forces you to use crates anytime you want to make a qualitative improvement to the performance of your car, which is absolutely the wrong way to go about it.
You get crates by winning them through podium finishes or finding them on the map during limited time intervals. In a game that prides itself on representing the culture of U.S. motorsport, the reliance on loot crates for parts depersonalizes your garage and sucks all the enjoyment out of building your ride precisely the way you want. And what could be less American than that?
Image Credit: Ubisoft