The best PC game controllers provide a great alternative to using a mouse and keyboard and are an especially good fit for those who have switched from gaming on a console to playing on PC. Using a controller on PC might not make sense for first person shooters but for platformers and racing games, the right controller can make all the difference.
Unlike with the Xbox Series X, the PS5 or even the Nintendo Switch, PC is by far the most versatile when it comes to inputs. Besides Bluetooth, PCs have plenty of extra USB ports for using a wired controller or a controller with a 2.4 GHz dongle for lower latency. While it can be difficult to know where to start or which device to choose when shopping for the best PC game controllers, Microsoft's standard Xbox Series X/S controller is the best choice for most people at $60. It's also the most well supported controller on PC and most games are already optimized for it.
If you already own an Xbox Series X or Series S, a PS5 or a Nintendo Switch, you can try using one of the controllers you already own as they all work with PC either over Bluetooth or wired over USB. Still though, there are other more specialized PC game controllers on this list worth considering as well. Read on for our picks of the best PC game controllers, including the Xbox Wireless Controller and several other worthy contenders.
The best PC game controllers you can buy today
Why you can trust Tom's Guide Our expert reviewers spend hours testing and comparing products and services so you can choose the best for you. Find out more about how we test.
The Xbox Wireless Controller is the best PC game controller for most players, as it just simply works. With wired, USB and Bluetooth connectivity, it can connect to just about every gaming device in your home; with a comfortable, ergonomic grip, you can hold it for hours at a time. It has a straightforward, sensible button layout, and its size should suit just about everyone: teens and adults, as well as men and women. Most PC games already come optimized for the Xbox Wireless Controller, and will display its button layout and prompts accordingly.
The device has a few downsides. By default, it runs on AA batteries; a rechargeable pack costs extra. You'll also have to buy a separate adapter if you want USB connectivity on your PC, which tends to be a bit faster and more reliable than Bluetooth. Otherwise, this is the right controller for most gamers.
The Xbox Elite Series 2 controller is the most expensive model we evaluated, costing up to $180. (For comparison purposes, an Xbox Series S — which comes with a standard Xbox controller — costs $300.) And yet, if you can stomach the cost, there's an awful lot to like here. Unlike the standard Xbox Wireless Controller, the Elite Series 2 lets you adjust the tension of the analog sticks and the trigger buttons. There's also a superior grip, a removable D-pad cover, a rechargeable battery and even an optional set of back paddles that you can use as additional buttons.
As to whether any of these features make a tremendous difference, it depends largely on your playstyle. If you find the default Xbox controller perfectly good, there's no real reason to pay three times as much, especially considering that the core design is identical. But if you have some extra cash on hand, the Elite Series 2 just about justifies its high price.
The DualSense Wireless Controller has been a divisive peripheral ever since Sony first revealed it. While some gamers adore its unconventional appearance, which represents a radical departure from the well-worn DualShock design, others think that it's too big and offers too much real estate to its underutilized touchpad. In either case, if you own a PS5, it's worth at least trying out the DualSense with your PC before you run out and buy another peripheral.
Unlike the Xbox Wireless Controller, the DualSense isn't optimized for most games by default, and you'll have to use your imagination to figure out where every button corresponds. But you can do some cool things with the device's touchpad and lighting, if you're wiling to dive into some Steam Big Picture options. It's also worth checking out for gamers with large hands.
The Amazon Luna Controller is one of the more unconventional choices on the list, but it's probably worth investigating if you're already ensconced in the extensive Amazon product ecosystem. It's comfortable and functional, with textured thumbsticks, a smart button layout and a surprisingly good D-pad. It's also optimized for Amazon's Luna streaming service out of the box, and connects easily to Fire TV devices as well.
The controller can connect to PCs via Wi-Fi, which offers a faster and potentially more stable connection than Bluetooth. But the tradeoff is that the Luna controller is a bit more expensive than the competition. It also requires a few extra hoops, in the form of a dedicated driver and mobile app. Getting the device up and running is not nearly as seamless as it could be.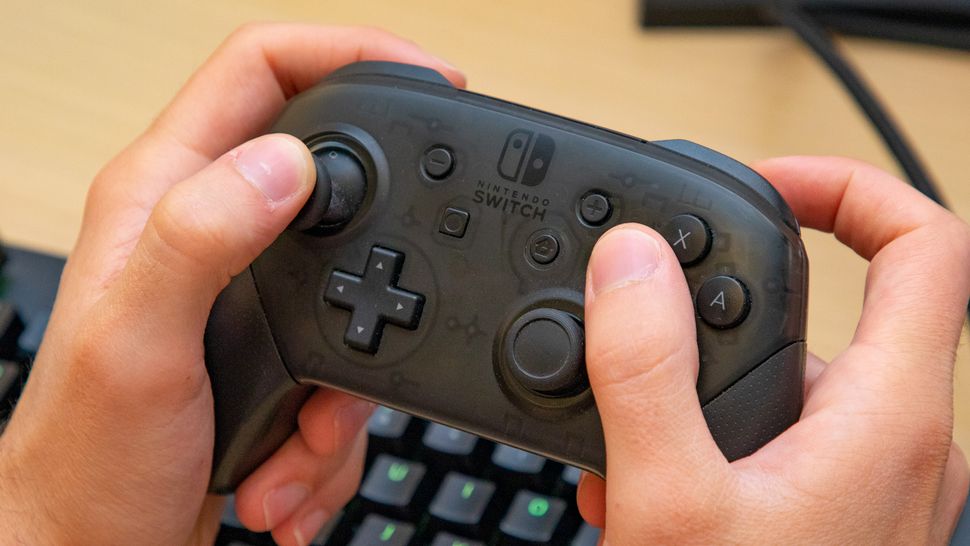 The Nintendo Switch Pro Controller is pretty similar to the Xbox Wireless Controller, but $10 more expensive. Its connection can be extremely mercurial, depending on your PC's Bluetooth protocol, and Nintendo's support for the device's PC functionality is essentially nil. However, as a Switch accessory, the Pro Controller is unrivaled. As such, if you happen to own one anyway, you might find that it makes an excellent PC controller, too.
If there's one strong reason to recommend the Switch Pro Controller, it's because it's simply comfortable to hold. The device is a bit lighter than some of its competitors, and has a smooth chassis with an intriguing see-through design. The D-pad is also a cut above what most PC controllers offer. It's not an ideal PC game controller, but it's a pretty good one — if it plays nicely with your system.
Sony's last-gen DualShock 4 controller still has some viability as a PC accessory. That's largely thanks to an enthusiast community of developers who have created software such as DS4Windows, which lets users fine-tune the PS4 controller for Windows 10 and 11. You can also play around with the controller's options in Steam Big Picture, even though relatively few PC games offer PS4 button inputs.
As Sony is planning to fully phase out the PS4 by 2025, the DS4 may not be widely available for much longer, which is a good and bad thing. While Sony is unlikely to implement any new PC features for the device, it also means that users may be able to find some pretty good sales as the PS5 gains prominence and the PS4 fades. If you like to tinker with your tech, the DS4 may be a good match.
The SteelSeries Stratus Duo is one of the few PC controllers from a major manufacturer that comes with a wireless USB dongle. This isn't a make-or-break feature, since Bluetooth is generally good enough for everyday play. Still, USB connectivity tends to be both faster and more reliable than Bluetooth, so the device is not without its charms. Apart from that, it also sports a vast array of buttons — too many, perhaps, but at least you'll have no trouble navigating your PC or mobile gaming platform of choice.
To be fair, the Stratus Duo costs the same as an Xbox Wireless Controller, and doesn't have any night-or-day advantages. Its grips are a bit too big, making some of the buttons feel cramped, and you can't use it with any Xbox or PlayStation consoles. As a PC and mobile peripheral, though, it works well.
How to choose the best PC game controller for you
For most gamers, the best PC game controller is the Xbox Wireless Controller. Developers tend to develop PC game controller schemes with this device in mind, right down to which button prompts you'll see onscreen. It's reasonably priced, comfortable to hold, works with both Bluetooth and USB protocols and includes a 3.5 mm audio jack, in case that's more convenient than plugging your headset directly into your PC. By the same token, the Xbox Elite Series 2 is also an excellent choice, but only if you're willing to drop $180 on a single peripheral.
The other devices we tested have more niche use-cases. However, if you already own a console — a PS4, PS5 or Nintendo Switch, specifically — you should at least try to use your existing controller with your PC before you run out and buy another one. Each one of those devices features Bluetooth connectivity, and under ideal circumstances, each one works well with PC games, particularly on Steam. When we tested these devices, our performance wasn't flawless on every machine. But they were good enough to work with, most of the time, and it's arguably better to use a device you already own than to drop $60 on something that fills basically the same function.