16 Tips for Mastering PlayerUnknown's Battlegrounds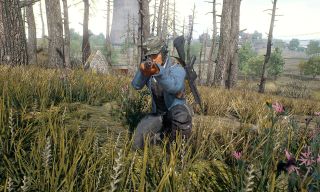 Last Soldier Standing
PlayerUnknown's Battlegrounds has officially taken gamers by storm. The competitive multiplayer shooter blends elimination-based combat with light survival mechanics, and the combination has managed to be a simple but effective shakeup of the usual shooter formula.
The downside to the game's sudden popularity and early-access status are that things can be pretty unclear at times, and a lot of details that could give players an advantage can be overlooked. So before you dive in, or even if you think you've mastered the game, take a look at our 16 tips for getting the upper hand in Battlegrounds.
Credit: Bluehole Studio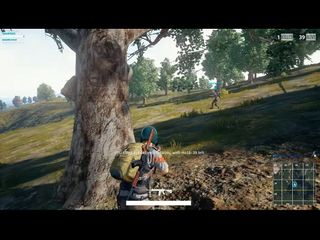 Play with a Friend
Since Battlegrounds doesn't operate like a conventional shooter, it helps if someone who can watch out while you get used to the controls can show you the ropes during a match. The only way to test things out is during a match. Even if your friend is also new, playing Duo Mode is a great way to trade observations back and forth that you might have otherwise missed.
Credit: jackfrags/YouTube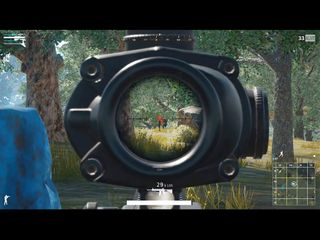 The Basics of Aiming
Battlegrounds shouldn't be too unfamiliar to fans of other shooters, but it might throw you a few curveballs. Right click lets you aim over the shoulder in third person when you hold the button down, but when you click the button, you enter ADS (aim down sights). Shoulder fire is better at close range, because it keeps your view from being restricted. ADS is more useful for long-range shots and is the only way to use a scope attachment. Fighting up close with a scope mounted? Just use shoulder fire to aim accurately, bypassing your scope.
Shoulder aiming can be awkward around corners, however, since the camera can get caught up on objects and even your own character model. To avoid this, use the Peek Left/Peek Right commands (by default set to Q and E) to swap which shoulder the camera is over. These buttons also let you peek around corners when you're in ADS mode.
Credit: jackfrags/YouTube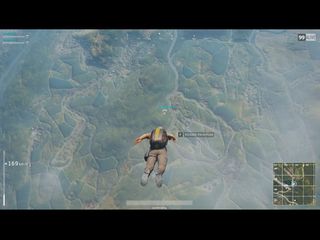 How to Skydive Effectively
Each match starts in a plane, and you get to choose when to eject. You'll want to aim for some buildings, but you might not want to land too close to the flight path of the plane. To get some serious distance while skydiving, hold forward while aiming the camera parallel to the ground. Use the map to guide you to your desired location, then begin angling the camera down to gain as much fall speed as you can before you automatically pull the parachute. Using markers to indicate where you want to land can also help, as these will show up on the compass on the top of your screen.
When your chute is open, the controls change a bit. You gain fall speed by pressing forward and gain distance by letting go of forward. The camera no longer affects your movement. Use this time to look around and see if anyone else has also chosen your landing spot. You might be in for an early fight!
Credit: jackfrags/YouTube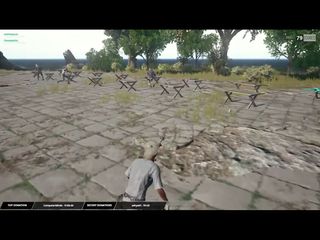 Use the Prematch Lobby Wisely
There's no substitute for hands-on experience, and the prematch lobby — where all 100 players load in before a match — can be a useful place to test key bindings, mouse sensitivities, change your voice chat settings ( for example, mute everyone) and try out every gun in the game … if you can run to it fast enough.
Off to the side on some picnic tables are several guns and ammo, and scattered elsewhere on the tiny prematch island are all of the game's 31 weapons. You only get about a minute before the match starts, so get used to things like recoil and aim sensitivity, because this is your only chance to do so outside of a real match.
Credit: FfC Upshall/YouTube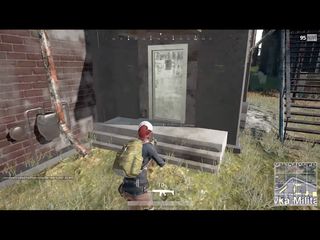 Doors Always Start Closed
All doors begin closed, which is your first indicator that a set of buildings has been occupied. You can close doors behind you, so it's not foolproof, but an open door can only indicate player activity in that area.
Leaving doors open in your area is a good way to signal to other players that a house has already been looted. However, if you think people aren't looking for loot, then entering a building and closing the doors could be a good way of disguising your position.
Credit: Aculite/YouTube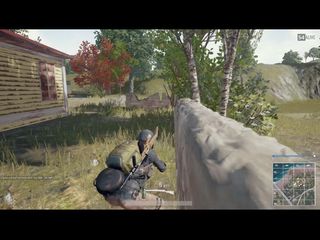 Play with Headphones
Battlegrounds relies heavily on sound cues to tell players what's happening around them, so you'll want to use a good pair of headphones or a gaming headset. With a huge map and dozens of players roaming around, threats will often be heard before they are seen. Doors opening, doors closing and indoor footsteps all make distinct sounds —footsteps on other floors even make a specific hollow sound to help you gain situational awareness.
Gunshots are loud, but incredibly hard to place accurately, especially when you're taking fire and in a panic. Unlike other games, your screen won't indicate where you've taken damage from. Your best indicator here is to look for missed shots on the ground, walls or trees around you, or to scan for muzzle flashes.
Credit: Aculite/YouTube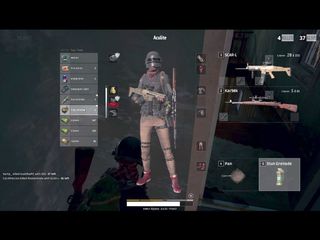 How to Loot Effectively
Most players start out like certified pack rats, picking up every little thing they find in a building. When starting out, you won't yet know your preference for guns, but you can at least know you won't need three extended pistol mag attachments! You can only hold two long guns, one sidearm (a pistol), one melee weapon and one throwable.
Don't hoard ammo for weapons you don't have, and as a general rule, don't plan on swapping loadouts midmatch until you get more familiar with the game. Finding a backpack or a tactical vest helps increase the amount of items you can hold, but fiddling with a cluttered inventory can get you killed. Picking up items off the ground with the F key is very quick, but opening the inventory menu with Tab lists the items at your feet for easy sorting and is good for comparing gun stats.
Credit: Aculite/YouTube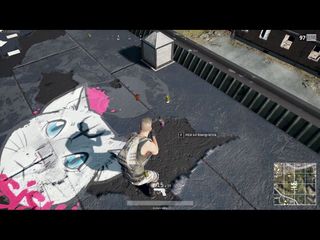 How Healing and Boost Items Work
Health does not recover over time unless you use one of two boost items: the Energy Drink or Painkillers. These will fill up the boost meter located above your health meter, which will regenerate your lost hit points based on how full the boost meter is. Otherwise, you can use Bandages, First Aid Kits or Med Kits to refill your health directly. Everything except the rare Med Kit will only get you to 75 percent, requiring you to use a boost item to return to full health. Energy Drinks have the added bonus of increasing your movement speed.
Credit: Aculite/YouTube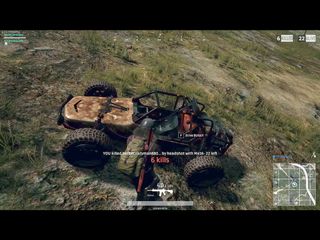 Dedicate Some Matches Just to Learning
Since so much of Battlegrounds is based on in-match experience, setting a goal during a match other than being the last player alive can help you perform better later on.
If you haven't driven a car, go find one and drive around. If you haven't landed in a certain city before, go land there and get familiar with the area. If you want to get more familiar with a certain gun, take shots at windows from far away. Don't worry about being found — these matches are just test runs and they're far better for learning than when you're under pressure to perform.
Credit: Aculite/YouTube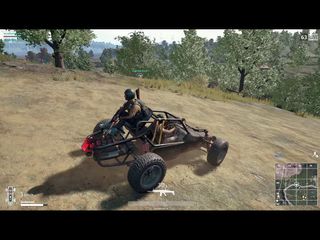 How to Drive and Where to Find Vehicles
You'll find land vehicles alongside roads, even small dirt roads. If a road shows up on the map, there's a chance some kind of vehicle will show up there. Driving can be a challenge across the uneven terrain, so sticking to roadways is usually safe, despite how exposed it may feel. It can be tricky to navigate the roads, even with the dotted line in your mini map guiding you to the safe zone, so placing markers at turnoffs can keep you from making a wrong turn.
Most vehicles, except the motorbikes, have a boost function that lets you go a bit faster while using up more gasoline. Yes, the vehicles use up gas. You can find more gas tanks if you need them, so it might be useful to keep one on you. All cars seat four players, motorbikes seat two or three if they have a sidecar and boats found along the shorelines seat four.
Credit: Aculite/YouTube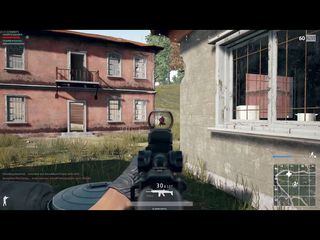 Don't Always Start a Fight
It's easy to want to pick a fight when you find someone running around who doesn't see you. But unless you're certain you have the advantage, you probably don't want to give your position away. There may be people closer by who you never saw, who now know your location, or you may be plinking at a guy equipped with a sniper rifle. It's important to take your chances in Battlegrounds, but it's more important to pick your battles. You don't win by killing the most players, after all.
Credit: Aculite/YouTube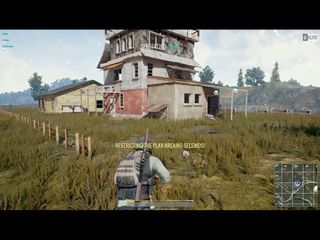 Don't Forget About the Blue Zone Timer...
Even easier than picking a fight is forgetting about the blue zone, which slowly engulfs the play area throughout the course of the match, causing damage to anyone caught in it. It's very common to get caught up in a shootout, only to have both parties get stranded in the blue zone long after they should have packed up and left.
Knowing when to move out will reduce the number of anticlimactic matches that end with you hoofing it for several minutes while dying slowly outside the safe zone. Always consider how far you are from the new safe zone, so you can plan when to move out before it's too late.
Credit: Milk Power/YouTube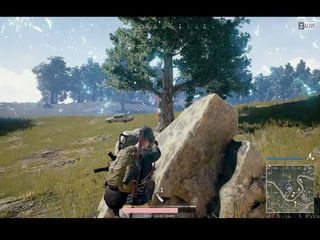 …But Don't Be Too Afraid of the Blue Zone
While the blue zone is dangerous, it's not an instant death. Lingering outside the zone to get to a better position, especially during a fight, can easily work in your favor. The amount of damage dealt by the zone changes as the match goes on. Once the blue zone meets the safe zone, the damage levels up, going from a negligible sliver per second to about a quarter of your health per second by the end of the match. The speed of the blue zone also changes, from a moving zone that you can easily outrun on foot to one that can advance faster than a boosting car.
Early on, you can heal the damage the blue zone inflicts using bandages or boost items. Playing near the blue zone can also simplify things by keeping the action in front of you. Just don't forget to keep moving!
Credit: Gary/YouTube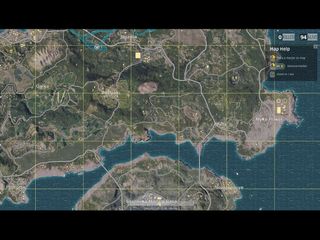 Land Near the Center of the Map
You can take a gamble and land someplace on the extreme ends of the map, but generally, you want to land in a roughly central location. The first safe zone typically appears near the center, but recent updates have added spawn points much farther south and north. Picking the north shore only to find you need to drive all the way south to the Military Base island could prevent you from getting a good starting loadout.
Credit: ThatsMeJD/YouTube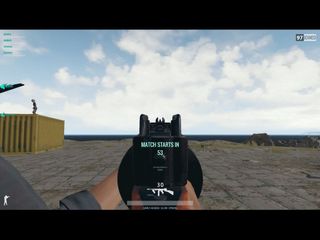 Zeroing Distance and Long-Range Combat
Something that many players overlook is the zeroing-distance toggle that's provided when you attach a scope to your weapon. This displays, in meters, how far you think your target is from you. Your bullets will suffer from bullet drop at extreme distances, so increasing the zeroing distance keeps you from having to angle your scope up to compensate, and it lets you keep the target in the center of your scope. By default, this is set to Page Up and Page Down, and the zeroing distance is limited by the Effective Range stat of your gun.
For most circumstances, this should be fine to leave alone, but if you're taking shots from over 500 meters away, you'll need to play with this setting a bit. For any would-be snipers out there, you should know Battlegrounds doesn't work on hitscan — bullets do travel through the air and therefore drop a bit over extreme distances.
Credit: Expenciv Gaming/YouTube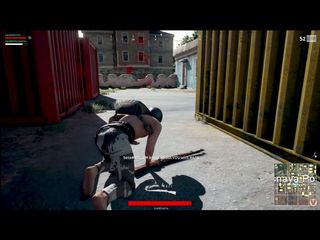 How to Play on a Team
The best tool when playing Duo or Teams modes is communication. Calling out compass directions for where you've seen other players, heard gunshots or took damage is crucial for getting the help you need from your teammates. Try not to stay so close together as to be one target, but keep within the same town or city to help downed allies.
When playing in Duo or Teams mode, players won't die immediately, like they do in Solo. You get "knocked down" into a helpless crawling state. Allies can revive you, which takes 10 seconds, and you can crawl around slowly to get into nearby cover. If an enemy player gets knocked down, that means the player has a teammate still alive someplace. If the person dies instantly, the player had no one left, and it's safe to move in and loot the enemy's body.
Credit: VERTiiGO GAMING/YouTube